This post may contain compensated links. Please read our disclaimer for additional information.
A VIRTUAL CUPPA JANUARY 2017
---
I have been thinking for a while about my blog – I love doing it and I really enjoy the writing etc. However what do I want to get out of it – what do I want achieve? I think we travel bloggers all have our various agendas – we obviously love travel and I assume want to share that love with others and inspire them to visit perhaps new destinations they hadn't considered (or perhaps even heard of!). My geographical knowledge is certainly improving!
But as well as inspiring others I want to connect – the social side of the blogging world is fantastic. I am meeting people (ok well virtually meeting) people from all walks of life. of all ages, all over the world.
So I want to set up 'A Virtual Cuppa' – basically it is me sitting and writing and sharing a load of stuff about travel once a month that isn't necessarily a 'how to get to…' 'all about…"10 tips for…' type post. So this is my first post in the new series "A virtual cuppa – January 2017."
I would love it if people took part – get the kettle on, make a cuppa and lets chat!!
---

I read loads of travel blogs (literally millions) and so far this month these are my favourite posts:
The one I wish I had written:
"100 creative travel tips for visiting Europe" by creativetravelguide.com
Genius – I read it and thought it was terrific whilst simultaneously kicking myself for not coming up with this idea myself.
The best video – I love their 60 second videos!! (And their site)
"Ha Long Bay in 60 seconds" by PhilandGarth.com
This is on our bucket list for this year and their write-ups and videos are really making me look forward to going!
The best animal encounter
"Tracking chimpanzees in Uganda" by reflectionsenroute – I loved this post and the photographs are stunning!
The one that made me hungry!
Recently Alex from MyLifeLongHoliday took a great gourmet food tour around Alicante – and not only tried some great food but also learnt a lot about the history of the place too! My kind of tour – food and history!
The one with the most amazingly beautiful scenery 
New Zealand – definitely somewhere we hope to get to once we are a bit closer in Australia. And reading posts like this by momentumtravels only makes me more determined! Fjordland on the South Island is quite simply stunning. Don't just take my word for it – go and see for yourself!!
Angie and her husband from FeetDoTravel recently sold all their belongings and have started a life of travel. This is something I really want to do one day – at the moment we have a dog so it isn't an option but one day it will! This is her post all about how they made the decision to sell everything and go!
What have been your favourite blog reads this month? 
---
Pet peeve of the month
Anyone that knows me will already have a fairly good understanding of my difficult relationship with Instagram. I cannot bear the like/unlike games that go on. But I am ignoring it and building on my followers at a steady rate (I get how important the numbers are for companies – and I would really really really like to work with travel companies and tourist boards etc so I am on it!!)
BUT I have an even bigger issue – and I see it every day. Why do some people (ok its usually women in their 20's) have to stand with their backs to the camera??????? And if I see another hat I will scream! Surely this 'look' or 'pose' or whatever it is called has been done to death??? On principle I refuse the like these pictures. So there.
---
UNESCO World Heritage Site of the month
---
I drive my daughter mad with my love off all things UNESCO. I have focussed on their list of World Heritage Sites because well it is a pretty good list! Though I know there are some amazing places missing off it. And I understand that some countries are able to protect their heritage easier than others but I still enjoy visiting the sites!
I am endeavouring to visit at least one a month (and if I can't I will pull one dragging and screaming out of the archives) – this month it was SALTAIRE.
It was a grand day out!
For now just enjoy the photographs!!!
---
The countdown to Australia
---
This month my husband finally received his nursing registration in principal for Australia. Good job really as he needs to start looking for employment! So if you didn't know already we are heading off to a land down under. I am 50 this year so its not quite as easy as it was in my 20's to just get a job and jump on a plane. We had to apply for a visa (and jump through all sorts of hoops!)
I am awaiting confirmation of our dog's rabies vaccination – hopefully it was a success so she will be ready to fly in 6 months. (Note – she passed!!!) And I have to start the process of getting teacher registration too. Unfortunately I can't stop work and just travel the world quite yet – one day though!
---
Top  3 Instagram posts of the month
I love beautiful photographs and you can find some of them on my Instagram – these were my top 3 for the past 4 weeks!
---
 Travel plans this month
---
We are heading to Denmark in February. I have wanted to visit Copenhagen for a long time and we will also get the opportunity to pop over to Sweden (another country visited – do you do the counting thing? I do – can't help it)
But best of all I am visiting an old friend in Aarhus – we met 27 years ago (I look so young!!) when we worked as au pairs in France. I have visited her once before (what a great time that was too!) and she saw me in London nearly 21 years ago just after my daughter was born.
See what I mean about travel and meeting people and making lifelong friends!
So watch out next month for some inevitable posts all about Copenhagen, Malmo and Aarhus!! Excited muchly!
---
 If I won the lottery – dream destination/experience of the month!
This month my attention has become drawn more and more and more towards Iceland. It just looks amazing. The best site I have found for comprehensive posts about Iceland is fullsuitcase.com – looking at the beautiful photographs makes me want to hop on a plane immediately! Pop over and follow fullsuitcase on Instagram

Have you been? Was it fantastic? If you had unlimited funds (if you do – can I have some) where would be your first destination?
---
PIN FOR LATER – A VIRTUAL CUPPA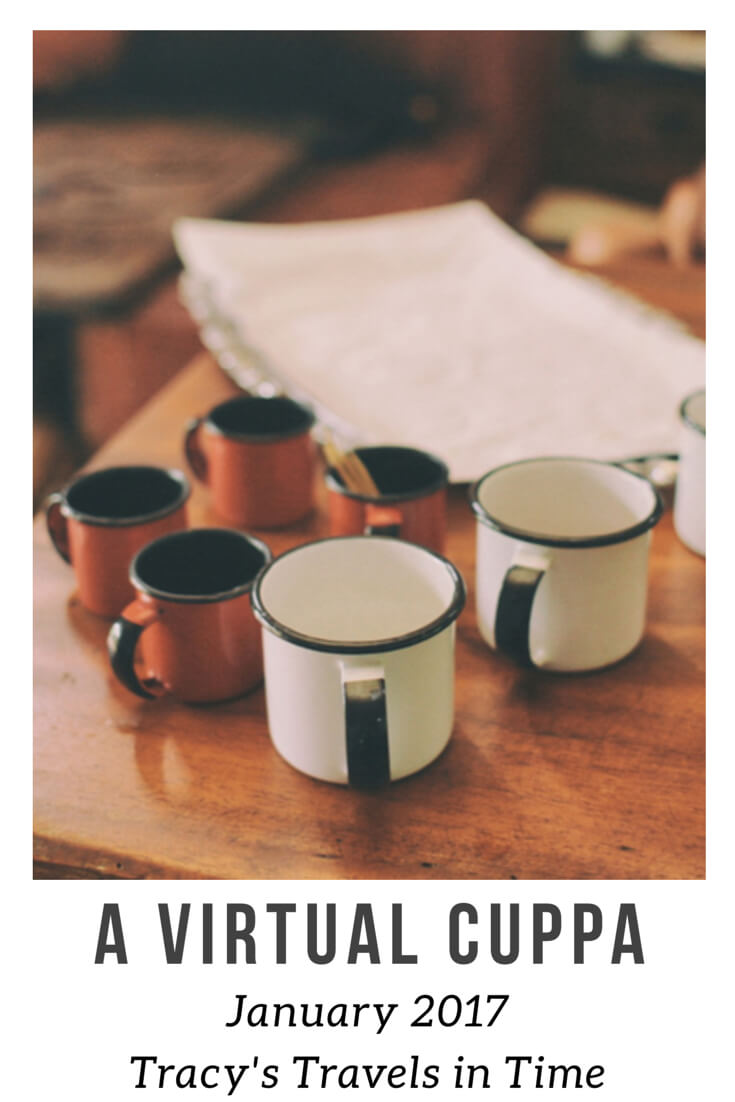 ---
Over the last 50 years I have lived and worked in 7 countries on 4 continents and travelled to many more. I enjoy exploring and learning about new places and meeting people on my travels. History, reading, photography, nature and wildlife are my interests and I am ALWAYS researching and planning my next trip (preferably by train)
With a lifetime of travel experience, and a network of friends all over the world, I share genuine insider guides, recommended best book lists and train journey inspiration to help YOU travel authentically to some of the most beautiful places on earth.
Come and join me as I travel the world one country (and train journey) at a time!
This post may contain compensated links. Please read our disclaimer for additional information.