This post may contain compensated links. Please read our disclaimer for additional information. As an Amazon Associate, I earn from qualifying purchases.
If you are heading to the UK for a trip you may be looking for the best England travel guide books to help plan your trip. Or perhaps you are looking for the perfect gift for someone planning to explore more of the country?
To help you with this I have put together this article where you will find the 10 best England travel guides available.
I have included a selection of England travel guide books which also focus on various themes such as shopping, history and gardens to provide you with lots of inspiration and useful information for your visit.
What will you find in this article?
Best travel guides for London

The best England travel guide for gardeners

Best England travel guide for history lovers

The best England travel guide for literary lovers

Best travel guide to the English

The best travel guides about England for children
WHAT ARE THE BEST ENGLAND TRAVEL GUIDE BOOKS AVAILABLE?
BEST UK TRAVEL GUIDE BOOKS
No list of the best travel guide books for England would be complete without an appearance (or two) by Rick Steves, I really like his books and recommend them to travelers. He loves Europe and has traveled extensively across the continent including in the UK.
His books are informative and perfect for American readers.
And yes I am recommending another great book from Rick Steves. If you are looking for a travel guide to help you plan your visit to London then this is a great place to start with up-to-date tips, information and recommendations.
Lonely Planet fans will find this guide a perfect way to plan your trip to the UK capital especially if you are looking for more budget focussed options. 
Do you love afternoon teas? Me too! And where better to experience the ultimate in afternoon teas but in London. And boy oh boy are there lots to choose from!
For those serious about choosing the best check out this guide to London's afternoon teas. With lots of photographs to inspire you as well as lots of information about the culture, heritage, and history surrounding each venue this is a perfect gift for anyone who loves afternoon tea.
If you love food and have an interest in everything culinary this is the book for you!
Covering over 100 food shops why not take a gastronomic tour around London to the best the capital offers in bakers, butchers, cheesemongers, chocolatiers, delicatessens, fishmongers, food halls, farmers' markets, grocers, wine merchants, and world food stores. 
 An insider's tour of London's best-kept secrets including must-visit restaurants, hotels, boutiques and shops. With stunning photographs, links to websites and maps to help you locate each place this is a great book for style minded visitors as well as locals!
This garden-lover's guide to England is both a wonderful travel resource as well as an inspiring coffee-table book for those who adore exploring and strolling through charming garden destinations and horticulturally inspired hideaways.
If you love gardens and want to see the best England has to offer this beautiful book will provide both inspiration and valuable information to help plan your visit.
If you enjoy history and would like to learn more about life in England in times one by this is a perfect book to read. A great way to find out about life in England during the Middle Ages. Read this then visit some of the many castles England is famous for. 
Find out how the middle and upper classes lived from 1775, the year of Austen's birth, to the coronation of George IV in 1820. The author details all aspects of daily life during the lifetime of Jane Austen.
She draws on contemporary diaries, illustrations, letters, novels, travel literature, and archives to produce this wonderful guide to life in England during the late 18th and early 19th centuries.
Want to learn about the English and what makes us tick? This book will provide you with lots of insight and even more laughs! This books will help you understand  just what it is that makes the English so different from our American cousins.
BEST ENGLAND TRAVEL GUIDES FOR CHILDREN
Taking the kids or grandkids? Keep them occupied (and learning) at the same time with these great books.
A fun and educational way to ensure the kids make the most of their UK vacation.
If you are visiting London this list covers all the best travel and guide books about the capital.
I hope my choices of best travel guide books for London and England have inspired you. Please let me know which ones you have found the most useful!
If you are traveling to the UK why not join my UK TRAVEL PLANNING GROUP where you can ask questions and research, plan and organise your trip. We are a friendly bunch and love sharing our knowledge and tips to help you make the most of your visit to the UK.
Related posts
Everything you need to know to plan your trip to the UK is included in this post. A perfect place to start!
15 essential tips every visitor to the UK should know
Visiting the UK for the first time? Check out my top 10 tips to help you have the best time!
An essential packing guide for the UK for every season. If you are visiting in winter check out my London and UK winter packing list too.
Best books to read before you visit England
For book lovers and those who enjoy learning about their destination this list of the top 9 books to read before you visit is a good starting point.
PIN FOR LATER – BEST ENGLAND TRAVEL GUIDES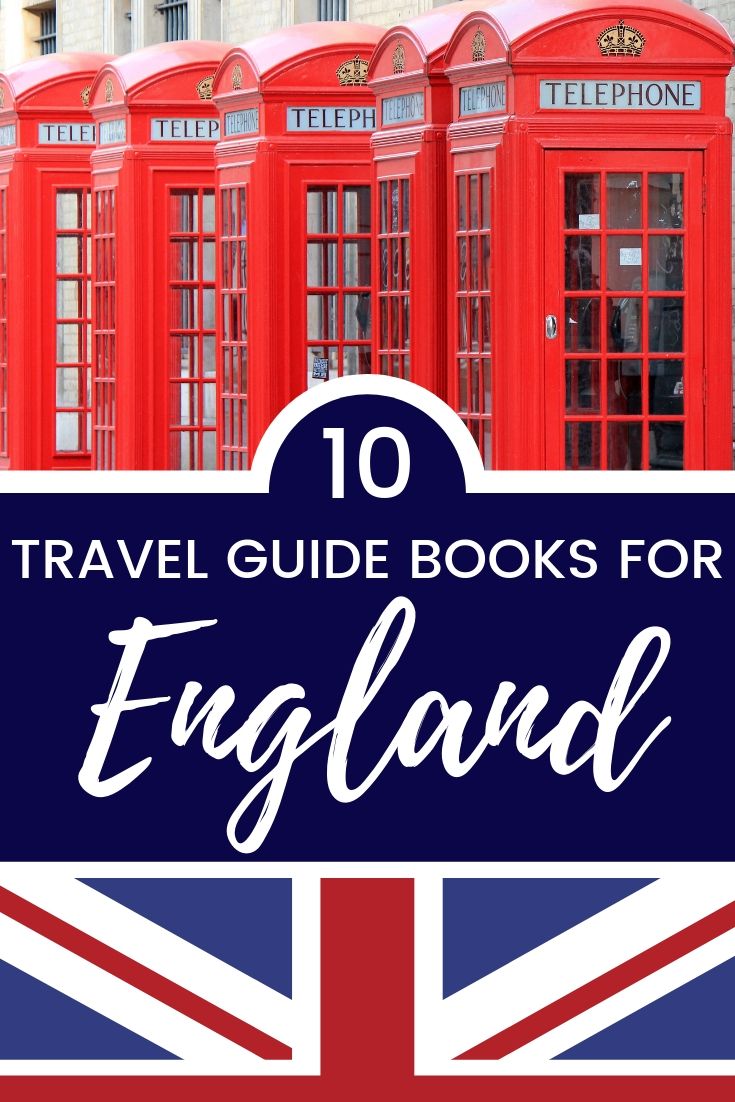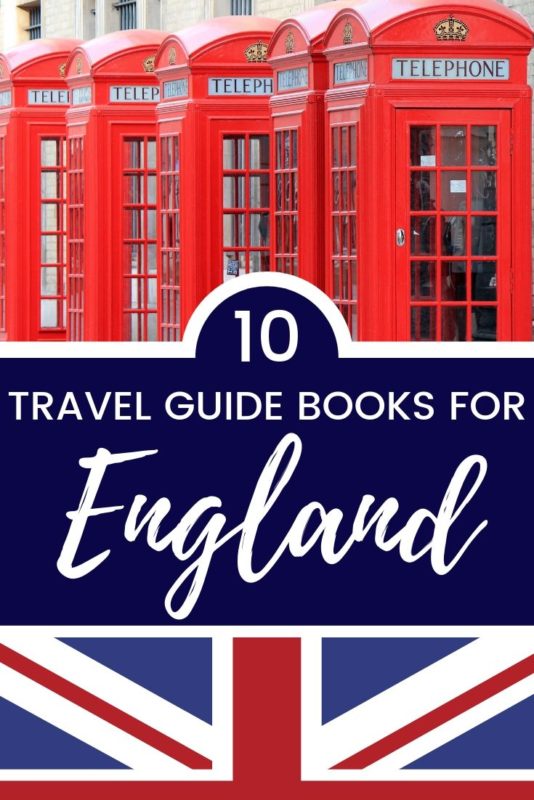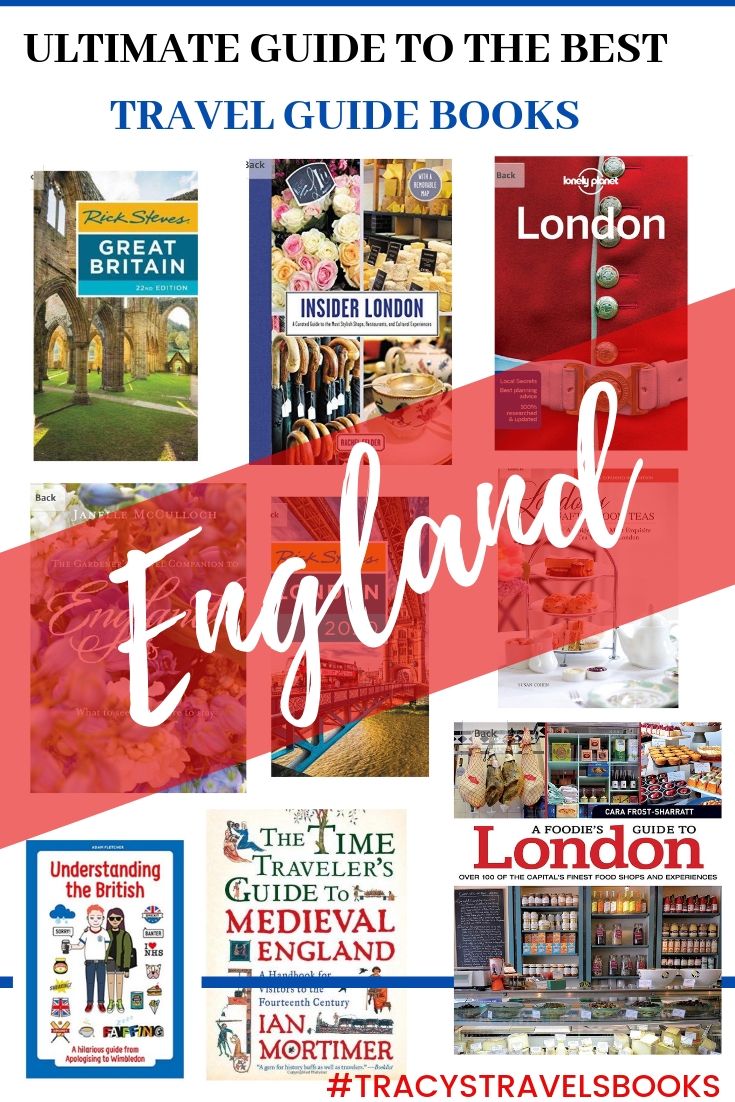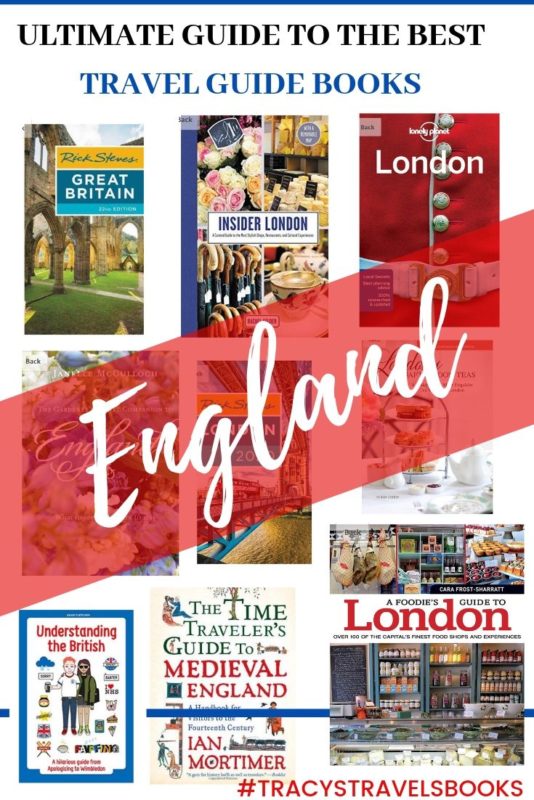 This post may contain compensated links. Please read our disclaimer for additional information. As an Amazon Associate, I earn from qualifying purchases.
Over the last 50 years I have lived and worked in 7 countries on 4 continents and travelled to many more. I enjoy exploring and learning about new places and meeting people on my travels. History, reading, photography, nature and wildlife are my interests and I am ALWAYS researching and planning my next trip (preferably by train)
With a lifetime of travel experience, and a network of friends all over the world, I share genuine insider guides, recommended best book lists and train journey inspiration to help YOU travel authentically to some of the most beautiful places on earth.
Come and join me as I travel the world one country (and train journey) at a time!