If you are travelling to the UK in winter you may be wondering what sort of clothes and accessories you will need to pack. This post will focus on my top packing tips and an essential packing list for the UK to ensure you have what you need to keep you warm and cosy during your visit.
If you are visiting the capital this is also a packing list for London in winter. It is worth remembering that temperatures are generally milder the further south you are in the UK so if you are travelling to Scotland for example you may find it is a few degrees cooler.
In this post you will find out everything you need to pack for your trip (and what not to bring too) I have learnt over the years to pack what I need and avoid overpacking however tempted I am to just add the extra outfit or two in!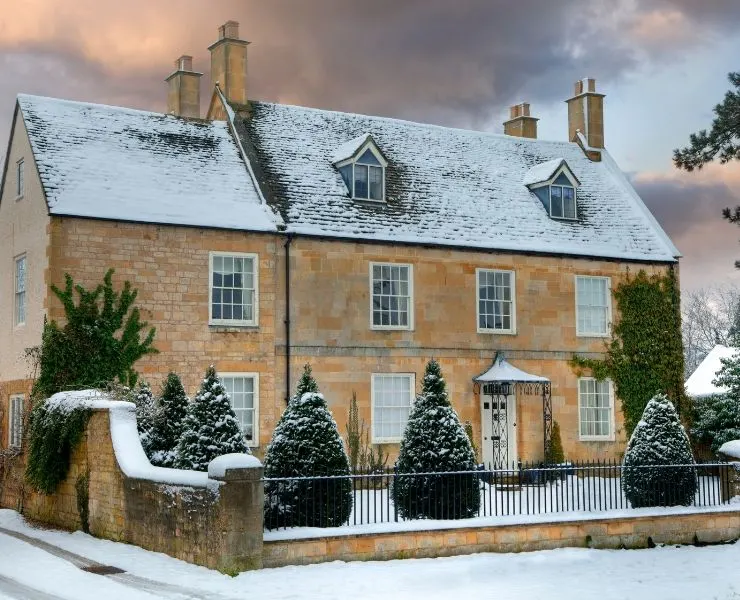 What is the weather like in London and the UK in winter?
If you are expecting snow you may be disappointed as it is not as common as many American movies set in the UK would suggest (as seen in Bridget Jones or The Holiday).
Although there are on average 23.7 days of snow or sleet a year it rarely settles. (Source metoffice.gov.uk) Inevitably snow is most likely on higher ground or in Scotland where temperatures are cooler.
If snow does fall (and settle) it is more likely in January or February however you never know so it pays to be prepared just in case!
During the winter months of December, January and February temperatures dip and frost is common on the ground first thing in the morning.
The best weather during these months is typified by cold, crisp, dry days with blue skies. However wet and windy conditions are also common and the weather can change rapidly. If the forecast is good make sure to get out and about and make the most of it!
The days are short too and by the end of December (the shortest day is on the 21st of December) there can be as little as 8 hours of daylight. If you are heading north daylight hours are reduced further with for example Inverness having only 6 1/2 hours of sunlight on the shortest day.
Listen to our podcast about visiting London in December for practical tips and information about what to expect during the festive season.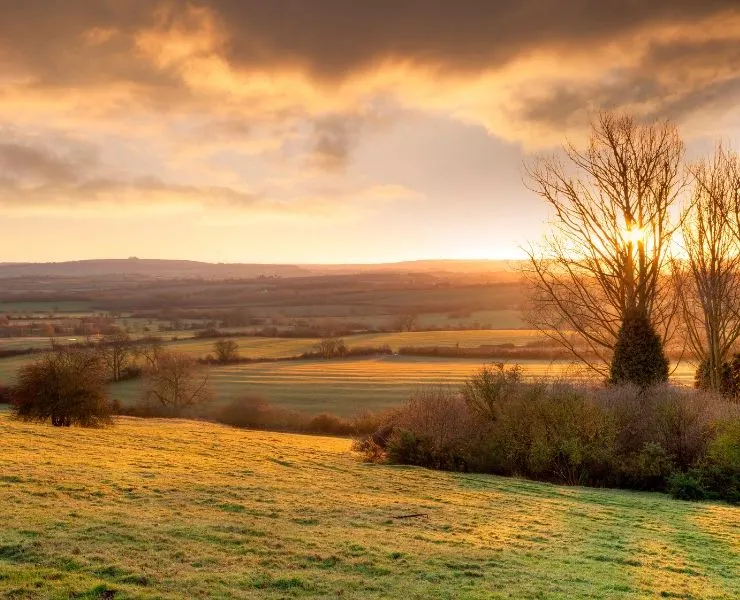 What to include in your UK and London winter packing list
Essential items
Ensure that you have at least 6 months remaining on your passport (from your departure date). I always keep a printed copy with our documents and we also have scanned copies in our Dropbox accounts.
Check before you travel the visa requirements for the UK depending on your nationality.
The UK is NOT part of the Schengen Visa zone so if you are planning to travel to mainland Europe or the Republic of Ireland from the UK also check your visa requirements.
If you are a national of Canada, the USA, Australia and New Zealand visitor visas are issued on arrival in the Schengen Zone for 90 days.
We keep copies of all tickets and documentation on us in plastic wallets as I like to have paper copies of our itinerary organised day by day. I also keep scanned copies of important documentation and emails in my Dropbox account.
We love planning and organising our travels and recently I published our UK Travel Toolkit to help you plan your trip and stay organised. Read more about our UK Travel Toolkit.
🇬🇧 STAY ORGANISED WITH OUR UK TRAVEL TOOLKIT
Are you feeling overwhelmed keeping track of all your UK travel plans?
Do you have lists of things to do, pack and buy?
Do you have hotel bookings and tours and tickets for events in multiple places?
If that sounds like you (and believe me that was me too!) I have created the perfect solution!
Our UK Travel Toolkit is the solution enabling you to keep track of everything in one place.
What's in the toolkit?
You will find everything you need to keep track of UK travel plans.
Available as a downloadable PDF to print off and use to record the details of your plans including your itinerary, transport, hotels, tours, tickets and more.
There are over 28 different checklists including
Pre-Travel Checklist
To-Do List
Important Information Sheet
Medical Information
Housesitter Notes
Packing List
Shopping List
Travel Itinerary Summary
Our itinerary – Maps
Flight Information
Airport Transportation
Car Hire Checklist & Info Sheet
Road Trip Plan Summary
Road Trip Daily Plan
Accommodation Information
Weekly Schedule
Daily Itinerary
Tours & Activities
Restaurant Planner
Expense Tracker
Souvenirs and Gifts
Travel Journal
There are also 5 different front covers to choose from (PDF printable only)
When you purchase the Travel Toolkit you have access to both the printable and editable PDF versions.
Available in A4 and US Letter size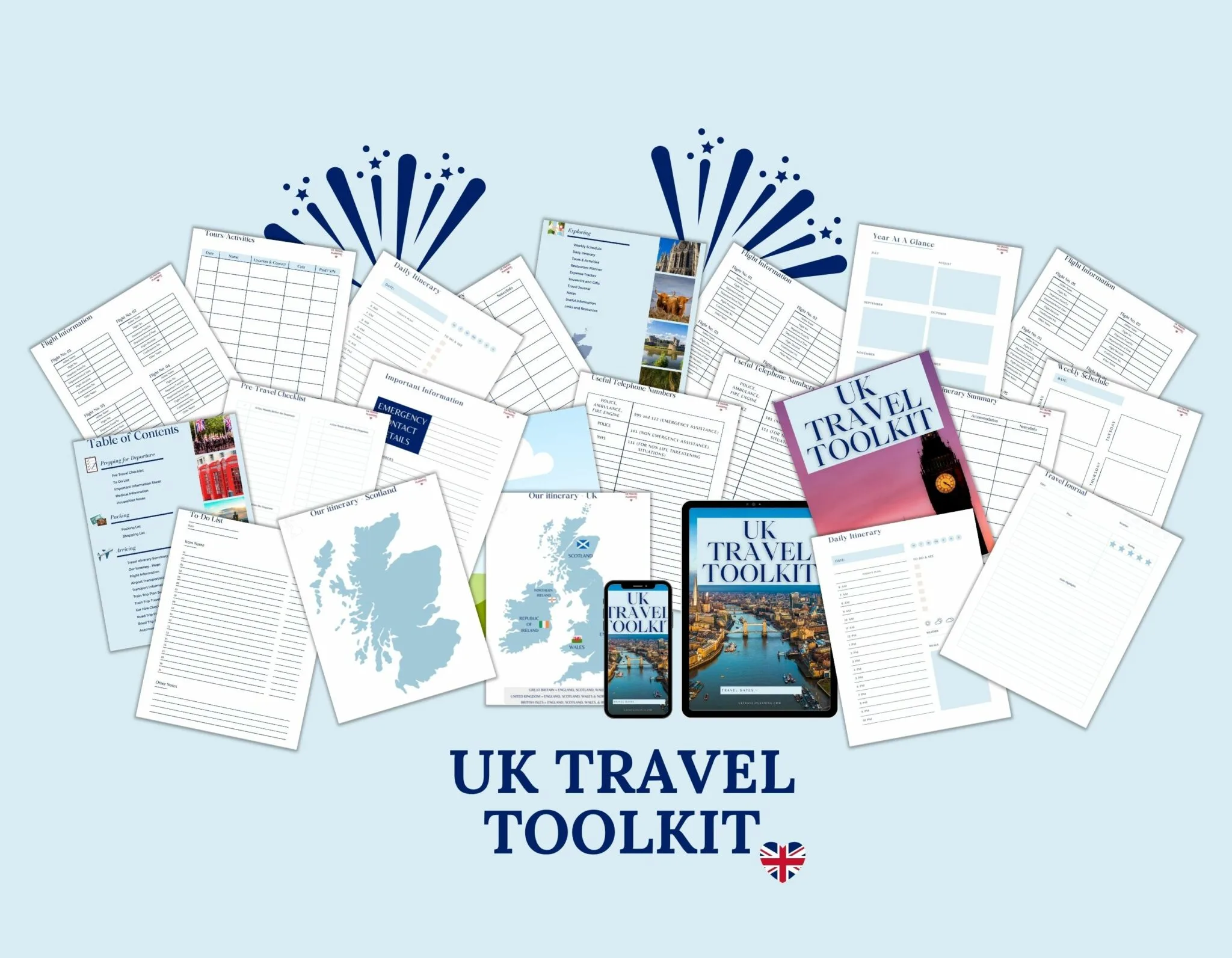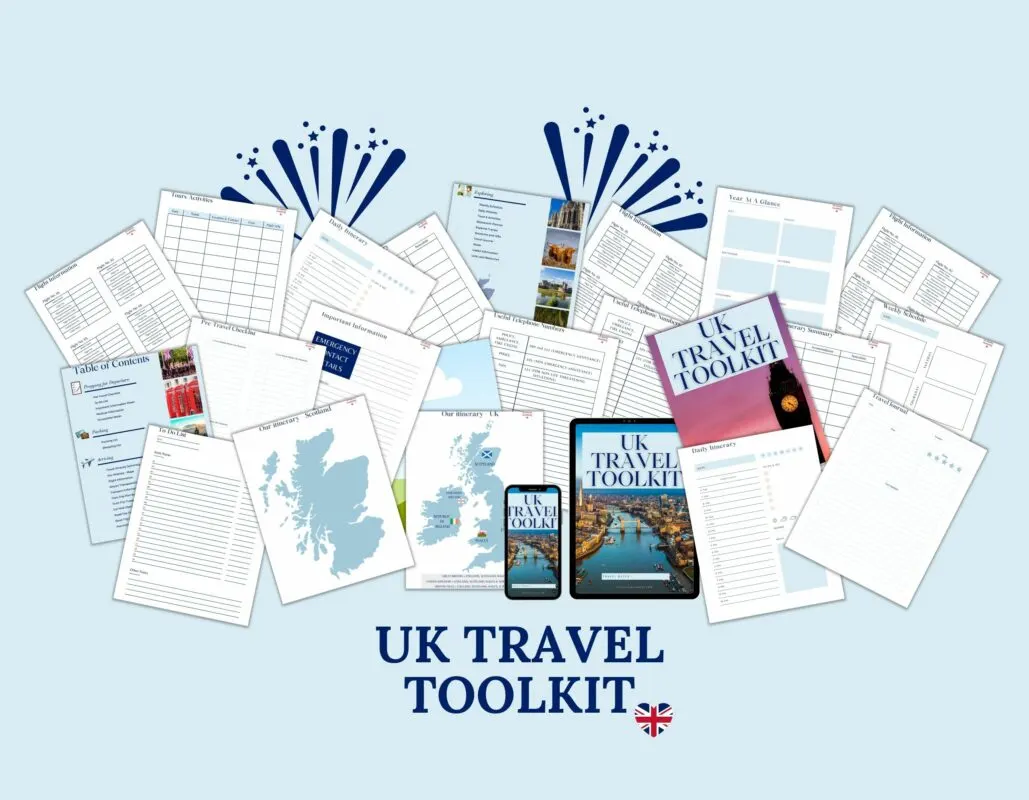 I have a travel wallet that I use when I am overseas. It contains all the essential items I need and I leave everything else at home. I highly recommend taking some cash and one or two credit cards to use during your holiday.
I also make a currency converter card to take with me whenever I travel which ensures I am able to work out immediately what the cost of anything is in my own currency.
I use an RFID-blocking wallet to ensure that my cards can not be scanned by thieves. I also always take some of my theft-proof bags with me when I travel.
After an unpleasant experience with pickpockets in Paris, I do not take any chances with my belongings. On that occasion, it was my theft-proof bag that prevented the loss of my cash and valuables. I have a backpack, day bag, crossbody bag and even a mini theft-proof bag that I use when I travel.
Read more in my essential guide to pickpocket-proof bags and my post about the best mini theft-proof bags on the market.
Read – How Should I Bring Money to the UK? A Complete Guide to Cash & Cards
Please do not forget to sort out insurance for your UK vacation. I never travel without insurance.
Although I have been lucky and have never had to use it I include the cost of travel insurance in my budget and consider it essential. You just never know when you may need it.
READ MORE – Essential travel tips for first-time visitors to London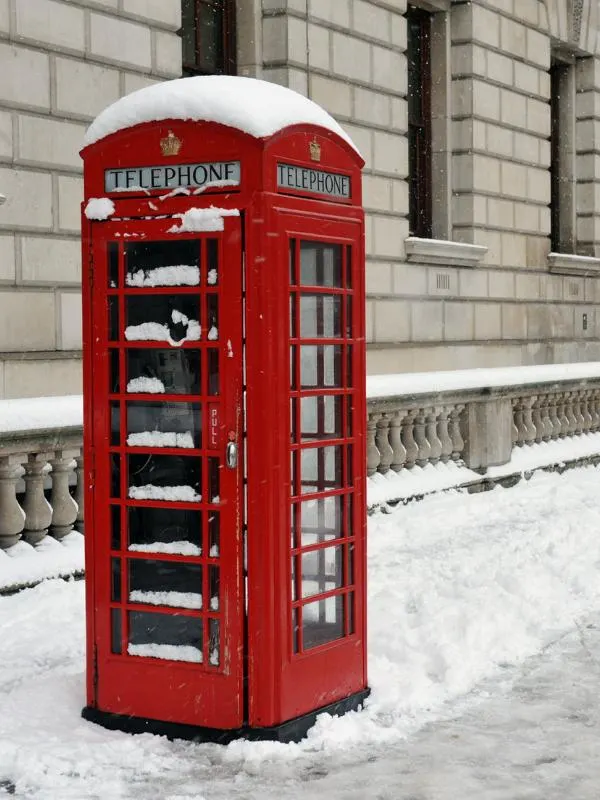 Clothing
When putting together your packing list consider taking items that you can mix and match. I would recommend sticking to darker or more neutral colours. You will find that most Brits wear black/neutral clothes and accessorise with brighter colours.
I would also recommend packing clothes that you can layer. It can be very hot in department stores/shops and on the underground so ensure that you have layers you can remove easily. I prefer to wear a warm coat with long-sleeved cotton tops or a vest top plus a polo neck underneath.
It can also be very wet in the winter in the UK with an average of 13 days of rain or snow across the country in December so a waterproof jacket of some kind is vital.
What to add to your packing list for London in winter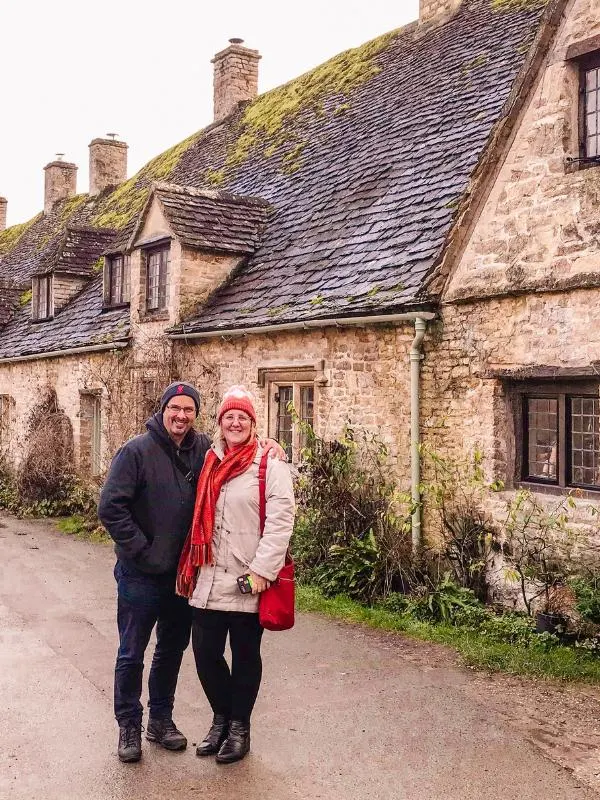 Below is a list of the essential items I would definitely pack for your UK winter adventure. A stylish raincoat will keep you warm and dry whatever the UK weather throws at you!
Perfect to layer I always take a few long sleeve tees with me. These are perfect for under a coat and will keep you warm without being too bulky.
Thermal clothing is perfect to layer under jeans and long-sleeved tees on particularly cold days, I would recommend wearing these if you are spending the day walking in the countryside.
These are perfect to wear with thick tights (pantyhose) and long boots and are both stylish and practical.
A good pair of waterproof boots are essential. Ensure they are comfortable before you travel as you will probably be doing quite a bit of walking during your trip.
Don't forget to include the following items
2/3 pairs of trousers/jeans
Underwear/bras
Pyjamas
Accessories – earrings/necklaces etc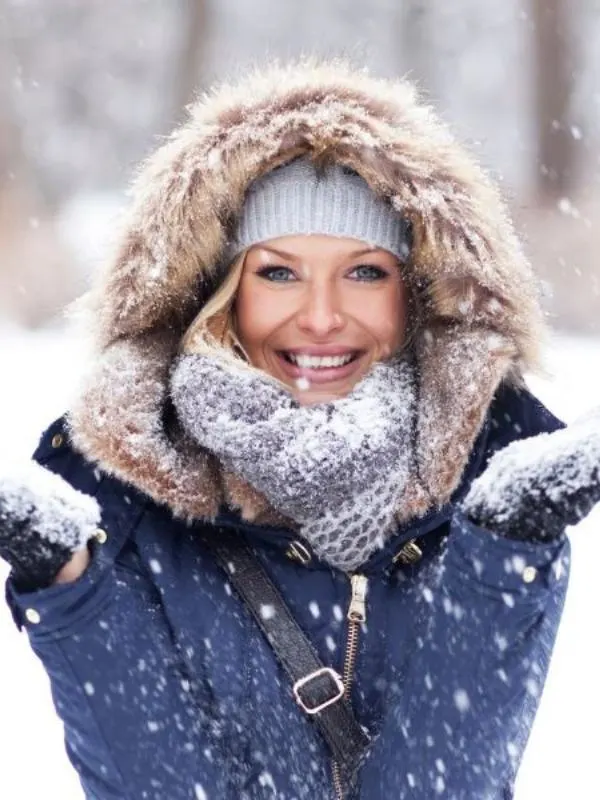 Guide books
TIP – guide books are heavy so my top tip is to purchase books on your Kindle!
You may also like to read my top 10 recommended travel guidebooks for England.
Do you prefer to read books on your Kindle or listen to audiobooks?
Kindle Unlimited
Why not join Kindle Unlimited which includes some great benefits:
Unlimited reading from over 1 million ebooks
Unlimited listening to thousands of audiobooks
Membership plans are also giftable
Audible
Why not consider an audible membership? it also makes a fantastic gift and comes with loads of fab features including:
An unmatched selection of audiobooks performed by world-class talent
3 titles for each month of their gift membership: 1 audiobook + 2 Audible Originals.
30% off any additional audiobooks.
Anywhere, anytime listening with the free Audible app.
Free and easy audiobook exchanges.
An Audible book library they'll own forever.
Toiletries
I recommend only bringing mini versions of toiletry items. I have 2 excellent posts with lots of great suggestions for mini travel toiletries and mini travel beauty products which will help reduce the weight of your luggage but will ensure you have everything you need.
Toothbrush
Toothpaste
Dental floss
Moisturiser
Cleanser
Make-up items
Deodorant
Hairbrush
Feminine hygiene products
Nail file
Tweezers
Nail scissors
Medication
I am married to a nurse and he always sorts out our first aid kit before we travel. He also checks we have enough medication and that he has copies of our prescriptions with us.
Packing Tips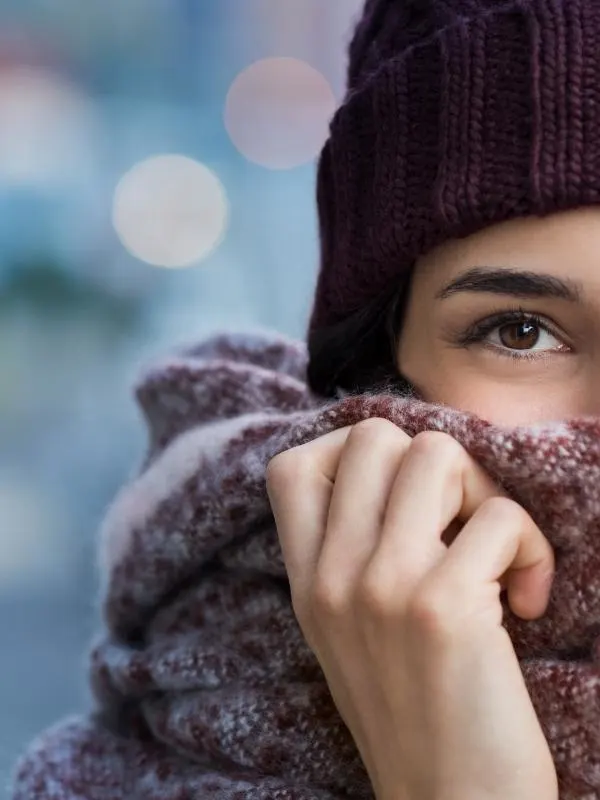 What luggage do we recommend for your UK trip?
I recommend buying luggage that is easy to move around, especially if you are planning to travel around the UK via car or train. I recently purchased an orange set and I love them – light, strong and very very bright! We do not have any problems locating my luggage on the carousel!
Also, consider if you are travelling by train that you may have to carry it up and downstairs as well as actually onto the train itself.
I am a recent convert to packing cubes but now have no idea how I managed to pack without them. It makes the organisation much easier and as we each have a set we are able to unpack our own clothes quickly and easily when we arrive.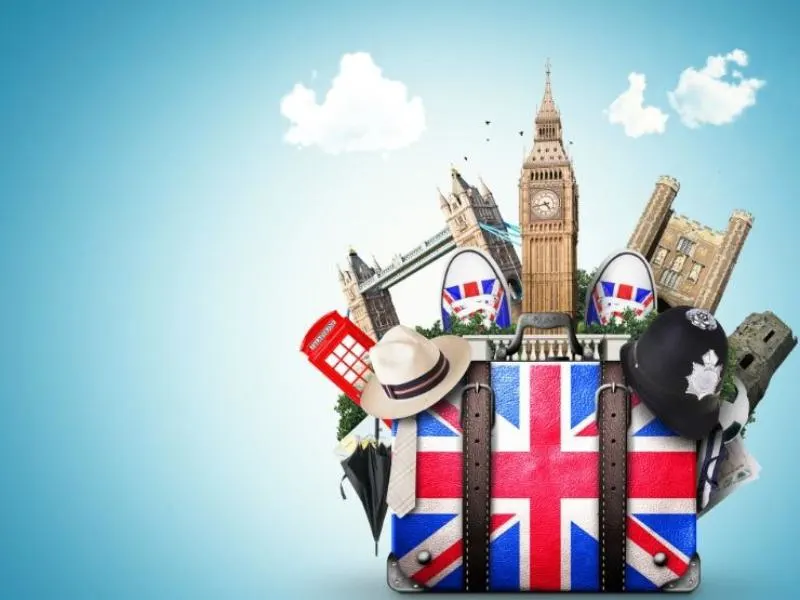 Enjoy your UK trip!
This article will have you feeling fully prepared for packing for your UK winter trip.
If you are visiting the UK during the spring, summer or autumn I have a packing post that covers those seasons too – The Ultimate UK packing guide.
If you are still planning your trip take a look at my essential UK travel planning guide.
You may also enjoy these posts about the UK