This post may contain compensated links. Please read our disclaimer for additional information.
Whether you are traveling by air or by train (or even on a road trip) minimising the amount of stuff you take with you is always a useful thing to consider. I am very much a carry on kinda girl and will always try to get away with a small backpack rather than a suitcase.
If you are traveling Europe by train for example I would recommend considering exactly what travel size products you actually need to take with you. Taking exactly what you need but in mini travel product size is the perfect solution.
In this post you will find a selection of 15 30 useful travel size products to pack for your next trip, keep scrolling to read more! Due to popular demand there are even more mini travel items now added! You may also find my post about 10 essential mini travel beauty products very useful when planning your travels.
---
With folding handle for compact storage this mini hairdryer is perfect for the jet setter. It has dual voltage for worldwide use and is lightweight so fits conveniently into your carry on for those who travel light.

CLICK TO BUY
Dual voltage curling and straightening in one! Comes with carry case too so absolutely perfect to ensure your hair looks just as you want wherever in the world you are!

CLICK TO BUY
Pack of 3 detangler mini brushes. I never travel without my detangler brush – it sorts out tangles and knots with ease. Perfect for travel – keep one in your purse too.

CLICK TO BUY
Perfect for travel get your set of 6 Burt's Bees most popular products including cream cleanser, day lotion, deep cleansing cream, body lotion, foot cream and hand repair cream. All of Burt's Bees products are made with natural ingredients.

CLICK TO BUY
Brush your teeth on the go – these mini toothbushes require no rinsing. These are absolutely perfect for that long haul flight when the queue for the bathroom can become busy just before landing! I always pop a couple of these in my bag when I travel to ensure I can take care of my teeth wherever I am.

CLICK TO BUY
Perfect travel size toothbrush – folds too so fits easily into your purse or carry on!

CLICK TO BUY
This is the perfect mini makeup bag to keep all your beauty essentials organised when traveling. Available in red, pink or black this mini makeup bag is a perfect way to store your essentials. With separate compartments and layers there will be no more emptying your make-up bag to find that favourite lipstick.

CLICK TO BUY
Set of 4 mini sponges perfect for travel.

CLICK TO BUY
Set of mini deluxe antibacterial makeup brushes perfect for travel.

CLICK TO BUY
A set of exfoliating peel pads perfect for your holidays – pop them in your carry on as these are an essential for long haul plane journeys.

CLICK TO BUY
Containing mini size travel products including shampoo, conditioner, deodorant, razor, comb, toothbrush, toothpaste, facial wipes, nail file and more this kit has everything you need already assembled. A great buy!

CLICK TO BUY
Includes 4 mini lip stains in the hottest shades including Pink Tea and Always Red. This is the perfect set to pop into your bag for your travels.

CLICK TO BUY
Decant your favourite lotions and potions into these portable and reusable travel bottles.

CLICK TO BUY
I always carry as small pack of hand and face wipes when I travel. I prefer the wipes as they can be used to cleanse and moisturise as well as providing antibacterial protection.

CLICK TO BUY

CLICK TO BUY
---

I am married to a nurse so we always have a first aid kit with us when we travel. This mini version is perfect as it includes all the essentials necessary but in a handy travel size.

CLICK TO BUY
I find that whenever I need a sewing kit the hotel I am staying in never has one so I now take my own. This is a perfect mini travel sewing kit with everything you may need. Just need to find someone to thread that needle!

CLICK TO BUY
Nothing worse than running out of battery power so I take a mini charger with me whenever I travel. I find having one with me when I am traveling by train an absolute must – you can never guarantee there will be a charging port. Just make sure to fully charge it before you go!

CLICK TO BUY
If you prefer a mouse when using your laptop this is a perfect travel size alternative – a mini mouse anyone lol!
ⓘ YOU MAY ALSO ENJOY THESE POSTS
10 Essential mini travel beauty products
Best travel coloring books to inspire wanderlust

CLICK TO BUY
Small and compact this surge protector also includes 2 USB charging ports and 2 AC outlets. This is suitable for domestic travel within the US only.

CLICK TO BUY
I never travel without my anti theft bags and this mini shoulder bag is perfect for day use. You can read more about theft proof bags and why I believe they are an essential in my comprehensive guide to anti-theft bags and backpacks.

CLICK TO BUY
Because you never know when it is going to rain – especially if you are visiting Europe! Be prepared with this mini travel umbrella!

CLICK TO BUY
I absolutely love my mini fan – it has been a life saver during my travels in Europe and Asia. Easy to charge and it folds down to fit easily into your purse this will be in my luggage when I travel to Bali soon!

CLICK TO BUY
For the coffee addicts out there this is a perfect solution – your own mini French press. Always have access to a good cup of coffee! I have just had a friend return from a trip to Europe tell me she wishes she had purchased one to take with her!

CLICK TO BUY
Not forgetting the tea lovers out there (that would be me!) there is a perfect mini kettle to take on your travels. We always traveled with one to reduce the risk of not having a cuppa first thing in the morning on holiday!

CLICK TO BUY
Filters contaminated water – really useful for travelers (and hikers) all over the world. The mini can be attached to the drinking pouch included as well as water bottles or there is a straw to drink directly from the water source. Read the instructions for use.

CLICK TO BUY
And for those cocktail moments why not take your own kit. This kit contains six different cocktails (so something for every cocktail fan)

CLICK TO BUY
I bought one of these for my daughter and she absolutely loves it. Perfect gift for you children or grandchildren for their travels – small, portable and so much fun.

CLICK TO BUY
The perfect way to keep yourself or your family entertained while traveling this is thus mini size book which include trivia questions, games and more to keep everyone entertained (and away from that screen!)

CLICK TO BUY
PIN FOR LATER! MINI TRAVEL PRODUCTS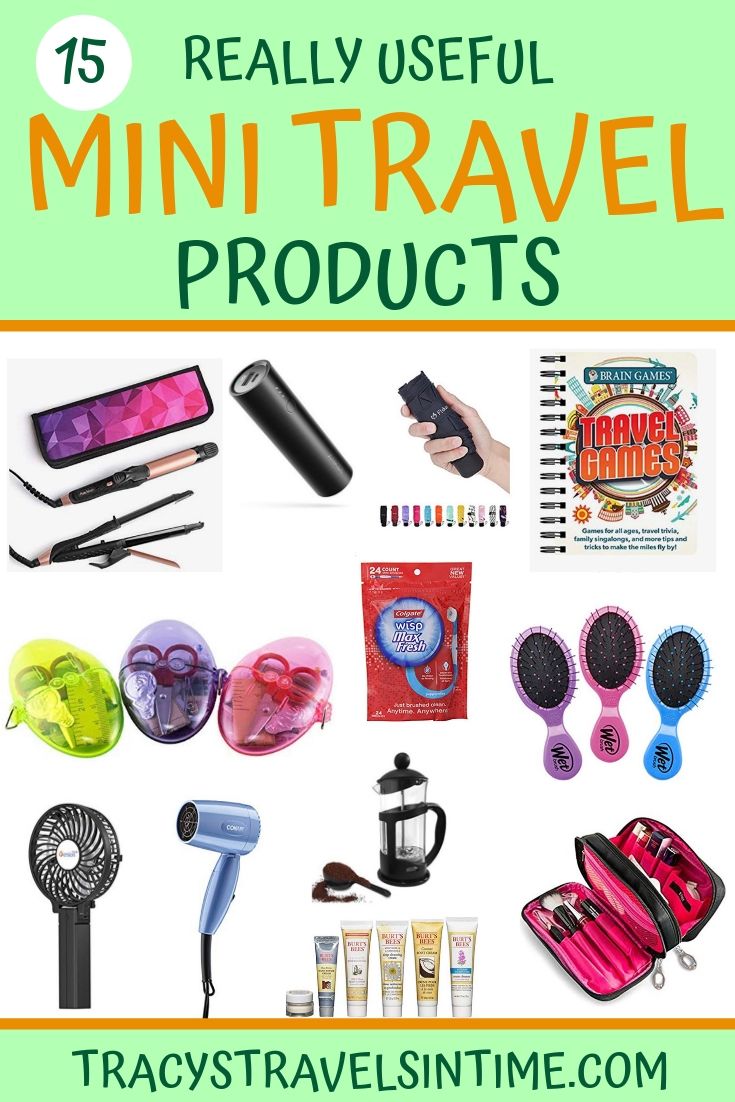 ENJOYING THESE TRAVEL SIZE PRODUCTS ROUNDUP? YOU MAY ALSO ENJOY THESE POSTS TOO!
CLICK FOR EXCLUSIVE ACCESS TO MY RESOURCE LIBRARY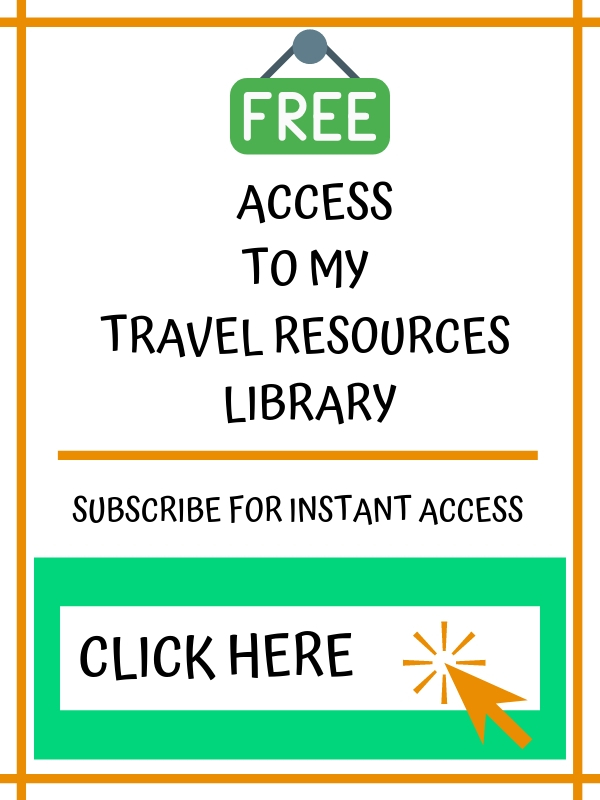 Over the last 50 years I have lived and worked in 7 countries on 4 continents and travelled to many more. I enjoy exploring and learning about new places and meeting people on my travels. History, reading, photography, nature and wildlife are my interests and I am ALWAYS researching and planning my next trip (preferably by train)
With a lifetime of travel experience, and a network of friends all over the world, I share genuine insider guides, recommended best book lists and train journey inspiration to help YOU travel authentically to some of the most beautiful places on earth.
Come and join me as I travel the world one country (and train journey) at a time!
This post may contain compensated links. Please read our disclaimer for additional information.