Our buying guide to the best anti-theft travel bags will ensure you choose the right bag for your next trip.
When travelling I want to know that my belongings are safe and secure. I want to avoid being the victim of thieves, scammers and pickpockets that prey on tourists around the world.
A few years ago on a trip to Paris, I witnessed a pickpocket being apprehended near the Eiffel Tower. The contents of his bag were tipped onto the ground and I was astounded to see at least 30 purses and wallets. All of them had been stolen in a few hours from tourists spending the day enjoying the sights of Paris.
Later that day, on the Paris Metro, after being surrounded on a crowded train my backpack was opened by thieves and the contents rummaged through as they looked for valuables.
Not a pleasant experience for myself or my fellow travellers that day.
However, I had one advantage. I was using a cross-body anti-theft bag. In it I had all my valuables – my wallet, credit cards, passport. camera and phone. So even though thieves had accessed the backpack my bag (held close to my body) had proved invaluable (and invincible). After I returned home I purchased an anti-theft backpack for both myself and my husband.
The moral of my story is don't take chances. Do as much as you can to prevent thieves. And one of the best ways to do this is to use anti-theft bags and backpacks.
In this ultimate guide to the best anti-theft travel bags, I am recommending products that I own and use every time I travel. I also purchased some of these products for my daughter when she was backpacking the world a few years ago. Yes, they may seem expensive but they are worth every cent/penny for the peace of mind they provide.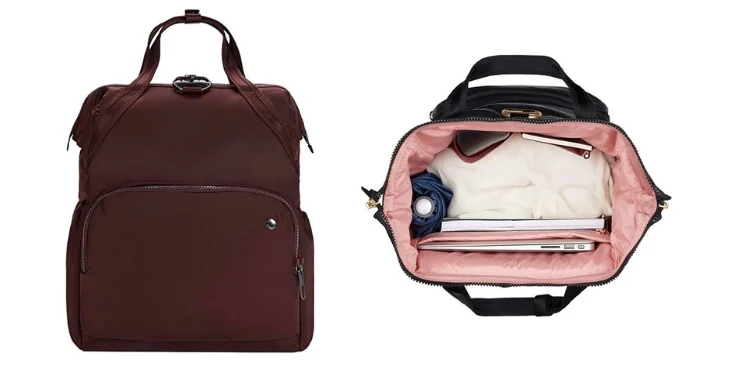 Comparison Table – Anti Theft Bags and Purses
If you already have an idea of what you want but just want a quick comparison of anti-theft bags and purses the table below summarises my research.
Comparison Table – Anti Theft Backpacks
If you require something larger these pickpocket proof backpacks are the best I have found to keep your belongings safe when traveling.
What is an Anti Theft Bag?
Also known as "anti-slash bags" or "anti-pickpocket bags" anti-theft bags or backpacks have additional features to make it harder for a thief or pickpocket to access.
Most pickpockets and bag thieves work in gangs and are looking for the vulnerable tourist – the ones who have open handbags or wallets in their back pockets. An anti-theft bag makes stealing from you that much harder for them and therefore they more likely to avoid even trying.
The most common thefts occur when thieves
Slash open the bottom of a bag and steal the contents as they fall to the ground
Slash the strap and grab the bag
Undo zips and steal the contents (as the thieves did to me in Paris) or simply lifting items from an opened purse or bag
Scanning your bag for ID and credit card details
Common places for these crimes to occur are at major tourist spots, on public transport, at museums and at the airport. (My step-father had his wallet stolen at Zurich airport after returning home tired from a long-haul flight. The thieves spotted his vulnerability and stole his wallet from his jacket pocket. Don't assume that even places as safe as Switzerland are free of pickpockets and thieves. They aren't.)
Best Anti Theft Travel Bags and Purses Reviews
Who Makes the Best Anti Theft Travel Bags, Purses and Backpacks?
The main brands making anti-theft bags are Pacsafe and Travelon. All the anti-theft bags I own and use were made by these two companies and those are the two brands featured in this guide. They have all of the features you need in an anti-theft bag including RFID blocking, slash-resistant material and locking compartments and zippers (more information on each feature is later in the article)
BEST ANTI-THEFT TRAVEL HANDBAGS AND PURSES
A selection of the best anti-theft handbags and purses
BEST ANTI-THEFT BACKPACKS
A selection of the best anti-theft backpacks available on the market right now.
Key Features of Anti Theft Travel Bags and Backpacks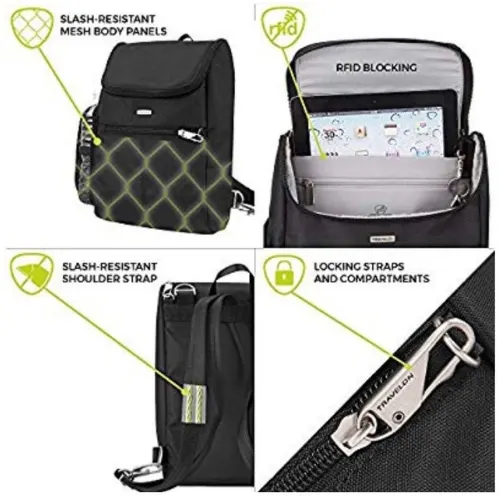 √ Slash-resistent mesh body panel and shoulder strap
√ Locking compartments and straps
√ RFID blocking
How to choose the right anti-theft bag
I have a number of different sizes of the anti-theft bags as well as an anti-theft backpack. I tend to use the Travelon Anti-Theft Classic Messenger Bag during the day and the Travelon Women's Anti-theft Heritage Small in the evenings when I am carrying less but obviously everyone's requirements are different.
Consider what essentials you want to carry with you and buy a bag that fits what you need. I would recommend buying a backpack and at least one bag to start with. I started with the Travelon Anti-Theft Signature 3 Compartment Crossbody and built up my collection from there.
Read more – Guide to the best mini anti theft bags and purses
Benefits of Using an Anti Theft Travel Handbag or Backpack
I would never travel without my anti-theft bags and while I don't want to alarm anyone I think it is absolute necessity especially in some parts of the world.
√ Greater protection from pickpockets and thieves as they tend to look for easy targets
√ Safer carrying passport and credit cards as they can't be scanned
√ Less anxiety when in crowded areas or on public transport
Tips when Using your Anti Theft Travel Bags: How to Stay as Safe as Possible
√ Don't walk near the edge of the road. Motorbike gangs are known to grab bags as they drive past.
√ If you are traveling with a partner share the cash/cards between you so if anything happens you still have some money.
√ When on public transport or in a crowded area keep the bag close to you and in front of your body
√ Look up any known scams for your destination. I include these in my travel guides as I believe forewarned is forearmed
√ The anti-theft bags and tips in this post are to encourage greater safety awareness and to use as a precaution when you travel but unfortunately nothing is 100% guaranteed. I highly recommend taking out travel insurance before you travel. I recommend World Nomads and you can click here for a quote.