ABOUT TRACY
 A LITTLE INTRO….
 Mother of one, teacher, traveller, train lover (always a train as first choice), milkshake connoisseur.
LIKES
  Train journeys, maps, architecture, history, cities, UNESCO World Heritage Sites, reading, wildlife, trying new foods, meeting new people, the French language, sunshine, lilies, sausage dogs, afternoon tea, linen trousers, Adele,  and a long list of places…
DISLIKES
Rudeness, flying (turbulence), people with no empathy, cucumber, crowded places, Brexit and ants.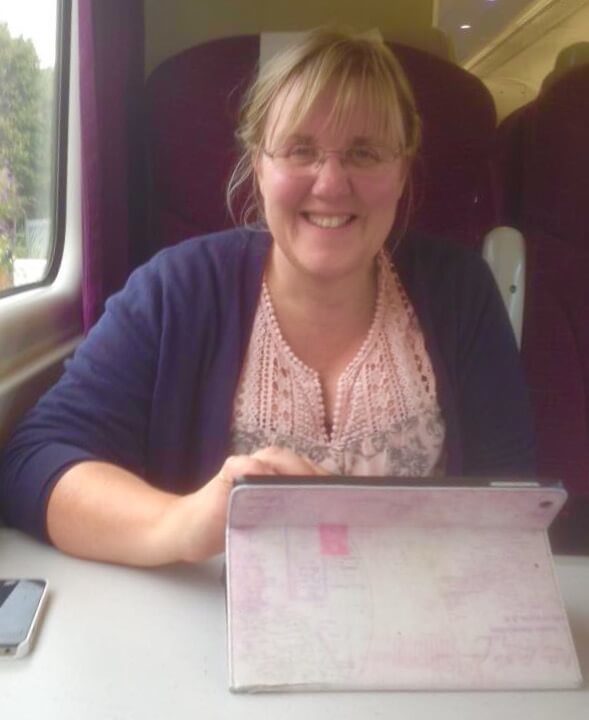 AND A LONGER INTRO…..
When I was 7 my Grandmother bought me a pack of 52 cards each with a photograph of a beautiful place around the world on it. My favourites were Table Mountain in Cape Town and the Golden Gate Bridge in San Francisco, USA. Oh how I wanted to see them for real!
I was lucky enough to stand at the top of Table Mountain 9 years later at the age of 16….it took me another 32 years to stand on the Golden Gate Bridge which I finally did in 2015. That was a pretty good feeling!
So who am I? And what is my background?
I was born in the UK and lived in Newcastle until the age of 13 when we (me, my brother, my Mum and step-Dad) moved to South Africa. During school holidays I sometimes travelled back to the UK on my own to visit family – I think I was 16 the first time I flew home alone and I really think this made me fearless when it came to the idea of solo travel! (Though not of flying unfortunately)
Aged 21 after finishing a Bachelor of Arts degree (majoring in both History and Psychology) at University in South Africa  I decided I wanted to see more of the world before thinking about a career and settling down in one place.  I had planned to travel for a year or so (that was the plan) but it ended up being 7 pretty amazing years.
My 20's – the solo years!!
In my 20's  I lived in FRANCE – Evian-les-Bains, ENGLAND – London,  CANADA – Toronto,  SWITZERLAND – Basel and BOTSWNA – Gaborone. The difference between Toronto and Gaborone cannot be underestimated and I soon learnt to adapt rather quickly to different environments.
I worked as an au pair, nanny, English teacher and an assistant manager of a nursery school and met and worked with some fantastic people I am still in contact with nearly 30 years later. I learnt to speak French, I learnt to appreciate food (the French really do have the edge on this). I learnt that skiing is a lot harder than it looks. I learnt to fit into different families and cultures and I also learnt that despite 2 winters in the French Alps I had not really felt the cold until I had experienced a Canadian winter!
During work interludes I also travelled as much as possible visiting Italy, Holland, Hong Kong, Zimbabwe, and Denmark.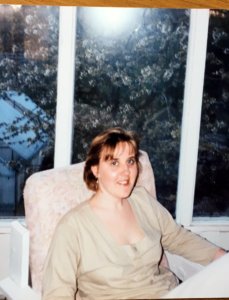 My 30's – the single parent years!!
In my late 20's I moved back to the UK where my daughter was born. I qualified as a secondary school teacher and sort of settled down but travel was a major part of our life and every opportunity we travelled.
We explored France, Malta, the UK, South Africa and Botswana together. And we had fun! Those years were different – as a single parent your priorities change and travel had to fit around school holidays for us both!
My 40's – the married years!!
And then there was 3! After marrying in my late 30's the travel continued except now it was me, my daughter and my husband. We spent summers travelling all over Europe by train -we visited Hungary, Austria, Italy, Czech Republic, France, Switzerland. We visited Majorca, Greece and Malta …. and fell in love with it.
In my  40's I continued to travel either solo (London to Zurich by train in a day) with my daughter (her 18th birthday present a trip to NYC) or my husband (a 40th birthday visit to Amsterdam) or on some occasions as afamily (Canada/USA/Singapore/Australia)
My daughter is now grown up and studying a PhD at university but I achieved my aim of showing her the world. By her 19th birthday she had been to Europe, Africa, Asia, North America and Australia.
My 50's – So what's next for us empty nesters? 
We have recently (2017) relocated to Australia! This is my 7th country to live and work in so keep checking the blog for updates on our new life there!
Follow my travels – past, present and future!
I have some good stories to tell – and memories to make!
Thanks for reading about "Tracy's Travels in Time" and me!
Tracy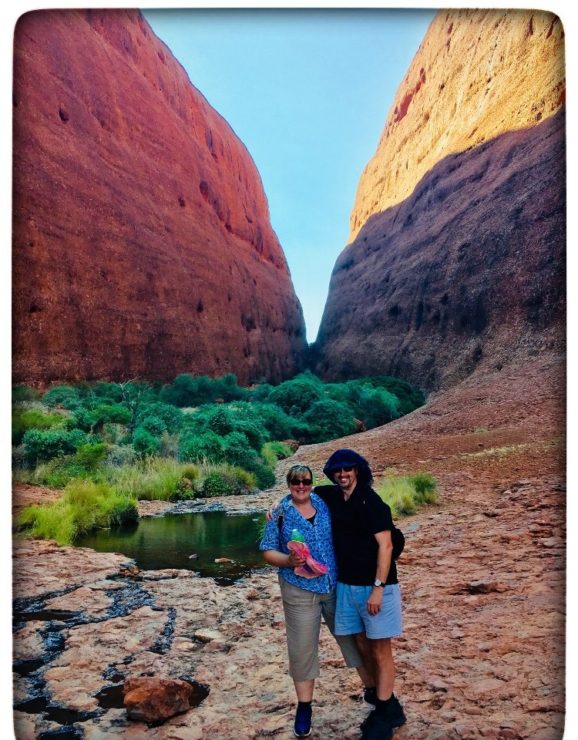 I dreamt of a life well travelled and that is the life I live
---
WHERE IN THE WORLD HAVE I BEEN?
---
I have lived in the following countries
England 1967-1981
South Africa 1981-1988
France 1988-1990
Canada 1990
Switzerland 1992
Botswana 1994-5
England 1995-2017
Australia 2017 –
~~~~~~~~~~
I have been to the following countries:
EUROPE
Where have I been?
Austria: Salzburg, Vienna, Zell-um-see
Bosnia and Herzegovina: Mostar
Belgium: Brussels
Croatia: Dubrovnik, Split, Trogir, Sibenik, Elafiti Islands, KrKa Waterfalls
Czech Republic:  Prague
Denmark: Aarhus, Skagen, Copenhagen
England: London, Manchester, Liverpool, Newcastle, Bristol, Bath, Oxford, Cambridge, York, Lincoln, Ingleton Waterfalls trail, the Lake District, Cornwall, Northumberland , Fountains Abbey and Studley Royal, Nottingham 
France: Paris, Evian-les-Bains, Yvoire, Provence – Nimes, Gourdes, Roussillon, Fontaine de Vaucluse, the Dordogne – Sarlat.
Germany: Berlin, Cologne, Freiburg
Greece: Athens, Halkidiki region
Holland: Amsterdam, The Hague
Hungary: Budapest
Italy: Rome, Venice, Florence , Pisa, Bologna, the Amalfi Coast, Verona, Milan, Lake Garda
Montenegro: Kotor Bay
Norway: Bergen, Voss, Flam railway, Gudvangen, Laerdal
Republic of Ireland: Dublin, Limerick, Cork, Blarney Castle
Scotland: Edinburgh, Edinburgh's botanical gardens, Glasgow, Inverness, Kyle of Lochalsh, Thurso and Wick, Aberdeen, Dundee, The Kelpies
Spain:Barcelona, Madrid, Lloret-del-mar, Benidorm, Majorca, Ibiza, Tenerife
Switzerland: Geneva, Zurich, Crans Montana, Bern, Lausanne, Basel, Lucerne, Mt Pilatus, Bernina Express, Top of Europe 
Wales: Cardiff
AFRICA
Botswana: Gaborone, Francistown, Maun and Chobe
Egypt: Cairo
Lesotho
South Africa: Johannesburg, Durban, Cape Town, Pilanesburg and Sun City, Madikwe, Kruger National Park, Grahamstown, Stellenbosch, Simonstown, Port Elizabeth, Klaserie River Safari Lodge, Cape Provinces
Swaziland:Mbabane, Pig's Peak
Zimbabwe: Harare, Lake Kariba, Victoria Falls, Hwange Park, Bulawayo, Zimbabwe ruins
NORTH AMERICA
Canada: Toronto, Niagara Falls, Vancouver, Vancouver Island, Victoria
USA: New York, Washington DC, Seattle,  San Francisco, Los Angeles
OCEANIA
Australia: Brisbane, Gold coast, Sydney, Mackay, The Whitsundays, Airlie Beach, Bowen, Sunshine coast, Melbourne
ASIA
Hong Kong
Thailand
MIDDLE EAST
Dubai
---
MY BUCKET LIST!
---
TRAIN JOURNEYS TO TAKE
Trans-Mongolian – St Petersburg to Beijing
The Ghan – Darwin to Adelaide
The Zephyr – Chicago to San Francisco
The Rocky Mountaineer – Canada
Venice-Simplon Orient Express – London to Venice
Eastern and Orient Express: Singapore to Bangkok
The reunification express Vietnam
The Blue train South Africa – Johannesburg to Cape Town
Bernina/Glacier Express – Switzerland✔
Kuranda Scenic railway Australia✔
Go on the bullet train in Japan
Denali star from Anchorage to Fairbanks
Palace on wheels – India (Doug)
Coast Starlight – Seattle to LA ✔
PLACES TO VISIT/EXPERIENCES TO HAVE
Thailand – Phi Phi island/Bangkok/all of it basically! (partially achieved 2017)
Attend a cookery school in Thailand/Cambodia/Vietnam
Seeing polar bears in Churchill, Canada
Singing along with Michelle Shocked whilst landing in Anchorage, Alaska
Bathing in the Blue Lagoon, Iceland
Visit Dubrovnik(achieved August 2016) ✔
Visit the Hermitage in St Petersburg
Visit far northern Norway and see the northern lights
The Grand Canyon
The Everglades (Doug)
The Whitsundays and the Great Barrier Reef (achieved Sept 2017)✔
Drive the Great Ocean Road (achieved Jan 2018)✔
Visit Hawaii and drive a red Ferrari (but not grow a moustache a la Magnum PI!!)
Visit the Valley of the Kings in Egypt
Visit Gerald Durrell's zoo on Jersey
See the Kelpies in Scotland (achieved June 2016)✔
Walk on the Great Wall of China
See the terracotta army in Xian
Visit Red Square
Visit Vietnam
Visit Cambodia See Orangutans in Borneo
Visit Cuba (Doug)
See Komodo dragons
Visit Uluru✔
Visit New Zealand – both islands
Sleep in an ice hotel
Visit the Flores Islands to see Komodo dragons
---
---