Discover everything you need to know about seeing the iconic Cape Hillsborough kangaroos on the beach in Queensland Australia.
I am sure everyone in Australia and around the world has seen those stunning images of kangaroos on a beautiful Australian beach at dawn. Ever wondered where they were taken?
If you are a nature lover and/or a keen photographer and would like to have the opportunity to take your own photographs (or simply enjoy the experience of seeing kangaroos and wallabies in a beautiful setting) the place you need to go is Cape Hillsborough National Park in Queensland.
Situated only 50 km north of Mackay, Cape Hillsborough offers visitors wonderful wildlife experiences and also the opportunity to explore forests, beaches and volcanic headlands.
Cape Hillsborough was named by explorer James Cook in 1770. Before European settlement, the Yuibera Aboriginal people lived in the area for thousands of years.
Cape Hillsborough offers visits the opportunity to explore and experience the natural beauty of the Mackay region and is a worthwhile addition to any Queensland itinerary.
If you are planning a trip to Cape Hillsborough to see the kangaroos and wallabies my guide will help you make the most of your visit.
Tip – Book accommodation as much in advance as possible if you plan to stay at Cape Hillsborough. Accommodation options are limited and are booked up well in advance, especially during school holidays.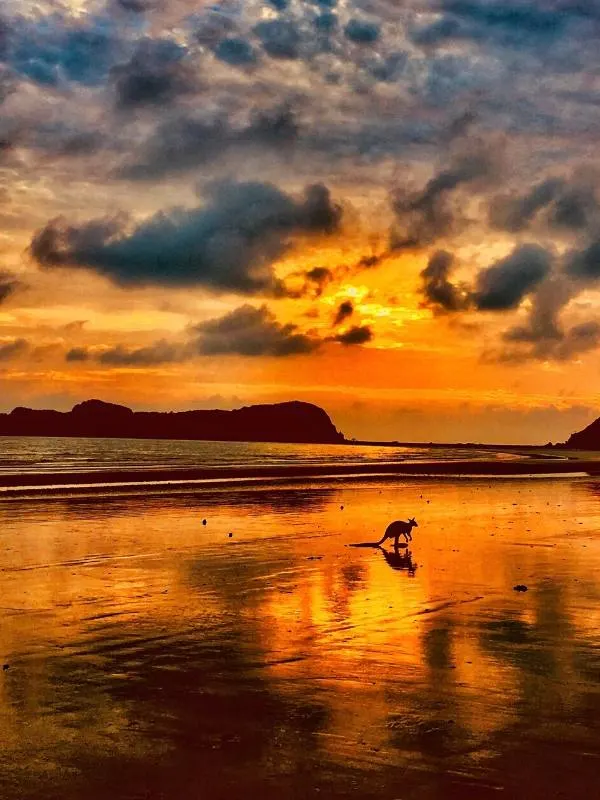 FAQs for visiting the kangaroos at Cape Hillsborough
Are the kangaroos and the wallabies at Cape Hillsborough wild?
The kangaroos and wallabies come down onto the beach to feed at dawn off the seed pods that have been washed onto the shore and then hop off just after sunrise to chill out for the rest of the day.
Whilst the majority of the animals are wild there are a couple of hand-reared kangaroos who also hop down to the beach for their breakfast.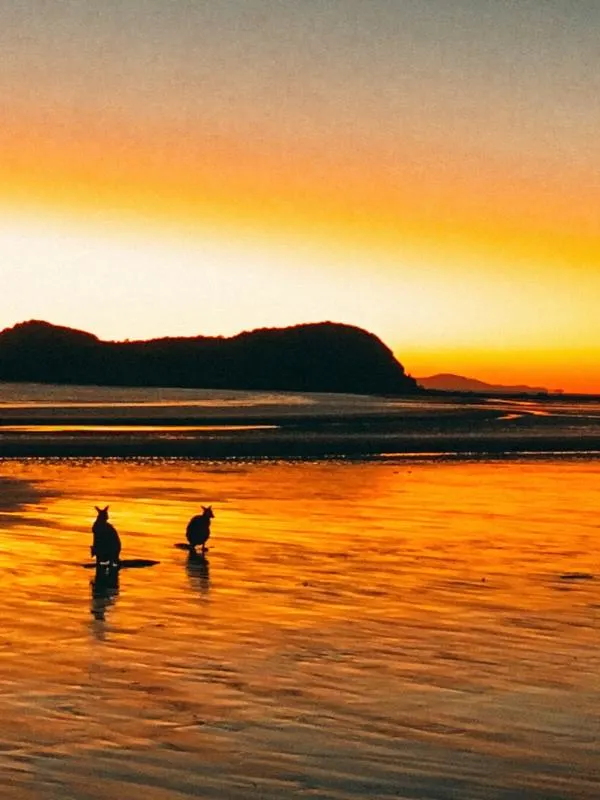 Can I get close to the wildlife?
You can get quite close to the animals though I would be wary of going too close as these are after all WILD animals.
Do not stand between a kangaroo and the back of the beach. I inadvertently did this and was asked to move. It is important not to make the animals feel trapped and cut off their escape route. If the animals feel uncomfortable they need to be able to leave freely.
It also should go without saying – DO NOT FEED THE ANIMALS!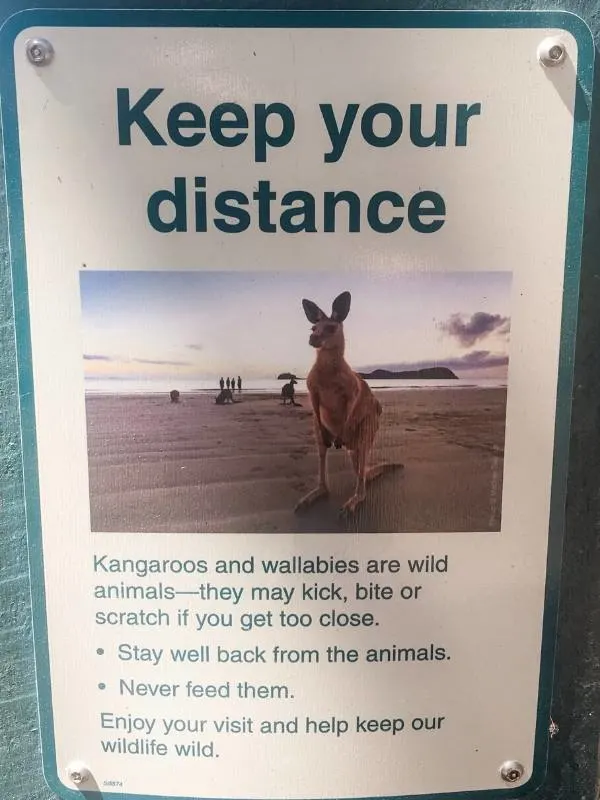 Read more – A guide to seeing platypus at Eungella National Park in the Mackay region
What time do I need to be at the beach to see the Cape Hillsborough kangaroos?
Early….and I mean early!
You need to be on the beach at sunrise if not a few minutes before. If you arrive too late all you will see is an empty beach with not a kangaroo in sight.
There is only ONE beach at Cape Hillsborough and if you follow the road to the end you will arrive at it. I have had some emails from readers concerned that they won't find the beach but you really can't go wrong. The main thing is to be early – if you are late you will miss them!
If you are driving through the park to the beach be careful as kangaroos are active at dawn. It is entirely possible that they could jump across the road in front of you.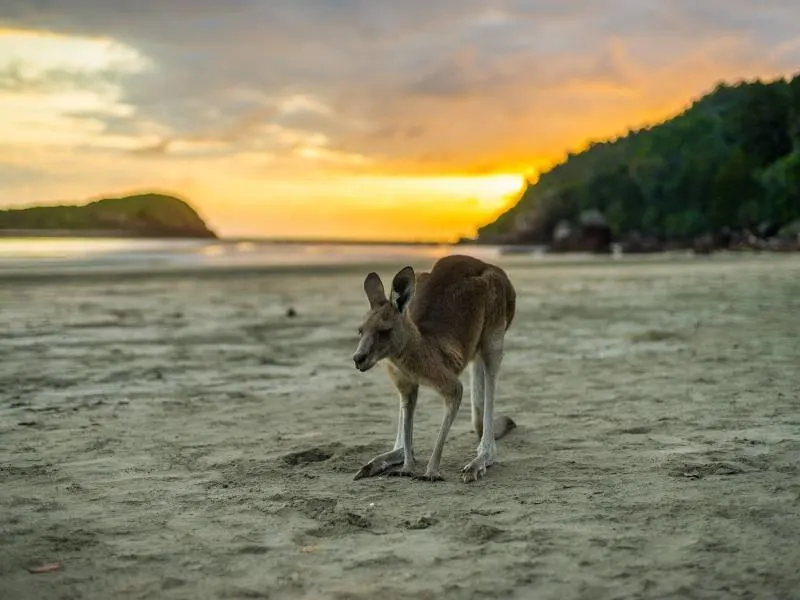 Are you looking for accommodation in Cape Hillsborough? Click here for accommodation options & availability
What do I need to take to the beach?
Do not forget your camera to take some amazing pictures or your phone to take some videos.
If you are visiting during the cooler months wrap up warmly as it can be really chilly on the beach before the sun rises.
Also bring a hat, sunscreen and mosquito repellant (after being chased down the beach by the biggest scariest insect the last time I was there I really would strongly advise insect repellant!)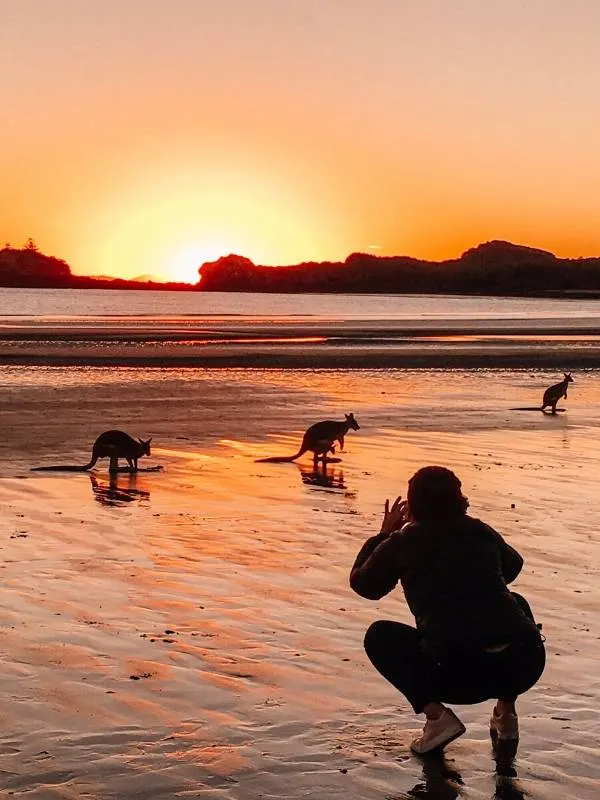 What facilities are available at Cape Hillsborough?
There are a number of areas to park your car near the beach. The parking is free.
There are picnic benches near the parking areas.
Toilets are also available near the beach.
TIP – Why not take a picnic with you and enjoy breakfast at one of the picnic benches once the kangaroos and wallabies have left?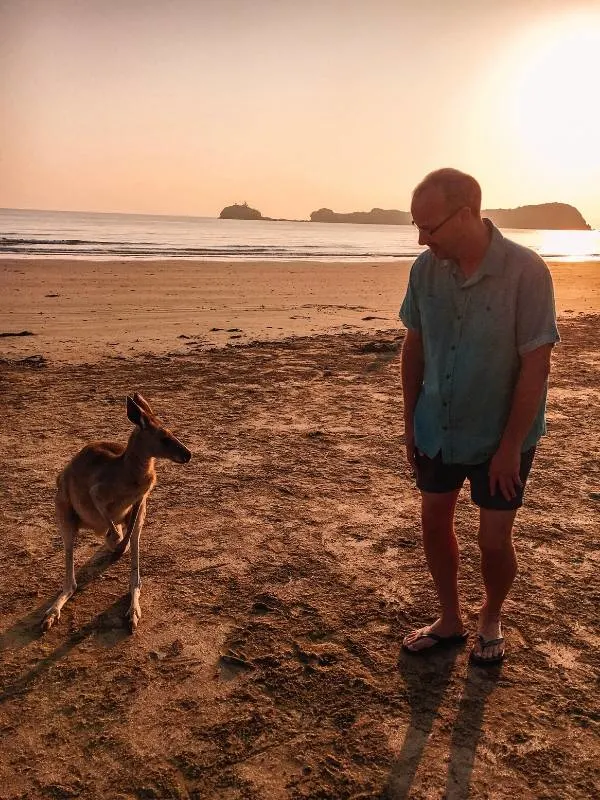 What else does Cape Hillsborough have to offer visitors?
Once the kangaroos and wallabies have left the beach you may be wondering what else there is to do at Cape Hillsborough.
Visit the Diversity Boardwalk (1.2 km return/grade easy) and Yuibera plant trail (1.2 km return/grade easy) to learn about the Yuibera people who have lived in the area for thousands of years.
Go for a walk along one of the many hiking tracks – as above plus Beachcomber Cove Track (2.2 km return/grade moderate)
Look out for other wildlife in the area. We were lucky to see a huge stag on one occasion as we drove through the park.
Read more – Top 10 things to do in the Mackay Region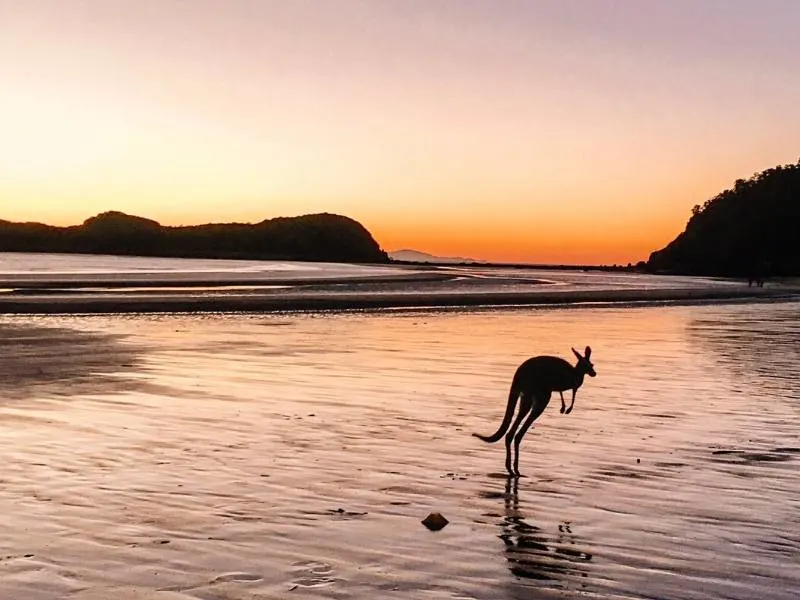 What accommodation is available at Cape Hillsborough?
If you are staying in Mackay it is a 30-minute drive to the beach.
I would recommend staying in the park if possible as it is much easier to get up early in the morning if you are a few minutes walk or drive away (especially in winter).
As I mentioned accommodation is booked up months in advance so do make that reservation today if you intend to visit Cape Hillsborough!
Camping
Camping is available at Cape Hillsborough – check the links at the bottom of the page for further info.
Cabins
There are cabins available near the beach. Please be aware that these are particularly popular and can be booked up often months in advance, especially during the summer and school holidays. I recommend booking as soon as you can to avoid disappointment.
For more information about accommodation options in the Mackay region click the link below.
Important info & links when planning your visit
Pets are not permitted in the park.
If you are planning to swim in the ocean you will need a stinger suit.
Please note that since I originally wrote this post in 2018 a "Cape Hillsborough Sunrise with the Wallabies Tour" has been introduced. In recent years there has been a dramatic increase in visitors to the beach which has resulted in the introduction of a tour.
As I have not taken the tour I cannot comment. I have read that Sunrise Tours operates sustainably and leaves a minimal environmental footprint. Hopefully, I will be able to review the experience and report back soon with more information.
Add to your Queensland itinerary
There are lots of other things to do in and around the Cape Hillsborough area to add to your itinerary including the following…
Spot platypus at Eungella National Park. One of the best places to spot the elusive platypus in Australia is at Eungella National Park. Broken Rive is located only an hour's drive west of Mackay in Eungella National Park and has a variety of accommodation options. We recommend adding a few days to your itinerary and enjoying beautiful views, bush walks and of course amazing native wildlife.
Visit the town of Mackay with its art deco facades, Bluewater lagoon, beautiful beaches and pretty marina is an ideal stopping off point on a Brisbane to Cairns east coast road trip. Stay for a few days there are plenty of things to do in Mackay!
Take a selfie at the big mango in Bowen. There are some fabulous beaches, great seafood options and murals for history lovers in the town of Bowen.