This post may contain compensated links. Please read our disclaimer for additional information. As an Amazon Associate, I earn from qualifying purchases.
(This post was about the best time to see kangaroos at Cape Hillsborough was updated in March 2019)
I am sure everyone in Australia and abroad has seen stunning images of kangaroos on a beautiful beach at dawn. If you are a nature lover and/or a keen photographer and would like to have the opportunity to take your own photographs (or simply enjoy the experience of seeing kangaroos and wallabies in a beautiful setting) the place you need to go is Cape Hillsborough National Park in Queensland.
Situated only 50 km north of Mackay, Cape Hillsborough offers visitors wonderful wildlife experiences and also the opportunity to explore forests, beaches and volcanic headlands. Cape Hillsborough was named by explorer James Cook in 1770. Before European settlement the Yuibera Aboriginal people lived in the area for thousands of years.
Cape Hillsborough offers visits the opportunity to explore and experience the natural beauty of the Mackay region and is a worthwhile addition to any Queensland itinerary.
If you are planning a trip to Cape Hillsborough to see the kangaroos and wallabies my guide will help you make the most of your visit. Your questions answered.
Are the Cape Hillsborough kangaroos and wallabies wild?
Can I get close to the wildlife at Cape Hillsborough?
What time do I need to be at the beach? (Which beach? Where?)
What do I need to take with me to the beach?
What facilities are there at Cape Hillsborough?
What are the accommodation options at Cape Hillsborough?
YouTube video of Cape Hillsborough
Key links and websites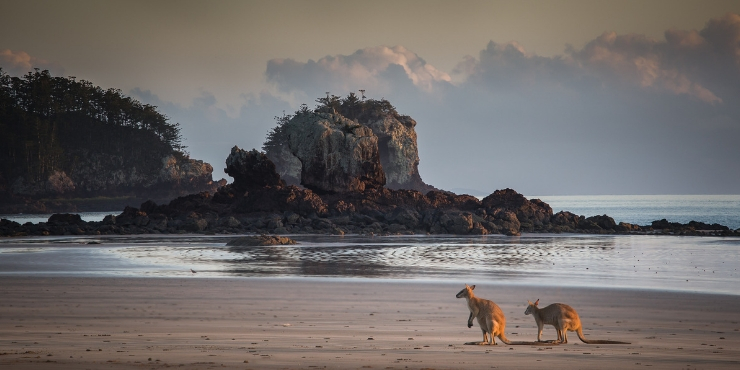 ARE THE KANGAROOS AND WALLABIES AT CAPE HILLSBOROUGH WILD?
The kangaroos and wallabies come down onto the beach to feed at dawn off the seed pods that have been washed onto the shore and then hop off just after sunrise to chill out for the rest of the day.
Whilst the majority of the animals are wild there there are a couple of hand-reared kangaroos who also hop down to the beach for their breakfast.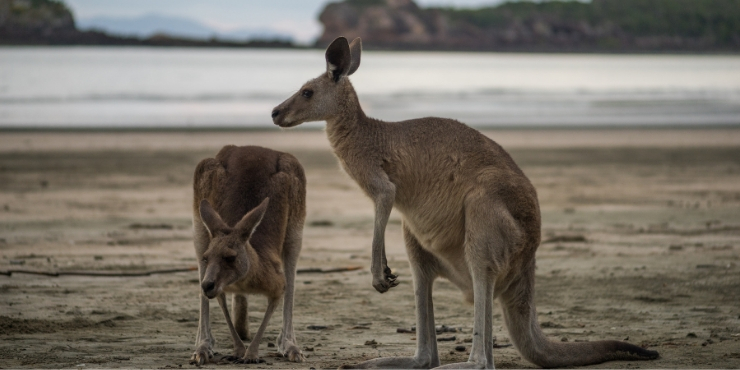 CAN I GET CLOSE TO THE WILDLIFE?
You can get quite close to the animals though I would be wary of going too close as these are after all WILD animals.
Do not stand between a kangaroo and the back of the beach. I inadvertently did this and was asked to move. It is important not to make the animals feel trapped and cut off their escape route. If the animals feel uncomfortable they need to be able to leave freely.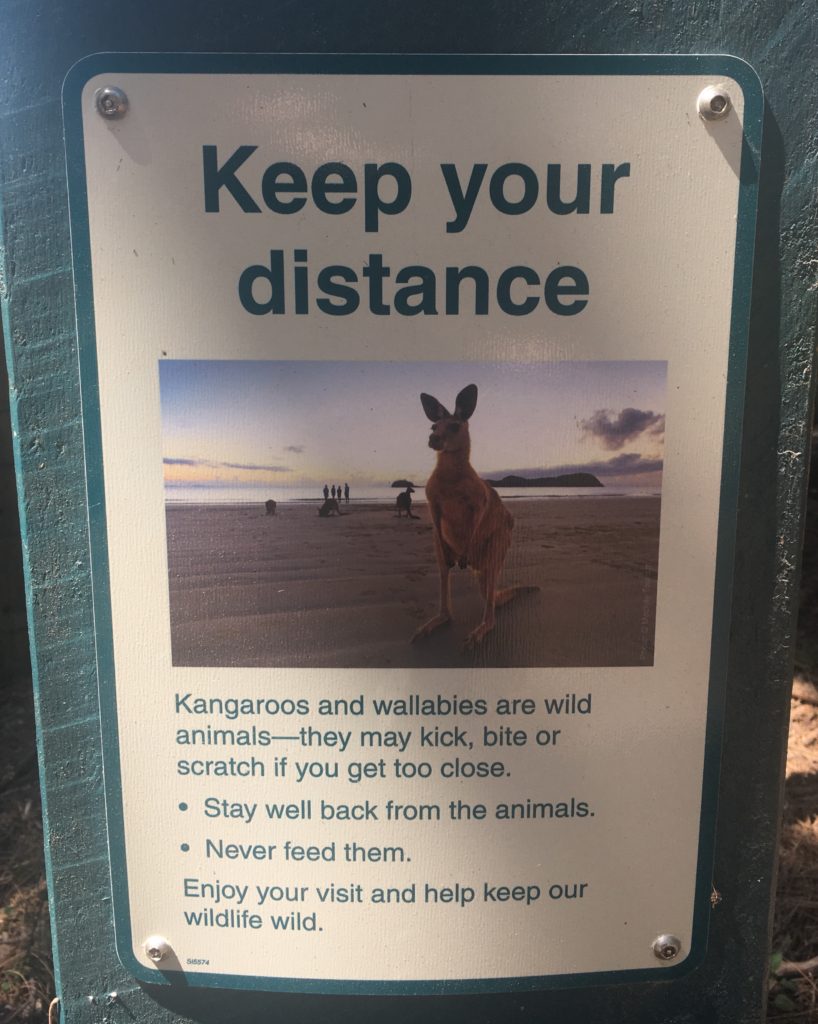 It also should go without saying – DO NOT FEED THE ANIMALS!
WHAT TIME DO I NEED TO BE AT THE BEACH TO SEE THE CAPE HILLSBOROUGH KANGAROOS?
Early….and I mean early!
You need to be on the beach at sunrise if not a few minutes before. If you arrive too late all you will see is an empty beach with not a kangaroo in sight.
There is only ONE beach at Cape Hillsborough and if you follow the road to the end you will arrive at it. I have had some e mails from readers concerned that they won't find the beach but you really can't go wrong. The main thing is to be early – if you are late you will miss them!
If you are driving through the park to the beach be careful as kangaroos are active at dawn. It is entirely possible that they could jump across the road in front of you.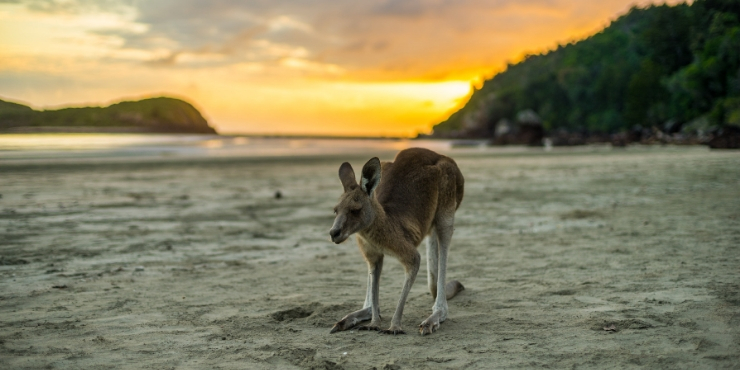 WHAT DO I NEED TO TAKE TO THE BEACH?
Do not forget your camera or phone to take some video.
If you are visiting during the cooler months wrap up warmly as it can be really chilly on the beach before the sun rises.
Also bring a hat, sunscreen and mosquito repellant (after being chased down the beach by the biggest scariest insect last time I was there I really would strongly advise insect repellant!)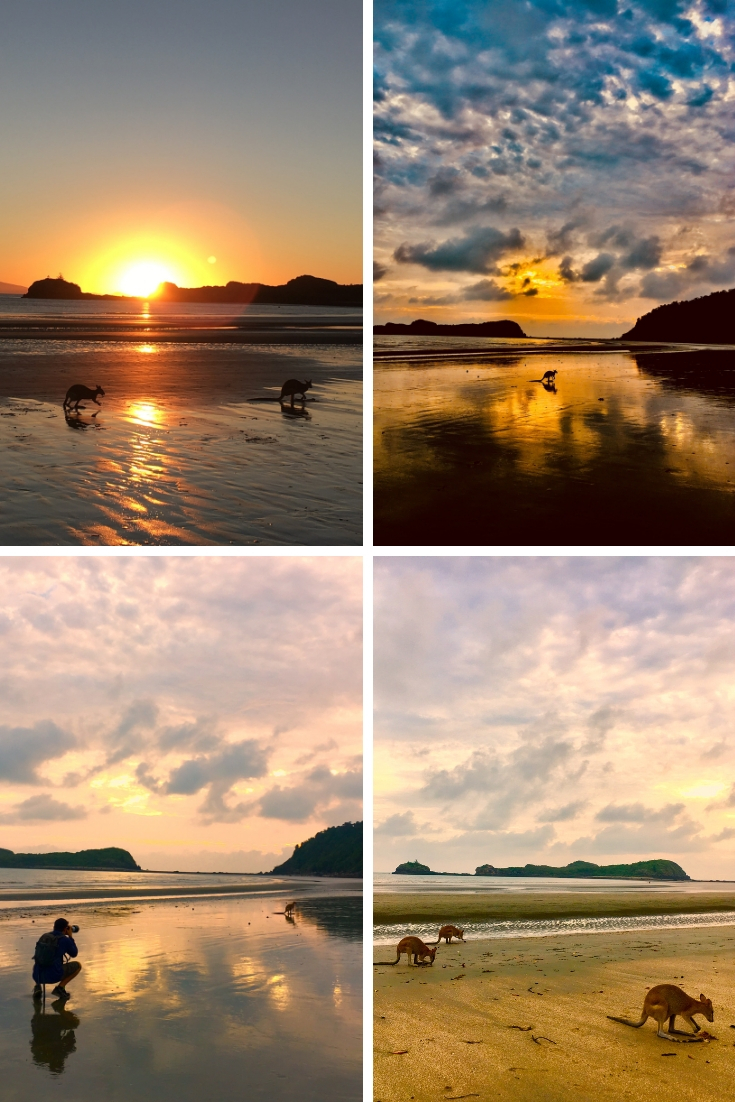 WHAT FACILITIES ARE AVAILABLE AT CAPE HILLSBOROUGH
There are a number of areas to park your car near the beach. The parking is free.
There are picnic benches near the parking areas.
Toilets are also available near to the beach.
TIP – Why not take a picnic with you and enjoy breakfast at one of the picnic benches once the kangaroos and wallabies have left?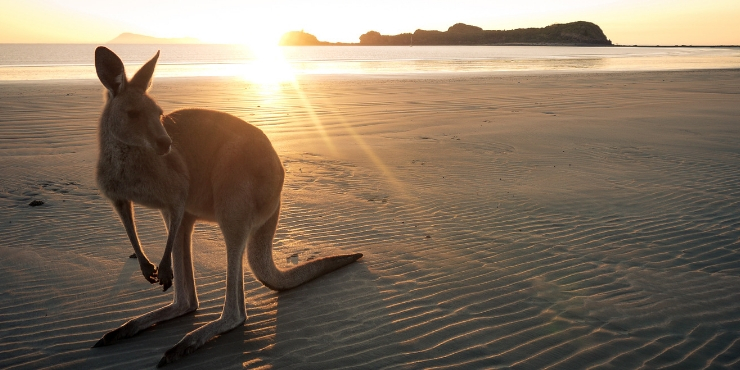 WHAT ELSE DOES CAPE HILLSBOROUGH HAVE TO OFFER?
Once the kangaroos and wallabies have left the beach you may be wondering what else there is to do at Cape Hillsborough.
Visit the Diversity Boardwalk (1.2 km return/grade easy) and Yuibera plant trail (1.2 km return/grade easy) to learn about the Yuibera people who have lived in the area for thousands of years.
Go for a walk along one of the many hiking tracks – as above plus Beachcomber Cove Track (2.2 km return/grade moderate)
Look out for other wildlife in the area. We were lucky to see a huge stag on one occasion as we drove through the park.
WHAT ACCOMMODATION IS AVAILABLE AT CAPE HILLSBOROUGH?
If you are staying in Mackay it is a 30 minute drive to the beach.
I would recommend staying in the park if possible as it is much easier getting up early in the morning if you are a few minutes walk or drive away (especially in winter).
AIRBNB
On our most recent visit to Cape Hillsborough we managed to find an Airbnb about 5 minutes drive away from the beach. It made it so much easier to get there before sunrise and we were probably the only people on the beach for the first 10 minutes!
CAMPING
Camping is available at Cape Hillsborough – check the links at the bottom of the page for further info.
CABINS
There are cabins available near the beach. Please be aware that accommodation gets booked up in advance – months in advance especially during the summer and school holidays.
For more information about accommodation options click the link below.
CLICK HERE TO BOOK HOTEL ACCOMMODATION AT CAPE HILLSBOROUGH OR MACKAY
YOUTUBE VIDEO OF OUR VISITS TO CAPE HILLSBOROUGH
KEY LINKS AND IMPORTANT INFORMATION
Pets are not permitted in the park.
If you are planning to swim in the ocean you will need a stinger suit.
---
FURTHER INFORMATION FOR VISITING QUEENSLAND
---
I have lots of posts all about visiting Australia and a number of these are focussed on the beautiful state of Queensland. With an enviable climate, wonderful wildlife, stunning beaches if Queensland is your destination these posts will help you get the best of your visit! If you are seeking some inspiration these 15 photographs will have you booking the next flight!
My ultimate guide to Australia has links to every post I have written about Australia and is great starting point when planning your visit.
Click here if you are interested in learning more about the 19 UNESCO World Heritage Sites in Australia.
PIN FOR LATER – A guide to seeing the Cape Hillsborough kangaroos
YOU MAY ENJOY THESE POSTS TOO!
---
---
This post may contain compensated links. Please read our disclaimer for additional information. As an Amazon Associate, I earn from qualifying purchases.
Over the last 50 years I have lived and worked in 7 countries on 4 continents and travelled to many more. I enjoy exploring and learning about new places and meeting people on my travels. History, reading, photography, nature and wildlife are my interests and I am ALWAYS researching and planning my next trip (preferably by train)
With a lifetime of travel experience, and a network of friends all over the world, I share genuine insider guides, recommended best book lists and train journey inspiration to help YOU travel authentically to some of the most beautiful places on earth.
Come and join me as I travel the world one country (and train journey) at a time!