Are you planning a trip to Queensland, Australia? Are you emigrating, relocating from another state or simply looking for an amazing itinerary for that once-in-a-lifetime trip down under?
There are lots of things to do and see in Queensland Australia! So much so that I have (will the help of fellow travel bloggers) put together this post of the top 23 things to do in Queensland!
What you will find in this article is a Queensland bucket list and lots of inspiration to help you plan your travels.
The list includes islands, beaches, wildlife experiences, UNESCO World Heritage Sites, big things, towns and cities, street art and numerous places of outstanding natural beauty. These really are some of the best things to do in Queensland Australia and perfect additions to any itinerary.
23 best places to visit & things to do in Queensland
Fitzroy Island
by Toni of 2 Aussie Travellers
If you're going to be in Tropical North Queensland one of our top beaches, and an incredible island in general, is Fitzroy Island. There's a resort you can stay at on the island or you can get out here in under an hour on a variety of boats from the Cairns boat harbour.
The island is located on the Great Barrier Reef, a stunning World Heritage protected region and the island itself is surrounded by fringing reefs.
The beaches are mainly coral rather than the fine sand you'll find through most of Queensland so you'll want your thongs or reef shoes but it makes for incredibly clear and turquoise waters.
The visibility for snorkelling directly off the beach is amazing and there's a lot of fish, coral and even turtles out there.
Nudey Beach is one of the best you'll find anywhere in the world. It's perfect to relax for the day or there are plenty of active options too from snorkelling and kayaking to island walks, stand up paddle-boarding and glass-bottom boat trips.
We took a kayak trip around the coast past the turtle sanctuary and out to Little Fitzroy Island for more snorkelling and would highly recommend it.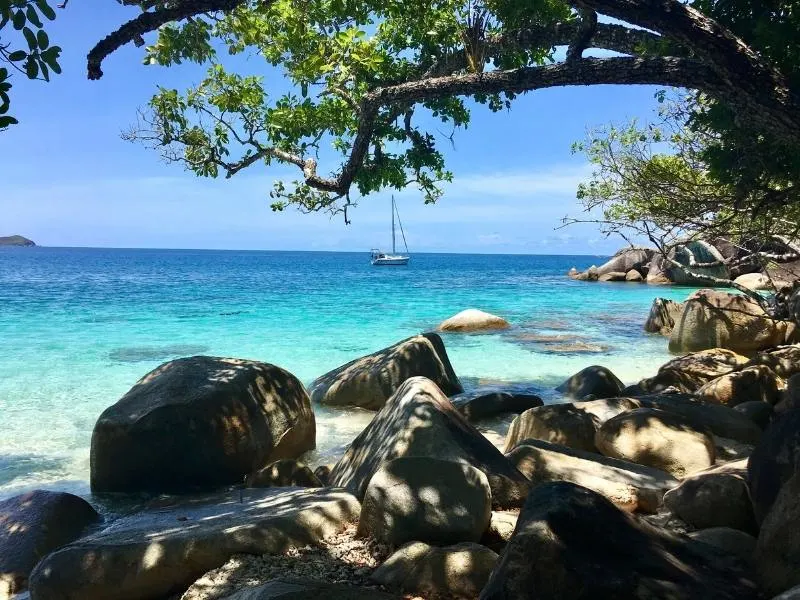 Carnarvon Gorge
by Stephanie of Big World Small Pockets
Way off the coast in Queensland Central highlands, Carnarvon Gorge National Park is one of the state's country's best-kept secrets.
An ancient landscape filled with prehistoric ferns, towering sandstone cliffs and dramatic gorges, this place is wild, rugged and huge in every sense of the word. It is also a very sacred place to the local indigenous population with several rock art and ancient burial sites found throughout the park.
Carnarvon Gorge is best explored on foot and has several wonderful hikes you can undertake to enjoy the views, wildlife and rock formations. Camping is available within the park at certain times of the year, otherwise, there are several lodges nearby where you can stay.
We loved Carnarvon Gorge for the off the beaten track experience it provided and for the stunning light displays that formed as the sun moves across the giant cliff faces.
If you are heading here, you can't miss the spectacular Boolimba Bluff Walk at sunrise – just don't forget your camera!
Carnarvon Gorge National Park is best reached from the Outback Queensland towns of Roma or Emerald and does involve a long, but ultimately rewarding drive! There are very few resources in or around the park, so do make sure you come prepared!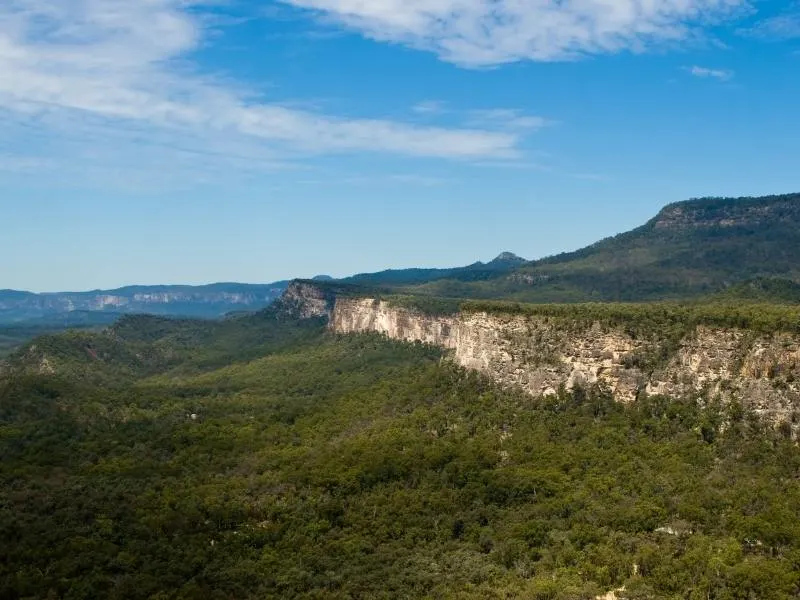 Hamilton Island
by Leah of Kid Bucket List
Situated in the Whitsunday island group, Hamilton Island is the largest inhabited island and the perfect holiday destination for families looking for a place to unwind.
Right in the heart of the Great Barrier Reed, a stay on Hamilton Island provides an opportunity to swim, snorkel or scuba dive along sections of the reef where you will spot a diverse range of corals and fish.
You may even spot one of the turtles that inhabit the waters. Or why not hire a kayak or paddleboard for the afternoon?
Hamilton Island is also home to a number of native animals including goannas, sea eagles, wallabies, sulphur-crested cockatoos, sea eagles and kookaburras.
Take a bushwalk along any of the scenic trails and you are certain to come across one of the glorious hidden coves or lookouts.
The island also boasts a go-karting track, mini-golf, golf course, numerous resort pools, and even scenic flights. There's just so much to do!
When it comes to staying at Hamilton Island, you can choose from luxury, boutique, bungalows, self-contained and units. There's also a wide range of restaurants and cafes dine at for meals. Which will you choose?
You can access Hamilton Island by plane or ferry. Make sure you book well in advance to source accommodation within your budget.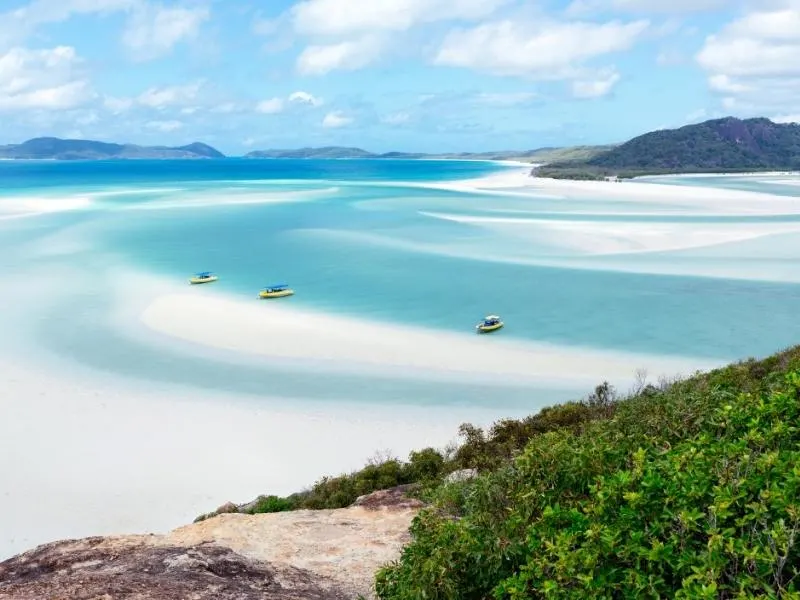 Cape York
by Leezett of Discover Family Travel
As a serious travel family, we enjoy all types of travel including 4×4 driving and camping. There is no better place to enjoy the outdoors and hardcore remote travel like at Cape York in far north Queensland.
Cape York provides serious 4×4 enthusiast's the perfect location to camp under the stars, swim in remote isolated swimming holes, experience the most challenging toughest, roughest tracks Australia has on offer and all while enjoying nature at its best in the warm tropical heat of far north Queensland.
Even new 4×4 drivers can explore and enjoy Cape York with a little care and wisdom. Don't take on the Old Telegraph track without recovery gear, enough food to last a few days if you become stuck, and don't leave home without a great sense of adventure.
For those who like to play it safe, the development road is an easier road to travel on and connects Lakeland to Bamaga and onwards to the tip of Australia – Cape York.
With long red dusty roads, ginormous white ant mounds, interesting local wildlife and genuine down to earth local Queensland Aussies. Cape York is a "Must Do" experience for any travellers that love to connect with nature at its best and for those who are braver, they can push their 4×4 to its limits.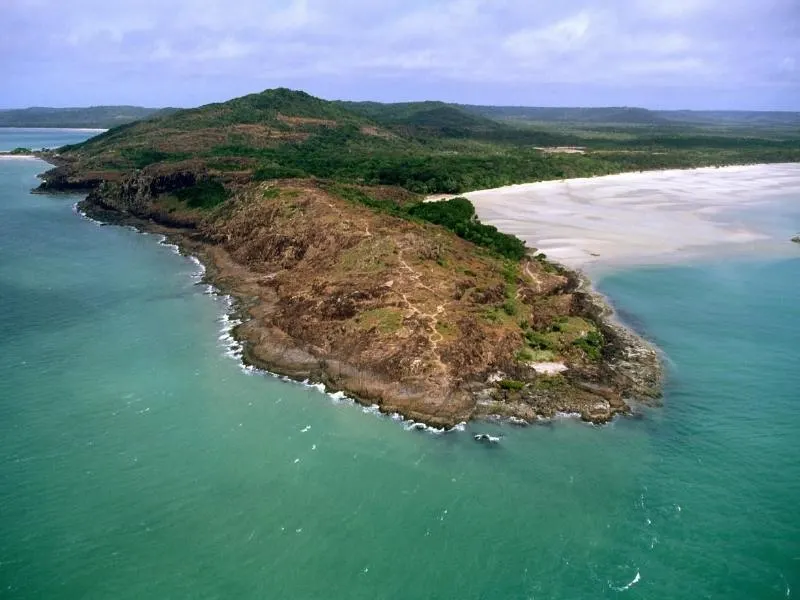 Bundaberg
by Jub of tikitouringkiwi
I can't help but notice every time I see Bundaberg ginger beer on shop shelves around the world. If you haven't heard of the Australian city, Bundaberg, perhaps you've heard of Bundaberg Rum or Bundaberg Ginger Beer?
They are two icons of Bundy, as international brands, so when you pass through Bundaberg on your Queensland adventures, you have to visit one, ideally the distillery.
The history of Bundaberg Rum goes back to 1888, and in a 75-90 minute tour of the distillery museum, you'll get to understand a lot about the history of Bundy Rum – including the origin of the polar bear logo.
There are various tour options, including the opportunity to mix your own rum, something rum aficionados will love.
At the end of the tour, you get to sample a couple of the different rums they've produced, including some that have been rated very highly internationally. The distillery is not all about the booze though, it helps you understand more about Bundaberg, as well as both the rum and ginger beer, have influenced the city significantly.
If you don't do booze, the ginger beer factory down the road (not affiliated) also has a small tour you can do. And the chance to sample some unique flavours.
Noosa
by Scott of internationalhotdish
Are you ready to relax, explore, and/or shop? Then you're ready for Noosa!
Just north of Brisbane, Noosa is a world-class destination for folks looking to enjoy nature, relax on the beach, and take up water sports. The area is lush with vegetation and the ocean is picturesque, with fine sand as far as the eye can see.
Wildlife around every corner and the stunning Noosa National Park nearby. And let's not forget the reef to explore. Noosa has more nature than you can shake a koala at… just please don't shake the koalas! 🙂
Feel like reading on the beach? Cool! Want to wind sail, snorkel, or surf? Cool! Decided you want to shop? Cool! You can relax in the morning, explore the ocean in the afternoon, and go out for a fancy meal for supper. Noosa has it all, seriously.
You decide how much stress you want in your day when you visit Noosa. The opportunities are varied, from hiking to exploring sunken ships to perusing fine retail shops.
Farmers markets, unique cafes, and locally made jewellery and wine, and plenty of artists – Noosa has a perfect balance for the adventure seeker, cultural vulture, and beach lounger.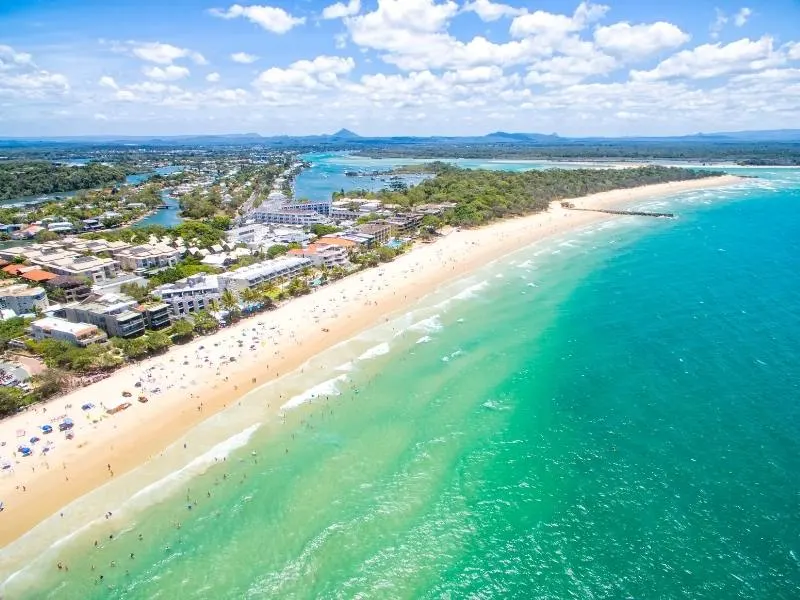 North Stradbroke Island
by Melissa of thriftyfamilytravels
Whilst many of the beautiful islands are in the north of Queensland there are a few right off the coast from Brisbane, North Stradbroke Island being one of them – or Straddie as us locals like to call it.
My favourite thing to do on North Stradbroke Island is to swim in the crystal-clear waters. Whether you like a bit of surf or calm waters, there is the ideal beach here for you.
I highly recommend doing the 1.5 km North Gorge walk. This walk has spectacular views from the headland across the Pacific Ocean. From the designated walkways, you can easily spot dolphins, turtles and manta rays as well as whales during the months of June to November. Along the path you most likely will see kangaroos grazing as well as well as a variety of bird life.
Other popular activities on Straddie are surfing, kayaking, stand up paddleboarding, fishing and 4WDing.
North Stradbroke Island can easily be reached by either the passenger ferry or the vehicle barge. The island is perfect for a day trip, a long weekend or 2 weeks. Camping is a popular choice for accommodation, but there are various hotels and holiday rentals as well.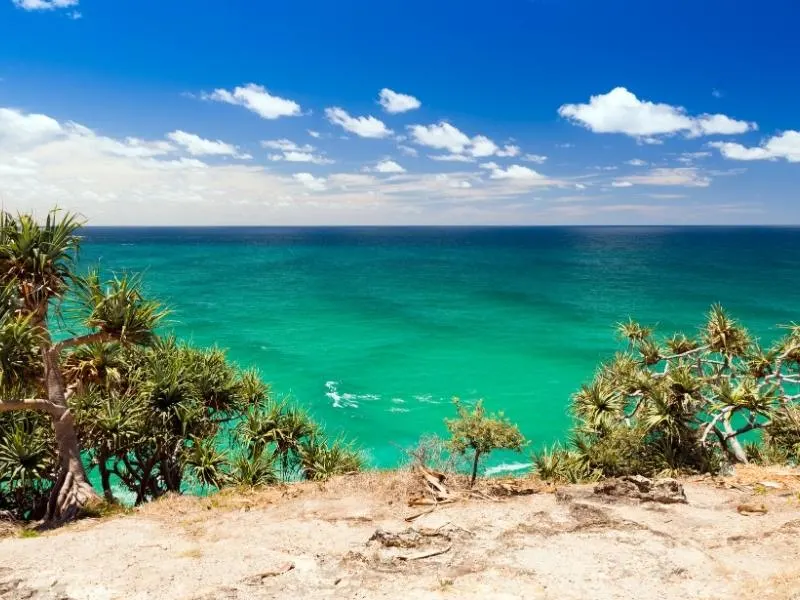 Cairns
by Sharon of Simpler and Smarter
Cairns is the best place to visit in Queensland and there are several must do attractions!
First of all, Cairns is in the tropics which makes it a perfect place to visit to escape winter down south. It's always hot and there is an awesome public lagoon by the water where you can cool down.
Cairns is also a great jumping off spot for two of Australia's most famous attractions – the Great Barrier Reef and the Daintree.
The Great Barrier Reef is simply a must-visit. You can snorkel or dive or take a submarine ride if you don't like getting wet! You'll feel like you just fell into Finding Nemo.
Green Island is a fun place to visit as part of your Great Barrier Reef excursion too. There's a wildlife park, snorkelling off the beach and pools and other places to hang out. We love it here! Make sure you visit the outer reef as well though as the reef around Green Island is not as good.
The Daintree is beautiful rainforest and also somewhere to go croc spotting. Be careful where you swim here!
Cairns itself is a small city with plenty of places to eat and a great range of accommodation. It's a very easy place to visit and enjoy.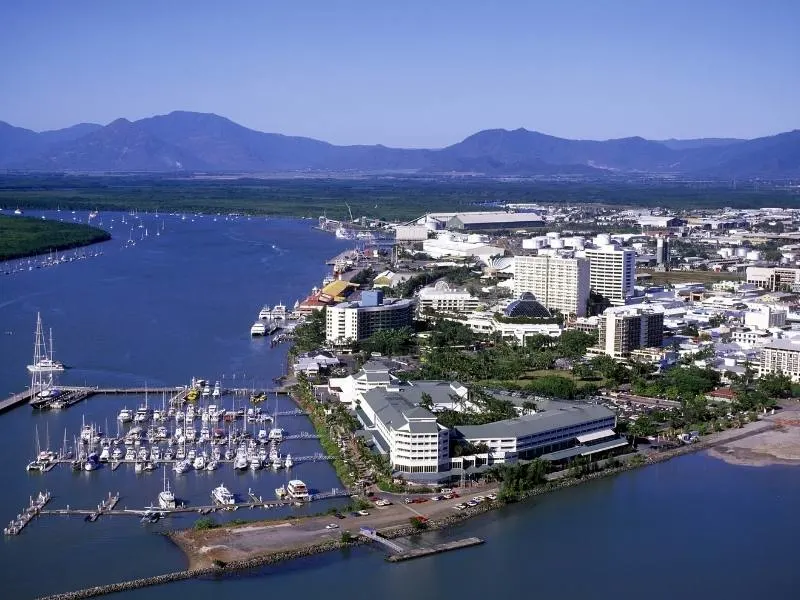 Fraser Island
by Together We Roam
A short ferry ride across the Great Sandy Strait welcomes a world of outdoor family adventure on Australia's largest sand island. Take the 4WD for a self-guided tour exploring Fraser Island's gems, bounding along sandy inland tracks and driving along picturesque 75 Mile Beach.
For those that prefer to leave the 4WDing to others, Fraser Coast Bus Tour runs a family friendly-guided tour that takes families to all the island highlights.
Check out the coloured sand dunes and rusty Maheno Shipwreck on the way to shimmering Champagne Rock Pools, where waves cascading down volcanic rock into the pools, creating effervescent champagne-like bubbles in the natural beachside swimming holes.
Then there's captivating Lake McKenzie where you can sink your toes into the powder-white silica sand and dip in its water of sky blue, a sight for sore eyes and very hard to leave.
Our kids absolute favourite was taking a giant inflatable swan for a float down Eli Creek, the island's natural lazy river, where 80 million litres of pure fresh spring water flows out to sea.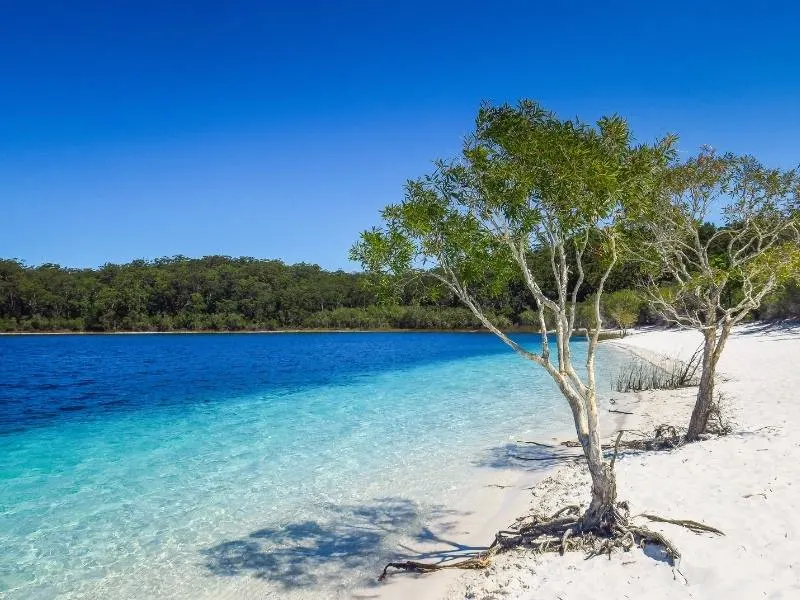 Australia Zoo
If you are in Queensland visiting Australia Zoo is a must-do. Started as an animal and reptile conservation centre by Steve Irwin, of Crocodile Hunter fame, and his family. The park has now flourished into one of the world's best zoos.
Conservation is at the forefront here. Initiatives set up by the zoo have has a significant positive impact on animal and reptile species around the world.
In the large grassy Savannah enclosure, you'll find the African herbivores zebra, elephants, rhino, giraffe and antelope.
One of the highlights is the Wildlife Warrior show, this and other shows and interactive experiences are scheduled throughout the day. Head to the aptly named Crocoseum to see saltwater crocodiles show their frightening strength and speed and birds of prey swoop and dive showing their skills in flight.
Australia zoo provides a great opportunity to experience the unique and fascinating wildlife found only in Australia. From the cute to the downright dangerous, wombats, emus, dingoes, possums, Tasmanian devils, snakes and crocodiles are just some of the animals found here. It is possible to interact with some of the animals, feed a kangaroo or pet a koala.
You'll find Australia Zoo on Queensland's Sunshine Coast. An hour north of Brisbane the must-see attraction can be easily accessed by public transport.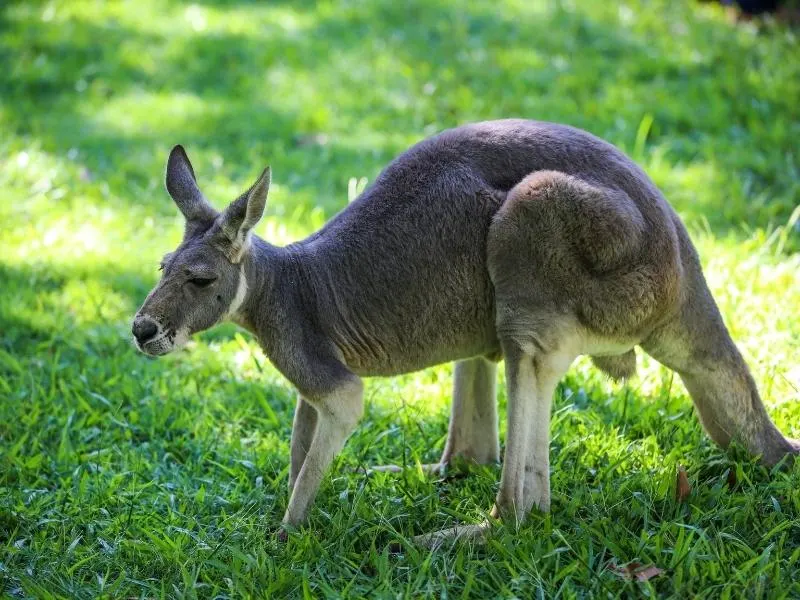 The Great Barrier Reef
by Tom of Travel TomTom
A must do when visiting Queensland is to go diving or snorkelling in the Great Barrier Reef. This natural world wonder can even be seen from space and is unmistakably one of the most amazing underwater worlds to explore.
To experience the Great Barrier Reef the best way possible you are best of hopping on a live aboard. These exclusive yachts bring you to the most exclusive dive spots as they can be pretty far out.
There are great day trips from Cairns as well, but if you are an experienced diver and have time I would suggest you book a seat on a multi-day dive tour. The reef stretches over 2,000 km in length and therefore has the most divers marine life in the world.
There are dive sites for all experience levels and what you are going to see underwater will blow your mind. No matter if you love macro diving or are looking for big fish the Great Barrier Reef cannot be missed on a trip around Queensland.
Cape Tribulation
by Clemens of Travellers Archive
The Daintree National Park and the Cape Tribulation area are far too beautiful to take a quick photo and then drive back to Cairns again. Right and left of the rainforest road there are a lot of interesting things to see.
Cape Tribulation is located in the Daintree National Park and is located about 140 kilometres north of Cairns and about 80 kilometers north of Port Douglas.
Among other things, this is because you can find plants in the rainforest that are among the oldest on earth; they have experienced the dinosaurs and have never seen an ice age because it has been tropical warm in this area for millions of years.
Cape Tribulation is also the northernmost point on this part of Queensland's coast that can be reached without a four-wheel drive. Right and left of the road to the Cape Tribulation, there are a lot of interesting things to see, from the 23-meter high rainforest tower in the Daintree Discovery Center to the Daintree Ice Cream Company with exceptional varieties such as passion fruit and wattleseed.
The rainforest can also be experienced by "Jungle Surfing", where you "fly" with wire ropes through the treetops of the rainforest – a truly adrenaline-rich experience.
Eungella National Park to see platypus
Eungella National Park is located approximately one hour drive away from Mackay in Northern Queensland. The park has some fantastic walks for hikers with tremendous views of the Pioneer Valley. For us however, we had one thing on our mind when we visited – platypus!!
Platypus are only found in certain areas of Australia and can be a rare sight even in their natural habitat. At Broken River, the chances of spotting this wonderful and unique creature are very good. We have visited 3 times and we were lucky to spot platypus twice!
There is a viewing platform at Broken River so sit, relax, keep your camera on hand and your eyes alert!
It may take a while but with a little bit of luck and the right conditions, you will be able to see one of these amazing creatures! To find out more check out my recent post all about our trips to Broken River and Eungella National Park and how you can see the platypus.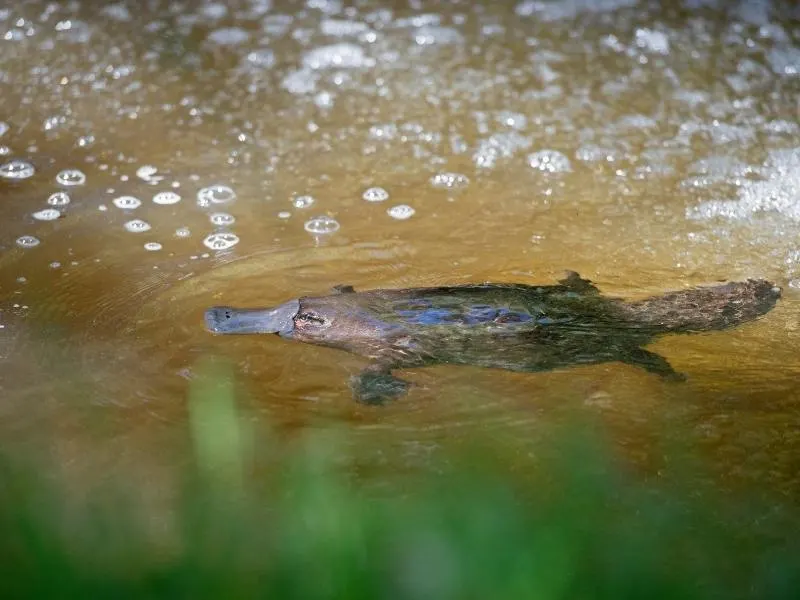 The Gold Coast
by Janine of Fill My Passport
Looking for a fun in the sun type of vacation Down Under? Look no further than the Gold Coast Queensland!
There are more than 30 beaches, amazing shopping, animal encounters, fabulous restaurants, and affordable lodging for an all-in-one holiday. My recommendations for this surf town are as follows:
Pacific Fair – Newly renovated, this incredible shopping mall has everything for all budgets. Enjoy fashion shops like Kitten D'Amour, Witchery, Lorna Jane, etc., upscale jewellery stores, an incredible food court with all your favourites, and a theatre offering Gold Class seating to see your favourite films in style.
Movie World – Out of the cluster of theme parks in a teensy radius, Movie World is definitely my favourite. Mingle with the Looney Toons, Spiderman, Superman, and all things Warner Brothers. Brave the Superman roller coaster, one of the highest in the Southern Hemisphere, and watch Daffy and Bugs on the big screen 3D style. Your best bet is to purchase a pass on Groupon for unlimited access to all 4 parks for $75+. This is the most economical considering one visit to one park is more than this price!
Try Skydiving – This experience is incredible. You take off in a parachute with a landing right on the beach. The scenery and view is phenomenal and you have a wonderful soft landing!
Grab a coffee at Zarraffa's. This coffee chain is only in Queensland and offers some incredible drinks and pastries. My favourite? Definitely the Key Lime Tarts. They are delicious and worth every penny.
Dracula's Cabaret – for a fun night out, do head to the Dracula's Cabaret, dinner and show. It is entertaining and has surprises throughout the evening. Get the VIP ticket for hors d'oeuvres, a special necklace, and incredible seating.
There is a ton more to do here in this amazing city. This has literally just scratched the surface.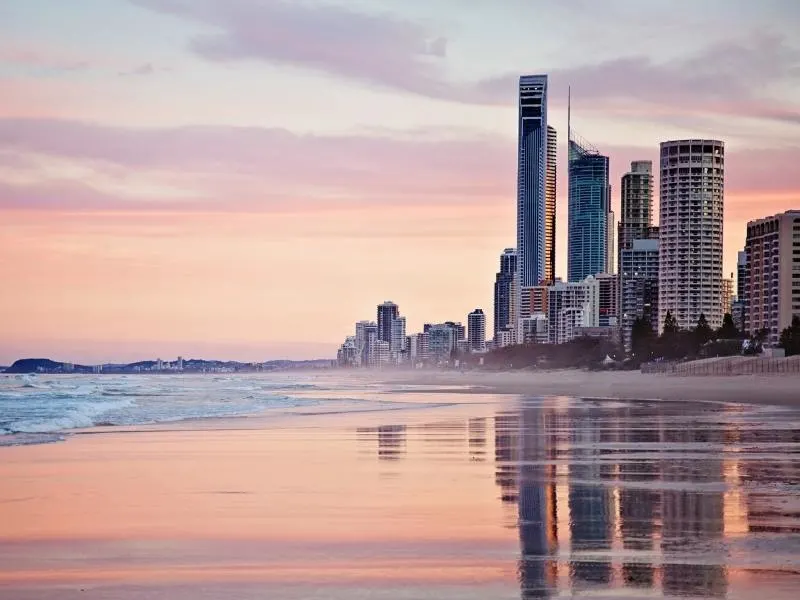 Rainbow Beach
by Nicci of Travel with Boys
The small beachside town of Rainbow Beach in Queensland is a paradise just waiting to be explored. Its white sandy beaches, clear blue skies and rainbow coloured cliffs, provide a spectacular backdrop for any holiday.
There is no shortage of things to do at Rainbow Beach whether you're looking to relax and swim at the beach (all year round), or take a dip at Seary's Creek, which is fed by a natural spring.
If you're after breathtaking views, Carlo Sandblow is hard to beat. 15 hectares of sand sits on top of the coloured sand cliffs and gives you 360-degree views of the ocean and the bay behind.
There are also some amazing paid activities such as horse riding along the beach, kayaking to see dolphins, turtles and whales, or learning to surf on Australia's longest wave.
One of our favourite things to do is to drive a 4WD car up the beach to Double Island Point and spend the day swimming in the calm waters, fishing, eating, drinking and just enjoying life.
Rainbow Beach is small but it's big enough to provide you with all the essentials, no matter whether you're on a budget or looking for luxury. Enjoy!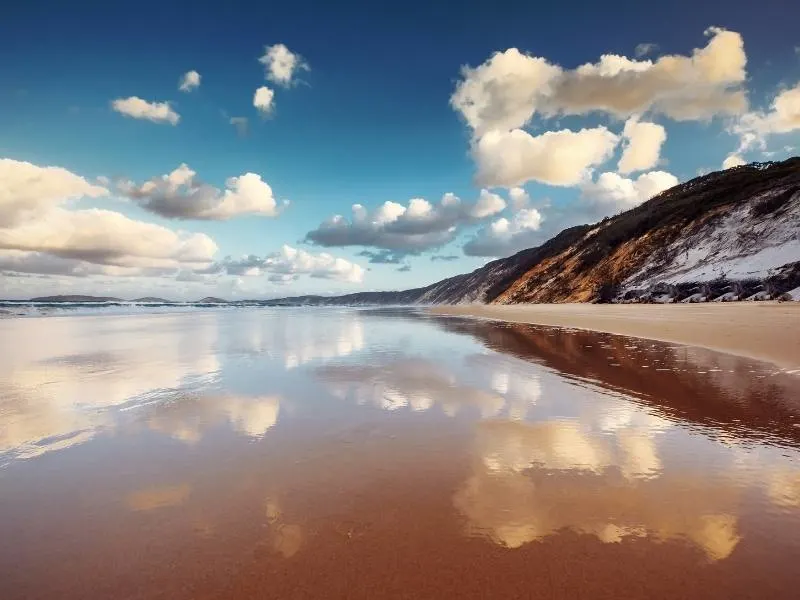 Moreton Island
Whilst Moreton Island is located just a 90-minute ferry ride from Brisbane, it feels like a whole world away once you arrive. Moreton Island is the perfect getaway, offering plenty of fun things to see and do.
Sailing up to the island, you are greeted with the Tangalooma Shipwreck reef (don't worry, they were deliberately sunk there to create a break wall). This is the perfect place for snorkelling, sunbaking and even kayaking in a glass-bottom kayak.
You can even kayak amongst the wrecks at night! If you love sea life, Moreton Island doesn't disappoint, with it's famously friendly local dolphins, and if you are lucky, you can spot sea turtles and whales (during migration season).
Beyond the beach though, there's still plenty of action to enjoy. Moreton Island is the home to Queensland's first lighthouse, where you can get amazing views of the sea and its wildlife.
There are plenty of natural walks and fun 4wd tracks to enjoy, and being the 3rd largest sand island in the world, sand tobogganing is an absolute must! gliding down sand dunes at up to 60 km/hr is nothing short of exhilarating, and a great way to get heated up enough to justify another dip in the beautiful blue sea.
Moreton Island can be enjoyed as a day trip, but there are also plenty of accommodation options on the island for those who like a longer getaway.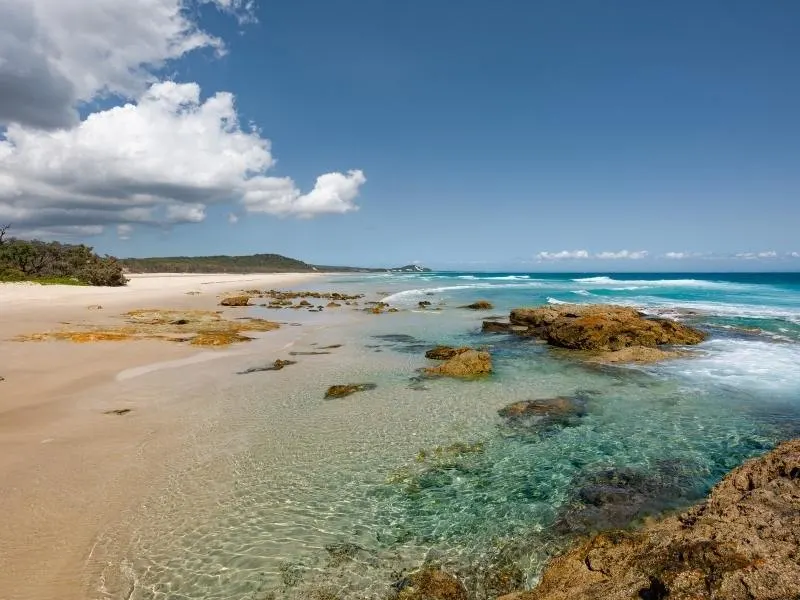 Kuranda Scenic Railway and Skyrail Rainforest Cableway
by Allison of Flights of Fancy
When you think of Cairns, The Great Barrier Reef most often springs to mind but seasoned visitors know there is so much more to Tropical North Queensland.
The Wet Tropics World Heritage Area may be lesser-known, but it is no less spectacular and is a must-see while you are in town.
The region stretches from Townsville to Cape Tribulation and is littered with walking tracks but why not take the Skyrail Rainforest Cableway and soar above the canopy for a completely different view.
Jump on board a diamond view car for a magical 7.5km journey to Kuranda and hop off at each of the mid station to get up close and personal with the rainforest along the way.
Once in Kuranda explore the quaint little town for a spell before making your way back to Cairns on the Kuranda Scenic Railway. The KSR is one of Australia's most iconic rail journeys but a ticket won't break the bank.
Enjoy the rock star treatment in gold class with a wine glass in hand as the train lifts you 328m above sea level, chugs through 15 handmade tunnels, crosses 37 bridges and passes two majestic waterfalls with a wine glass in hand. This is one experience you don't want to miss!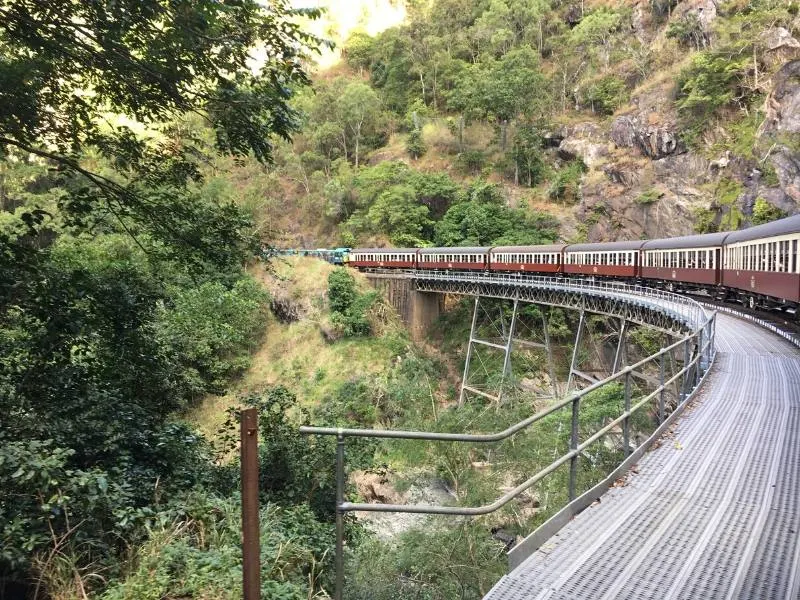 Mooloolaba Beach
by Bethany of Flashpacker Family
Mooloolaba is one of the nicest beach towns on Queensland's Sunshine Coast. There are tonnes of cafes, restaurants and shops along the main esplanade with a beautiful view over to the ocean.
The beach itself is great too – long and wide with several lifeguard points along the beach for safe swimming. If you're travelling with kids, there an endless playground all along the waterfront from one end of Mooloolaba beach right down to Maroochydore.
It's a fantastic place for a week-long beach vacation or a day trip down to the coast.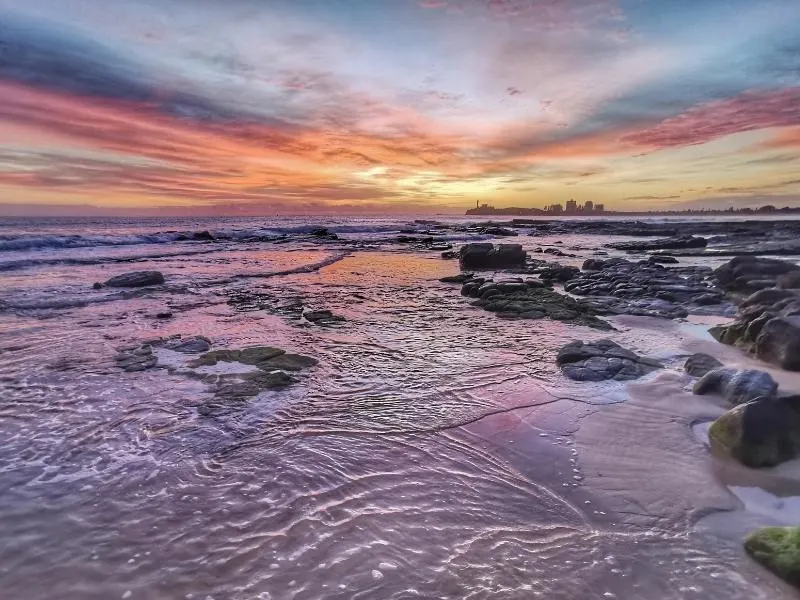 Cape Tribulation
by Wendy of Adventurous Retirement
Cape Tribulation is a remote point in the northeastern part of Queensland Australia, a unique spot where the beach meets the Great Barrier Reef (GBR).
Traveling deep into the rainforest, you come upon Cape Tribulation at the end of the paved roads. Being so remote, only 330 people are known to reside here. It is the coastal area of the Daintree National Park.
Visitors come to Cape Trib for an immersion into nature and escape from connected lives; don't expect internet or mobile phones to work here. Cape Tribulation is for total unplugging, and it's wonderful!
Things to do at Cape Tribulation
The beauty is breathtaking from sea views to deep greenery, and wildlife. There are many activities to keep you busy, or choose to just relax in nature and read or watch the sea. This is a terrific spot from which to access GBR for a day of snorkelling or diving.
Visit the Cape Tribulation Beach House Lookout.
Swim at the Beach House, or at safe swimming holes.
Go for a walk on the boardwalk that goes south along the beach or go for a rainforest walk.
Try the jungle swing.
Take one of the many land excursions, or a boat trip to the Great Barrier Reef.
Go to the Cape Trib Fruit Farm for a tasting tour.
Enjoy horseback riding on the beach.
Have a quiet meal at one of several eating establishments either in the rainforest or on the beach.
The rainforest and coastal beauty looks calm and serene but disguises dangers. Be aware of cassowaries in the rainforests – beautiful, very large, flightless birds unique to northern Australia can attack and cause serious injury.
Trees in the rainforest often have stingers, needles, or serrated edge leaves to protect themselves; these cause painful stings. Of course, crocs can be a threat on coastal beaches.
Dangerous jellyfish are often found in these coastal waters, more frequently in warmer months; however, with a full body wetsuit for protection, you are safe to enter the water.
Although all of these risks exist, it's worthwhile to visit Cape Tribulation. Just be aware and take precautionary measures, or go with an experienced guide.
Getting here and Accommodation
Cape Tribulation offers a natural eco-tourism environment for visitors. From cabins, hostels, beachfront camping, wilderness lodge, farm stay, BnBs, holiday home rentals, and a yoga retreat, you can pick accommodations that suit you best.
Located 2.5 hours from Cairns, it can be accessed by car or on a transport running excursions. It is well worth the trip to experience all that Cape Trib offers, even if you only have one day. I wish we stayed a couple of nights.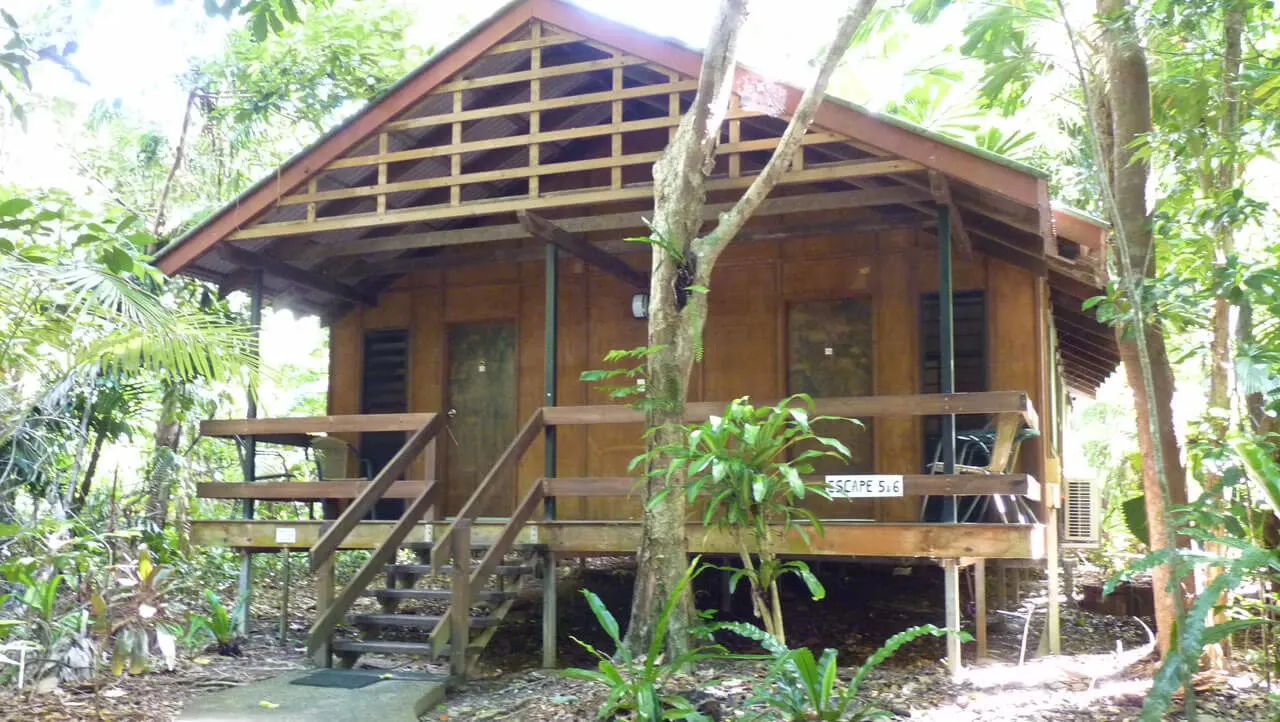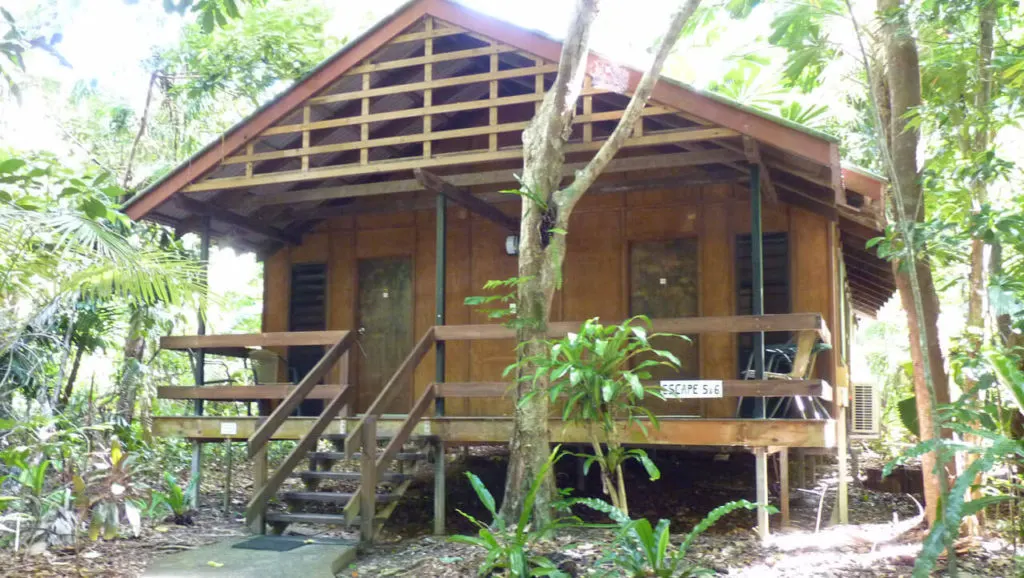 Cape Hillsborough (kangaroos on the beach)
Have you seen all those beautiful photographs of kangaroos and wallabies on a beach at dawn? Chances are they were taken at Cape Hillsborough!
Cape Hillsborough is approximately a 30-minute drive from Mackay in Northern Queensland. If you are on a road trip along the east coast it is well worth stopping off at Cape Hillsborough for a night or two.
It is important that you are at the beach at dawn. The kangaroos and wallabies leave the beach shortly after sunrise so you don't want to arrive just to see them hopping away. Also be careful driving in the park at this time as there is the possibility you will come across kangaroos bounding across the road in front of you!
Make sure to keep your distance from the animals on the beach and don't stand between them and the bush.
Remember to take your camera as you should have plenty of opportunities to take some amazing photographs. Read more about visiting Cape Hillsborough.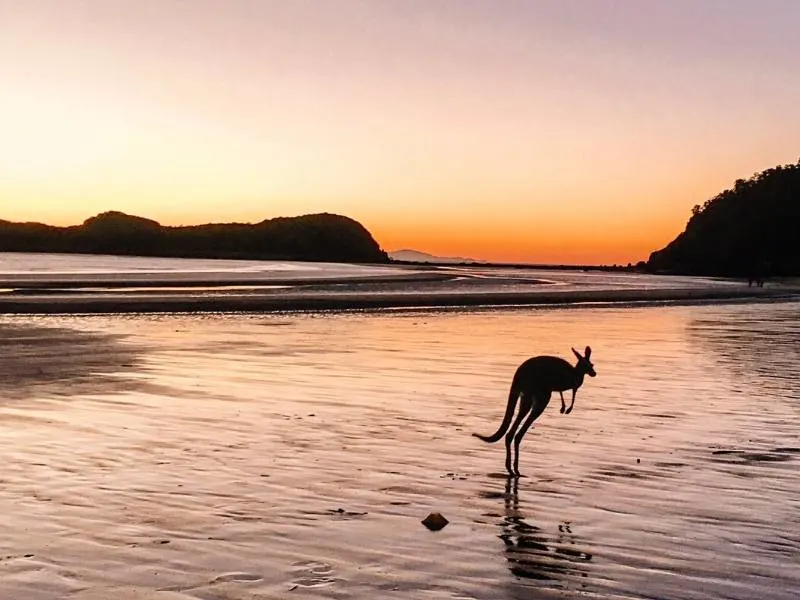 Sunshine Coast Hinterland
by Kati of Queensland and Beyond
The Sunshine Coast Hinterland may not have the wow-factor that other Queensland locations offer but it's a seriously charming spot for a weekend away. It's within an hour from Brisbane, making it an easily accessible corner of southeast Queensland.
Full of charming country towns, undulating hills and valleys, volcanic outcrops, and dotted with lookouts, it's not surprising that this region is a popular location for romantic getaways.
Take the Blackall Ranges Tourist Drive (#23) for one of the most scenic drives on the Sunshine Coast. Along the way, explore towns like Maleny, Montville or Kenilworth – all equally charming and full of eateries that boast local produce.
Montville is especially popular so expect it to be a little busier than other towns. It's almost kitschy but not quite, and here you can stuff yourself full of slightly overpriced food – but with gorgeous views as the backdrop.
Maleny is another favourite for strolling around, browsing quaint shops, and indulging in some seriously good food at the Maleny Food Co. Cafe. Since they've got gluten-free options, they get a big tick from me! They also have their own fromagerie (seriously!) and their gelato is to die for. The long queues spilling outside the cafe can attest to that.
But my favourite part of the Sunshine Coast Hinterland is the walks and hikes: from short ones around Mary Cairncross Reserve to longer hikes such as the 5 km Kondalilla Falls circuit. Visit at the end of the rainy season and you should see water gushing down the steep falls.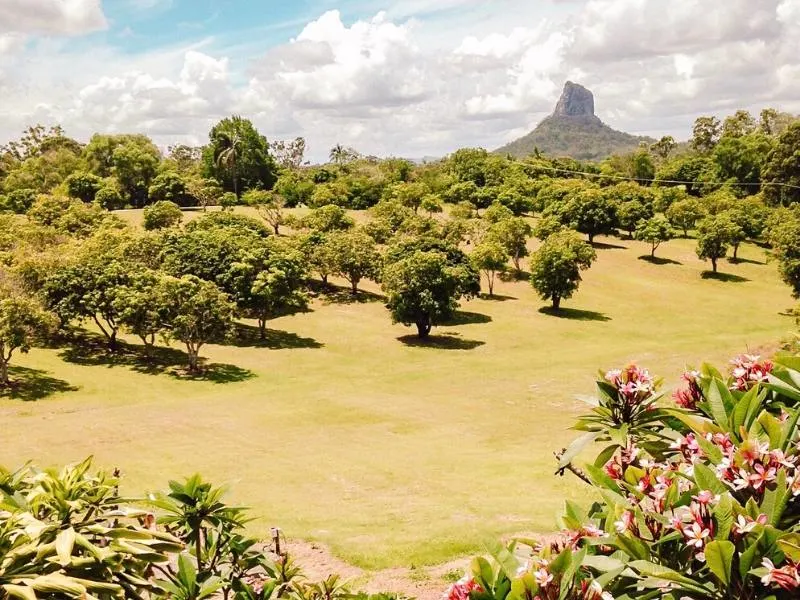 Tamborine Mountain
Only a short drive from Brisbane in the Gold Coast Hinterland you will find beautiful Tamborine Mountain. With hikes and walks, wineries, restaurants, shopping and more awaiting visitors, this is a great weekend destination in SE Queensland.
There are some wonderful accommodation options too particularly for romantic getaways. Our favourites are Pethers and Witches Falls Cottages. Both offer a luxury stay perfect for that special anniversary or birthday.
Take a stroll down Gallery Walk where you will find lots of boutique shops and restaurants as well as wineries. Look out for the cuckoo shop shop too – something you expect to see in Switzerland not necessarily in Australia!
Don't miss the Tamborine Mountain Skywalk, Glow worm caves or a winery tour!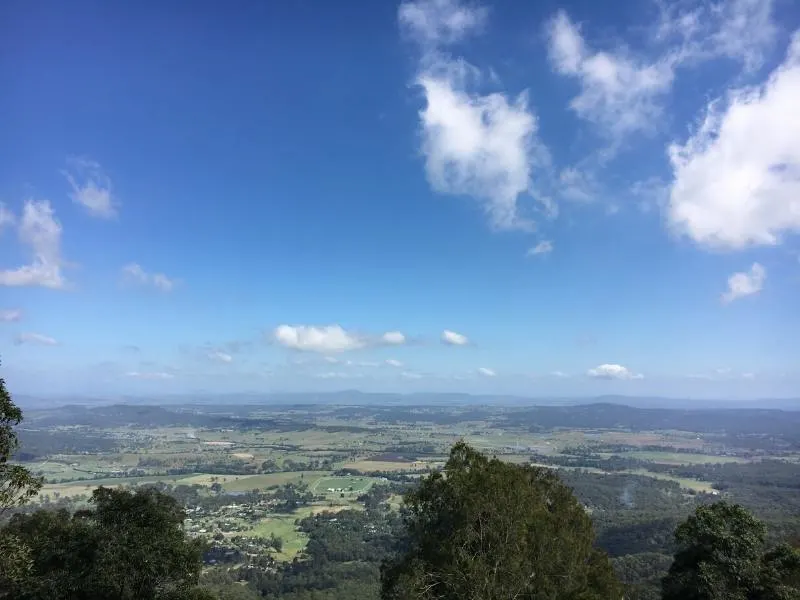 Plan your trip to Queensland
I am sure you will have found lots of inspiration in this article to help you decide where you want to visit in Queensland.
You may also enjoy these articles:
My Australian Travel Guide also includes links to all my articles about Australia including practical tips and resources to help plan your trip.