Planning a visit to the Sunshine Coast Hinterland in Queensland? Whether you are heading there for a day or longer you will find lots to do and see in this post.
The Sunshine Coast Hinterland with its rolling hills, abundant wildlife and quaint towns is an idyllic South East Queensland destination for couples and families.
A popular location for weddings and honeymoons the Sunshine Coast Hinterland provides visitors with views of the beaches and sea on one side and Glasshouse Mountains, hills and green fields on the other. Truly the perfect backdrop for a romantic getaway.
Located approximately an hour's drive from Brisbane there are lots of places to visit and things to do whether you visit for a day, a weekend or even longer!
Over the last few years living not far from the Sunshine Coast Hinterland I have a list of my favourite things to do there but thought I would ask some fellow travel bloggers for their suggestions too.
I am so glad I did as I have some new things to do in the Sunshine Coast Hinterland and we can't wait to visit again soon. Hopefully you will gain some inspiration for your next trip to the Sunshine Coast Hinterland too.
Things to do in the Sunshine Coast Hinterland (and places to visit)
Montville
One of our favourite places to visit (and to stay) in the Sunshine Coast Hinterland is the pretty town of Montville.
Enjoy a stroll along the main street and pop into some of the many boutiques and shops selling all sorts of things from dresses to ornaments to artwork to Australian souvenirs.
There are lots of cafes and restaurants too so plan to have lunch there if you can. Our recommendation is Wild Rocket for the best ploughman's lunch we have ever had anywhere in the world.
Also do not miss the chocolate shop at the bottom of the hill. Their hot chocolate comes in so many delicious flavours it can be difficult to choose. They also sell a variety of chocolates and we always leave with a bag full!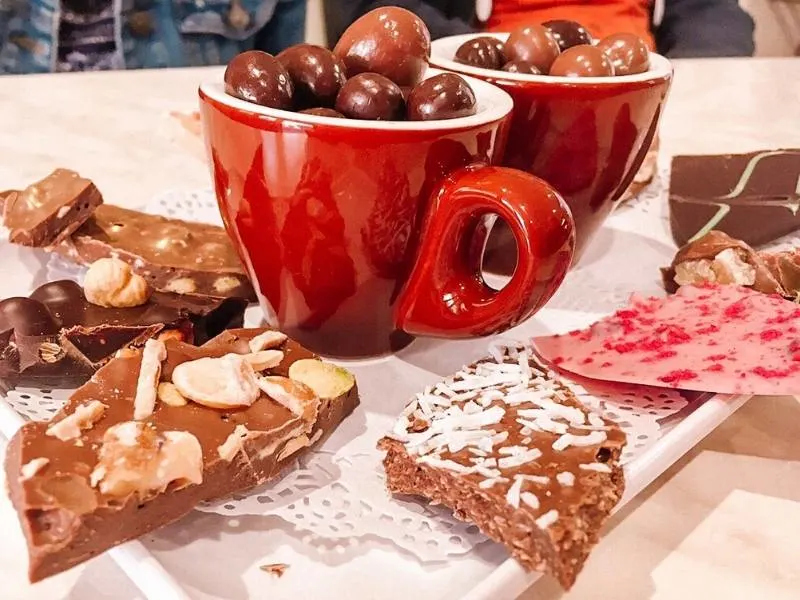 Australia Zoo
When visiting the Sunshine Coast you should definitely plan to visit Australia Zoo – one of the most famous private zoos in Australia as a result of being run by the Irwin family.
The Irwin family rose to international fame as a result of Steve Irwin's popular Crocodile Hunter TV series, and after his unfortunate death his children, Bindi Irwin and Robert Irwin have further built their own onscreen reputations.
Australia Zoo is an amazing zoo to visit, and you should plan to visit for a full day to make the most of it. They have an extensive selection of Australian, African and Asian animals on display in spacious enclosures. And you definitely need to plan your visit to ensure that you can watch the iconic crocodile show in the Crocoseum!
Australia Zoo is located at the southern end of the Sunshine Coast and is an easy day trip from Brisbane or the Gold Coast.
By Anne Sutherland-Smith from the Pretraveller Blog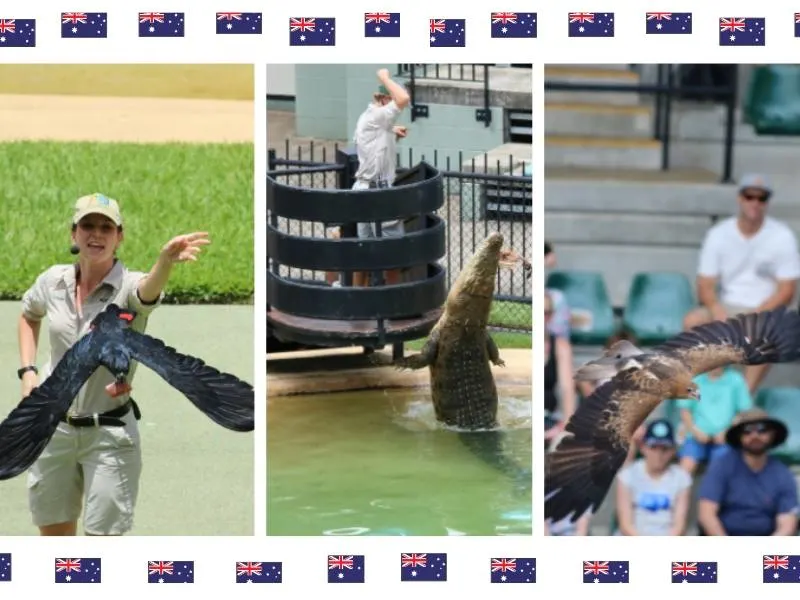 Sunshine Coast Hinterland Great Walk
Tucked away in the picturesque Blackall Ranges, if the Great Walk isn't at the top of your to-do list then it should be!
You may not be able to complete the full 58-kilometre Great Walk during your escapades through the Sunshine Coast, but I'd definitely recommend completing at least a little bit of it while you're there.
If you are eager for the full adventure, you'll need to set aside about four days to complete the walk that will take you through spectacular sub-tropical rainforest and towering eucalyptus to hidden waterfalls.
Don't forget to pack your camping gear and bring enough food to last, as there are plenty of free bush camps along the route, perfect for those camping under the stars moments.
Three major access points along the route also allow walkers that are short on time to experience some of the stunning landscapes of the Blackall Range. Baroon Pocket, Kondalilla National Park and Mapleton Falls National Park are all easy trailheads for half-day or full-day hikes.
Best of all, this isolated beauty is just 90km away from the bustling city of Brisbane, so you can be there in no time!
By Yulia Safutdinova of Miss Tourist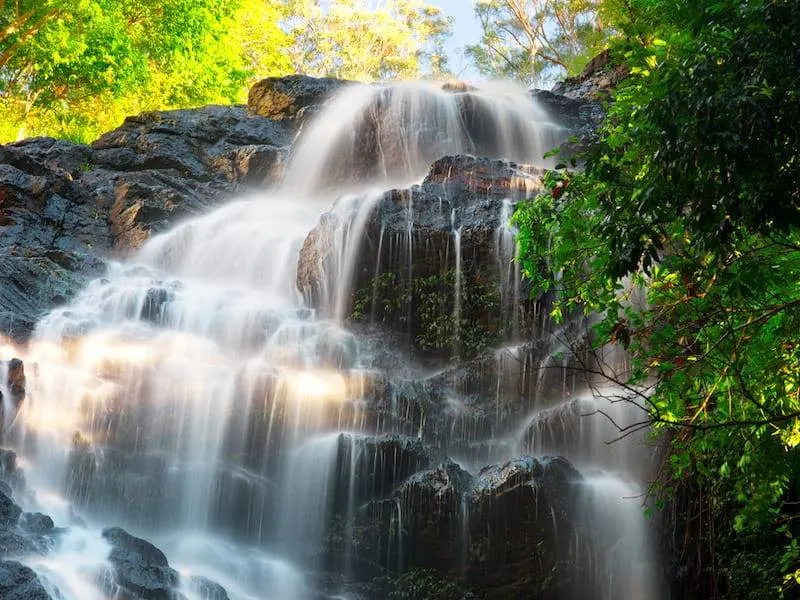 Maleny
Maleny is the southern-most town on the Blackall Ranges some 91 km north of the Queensland Capital of Brisbane. Maleny and Mary Cairncross Reserve are an easy drive from Brisbane and the best beaches on the Sunshine Coast.
Maleny has the perfect mix of locals and tourists and is a town to visit again and again. Obi Obi Creek runs through the centre and at dawn and dusk you can spot platypus from the boardwalk if the water level is high enough.
This is a friendly country town focused on food and drink, artisan goods, book and second-hand shops.
Maleny Hotel has a beautifully maintained timber interior and has served the community for 100 years, while new kid on the block Brouhaha Brewery opened in 2016.
The artisan Maleny Food Co. has a drool-worthy Fromagerie, award-winning Gelato, Picnic Hampers to go and a sit-in Café.
5.5 km S.E. of Maleny Hotel is Mary Cairncross Reserve, a 55-hectare rainforest centre. With draw-card views over the Glasshouse Mountains, it has a Rainforest Discovery Centre, walks and a picnic ground with undercover BBQs and picnic tables. Onsite Mountain View Café serves good affordable food and drinks year-round, with the added bonus of an indoor fireplace in Winter.
Maleny and Mary Cairncross Reserve are two of the best places to visit in the Sunshine Coast Hinterland and will not disappoint.
By Jan of Budget Travel Talk
Maleny Botanical Gardens and Bird World
Maleny is a small town nestled in the Sunshine Coast hinterland overlooking the majestic Glasshouse Mountains. If you are planning a trip to the Maleny area, one of the highly-rated places to visit that's suitable for all ages is Maleny Botanic Gardens and Bird World.
You don't have to be a garden enthusiast to enjoy the 110-acre property. Layered gardens, weaving walking tracks, lakes, and waterfalls give a sense of serenity, offering visitors a place to unwind and enjoy nature.
With nearly 18 acres to explore, kids will love discovering the quirky additions dotted around the grounds, such as a giant chair and fairy tale garden.
Adjacent to the gardens is Bird World, home to over 700 native and exotic birds from around the world. Keep your camera close by as the guided tour directs visitors through four aviaries where you can get up close to beautiful and fascinating birds.
Time quickly drifts away at Maleny Botanic Gardens, with the addition of the Bird World tour, so make a day of it by packing a picnic lunch to have on the grounds.
By Sharee Middleton of Inspire Family Travel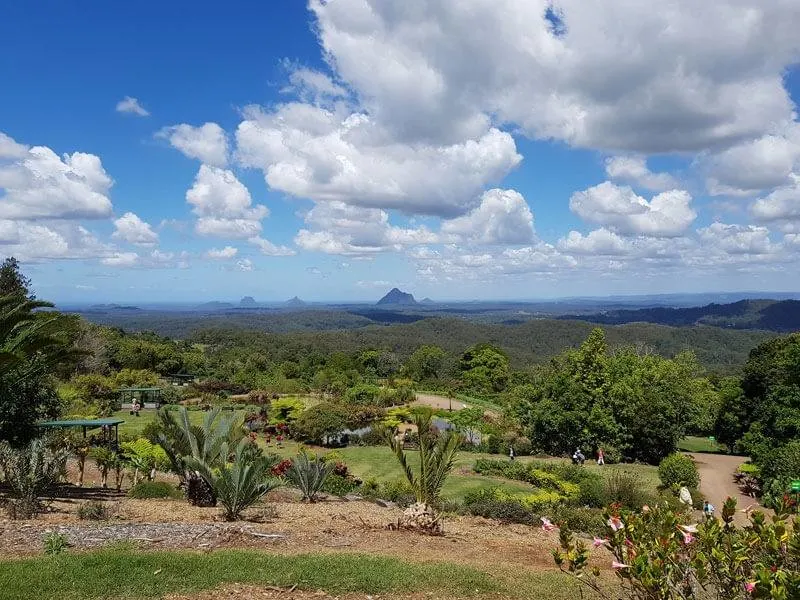 The Ginger Factory
If you're staying on the Sunshine Coast, a really interesting place to visit is the Ginger Factory, especially for those that love the taste of ginger! Plus it's not just about ginger as there are a few other things to see here too.
Of course the main attraction is the Buderim Ginger Factory. Here you can see how the ginger is grown, harvest and processed as well as get to sample loads of yummy products made with ginger.
While here I also recommend you see the bee show. This is really interesting as you'll learn all about the workings of a beehive, plus get to taste some super fresh honey too.
There is also a train that tours the site including through the lovely gardens and for families there is a gingerbread man ride and playground.
Before you leave be sure to buy a few of their ginger and honey products to sample later.
By Melissa of Thrify Family Travels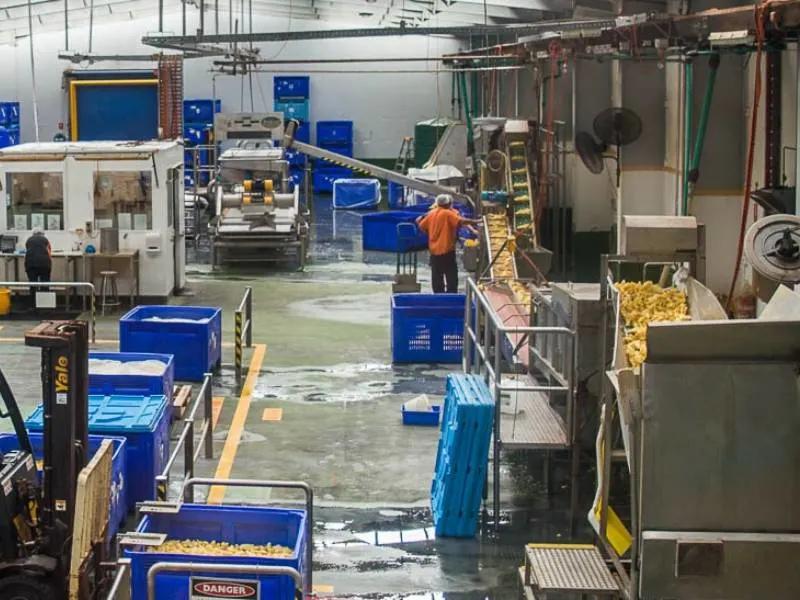 Eumundi Markets
Eumundi is a vibrant and welcoming town in the Sunshine Coast Hinterland, situated just 15kms from Noosa and 75km from Brisbane and home to the famous Eumundi Markets.
The weekly markets are open-air, have been running for over 40 years and boast over 600 stalls with local produce, handmade crafts, arts and food.
You can definitely spend the best part of the day at just the markets alone, but make sure you leave some time to explore the main street of the town which is packed with boutique stores, galleries, eateries and arts and crafts shops.
We are travelling with kids and they loved the Dick Caplick playground at the top end of the main street.
Directly opposite the park is also a bit of fun for mum and dad, the Imperial Hotel, home to the Eumundi Brewery (or Brewmundi!) where you can taste local beer, grab a feed or even book in for a 60 minute brewery tasting tour.
The Eumundi Heritage and visitor Centre is also well worth a visit, it houses the historic jail cells at the back and also a local art gallery.
We stayed at the dog-friendly RV campsite behind the market site for just $20 a night, the perfect location right in the middle of town with showers and toilets available.
By Bryony of Coasting Australia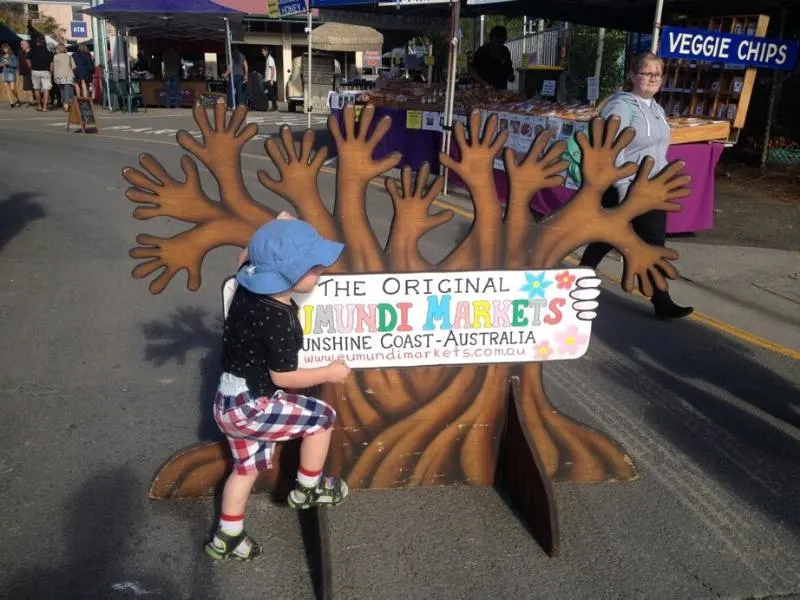 Kondalilla Falls
The scenic Blackall Range is home to the lush and green Kondalilla National Park, which is a magical rainforest to explore while visiting the Sunshine Coast hinterland.
This national park is full of native wildlife and plants and is a delightful place to go bushwalking. Look out for birds and frogs, such as the pouched frog and the bopple nut, which is considered vulnerable and almost extinct.
The jewel of the park is where Skene Creek drops 90m to the valley, a waterfall known as Kondalilla Falls.
There are walking tracks for a range of fitness levels in Kondalilla National Park; most have stunning valley views. Start with the Picnic Creek Circuit, which is an easy walk through eucalyptus forest that crosses Picnic Creek (400m).
For more of a challenge, take the Kondalilla Falls Circuit past rock pools and down to the escarpment lookout where you can enjoy views of Kondalilla Falls. The entire circuit can take all day, so make sure you start early and allow enough time to get back before dark.
There's a picnic area near the Kondalilla Falls Road car park but if you're only planning on doing a short walk and are not keen on packing a picnic, the shops and cafes of Montville are only a few minute's drive away.
There's also a good selection of cottages and B&Bs to choose from in Montville and other Sunshine Coast Hinterland towns.
By Christina of Travel2Next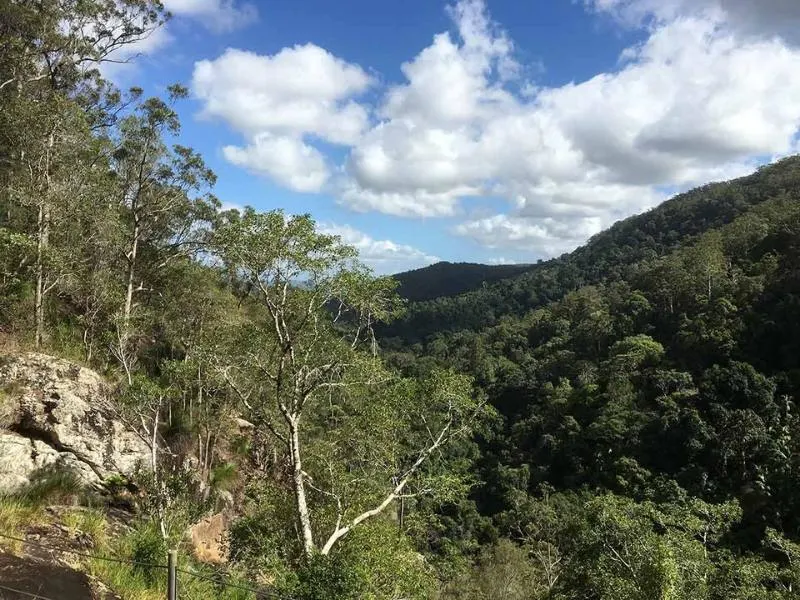 Glasshouse Mountains Lookout
The Glasshouse Mountains made up of 13 distinct peaks on the Sunshine Coast Hinterland are a geological wonder with each peak the remnants from volcanic activity around 26 million years ago.
Each peak is a volcanic plugs made from cooled molten lava that has become exposed due to erosion of the softer sandstone that once encased it.
To the traditional occupants of the land on which the mountains stand, the Jinibara and Gubbi Gubbi people, the Glasshouse Mountains are culturally important. To them the mountains represent a family including a father, a mother and their children.
The Glasshouse Mountain Lookout, 70 kilometres north of Brisbane has one of the best vantage points for uninterrupted views of the mountain peaks.
The best views are from the fire observation tower and on a clear day you will see the surrounding pine tree plantations and as far as Caloundra, Maroochydore, Brisbane and Moreton Island.
The lookout is part of a small reserve with a 800 metre circuit walking track, long enough to stretch your legs. There are also free gas barbecues, picnic tables (some sheltered) and toilets for you to use.
If you are lucky you may also get to see koalas, goannas, echidnas and grey kangaroos, all which live in the area. We definitely recommend taking your camera and binoculars.
Address: Glass House Woodford Rd, Beerburrum
Hours: 24/7
By Emma of Our Wayfaring Life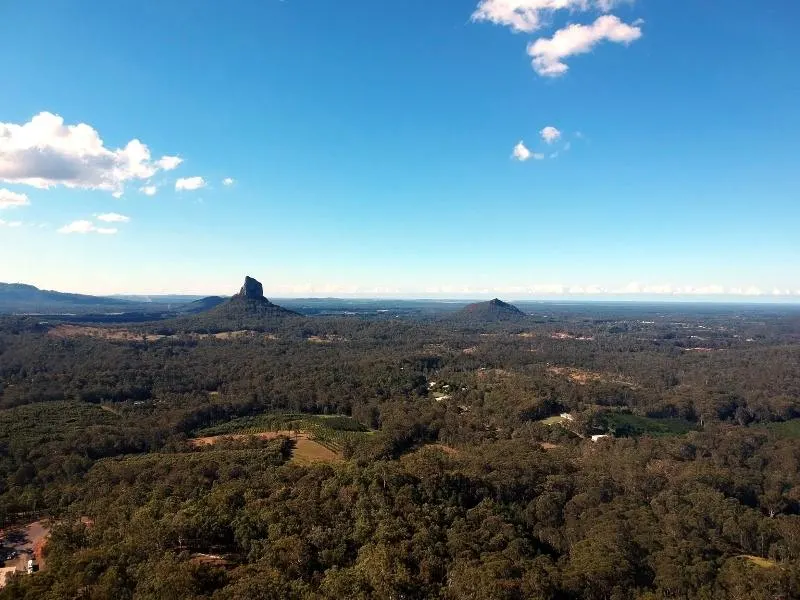 Hike up Mt Pomona
A hike up Mt Pomona (aka. Mt Cooroora) in the Sunshine Coast Hinterland is a challenging and rewarding experience, particularly when you reach the top and take in the amazing 360-degree views.
While it's just a 2.6km return hike, the incline is quite steep and in certain parts, you have to pull yourself up using a fixed rope. So it's not for the faint-hearted or anyone without a good level of fitness and strength.
The hike will take around 2-3 hours depending on how much you want to push yourself.
At a height of 446m, the mountain is perhaps most famous for the annual 'King of the Mountain' Race where competitors run from the bottom to the top and back down again in a mere 23 minutes!
When you hike the trail you'll be baffled at how they run up and back in just 23 minutes.
To make it more of an experience you could have a picnic at the top while you take in the beautiful scenery. It's a definite bucket list hike if you're visiting the Sunshine Coast.
By Matt of Fittness (.com.au)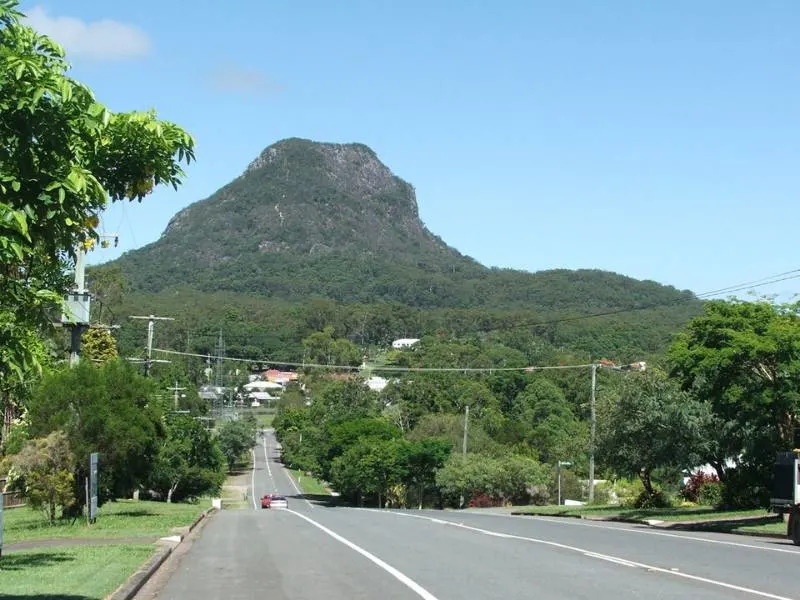 Plan your visit to the Sunshine Coast Hinterland – FAQs
If you are considering a visit to the Sunshine Coast Hinterland here are answers to some common questions.
When is the best time of year to visit the Sunshine Coast Hinterland?
The area is fantastic to visit throughout the year but if you want to avoid the humidity of Queensland aim for the cooler months from April to October.
The months of June/July and August are lovely for a winter break. There is little to no rain during these months which makes it ideal for walking. Also it is a great time of year to book a cottage or room with a fire for a romantic break.
My personal recommendations include Yabbaloumba Retreat, Treetops Montville and Secrets on the Lake also in Montville.
What accommodation options are available in the Sunshine Coast Hinterland?
There are a multitude of options available to suit all budgets from campsites and B&Bs to luxury cottages and hotels.