This post may contain compensated links. Please read our disclaimer for additional information.
Are you visiting Brisbane in Queensland, Australia?
Brisbane is the capital of Queensland. With a year-round warm sub-tropical climate the city has much to offer the growing numbers of domestic and international visitors arriving annually.
If you are visiting Brisbane one place that has to be on your itinerary is South Bank. Located on the south bank of the Brisbane river with stunning views of the city and surrounded by parks, pools, restaurants and the only beach located in a city in Australia it has something to appeal to all the family.
In this article you can find some ideas of the great things to do in South Bank
---
Take a Photograph of the Brisbane Sign in South Bank Brisbane
---
Who doesn't want to take a picture of the Brisbane sign? Even better the sign is lit up at night so you can get that perfect shot of the skyline behind!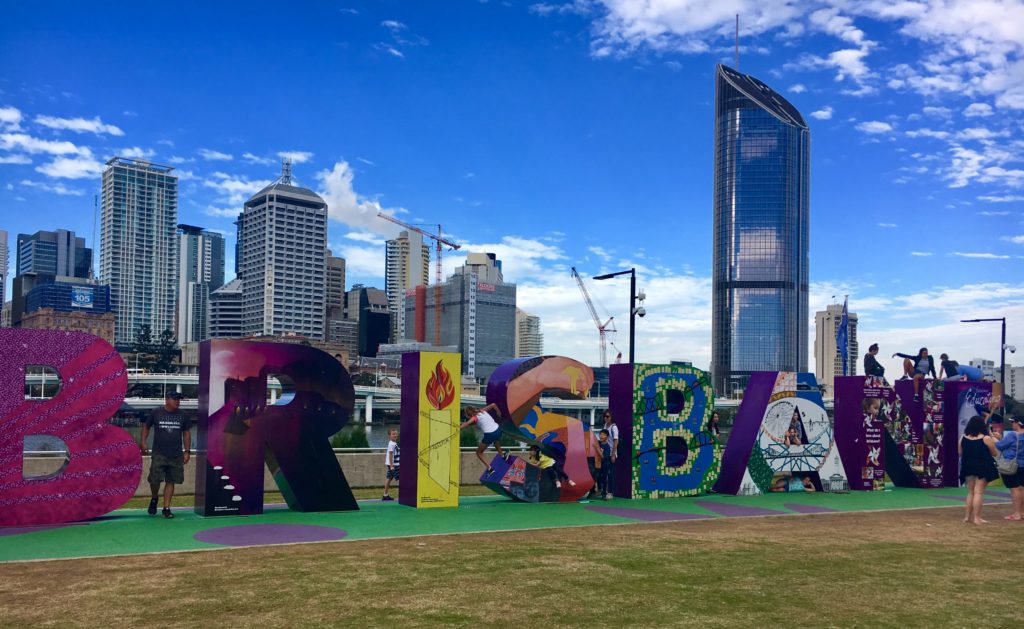 ---
Take (or buy) a Picnic or Have a BBQ in South Bank Brisbane
---
We buy our box of treats from one of the many lovely restaurants at South Bank – we usually buy some chips too and a couple of drinks! You can take your own picnic of course – just remember to take a blanket, wear a hat and lots of sunscreen! There are lots of green spaces available and finding a great spot is easy.
There are also BBQ's available for you to use so bring your own food and cook at South Bank!
This is a popular option for lots of people and there is free entertainment too every Sunday at River Quay Green so you can sit back enjoy some music and just relax. For up-to-date information of what is on this month at South Bank check out the official website.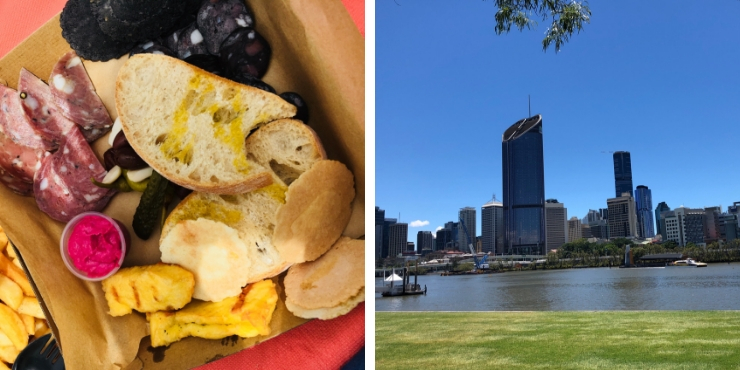 ---
Take a Stroll Along the River and Spot Some of the Local Flora and Fauna!
---
There are lots of birds and more exotic Australian animals to spot as you walk along the river!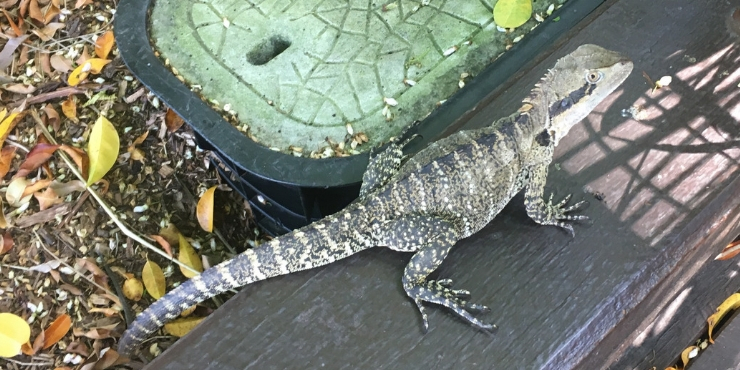 ---
Take a Ride on the Wheel of Brisbane in South Bank Brisbane!
---
These can be found in every city around the globe these days – I prefer my feet firmly on the ground but for a view of Brisbane from a slightly higher viewpoint try the Wheel of Brisbane!
If you want to have a go on the wheel check out the official website!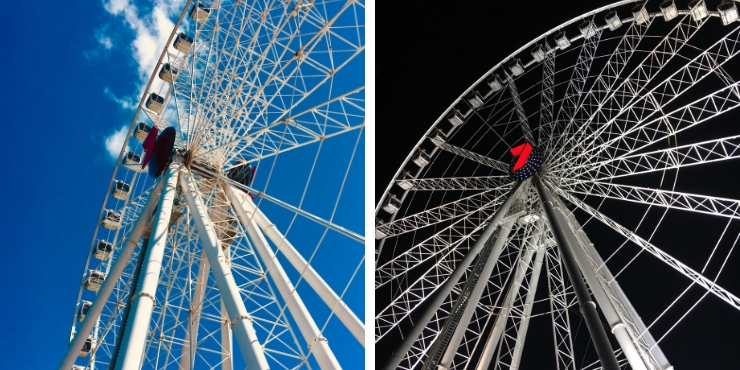 ---
Take a Swim at Streets Beach!
---
One of the most popular of things to do in South Bank Brisbane is to go for a swim!!
South Bank Brisbane has the only man-made beach in a city centre in Australia. The facilities are excellent and the pool has lifeguards on duty – be sure to contact the South Bank Visitor Centre on (07) 3156 6366 to double check when they are there. And best of all it is free to use – yes you read that right – FREE!
At Christmas there was an open air cinema screen at the beach so you could enjoy the warm weather with a swim and a movie! One for next Christmas for us – this is a really unique experience!
Check out more things to do in Brisbane with children!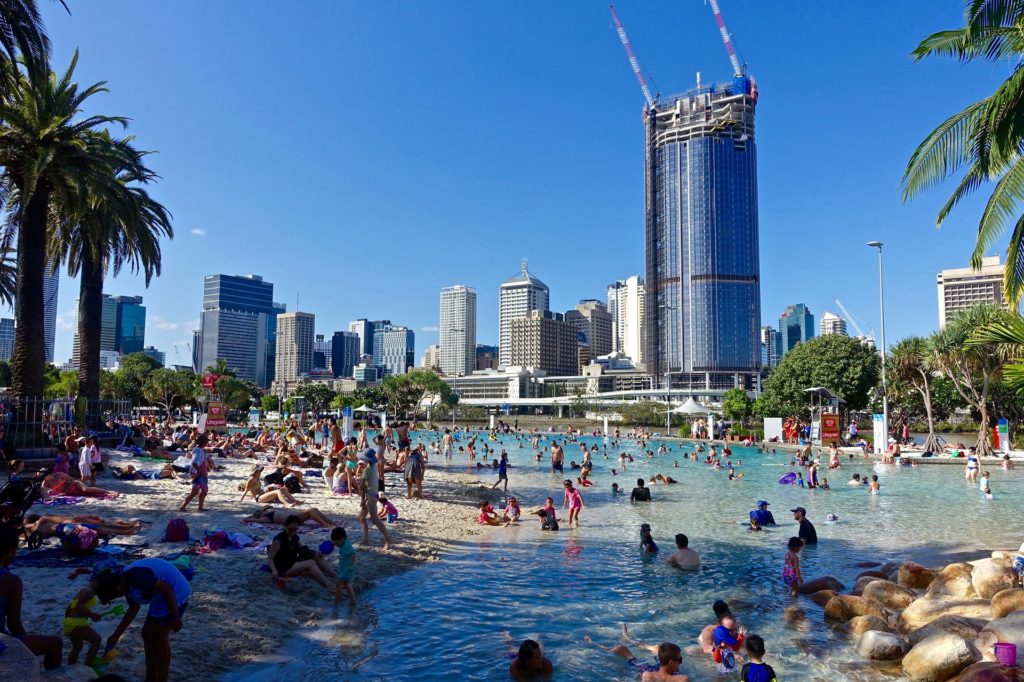 ---
Take a Swim in the Boat Pool
---
Another free pool to swim in and again this is patrolled by life guards though as mentioned above check before you go!

---
Have Fun at Aquativity in South Bank Brisbane
---
Aquativity is an interactive water-play park free for all to enjoy but the kids will love it! Again this is open daily and patrolled by lifeguards.
If you are visiting Australia for the first time read all about the things NOT to do when you are here!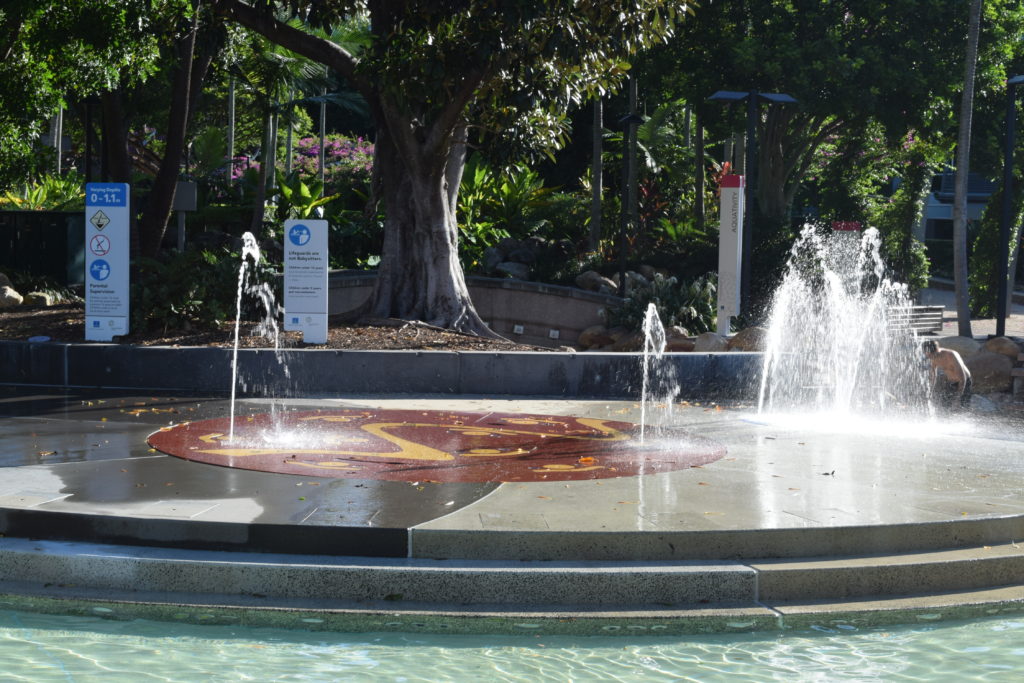 ---
Take a Book and Relax in the Beautiful South Bank Brisbane Gardens
---
The parklands are a wonderful space to enjoy – a veritable oasis in the middle of the city. Take a stroll, get some shade, find a seat or somewhere to sit and enjoy the surroundings! You can even visit the Epicurious Garden and find out about some of the wonderful fruit and vegetables grown there!
If you are a nature lover and are looking for romantic getaways near Brisbane check out My Favourite Escapes for some great ideas of places to stay!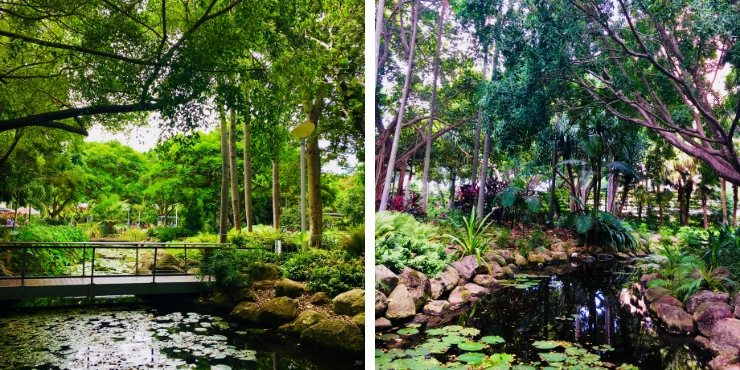 ---
Stroll Through the South Bank Brisbane Arbours
---
Beautiful bougainvillea surrounds you as you stroll through the arbours – and lights at Christmas make them extra pretty!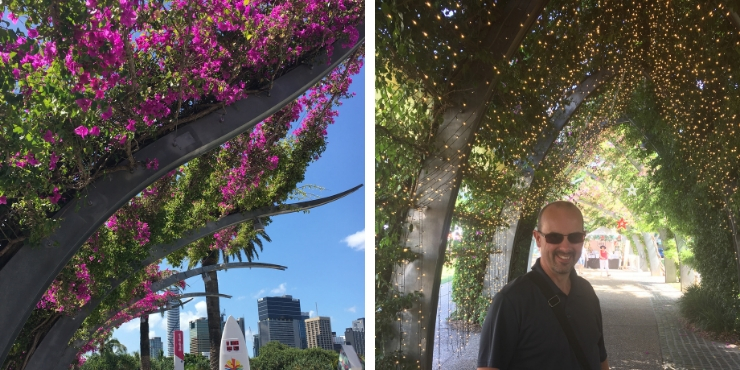 ---
Visit the the South Bank Brisbane Market
---
The Collective markets can be found at the Stanley Street plaza at South Bank and are open
9am – 4pm
For more information about South Bank markets check out their website HERE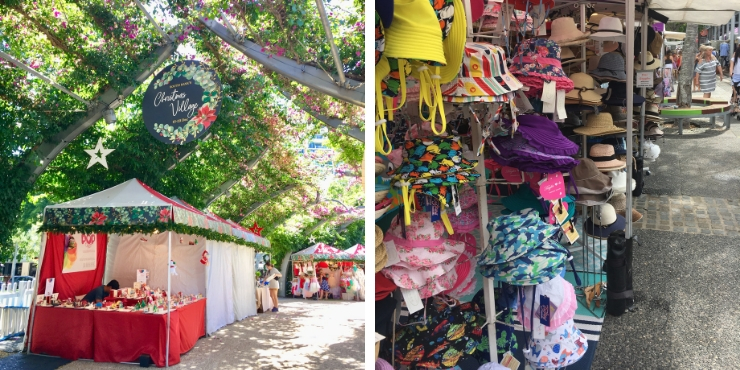 ---
Catch the City Cat and Take a Boat Ride Along the River
---
Catch the City Cat and enjoy a ride along the river taking in the sights of the city (and the cooler breeze in the summer too!)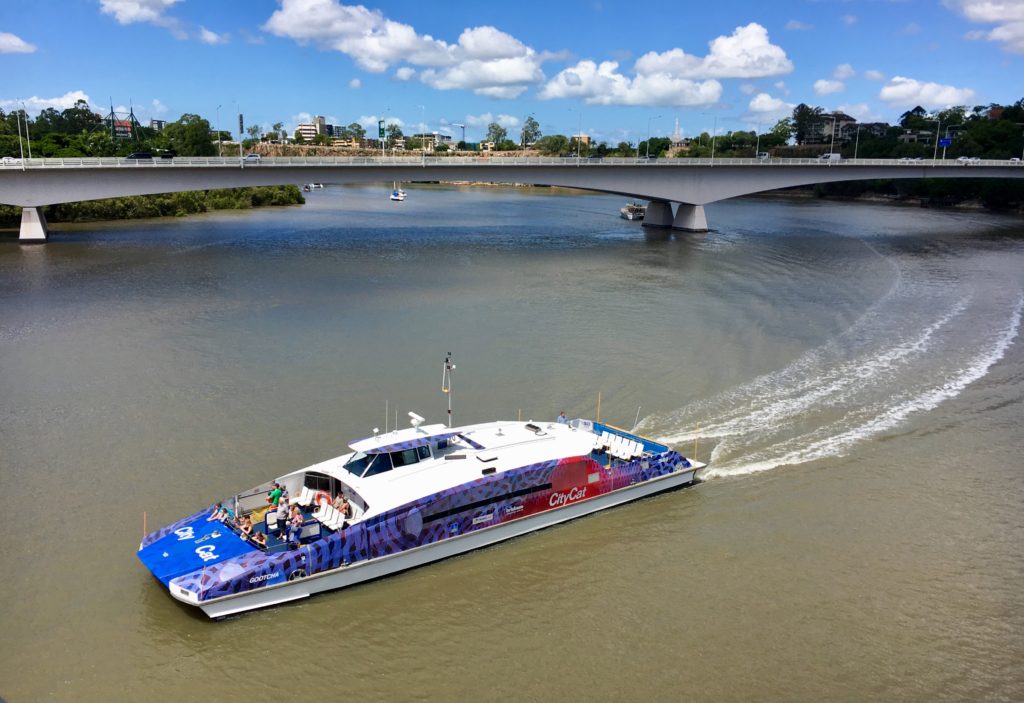 ---
Visit the Nepalese Temple in South Bank Brisbane
---
The Temple was brought to Brisbane by the Nepalese for the World Expo in 1988. It is only one of 3 Nepalese peace pagodas to be located outside Nepal! I loved looking around the pagoda and this carving caught my eye!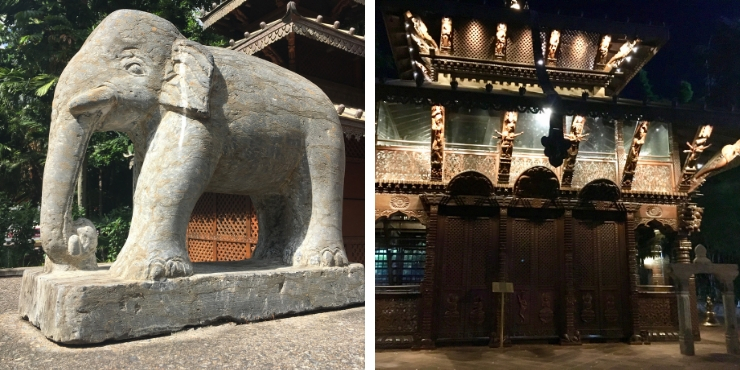 ---
Listen to Music at South Bank Brisbane
---
There is free entertainment every Sunday at River Quay Green so you can sit back enjoy some music and just relax. For up-to-date information of what is on this month at South Bank check out the official website.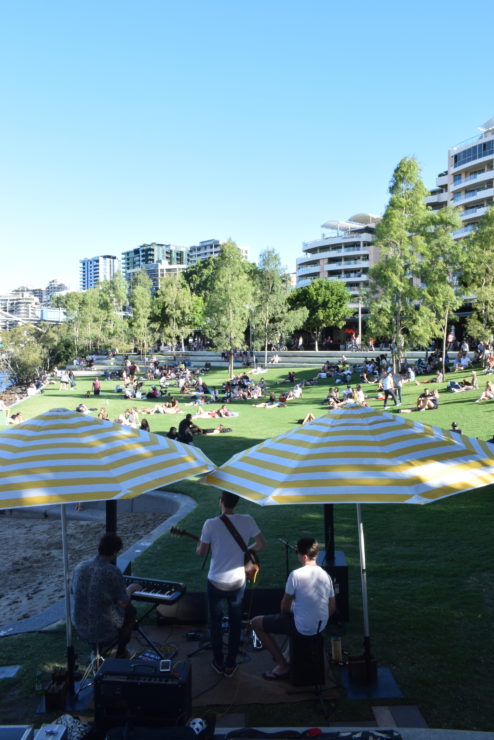 ---
Pick Up a City Bike and Go for a Cycle Along the River
---
Bikes available to hire 24 hours a day – what a brilliant scheme! You can use the bike for half an hour for free and it has to be returned to one of the many stations at this point or you will be charged a usage fee. Stations are in close proximity to each other and there are 150 across the city.
To find out more check out the City Cycle website!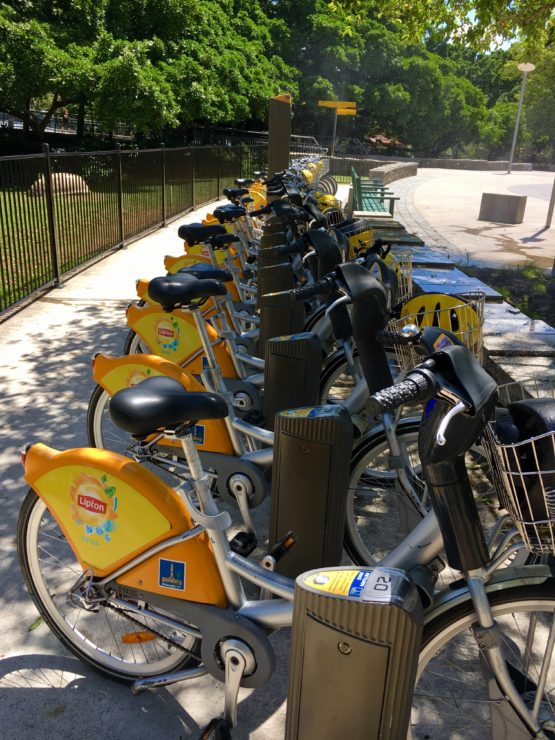 ---
Walk Along to GOMA in South Bank Brisbane
---
If you are the arty type take a stroll along to the Queensland Art Gallery Of Modern Art. We recently visited to check out the art of YAYOI KUSAMA in the LIFE IS THE HEART OF A RAINBOW exhibition but check out what is happening on their website.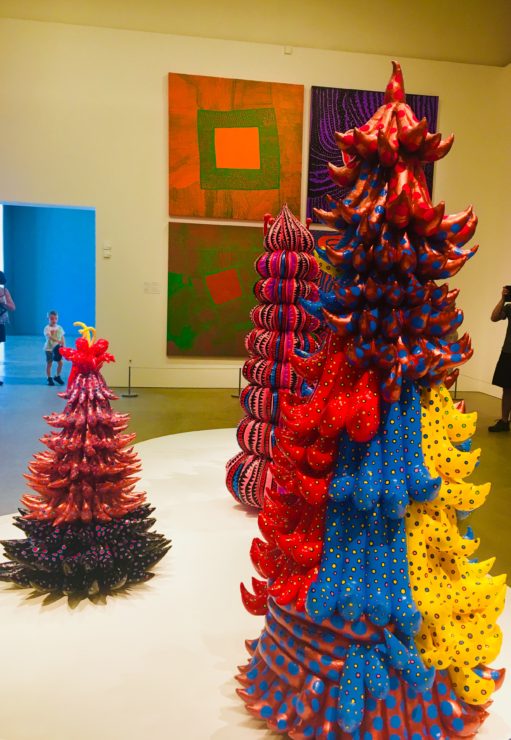 ---
Watch a Show/Musical at QPAC
---
Check out events and shows at Queensland's Performing Arts Centre!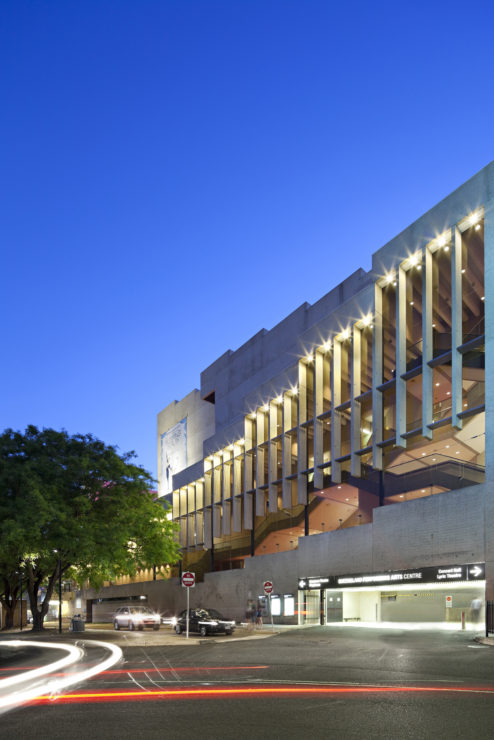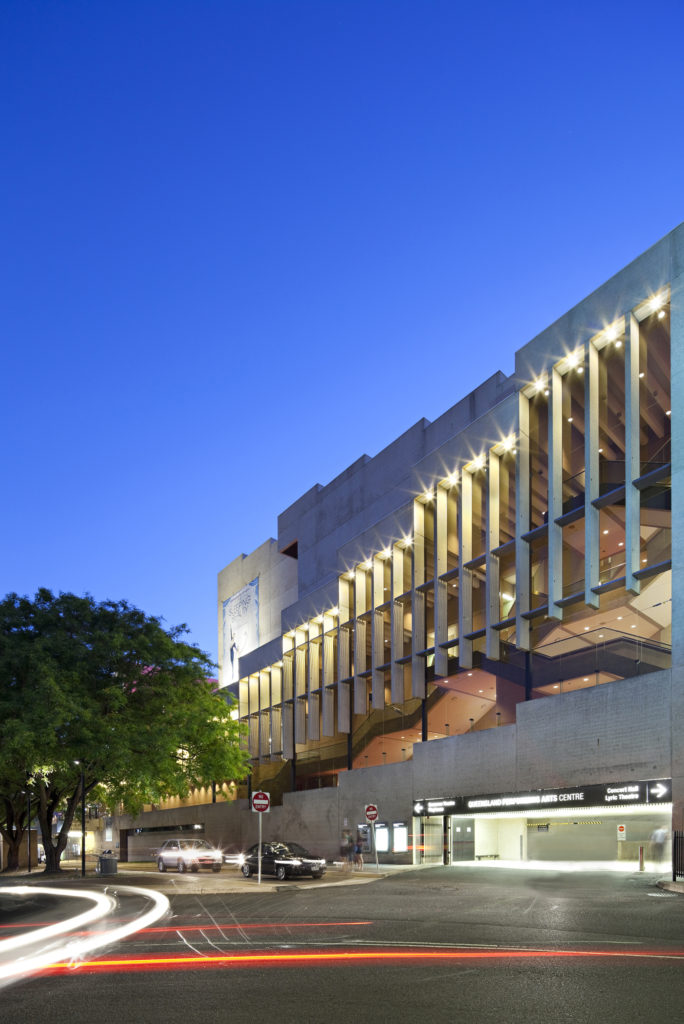 ---
Visit the Cheapest Cinema in Brisbane
---
The cineplex South Bank is the cheapest cinema we have yet found in fact I double checked when told the price! We love heading to the cinema in the evening after a day at South Bank so check out what's on and add it to your itinerary!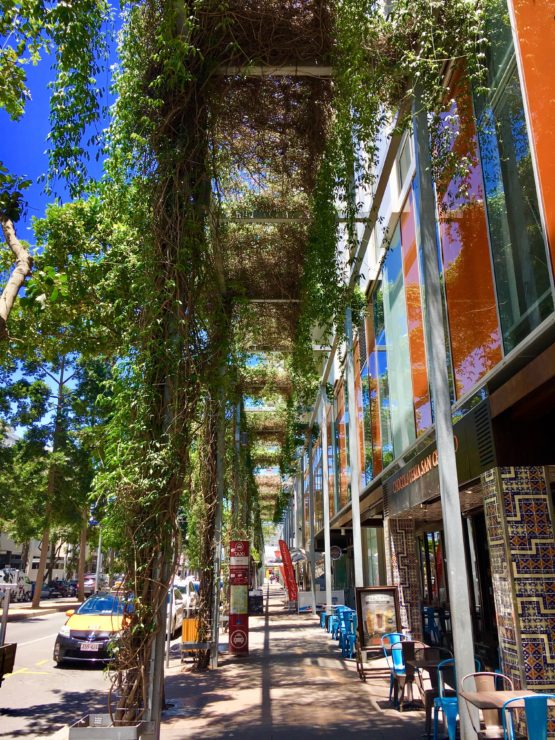 ---
Take your Dog for a Walk in South Bank Brisbane
---
Why not take your pooch for a walk along the river? This little beauty is called Cassie and is only 4 months old – so cute!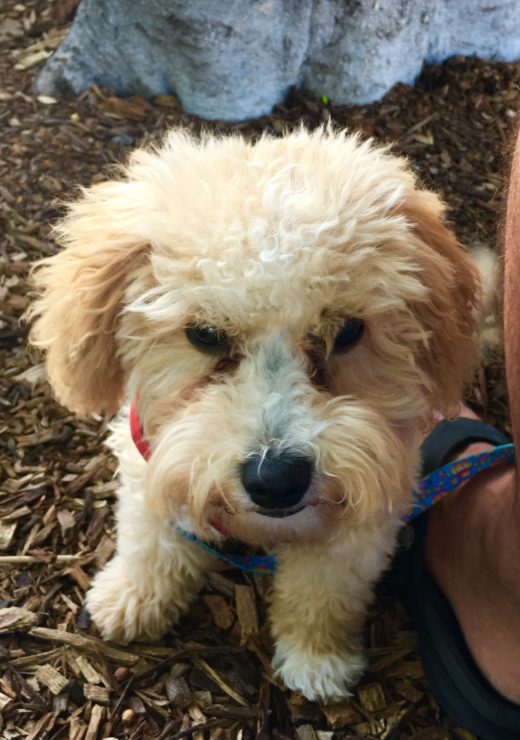 ---
Let the Kids Play in the Huge Playground While you Relax
---
There are lots of little play areas in South Bank and this huge one! I know my daughter would have loved this when she was younger.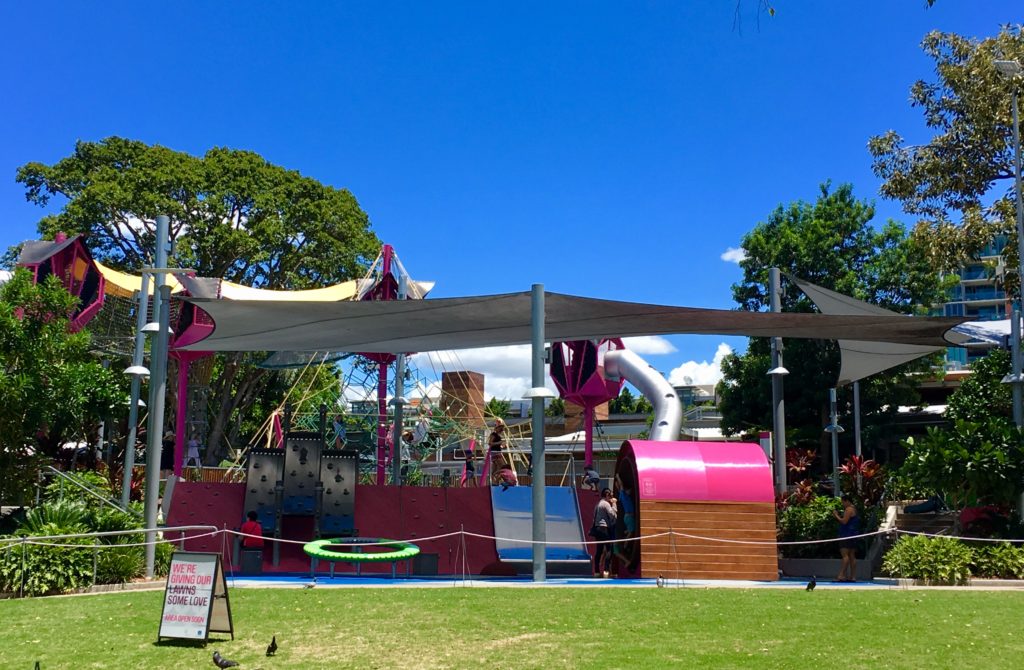 ---
Have a Meal at one of the Many South Bank Brisbane Restaurants!
---
There are so many restaurants to choose from and though I really want to try them all out my waistline dictates that I can't! So far I can recommend a Sunday roast at the Hop and Pickle if that floats your boat. Otherwise there are so many other choices I will just say you will not have a problem finding one that satisfies your hunger!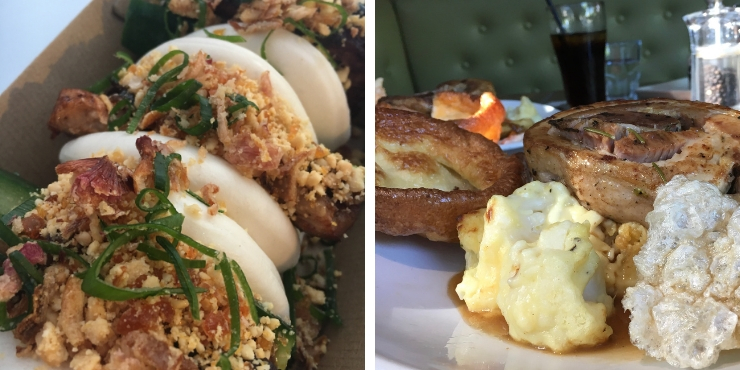 ---
THINGS TO KNOW BEFORE VISITING SOUTH BANK BRISBANE
---
HOW TO TRAVEL TO SOUTH BANK
Public transport
Bus – check out the Brisbane City Council website for information about buses that run in the city.
CityCat or CityHopper – South Bank stops 1 and 2 are served by the CityCat and stop 3 by the CityHopper. Check out Translink for timetables and fare information.
Train – catch the train to South Bank station and it is a short 5 minute stroll to the riverside.
GoCard
Buy a GoCard and top it up for easy access to all types of transport in Brisbane.
Buy your card at a station or on-line (you have to wait for it through the post) top it up and when you get on and off make sure to tap your card!
By car
If you decide to drive into the city there is an underground car park at South Bank with 800 spaces.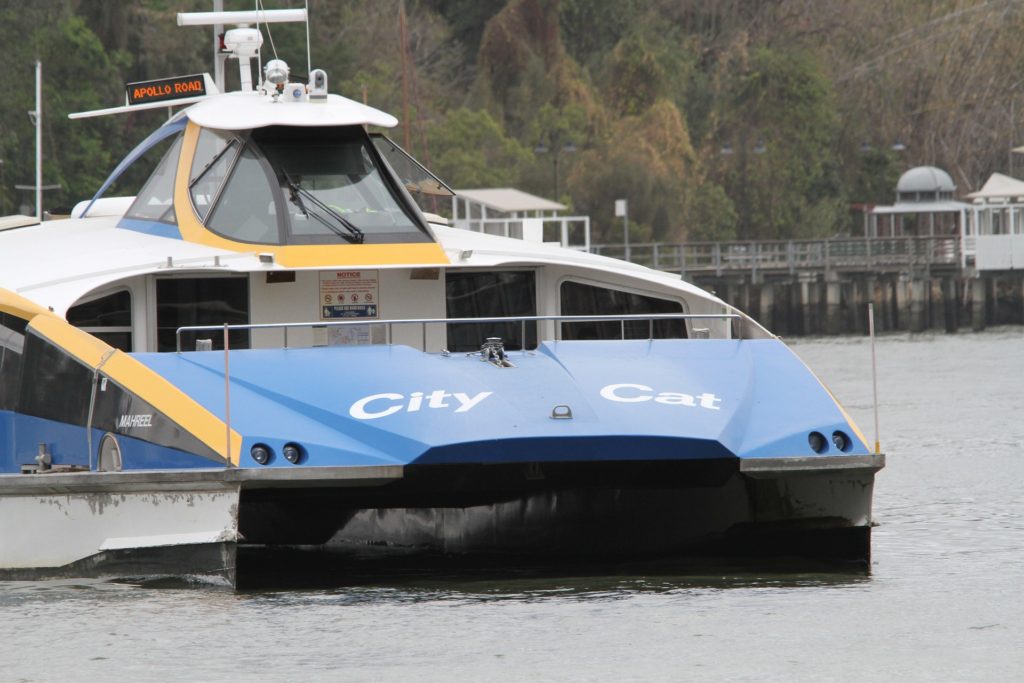 WHEN IS THE BEST TIME OF YEAR TO VISIT SOUTH BANK?
Brisbane has a sub-tropical climate with hot summers and dry warm winters. If you want to make use of the free bathing facilities they make be closed at times for cleaning so make sure to check!
Christmas is a great time to visit with fireworks, parades, festive markets and a cinema at the beach!
But to be honest ANY time of year is a wonderful time to visit Brisbane and South Bank!
RECOMMENDED ACCOMMODATION IN SOUTH BANK
We have a favourite hotel to stay at when we are in the city and it is literally 2 minutes walk from South Bank. The Mantra Hotel South Bank is a fantastic hotel with excellent facilities (pool/gym/amazing breakfast). If you are planning a stay at South Bank I highly recommend the Mantra and you can find out more by clicking here to read my review of the Mantra Hotel South Bank.
CLICK HERE TO BOOK A STAY AT THE MANTRA HOTEL – PERFECTLY LOCATED IN SOUTH BANK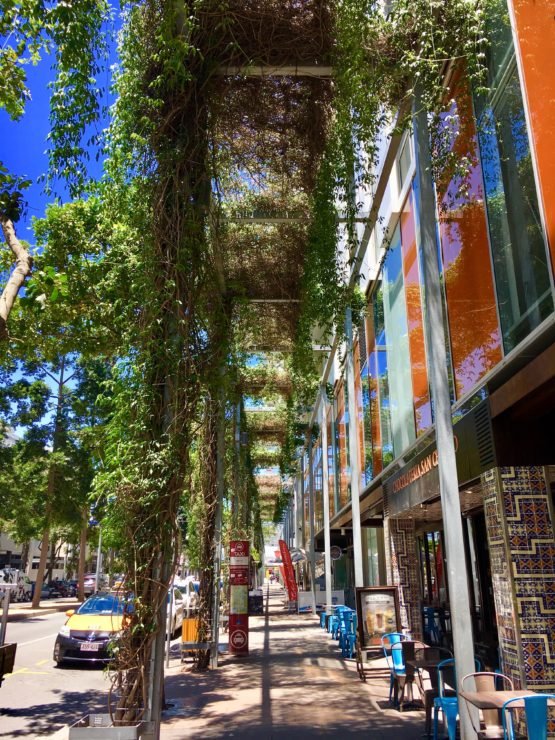 ---
FURTHER INFORMATION FOR VISITING QUEENSLAND
---
I have lots of posts all about visiting Australia and a number of these are focussed on the beautiful state of Queensland. With an enviable climate, wonderful wildlife, stunning beaches if Queensland is your destination these posts will help you get the best of your visit! If you are seeking some inspiration these 15 photographs will have you booking the next flight!
PIN FOR LATER!
YOU MAY ENJOY THESE POSTS TOO!
CLICK FOR EXCLUSIVE ACCESS TO MY RESOURCE LIBRARY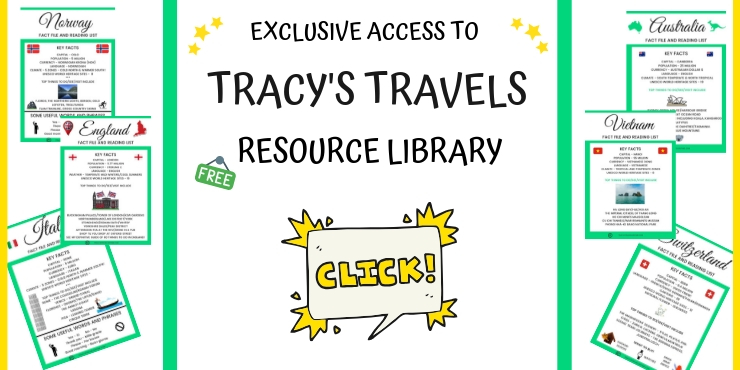 ---
---
Over the last 50 years I have lived and worked in 7 countries on 4 continents and travelled to many more. I enjoy exploring and learning about new places and meeting people on my travels. History, reading, photography, nature and wildlife are my interests and I am ALWAYS researching and planning my next trip (preferably by train)
With a lifetime of travel experience, and a network of friends all over the world, I share genuine insider guides, recommended best book lists and train journey inspiration to help YOU travel authentically to some of the most beautiful places on earth.
Come and join me as I travel the world one country (and train journey) at a time!
This post may contain compensated links. Please read our disclaimer for additional information.