Planning to visit Queensland's beautiful Sunshine Coast? Looking for that special stay? We have you covered. In this article, you will find the very best Sunshine Coast stays for 2023
Home to some of Australia's most beautiful beaches Queensland's Sunshine Coast is the perfect destination for a relaxing coastal holiday. With so many accommodation options to choose from, we have selected the very best Sunshine Coast stays to save you hours of research.
Whether you are looking for the perfect romantic stay for two, a family holiday or a weekend escape to the beach you will find the perfect Sunshine Coast Airbnb for you.
For dog lovers, there are also a number of pet-friendly accommodation Sunshine Coast options.
AirBnb Sunshine Coast Comparison Table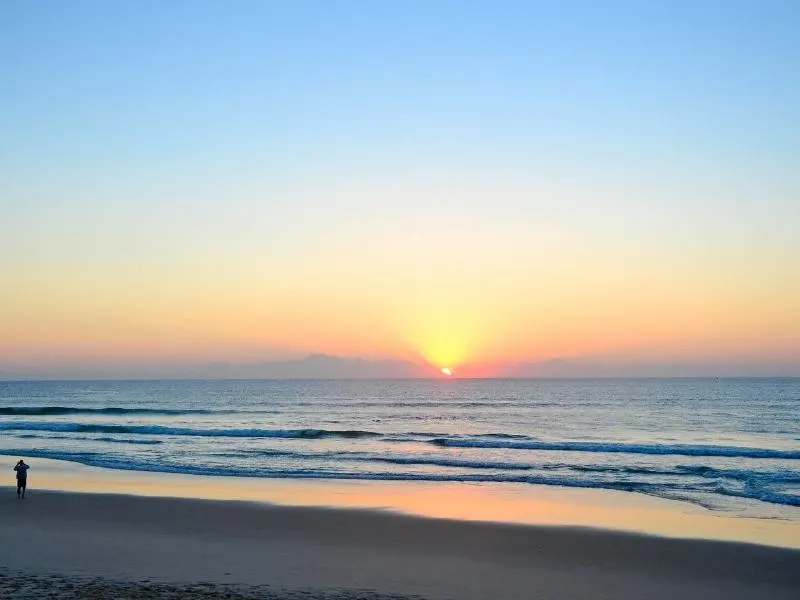 Tracy's Travels Quick Picks – Best on the Sunshine Coast
These are our top picks for the best holiday lets on the Sunshine Coast
10 Beautiful Sunshine Coast Special Stays for 2023
The LoveShack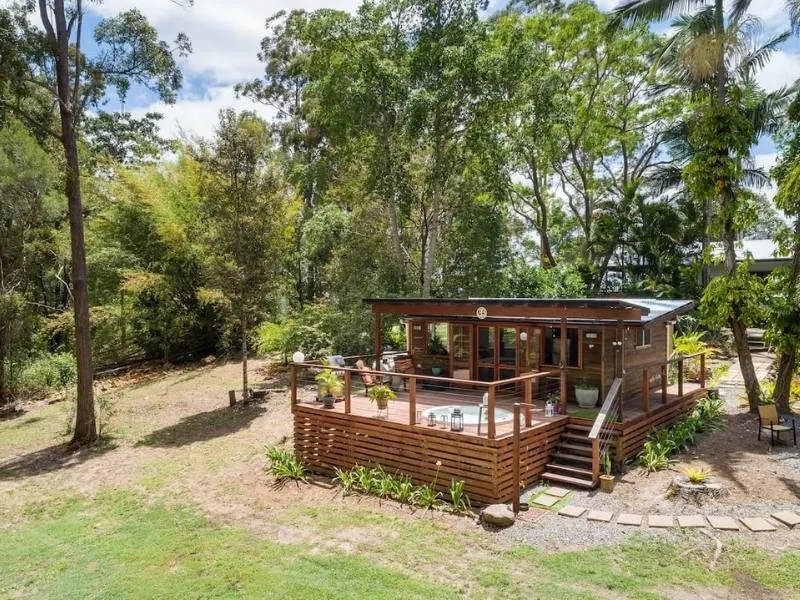 2 guests · Studio · 1 bed · 1 bath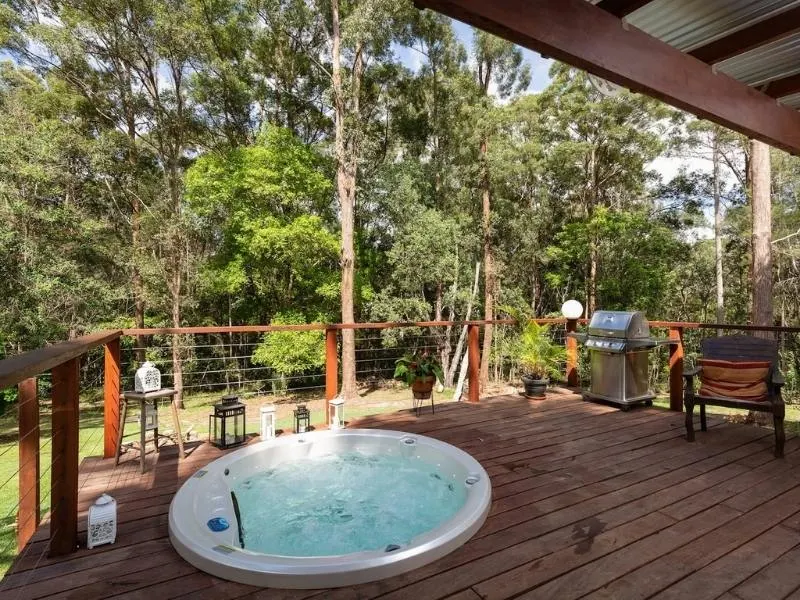 The Love Shack is the perfect private and romantic getaway for couples seeking time out from the hustle and bustle of life.
Situated on 5 acres in the Noosa Hinterland the Love Shack is equipped with everything you need to make your stay enjoyable and comfortable.
Enjoy a BBQ on the deck or relax and unwind in the beautiful sunken hydrotherapy spa. Admire the serenity of the bush backdrop and the dark night skies.
Noosa's cafes and lovely beaches are only a 20 minute drive away.
Guest Review – Couldn't recommend this place more. Its the perfect get away. Dee and Soni have done an amazing job creating this magical space. 100% will be going back. – Lauren (Jan 2021)
10 guests · 5 bedrooms · 7 beds · 2 baths
Family Fun – The Oasis Resort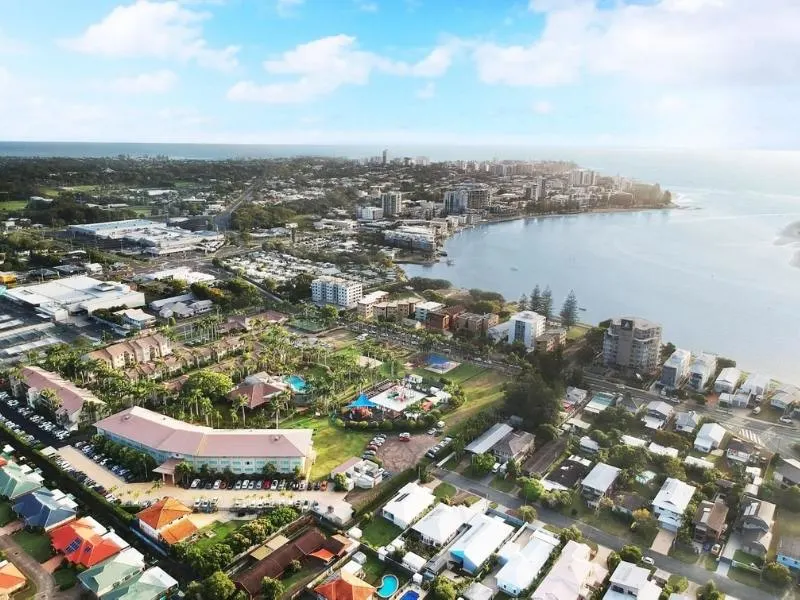 4 guests · 2 bedrooms · 3 beds · 2 baths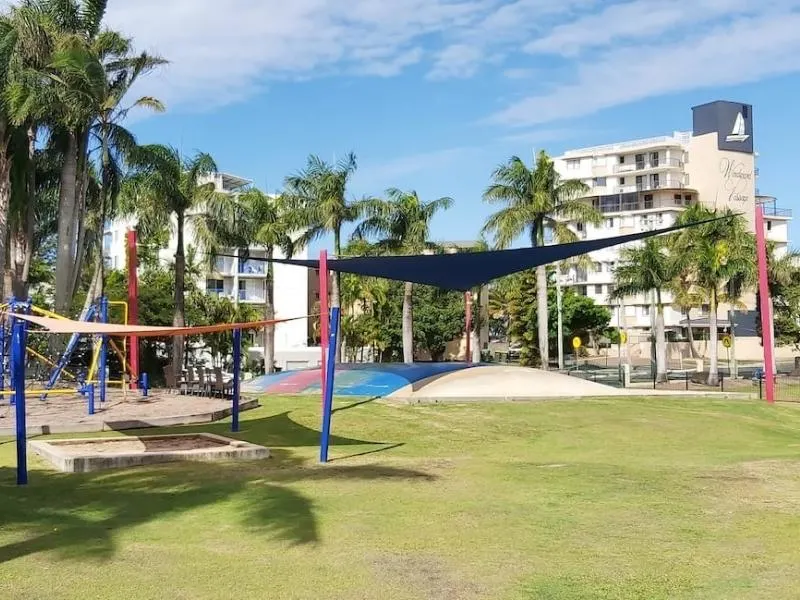 Enjoy a stay at Oaks Oasis one of the best family resorts in Australia.
With access to amenities including a heated water park with slides, giant jumping pillow, mini-golf, tennis court, beach volley-ball, playground, heated pool, bar & restaurant this is the perfect location for a family getaway!
The accommodation is located only one street back from the beautiful Golden Beach on the shores of the pristine Pumicestone Passage and within minutes of Caloundra town centre.
Guest Review – "This was by far the best getaway for our family. Our children absolutely loved the waterpark. Rodney and Michele were amazing hosts. We checked in late, which they made so easy for us very informative and helpful. Always prompt in replies.
Upon arrival we couldn't believe how well equipped our 2 bedroom apartment was. From extra towels to food in the fridge and cupboards as well as fresh bread. Cooking oil, spreads you name it the list goes on. Nothing but 5star quality and more.
Above and beyond our expectations, we even booked an extra night. We will definitely be back. Thank you Rodney and Michele we had such an enjoyable stay".– Judith (Jan 2021)
Little Red Train Carriage, Eumundi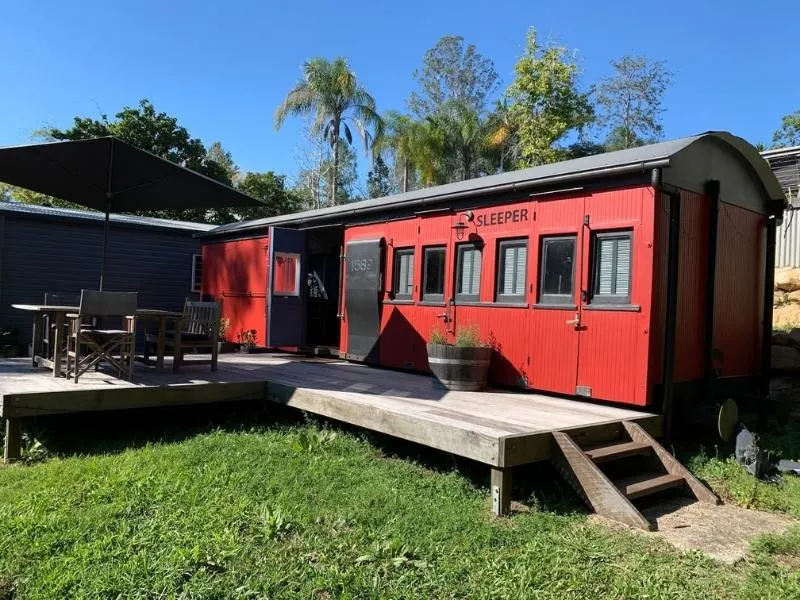 2 guests · 1 bedroom · 1 bed · 1 bath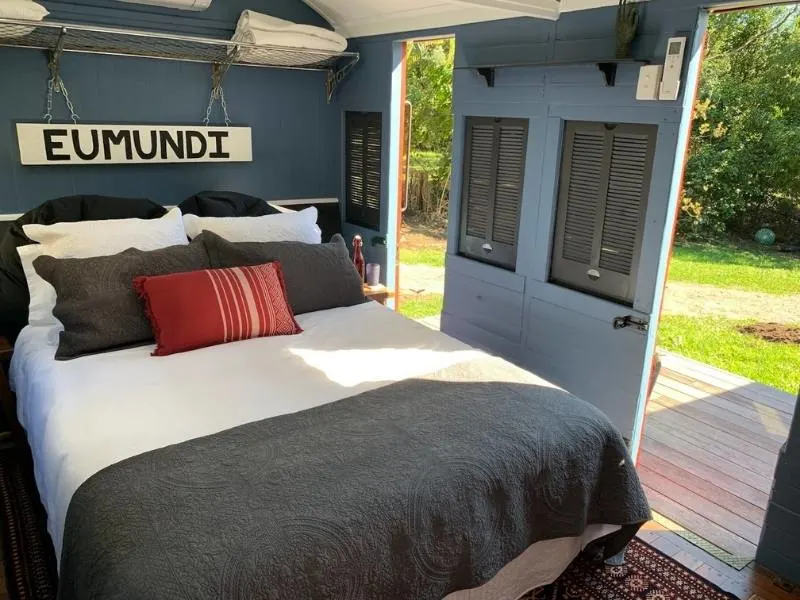 Little Red is an original 1940s Queensland railway guard's carriage. Although upgraded to become a comfortable and unique space it still retains plenty of original features.
A queen sized bed with luxury bed-linen is located at one end of the carriage, and a relaxed, cosy lounge area at the other end, complete with body-loving, comfy leather armchairs.
There is a private bathroom at your disposal, but note this is not located in the train carriage, and is a short walk, 20 metres, located next to the swimming pool – also yours to enjoy throughout your stay.
Guest Review – "We had a great stay at the little red carriage. Annalise and Ray could not have been more welcoming. The place is adorable and there's a super-smart border collie named Clancy who will play all day at the pool. Highly recommend!" – Anna (Jan 2021)
The Treehouse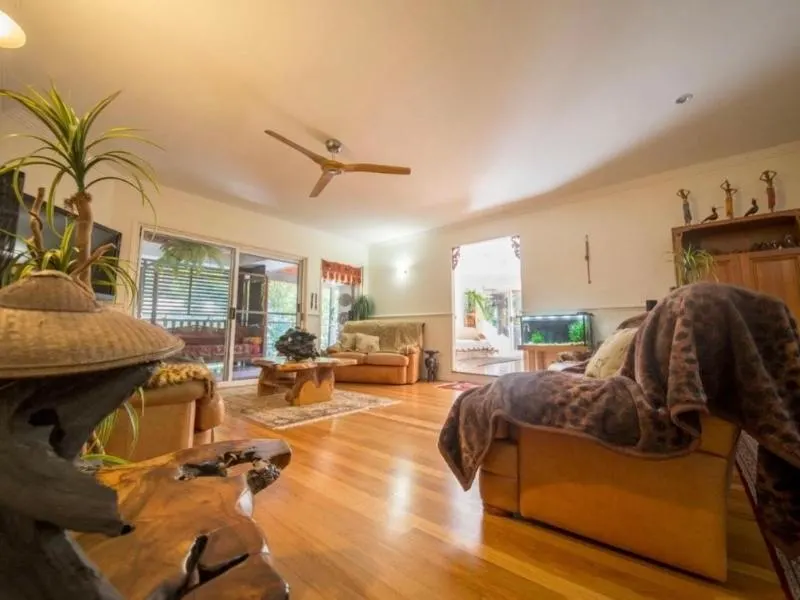 8 guests · 3 bedrooms · 3 beds · 2 baths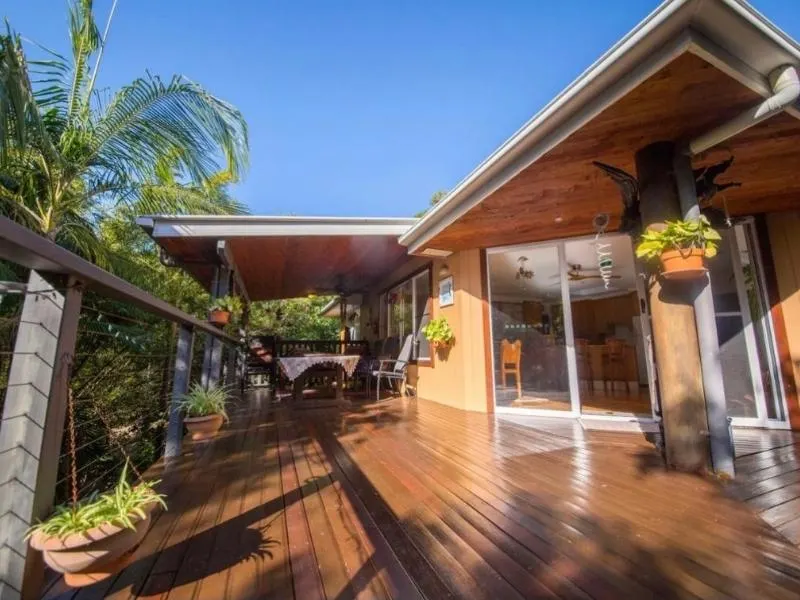 This spacious timber pole home features a large timber deck, set in the rain forest treetops. The site falls steeply from the road access into the rain forest. The setting is comfortable, yet rustic and arty with a Marocco, African theme
Guest Review – "A lovely place to stay for peace and tranquillity. Great location. Thank you so much for such a lovely experience. Feeling so relaxed and revitalised after our stay." – Lorraine (Jan 2021)
Lake Weyba Noosa Lodge (Dog friendly)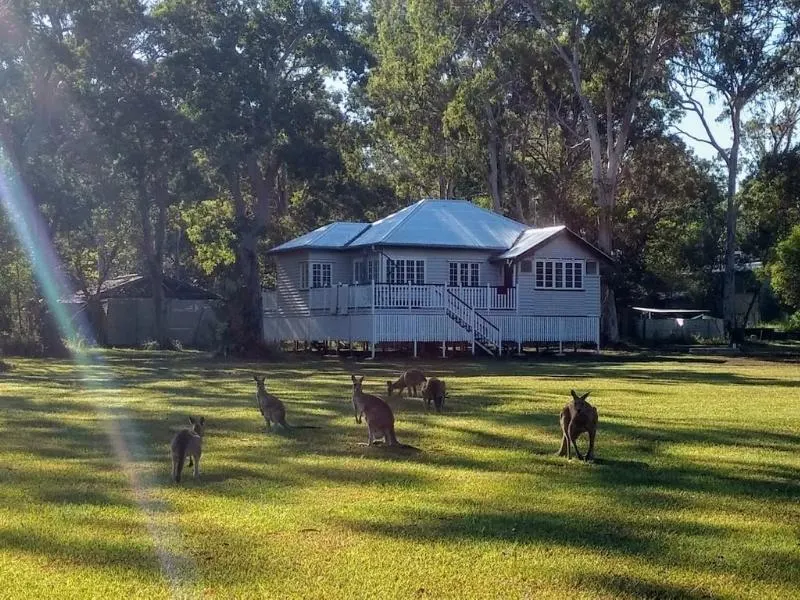 6 guests · 3 bedrooms · 4 beds · 1 bath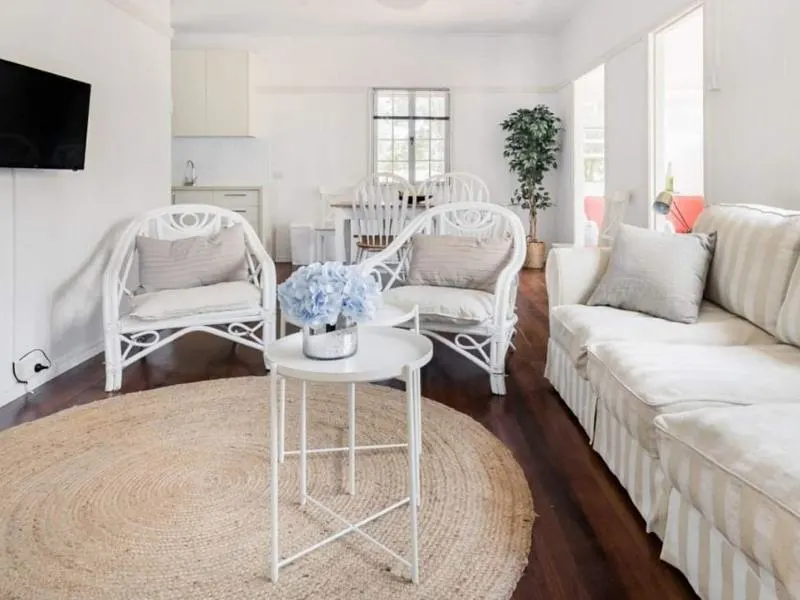 Enjoy a stay at this private cottage nestled in extensive lawned gardens amongst the gum trees and with a resident mob of friendly kangaroos who visit in the morning and evening.
The cottage is located in the old part of Peregian Beach and is set amongst the gum tree in a park-like oasis. Enjoy direct access to Lake Weyba (only a 400-metre walk away) and the abundant birdlife in the area.
Guest Review – "Such a hidden gem – the most lovely mix of country & beach. Particularly loved the campfire & tripod set up next to the house & canoeing on the lake. Kangaroos, cockatoos & the sounds of the bush so peaceful & just minutes away from beautiful Peregian Beach, restaurants cafes & shopping. Great mix :)))" – Leonie (Jan 2021)
Pristine beach, private heated pool & pet friendly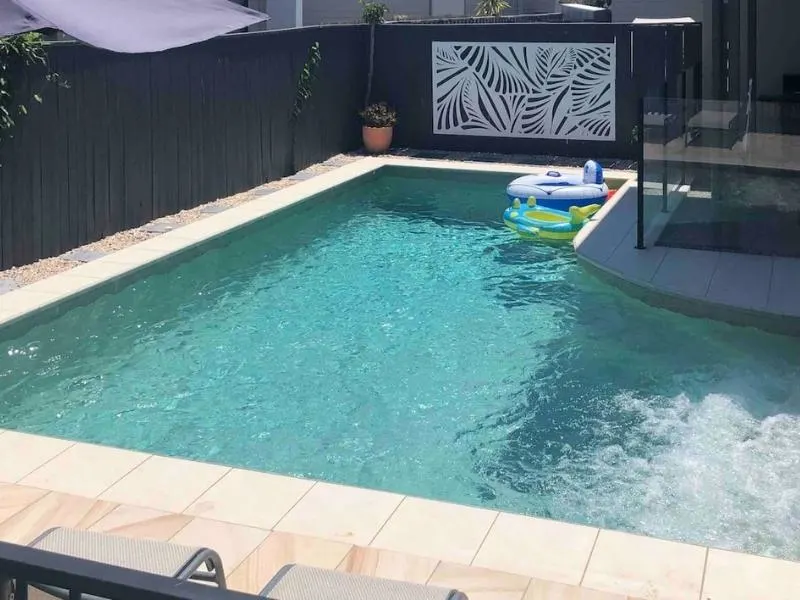 6 guests · 3 bedrooms · 4 beds · 2.5 baths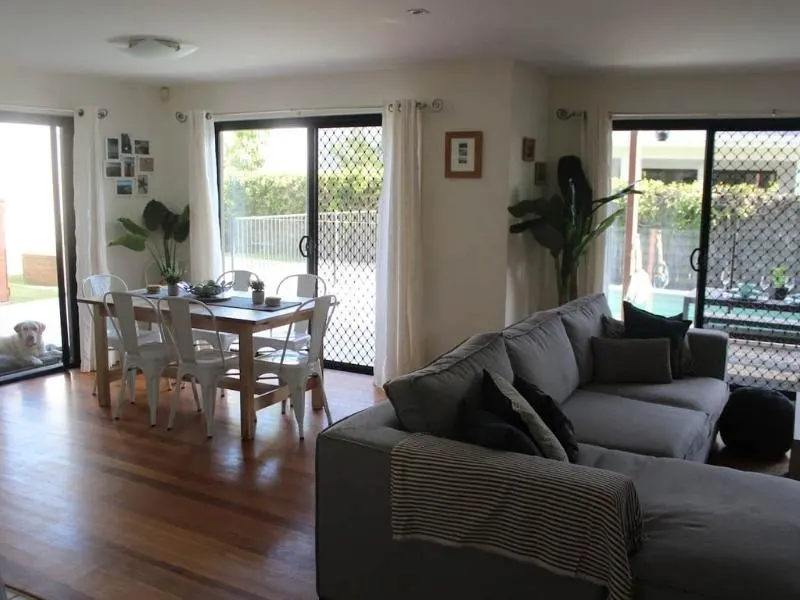 Located in the beautiful North Shore area of the Sunshine Coast, this modern three bedroom duplex has been freshly painted inside and out and has new fittings throughout.
Enjoy your own swimming pool or walk to nearby Mudjimba Beach.
This beautifully decorated home has everything you need to make your stay enjoyable – the best part is your furry friend can come along too!
Guest Review – "Enjoyed our stay immensely. The house is equipped with everything you could need and more. Already considering re-booking for next year!" – Charlotte (Dec 2020)
Unique farm escape in Sunshine Coast hinterland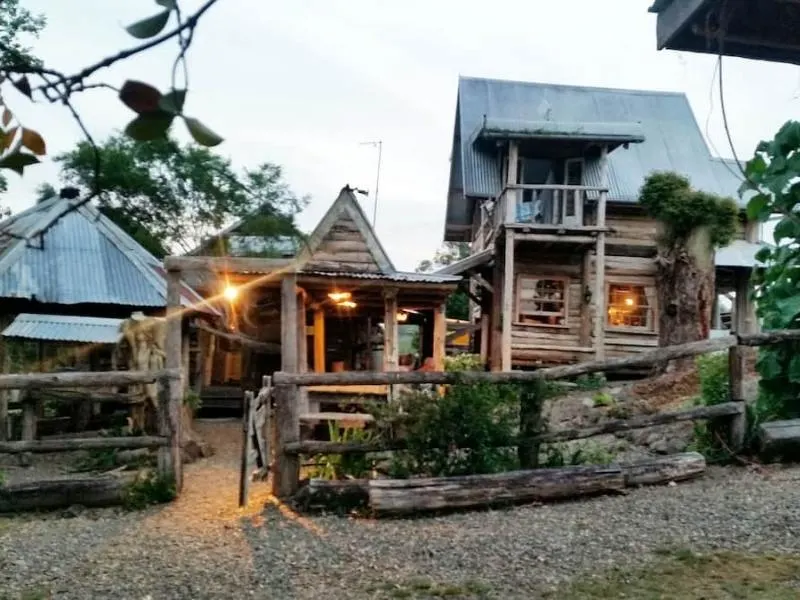 2 guests · 1 bedroom · 1 bed · 1 bath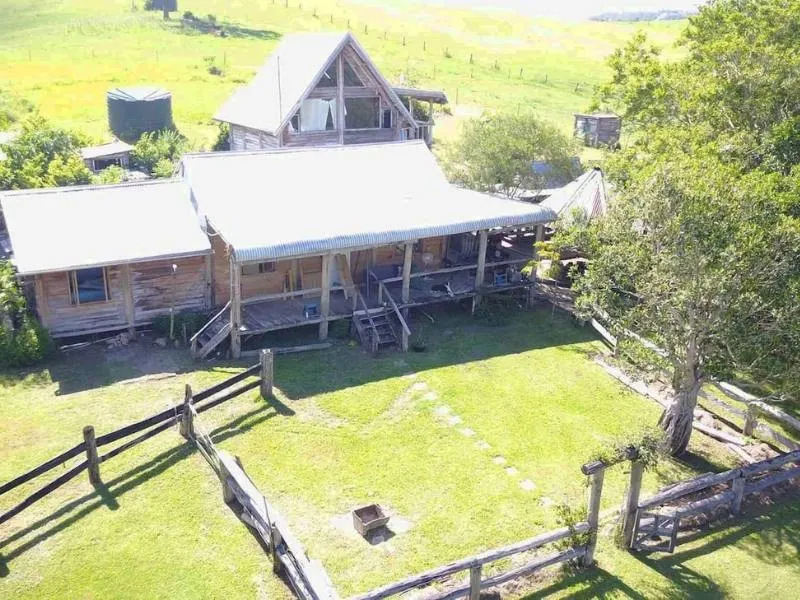 This traditional Australian hard wood log cabin has all the comforts of a modern home. The cottage's wide deck looks out to a beautiful tree lined permanent waterway, filled with a multitude of bird life.
Enjoy a cuppa on the deck and watch all the beautiful wildlife: kookaburras, goose, duck (if you're lucky you might see the cute resident wallabies and platypus too)
This cottage is remote and private and is the perfect accommodation choice for nature lovers looking for a relaxing stay away from the city.
Guest Review – Lou's place is a lovely retreat hidden in the hills, the cabin itself is beautifully decorated and has a great amount of outdoor space whilst still feel Anthony and Cass are just the most spectacular kind of humans and this place is an absolute dream. I cannot recommend this enough – if there was a step above super host they'd deserve that – thank you for everything very private. The view alone is enough to make us want to book again! – Kira (Feb 2021)
The Pool House—Cool Designer Loft Close To Beach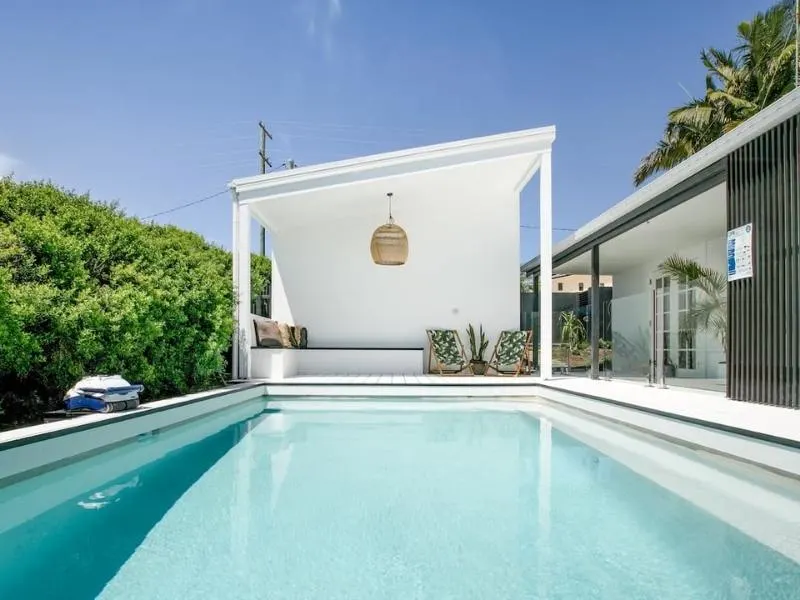 2 guests · 1 bedroom · 1 bed · 1 bath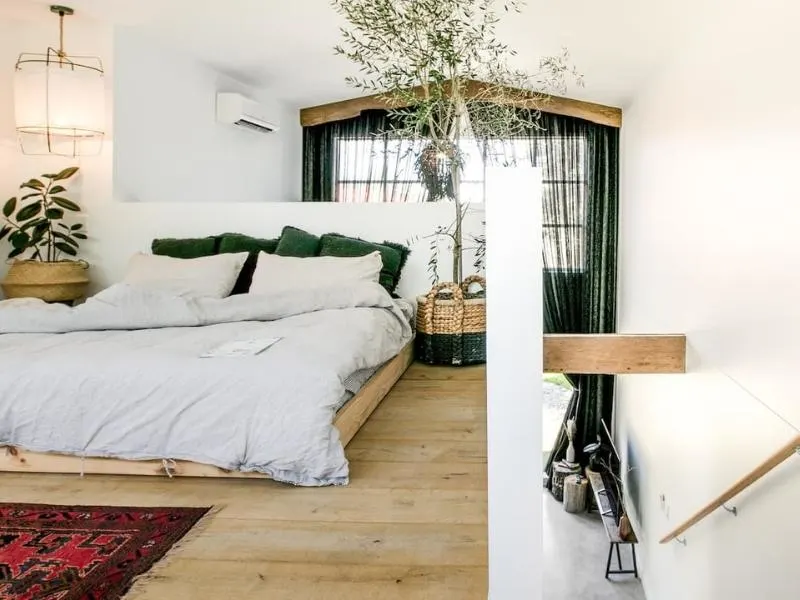 This beautiful New-York style loft has been featured twice in "Inside Out" magazine. Furnished beautifully with hand-picked furnishings from Morocco, Indonesia, and the Greek Islands and featuring oak floors and Carrara marble this is the ultimate luxury stay.
Relax but the pool during the day and with a glass of wine at the fire pit in the evening.
Guest Review – "This place is AMAZING. Everything you need. Amazing styling, amazing pool, everything – AMAZING. It definitely lives up to its pictures, I'd definitely recommend." – Cassandra (Jan 2021)
Beach Cottage for couples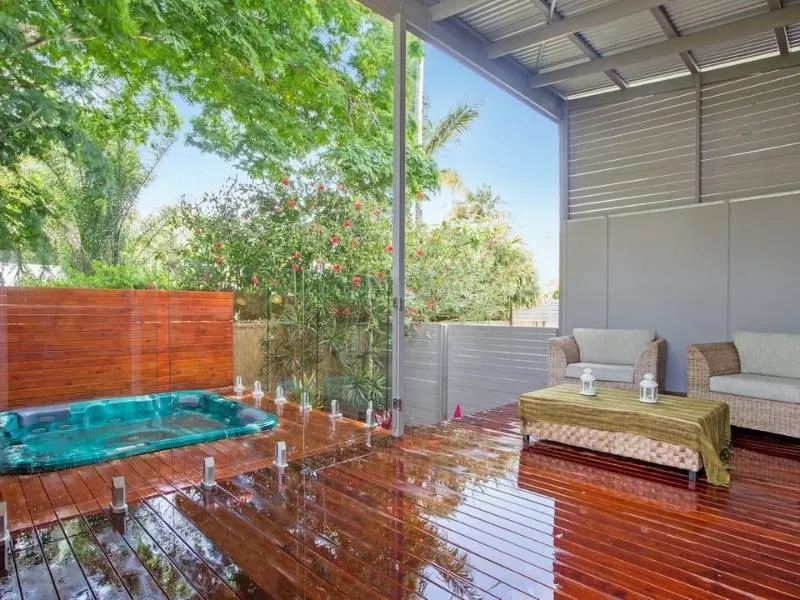 2 guests · 1 bedroom · 1 bed · 1 bathroom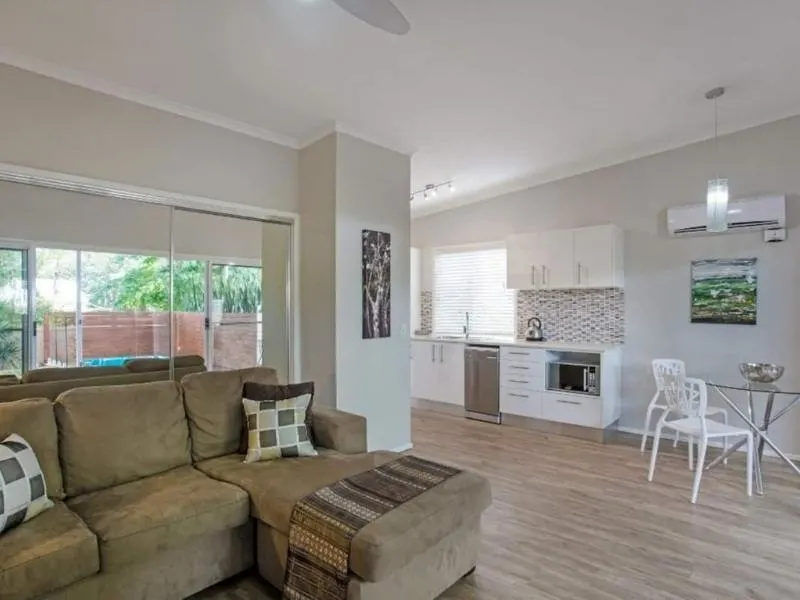 Enjoy the open plan living area which offers secluded views. The integrated outdoor spa is set into the timber decks and there is a BBQ on the deck and comfortable lounge chairs which make for a relaxing experience .
The stylish kitchen is fully equipped, including large fridge freezer, convection microwave oven, hotplates and dishwasher.
Pets are welcome for a additional $10 per night fee.
Guest Review – Perfect places to stay my partner and I really enjoyed plus being able to bring our fur baby made it even more special highly recommend this place to family and friends– Nicole (Jan 2021)
Sunshine Coast home with pool and rainforest views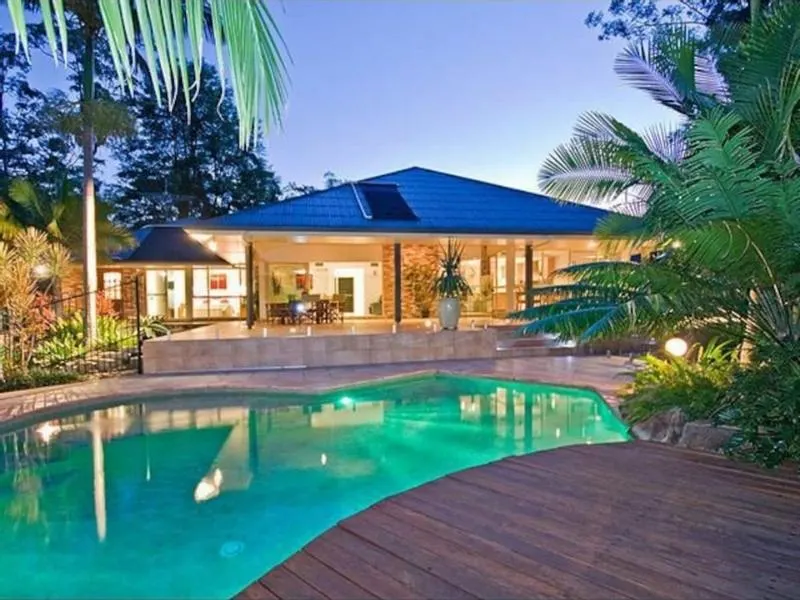 10 guests · 4 bedrooms · 5 beds · 2 baths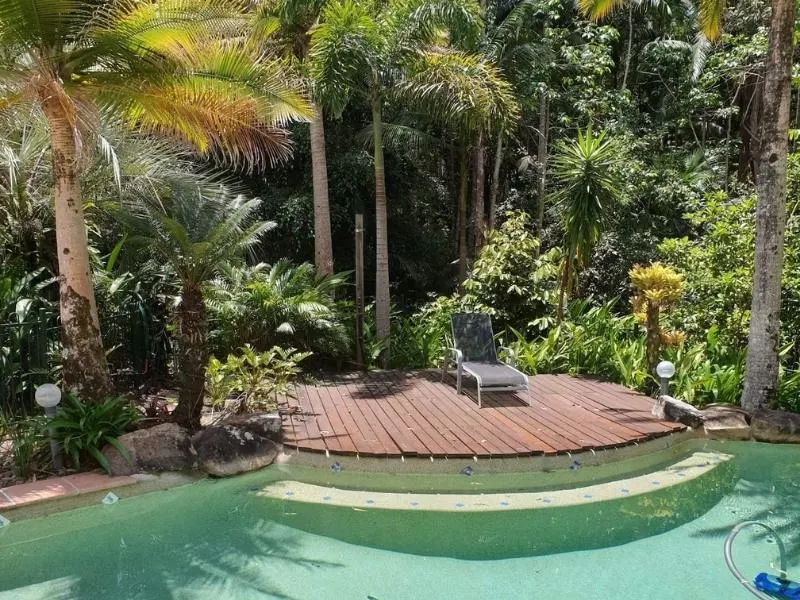 Enjoy open plan living, an inviting salt water swimming pool and more in this beautiful property located in a lush rainforest.
There is plenty of off-street parking and room for kids to run around. Located near to popular Sunshine Coast attractions including Australia Zoo.
Guest Review – Beautiful setting with rainforest behind house. Peaceful. All that you need for a comfortable stay. Host is lovely and quick to chat with you. Can't wait to come back – Sarah (Jan 2021)
Plan your visit to the Sunshine Coast
You can read more about visiting Australia and the Sunshine Coast (plus other beautiful destinations in Queensland) in these related articles: