Last Updated on June 22, 2019
This post may contain compensated links. Please read our disclosure for additional information. As an Amazon Associate, I earn from qualifying purchases.
With more beaches than any other country in the world (over 10,000 in case you are ever asked in a quiz) you are truly spoilt for choice in Australia.
Although, like most of the population of Australia, I have my favourite beaches it is impossible to actually know ALL of them! With a coastline measuring over 50,000 kms it would take something in the region of 27 years to visit every single one.
An estimated 85% of the population live within 50 km of the coast so taking a trip to the beach really is an intrinsic part of life in Australia.
If you are visiting Australia (or are an Aussie looking for some inspiration for your next trip) the 25 beaches chosen by travel bloggers in this post will provide a sample of some of the most beautiful stretches of sand and sea anywhere in the world.
BEST BEACHES IN QUEENSLAND
No trip to Australia's beaches would be complete without at least standing on the golden sands of Surfers Paradise just once. "Surfers" as its affectionately called by the locals has been a drawcard for families and international tourists for generations.
Located in southern Queensland, you have the choice of flying into 2 different airports. Brisbane international airport is around 90minutes North. It has more international connections so It can be more cost effective for long haul travellers. Coolangatta airport is around 45 minutes south and takes some international flights, but a bulk of domestic low-cost carriers fly in here. It's also the main airport used for this travelling down to Byron Bay.
Surfers Paradise is a haven for surfers as the name suggests. Although, these days most surfers head further along the beach, allowing families and holidaymakers to access the main part.
The area has plenty of great international restaurants and a fantastic shopping precinct. When the beach gets too hot, you know there is always another activity to do.
Whale watching tours head out in whale season ( May to November) to escape the heat, many tourists love to head up to O'Reilly's in the Hinterland. There you can walk among the trees and spot many of the 160 species of subtropical birds that live there.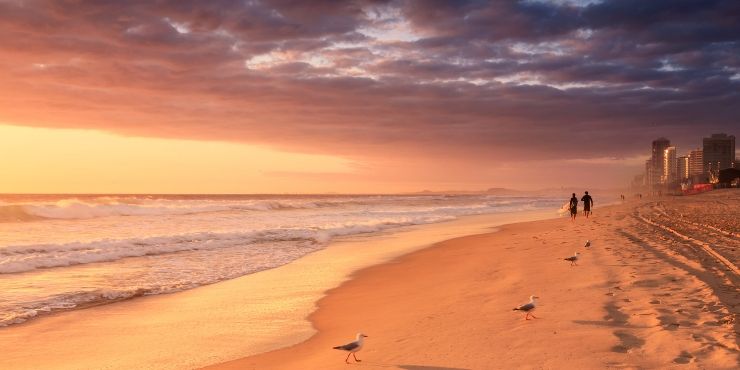 I love a stunning beach and in Australia we certainly aren't short of them, but my all-time favourite Australian beaches can be found in the Noosa National Park.
The entrance to the Noosa National Park is just a short stroll or drive from the famous tourist strip of Hastings Street. From here you can easily walk along the Coastal track to beaches such as Little Cove, Tea Tree Bay, Granite Bay and Winch Cove.
With the back drop of the lush Noosa National Park and the calm crystal clear water, these beaches are without a doubt some of the most stunning in Australia. These beaches are perfect for swimming, snorkelling, kayaking, or stand up paddle boarding. When the tide is out the waves pick up just enough for some gentle boogie boarding too.
My favourite beach is probably Little Cove, but highly recommend walking a little further to one of the further beaches along and you may well have the entire beach to yourself – your own slice of paradise!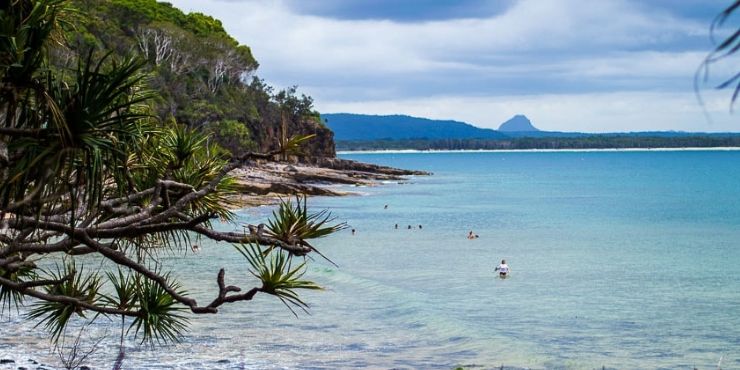 One of my favourite beaches in Queensland is Tangalooma Beach on Moreton Island. It's the beach outside Tangalooma Island Resort and it is just the perfect location for families with young children. The idyllic beach is white and sandy and is fringed with swaying palms. The clear water is shallow and it is sheltered so your kids are safe to paddle without the worry of them getting knocked over by big waves.

There's also a water sport hire place so you can hire kayaks for a paddle plus there is a heated pool just set back from the sand – even in winter it's warm enough for a swim (so my kids tell me!)
You get to see plenty of wildlife around the resort – there are always kookaburras perched on lamp posts and pelicans standing on the beach. You can also book to do the nightly dolphin feed where you can hand feed wild dolphins, or take a whale watching cruise if you have good sea legs (don't forget to pack some zinc sunscreen as the sun is fierce when you're in the open ocean).
It's the sort of day trip or weekend away where you can choose to do as much or as little as you like. The most important thing though is that you make time to watch the sun go down over the beach as it is spectacular!
SMARTSTEPSTOAUSTRALIA.COM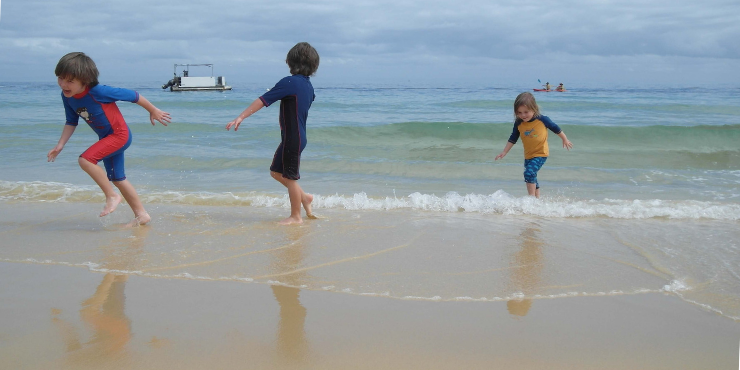 Whitehaven Beach is my personal choice of not only the most beautiful beach I have visited in Australia but also in the world. Just actually getting to the beach is an adventure in itself with the choice of a helicopter, water planes or boats transfer from Airlie Beach or Hamilton Island.
Situated in the stunningly beautiful Whitsundays on Australia's Great Barrier Reef this is a paradise destination.
The sand is pure white and incredibly soft with a texture of flour. It is great for cleaning your jewellery but be careful with your phone or camera and the fineness of the sand will easily damage them.
During stinger season you may be required to wear a stinger suit for safety reasons – the deadly box jellyfish and irukandji are frequently found in these waters. Don't let that put you off though this truly is an island paradise!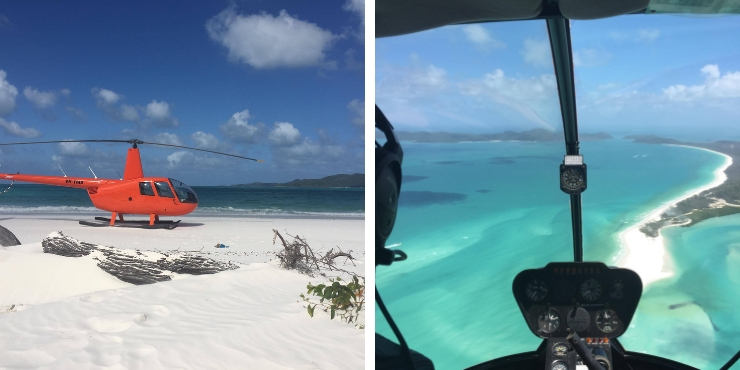 BEST BEACHES IN NEW SOUTH WALES
Bondi beach is one of the most famous beaches in Sydney, Australia and it's one of the most visited beaches. Millions of tourists flock here each year, but locals also love this beautiful beach.
It's located only 5km from the Central Business District so it's proximity to the city makes it really easy for tourists and locals to visit. It's one of the best things you can do for free in Sydney Australia!
I was a little surprised by the size of Bondi beach because it's only about 1km long. However, I quickly fell in love with this beach and can see why it's one of the best in Australia.
Bondi beach has something for everyone!
In the Northern part of the beach there are small pools of water which are perfect for kids and the grassy knoll area where you can have a BBQ under a shelter.
On the Southern end of the beach, the waves are perfect for surfers with amazing waves to ride. If you're planning on swimming, just ensure you stay within the safe zone flags as the current can be a little strong.
There's no shortage of bars and restaurants in Bondi, so you'll have plenty of options to choose from if you get hungry.
Head to Bondi Icebergs Club to see the epic view of their swimming pools adjacent the ocean waves. It's really beautiful and the perfect place to be if the waves are too rough for you.
From May- November you may get lucky enough to see the migrating humpback whales from the cliffs near Bondi beach.
Even though Bondi is a small beach, the vibe and community make it one of the best beaches in Australia!
EATLOVEEXPLORE.COM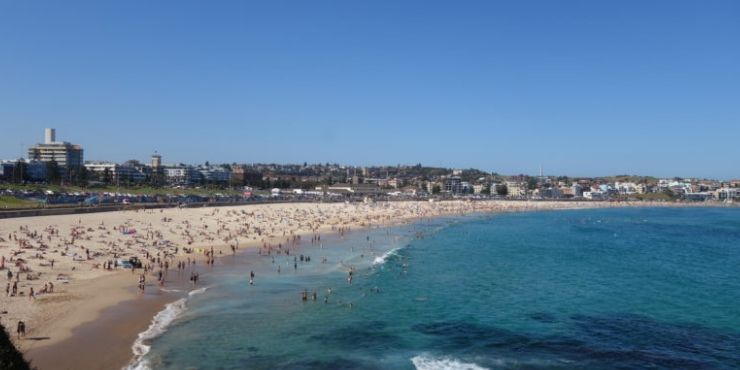 One of the best beaches in Sydney, Palm Beach stretches for 2.3km between Little Head and Barrenjoey Head. As well as enjoying the sparkling blue waters and golden sands, there's lots to do at Palm Beach.
The northern section of the beach is popular with surfers while the southern part, which has a sheltered pool, attracts swimmers. A short and steep hike leads to the historical Barrenjoey Lighthouse, situated at Barrenjoey Head, from which the views are spectacular. In winter, it's often possible to spot the migrating humpback whales: the whale watching season runs between May and November.
As well as being one of the most beautiful beaches in the city, Palm Beach is also the setting for the Australian TV show, Home and Away. The beach is known as Summer Bay in the show and fans can also visit the Diner and the Surf Club.
Palm Beach is just 90 minutes by bus from the center of Sydney.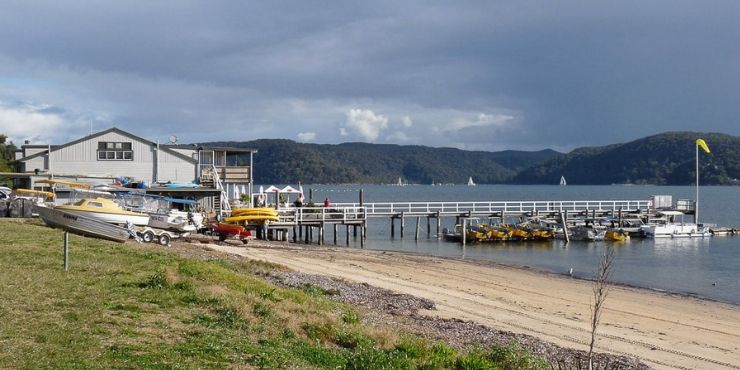 As a really big island with thousands of miles worth of coastline, there is no shortage of beaches in Australia. Indeed, the Australian way of life is very much focused on the beach. Beaches all over the country are a point of reference for locals, whether it is for swimming, fishing or any other water-based activity. One of the best ways to observe how Australians live is to get to the beach and watch the comings and goings…
In Sydney, there are few places to do it better than Balmoral Beach. Located in the upmarket of Mosman, within Sydney Harbour, Balmoral Beach is a pretty cove divided in the middle by a rocky promontory. Balmoral Beach was serviced by a tram in the 1920s and became a popular weekend destination.
Cafes and restaurants offer quality meal options, or you can enjoy a picnic in the park. Balmoral Beach doesn't have a big swell so it's ideal for young families. It's also very popular with early morning swimmers, joggers and dog walkers.
The surrounding bushland is home to local birdlife, and if you are very lucky, you may catch a dolphin visiting the harbour.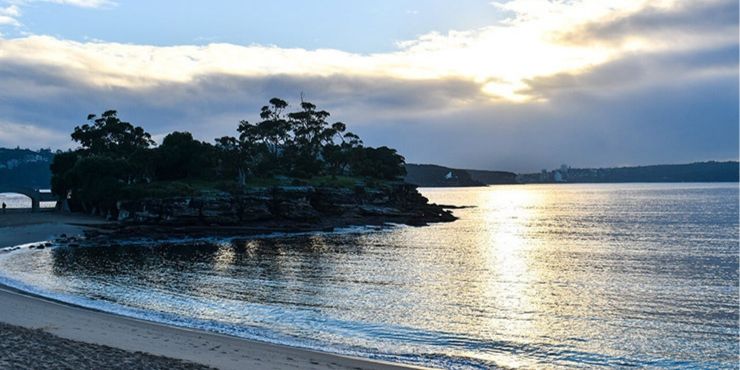 Australia is famous for its beautiful coastal beaches, and if you speak to any Aussie, they will have a hidden gem or two up their sleeve. But I have to say Coogee has always been one of my favourites and here is why.
Although you will find many surfers in and around this area, I have always found that Coogee's waves are easier to swim in, as it isn't as rough as it's nearby beaches, so therefore it is one of our beaches of choice as a family.
Coogee is located in Sydney's eastern suburbs just over 8km from Sydney's CBD, which makes it an ideal place to spend the day. Whether you choose to make it the start of your Coastal walk to Bondi or to spend the entire day there, Coogee has something for everyone.
Many cafes and restaurants are scattered in and around the main streets here, and you are totally spoilt for choice, you can find anything from Healthy vegan style breakfast to the full-on English breakfast fry up, all eaten alfresco of course.
The summer is filled with lively music, rooftop bars and bustling beer gardens, making the most of the long summer nights. So if you are looking for a beautiful location with a great atmosphere then look no further than Coogee Beach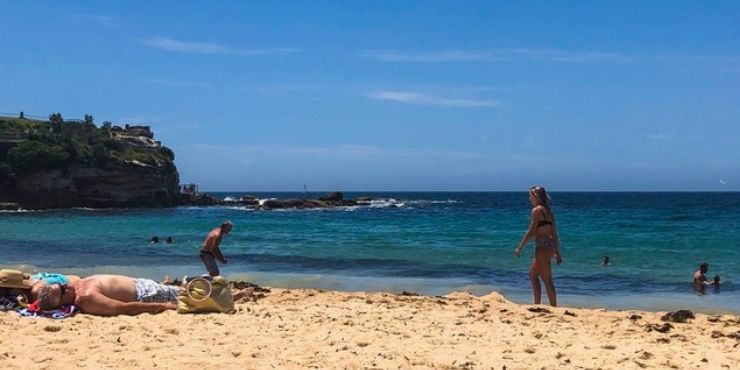 Byron Bay is one of Australia's most famous beaches, but the true star of the show is just a 30-minute walk from Byron- Wategos Beach. This is by far my favourite beach in Australia, if not the world. The beach's sparkling turquoise waters are completely clear and pristine, perfect for swimming, bodyboarding, kayaking, or just splashing around. On a clear summer day, it honestly looks like you've stepped into a movie set, it's so picturesque and impressive.
Byron Bay and Wategos are home to many bottlenose dolphins, easily spotted from a sea kayak, along with sea turtles. Whales can also be seen in the winter months, making it a great spot for wildlife viewing.
Wategos is just steps away from Byron's famous Cape Byron Lighthouse, and the beach has picnic and barbecue facilities, bathrooms, changing rooms, and shelter. It's best reached by foot from Byron, as parking is very limited- plus, the walk features unbelievable coastal views, and is part of the fun of getting to Wategos.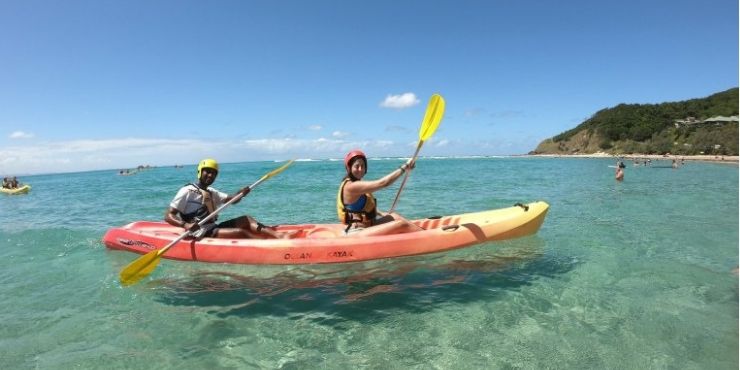 I had always wanted to visit the Bay of Fires and even though we visited in July I was still determined to check it out. Located between Binalong Bay and Eddystone Beach on Tasmania's northern east coast, its famous for its white beaches, blue water and orange-hued granite, produced from lichen which many assumed was where the name the Bay of Fires originated. However, Bay of Fires was give its name in 1773 when early settlers saw fires on the beach set by the local Aboriginal tribes.
Back to my visit, I was travelling alone with the kids, I got to Binalong Bay and I was having trouble finding the right spot. My phone went flat so I had no google maps and after driving around for 3 hours we headed back to our hotel. I had thought we missed it, after charging my phone back at the hotel and looking where we had been, we most definitely were at the Bay of Fires. We had perfect winter sunshine and the kids even got to play in the beautiful white sand and we had it all to ourselves. The water is on par with some of the best beaches in Australia that I've seen including Whitehaven Beach.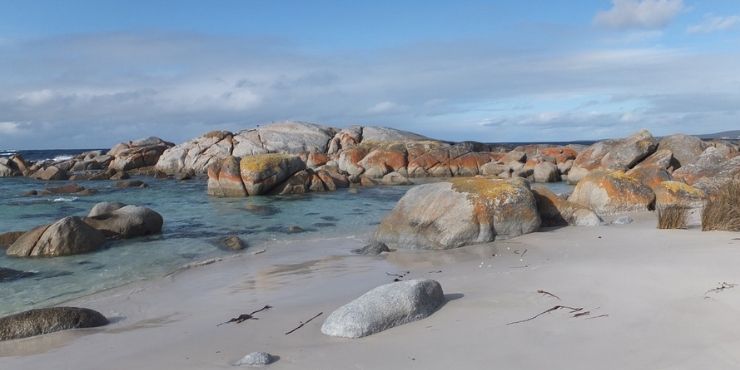 Wineglass Bay is located inside Freycinet National Park on the east coast of Tasmania. Being inside a national park is part of what makes this beach so special. You have to hike to get here which keeps the masses away and helps it stay in a pristine condition.
The biggest reason why you will want to hike here, however, is that the beach is so pretty. Often named one of the most beautiful beaches in the world, the white sand and blue water surrounded by forest is a huge reward after you walk the track to get here. The path is steep but you do have great views of Wineglass Bay when you are at the top.
There is a lot of wildlife in this area and you may see wombats, wallabies, whales, dolphins, many types of birds and more.
This beach is best for people who like to hike. Young children will find the path hard as there are some big steps so it's better for older kids and adults. The water can be chilly and the calmest spot is at the far end. To really enjoy this beach, stay overnight and camp here.
DIVEINTOMALAYSIA.COM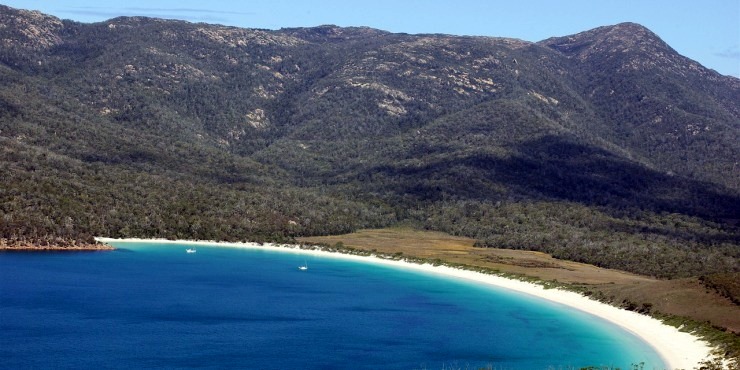 THE NECK BEACH BRUNY ISLAND
The Neck Beach on Bruny Island is best viewed from Truganini Lookout some 25 km south from the island ferry terminal. The lookout itself is reached via a steep timber staircase with impressive views along Neck Beach to North Bruny and down to Adventure Bay on South Bruny. The stairs flatten out every so often to give the screaming calf muscles a rest.
Down at the bottom again, a timber walkway extends across the sand dunes of the Neck Game Reserve and incredibly right through a Penguin Rookery. The boardwalk terminates in a wildlife platform with stairs down to the beach. Keep in mind that you shouldn't walk on the beach after dusk as it disturbs the penguins.
The best penguin viewing is during warmer months when a National Parks officer conducts a talk on dusk, but there is also an Interpretative board on site. As you scan the beach for penguins, keep one eye on the sky for returning Shearwaters. At dusk it's best to keep still on the platform and use red cellophane over your torch globe.
The Neck National Park Campground is a further 3km south from the Lookout Car Park. Set amongst natural bushland it is only a short walk along a sandy track from the campground to this beautiful beach.
It is likely that you will have the beach to yourself, but if not it stretches so far north and south that there is unlimited opportunity to lose yourself in this pristine wilderness beach.
BUDGETTRAVELTALK.COM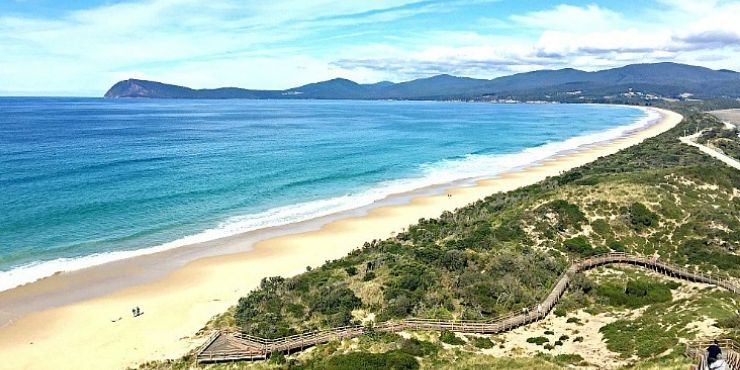 BEST BEACHES IN NORTHERN TERRITORY
Mindil Beach is a small, white sand beach located in Darwin in the Northern Territory of Australia. It's a beautiful beach that faces to the west. This means that you can watch amazing sunsets over the water almost every night of the year.
Mindil is a place for socializing at sunset during the famous Mindil Markets every Thursday and Sunday night during the dry season. Locals and tourists gather on the beach and enjoy a drink and food as the sunsets (and yes, you are allowed to drink alcohol on this beach!)
The Mindil Beach Markets are world famous and considered one of the best markets in the Australia. At the Mindil Markets you can try a huge range of Aussie treats including kangaroo, crocodile and water buffalo. On top of that, you can listen to the live didgeridoo music and street performers. In true Aussie fashion, the Mindil Markets are a very multi-cultural market and foods from all around the world are served here from Italian wood-fired pizza to Chinese.
Mindil Beach isn't your typical Aussie beach though. In fact, despite being a very famous beach, swimming isn't advised. Now, I know what you're thinking! Why? Well, Darwin has some very interesting wildlife and the animal that keeps people from the water is the Salt Water Crocodile.
Despite the lack of swimming, the atmosphere, sunsets, and cultural experience make Mindil Beach one of the best beaches in Australia.
DESTIONATIONLESSTRAVEL.COM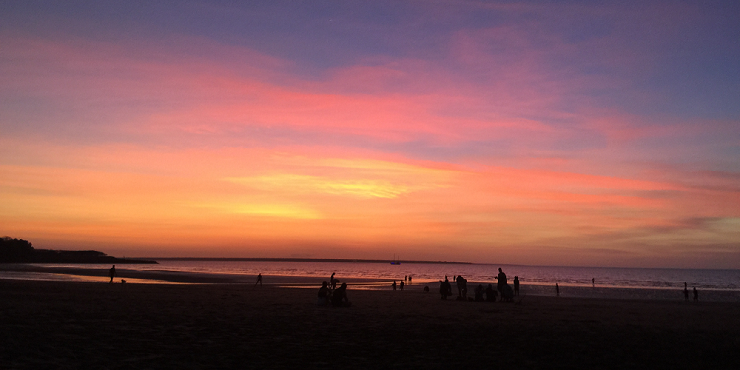 BEST BEACHES IN WESTERN AUSTRALIA
Mandalay Beach on the South Coast of Western Australia is without doubt one of the best beaches in Australia. Powder white sand, dramatic rock islands and a shipwreck that rises up from the waves after a big storm! This little known beach is located in the isolated and windswept D'Entrecasteaux National Park and as such, you are almost guaranteed you will be the only ones there. This is definitely not a beach for swimming, but is great for a run, breathing in the brisk cool air or enjoying the solitude. You can also do some whale watching in season (June through to September) from a number of lookouts high up on the cliffs.
Mandalay Beach is named for a boat shipwrecked there over 100 years ago and from time to time the wreck rises up from the sea.
This beach is one of our personal faves, but I noticed it had also been included on a list of "100 Best Beaches in Australia" a couple of years in a row!
Located on a gravel road that is suitable for 2 wheel drives, Mandalay Beach feels like you have been 4 Wheel driving for ours; it is such a rugged experience! 30 minutes from Walpole, Western Australia.
Photo: Kids running toward the wreck of the Mandalay on the isolated beach named for the wreck.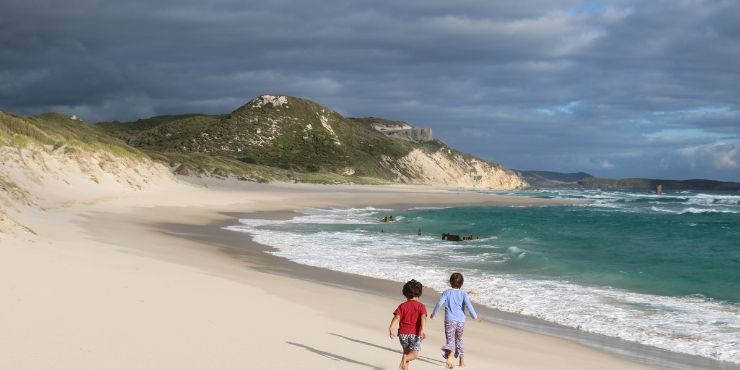 Head north from the city along the coast, and you'll find some of Perth's best beaches. We really are spoilt for choice in this city, with crystal clear waters that can rival the Caribbean some days!
If it's snorkelling you're after, there's no better spot in the city than Mettam's Pool. It's a protected marine reserve so no fishing or spearfishing is allowed. This makes it a haven for young fish and smaller fish alike.
It's protected from the waves by a reef making it ideal for families and beginner snorkelers. The beach is extremely popular in the summer months and if you're heading here on a weekend, make sure you go bright and early to get parking and a good spot on the beach.
There is heaps of free parking in the area, and with changing rooms and toilets on site, plus some cafes nearby, you can easily while away a few hours on this gorgeous beach.
Head there on specific abalone fishing days and you're almost guaranteed to see large sting rays and manta rays right in the shallows, feeding off the cut off abalone from the reef.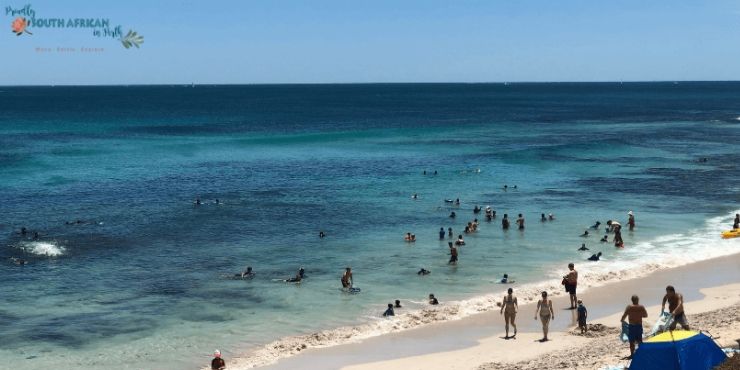 A beach goer's paradise, Rottnest Island has over 60 beaches and bays, one more beautiful than the next, and all with perfect hues of blue. Located only 19km from Perth (1.5-hour ferry ride) on the coast of Western Australia, Rottnest Island is perfect for a day trip and not to be missed if you're in the area.
Rottnest is perhaps best known because of its most famous residents, the quokkas, which roam the island freely. They're seen everywhere, especially in populated areas and along the main roads.
I recommend starting your day with a tour around the island to see some of its most famous beaches (some of which are only accessible by boat), learn about its history, and get close to Australian sea lions, New Zealand fur seals, and other wildlife. By the end of the tour, you'll know which beaches to spend the rest of your day at. While it's hard to pick a favourite, you can't go wrong with the Basin, Catherine Bay, and Stark Bay. Beach hop for the day by renting a bike or jumping on the local bus.
The island is great for solo travelers and families alike and offers plenty of things to do for both. Be sure to check out the salt and pink lakes! They're both incredible in their own right.
Depending on the time of year you go, you can go on whale watching tours and may spot humpback whales or blue whales. You may even get lucky and see bottlenose dolphins!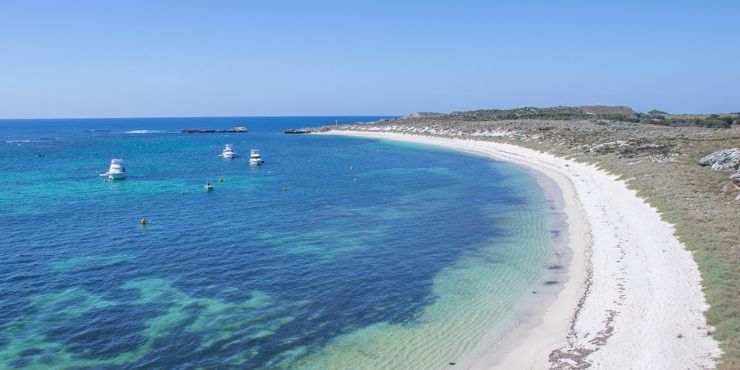 Just 15Km west of the small town of Denmark on WA's rainbow coast you will find the almost hidden calm waters of Greens Pool. A favourite local spot, Greens Pool is lesser known to those visiting the area and so can be quieter than some of the beaches in nearby Albany.
Beloved for its stunning turquoise waters, the rounded boulders typical to this area shelter the beach from the Great Southern Ocean waves. This makes it a perfect place to join the local fish for a swim or snorkel. The gentle sloping nature of Greens Pool means that even after walking a way out you are only still waist deep in the water, allowing children of all ages to safely experience the ocean.
Complementing the magical waters of Greens Pool is the expansive white beach which stretches far beyond the rock guardians of the rock pool across William Bay and Mazzoletti beach. Great for a morning run or to just soak up some Aussie sun.
For an added bonus take the short track around the headland to neighbouring Elephant Cove. Dare to wander through the narrow gap and spot the giant boulders that look like bathing elephants.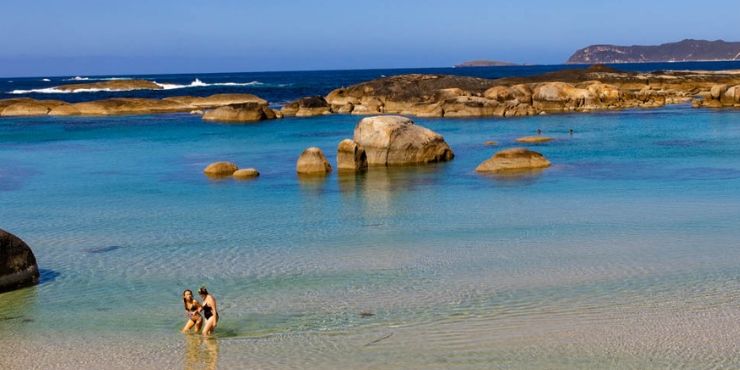 By far my favourite beach in the Perth area, Scarborough beach has it all. A long, golden stretch of sand thinning the crowds out on those hot summer days. Great surfing spots especially for those of us who are learning and access to reasonably priced board hire too. Plus, there's a great selection of café's, bars and ice creameries to refuel you once you're all beached out.
Scarborough beach is only 20 mins from Perth city and is easily accessible by both car and public transport. It's not just a beach though. Its recent revamp has seen the foreshore transformed into a family friendly environment complete with playground, skate park and bouldering wall.
If a dip in the sea isn't quite your thing then you can cool off at the Scarborough beach pool. An outdoor swimming pool and leisure complex only a stones throw away from the ocean.
Walk a little further along the esplanade and you come across the outdoor amphitheatre which plays host to several events throughout the year including the delicious summer sunset markets. More importantly though, it's great place to watch the spectacular Perth sunsets from.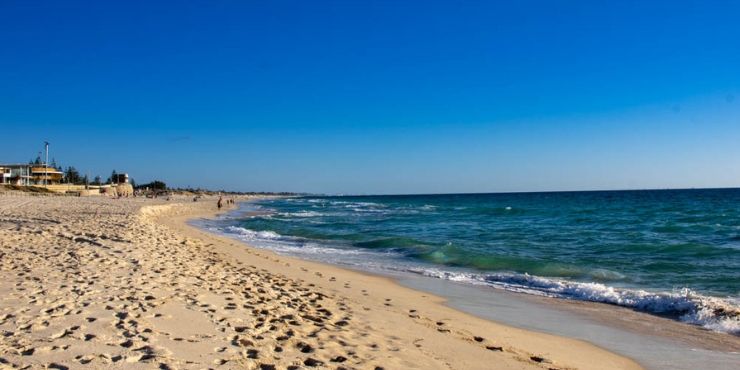 If you're looking for a beach where the fine white sand is so pure and clean it squeaks underfoot, where the clear turquoise waters beckon you in for a swim or a snorkel, and where your only companions are likely to be the local kangaroos, then you have to make a visit to Lucky Bay.
Less than an hour's drive east of Esperance, in Cape Le Grand National Park on Western Australia's south coast, Lucky Bay is a 5km stretch of paradise where you can always be sure of finding a sheltered spot of beach to just lie back, book in hand, and enjoy the peace and quiet.
If you prefer something a bit more strenuous there are excellent bush walking trails plus a boat launch if you're more nautically minded.
There's a small campsite right on the beach – pitches used to be allocated on a first come first served basis (which is why we found ourselves setting off from Esperance at the crack of dawn to be sure of getting a spot!). Now it's possible to book in advance so anyone wanting to stay here can have a lie in before they set off on the scenic drive.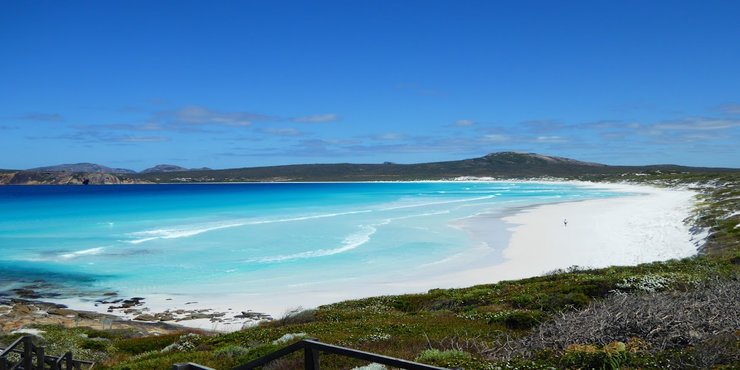 Monkey Mia beach in Western Australia provides visitors with a unique wildlife encounter! A section of the beach is closed off to swimming as a pod of bottlenose dolphins visit this area daily. Three informational talks take place in the morning, guests stand in the shallow waters and a couple of people are selected to hand feed the dolphins. It is asked that visitors do not wear sunscreen on their legs during this time! These daily feeds are regulated by the Parks and Wildlife Service to ensure that the dolphins still hunt and fend for themselves (think of it as a snack, rather than a meal). It's also completely up to the dolphins as to whether or not they approach the shallows, sometimes they will, sometimes they won't, they are wild after all! All the dolphins are monitored by the research centre.
A day permit is required to visit the beach. Outside of feeding times, the beach is white and sandy and very peaceful. People will often stand quietly to try and spot the dolphins! It is illegal to approach within 30 metres of a dolphin outside of the feeding times, however if one approaches you remain still and never try to stroke or touch the dolphin!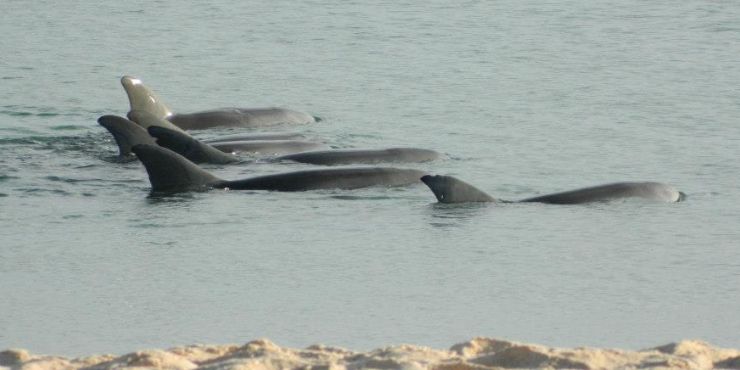 Cable Beach is without a doubt one of Australia's best – but also one of its most isolated. It's tucked away in the North West, close to the town of Broome. Between Broome and Perth, its state capital and Darwin, its closest city (Broome is actually closer to cities in Indonesia than these two!) is thousands of kilometres of harsh outback.
But Cable Beach is worth the trip. It's famous for its camel rides (although personally I wouldn't ride one), its crystal-blue waters and its out of this world sunsets. It's also one of the best places in Australia to go four wheel driving down the beach.
Cable Beach is hot in the winter, and even hotter in the summer – which is the rainy season, when Broome's roads can be completely cut off. Due to this, most tourists visit in the dry season, when days still reach 30 degrees and nights are considerably cooler.
Many travellers visit Broome and Cable Beach on a road trip around Australia, after either travelling up the West Coast or traversing the almighty Gibb River Road in the Kimberley region. However, it is also possible to fly in to Broome from destinations around Australia.
CLAIRESFOOTSTEPS.COM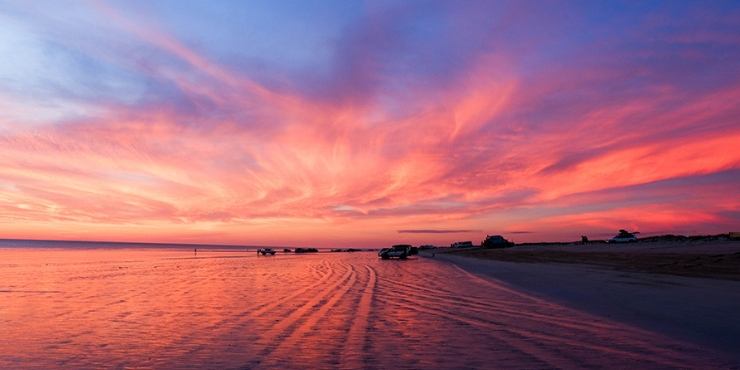 One of the most popular beaches near Melbourne, Torquay is most known as the surf capital of Australia and the gateway to the famous Great Ocean Road.
In particular Jan Juc and Bells Beach attract surfers from all over looking to catch the next big wave. The world famous beach is the venue for the Rip Curl Pro, one of the most popular surfing events in Australia.
Torquay is a paradise for all types of travellers. Even if you are not a surfer there is plenty to do in Torquay. The front beach is a popular swimming spot with easy access and a life saving club, and beach and rock fishing is also popular.
Torquay is also your first official stop along the Great Ocean Road, one of the most spectacular and scenic coastal drives in Australia which is just under 300km long finishing up in Warnambool.
For walking enthusiasts, there is also a 44km Surf Coast Walk that connects you with the coastal towns of Angleasea and Aireys Inlet.
MUMSLITTLEEXPLORERS.COM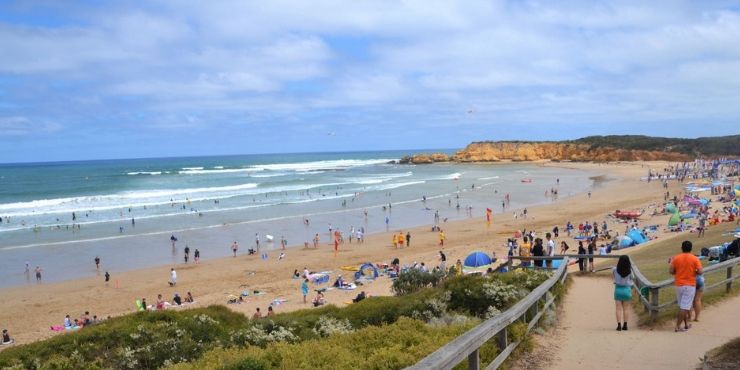 The 90 mile beach in Australia is a place that so many people flock to over the summer holidays. This huge coastline stretches from near the town of Port Albert all the way through to the town of Lakes Entrance. Along this stunning coastline are 5 beautiful towns where you can stay at where you can enjoy it every day.
Technically the beach is actually 94 miles long but really who's counting when you have miles and miles of sand to swim, sunbake, fish and walk with the waves crashing into the beach. The 90 mile beach is one of the longest uninterrupted stretches of sandy beach anywhere in the world, with no rocky sections on the shore line. This makes it the most perfect place for families to holiday.
In the towns along the coastline there are patrolled beaches with life guards manning sections. If you aren't a strong swimmer these are the places you need to go to be safe. Although it is a beautiful beach the conditions there change regularly.
You can also take fishing charters into the open water on a day trip or you can just go out past the breakers in a small boat. Fishing from the shore is also a good way to take home some yummy dinner (as long as you have a fishing permit!) Or you can find yourself a section, sit and relax. There are times you will be the only person in sight which is a wonderful feeling.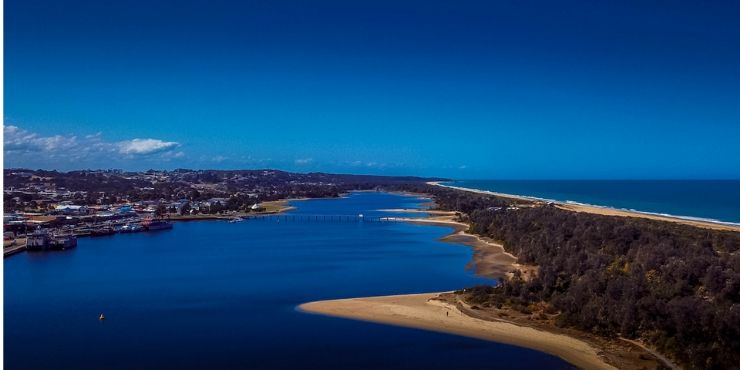 St Kilda beach is a heap of fun to visit. There is so much to do there you can spend a couple of days wandering along the esplanade enjoying the parks that line it, the little coffee shops, the gorgeous cake shops in Acland street, Luna Park and that is even before you get your feet sandy on the beach.
We spent a weekend there a little while ago and we had an amazing time. We loved the Sunday market that was filled with home made goods and little souvenirs while having a hot coffee in the sun on the grass. We hunted for the fairy penguins under the jetty while enjoying the views of the Melbourne skyline.
We took a walk along the sand back to our hotel to put our bargains away before heading to Luna Park. When you are riding the Scenic Railway (the oldest continuously running wooden roller coaster in the world) you can get a great but quick view of the beach too. The beach is always filled with people exercising, running or walking and having a swim especially in the warmer months. Little ones who aren't keen on getting wet enjoy chasing the tiny, calm waves or building some big sand castles.
You can get a picnic lunch, a cake, find a piece of sand and enjoy the day on the beach!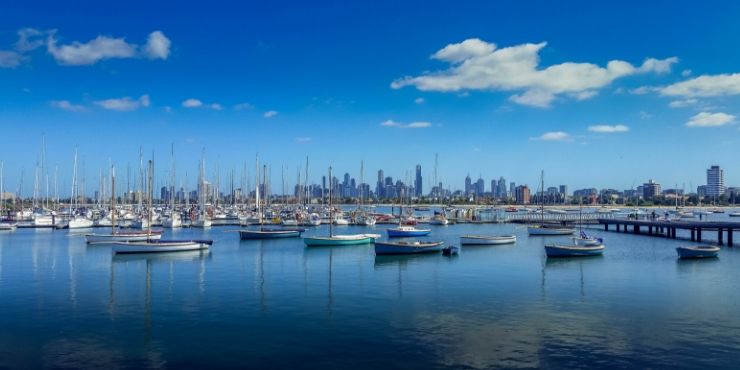 The Mornington Peninsula area covers around 723 square kilometres and includes bush land and amazing stretches of beaches on both Port Phillip and Westernport Bay. Being in Victoria it is an hours drive from the city if Melbourne and worlds away from the bustling city. There are many little pockets of beautiful beaches yet our favourite area is in the suburb of Mouth Martha.
The water is crystal clear often like glass on a perfect Summer day with the iconic beach boxes in the foreground. It is the perfect beach for kids being that the water is shallow and also great for kids wanting to learn to snorkel, swim or just splash about. It is also the perfect spot to do stand up paddle boarding.
On this beach is the Mount Martha Life Saving Club which hosts accessible beach matting and the hire of beach wheelchairs for wheelchair users. Across the road is a small village shopping area perfect to grab a coffee and head to the beach to play. The beach is open all year round but best enjoyed over Summer when the weather is warm.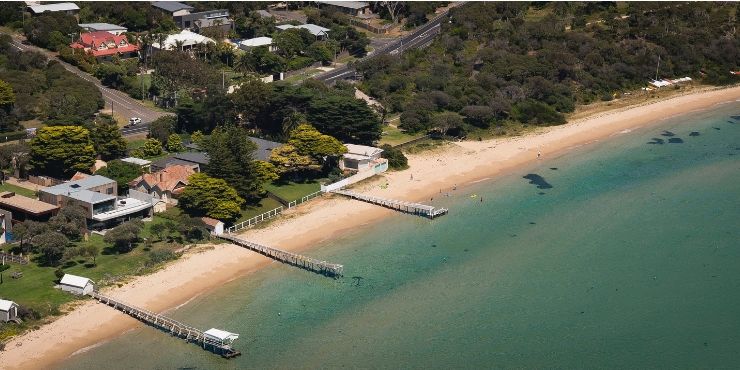 BEST BEACHES IN SOUTH AUSTRALIA
Glenelg Beach is the most popular beach in Adelaide. Only 9 kms from the centre of town this family-friendly beach easily accessible from the city by tram. It attracts city dwellers and beach lovers looking for a weekend hangout with a great vibe.
Don't miss a walk down the jetty and enjoy the wonderful sunset from the jetty or beach. If you have kids they will love the Glenelg Foreshore playground which has loads of activities available during the summer months. If you enjoy shopping take a stroll down Jetty Road – a kilometre long shopping strip – with loads of fashionable boutiques, art galleries, gift shops and more.
There are lots of cafe and restaurants to enjoy in the area. Or take a picnic or have a BBQ in one of the many parks.
Don't forget to keep an eye out for the local dolphins too!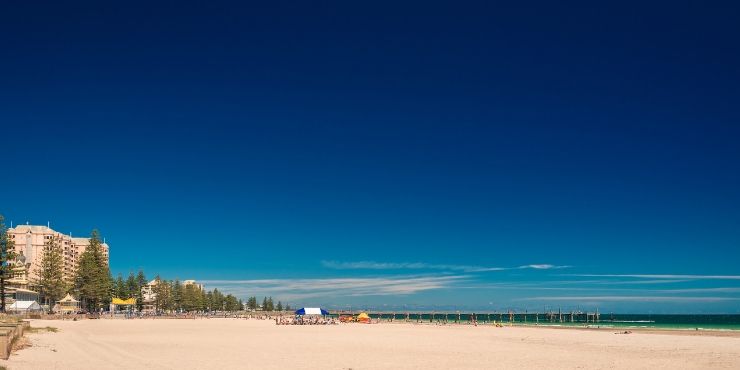 MAP SHOWING THE LOCATIONS OF SOME OF THE BEST BEACHES IN AUSTRALIA
I am sure that you will have found lots of inspiration for your next beach trip in Australia! There are so many wonderful beaches to choose from that the 25 covered in this post are merely a splash in the ocean!
Is there are beach in Australia that you love but hasn't been included in this post? Let me know because there is scope for parts 2/3/4/5 etc!
If you are planning to visit a beach in Australia check out my post all about what to pack for a day at the beach in Australia and exactly what you need to know before you go!
PIN FOR LATER - BEST BEACHES IN AUSTRALIA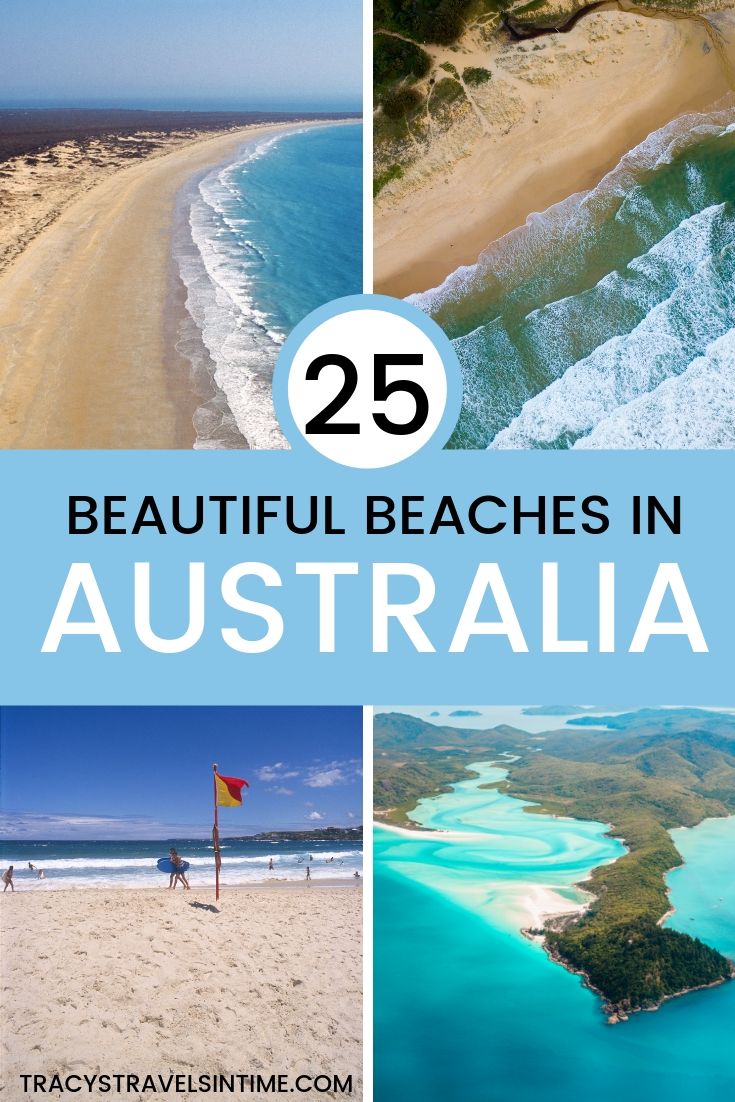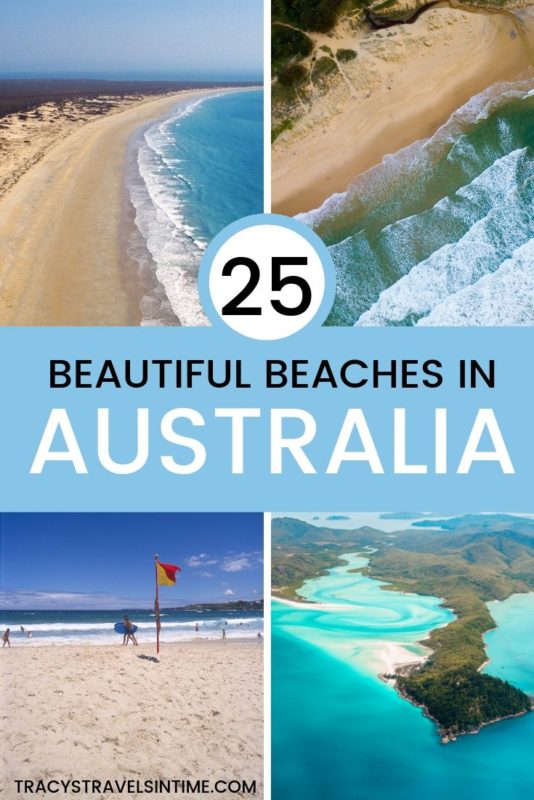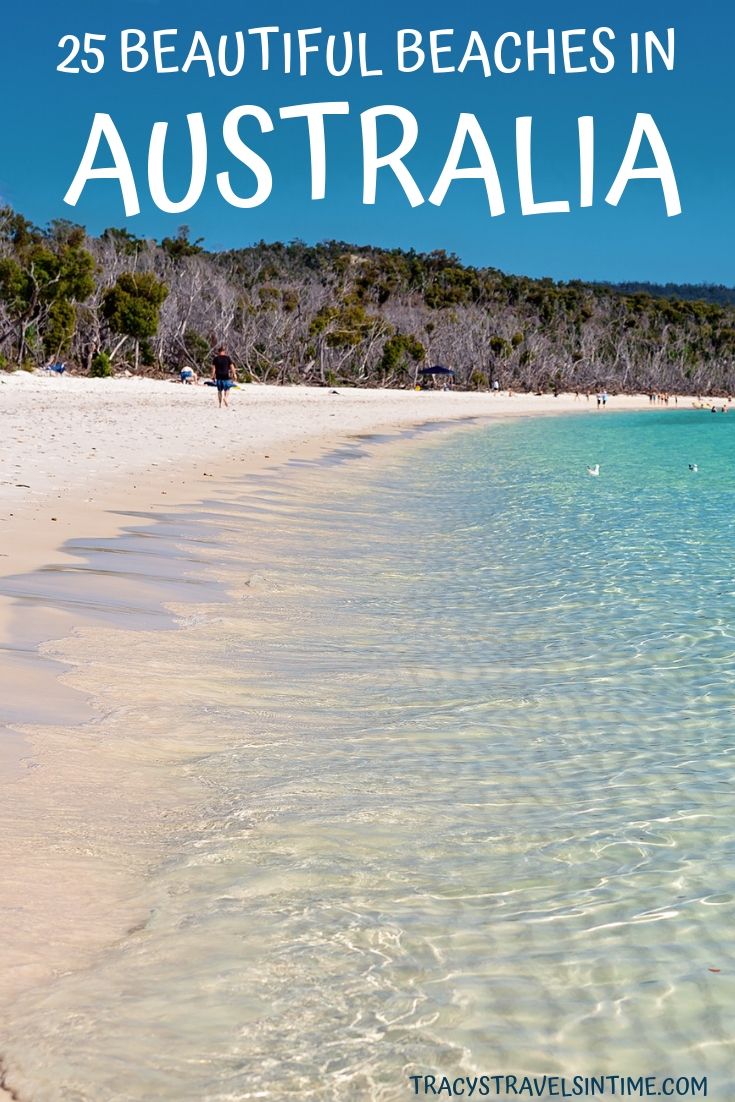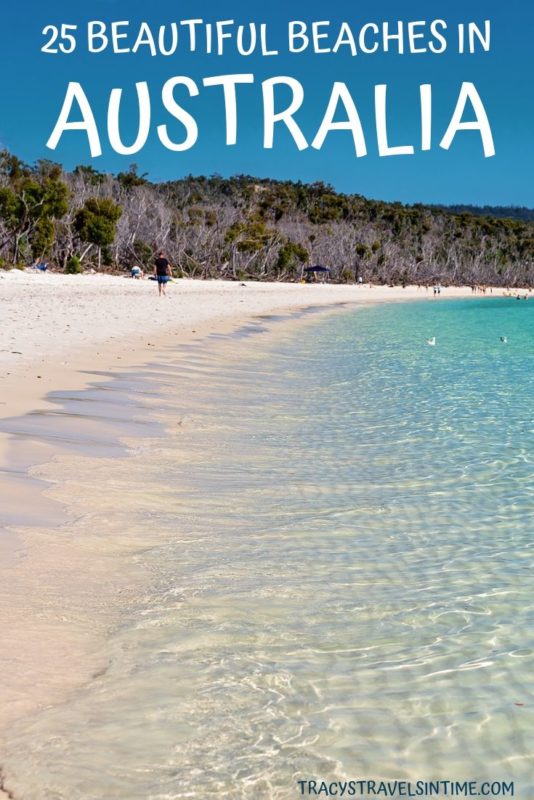 READ MORE ABOUT AUSTRALIA
This post may contain compensated links. Please read our disclosure for additional information. As an Amazon Associate, I earn from qualifying purchases.