Would you like to go whale watching in Queensland? In this article, you will find out how you can with the essential information you need to know to enjoy your day.
Australia offers so many options when it comes to seeing amazing wildlife in its natural habitat. And for 6 months of the year, the opportunity to see humpback whales as they migrate from their hunting grounds in the Antarctic to their breeding grounds in the warm waters off Queensland is one that surely cannot be missed. Whale watching in Queensland is a guaranteed way to get up close and personal to these intelligent and curious mammals.
In this article you will find out more about the whales, what to expect on a whale watching tour and information about the various tour options available in Queensland.
A day out on a whale-watching cruise was something I was really looking forward to in Australia. Having previously seen killer whales on a cruise off Vancouver Island in Canada I love the ability (and appreciate the privilege) of being so close to such beautiful animals.
Frequently asked questions about whale watching in Queensland
When can you see whales in Queensland?
Whales in the tropical to semi-tropical waters of northern Australia migrate seasonally up and down the Queensland coast.
Most humpback whales arrive in northern waters during early June, with peak whale numbers occurring between June and October.
Is it possible to see whales from land or do I need to take a whale watching cruise?
From land, it is possible to see whales from coastal headlands and beaches all along the Queensland coast. But you'll need good weather conditions (clear sky, calm seas) and patience!
The main attraction of whale watching in Queensland is the opportunity for close-up encounters with whales in their natural habitat, and the experience doesn't come cheap! However it's an unforgettable experience, and when you meet a whale face to face it's hard not to be impressed by these majestic creatures.
Key facts about Southern Hemisphere humpback whales
The humpback is a species of baleen whale or great whale (along with the blue whale and minke whale)
Adults can grow to 12-16 metres in length.
They feed on krill (they have no teeth)
They are acrobatic and will breech their entire body (up to 40 tons) completely out of the water.
The gestation period is around 11 to 11 and a half months.
A female gives birth every 2-3 three years and the pregnancy is 11-12 months. The calves stay with their mothers for a year after birth.
They can travel up to 8km an hour!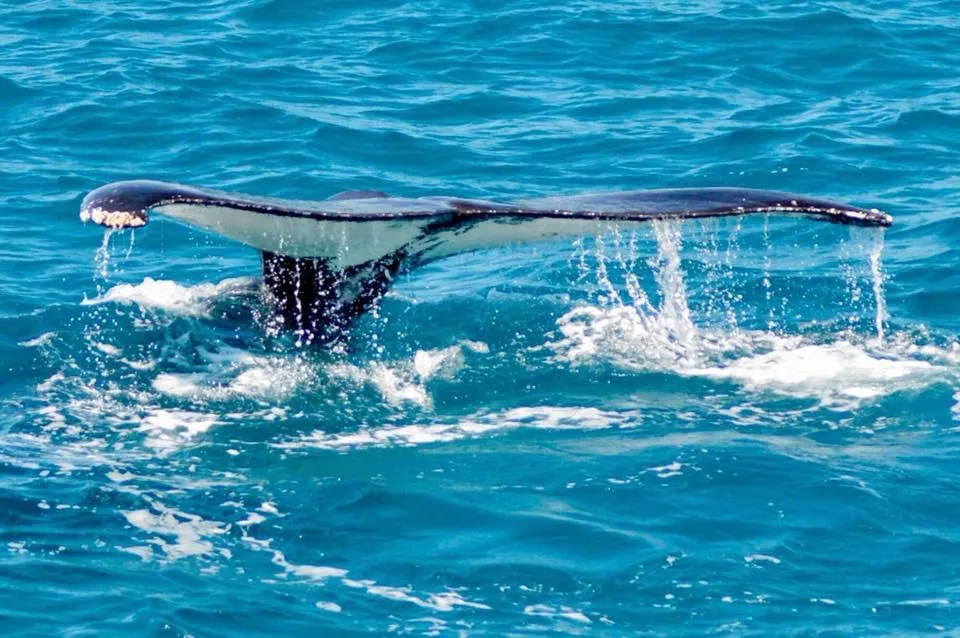 What to expect on a whale watching cruise – with Brisbane Whale Watching
To give you an idea of what to expect on a whale-watching cruise you will find a write up below of my day out with Brisbane Whale Watching an Eco Accredited cruise company that operates daily out of Redcliffe Jetty.
"MV Eye Spy" – the vessel used is a purpose-built whale watching catamaran that has been designed to ensure minimal impact on the marine environment.
With propellors designed to minimise underwater noise and electronically controlled engines which reduce exhaust emissions, I was happy that this was a company dedicated to protecting the animals and environment I was so excited to experience.
The Captain of the MV Eye Spy is Kerry Lopez the only female captain in the South Pacific rim to owns and skipper a whale watching enterprise.
Departure
The cruise with Brisbane Whale Watching departs Redcliffe jetty at 10 am daily and returns at approximately 2:00 – 2:30 pm.
As they state in their brochure they are 'just a splash' from Brisbane City and offer transfers from the CBD as well as Gold Coast and Sunshine Coast hotels and accommodation houses.
MV Eye Spy
The vessel used by Brisbane Whale Watching is a purpose-built catamaran called MV Eye Spy. Its Main Deck with options of Premium Window seating and Standard Seating has a beautiful spacious interior with floor-to-ceiling glass to ensure a great view of the whales.
There is also the option of the luxury VIP Captain's Lounge which is located on the elevated Mid Deck level. You can select options when booking your cruise. A buffet lunch is also included. There is also a licensed bar, souvenirs and snacks available to buy on board.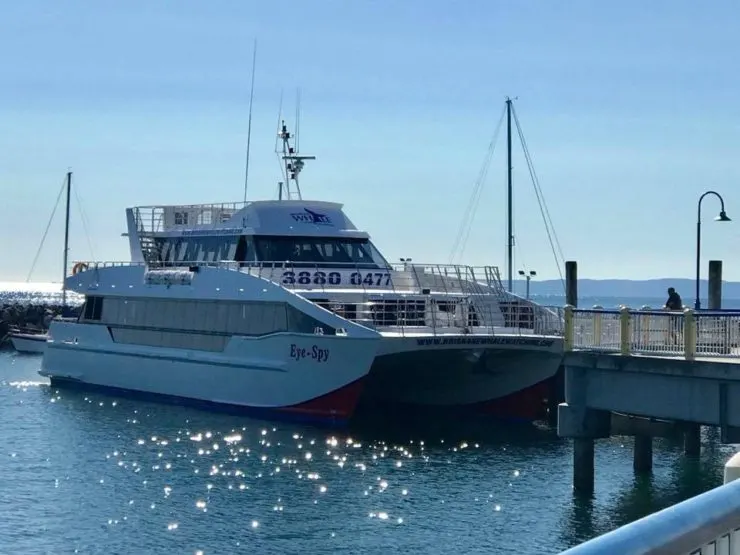 Boarding the boat
I live only a few minutes walk from the jetty and we were checked in and ready to board just after 9 am. Although a little breezy the sun was shining and the sky cloudless. A perfect day for whale watching in Brisbane!
We decided to head for one of the 6 viewing decks to start with and once we had been warmly welcomed on board the vessel by the MV Eye Spy crew (and a safety demonstration and talk) we set off to find the whales!
Have your camera at the ready and enjoy the wonderful views of Moreton Bay, Moreton Island, Redcliffe and the skyline of Brisbane as you head towards open waters.
The crew are extremely knowledgeable about marine life and it was really interesting and informative listening to the commentary during the day.
TIP – If you are prone to seasickness there are tablets available for $1 on the boat and a member of the crew will come around with them.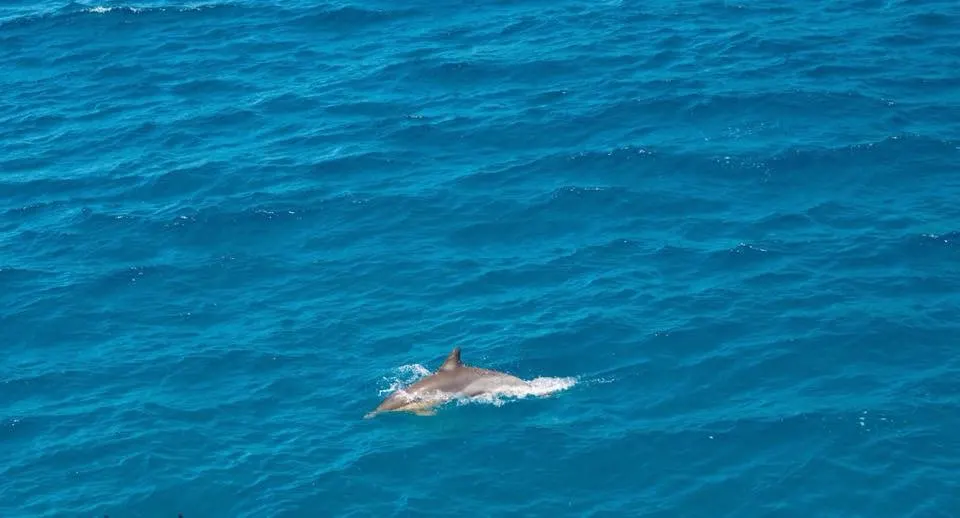 Sailing through Moreton Bay Marine Park
Before reaching the open waters of the Pacific Ocean the MV Eye Spy sails through the waters of Moreton Bay Marine Park.
The park covers an area of 3,400 square kms stretching from Caloundra to the southern tip of South Stradbroke Island. Moreton Bay Marine Park was declared a reserve in 1992 and is home to dolphins, dugongs. wobbegongs, and turtles amongst others.
Moreton Island is the 3rd largest sand island in the world (12 kms wide and 38 kms long). It is home to 195 species of bird. Moreton Island, known for excellent snorkelling around the Tangalooma wrecks, is a great place to visit for a day or longer and can be reached by ferry from the Port of Brisbane.
I have heard that you can see whales from North Stradbroke Island which is further south than Moreton Island and another great island to visit from Brisbane.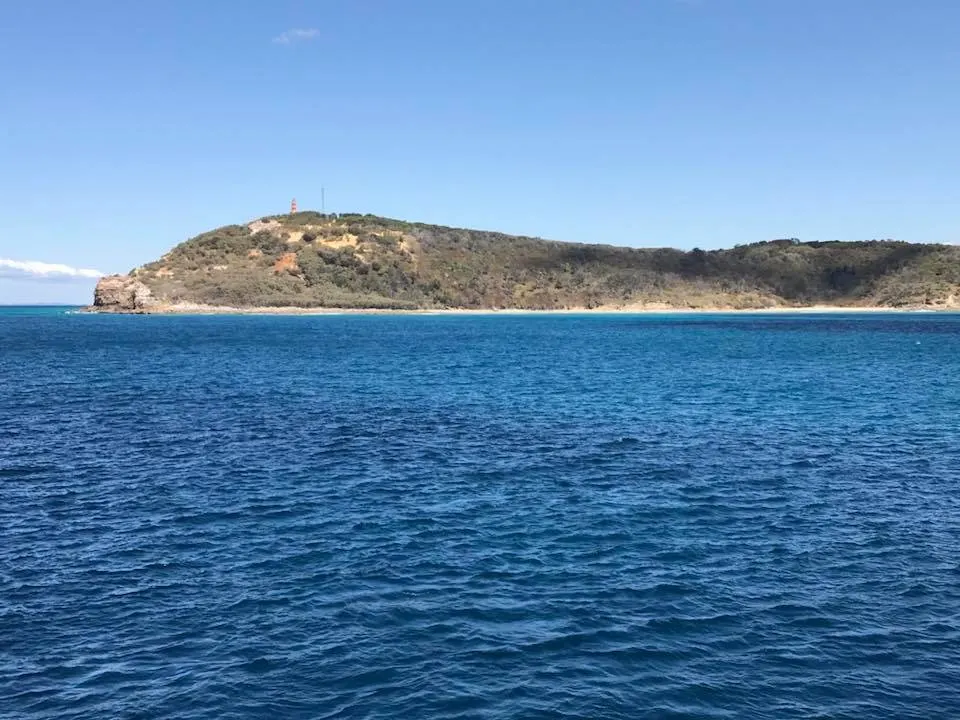 Whale watching in Honeymoon Bay
We continued sailing to the aptly named North Point on Moreton Island. Our destination lay between this point and Cape Moreton – the picture-perfect Honeymoon Bay.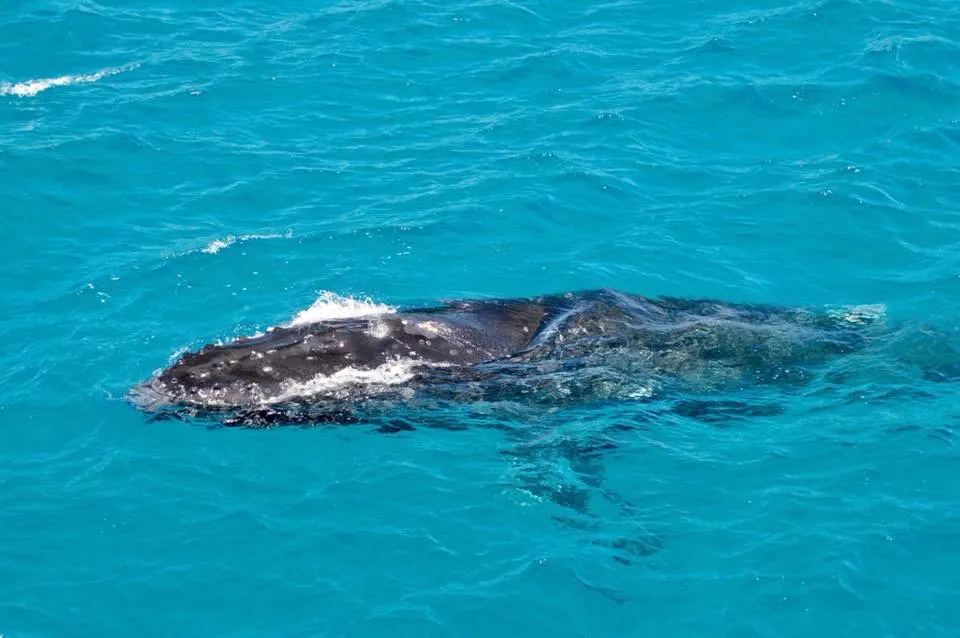 A pod of dolphins came leaping across the water to join us. We were informed by the crew that they would use a clock face to point us in the direction of whale sightings with 12 o'clock being the front of the boat, 6 o'clock the back and port and starboard 9 o'clock and 3 o'clock respectively.
Then all of a sudden…. whales!
I think I lost count of the number of whales that were around the day we were on the cruise. It seemed every few minutes there was a shout of whale pod at 12 o'clock, a breach at 6 o'clock, dolphins at 11 o'clock!
Some of the whales were far in the distance but a small pod of 2 young male whales was our first close encounter. As the catamaran approached they seemed curious and soon came to investigate us!
It was an unforgettable experience seeing the whales swimming around us – they came so close and you could see they were looking at us. A hammerhead shark even made an appearance followed closely by a large pod of dolphins. Seeing the tiny dolphins next to the whales really brought home just how large humpback whales are.
Another whale pod and a large male breaching in the distance had the boat moving on. This pod consisted of 3 whales with one enormous male leaving us all speechless at his sheer size. Sitting in the Main Deck the view from the windows of the whales just a few feet away was incredible.
What an absolutely fantastic day out.
After a truly unforgettable adventure for everyone on board, we returned to Redcliffe Jetty. Since this initial trip I have been out again with the company and would like to thank all the crew of the MV Eye Spy and Brisbane Whale Watching for this incredible experience.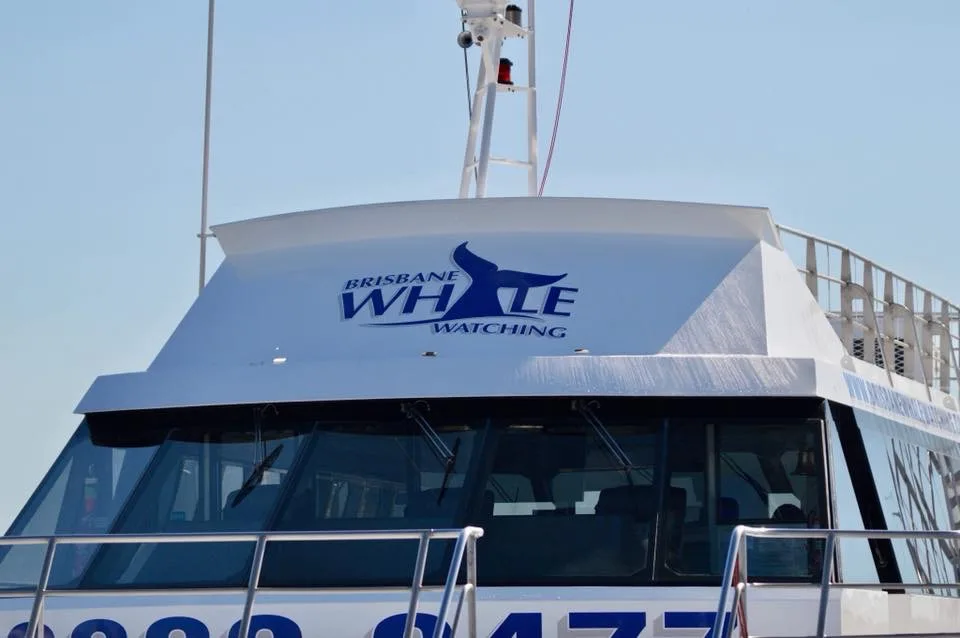 Tips to make the most of your whale watching cruise experience
Booking is essential especially on weekends and during the Queensland school holidays (end June – mid July)
Remember to take your camera – the photo opportunities are amazing!
Take sea sickness tablets if you are not used to the sea or are prone to travel sickness. Tablets are generally on sale on the whale watching boat but it is best to be prepared.
Take suncream
Take a jacket as the breeze can feel chilly.
Enjoy!!
Further travel inspiration for Queensland
You can find lots of travel inspiration and practical advice to help plan your visit to Australia and Queensland on this website. I suggest starting with my Queensland bucket list which details 23 of the best places to visit in the sunshine state.
Looking for accommodation in Queensland? These articles will help:
If you have a particular interest in Australian wildlife you may enjoy reading these articles: