Are you planning a Tasmania road trip? In this article, you will find all the information you need to make the most of your time on this beautiful island.
We have recently returned from a 12-day road trip around Tasmania and in this post, I detail our Tasmania road trip itinerary as well as information about the top things to do and see and great places to stay.
Tasmania is often described as "an island of contrasts" and after our visit, I could not agree more. We experienced beautiful beaches, fantastic views of bays and mountains, amazing wildlife, great walks and incredible food and wine. The smallest state in Australia certainly packs a punch!
Tasmania has been named as one of the top destinations worldwide to visit by numerous travel magazines. About time I say!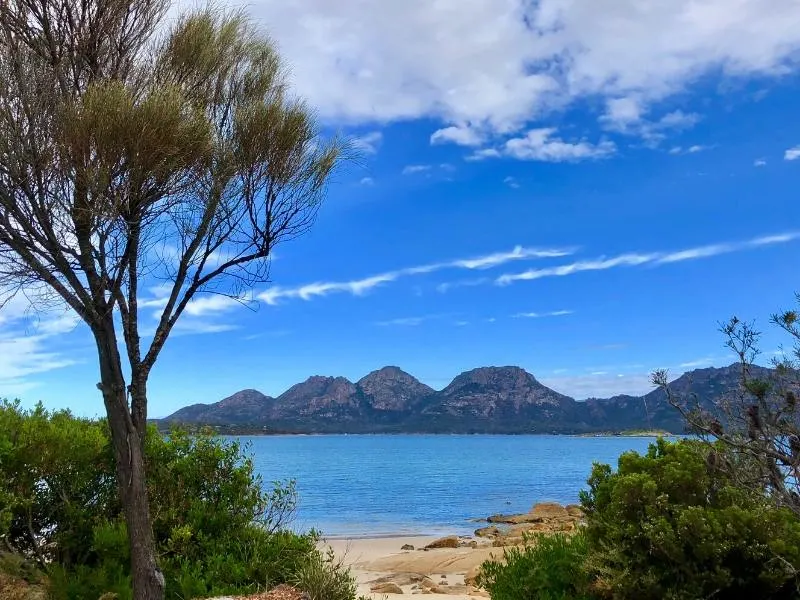 10 reasons to visit Tasmania
National parks
Stunning scenery
Amazing wildlife – devils, wombats, echidnas!
Wonderful food and wine
An interesting history
Hikes to suit everyone whatever their ability
Quaint towns with great names – Melton Mowbray, Richmond, Sheffield and Derby!
Art! MONA (more on that later)
Stay in some of the most outstanding accommodation available anywhere in the world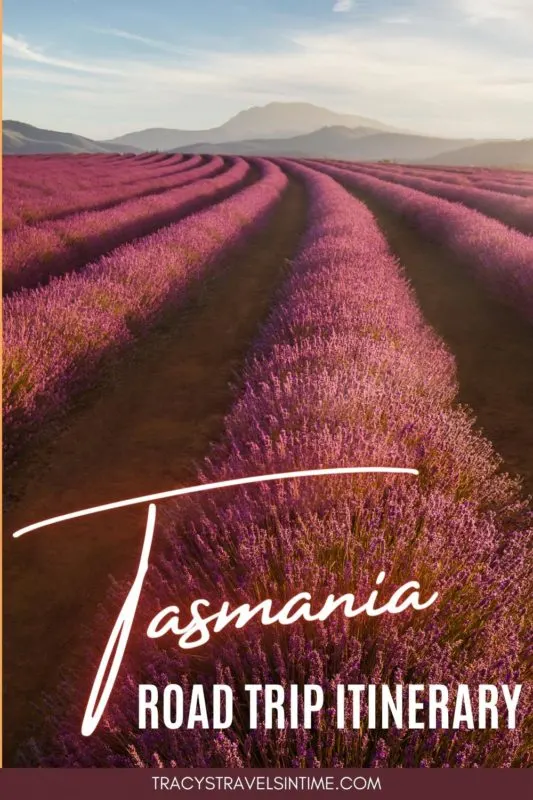 How to travel to Tasmania
Fly
We flew from Brisbane to Tasmania with Virgin Australia. There are many flights a day from all the major cities in Australia to both Hobart and Launceston.
Flying from Melbourne to Hobart takes around an hour. The flight from Brisbane takes just over 2 hours.
Ferry
If you want to take your own car/motorhome over to Tasmania there is the option of catching the Spirit of Tasmania ship. This departs from Melbourne and arrives in Devonport approximately 9-11 hours later.
For recent up-to-date costs check out the Spirit of Tasmania website.
How to travel around Tasmania
Tasmania was made for road tripping!
Whether you decide to hire a car and stay in hotels along the way (as we did) or hire a camper van/motorhome and camp your way around the state you will have an amazing time.
We booked our car with Hertz and were able to pick it up at the airport on arrival. WE found collecting and dropping the car at the airport was a smooth, easy process.
There are lots of things to see and do in Tasmania and unless you have a month or more it is impossible to see everything.
I would suggest identifying the areas you would most like to visit and plan your Tasmania itinerary around that. That is exactly how I planned the trip and generally it worked out well.
Although Tasmania is small don't rush it – take time to enjoy the different places as you travel around. We spent 3 nights in both Freycinet National Park and Cradle Mountain National Park which gave us some time to truly relax.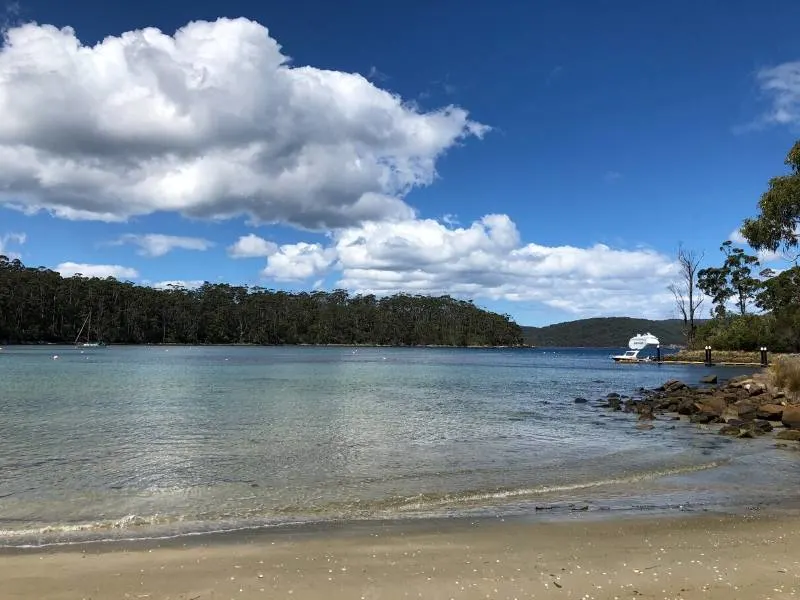 A 10 day Tasmania Road Trip Itinerary
Hobart (Days 1/2/3/ and 11/12)
We flew from Brisbane and arrived at Hobart International Airport in the early afternoon. After picking up our hire car at the airport we drove the 18 kms into the city of Hobart where we had booked a 2-night stay.
Hobart is the capital of Tasmania and Australia's most southern city. With an estimated population of 220000 Hobart is making itself known on the international stage for 2 things – art and food.
We spent an afternoon on day 1 exploring the city itself. On day 2 we drove out of the city down to Dover and Southport for the day before returning to Hobart in the late afternoon.
What to see in Hobart and surrounding areas
To be honest we weren't bowled over by Hobart and next time I would probably give it a skip and drive straight to the Tasman Peninsula. However, if you haven't yet been I would recommend spending a day/evening there to go to the markets and explore the waterfront area.
Salamanca Markets
The Salamanca Markets are only on a Saturday so if you really want to go you need to book your trip accordingly. Apparently, they are excellent with about 300 stalls open for business from 8:30 am onwards.
Unfortunately, we missed them as we were in Hobart earlier in the week though we did enjoy a stroll around the waterfront area where the markets are held.
There are numerous restaurants and cafes as well as galleries and shops to explore in the area.
Good to know – arrive earlier rather than later as I hear they start to pack up around 1 pm.
Check out the Salamanca Market website for further details.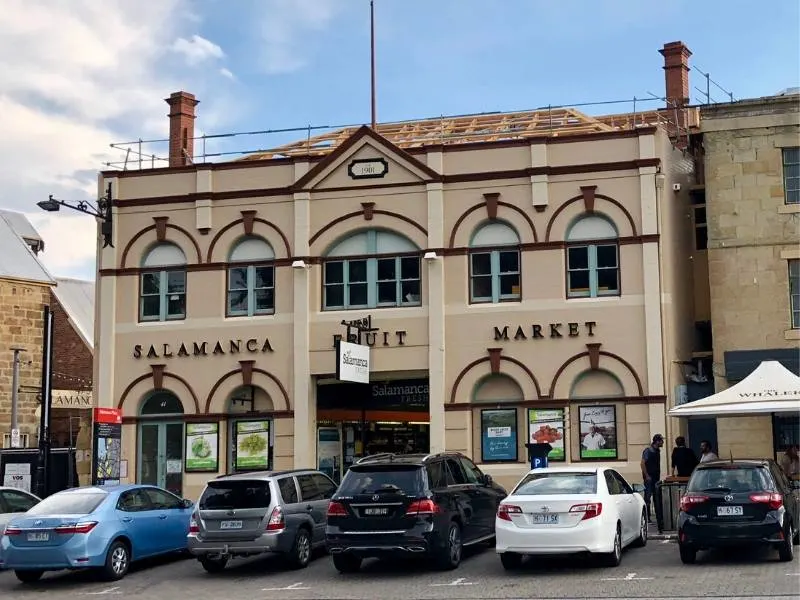 Mount Wellington
You can't miss the 1271 metre high Mount Wellington as you drive into Hobart. We did have a great view from our hotel of the mountain but sadly didn't get a chance to drive up to take photographs of Hobart as cloud covered it on the days we were in the city.
If you are luckier when you visit head up to Mt Wellington via Pinnacle Road for views of the city and harbour.
Check out the Mt Wellington website for further details.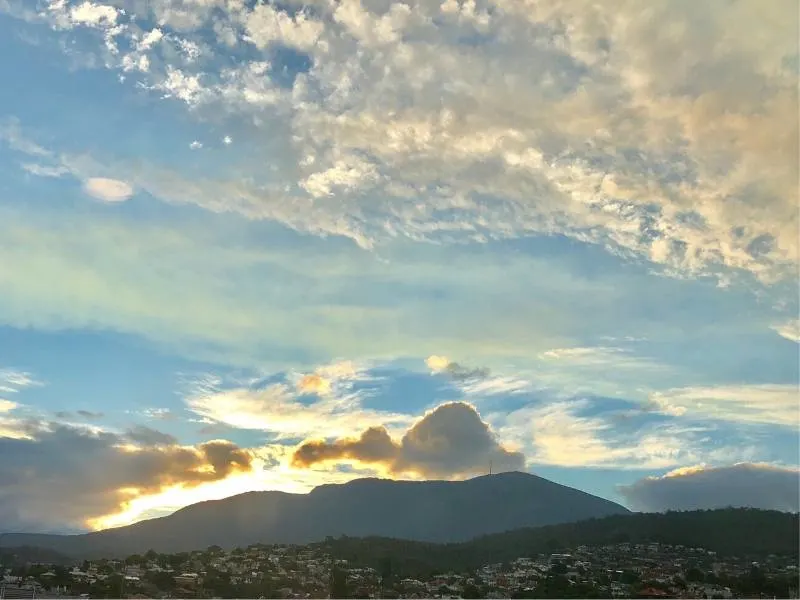 MONA the Museum of Old and New Art
We made time at the end of our trip to visit MONA. I hated it. BUT I would still recommend visiting! It is meant to shock and there is clearly a load of irony in the way the collection has been put together by the somewhat eccentric millionaire owner.
From the moment you arrive and actually try to figure out how to get into the damn building (hint – cross the tennis court) to the intentional lack of labels and information on any of the art MONA gives you an experience like no other art gallery does. Confronting in capital letters.
So go. But don't blame me if you think bleurghhhh what the hell was that!!
Bruny Island
We were able to spot Bruny Island during our day 2 trip south of Hobart. The island is becoming a very popular destination for day trips from Hobart though you can stay on the island too.
Take a bushwalk in the South Bruny National Park or take an eco-cruise to explore its coastline. Look out for seals, penguins, and wallabies and other wildlife.
Bruny Island also has some excellent local produce too including wine, cheese, truffles, berries and fresh oysters.
If a trip to the island is something you would enjoy there are plenty of recommended tour options available including:
If you have time you could add a night or two staying on the island into your Tasmania itinerary.
Things to know when visiting Hobart
Although quite small Hobart does have a one-way system on many of the roads in the centre of town.
Hobart is a great city to explore on foot.
The main shopping area in the centre of Hobart is the Elizabeth Street Mall.
There are lots of great cafes/bars and restaurants in the waterfront area of the town so head down there for a coffee or a bite to eat!
Beware visiting when the cruise ships are in port. It is a favourite destination of the floating hotels and you could find it a little busier than anticipated if a million passengers disembark at once.
Where to stay in Hobart
We found the hotels in Hobart relatively expensive.
Whatever your budget I would recommend finding something closer to the city centre within walking distance of the waterfront or actually on the waterfront itself.
There are AirBnb's available in Hobart if you prefer.
We stayed at the RACV/RACT Hobart Apartment Hotel which was a 5-minute walk to the waterfront area. The room was clean, spacious, the bed was comfortable. Parking is available and is free to RACV/RACT members.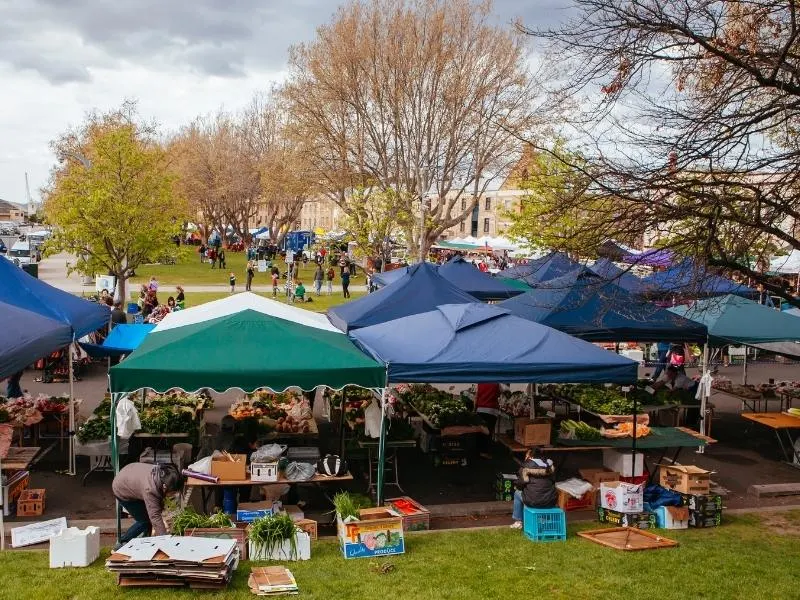 Richmond (Day 3)
On day 3 we left Hobart to head to the Tasman Peninsula for a 2 night stay. The drive to the Peninsula only takes about an hour and a half and is 100 km from Hobart.
On the way we took a small detour to the town of Richmond which is 26 km (30 mins) from Hobart. The most famous landmark in Richmond is the bridge which was built in 1823. We parked on the main street and took a stroll down to the river and bridge.
There are lots of beautiful heritage buildings to admire in the town. With arts and craft centres, galleries and a choice of tea houses as well as a convict-era gaol (the oldest in Australia) Richmond is definitely worth a few hours to explore.
Richmond is also home to the Pooseum a place where "talking about poo is not taboo" This science museum is dedicated entirely to yes you've guessed it animal droppings.
Although we didn't go the reviews on Trip Advisor for the museum are excellent so if you have an interest in finding out all about poo this is the place to visit!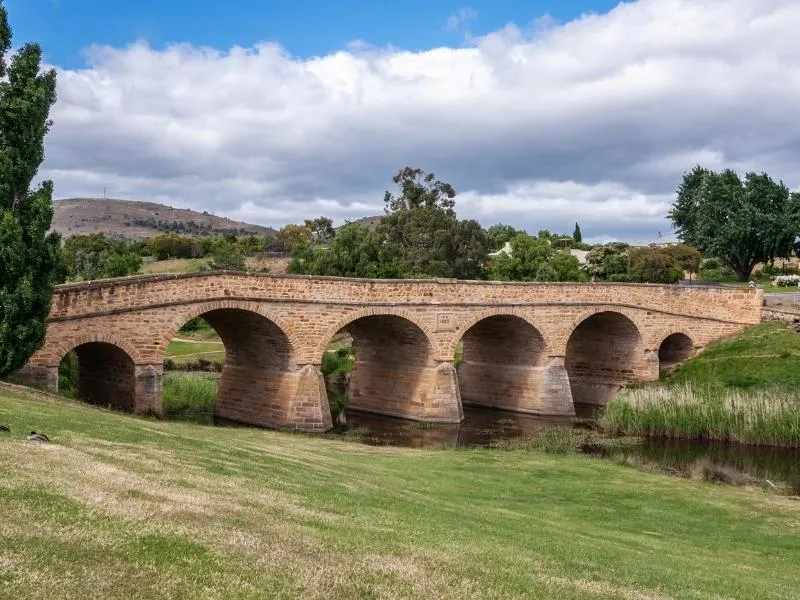 Tasman Peninsula (Days 3/4)
After a few hours in Richmond we drove the 80 km onto the Tasman Peninsula itself.
If you are driving down towards Port Arthur you will be on the A9 Arthur Highway which passes the Tasmanian Devil Unzoo. I had read good report about the place so we stopped to explore further.
The Unzoo is built around the concept of inviting us into the natural habitat of the animal. Rather than animals being exhibited in cages as in a traditional zoo the park aims to immerse the visitors in the habitat. It is an interesting concept and in some areas they are definitely succeeding.
This is a great place to see devils and if you can time it do try to be there when they feed them! Watching a devil bite through bone like it was a piece of cheese was incredible!
Over the last 20 years over 95% of the devil population has been wiped out by a cancer that causes facial tumours and death within 6 months. At present there is no known cure and insurance populations of disease free devils have been created in an effort to prevent their extinction.
Unfortunately the only wild devil we saw in Tasmania was dead by the side of the road.
Information about visiting the Unzoo:
Location: 5990 Arthur Highway Taranna
Costs: Adult $36 Child $20
Opening hours: 9 – 6 (summer) otherwise 9-5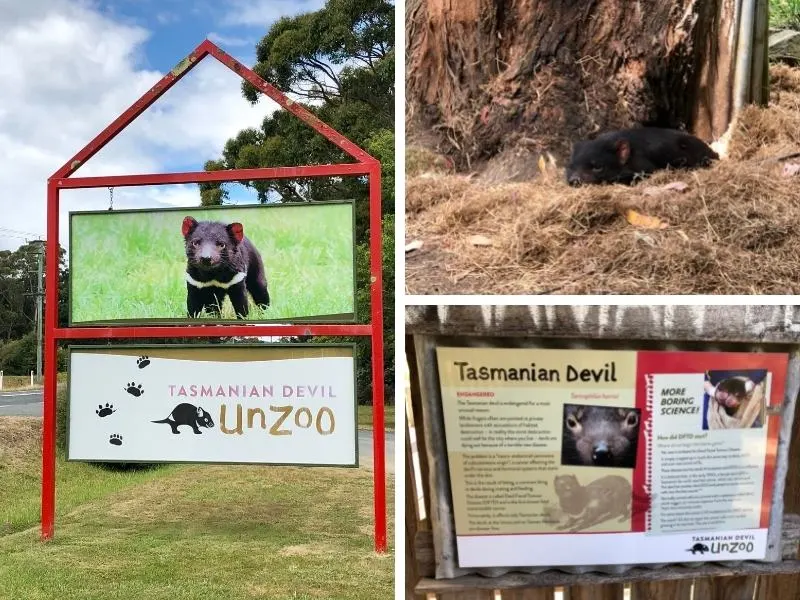 After couple of hours at the Unzoo we drove to Port Arthur itself where we had booked one night at Stewarts Bay Lodge. The Lodge is located in Port Arthur and was ideally located for our visit to the former prison colony the next day.
We spent the rest of the afternoon at the beach located about 5-minute walk from our cabin before having a lovely evening meal in the on-site restaurant.
If you are looking for accommodation in Port Arthur I would highly recommend the cabins at Stewarts Bay Lodge. They were clean, well equipped and perfectly located.
CLICK HERE for up-to-date prices and to book a stay at Stewarts Bay Lodge.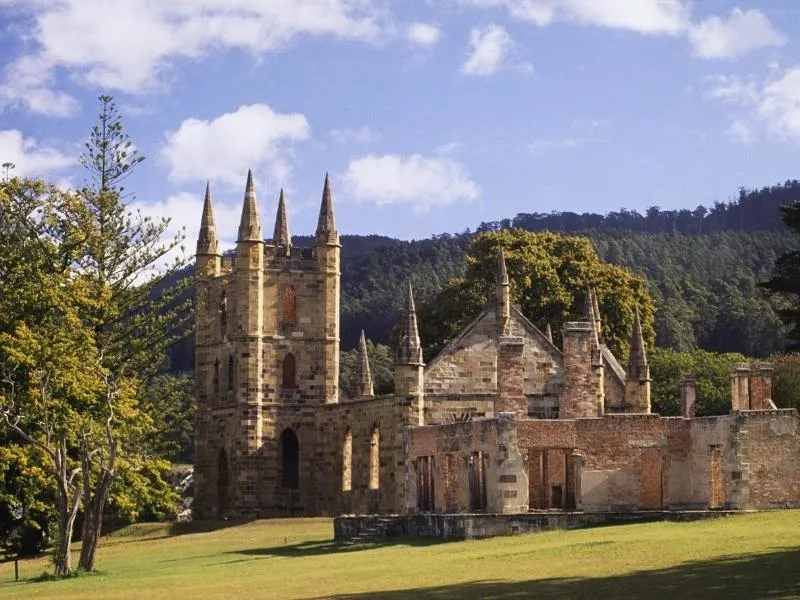 On day 4 we visited Port Arthur Historical Site. The site is one of 11 places across Australia that make up the UNESCO World Heritage-listed Australian Convict Sites.
We spent a few hours exploring the site and learnt so much about the history of both Port Arthur and the lives of the convicts who were sent there.
I would recommend attending the introductory talk when you first arrive and also taking the included boat trip around the bay. There are a number of tours available to book including the very popular Port Arthur Ghost Tour. I can only imagine how creepy the place is after dark!
Additional information coming in my post dedicated to visiting Port Arthur Historic Site soon.
Good to know – Check that there isn't a cruise ship dropping a few thousand passengers off the day you plan to go!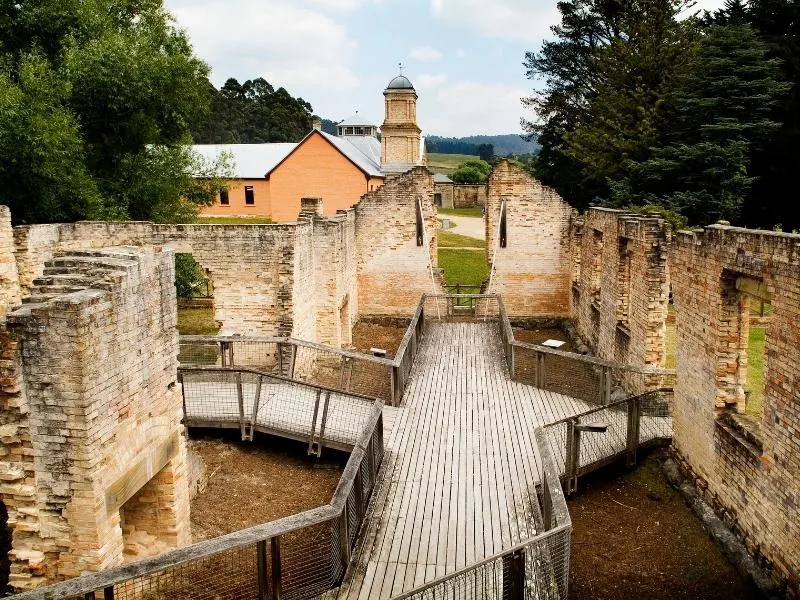 Freycinet National Park (Wineglass Bay) (Days 4/5/6)
After spending a few hours at Port Arthur Historic Site we drove 240 kms (just over 3 hours) to Freycinet National Park where we had booked accommodation for 3 nights.
I have to say this is one of the most spectacular places I have ever stayed anywhere in the world. We spent 3 nights at the beautiful and very luxurious Edge of the Bay resort which overlooks Coles Bay and the Hazards Mountain Range.
This is THE place to go to recharge your batteries and completely unwind. We ate breakfast every day with wallabies appearing from under the bushes to check out what we were eating (and if we would share – we didn't!)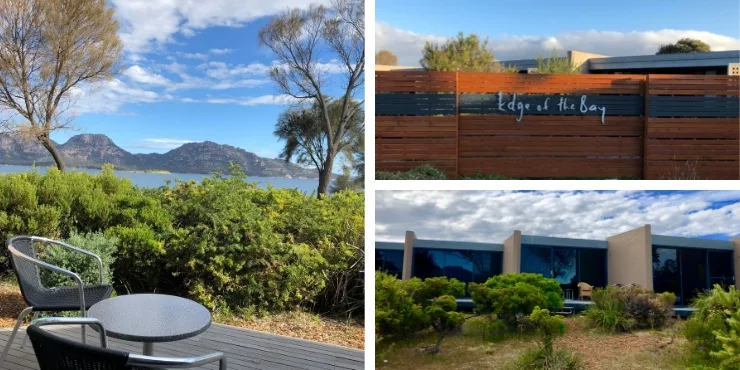 Things to do in Freycinet National Park
We had a very lazy few days and didn't do any of the famous hikes (I know!) including the one to Wineglass Bay. If hiking is your thing head over to the information centre at the entrance to the park. There are entry fees for vehicles and individuals which you pay at the entrance to the park.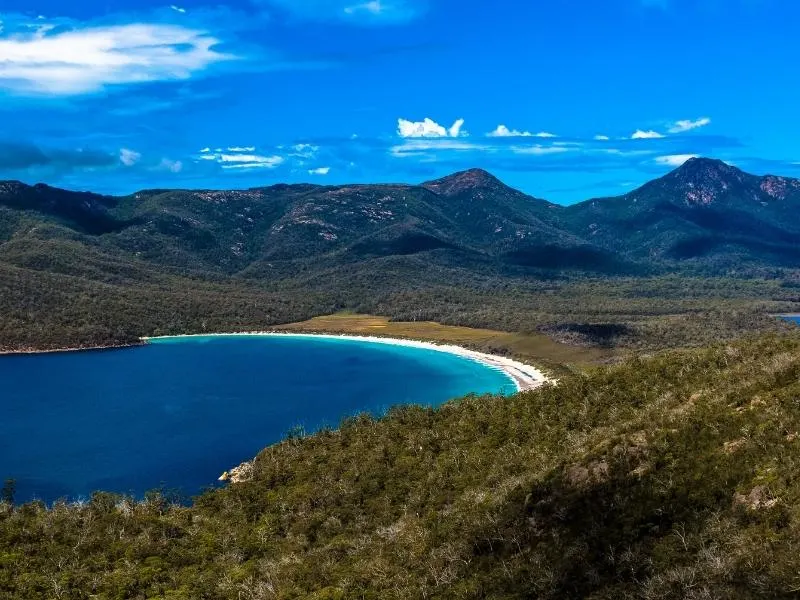 Where to stay in Freycinet National Park
I would highly recommend a stay at the Edge of the Bay resort. Although pricy this is somewhere you will never forget. It is probably one of the best located places we have ever stayed anywhere in the world. It is very popular so book early to avoid disappointment!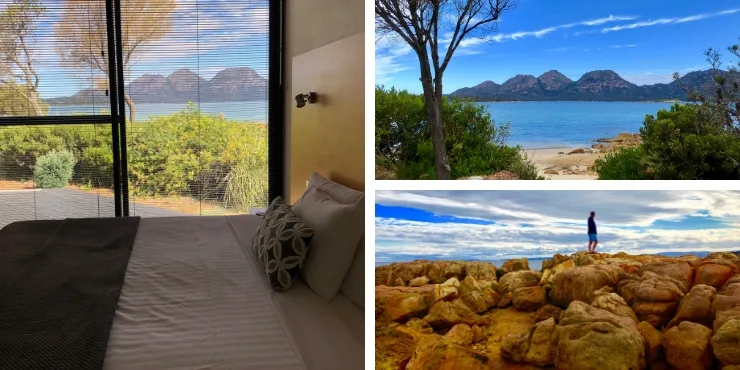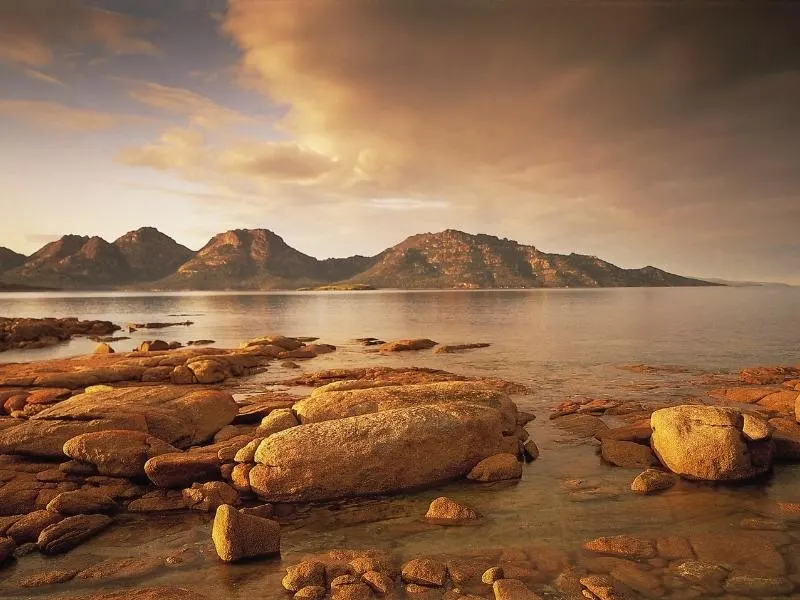 Bay of Fires (Days 6/7)
On day 6 we reluctantly left Freycinet National Park and drove 88 kms to our next destination – the Bay of Fires.
The Bay of Fires is situated on the northeastern coast of Tasmania. It stretches from Binalong Bay in the south to Eddystone Point to the north. The bay was named by Captain Tobias Furneaux in 1773 when he sailed past and say the fires of Aboriginal people on the beaches.
Famous for crystal clear water, beautiful white sand and orange rocks it really is worth visiting. We booked one night in St Helens which is located at the southern end of the conservation area.
We took a drive as far as we could do through the area and stopped off for a few walks along the beaches. Watch out for echidna along the side of the roads when you are driving. We saw quite a few at the Bay of Fires.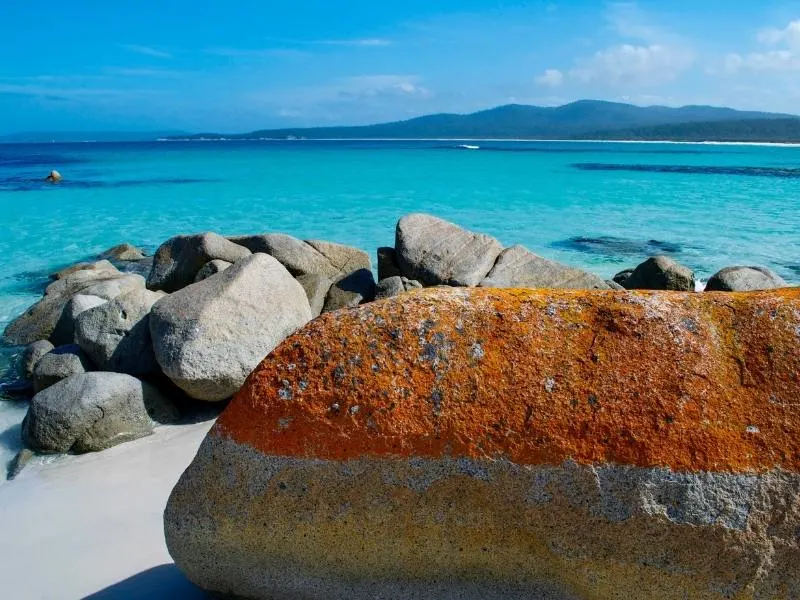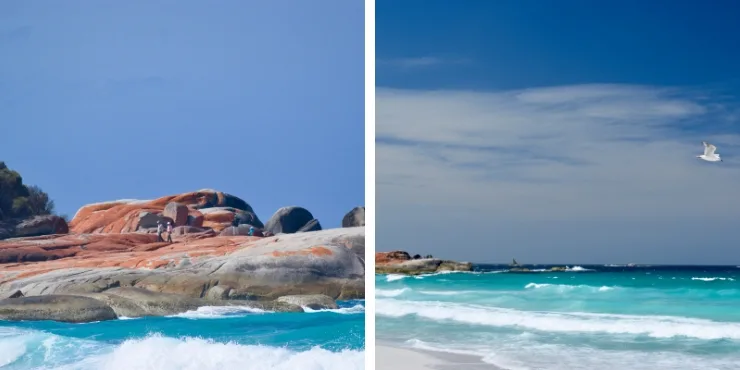 Where to stay at the Bay of Fires
As we were only spending one night in the area we booked in St Helens. Campsites are available in some parts of the conservation area and there are also numerous accommodation options near Binalong Bay including Airbnb.
We had the opportunity to catch up on washing too at this point of the trip as we were running out of clean clothes. We stayed at Pelican Point Sanctuary for the evening which was clean and spacious and we had access to a washing machine (laundry detergent provided) and a washing line.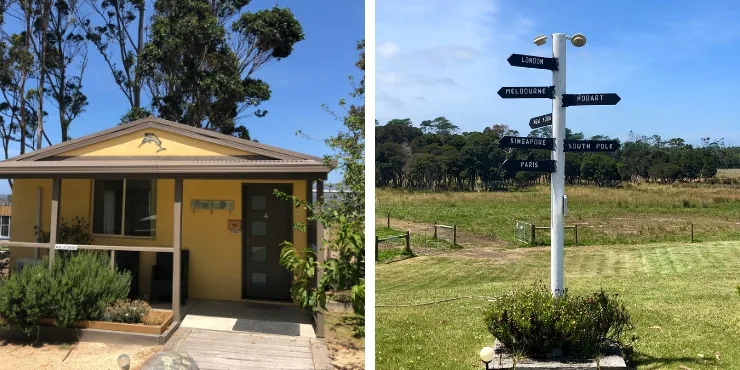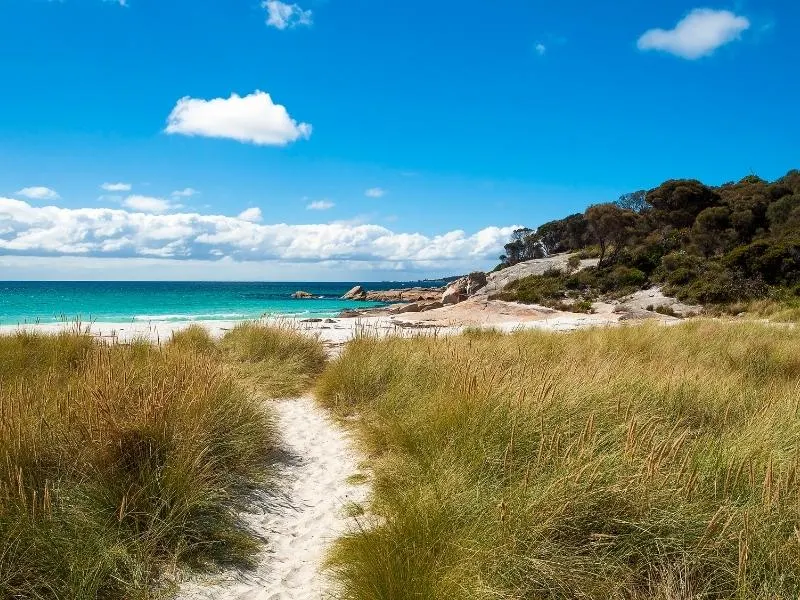 On day 7 we drove from St Helens to Launceston which is approximately 160 kms (2 hours drive) There are 2 possible routes to Launceston from St Helens but as January is peak season for lavender we took the northern route and stopped off at Bridestowe Lavender Farm.
Just to take these photographs! It was really beautiful and if you are visiting Tasmania when the lavender is out I would recommend a visit (there is a small entry fee when the lavender is in bloom) There is a shop and a cafe too selling lots of lavender goodies including lavender ice cream!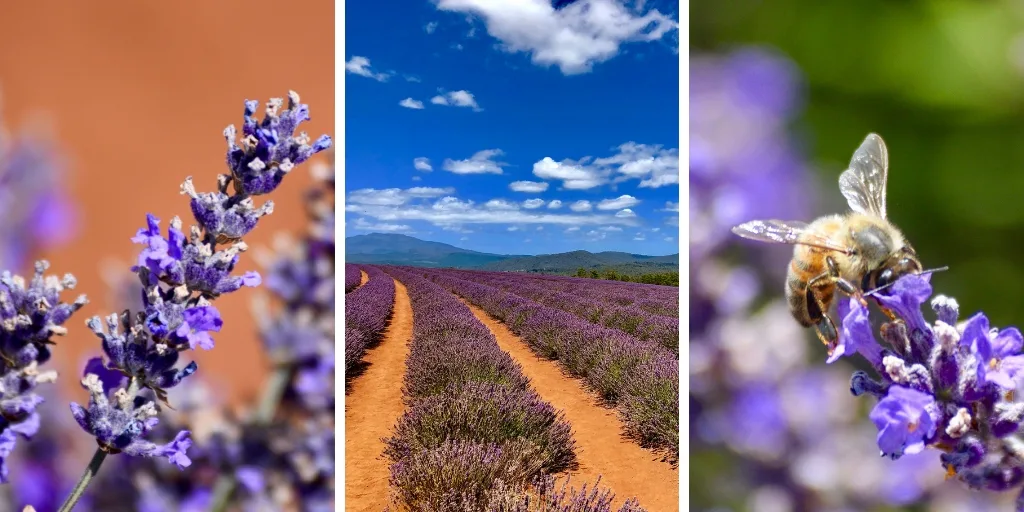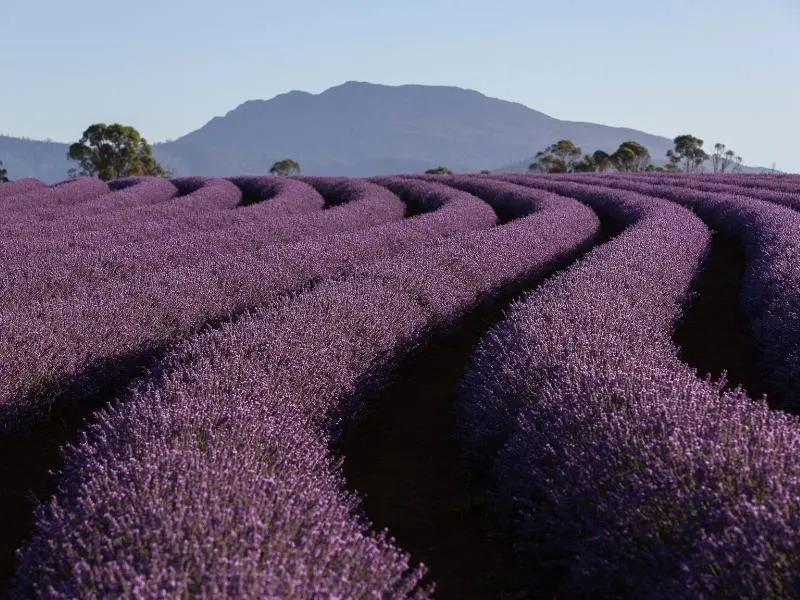 Launceston (Days 7/8)
We spent one evening in Launceston at a lovely B&B (Kurrajong House Bed and Breakfast) owned by a couple originally from the UK.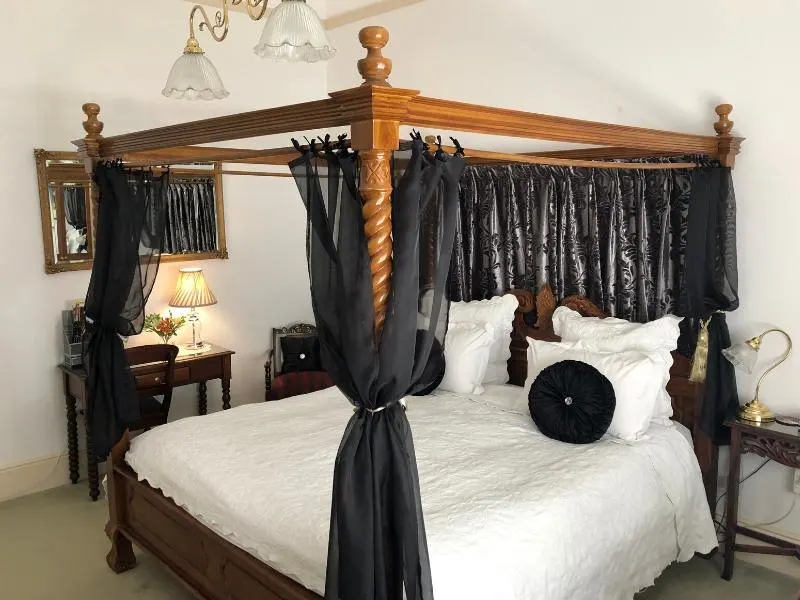 We found there wasn't a great deal to do in the city and spent a few hours playing crazy golf at Grindelwald a Swiss-themed Tamar Valley Resort about 10 minutes from Launceston.
Having lived in Switzerland I was not entirely convinced of its true Swiss-ness but it did pass a few hours!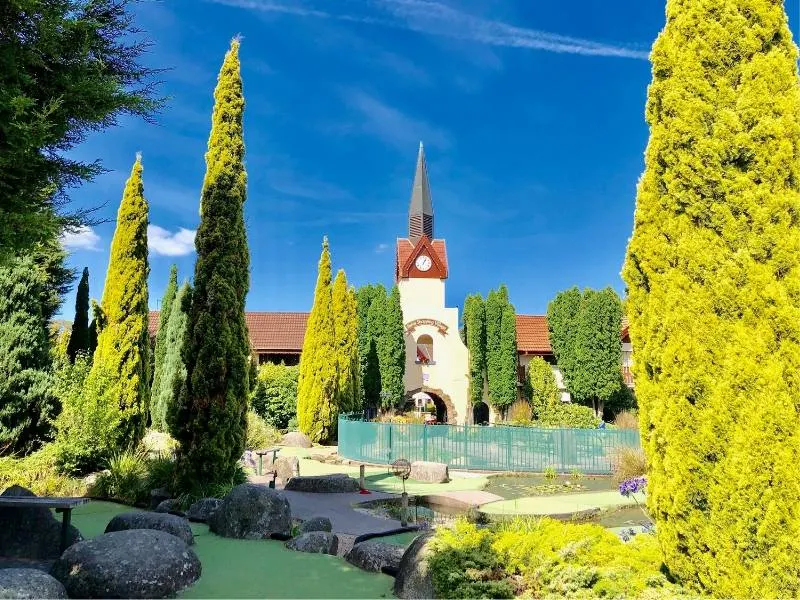 Next time I would probably skip Launceston altogether but if you do decide to spend a night there I would highly recommend the Kurrajong House Bed and Breakfast. (no children permitted)
Launceston to Cradle Mountain (Day 8)
On DAY 8 we drove from Launceston to Cradle Mountain where I had booked 3 nights at the world famous Peppers Cradle Mountain Lodge.
Cradle Mountain is 140 kms from Launceston and takes about 2 hours. However DO NOT drive straight there!! This drive takes you past some of the recommended producers on the Cradle to Coast Tasting Trail. At some point I am going back to do the entire trail but for this part of the trip we incorporated 2 stops.
Our first stop was at Christmas Hills Raspberry Farm Cafe. We loved it so much we also stopped there on our return drive to Hobart! If you like raspberries you will love this place! Buy some of the chocolate coated raspberries to take away! And enjoy!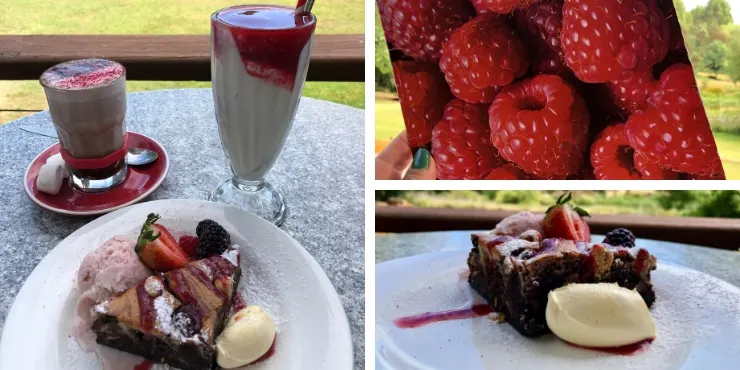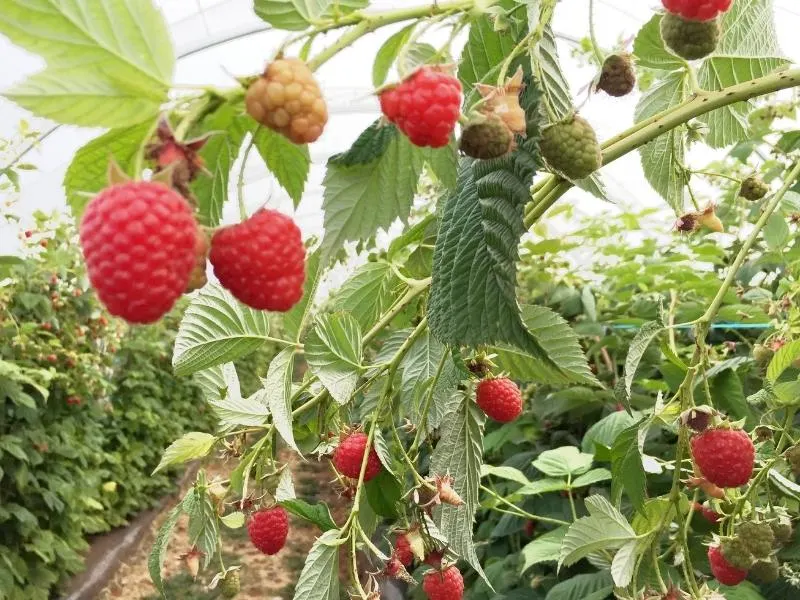 Tasmania really excels in its produce. Wonderful fruit and vegetables, excellent wines and tasty cheese!
Our next stop before heading up to Cradle Mountain was at Ashgrove Cheese. There were plenty of samples to try and some very tasty cheese made its way into our provisions.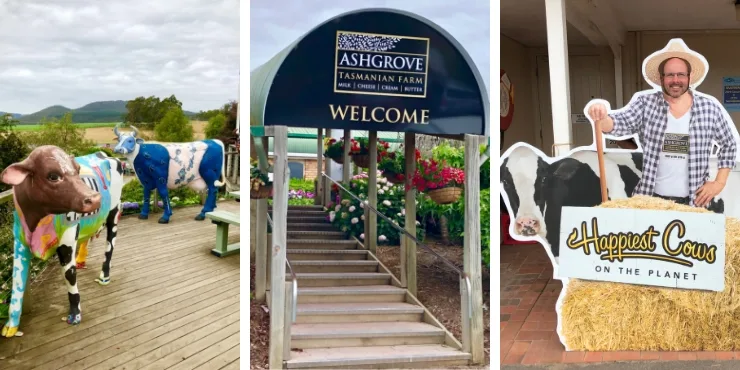 Cradle Mountain (Days 8/9/10/11)
After eating far too many raspberries and cheese products we made our way up to Cradle Mountain which was our base for the next 2 days/3 nights.
You will notice on the drive there are dead trees everywhere – in some places it looked like an alien landscape. When we asked in the park about this we were told that the damage is being caused due to climate change.
Scientists are studying the area and the effects of sustained heat/droughts which is having such a massive impact on the area. A real wake up call.
Things to do and see at Cradle Mountain
Take a tour of the park
We took a tour from our hotel of the park at dusk which was an amazing time to see the animals. Standing in a field surrounded by wombats was just amazing!
We saw pademelons, wombats, echidna, and possums out in the park. The guide was also really knowledgeable so we were able to learn a lot about the various wildlife too.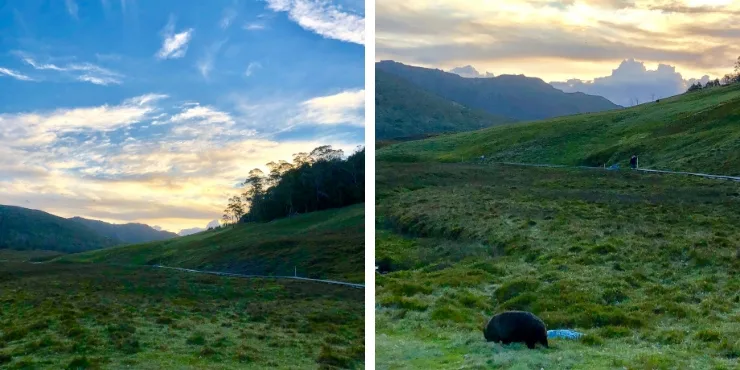 Take one of the many hikes around the park
There are lots of hikes to do in the park with the shorter walk around the Dove Lake Circuit one of the most popular. The Dove Lake Circuit is only 6 km and a fairly easy couple of hours.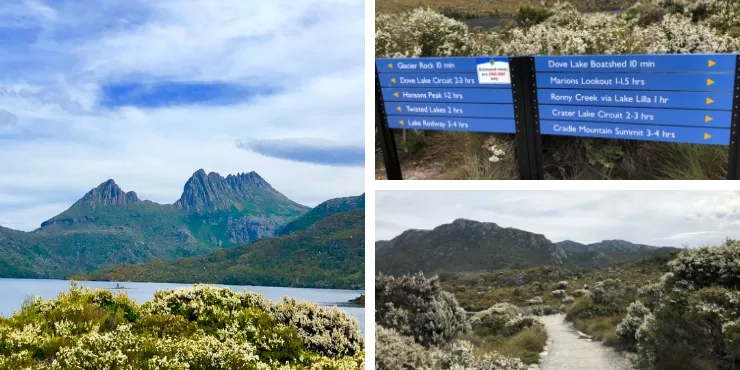 Alternatively if you prefer something very short but very beautiful try the Enchanted Walk which takes about 20 minutes and starts at Cradle Mountain Lodge!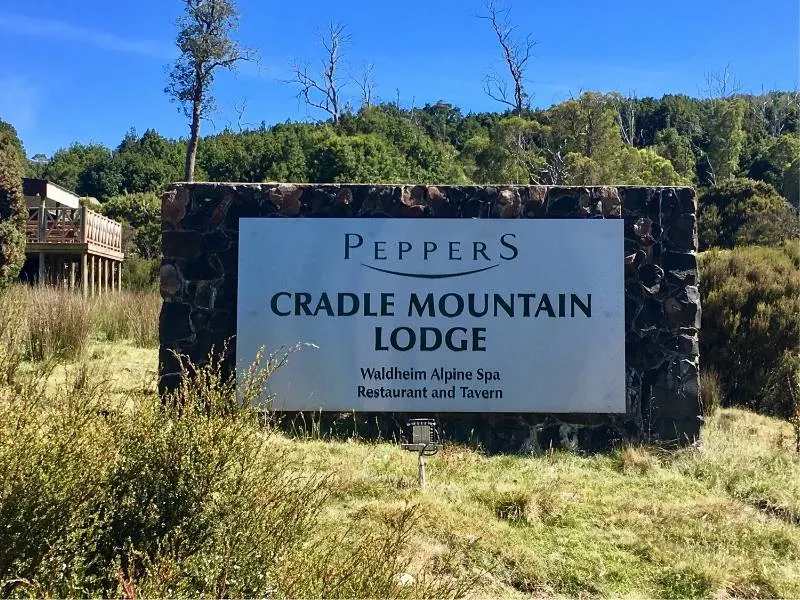 Visit the Devils @ Cradle
This is a wildlife conservation facility on Cradle Mountain dedicated primarily to the care of Tasmanian devils (though they do have quolls there too).
We paid $75 each for a joey encounter which enabled us to see some of the captive-born joeys that are being raised at the sanctuary. We found it very informative and loved meeting the animals.
My favourite was a young wombat named Pancake whose mother had been killed in a car park. Unfortunately, this is all too common as wombats have no sense of danger when it comes to cars and many people do not think to double-check before reversing.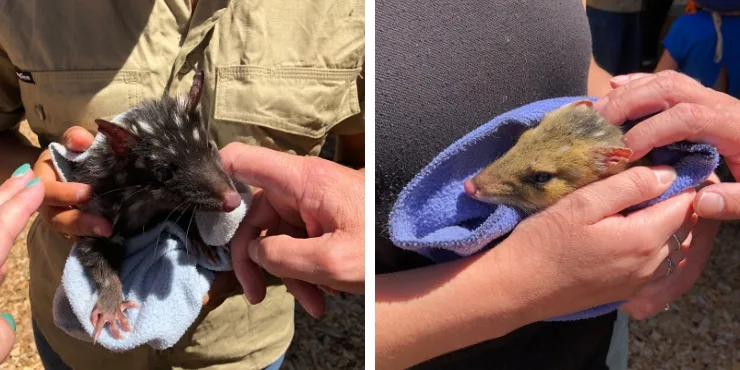 How to get into the park
Cars are not allowed in the park during the hours of 8:30 – 4:30 pm in winter and 8:00 – 6:00 pm in summer.
If you want to go into the park catch a FREE shuttle bus which will drop you in a number of places along the way.
You need to purchase entry tickets for the park. See below for park ticket passes and information.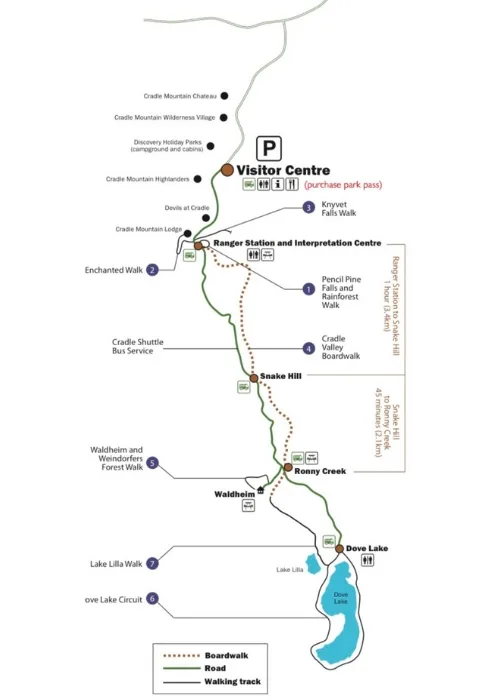 Where to stay in Cradle Mountain
We booked 3 nights at the world-class Peppers Cradle Mountain Lodge. From the moment we arrived at the Lodge we knew this was an incredibly special place to be.
Our room was perfect, our welcome hamper superb, the setting, the wombats wandering around the lodge, the spa, the restaurant everything just made for a wonderful experience.
If you enjoy spas I would highly recommend spending some time in "The Sanctuary" at the onsite Waldheim Alpine Spa. The private sanctuary has a sauna, steam room, large hot tub and a cool plunge pool as well as a lounge area and is available for 60/90/120 minutes for your exclusive use.
Overlooking the Pencil Pine River and surrounded by King Billy Pines this is the perfect place to relax.
Hobart (Days 11/12)
We drove back to Hobart on day 11 from Cradle Mountain. The drive took approximately 4 hours so we had enough time to head to MONA before checking into our airport accommodation for the evening.
As I have already mentioned MONA I won't go into it again but I think next time I would try to fly into Hobart and out from Launceston to avoid losing a day driving back down the island.
This would have perhaps enabled us to explore more of the west of the island particularly Strahan. Next time!
On day 12 we sadly left Tasmania and flew home (on one of the most turbulent flights ever – not sure if had something to do with the notorious roaring 40's)
Good to know when planning your trip to Tasmania
Driving in Tasmania
In Tasmania, you drive on the left (as in all of Australia!) There are stickers on the windscreens of hire cars and as you drive away from the airport you will see road signs to remind visitors. You will also be given a leaflet when you pick up your hire car with important information about driving in Tasmania.
Apparently, it has been an issue for some visitors to Tasmania.
Be mindful of wild animals. I have been nowhere in the world that seems to have the number of animals wandering the roadsides! Wallabies, echidnas, possums, devils, wombats everywhere! And unfortunately, too many of them splattered. Be especially careful at dawn and dusk.
On a more positive note if you are there during the right seasons keep an eye out for fruit and veg being sold by the roadside. Pull over, help yourself (well pay first!) and then eat your body weight in cherries, raspberries, apples etc. Delicious!
If you are driving from the north back down to Hobart I would highly recommend you take the 1 motorway.
We decided to take the scenic route on the A5. Mistake. Gravel, no other humans for hours, smoke in the trees and a potential flat tyre (luckily it was something stuck on the tyre – not an animal!) made this a not altogether pleasant few hours. Forget the scenery and stick to the main route!!
When is the best time of year to visit Tasmania?
Tasmania has a climate of 4 seasons. The warmest months are between December and March (summer) when temperatures range between 17 and 23 degrees celsius.
In winter temperatures can dip as low as 3 degrees with highs of only 11 degrees. If you are visiting Cradle Mountain you can expect even colder temperatures with ice and snow in the winter months.
Even in warmer months temperatures can vary greatly so it is best to be prepared for all weather conditions. We visited in January and experienced unusually hot weather with temperatures of 28 degrees on Cradle Mountain. The week before it had been 13 degrees!
One of the BEST things about Tasmania in the summer months are the lighter evenings! In January it was daylight after 9 in the evening. A real treat for those of us from Queensland (aka the land of no daylight savings!!!)
Tasmania National Park Pass
If you are planning to visit more than one of the National Parks while in Tasmania it may be cost-effective to purchase a Tasmania National Parks Pass. There are a total of 17 parks so chances are you will!
The Holiday Pass pass covers entry into all of Tasmania's national parks for up to two months and also provides free use of the Cradle Mt shuttle bus.
The Holiday Pass costs
$56 per vehicle up to 8 seats; or
$28 per person
Alternatively, you can buy a daily pass which costs
$22 per vehicle up to 8 seats; or
$11 per person
Click here to purchase your pass!
Useful resources
Parks and Wildlife Services – For information on the various parks, hikes, maps and up-to-date information on conditions.
Booking.com – For hotels around Tasmania I used booking dot com. I like the ability to have the option to choose free cancellation. They also have a wide range of properties to choose from to suit all budgets.
Enjoy your trip to Tasmania
We loved Tasmania! We have seen quite a lot of Australia since we moved here from Europe and it is easily one of the most beautiful places we have visited in the world.
Tasmania is made for road trips and we will definitely be returning to explore more of the country in the future.
Have a fantastic time!
Read more about Tasmania
I have lots of information on my blog about travel in Australia including more posts dedicated to Tasmania.