Australia has some beautiful street art BUT if you don't know where to look you may miss it. In this article, you will discover where to find some of the best of Australia's street art across the continent.
Do you love street art? It is something we have been enjoying as we travel the world. From London to Paris to Penang and Hong Kong incredibly beautiful street art seems to be everywhere.
And Australia is no exception with some stunning art found across the country. From small regional towns to the large state capitals street art can be found everywhere (and that's not including silo art which deserves an entire article of its own).
Many of the towns and cities in Australia have street art trails to help you locate the murals. But to give you the heads up (so you can include some street art in your Australian itinerary) this post is a great place to start.
A number of fantastic travel bloggers have contributed to this article sharing the best of Australian street art (and some fabulous images) to provide inspiration for your travels.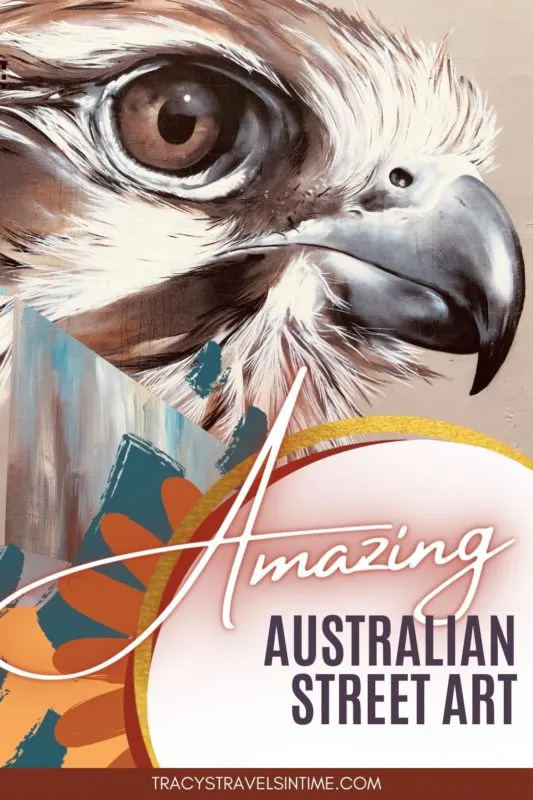 Best Street Art in Western Australia
Fremantle
As Perth's sidekick, Fremantle has a cool vibe born out of its convict and immigration past. Fremantle mixes grand old pubs with Italian coffee houses easily, making it a great place to visit for a couple of days.
Fremantle's industrial background also means it has a lot of warehouses and disused buildings. Far from being neglected, these have become the playground of street artists from around the world. An essential part of your visit to Fremantle in Western Australia should be to look for murals.
There is great variety in street art in Fremantle and if you are coming from Perth, you will be greeted by the spectacular Black Octopus, produced by Welsh artist Phlegm.
This mural is on the Old Navy Buildings just near the Rainbow Containers and there is a car park on Beach Street. The octopus is dark and menacing, but fascinating to look at, in stark contrast with the colourful artwork nearby.
There is more street art in Fremantle and it gets very colourful. You can take the Red Cat, a complimentary local bus, to go to South Terrace. The collection of street art there is even more varied and there are plenty of cafés and restaurants.
by Delphine of Lesterlost.com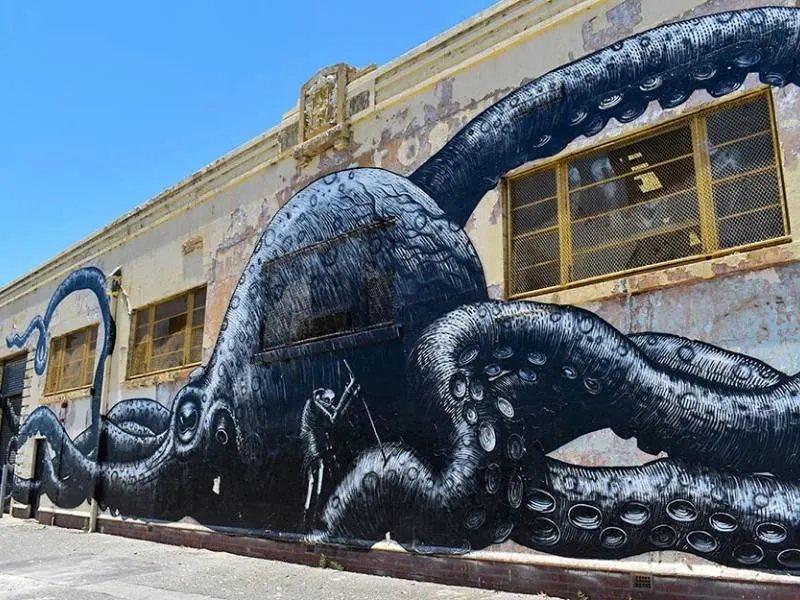 Bunbury
You'd hardly expect to find some stunning street art in the industrial port of Bunbury, Western Australia, but when we did we were absolutely thrilled. Finding the unexpected in a little known place can really put a smile on your face, as it did ours.
It turns out that Bunbury, which is often driven right through in people's rush to get to trendy Margaret River, has seen an arty revival in recent years. The murals, known as the Bunbury Street Art Initiative have changed the city centre. Each year since 2015 the 6230 project has worked on blank spaces in the City Centre and created amazing art, in dialogue with the local community.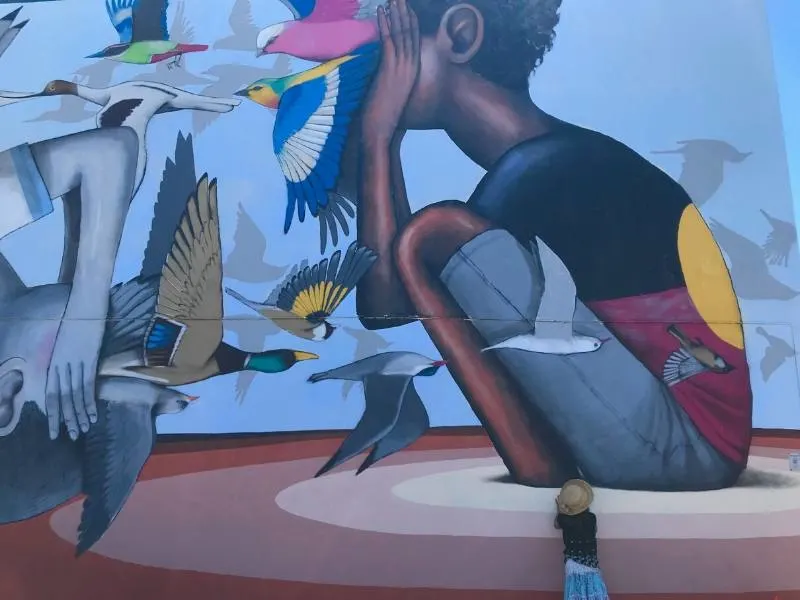 We found a map of the city mural on that website and were really wowed by these massive murals by professional artists. The deeper we dug in Bunbury, the more we discovered, and there are a number of impressive public street sculptures and also the substantial Bunbury Regional Art Gallery.
In fact, with some up and coming restaurants, and a hip, edgy feel to Bunbury, there is enough here for a wonderful weekend getaway from Perth. At just two hours' drive south from Perth there is definitely enough to justify an art inspired weekend to discover the Bunbury Art Initiative.
By Ariana Svenson of World of Travels with Kids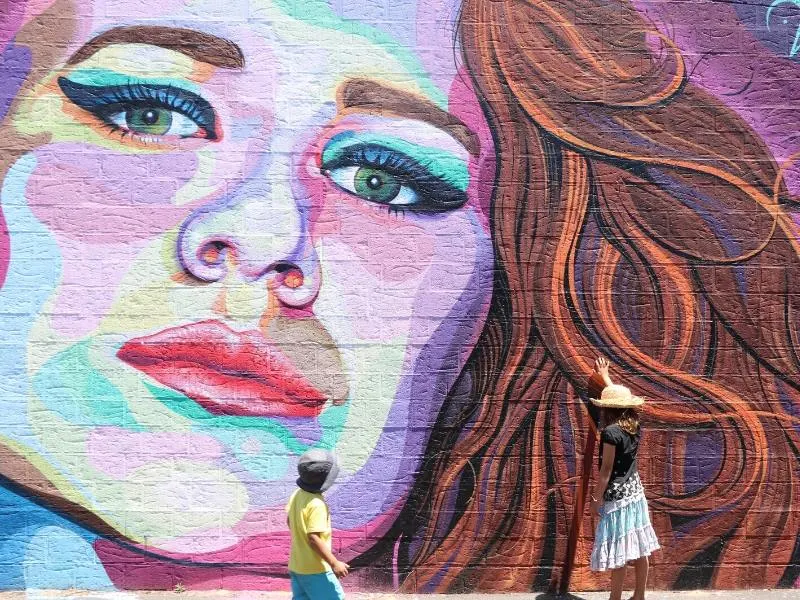 Perth
If you're wondering where to find the best street art in Australia then be sure not to overlook Perth. You will be sure to stumble across a colourful mural and be captivated by some spectacular street art in Perth when walking around the city and suburbs.
The alleys and laneways are constantly evolving, being replaced with something new, as some of the street art only stays for a short time before being painted over or the wall it was painted demolished.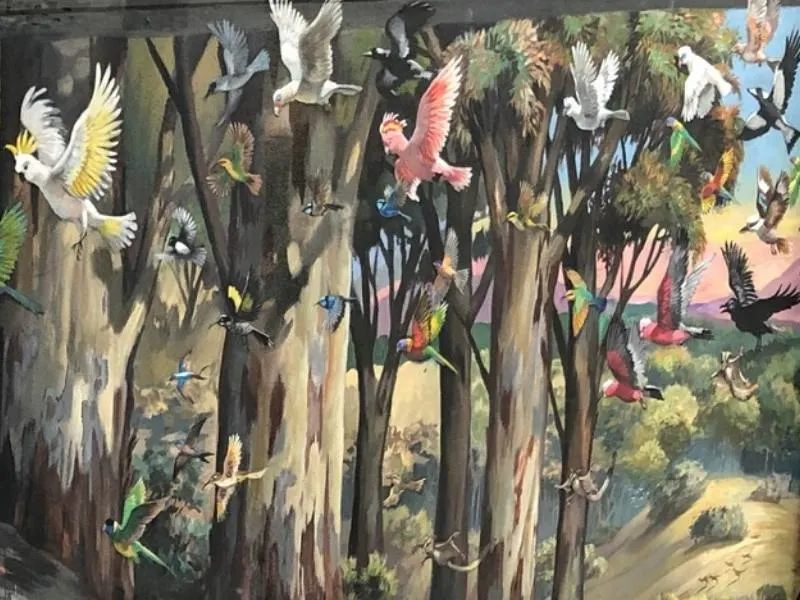 Most of the wonderful pieces of art waiting to be discovered, have great places to eat, drink and relax nearby. We love meandering around the burbs, camera in one hand, coffee in the other, checking out the new murals waiting to be discovered.
I just love brightly coloured walls that tell a story, and many of the local councils are commissioning artists to do their stuff. Gone are the days of tags and graffiti sprouting up through the night. Nowadays Perth's concrete jungles are turning into vibrant urban streetscapes.
What makes them so great is that they are not for everyone, and if that is you, just keep on walking. For others, like me, I like to stop and think about the story the artist is painting. The conversations and discussions illuminate how street art reflects the culture we live in.
By Lyn of A Hole in My Shoe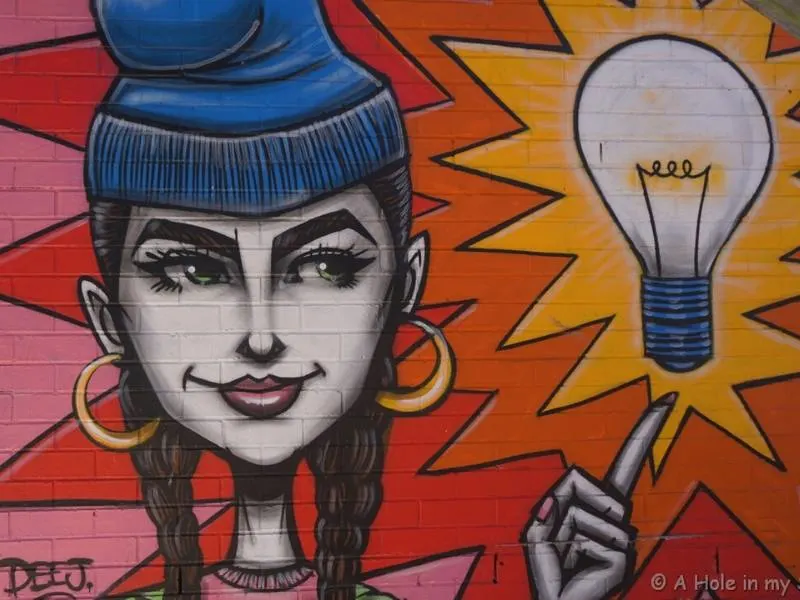 Street art in Victoria
Melbourne
Melbourne is one of the most creative, colorful, and caffeinated cities on Earth – so its no wonder their street art scene is amongst the best in the world.
The spray-painted laneways here are a source of immense pride, and while graffiti murals can be found around the city, the highest concentration of clusters in the central city. Its extensive labyrinth of high alley wall means woodblocking, sticker art, and stenciling techniques are popular here, and artists have huge canvases to experiment on.
The diversity of creations on offer, by both local and pre-eminent international street artists such as Banksy, is unmatched within Australia.
You can spend hours pounding the sidewalk, getting lost, and immersing yourself in its vivid living art exhibitions – but for those short of time, a few of the hotspots include Hosier Lane, AC/DC Lane, and Duckboard Place.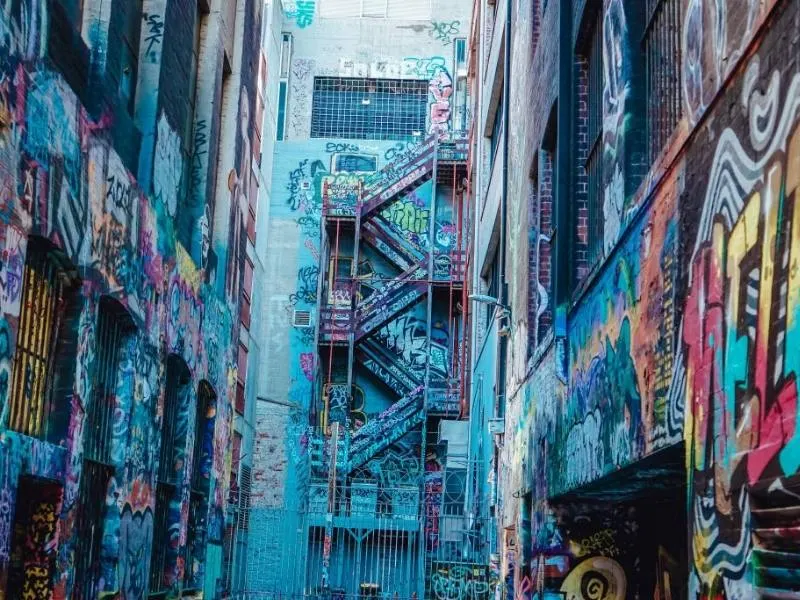 Hosier Lane is the most famous street art spot in Melbourne, given its location opposite Federation Square. This means the art here is continuously changing and often the most topical. AC/DC Lane nearby pays recognition to the epitomising Australian rock band, and the street art here emphasizes musicians and music.
Duckboard Place is my favourite place as not only is this U-shaped laneway a bit quieter, but it houses some fantastic restaurants and bars. It also hosts the famous Lesbian Disney Princess street art, a sign of how liberal and gay-friendly Melbourne
By Jack of Queer in the World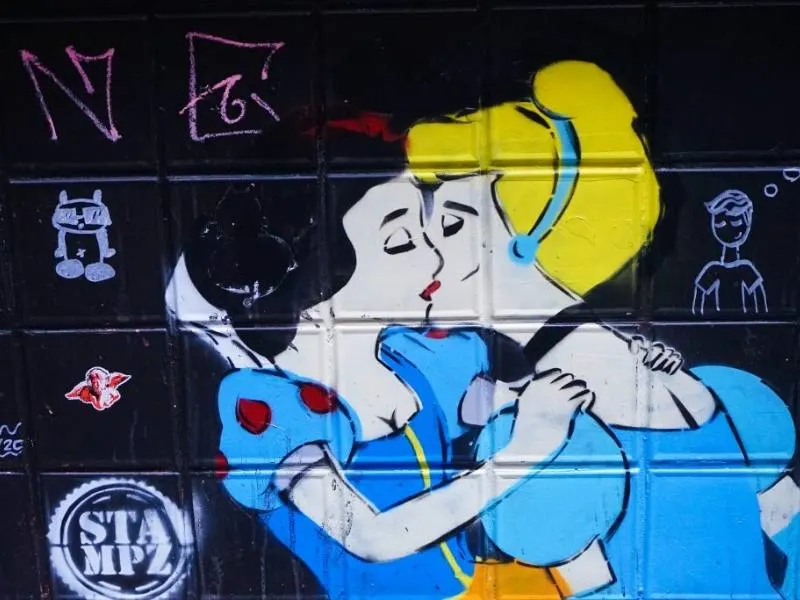 Geelong
The beautiful bayside city of Geelong in Victoria boasts a variety of street art, 3D, and augmented reality murals. Many of the pieces honour Geelong's past with images of prominent local people.
Key pieces to look out for include:
King Billy a well-respected local indigenous man and spokesperson for the Wadawrrung people by Cam Scale
Chrissy Amphlett the locally born and raised lead singer of Australian band the Divinyls by Glen Smith
Moi-Yo Miller a Geelong born entertainer and magician's assistant from the 1930s who was once considered the most beautiful woman in the world by Michael Cassar
There are many more examples to see from huge epic pieces to tiny hidden treats. You'll find them tucked away in the city's lanes and alleyways, in car parks and doorways, under bridges and just about anywhere there's a blank wall.
A great way to discover these amazing artworks is with the free Geelong Arts & Culture Trails App for a unique digital augmented reality experience.
By Audrey Chalmers of See Geelong
Yarram
If you have done the Victorian Silo trail you will have seen some epic art. Massive silos are decorated in the most amazing paintings that you have ever seen but what if your town doesn't have any huge silo's to paint?
Yarram is a small farming community in Gippsland Victoria and it has no silo's but it had a lot of walls that needed some extra care and attention. To brighten these walls one man took what was important to a community and bought them to life throughout the town.
This man's name is Heesco.
And every one of his paintings in Yarram is spectacular. Originally from Mongolia, Heesco now calls Melbourne home and it was here he developed his love for street art.
One mans love for art as awoken Yarram and they are now known as a 'Heesco Town' as people flock from near and wide to see what he has created.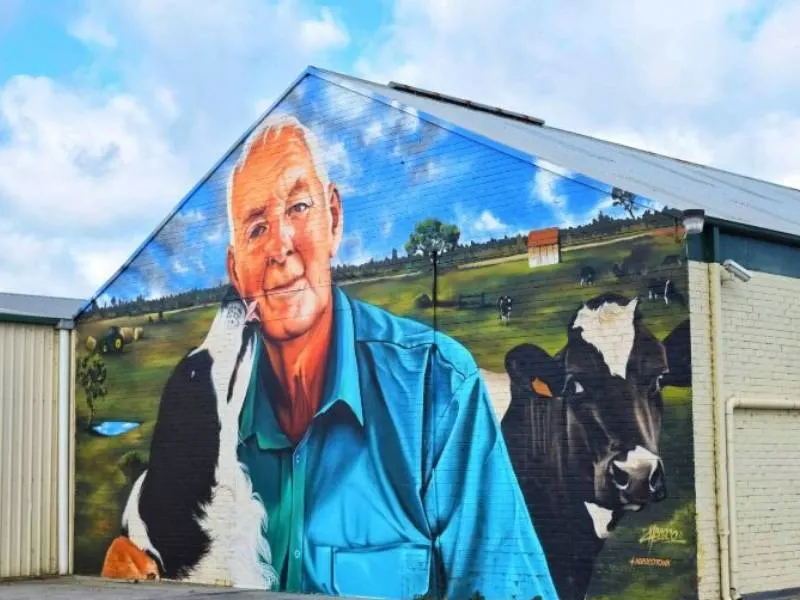 While there are 10 artworks on the Heesco trail in Yarram it's not the first time he has visited Yarram and you will find smaller works within cafe's and on the local motel's walls as well.
I think what will make you love them more are the ones that recognise the importance of local history and how they will forever be on display for all to see.
By Bec of Travels in Gippsland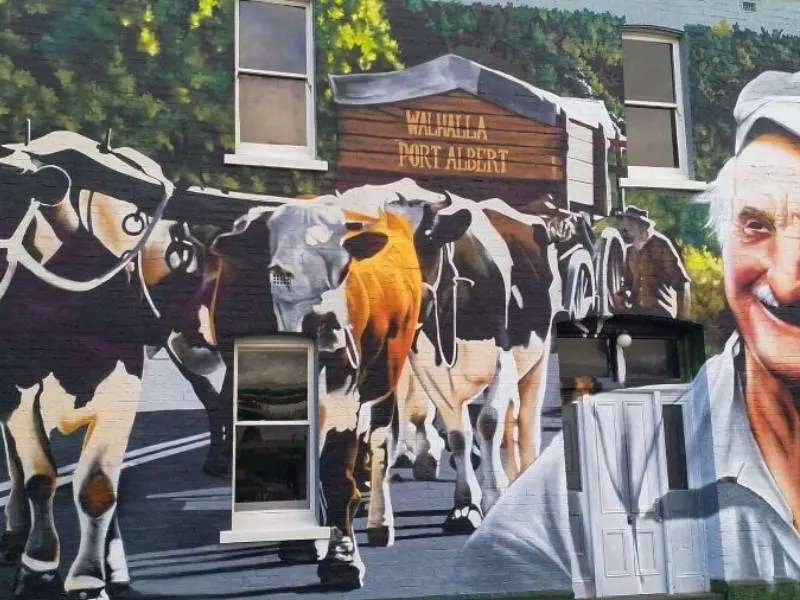 Street art in Tasmania
Sheffield
Sheffield in Tasmania really is a great place to find street art in Australia. Also known as "The Town of Murals", Sheffield is located between Devonport and the wilderness of Cradle Mountain and is easy to incorporate into a road trip.
As you enter Sheffield you will see that all the buildings in its main street are covered in beautiful murals depicting historic events, scenes of animals and the natural environment as well as local personalities that have called Sheffield their home.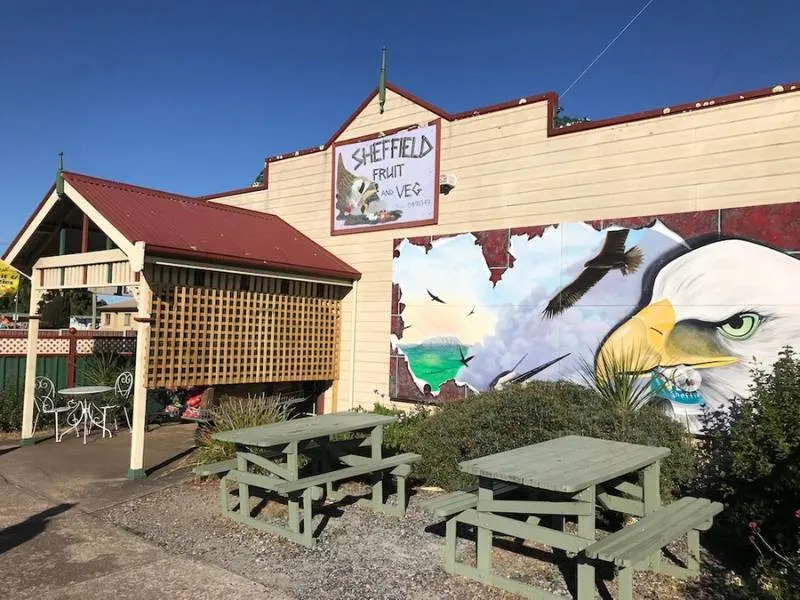 This once sleepy town was brought to life in 1985, when a town councillor had the vision to start an annual competition for artists to paint their creations onto the once drab shop fronts. This in turn brought more artists to the town as well as a steady stream of tourists all excited to see this charming outdoor gallery in Tasmania.
There is no set "trail" to find the art but to be honest you don't need to look hard as over 100 spectacular murals are in this quaint Australian town. Make sure you take a wander along the side streets and near to the tourist office as there are plenty more there to delight you.
By Angela Price of Where Angie Wanders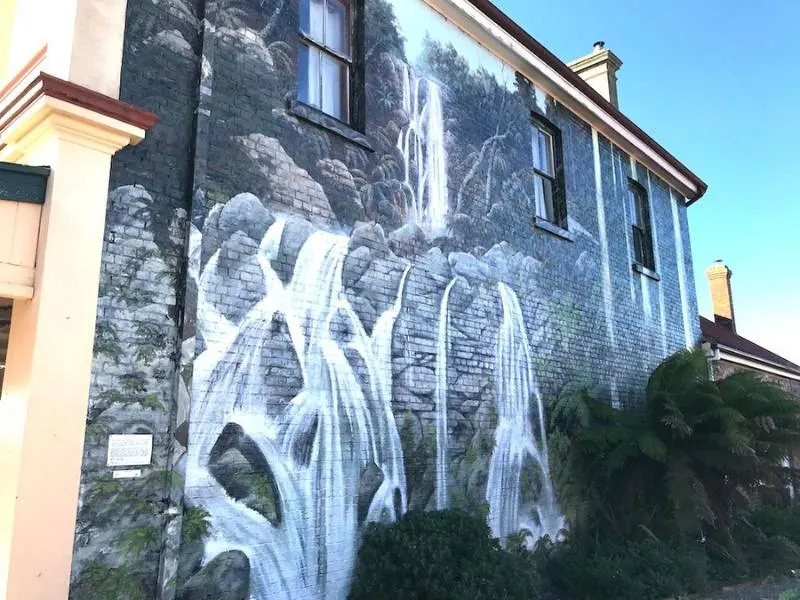 Street art in Queensland
Brisbane
Brisbane's burgeoning street art scene is full of colourful urban art, evocative murals and clever graffiti. Although street art is scattered on both sides of the Brisbane river, one of the best pockets can be found in the hip inner suburb of West End.
Located in South Brisbane, stroll West End's back streets to discover eclectic art works such as the towering image by Drapl of Muhammad Ali, or hunt for miniscule blue dinosaurs by Blu Art Ninja, both on Fish Lane.
The highlight of street art in West End is undoubtedly the Pillars Project, showcasing some of the best street artists on the scene. Located on the corner of Merivale Street and Montague Road, several bland concrete pillars underneath the South Brisbane rail overpass have been transformed into a series of enormous street art murals.
An initiative of the Brisbane City Council and Queensland Rail, the Pillars Project was created in 2014 by several Australian artists. Particularly outstanding is Guido Van Helton's eye-catching portrait of an Indigenous child, along with Fintan Magee's mural of a child being carried on a surfboard atop rising floodwaters, a nod to the devastating Brisbane floods of 2011.
The ten-metre tall murals are an important snapshot of Brisbane's cultural diversity and history, forming an important Australian outdoor art space.
By Marie from A Life Without Borders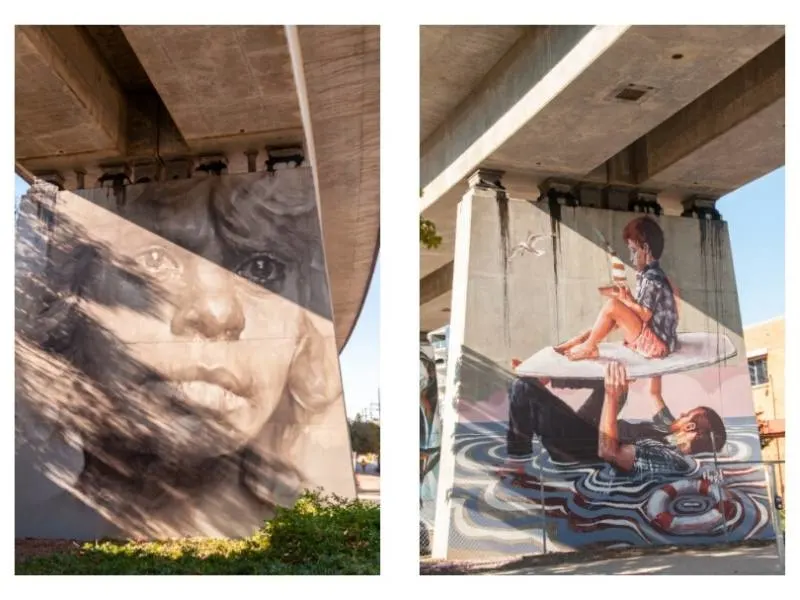 Maryborough
A small historic city in the Fraser Coast region, 250km from Brisbane, Maryborough is one of the oldest cities in Queensland and was the second busiest immigration port where many European settlers entered the country during the 19th century. It is also the place where the author of Mary Poppins, Pamela Lyndon Travers, was born.
One of the best things to do in Maryborough if you're interested in history is to follow the mural trail. These murals convey the history of the area, tells stories about the lives of its residents and is easy to visit on a self-guided tour. War history is a strong theme in Maryborough, and you will see this theme carried through in its murals also.
Start at the Maryborough Visitor Information Centre, where the Peace Cake mural commemorates the end of WWI. You will find a large mural of Tubby Clayton at the Maryborough Military & Colonial Museum painted by artist Akos Juhasz. Reverend Philip Thomas Byard Clayton was one of the founders of Talbot House, which was a safe place in WWI for British troops.
Other murals not to be missed are the Battle of Long Tan of 1966, which depicts the famous battle where 108 Australian soldiers of Delta Company at Long Tan in Vietnam fought bravely, and The Aviator on Adelaide Street featuring a Maryborough RAAF officer. There is a mural of Australian Prime Minister Fisher on Bazaar Street, who played a huge part in the First World War.
By Christina of Travel2Next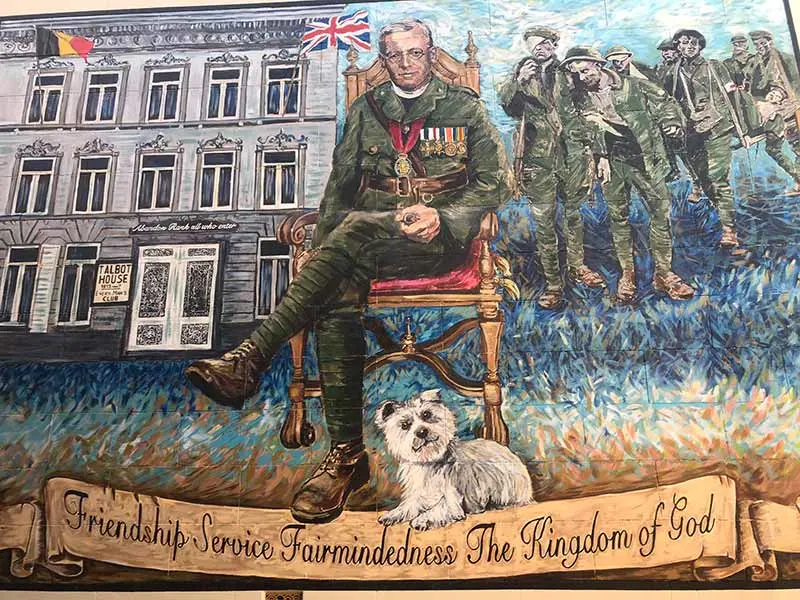 Caloundra Laneway Mural Trial
You may well be surprised but one of the best things to do in Caloundra, besides visiting the gorgeous beaches, is exploring the murals along the Caloundra Laneway Mural Trail. Some of the murals are hidden down little laneways, while others are on clear display.
My absolute favourite of the Caloundra murals is the Dingle Avenue Mural. Located on Dingle Avenue, this is a huge mural with loads of bright colours. Steven Bordonaro is the artist behind this gorgeous mural, which depicts all the various iconic Caloundra locations, activities, and events.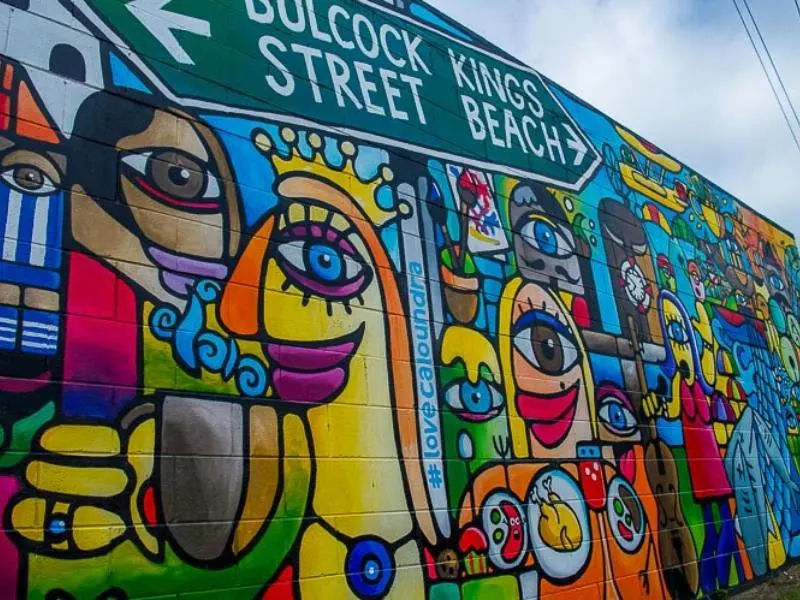 Some of my other favourite murals can be found on Williamson Lane, hidden away in the backstreets around the main shopping precinct. Here there are four murals which were created as part of the Horizon Festival of Arts and Culture in 2016.
There is a mural of Caloundra's famous surfing duo Ma and Pa Bendall (by artists Adam Lewszuk, Ryan Sullivan and David Houghton), Cat's Eyes (by artists David Houghton), Gone with the Wind and The Tiger.
In Lamkin Lane, you'll find the Lighthouse, the Besser Brick, Aboriginal Mural, and a super cool retro mural of a female bather at the Kings Beach Pavilion. Other murals can also be found at the Caloundra Regional Gallery and Memory Lane.
So next time you head to Caloundra, do yourself a favour and check out some of these great murals.
by Melissa of Thrifty Family Travels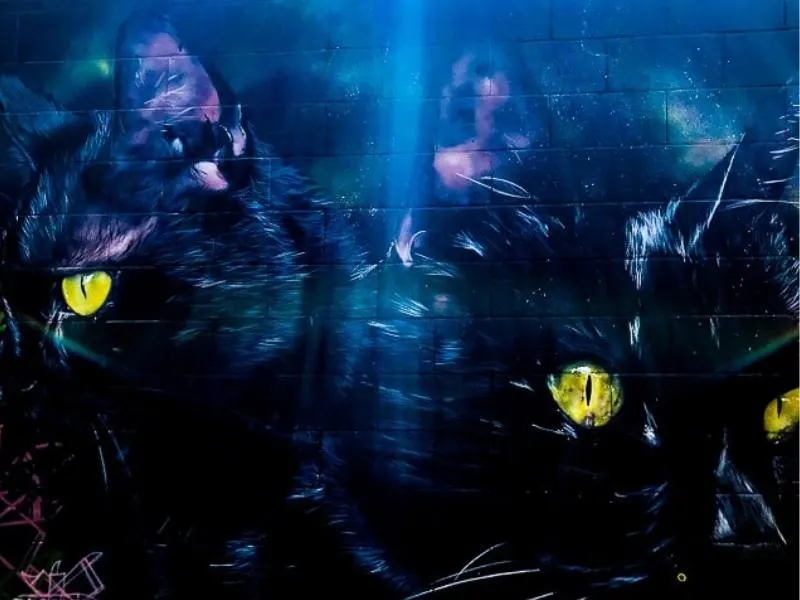 Townsville
Townsville has street art created by artists from all over the world and is an absolute must see if you visit the city. A Street Art Walking City Trail map is available (pick up a copy at your accommodation or download a PDF) to help you navigate your way around.
Work by street artists HAHA, ROA, the RUN Collective, Fintan Magee, Adnate, Lee Harndan to name but a few is located around the main city centre.
My personal favourites is the piece named Wulgurukaba and Bindal which was completed by Adnate in 2016. The art celebrates the traditional owners and custodians of Townsville the Wulgurukaba and Bindal people.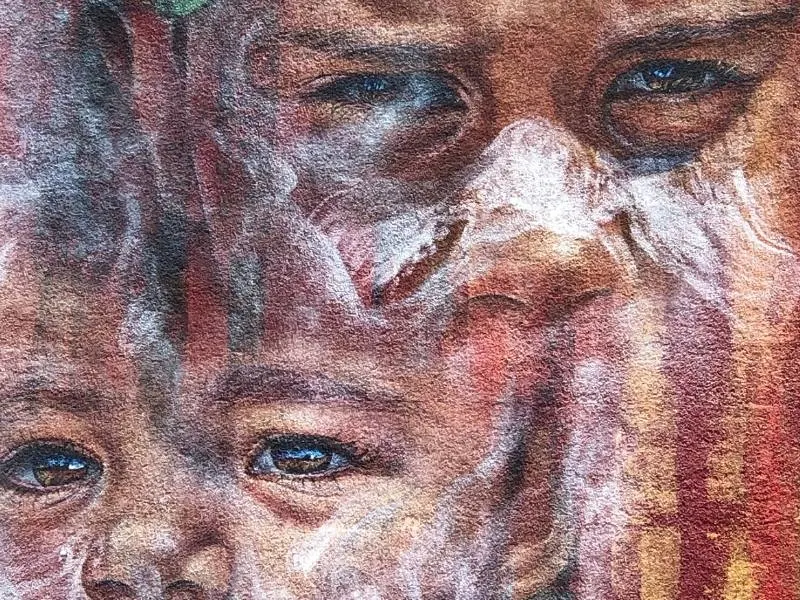 Another beautiful piece is titled Mother Earth and was completed in 2017 by Leans. The influence of the Great Barrier Reef can be seen in the rich colours with fish and coral entwined with fruit, flowers and a woman's face.
Townsville has a tropical climate so I would strongly advise taking water with you, wearing a comfortable pair of sandals, a hat, sunscreen and don't forget a camera. It was so hot the first day we explored that we had to finish the trail another day.
There are lots of great cafes to stop at for a refreshment break though so you could plan to stop for lunch half way around the trail.
Toowoomba
The city of Toowoomba is famous for its annual flower and art festival but don't miss its impressive street art when you visit. It is my favourite street art destination so far in Australia with some absolutely stunning pieces.
Toowoomba has work by a number of well known Australian street artists including Adnate and Fintan Magee who also feature in Townsville's street art trail.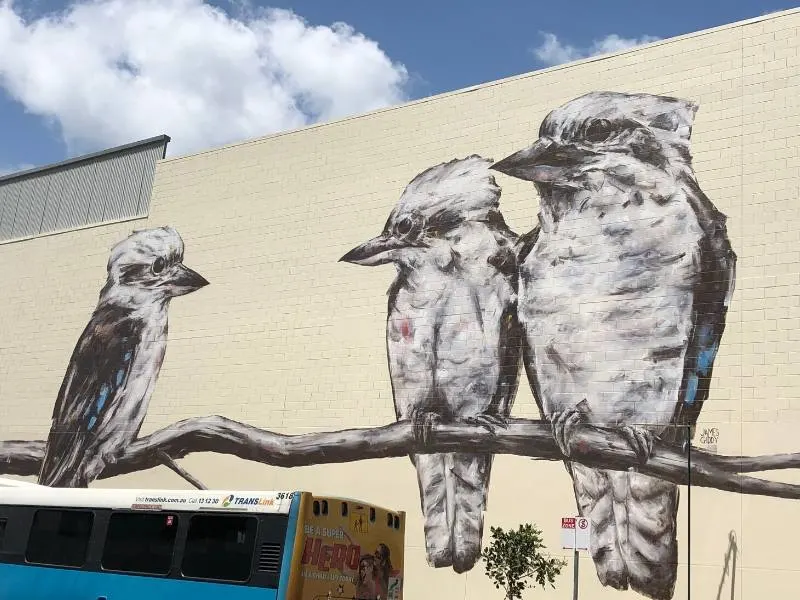 There is so much street art to see in Toowoomba that we have visited a number of times to tick off as much as we could find. If you enjoy street art I would recommend staying in the centre and taking a couple of days to explore. It is worth it because of the high quality of the street art.
The beginning of the transformation of Toowoomba into the street art capital of Queensland was in 2014 when the First Coat Arts Festival was held. More have been since then and there are now over 80 large scale murals throughout the city.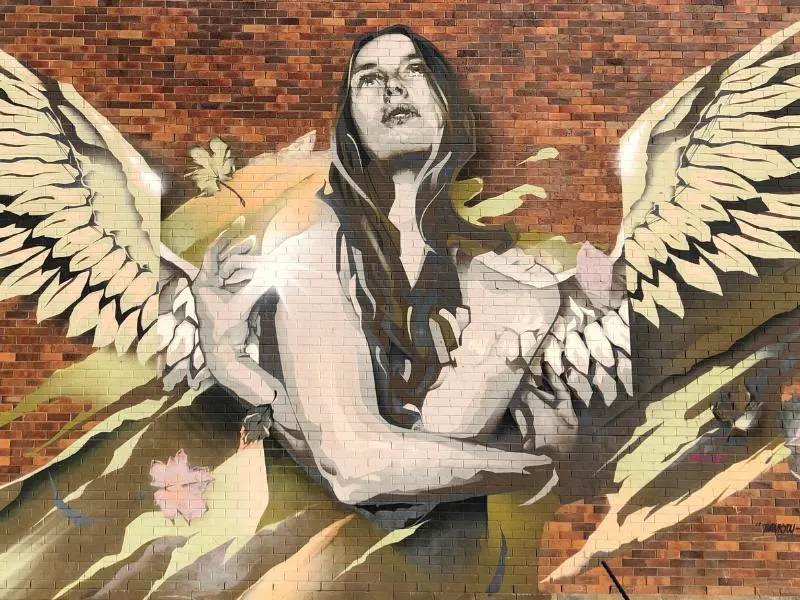 Nanango
Nanango, some 150 km north-west of Brisbane is an interesting country town. The Tarong Power Station is nearby but the town has strong rural roots.
Named "waterhole" in the local aboriginal language, with European settlement Nanango grew from a pub at the junction of major roads, to involve the timber felling and dairy industry.
As indigenous people record history with cave drawings, Nanango's history is recorded via street wall murals around town.
The Nanango Historical Mural Walk takes in 14 large murals, but there are more. They tell the story of how Nanango came into being.
In Nanango you will see the history of cream, the story of Gold to Coal, the arrival of the first train, as well as timber carting and blacksmithing, come to life in paint.
Local families get a look in also with Flemings engineering works covered in murals of their original cars and family members.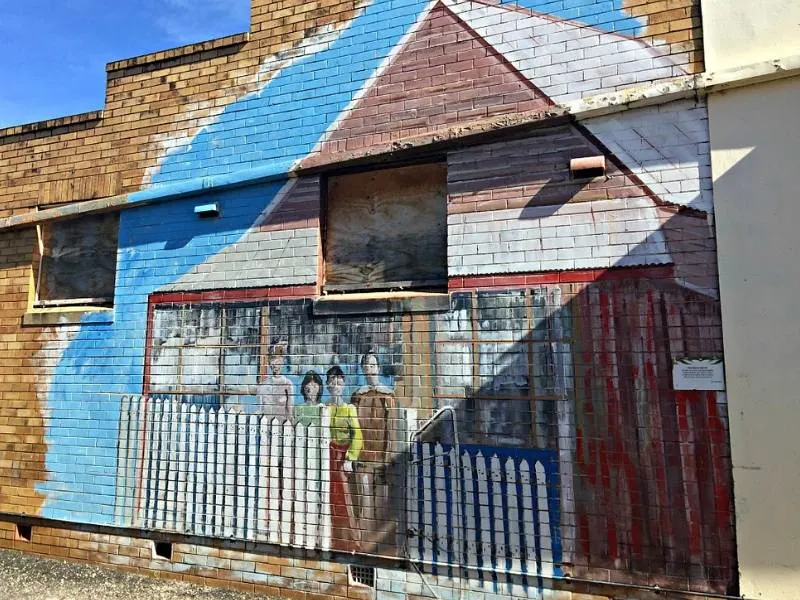 The Birch Family owned a Hall and Shop in Little Drayton Street and although the buildings have been relocated, a mural there depicts the original building with current family members.
The majority of Nanango's wall murals are by Will Nelson, but many other artists have contributed. To learn more about the murals and artists, collect a brochure from the South Burnett Energy & Information Centre Nanango.
By Jan of Budget Travel Talk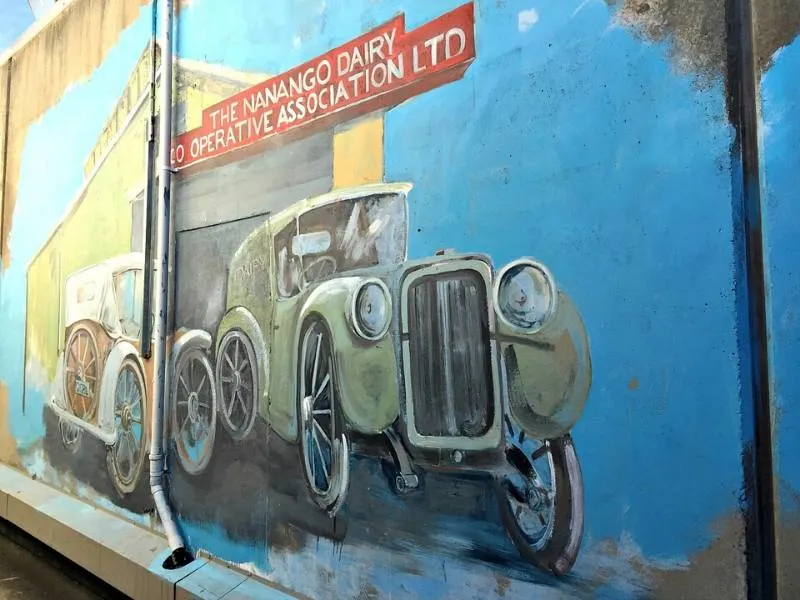 Street Art in New South Wales
Byron Bay
It would be impossible to talk about street art in Australia without mentioning Byron Bay! The most famous coastal town in New South Wales is home to some of the best artists in the country. As you roam around town you will discover many murals and smaller pieces of street art.
Unlike Melbourne, there isn't a specific street where you will find murals, they pop up all over the place!
That having been said, here are a few spots where you will usually find murals: Lawson Street (see photo), Jonson Street and Fletcher street. From these streets, you can also adventure yourself in the little laneways and find more!
Discovering the murals is one of the best things to do in Byron Bay. You can wander around town and go on a little street art scavenger hunt. Alternatively, you can also opt to go on a walking tour with a local guide who will give you more information about the pieces.
Byron Bay is known for its relaxed and boho vibe. Loads of artists choose to live there as it's a very inspiring place. You will notice that most of the paintings are inspired by the sea. Surfing and diving is big in Byron Bay and this love of the sea is often translated by artists.
By Pauline of Beeloved City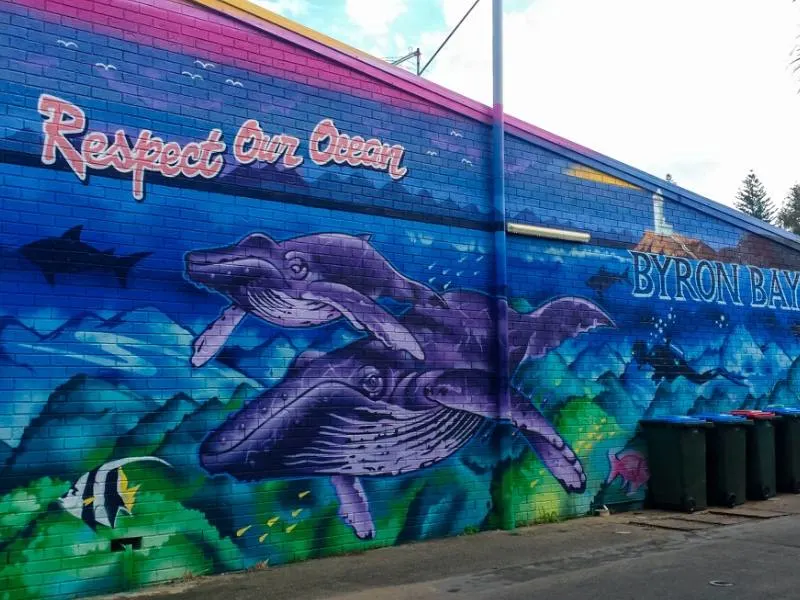 Katoomba
Katoomba, a two-hour drive from Sydney, is a beautiful place to find picturesque street art. Better known for being an access point to the iconic Three Sisters lookout, this is an easy and fun addition to any Blue Mountains itinerary.
It takes less than ten minutes to walk from Katoomba Station to Beverly Place where you will find beautiful, multi-coloured murals. From here, it is also within just a 30-minute walk – or short drive – to Echo Point, Scenic World or Katoomba Falls.
Featuring international, national and local artists, this Street Art Walk was conceived in 2013 and achieved two years later by crowdfunding.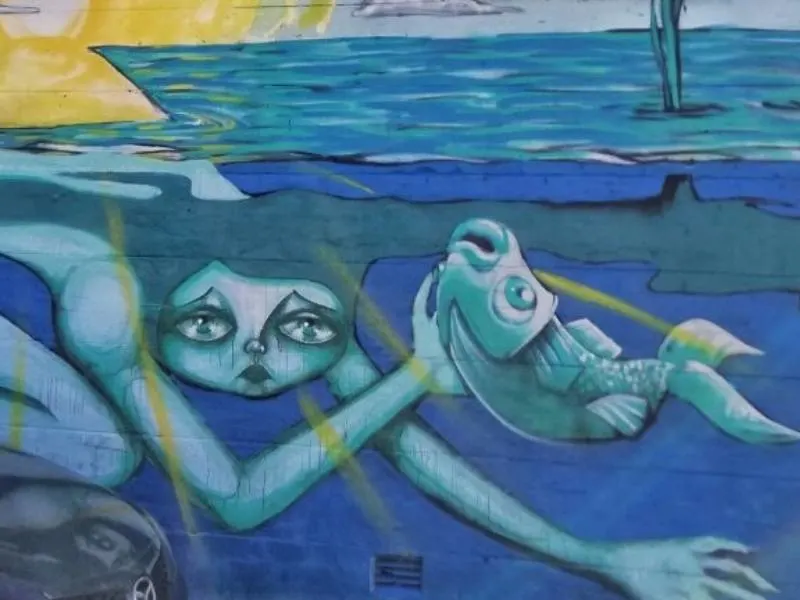 The outdoor gallery is curated through artist proposals and selection and there are various different styles of artwork along the short walk. Some are emotive, others abstract, but all colourful, exciting and effective.
The laneway was more reminiscent of Melbourne's famous urban artworks than Sydney's smaller offerings and is a must-see for those in search of a little colour during their day out in the Blue Mountains.
Perhaps a little out of the place so close to the vast peaks and valleys in the region, this quality of street art is always welcome.
By Cass of Cassie the Hag
Newtown in Sydney
If you want to see some of Sydney's best walls jump on a bus or train from the city and head 10 mins west to the inner suburb of Newtown.
Since the late 1980s, Newtown has attracted street artists with a message to share. The most iconic piece is the famous "I had a Dream" wall painted by Juilee Pryor and Andrew Aitken in 1991 and today is a landmark of the city.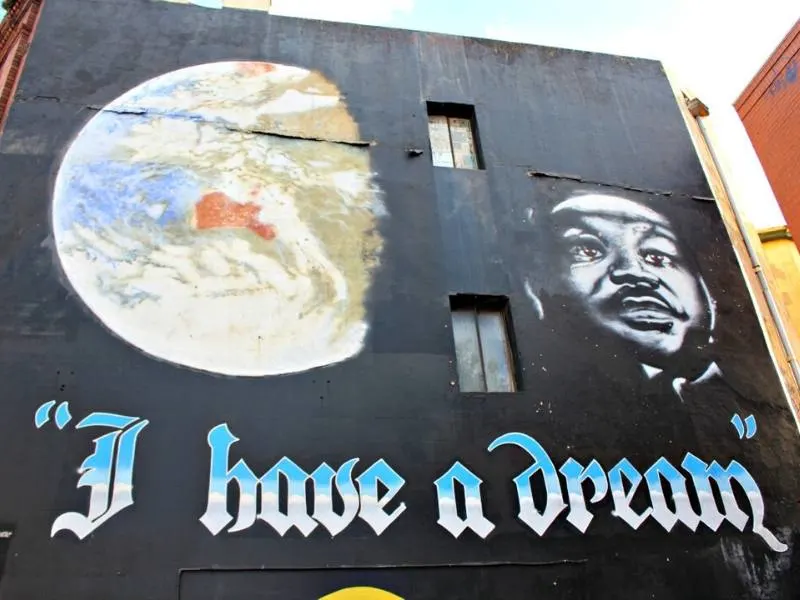 Most recently a number of these large-scale murals have appeared thanks to an innovative program called Perfect Match run by the Inner West Council. The program matches property owners and artists and has seen over 50 huge walls appear across the area.
One of my favourites is a piece called the Promise by Steven Nuttall, known as OxKing. The mural is based on the story Great Expectations by Charles Dickens and features Miss Havisham and her cats. It is on the wall in the IGA Supermarket car park.
You can walk down almost any street in the city and find work by some of Australia's best street artists but if you are short of time a stroll down Lennox Street, which runs parallel to the main thoroughfare King Street is a great way to see a dozen or so murals over a 500m walk.
If you work up a hunger head off Lennox Street to "Marys" on Mary Street for one of the best burgers in the city. If you are ready for a beer, just two blocks down you will find Australia Street where you should order a cold locally brewed "Newtowner" at the Courthouse Hotel. For something sweet Black Star Pastry across the road from the Courthouse is the home of the infamous Watermelon Cake – eat it. I promise you will thank me!
By Paula of Australia Your Way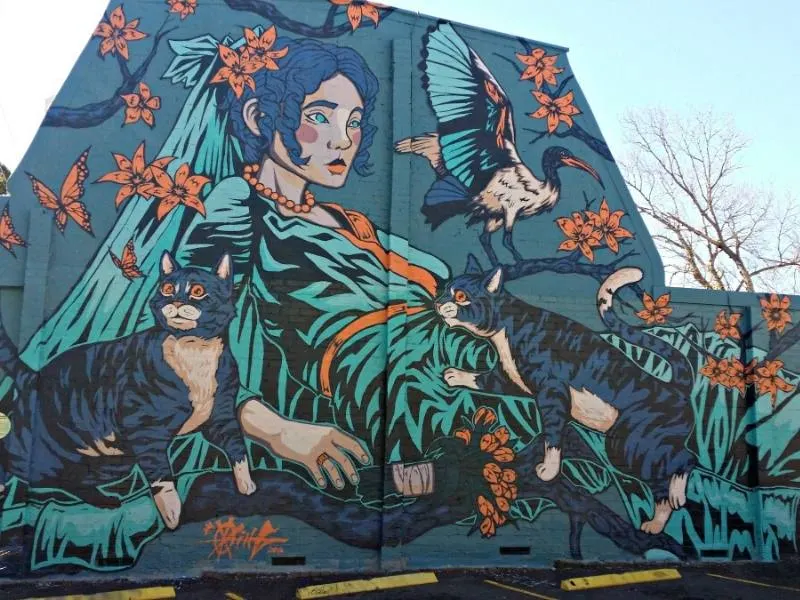 Newcastle
Newcastle's street art has burgeoned over the last decade or so, and the best places to see examples are around the city centre and along the strip of beaches close by.
As with street art everywhere, the future of some work is more precarious than others. Matt Adnate, who has produced distinctive murals of Indigenous Australians all mover Australia, has produced two works in Newcastle.
The more visible and better known is the one on a wall of the Gibson Street multi-storey car park, which has been slated for re-development for some time. He has also produced a portrait of an Indigenous boy in Wickham, a short distance from the city centre.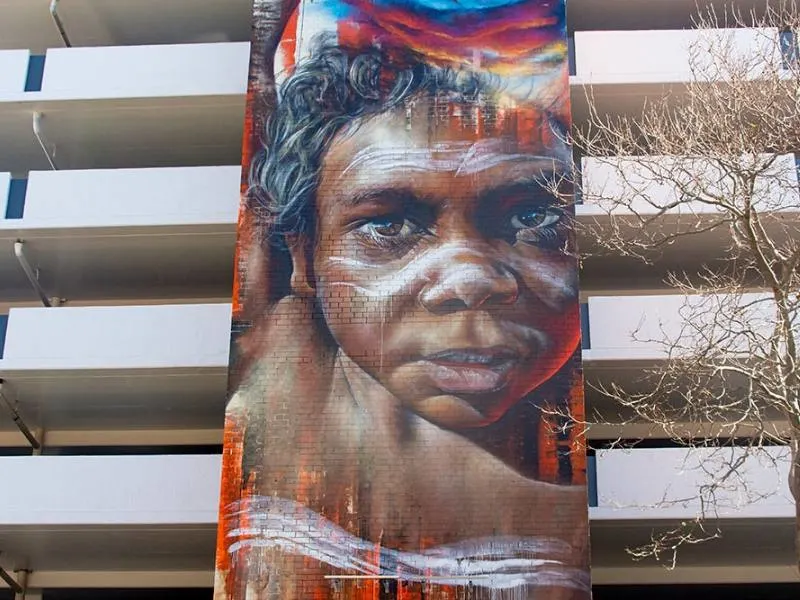 A series of murals around Newcastle by London-born Trevor Dickinson is likely to be around a lot longer, as some of it was commissioned by Newcastle City Council. We first discovered his work at the tunnel to Newcastle Beach, a homage to the city, coastline and landmarks.
He also decorated the tunnel to Merewether Beach and Ocean Baths three miles down the road, and has produced murals for selfies, including one for 'The Most Attractive Couple in Newcastle' in Newcastle Museum.
By David Angel of Travel with Little One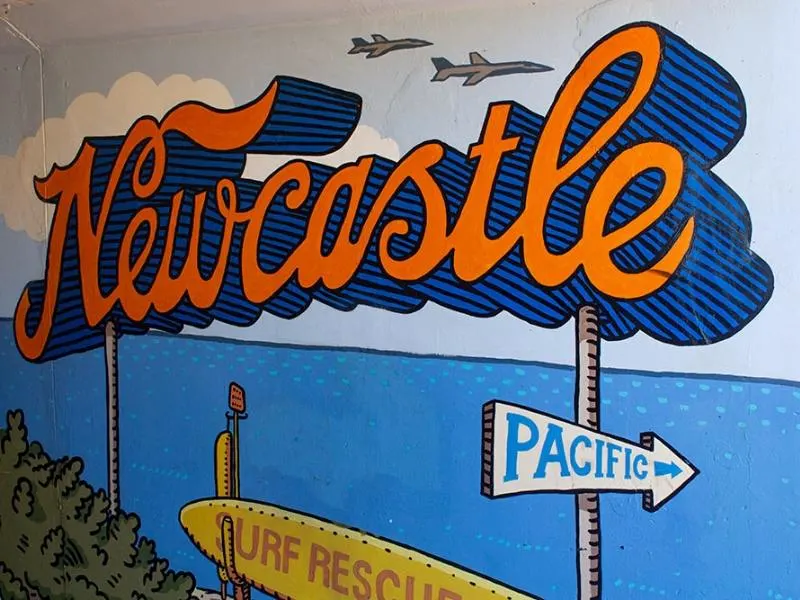 Street Art in South Australia
Port Adelaide
Port Adelaide is the historical maritime precinct of South Australia and only a short train ride from the Adelaide city centre. In the last few years it has also become a hub for street art.
Port Adelaide has been the site of four Wonderwalls Festivals and is now home to more than fifty large murals and many other smaller ones too. Each year a mixture of local and international artists descend on Port Adelaide in March and add to the tally.
Many of the murals have a maritime theme or pay homage to the indigenous people of the area, but many others are simply lovely artworks.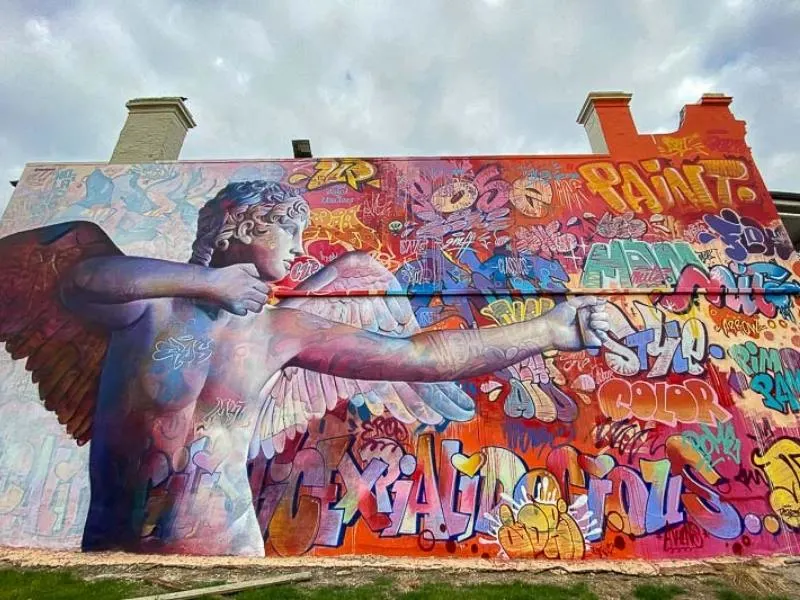 The street art is spread throughout the suburb, and most of them aren't too hard to miss – including two that call opposite sides of a seven storey building home.
Just wandering around the streets will be an easy way to see many of the art works, but if you prefer to plan your trip, call into the Port Adelaide Visitor Information Centre and pick up a map showing the locations (and other details) of each of the murals.
By Josie of Jose Wanders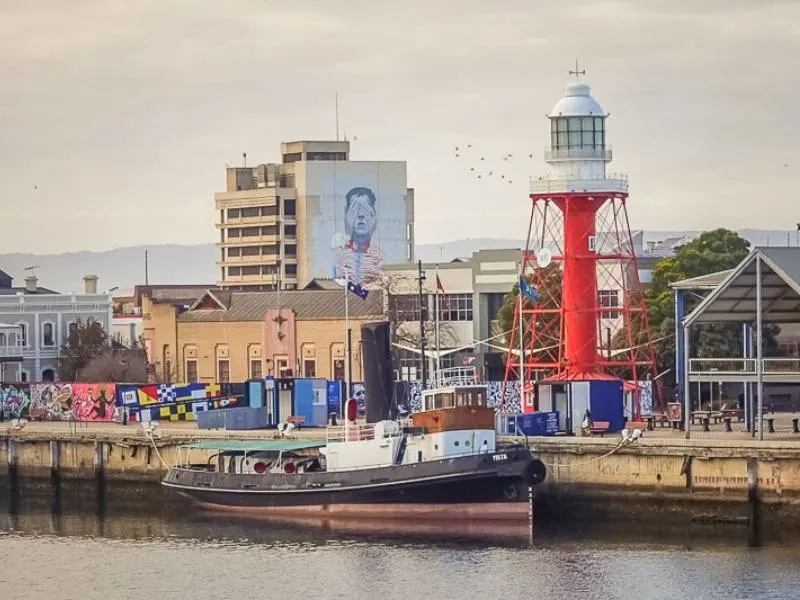 Street Art in the Northern Territory
Darwin
Australia's smallest capital city is more readily associated with nature than urban culture. Few people realise that Darwin has a vibrant street art scene.
That's largely thanks to the Darwin Street Art Festival. An annual fixture on the NT's calendar since 2017, it sees Australian and international artists alike gather to use buildings in the CBD as their canvases. Many of them are local Territorians.
The best street art in Darwin can be found around Austin Lane, West Lane and Bennett Street. There are some hidden gems in other parts of the city, too – including a huge croc painted in the car park of the Darwin City Woolworths.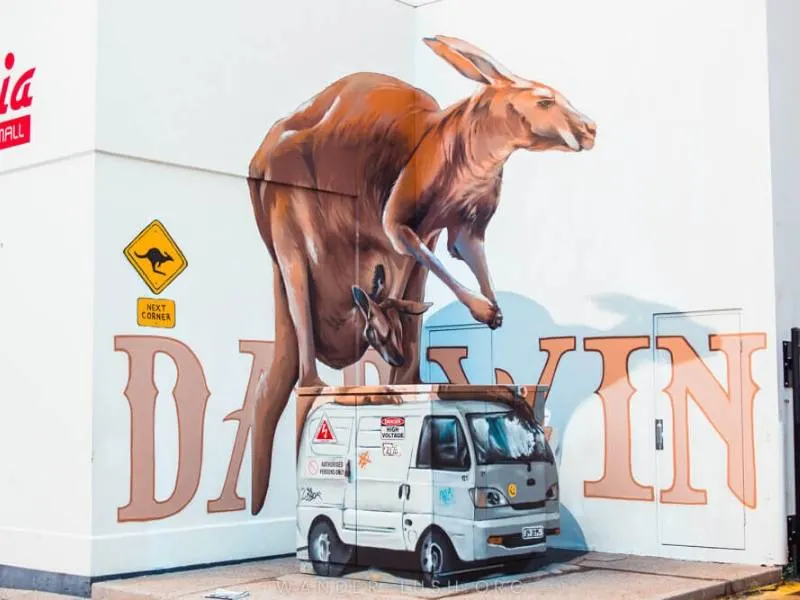 In 2019, 15 new murals were added as part of the festival, bringing the total to around 40 individual pieces of varying sizes.
Artists draw their inspiration from various sources; Indigenous culture and the region's flora and fauna are recurring motifs. My personal favourite mural is the three-dimensional 'roo on a van' by Portuguese artist Odeith.
Another must-see is the larger-than-life portrait of Shaniqua, a transgender woman from the Tiwi Islands, created by Melbourne-based street artist Kaff-eine. Both are located near West Lane.
To guide your wanderings, interactive street art maps are available on the Darwin Street Art website. Darwin is so compact, you can happily roam and stumble across most of the murals without too much difficulty.
By Emily of Australia Up Close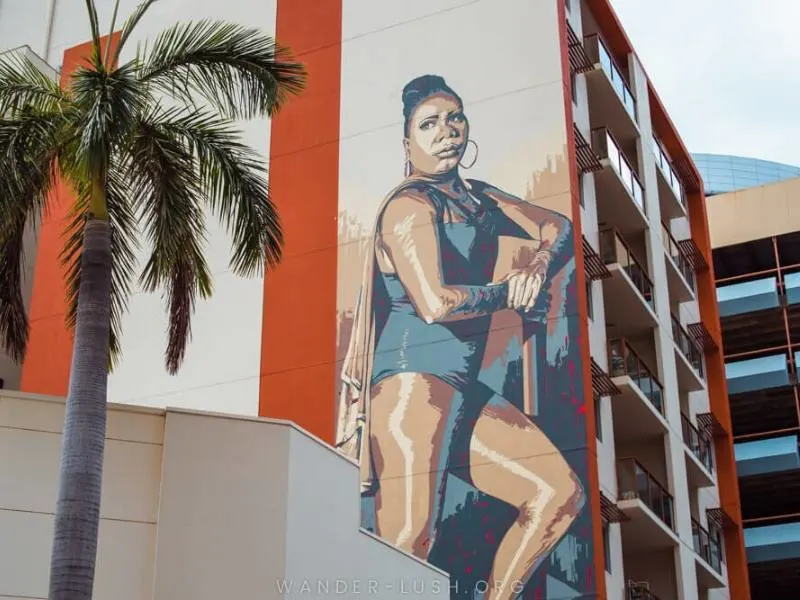 Do you have a favourite Australian street art destination?
Enjoy the street art wherever you go in Australia! I now actively search for street art (as well as Australia's big things!!) when we plan a road trip anywhere.
With unique wildlife, stunning beaches, islands to explore, numerous cultural and natural World Heritage-listed sites, and of course a fabulous climate Australia really is one amazing country.
For more tips and inspiration for your trip to Australia (including where to go, how to get around, where to stay, and more) take a look at our Australia Travel Guide.