There are places we all visit on our travels that disappoint and there are places we visit that simply blow all expectations out of the water. Penang for me and my husband was one such destination.
I had added it into our itinerary simply because it happened to lie along our route from Bangkok to Singapore. And it ended up being the highlight of the entire trip! And it is the street art in Penang that makes it so special!
There is so much to Penang – wonderful people, the tastiest street food ever, and of course, in George Town, the most fantastic street art. This post is dedicated to the wonderful Penang street art – what it is, why it was created, where you can find it and why I had to see every single one of the murals (and you will too!)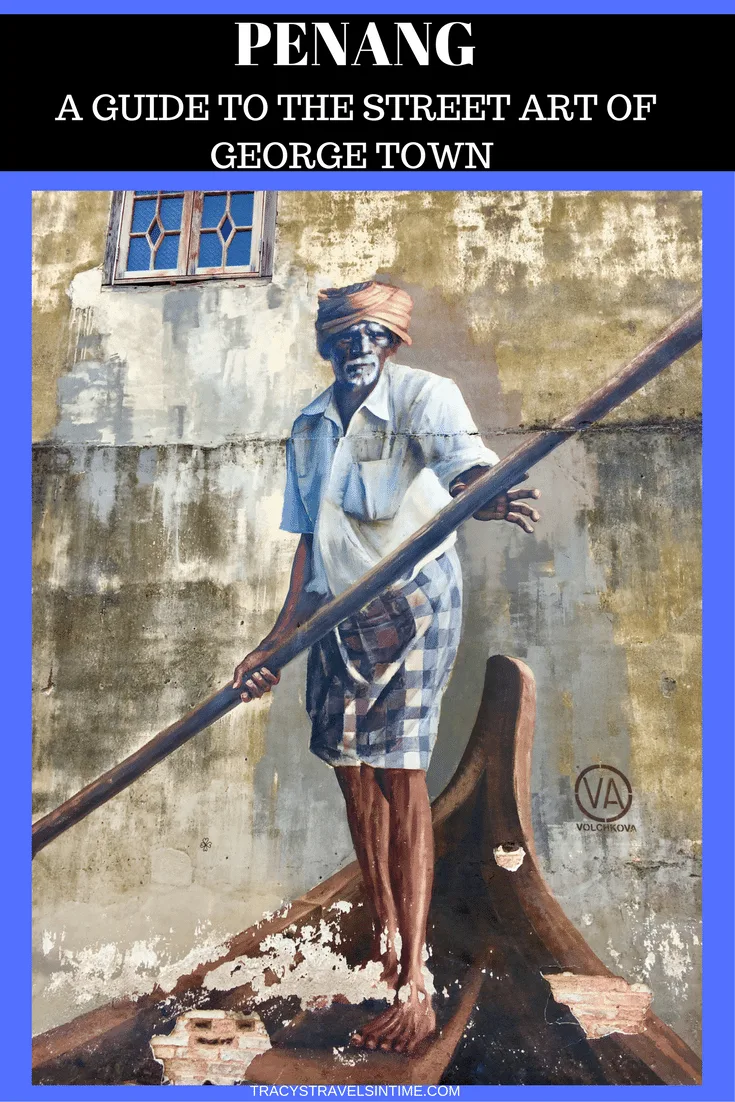 A guide to Penang Street Art
Marking George Town – the background to the steel-rod sculptures
In 2008 George Town achieved UNESCO World Heritage status. The Marking George Town initiative was a competition to come up with an idea to physically brand the site following achieving its world heritage status. The winning idea came from local artist Tang Mum Kian with the theme of "Voices of the People".
52 steel-rod sculptures have so far been created and erected around George Town. Each piece tells the story of a part of George Town and of the history of the area – they are humorous and are best understood in context.
Ensure that you pick up your free copy of Marking George Town from your hotel which will give you valuable information about each piece. It was fantastic learning about the history of this beautiful part of town through the sculptures.
Enjoy your adventure as you walk around town spotting them!
Although the sculptures are not officially named they are known by popular names or by their subject matter!
Don't just look for the sculptures by day – in the evening they are all lit up for night-time viewing too!
The artwork has been created by 4 artists – Tang Mun Kian, Baba Chuah, Reggie Lee and Lefty.
Their fabulous work not only tells the story of George Town but "they introduce the traditions, beliefs, practices and industries at key areas of the heritage city." (from the Making George Town leaflet by Penang Global Tourism)
We managed to see about 2/3 of the sculptures – it became addictive!
If you are planning a trip there are so many awesome things to do in Penang as well as great art! And if you decide to travel to the neighbouring island of Langkawi – and why not! I recommend you check out this list of great things you can do in Langkawi.
Other popular George Town street art
As well as the brilliant steel-rod works there are many other examples of street art in George Town.
I ended up having to find all of the pieces identified in the brochure (all 15 of them) and some are a LOT harder to find than others! It was like an amazing treasure hunt!!!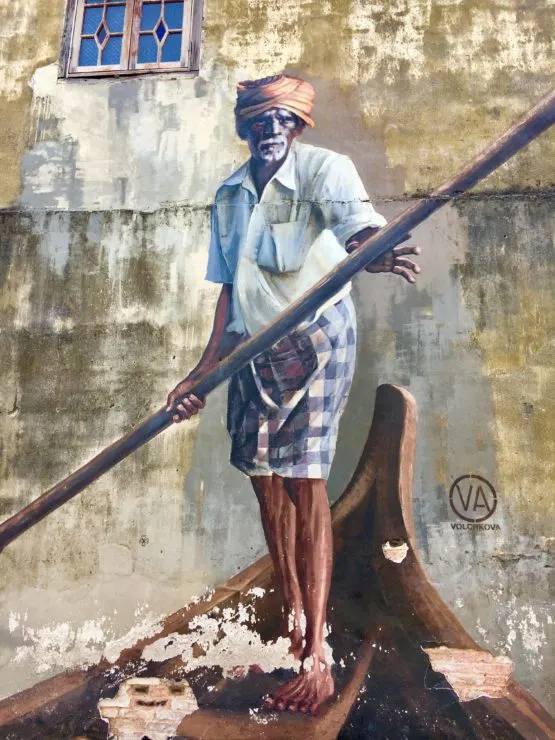 Cat and dog themed street art in Penang
Interactional street art in Penang
There can be quite a queue to have your photograph taken with some of the art so you have to be quick. My husband was so fast sitting on the motorbike that he obscured the painting behind!
More Penang Street Art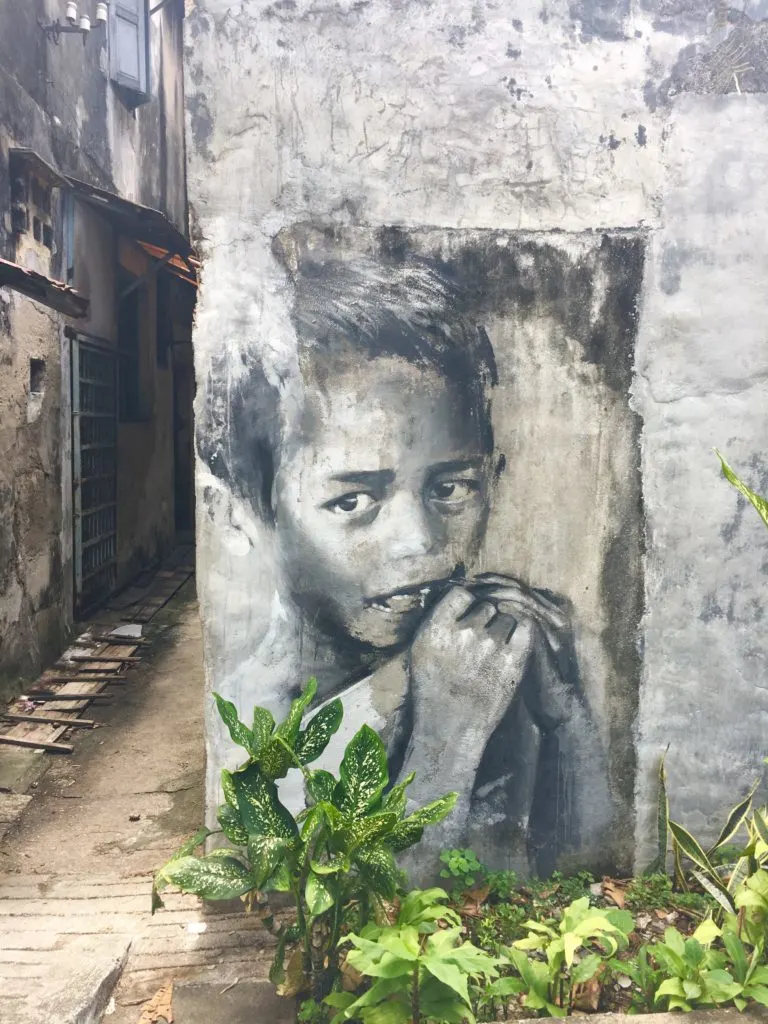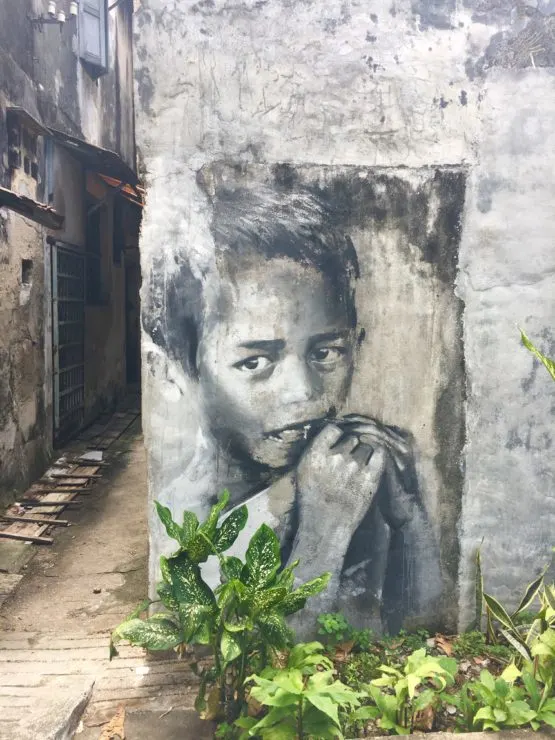 If you are planning a trip to Penang this comprehensive guide to visiting Georgetown has further information. Alternatively, find out more about Penang on the Dive Into Malaysia website – A guide to Penang.
Plan your visit to Penang
Where to stay in Penang
We stayed in the best hotel of our entire holiday in SE Asia in Georgetown. The Hotel Muntri Grove is a lovely little boutique hotel ideally located to get the best out of your time in Penang.
I cannot recommend this hotel enough – the price was excellent, staff friendly and helpful and the room simply huge! (And it has a pool which is great to cool off in after a day in the heat!)
CLICK THIS LINK TO RESERVE YOUR ROOM AT HOTEL MUNTRI GROVE
If backpacking is more your thing check out this great guide to backpacking in SE Asia.