This post may contain compensated links. Please read our disclaimer for additional information. As an Amazon Associate, I earn from qualifying purchases.
Are you planning a trip to the beautiful island of Tasmania? With fantastic scenery, beautiful beaches, a huge wilderness to explore and delicious food and wine Tasmania has loads to offer visitors.
Tasmania is the world's 26th largest island and has over 2000 km of walking tracks and 18 national parks. In fact over 20% of the island is designated as a world heritage area.
Having recently returned from a 2 week road trip around the island I thought I would share some of our recommendations and tips we learnt along the way. These are my top 10 tips to make the most of your Tasmania trip.
---
TASMANIA TRIP TIPS- PLANNING YOUR ITINERARY
---
The first thing I would say when organising your Tasmania itinerary is not to try to cram too much in.  Although the island is small and the drives are relatively short especially if you are used to driving in mainland Australia it is still better to travel slowly and enjoy the sights.
Also decide what your main interests are – markets, food and drink, hiking, nature, history and plan around that. For example the famous Salamanca markets in Hobart are only on Saturday mornings.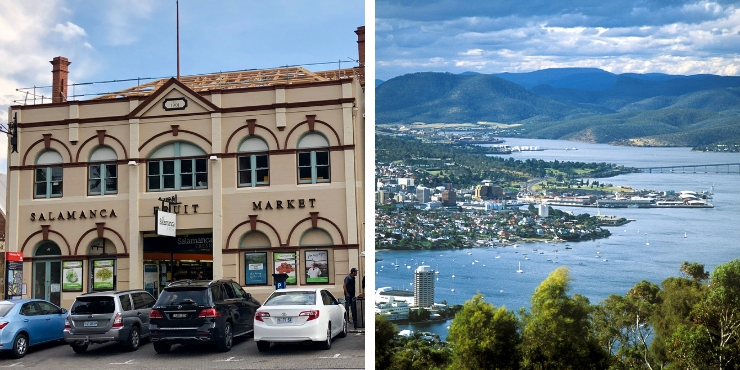 ---
DRIVING AROUND TASMANIA
---
Tasmania was made for road trips with some absolutely fantastic self-drive itineraries including the Great Eastern Drive a 180 km stretch along the eastern coast.
My top driving tips for Tasmania
Drive on the left (obvious for Australians but not for visitors from countries who drive on the right!)
Don't race around the island – stop off and enjoy the sights along the way.
Check you have enough petrol to get you to your destination (and where there are petrol stations on route) – there can be some distances between petrol stations.
Be careful of the wildlife on the roads. I have never seen so many dead animals on the roads (pademelons, echidnas, possums and even a Tasmanian Devil) as I did in Tasmania. If there is a live echidna on the road and if it is safe to do so drive round it as many cars are low enough to clip them.
If you are hiring a car check if you want to go to Bruny Island as some of the rental companies do not allow it.
If you are visiting in winter ice and snow may make driving more difficult particularly if you are not used to it. Some areas such as Cradle Mountain can be cut off due to the weather so do consider this when making plans to visit in winter.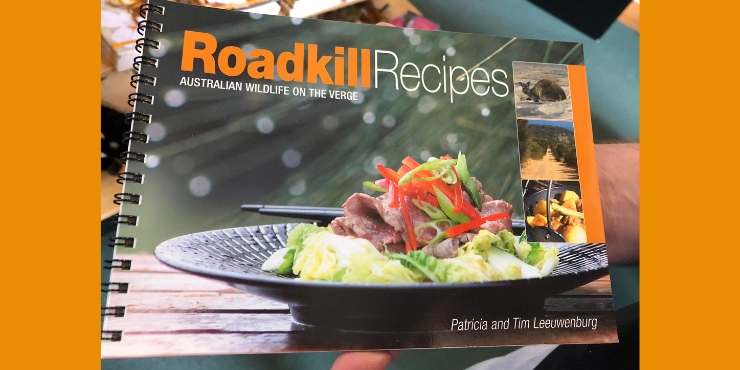 ---
DON'T SPEND TOO MUCH TIME IN THE MAIN CITIES (HOBART/LAUNCESTON)
---
I would include a short stay in Hobart if markets and/or art interests you otherwise I would skip it (and Launceston) and head out to see what makes Tasmania so special.
There are many small towns that are definitely worth more of your time including the following:
Richmond – walk over the oldest stone span bridge in Australia
Coles Bay – the main entrance point to Freycinet National Park.
Port Arthur – the location of the first penal colony established in Australia.
Binalong Bay – located at the southern point of the Bay of Fires
Strahan – small port and fishing village on the west coast
Penguin – take a photo with the big thing (and yes its a penguin!)
Evandale – very picturesque  and one of the best preserved historical towns in Australia
We also had great fun ticking off the towns named after places in England – we found Derby, Sheffield and Melton Mowbray to be rather more attractive then their namesakes!!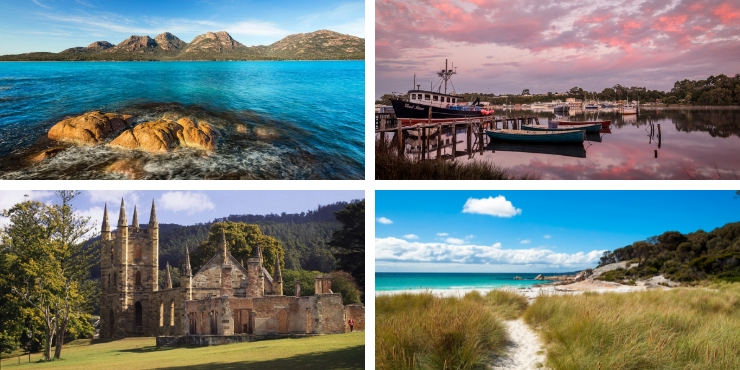 ---
TAKE TIME TO SMELL THE ROSES
(ACTUALLY LAVENDER IN JANUARY AND TULIPS IN OCTOBER)
---
In the summer months head to Bridestowe Lavender Farm and enjoy the vision of fields of purple and of course the scent of the lavender.
In October head to the the Table Cape Tulip Farm for fields of brightly coloured tulips. Tulip growing is so successful in the volcanic rich soils of north west Tasmania that bulbs are exported to Holland!
During the three-week annual Bloomin' Tulips Festival thousands descend on the coastal town of Wynyard to enjoy the flowers and activities which culminate in Festival Day.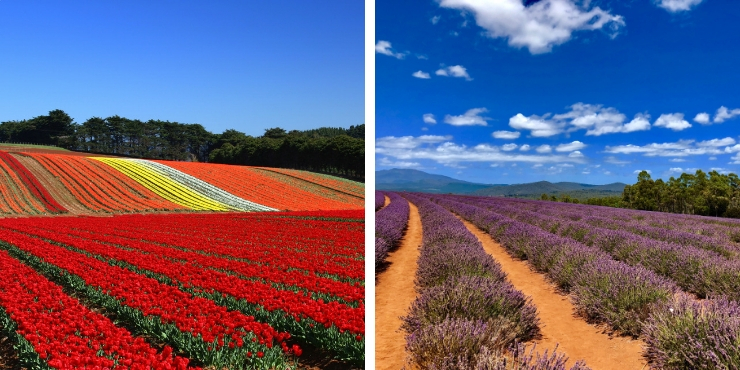 ---
TRY SOME OF THE BEST FOOD AND DRINK AVAILABLE IN AUSTRALIA
---
Tasmania has the best food and drink we have had since we moved to Australia.
If you are in Tasmania during the right seasons you can find cherries, apples, apricots, potatoes and other fruit and vegetables for sale by the side of the road. In some instances you help yourself and put money in a box. How refreshing that there are still places in the world where this works and though I am sure some people take advantage the fact that this trust system is used suggestions that the majority don't.
Take the Cradle to Coast tasting trail in Tasmania's north and north-west and feast on raspberries, cheeses, cherries, walnuts,chocolate, honey. olives, oysters and of course world class wines and cider. The Tamar Valley 60 kms north of Launceston boasts of numerous wineries offering wine tasting and superb views.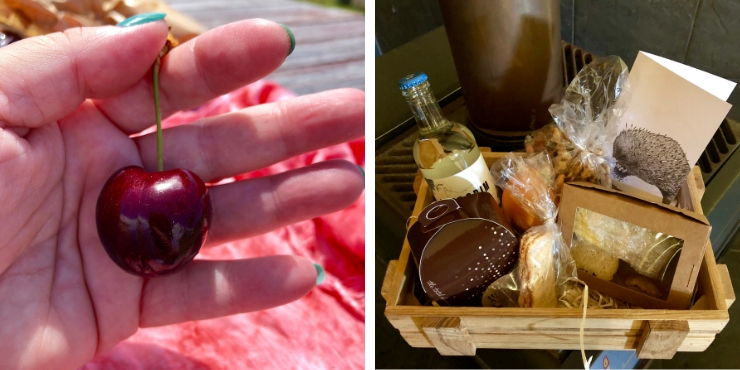 ---
TASMANIA TRIP TIPS – GET TO KNOW THE LOCALS
---
Tasmania has an abundance of wildlife and you can expect to see lots of is when you are traveling round the island. Read my post about Tasmanian wildlife for more information about the animals that inhabit the island.
As in mainland Australia most of the mammals on Tasmania are marsupials (pouched mammals) though the monotremes (egg laying mammals) of echidna and platypus can also be seen on the island.
The Tasmanian wilderness has protected numerous species which can no longer be found on mainland Australia.
Tasmanian Devils
See them at – Tasmania Devil Unzoo
[email protected] on Cradle Mountain
Wombats
See them at – Cradle Mountain- Lake St Clair National Park (they emerge from their burrows in the early evening.
Peppers Cradle Mountain Lodge – wandering the grounds and even the car park! Narawntapu National Park
Tasmanian Pademelon
See them everywhere!
Spotted tail Quoll and Eastern Quoll
See them at – [email protected] on Cradle Mountain,
Thylacnine or Tasmanian Tiger
See them at – Good question! Officially declared extinct in 1986. It took only 183 years after European settlers arrived to wipe out the entire population.
Short-beaked Echidna
See them everywhere! We spotted echidna at the Bay of Fires, Freycinet National Park and on Cradle Mountain.
Platypus
See them at – Lakes of the Central Highlands, rivers and streams on south, south-west and north-west coasts. Geeveston Circuit Platypus walk. Cradle
Mountain – Dove Lake.
Marine wildlife
Whales 
See them at – Humpback whales on the East Coast between May- July and September – November.
Southern right whales – June to late October. Many give birth in Tasmanian waters.
Fairy penguins
See them at – Penguin (obviously!) Bicheno and Bruny Island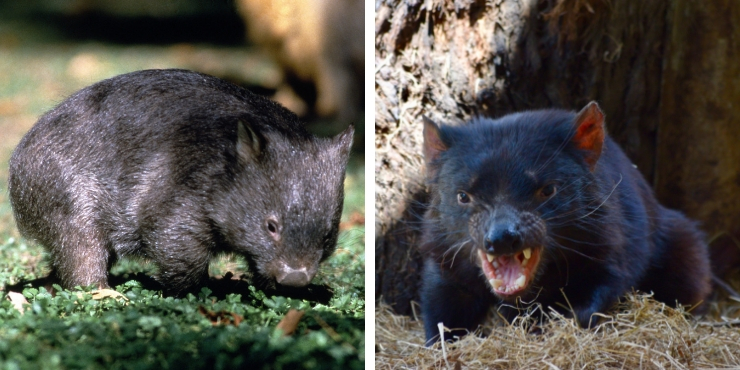 ---
TAKE A HIKE!
---
If you enjoy hiking then Tasmania will be the perfect destination. With walking tracks totalling 2000 km your main issue will be deciding which ones to do!
Top hikes include the Wineglass Bay and Hazards Beach Circuit in Freycinet National Park, hikes in Cradle Mountain-Lake St Clair National Park, the Wukalina Walk (a Tasmanian Aboriginal owned and operated walk in the Bay of Fires Region), the Three Capes Walk on the Tasman Peninsula and the Tasmanian Trail (the only long distance – 480 km – multi use trail in Tasmania.
If a shorter walk is more your thing try the Enchanted Walk on Cradle Mountain.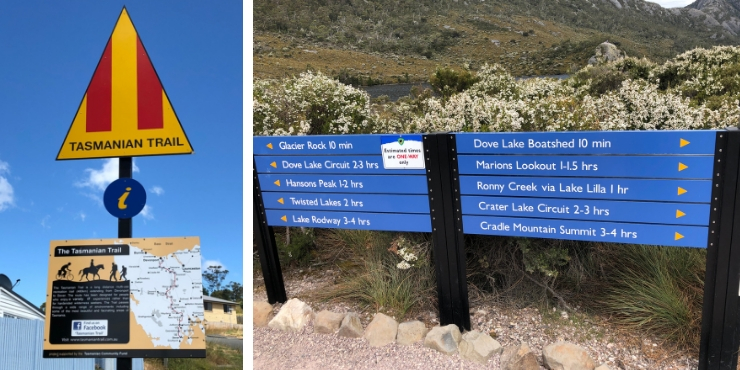 ---
PACK CAREFULLY!
---
Tasmania has a climate of four seasons and can be bitterly cold during the winter months. Even in summer the weather can change very quickly. For example the week before we arrived Cradle Mountain was averaging around 13 degrees during the day. The week we were there temperatures were in the late 20's!
It is worth taking clothes that can be layered to keep you warm but then removed as the temperature changes. If you are planning on hiking when you are in Tasmania head over to my packing list for Tasmania which lists all the recommended gear.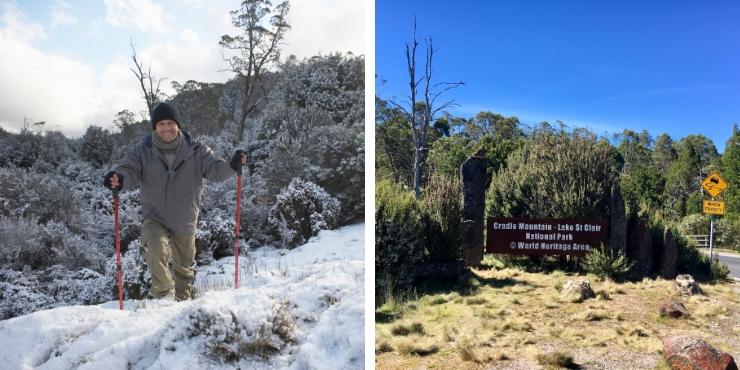 ---
DO A LITTLE HOMEWORK
---
[easyazon_link identifier="B01AXBXNW2″ locale="US" tag="tracystrav012-20″]Lonely Planet Tasmania Road Trips (Travel Guide)[/easyazon_link] [easyazon_image align="center" height="500″ identifier="B01AXBXNW2″ locale="US" src="https://images-na.ssl-images-amazon.com/images/I/51UrVfqnx2L.jpg" tag="tracystrav012-20″ width="325″] [easyazon_cta align="center" identifier="B01AXBXNW2″ key="wide-orange" locale="US" tag="tracystrav012-20″]
***
[easyazon_link identifier="B008CDRXE8″ locale="US" tag="tracystrav012-20″]A History of Tasmania[/easyazon_link] [easyazon_image align="center" height="500″ identifier="B008CDRXE8″ locale="US" src="https://images-na.ssl-images-amazon.com/images/I/515U3OEUdmL.jpg" tag="tracystrav012-20″ width="375″] [easyazon_cta align="center" identifier="B008CDRXE8″ key="wide-orange" locale="US" tag="tracystrav012-20″]
---
BOOK SOME TOURS BEFORE YOU GO
---
If there are specific things you want to do I would recommend considering booking tours before you go. Trips can be fully booked very quickly especially during the summer months. Tasmania is growing in popularity with international visitors due to its inclusion on many top destination lists for 2019.
Bruny Island
Bruny Island Wilderness Cruise
Bruny Island: Full-Day Food, Lighthouse & Sightseeing Tour
Wineglass Bay
Wineglass Bay Cruise with Lunch from Coles Bay
Wineglass Bay & Maria Island Scenic Flight Experience
Hobart
Hobart City Sightseeing Tour including MONA Ticket
Hobart: 24-Hour Hop-on Hop-off Sightseeing Bus Ticket
---
FURTHER INFORMATION FOR VISITING TASMANIA
---
I have lots of information on my blog about travel in Australia and am in the process of building up a selection of posts all about visiting Tasmania. Tasmania is one of our favourite destinations in Australia and once you have visited I can guarantee you will be planning another trip as soon as possible (I know we are!)
---
PIN – TASMANIA TRIP TIPS
---
YOU MAY ENJOY THESE POSTS TOO!
---
GAIN EXCLUSIVE ACCESS TO MY RESOURCE LIBRARY
---

---
---
This post may contain compensated links. Please read our disclaimer for additional information. As an Amazon Associate, I earn from qualifying purchases.
Over the last 50 years I have lived and worked in 7 countries on 4 continents and travelled to many more. I enjoy exploring and learning about new places and meeting people on my travels. History, reading, photography, nature and wildlife are my interests and I am ALWAYS researching and planning my next trip (preferably by train)
With a lifetime of travel experience, and a network of friends all over the world, I share genuine insider guides, recommended best book lists and train journey inspiration to help YOU travel authentically to some of the most beautiful places on earth.
Come and join me as I travel the world one country (and train journey) at a time!