This post may contain compensated links. Please read our disclosure for additional information. As an Amazon Associate, I earn from qualifying purchases.
I have lived and worked in Switzerland and visited family living there many times so it is a country I know well. Some of the first things I am asked when people realise I have lived there are
Where are the best places to visit in Switzerland? (Which are the best cities in Switzerland? The most beautiful towns to visit in Switzerland? The most picturesque places in Switzerland? etc)

What are the best things to do in Switzerland?

What is the best way to travel around Switzerland?

When is the best time to go to Switzerland?

What are the most scenic train journeys to take in Switzerland?
and finally……How can I save money when traveling in Switzerland?
In this post I will (with the help of fellow travel bloggers) look at the most beautiful towns in Switzerland (and villages too) that are worth adding into your Swiss travel itinerary.
If you are wondering about the answers to the other questions those posts are coming soon so why not sign up for my monthly newsletter? This will also give you access to my free travel resource library as well as great travel tips and useful resources to help plan your trip to Switzerland and Europe.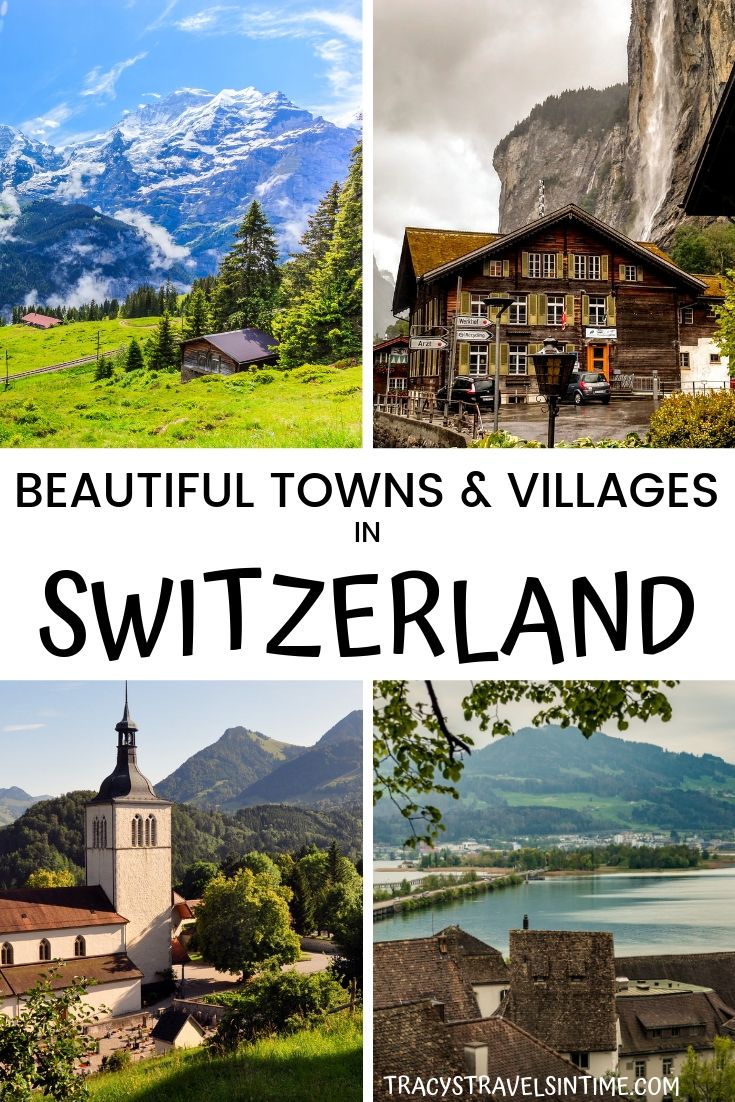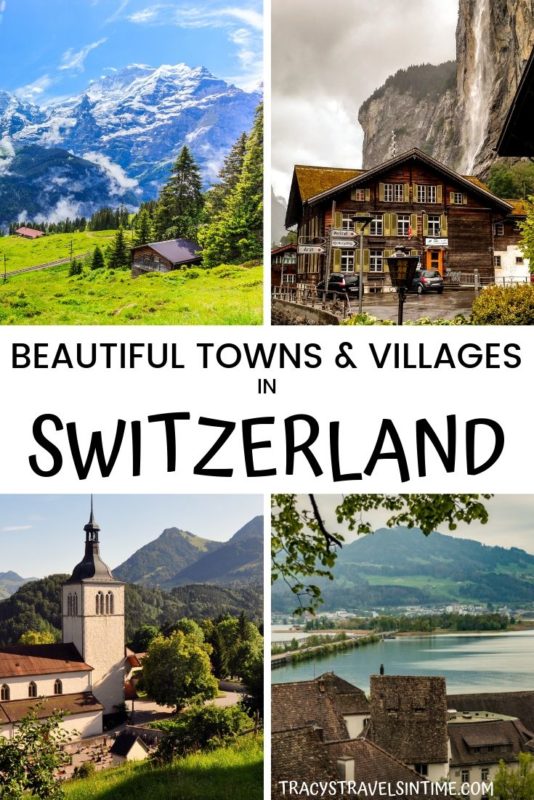 In this post you will find a selection of 15 of the most beautiful towns and villages in Switzerland to inspire you when planning your trip.
These are all fabulous places to see in Switzerland and certainly offer some of the best of Switzerland in terms of beauty and well Swissness! (Is that a word)
Choosing where to visit in Switzerland can be difficult especially with so many places in Switzerland that are just so incredibly beautiful. Alpine villages, mountains and meadows can take your breath away especially of you are enjoying a Swiss scenic train journey such as the Bernina Express.
This post will definitely provide you with inspiration!
15 most beautiful towns to visit in switzerland (and villages)
The chocolate box village of Zermatt is located deep in the Swiss Alps, close to the Italian border and stands under the shadow of the iconic Matterhorn. It has been a firm family favourite of ours for many years!
The journey to this picture postcard village is magical. No cars are allowed in the village so the only way to reach Zermatt is via the narrow-gauge and cog railway from nearby Tasch or by helicopter if you're feeling flush! The train winds its way through breathtaking scenery – around mountains, across gorges and up the valley – you'll be spoilt for choice when it comes to photo opportunities.
There is so much to do in Zermatt whether you're choosing it as a winter or a summer destination. The village is dotted with chalets, half-timbered houses, hotels, restaurants, bars and boutique shops. Those who prefer the winter wonderland ambiance will be spoilt with the skiing options (there are some 360 kms of slopes, 52 lifts, a snowpark and the option of skiing over to Italy). You can also go snowshoeing, ice-skating, sledging or hiking. We strongly recommend a trip up the Gornergrat train where you'll get an amazing view of 29 four-thousand meter peaks.
In the summer time, nature lovers will be in their element with the clean air, crystal-clear lakes, fauna, flora and the many walking trails on offer. And if taking to the slopes is your thing, you'll be pleased to hear that year-round skiing is possible at the Matterhorn glacier paradise (3,883m – the highest station accessible by cablecar in Europe). Zermatt should definitely feature on your Swiss itinerary!
BY – THE LITTLE DEN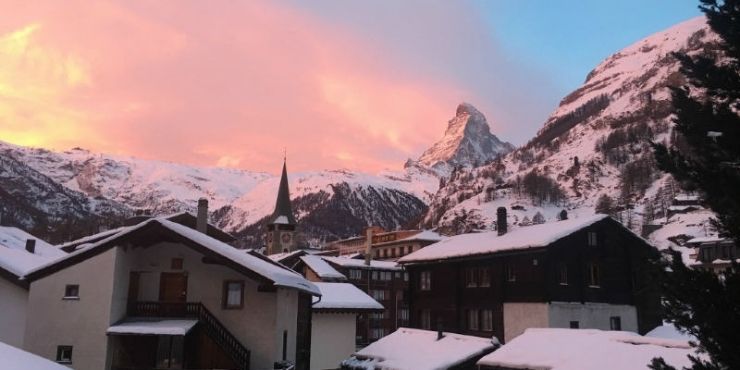 The town of Gstaad has long been a favourite amongst the rich and famous thanks to its spa and wellness facilities, gourmet dining, stylish accommodation (there are four 5* hotels in the town) and world class events but it offers something for everyone.
Located in the Berner Oberland region, Gstaad is surrounded by lush pastures, towering mountain peaks and charming alpine villages and makes a great place to visit on your Switzerland holiday.
Gstaad's main street is the pedestrian-only Promenade, lined with traditional-style chalets that now house hotels, restaurants and shops – amongst them designer brands like Gucci, Rolex and Louis Vuitton. Flower boxes brimming with colourful blooms add to the charm in summer.
The surrounding countryside and its outdoor pursuits are what attract many to Gstaad. The picture-perfect landscape offers plenty of options for hiking and biking in summer and with so many mountains close by, naturally skiing is a popular winter activity.
Alpine traditions are still pursued by many locals and you can see first-hand the cheesemakers at work, taste fondue and browse local handcrafts like paper cutting whilst in Gstaad.
Glacier 3000, the nearby mountain resort, makes a great day trip from Gstaad. Here visitors can enjoy the Alpine Coaster toboggan run, walk across the Peak Walk suspension bridge, try dog sledding and much more. The cable car station can be reached from Gstaad by local bus or car.
The best reason to visit Gstaad, though, is to breathe in the crisp mountain air and appreciate the stunning alpine vistas that greet you at every turn. A day or two in Gstaad is sure to invigorate your soul.
BY – HOLIDAYS TO EUROPE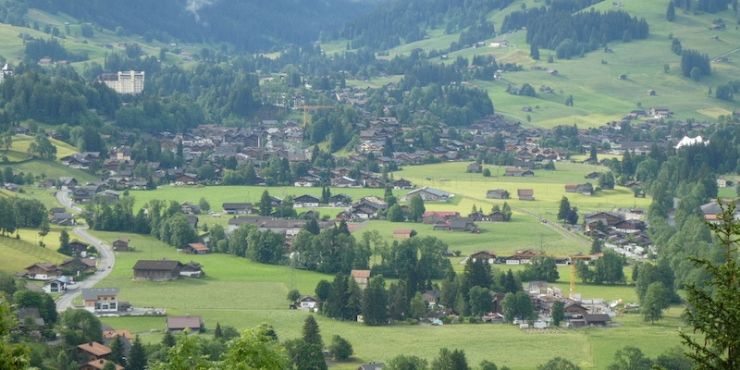 A quick ride on a classic yellow tram will take you from the well-connected University city of Neuchâtel to the villages of Boudry and Cortaillod in Switzerland. Both little villages offer a wealth of things to do – and some of the most magnificent views over Lake Neuchâtel.
Boudry, aside from simply being a charming village to walk through, is home to the trailhead for hiking the Gorge D'Areuse. Starting in Boudry isn't the most recommended way as this has you hiking up into the mountain rather than down, but whether you start or end in Boudry, the hike is gorgeous and well worth a few hours or a full day of your time in Switzerland.
This part of Switzerland, in the French-speaking Suisse-Romande, is green and lush. The mountains of the Jura are much lower than the Alps, although on a clear day you can see snow-covered Alpine peaks across the lake.
Boudry also boasts a wonderful museum of wine and winemaking – in an old historic castle atop the hill! The museum itself is small but genuinely informative, and naturally, you get to taste Swiss wine from the region at the end! Both Boudry and Cortaillod are villages whose hearts are winemaking, and you'll forever be passing terraced vineyards with their bright, blooming rose bushing at the end of each row of vines.
Cortaillod, just a quick bike ride or walk away (this whole area is connected well by walking trails), mainly boasts a lovely harbor and "beach" (re: rocky shore) where, on a sunny day, scores of families will be out enjoying. Lake many Swiss lakes, the water is cold and crisp, and sitting on a bench at the Cortaillod harbor is a favorite way to watch the sunset over the other side of Lake Neuchâtel.
READ MORE – SACRED WANDERINGS
Rapperswil on Lake Zurich is my choice for one of the most beautiful towns in Switzerland. Known as the town of roses because of its spectacular displays in public area and parks.
Head to the Old Town and wander the narrow streets. You won't miss the old castle which looks out over Lake Zurich. Catch a boat to Zurich from Rapperswil or walk along the wooden bridge that runs along the dam road. It is the longest wooden bridge in Switzerland and a stroll across to Pfaffikon takes approximately one hour.
I highly recommend having a meal at the Restaurant Quellenhof which is located half way along the bridge between Rapperswil and Pfaffikon. Try the traditional Swiss dish of Zurich geschnetzel and enjoy views of the lake and surrounding mountains.
If you have an appreciation for Swiss chocolate the Lindt factory outlet in Neighbouring Altendorf is a must visit!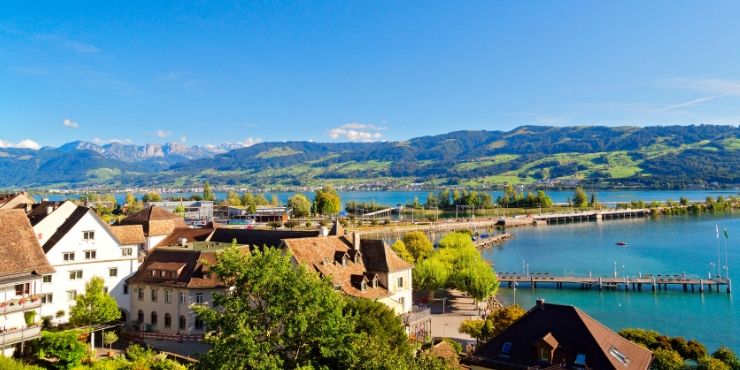 Thun is one of the most beautiful towns (cities) in Switzerland and this is mostly because of the old town.
Thun is located at the shores of stunning Lake Thun and the historic Old Town is beautiful and charming and about one kilometer from the shores- and though it is small it is a wonderful place to get lost and spend a day or two.
One of the highlights in the old town is Thun Castle – located in the center of the Old Town that dates back to the 12th century. Located on a hill the castle is probably one of the first things you will spot from far away. But no worries: it just takes a few minutes to walk up – for an entry fee you can visit the castle (that also houses a museum) and you will have an amazing view of Thun and the Aare River.
There is also the Town Hall Square is the historic center with the town hall which was built in 1500 but there are some more beautiful buildings around – like the Hotel Rathaus dating from the 14th century, or two former guild houses (now the Hotel Metzgern and Hotel Krone).
Before taking a break at one of the numerous cafes and restaurants and the Aare River, make sure to stroll the streets and get lost – because the old town of Thun is surely worth it.
READ MORE – ARZO TRAVELS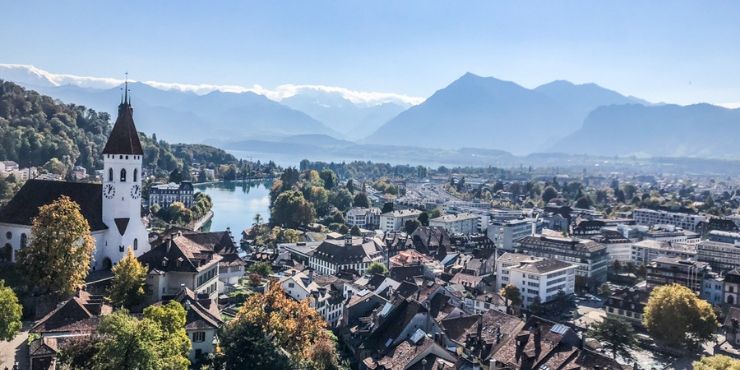 Stein am Rhein in the canton of Schaffhausen is probably the best preserved medieval old town in Switzerland. With a castle watching over it and the Rhine River flowing past where it leaves Lake Constance, it's truly a picture-perfect town.
Unique timber architecture combined with beautifully painted facades is what makes Stein am Rhein worth visiting. The Association for the Protection of Swiss Heritage has noted that so many outstanding buildings in such a small space are not only rare in Switzerland but the whole of Europe.
Taking a self-guided tour through Stein am Rhein takes only a few hours. However, it will feel as if you step back in time after entering through one of the old town gates. The cobbled lanes ultimately lead you to the Rathausplatz (town hall square) where the best of Stein am Rhein is on display.
Apart from the beautiful town hall, you'll see the oldest preserved Renaissance mural on the façade of a building called the Weisser Adler. Beyond the Rathausplatz it's worth stopping by St Peter's Abbey. Even if you don't go inside, spend some time in the courtyard at the entrance where a secret door leads you right onto the Rhine.
A good ending to a tour of Stein am Rhein is to stand on the Rhine Bridge for a different view of the town. Then walk along the water's edge and take some time to process it all over a drink at one of the waterside restaurants while watching boats pass by.
Stein am Rhein is easily reached by train from Zurich. There's also lots of parking for those arriving by car. Alternatively, you can join an organized tour from Zurich which also stops at the Rhine Falls.
BY – TRAVEL TYROL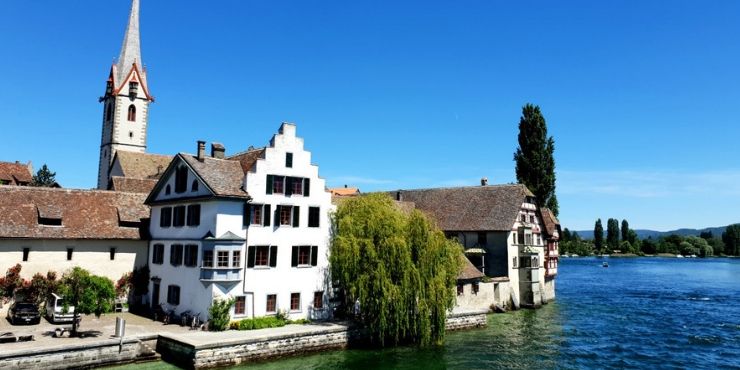 Appenzell is a quaint town in the Canton of Appenzell Innerrhoden in northeastern Switzerland. Home to only 7,000 residents, Appenzell is small, but shouldn't be overlooked. The pedestrian-free town center is a pleasure to walk around.
Colorfully painted frescoes decorate the facades of buildings. Carved gabled houses signal that the Altstadt could be the backdrop of a real-life fairytale. Make sure to check out the Hauptgasse (main street) and Landsgemeindeplatz (town square). The expansive Landsgemeindeplatz is the annual setting of the local parliament. All cantonal elections are publicly debated at the square and voting is exercised by a public show of hands.
More than anything Appenzell is a place of tradition and rural customs. From their unique costumes to their cheesemaking process, locals honor their history and culture. If you can time your visit with a folk festival, you won't regret it. Cattle descents, New Year's Mummers and Carnival would all make for great experiences.
Because Appenzell is situated at the foot of the Alpstein mountain range, walking and hiking is a must-do while you're here. The Alpstein landscapes are as fairy-tale-like as the town's historic center. Use this Appenzell travel guide to plan your visit and find out where to hike.
BY – MOON & HONEY TRAVEL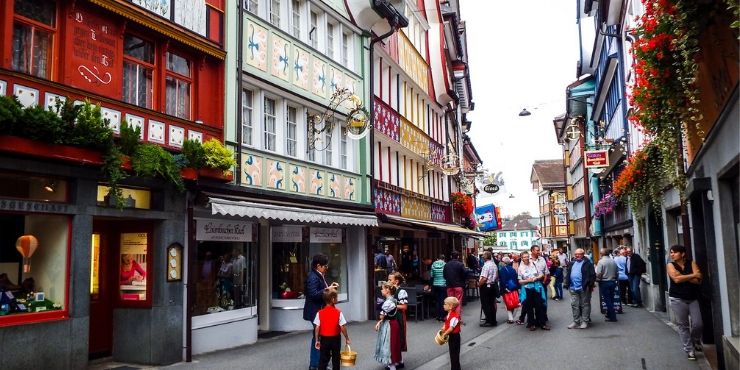 Epesse is one of the villages in the middle of the stunning Lavaux vineyards, one of the main wine regions in Switzerland. The UNESCO Heritage Lavaux vineyards is a must visit place when visiting Lausanne. You can hike, cycle or e-bike through the vineyards and enjoy the breath taking views of those wine terraces.
Wine lovers should stop at Epesse, one of the main wine villages in the region. Many of the vineyards offer wine tastings here. You must taste the uniquely Swiss white wine made with Chasselas grapes.
Visit the Au Clos De Republique, one of the oldest family businesses in Epesse. Enjoy a meal with matching wines on their sun terrace, which has magnificent views of the vineyards and Lake Geneva. They offer guided tours of their cellars where you can taste a selection of wines that they make.
READ MORE – EAT COOK EXPLORE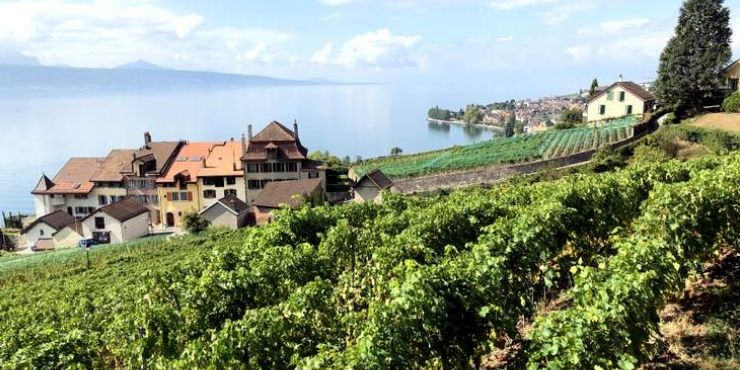 The beautiful small village of Bettmeralp must be one of the most beautiful villages in Switzerland. The peaceful car-free village lies in a perfect location, nearly 2,000 metres up a mountain in the Valais canton near the town of Brig and can only be reached by cable car.
The picture-perfect village comprises of quiet lanes lined by wooden chalets, several shops and two small churches. The village has a fantastic indoor heated pool and gym which all visitors are allowed to use. In addition, just a one minute walk from the village is the pretty swimmable Lake Bettmersee.
Hikers are spoilt for choice in Bettmeralp as there are stunning, scenic walks in every direction. Stroll through a tranquil dense forest or choose a thrilling hike hugging the side of the mountain.
Anyone visiting Bettmeralp should not miss one of the uphill hikes to the top of the ridge above the village to see the Aletsch Glacier in the valley beyond. The Aletsch Glacier is the largest glacier in the Alps at over 14 miles long and 900 metres deep at its deepest point. It is a breathtaking sight which can also be visited by cable car if an uphill hike is not your activity of choice!
READ MORE – MAP MADE MEMORIES
Backdropped by the Swiss Alps, Montreux is a stunning town on the shores of Lake Geneva. Famous for its summer jazz festival, Montreux was the inspiration behind Deep Purple's iconic hit Smoke on the Water, and that's not its only musical connection. Freddie Mercury lived here for years, and today a bronze statue of the singer is a much-loved attraction on the 'Vaud Riviera.'
One of the best activities in Montreux is to stroll the Lakeside Promenade to nearby Vevey. This flower-lined walk stretches out for several kilometres, and will take you to the picturesque Chillon Castle, its atmospheric dungeon known for Lord Byron's poem The Prisoner of Chillon. The poem was written about François Bonivard, a political prisoner who, in the 16th century, was locked up here for years. On one of the columns in this arched subterranean chamber, you can see where Byron carved his name.
Another popular attraction in the area is the interactive Chaplin's World, just north of Vevey. This fun and extensive museum is dedicated to Charlie Chaplin, another celebrity who made this region his home. Set in his former estate, with plenty of memorabilia, recreated Hollywood sets, a theatre, wax figures and café, Chaplin's World took more to 15 years to create and opened in 2016.
BY – WANDERING CAROL
I spent two weeks hiking along the Haute Route from Chamonix to Zermatt and each night stayed in a new village in the Swiss Alps. Each little village was breathtaking, but my favorite village by far was Grimentz. It had just the right amount of activity without feeling super crowded with tourists.
Grimentz is a medieval village that has retained a lot of historic charm, yet has a modern ski resort as well. The main area of town is pedestrianized, so you can wander freely without worries of traffic in town.
My favorite part of my time in Grimentz is taking a trip up to Lac de Moiry. I took more photos on that day than any other day on my trip. The glacial water is the most amazing color of blue, and even the dam is quite impressive.
You can take the PostBus from Grimentz up to the Lake, where there is a small snack shop near the dam. From there, I opted to hike along the lake to the Moiry Glacier. There's even a mountain hut near the glacier, so you can spend the night in an alpine hut, which is a quintessential Swiss Alps experience!
I had a half-board option at the Hôtel-Restaurant de Moiry, a lovely guest house with good food in a great location.
BY – CAMPFIRES AND CONCIERGES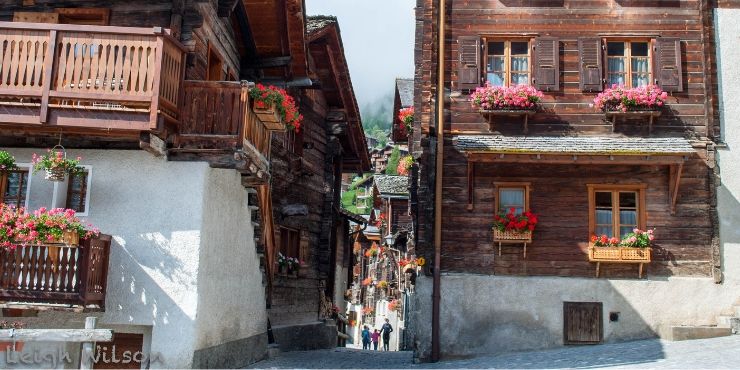 Interlaken is one of the central parts of Switzerland's tourism: Tourists from all over the world travel to Interlaken, as it is the perfect Swiss town to explore the beauty of the Bernese Highlands (Berner Oberland). There are a lot of things to do in Interlaken, no matter if during Summer or Winter.
While the surroundings of Interlaken make the place special, with some of the most beautiful mountains you can find in all of Europe, if not the world – there are also plenty of interesting places and activities in the town itself.
One of my favorite places in Interlaken is the Harder Kulm, which locals call their "Hausberg" (home mountain). It is easily accessible by a funicular, yet, it is also possible to hike up to the Harder Kulm. From there, you can enjoy a brilliant view over the town, the Aare River, the two lakes (Brienz & Thun) and the Swiss Alps. And believe, this is just fantastic!
If you visit Interlaken in Summer, I highly suggest you to swim in one of the lakes or even the river, as it is so much fun and even better: for free. It is also possible to rent stand-up paddles and other water sports equipment.
Another highlight in Interlaken is the possibility to try Paragliding, where you will be able to enjoy some breathtaking views.
If you stay in Interlaken, you will also want to explore some of the nearby areas such as Lauterbrunnen, Wengen, Brienzerhorn and many more! It is a lovely place to be based during your Switzerland trip.
BY – MSCGERBER.COM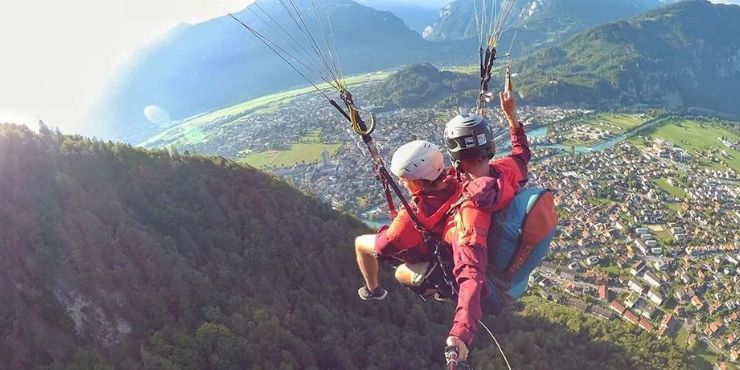 Guyeres is a one of Switzerland's most beautiful medieval villages. It is a beautiful walled town, small in size and set in a truly picturesque setting in the in the Fribourg canton of Switzerland. You can easily reach Gruyeres on a day-trip from Geneva.
Most people know that the town of Gruyeres is associated with the well-known Gruyere cheese. So it is no surprise that you will find a Cheese Factory (La Maison du Gruyères) where you can learn more about the cheeses from this region. You can also try out some of the local cheese gourmet dishes, such as Fondue and Raclette (although do be prepared for some prepared high prices).
Apart from cheese, this village also boasts several adorable boutique shops where you can buy local village crafts, unique souvenirs or speciality dishes.
You can explore the medieval castle of Gruyeres, visit a Tibetan museum or if you are a fan of the Alien movies, you will also get a kick out of visiting the HR Giger Museum.
Gruyeres is a gorgeous town with cobblestone lanes to explore. It is small in size, so you don't really need much more than ½ a day here.
READ MORE – WANDERLUST STORYTELLERS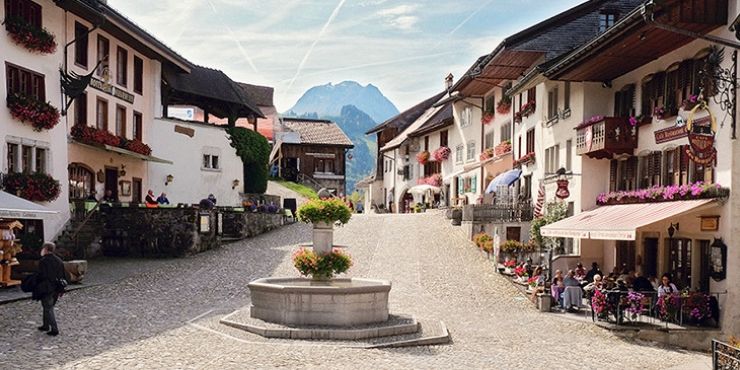 If you're a Lord of the Rings fan, you're in for a treat. Lauterbrunnen – a valley known for its 72 waterfalls and views of the region's highest peaks – was Tolkein's original inspiration for the magical Elvish community of Rivendell.
Even if you're not a Tolkein fan, though, it's hard to pass up Lauterbrunnen. The town is a small collection of Swiss chalets – many converted into small, charming hotels – a classic steepled church, and a handful of cafes, hostels, and campsites. Pretty much everything here comes with a view of at least one waterfall. You'll count five just sitting on the patio at Airtime Café. More if you choose to grab a beer at the Horner Pub.
While you're there, take a walk through the valley to nearby Stechelberg and make sure to look up often. There are several places between the two towns where BASE jumpers and paragliders fly off the cliffs and descend into the valley in wingsuits and hanging from parachutes.
Halfway between the two towns, a path leads to the left to the famous Trummelbach Falls – a roaring waterfall inside the mountain. You can pay to go into the mountain and watch the falls crash around corners before continuing onto Stechelberg on the valley floor path.
And for those looking for a more challenging hike? The route from Lauterbrunnen to Grütschalp to Mürren is a short, steep, marvelous trek through the woods and the route from Mürren to Schilthorn is a challenging collection of precarious ridges and hillsides full of sheep. Both require good footwear, plenty of water, and some hiking savvy.
READ MORE – VICIOUSFOODIE.COM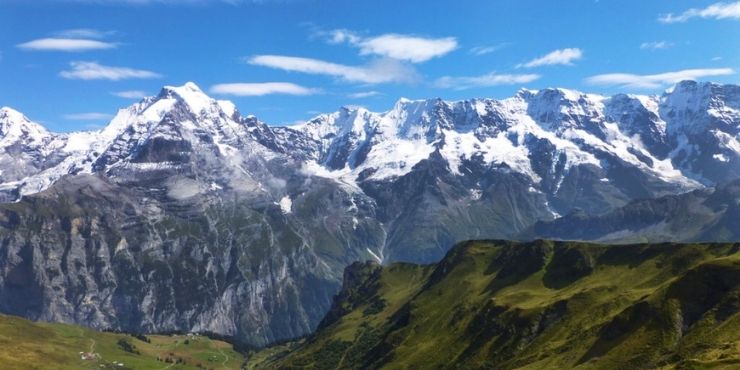 The beautiful car-free village of Mürren sits on the edge of a cliff in Switzerland's Bernese Oberland. While many visit the region and choose to stay at the lower elevations such as Lauterbrunnen and Interlaken, they have no idea of the experience they're missing.
While small in size, Mürren has an array of incredible activities and amazing views. Mürren is accessible by train or cable car from Lauterbrunnen giving it a uniquely Swiss arrival experience.
As you wander the main street, enjoy the fresh crisp air and the beautiful chalets brimming with fresh window flower boxes. The whole family can take a short funicular to Allmendhubel and wander the North Face Trail back to Mürren, side stepping lovely wildflowers and friendly cows along the way.
The rustic village of Gimmelwald can be reached in just a few minutes by cable car and if you're looking for more scenic views, hop on a nearby cable car to the Schilthorn which provides amazing views of the Jungfrau, Mönch and Eiger peaks.
In the evening, enjoy a fabulous meal on a flower filled terrace overlooking the mountain vistas or take in a summer folklore evening to experience Swiss culture, music and costumes.
Truly, the mountain village of Mürren is one of the most beautiful villages in Switzerland and remains one of our favourite places to visit in Switzerland.
READ MORE – SUNSET AND ROLLERCOASTERS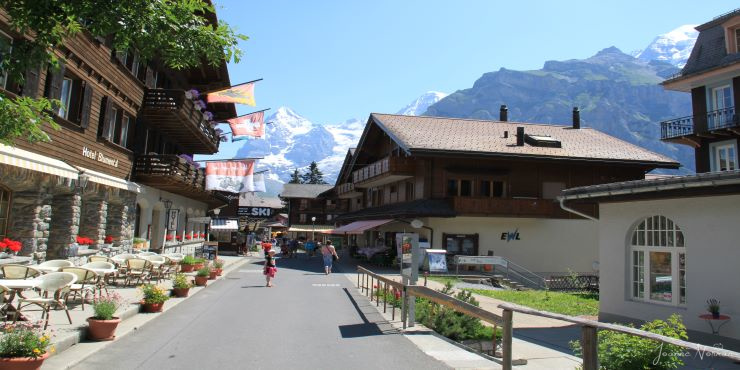 I hope you now have an idea of where to go in Switzerland for the most beautiful towns and villages. The cities are pretty spectacular too – read all about the city of Lucerne in my guide which includes suggested itineraries as well as things to do and see in Lucerne.
Deciding what to see in Switzerland will depend on your priorities but I would also recommend visiting some of the beautiful Swiss mountains and lakes as well as some of the cities in Switzerland. Plan your itinerary via rail and add in some scenic Swiss rail trips too.
If you enjoy reading my recommended books about Switzerland is also an excellent starting point when planning your trip.
Please feel free to ask any questions you may have about living or traveling in Switzerland in the comment section at the bottom of the page! Happy travels.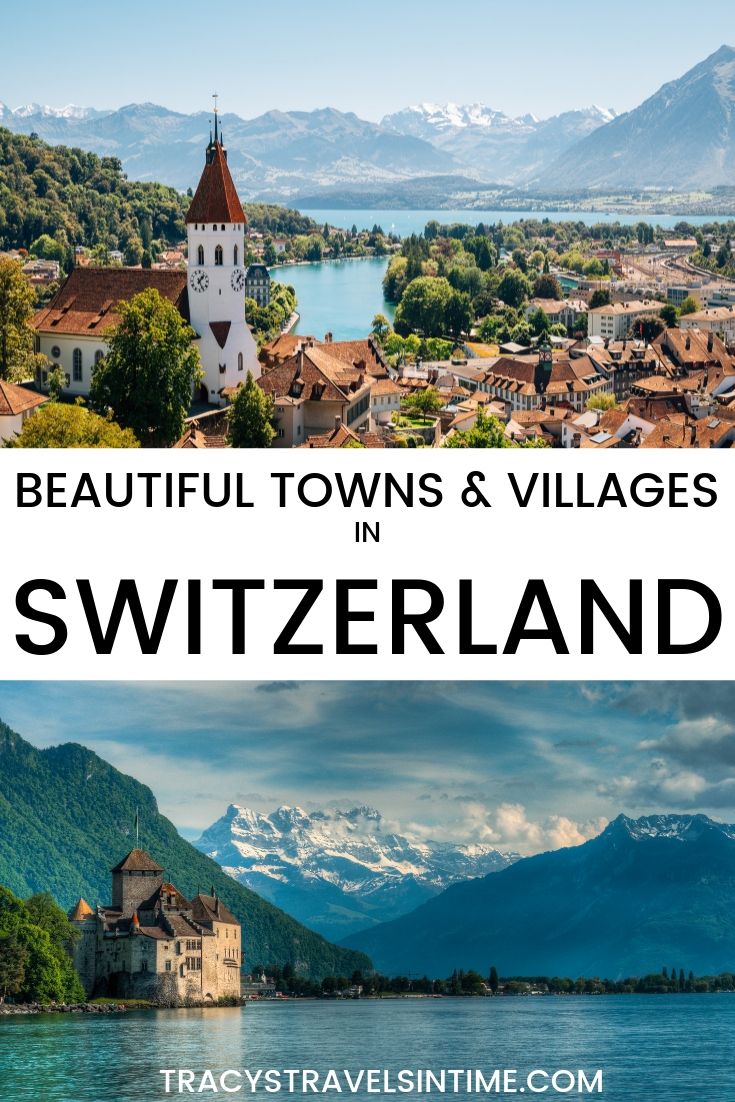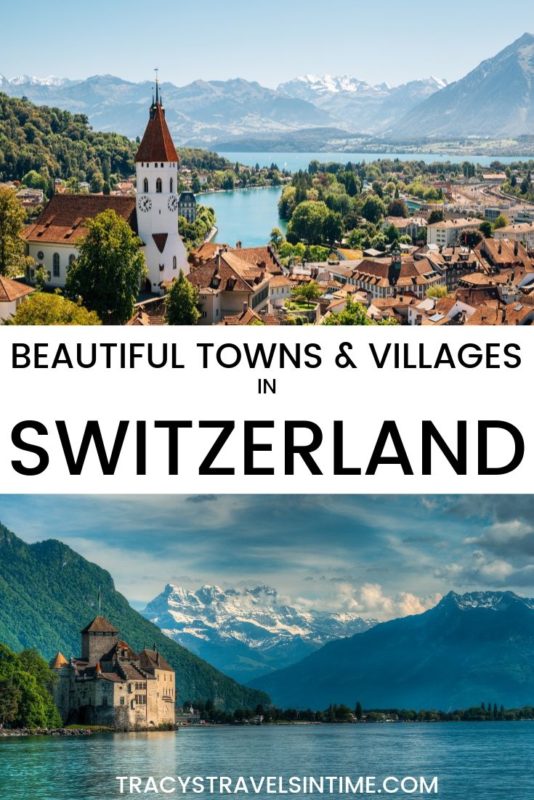 MAP OF SWITZERLAND WITH LOCATIONS OF TOWNS AND VILLAGES MENTIONED IN THIS POST
YOU MAY ENJOY THESE POSTS ABOUT TRAVEL IN SWITZERLAND
MORE ARTICLES ABOUT TRAVEL IN SWITZERLAND
This post may contain compensated links. Please read our disclosure for additional information. As an Amazon Associate, I earn from qualifying purchases.
Over the last 50 years I have lived and worked in 7 countries on 4 continents and travelled to many more. I enjoy exploring and learning about new places and meeting people on my travels. History, reading, photography, nature and wildlife are my interests and I am ALWAYS researching and planning my next trip (preferably by train)
With a lifetime of travel experience, and a network of friends all over the world, I share genuine insider guides, recommended best book lists and train journey inspiration to help YOU travel authentically to some of the most beautiful places on earth.
Come and join me as I travel the world one country (and train journey) at a time!