From the Alpine mountain restaurants to the pretty lakeside cafes of Switzerland you will discover delicious Swiss food to enjoy. This article introduces 10 of the best traditional Swiss foods to look out for during your visit.
Do you enjoy sampling local cuisine when you travel? If so you will be pleased to know that there are some delicious traditional Swiss foods you have to try when visiting Switzerland.
Swiss food is heavily influenced by German, French and Italian cuisines with cheese and potatoes featuring in many of these dishes. The cultural variations you will discover in Switzerland are also reflected in the foods with particular recipes taking on a regional flavour. You may be able to guess by the names which foods originate from the French or German speaking parts of Switzerland!
In this article, you will discover the best of Swiss cuisine chosen by me (I lived in both the German-speaking part of Switzerland and opposite the French-speaking side on Lake Geneva) and a number of other travel bloggers.
Familiarise yourself with these Swiss dishes before you go (why not buy a Swiss cookbook and try some at home) and be sure to sample some of these during your visit.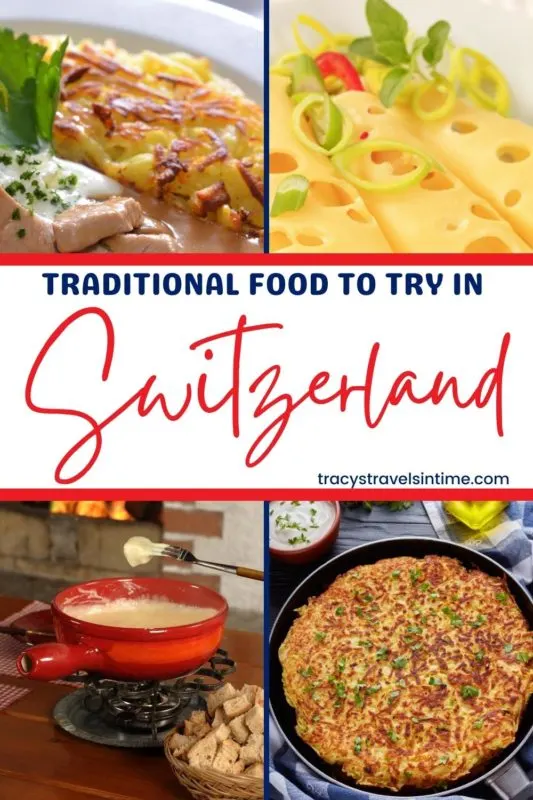 10 traditional Swiss foods to enjoy in Switzerland
Zurcher geschnetzeltes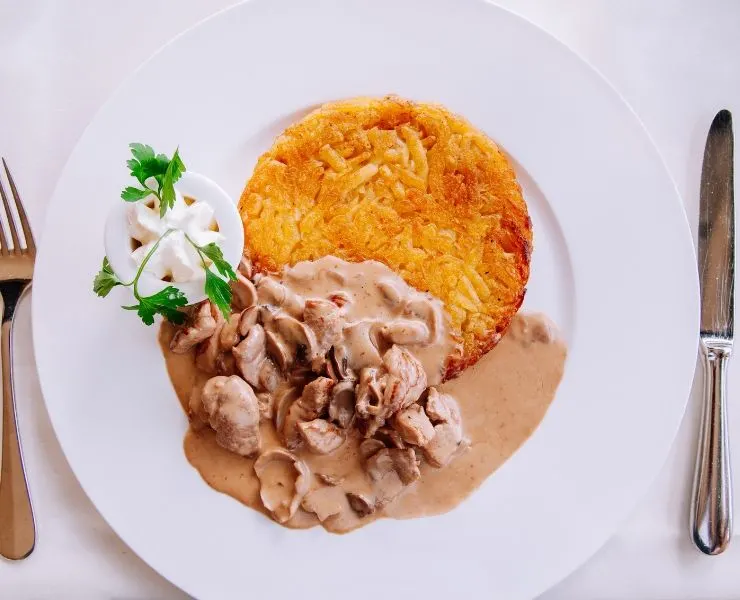 Eaten by Carolyn of Holidays to Switzerland
No visit to Zurich is complete – for meat eaters – without enjoying a meal of the local specialty, Zurcher geschnetzeltes.
The dish consists of thinly sliced, pan fried veal topped with a creamy white wine sauce. Sliced mushrooms are sometimes added to the cream sauce, and potatoes, especially in the form of rosti, are a popular accompaniment to the dish.
Locals particularly enjoy the meal on Sechseläuten, the city's annual Spring holiday, but it can be eaten all year round at many of Zurich's restaurants.
The origins of the dish, which is known in Swiss German as Züri Gschnätzlets, are unknown but it was first mentioned in a Swiss cookbook in 1947.
Regardless of its history, the dish is one of the most popular on Zurich's menus and enjoying a leisurely meal of Züri Gschnätzlets is one of the best things to do in Zurich.
Swiss Cheeses – Emantaler, Gruyere & Appenzellar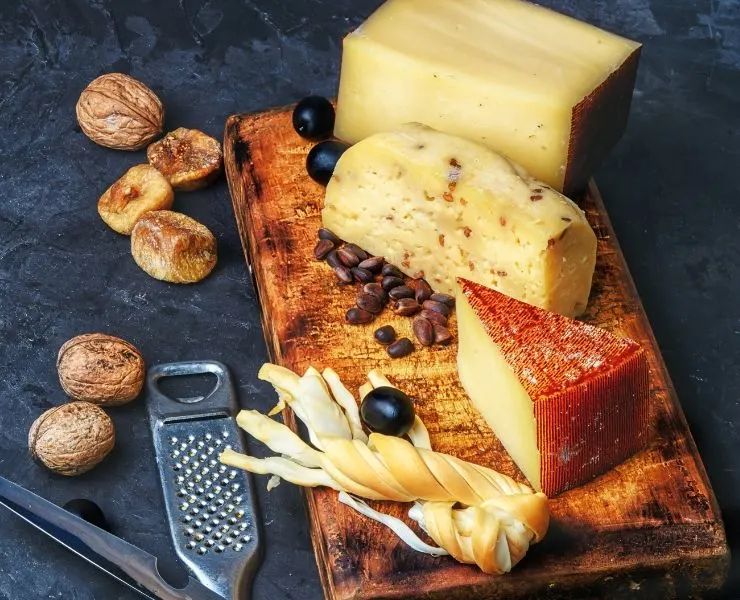 Eaten by By Whitney of Designs For Travel
One of the best foods to eat in Switzerland are it's delicious cheeses of which Emmental, Gruyere and Appenzeller are some of the best known.
Emmental (from the town of the same name near the capital city of Bern) is a savoury medium-hard yellow cheese.
Gruyere (named after the quaint town where it originates) is also a hard yellow cheese. Why not take an interesting tour of a Gruyere cheese factory and learn about the cheese-making process (and enjoy some samples along the way!)
Appenzeller is another delicious hard cheese from the Appenzeller region in the northeast of Switzerland. This 700-year-old recipe is only produced by a handful of small dairies in the town. Learn more about cheese and tours in this fun Switzerland Itinerary.
Rösti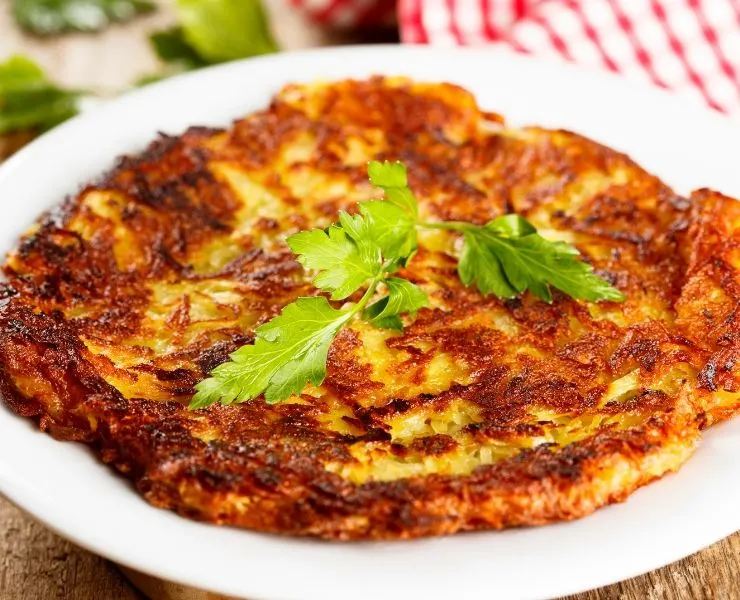 Eaten by Kelsey of Sights Better Seen
Rösti is a classic, iconic Swiss dish (the unofficial national dish of Switzerland perhaps) that consists of a base of grated potatoes fried into a circle.
Rösti can be topped with anything you like including cheese, onions, mushrooms, and corn.
The dish originated in the German-speaking region and was a breakfast meal commonly eaten by farmers. It was so popular in the German-speaking region that it was even considered the dividing line between that and the French and Italian-speaking areas.
You definitely shouldn't miss sampling this dish when in Switzerland! Eating Rösti with a view of the Swiss Alps (as we experienced on a day trip to Mürren) made for an incredibly memorable experience.
Fondue
Fondue has become a somewhat generalized term for foods dipped into melted foods, but the original fondue is the Swiss cheese fondue which is a communal melted cheese hot pot heated over a portable stove.
Traditionally it would use gruyere cheese, mixed with wine, and will be eaten with boiled potatoes and dipping bread.
Fondue is also considered a National Dish of Switzerland and it is still popular in the resort towns of the Swiss Alps, only as a communal food, it can be tricky to track down as a meal for one.
People often opt instead for a solo serving of 'raclette' instead. Fondue is mostly associated with keeping warm in the harsher climates of the Swiss Alps, but its origins are more extravagant as they trace back to the wealthy lowlands of western Switzerland.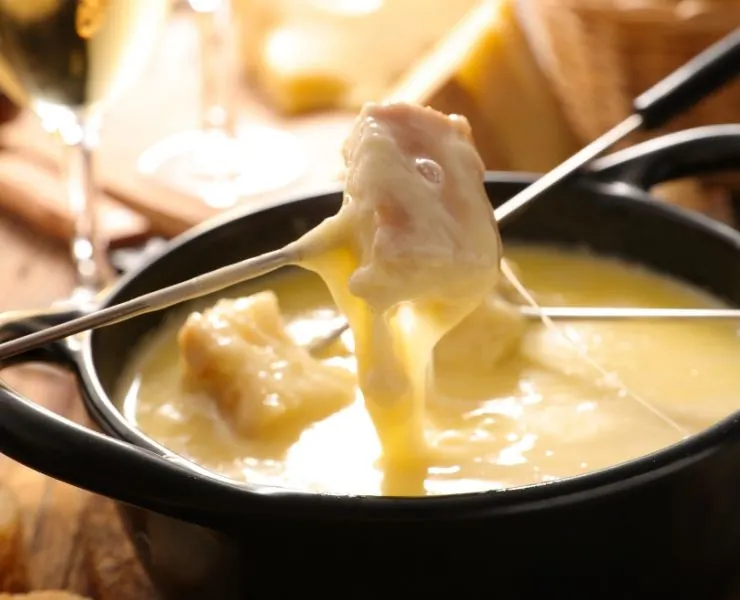 Eaten by Allan of It's Sometimes Sunny in Bangor
Zopf
Traditionally eaten on Sunday mornings all over Switzerland this plaited bread is made from white flour, eggs, butter, milk and yeast.
The bread is brushed with egg or milk which gives it a golden crust.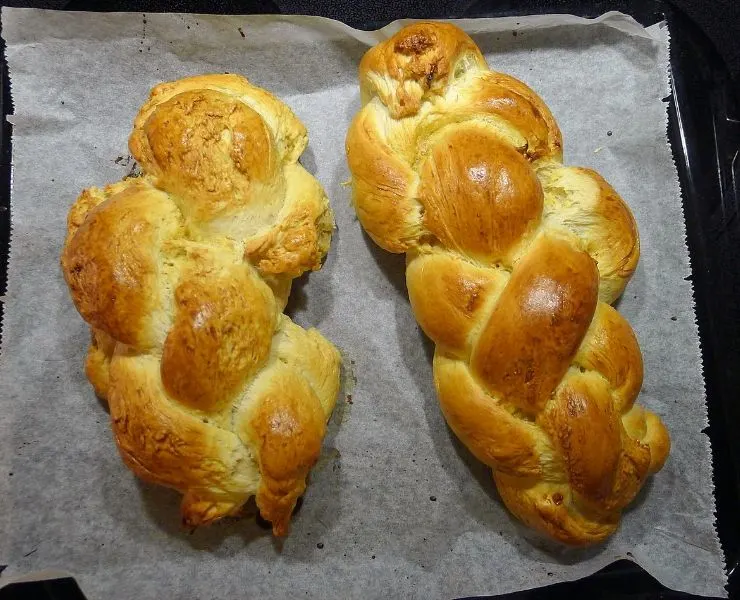 Raclette
Raclette is a traditional Swiss food and not to be missed when you are in the country.
Raclette is a type of semi-hard cheese that originates in the Alpine regions of the Valais and Fribourg cantons. It is very popular in Geneva.
Slices of the cheese are heated and once melted are typically served with small potatoes in their skin "Gschwellti", pickled gherkins and vegetables.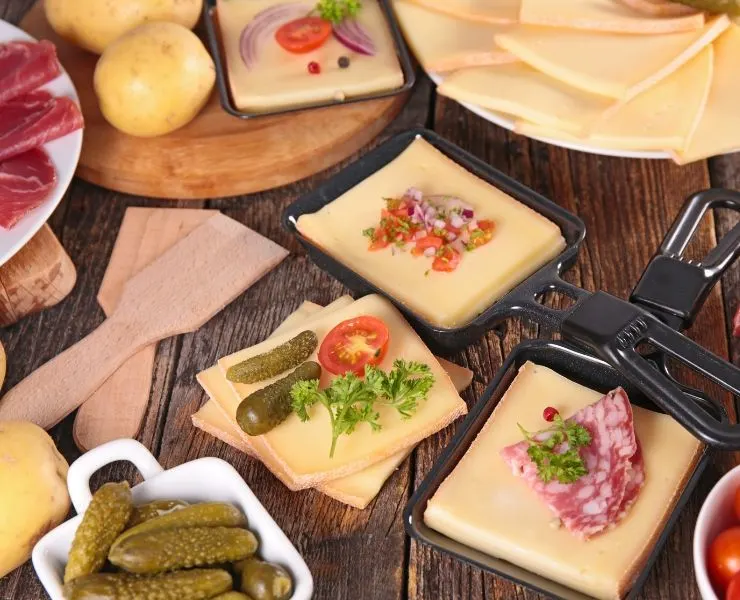 Eaten by Dymphe of dymabroad.com
Swiss Chocolate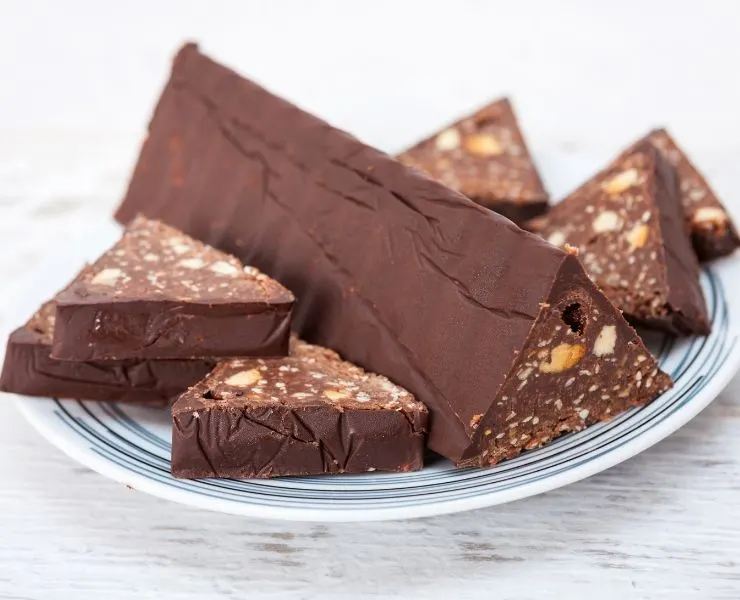 You really can't visit Switzerland without sampling one of its most famous products – chocolate!
My favourite Swiss chocolate shop? Sprungli! Pop in and buy some of their famous ladybug chocolates. They symbolise good luck and are a popular gift in Switzerland.
I recommend visiting the Lindt Chocolate Museum and Factory Outlet at Kilchberg on the shores of Lake Zurich. Be prepared to sample lots of chocolate and buy even more!
Älplermagronen
One of the tastiest Swiss dishes is Alpine macaroni (or as it is better known – Älplermagronen)
This dish incorporates macaroni, cheese, onions, cream, ham and potatoes. It was created in the 1930s to feed the herdsmen looking after the cows in the mountains.
There are many variations of this dish but most must include a side dish of stewed apple!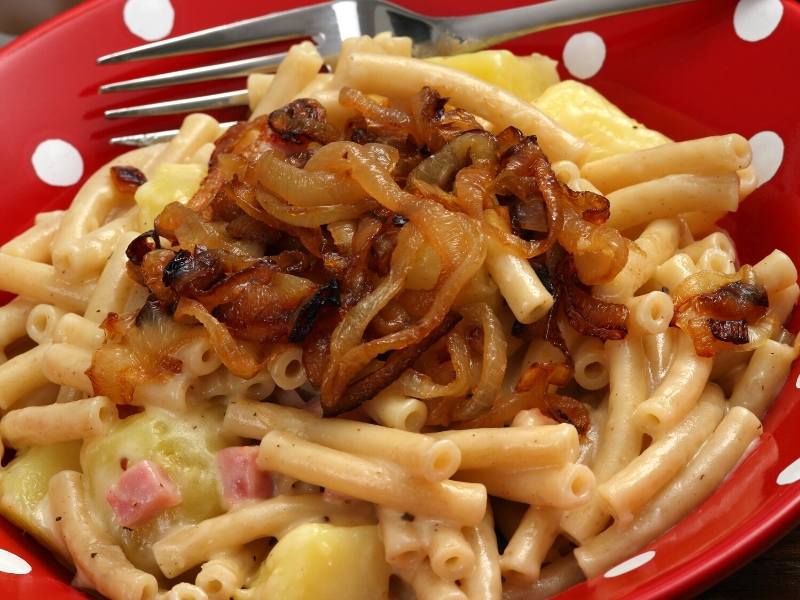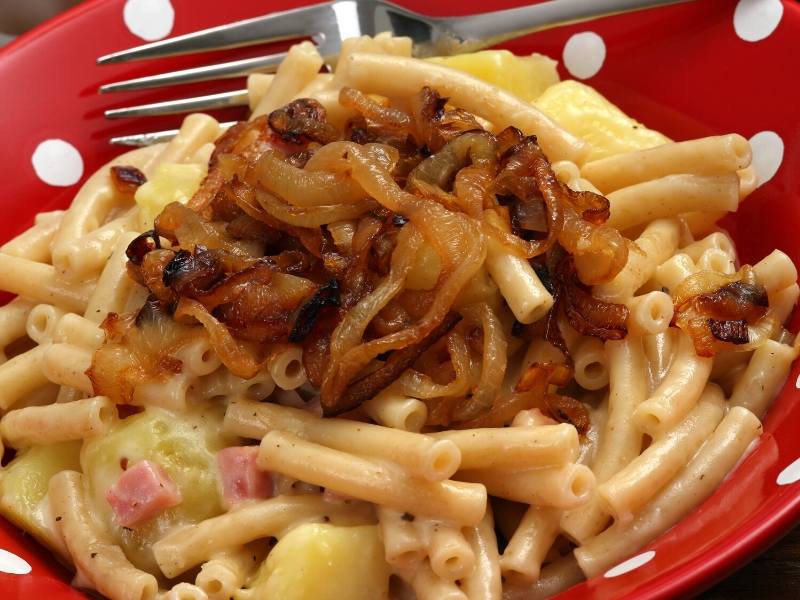 Berner Platte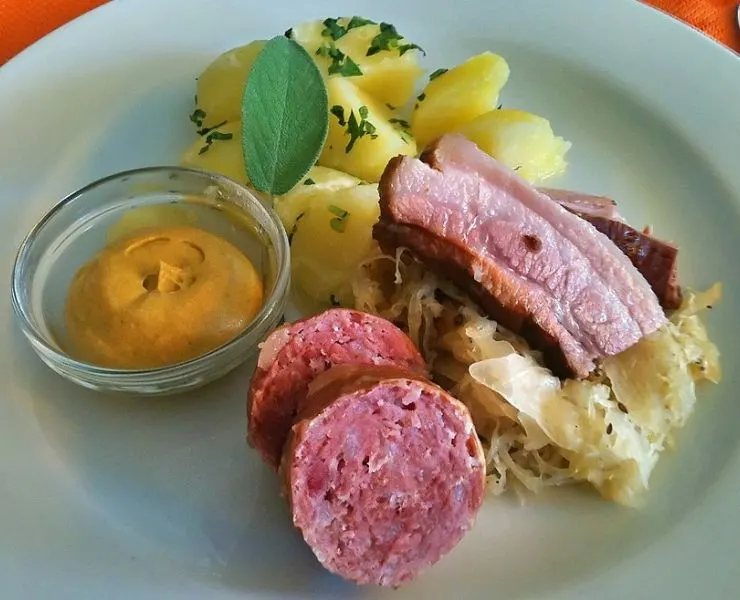 Originating in Bern (the Swiss capital city) this dish is not to be missed if you are visiting the region.
Incorporating potatoes and various types of meat (smoked pork and beef) and sausages with sauerkraut, pickled turnips and green beans this dish is served on a large plate.
Each of the foods is prepared separately and served together in this traditional Swiss meal.
Bircher Muesli
Birchermüesli was created in the early 1900s by the Swiss doctor Maximilian Oskar Bircher-Brenner.
The dish consists of oat flakes which are mixed with milk, yoghurt, grated apple, hazelnuts and almonds.
The ingredients are then left in a fridge overnight and served for breakfast.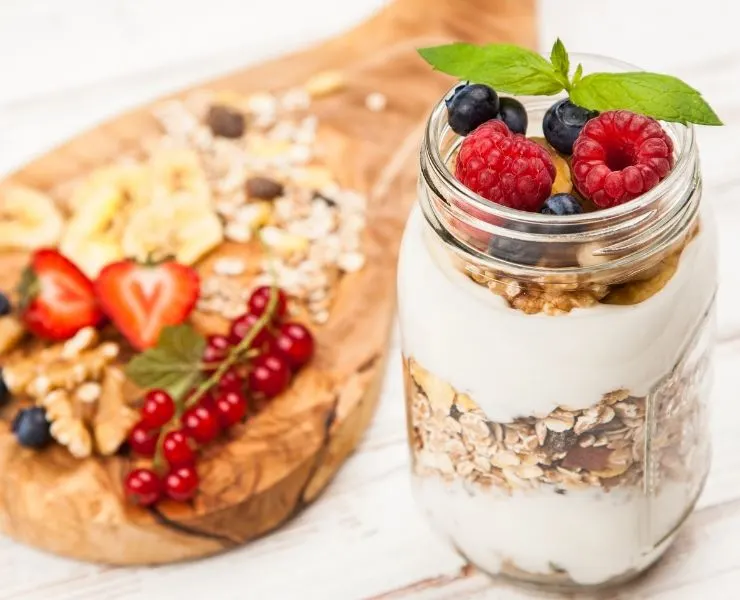 Best Swiss cook books
Are you keen to make some of these tasty Swiss foods? In this selection of best Swiss cookbooks you will find recipes to all the traditional Swiss foods discussed in this article and more!
Swiss food experiences
Enjoy your Swiss food adventure!
You can read more about visiting Switzerland in my Swiss Travel Guide which includes tips to help you plan your trip as well as inspirational articles to fuel your wanderlust!
Also check out my selection of the best Swiss books to read before your visit, 8 scenic Swiss train rides to take, or my Swiss bucket list which has information about 23 beautiful places to visit in Switzerland.
Not sure where to visit?