When you visit Switzerland you are genuinely spoilt for choice with beautiful towns and villages, scenic train journeys, mountains to climb and amazing views to admire!
One of my favourite excursions from Lucerne in Switzerland is the golden round trip to Mount Pilatus. This is one of the best day trips from Lucerne and involves trains, boats, gondolas and more – a truly wonderful way to see and appreciate the Swiss countryside and a real Swiss bucket list experience!
If this is a trip you are considering taking you will find everything you need to know about it in this post. This includes the various options you can choose to take this trip independently or with a tour.
Why visit Mt Pilatus?
Mount Pilatus on the shores of Lake Lucerne is steeped in legends and folklore with stories of dragons and hidden caves. Legend has that there is a dragon's lair and once giants roamed the mountain side. Or maybe they still do? Keep a lookout for these mystical creatures on your visit!
The summit of Mount Pilatus at 2132 metres high gives a stunning panoramic view of Lucerne and its beautiful lake but also of the Bernese Alps, Jungfrau and Titlis and on to the French Alps. On a clear day, a total of 73 Alpine Peaks can be viewed from Mt Pilatus!
I have made the trip twice – once on a lovely clear day and the second when a cloud stubbornly refused to move from the top. Trying to get a day when the weather is clear can be quite difficult and even though the forecast was clear for the second trip that cloud was not moving. I would recommend going on a clear day if you can – the views are spectacular and it is worth it.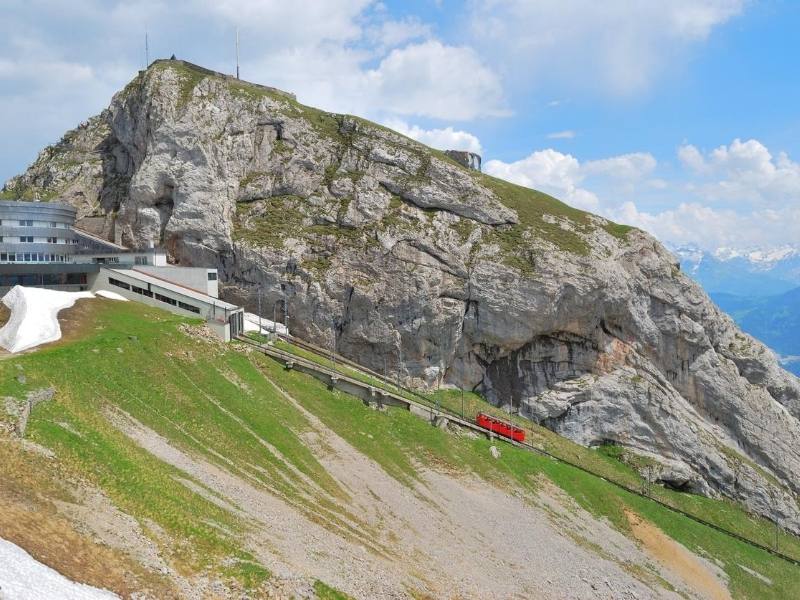 THE GOLDEN ROUND TRIP TO MOUNT PILATUS
Lucerne to Mount Pilatus on the golden round trip option involves a day travelling on lots of different transportation. If this interests you then this is the Mount Pilatus trip for you!
From Lucerne you take a boat, a cog railway, a cable car, a gondola, a bus then return to Lucerne by train.
It is however not cheap (it is Switzerland after all) but more of that below!
Summary of the itinerary included on the Golden Round Trip to Mount Pilatus
If you take the 'GOLDEN ROUND TRIP TO MOUNT PILATUS' option this involves 5 different forms of transportation
A boat across Lake Lucerne to Alpnachstad.
Mt Pilatus cogwheel train from Alpnachstad to the summit of Pilatus
Aerial cableway – a trip on the Mt Pilatus cable car
Panoramic gondola to Kriens
Bus to Lucerne
The boat from Lucerne to Alpnachstad takes about an hour. Enjoy sailing across the lake and admire the million dollar houses on its shores!
After arriving in Alpnachstad transfer to the cog railway which will takes 40 minutes to climb the 7000 feet to the summit of Mount Pilatus. The views are spectacular so have your camera handy. The steepness of the climb will take your breath away at times (if you don't like heights do not look down!)
After spending some time at the top you then descend for 3 1/2 minutes via an aerial cableway (the so-called Dragon ride though to be perfectly honest I didn't see one) and then finally a 30 minute descent in a panorama gondola (more great views) to Kriens before catching a bus back to Lucerne – a great day out! (If you want you can do this trip the other way around and start in Kriens)
What are the other ticket options? Well you could take the 'Silver Round Trip' which is basically all the above but instead of a boat to Alpnachstad you catch a train from Lucerne!
Learn More – My complete guide to the best Mt Pilatus tours
A step by step guide to the Golden Round Trip to Mount Pilatus
Below you will find pictures and details of each step of your journey on the Golden Round Trip to Mount Pilatus so you know what to expect when you take the trip.
1. Take the boat from Lucerne to Alpnachstad
Once you arrive in Lucerne train station walk out of the station and across the road to the piers to catch the boat. You are heading for Alpnachstad to catch the cog railway so you need Pier 2.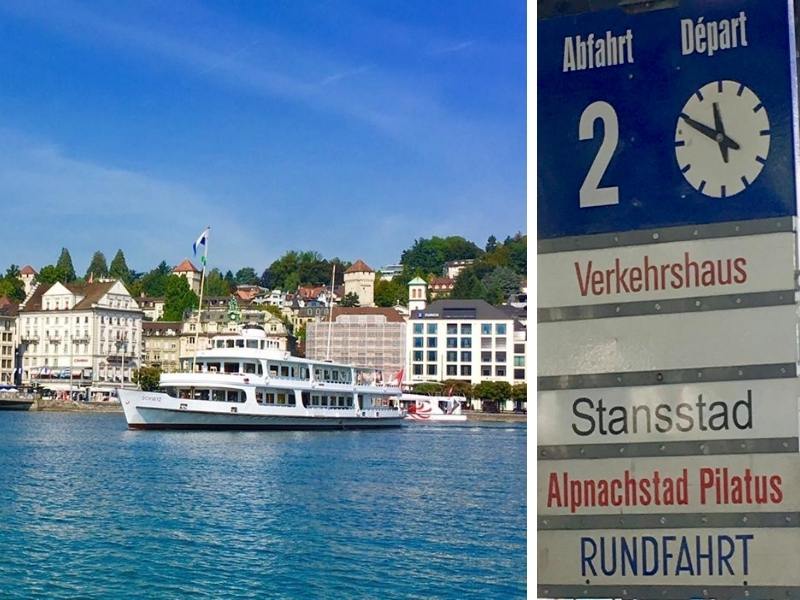 The boat trip is wonderful in itself – what can be better than sailing across a beautiful lake with the sun shining and the beauty of Switzerland all around. The boat ride lasts about an hour.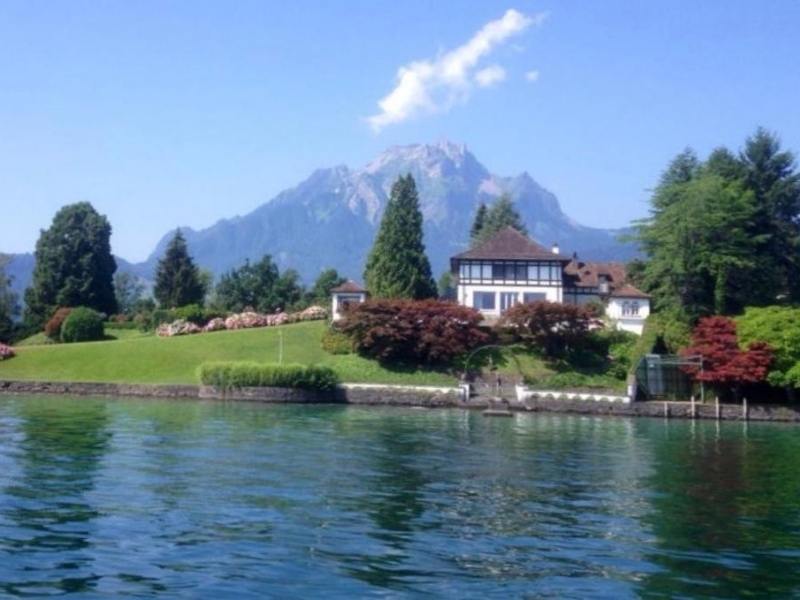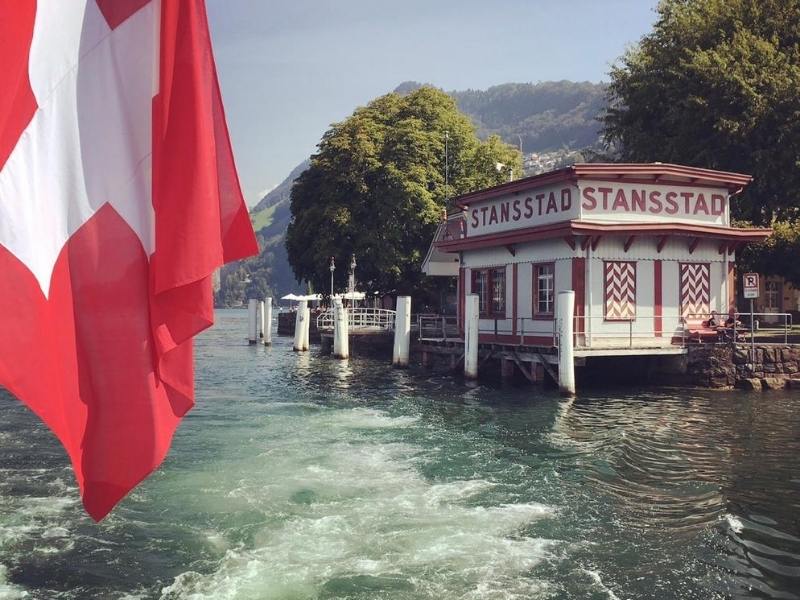 2. Take the cog railway
The cog railway is the steepest in the world with in parts a gradient of 48%!! It was opened in 1889 (amazingly engineer Eduard Locher came up with the idea of constructing two horizontally revolving cogwheels to enable the railway to climb the mountain).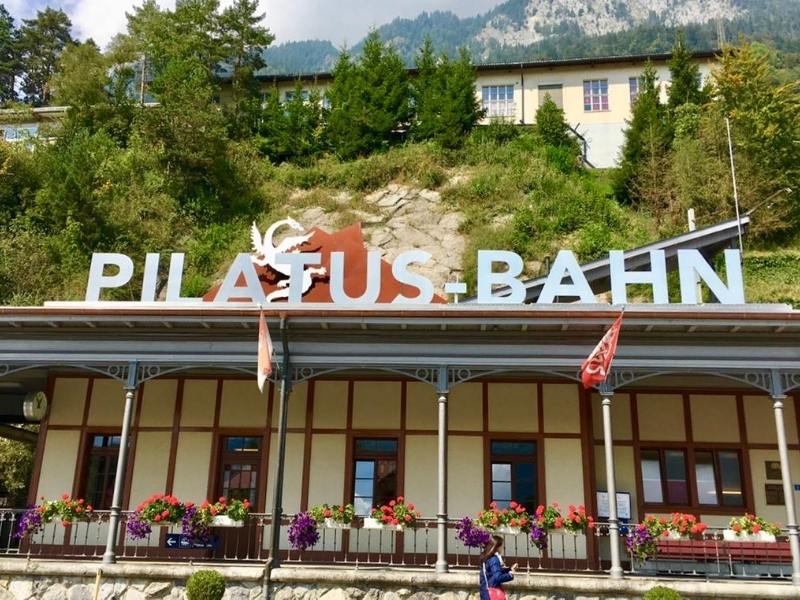 There is one stop on the way up at Amsigen as this is the train passing point. Look out for the farmer's house with the enormous cow bells!
If you are considering a holiday in Switzerland then these 20 photographs will certainly inspire you to get it booked asap!
The views of Lake Lucerne are spectacular. I was lucky also to get a great shot of the a car passing us on its way down the mountain. I think this gives an excellent idea of just how steep it is!
3. Arrive at the top of Mount Pilatus
Once at the top there are lots of viewing areas, walks to take a couple of restaurants, toilets and a gift shop. There are also 2 hotels at the top of Mount Pilatus.
If you wish you could book a stay and enjoy a night or two. Although I haven't stayed on Mount Pilatus I can imagine how wonderful it would be.
The Hotel Pilatus Klum or the Hotel Bellevue offer guests fabulous views!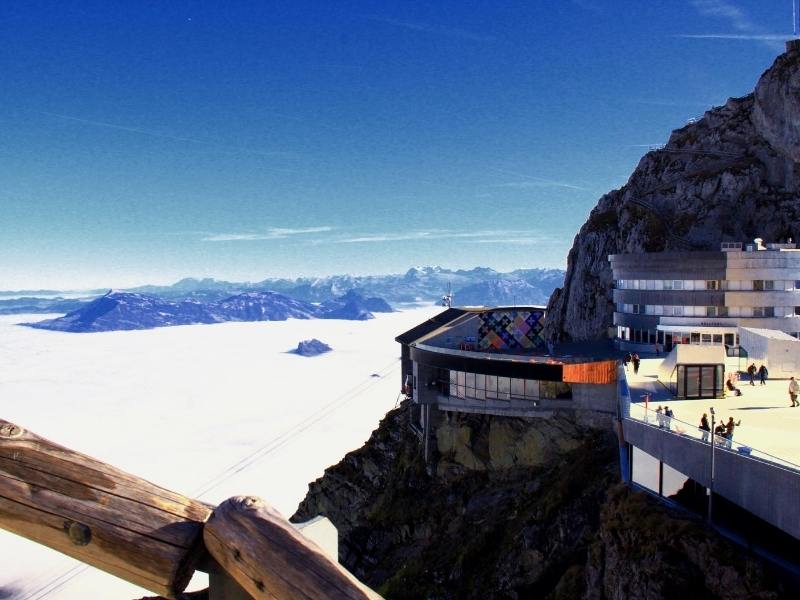 There are a number of walks that you can take at the top of the mountain which range from easy to medium and take between 10 mins and 35 mins.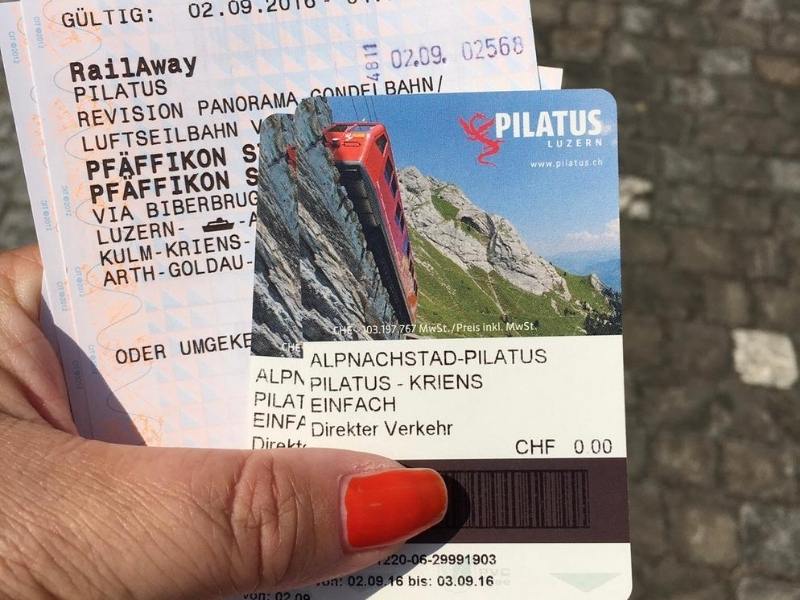 4. Take the aerial cableway to Mount Pilatus
The cableway takes you from the top of Mt Pilatus to the gondola station at Frakmuntegg. There are lots of activities available there such as the Pilatus rope park and a toboggan run.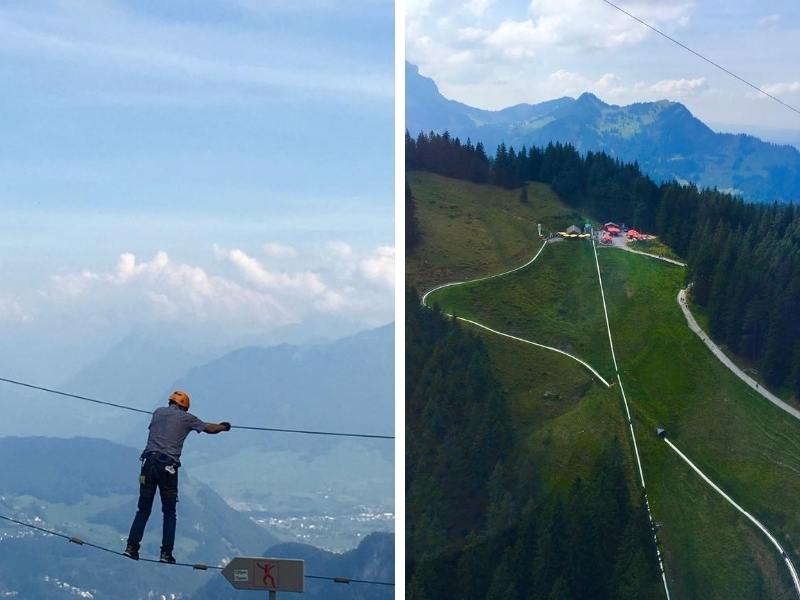 5. Take the gondola
The panoramic gondolas take you from Frakmuntegg to Kriens (where you catch the bus) The gondolas take about 30 minutes to descend.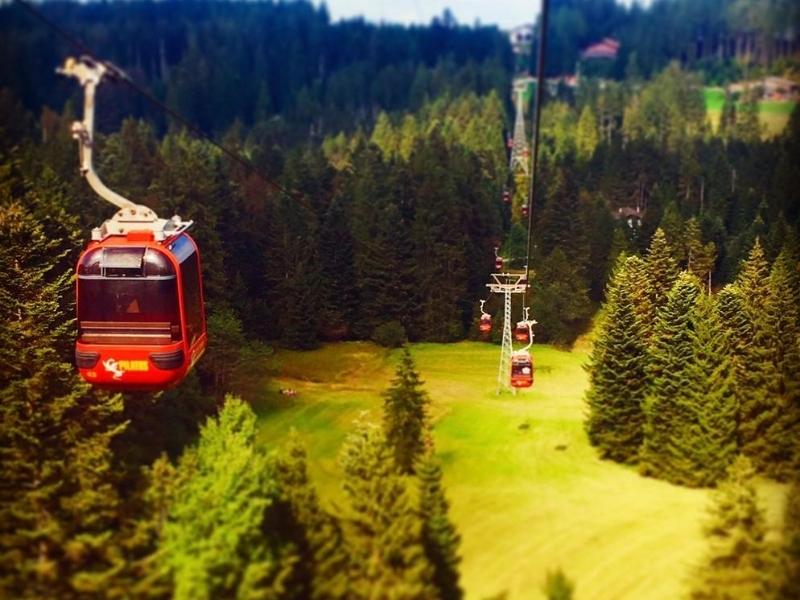 6. Take the bus back to Lucerne
Once in Kriens it is about a 5 minute walk to the bus stop. There are signs and if you use the map you will soon find the bus stop for Bus No.1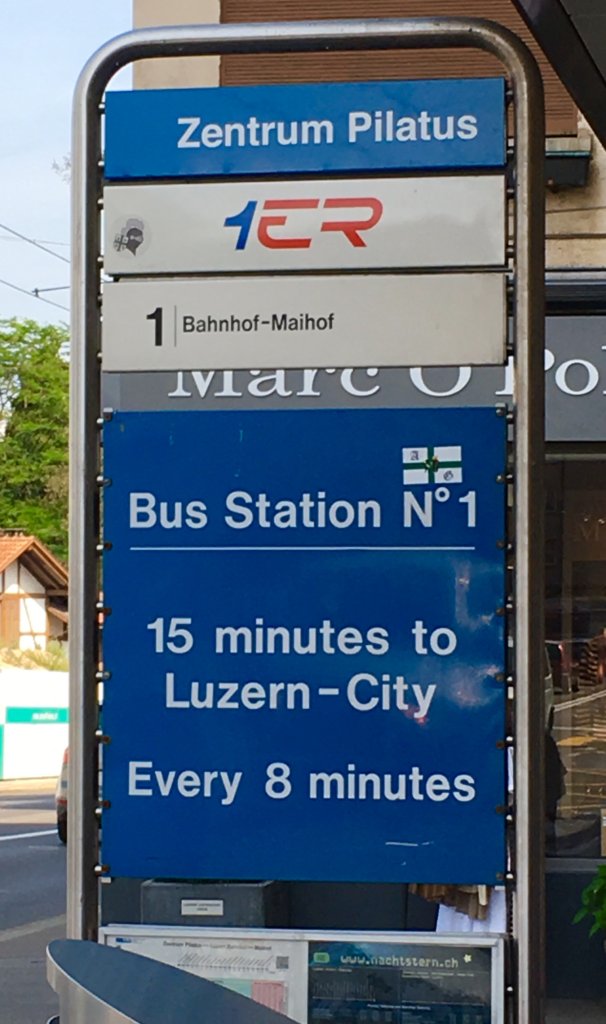 Learn more – A complete guide to Lucerne including itinerary options
7. Arrive back in Lucerne
Don't forget to have a look around Lucerne! It is one of my favourite cites to visit when I am in Switzerland and I generally get there once a year for a stroll around!
Highlights for me are the Kappelbrucke (Chapel Bridge) constructed in 1333 and the Lion Monument a rock relief carved out of the rock face in 1820/1 by Lukas Ahorn.
There are many beautiful places to visit in Switzerland – amazing cities, mountains and beautiful lakes – read all about these in a guide to the best places to visit in Switzerland.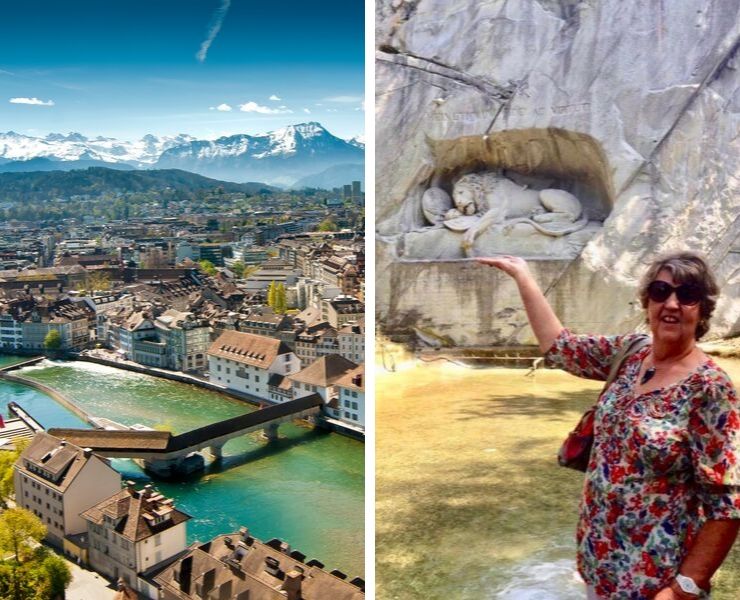 What you need to know if you are planning to take the Golden Round Trip to Mount Pilatus
As described we took the Golden Round Trip to Pilatus which included the boat, cog railway, cableway, gondola and bus.
There is also the Silver Round Trip option which involves a 20 minute train/bus ride from Luzern to Alpnachstad along the lake (so no boat trip) before you catch the cog railway. If you have the time I would the golden round trip as the boat trip is truly beautiful!
Other things to do in the Lucerne area
From Lucerne: Titlis Full-Day Tour – Eternal Snow & Glacier
Discover a fascinating glacier world and a beautiful landscape of eternal ice and snow on Titlis Mountain. Enjoy breathtaking views of the Swiss Alps and visit an ice cave.
CLICK HERE FOR PRICE AND AVAILABILITY
Lucerne: 2-Hour Gourmet Lunch Cruise on Lake Lucerne
Enjoy a First Class lunchtime cruise on Lake Lucerne. Admire the Alpine landscapes as the staff serves you a delicious 3-course meal made from fresh regionally sourced products.
CLICK FOR PRICE AND AVAILABILITY
Classic Rigi Round Trip from Lucerne
Enjoy a unique combination of boat, rack railway and cable car travel in Rigi. This varied tour in the heart of central Switzerland is suitable for both a half or full-day tour.
CLICK FOR PRICE AND AVAILABILITY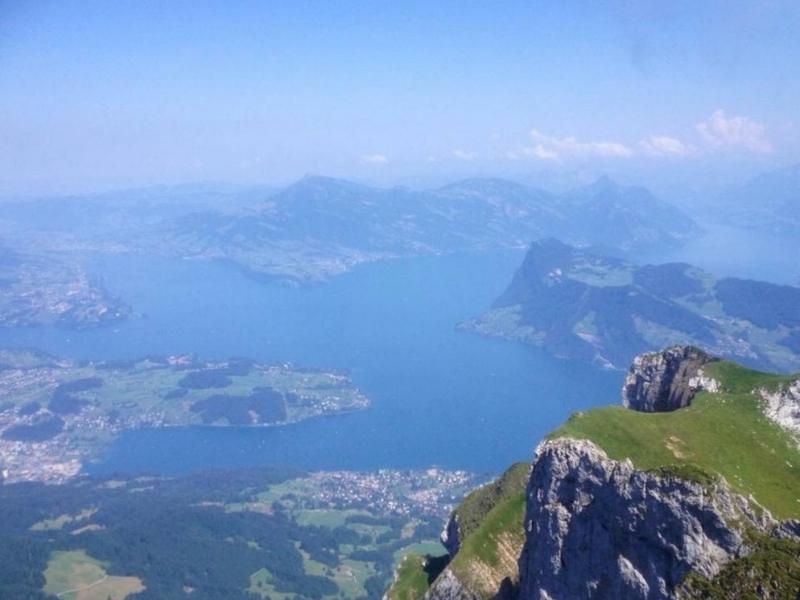 Check out – "5o unique things to do in Switzerland"
Enjoy your trip to Switzerland
Read more about visiting Switzerland