If you are planning to visit the west coast of California, San Francisco is a perfect destination choice. Figuring out what to do in San Francisco in 3 days can seem daunting when you discover the tremendous amount of options it has to offer.
If you are planning your visit to San Francisco and are feeling overwhelmed this article will help! Read on for the perfect 3-day itinerary for San Francisco (if you are planning one day in San Francisco or 2 days in San Francisco I recommend choosing the days which appeal to you from the 3-day itinerary for San Francisco below.
Good to know — If you are traveling along the east coast on the Amtrak Coast Starlight 2 or 3 days in San Francisco is a perfect length of time to stop off before continuing down the coast to LA or north to Seattle and Vancouver.
History of San Francisco
San Francisco's placement at the entrance of a large natural harbor put the city on the map as a center of trade. This led to the diverse culture and history of the popular American city.
Settled in 1849 originally, the city saw tremendous growth during the American gold rush; where its potential as a trade and commerce epicenter was ultimately realized.
Partially destroyed by an earthquake and devastating fire in 1906, the city bounced back quickly and continues to develop its trade and tourism well into the 21st century.
With a legacy of innovation and rich cultural ties, San Francisco is a must-see city for any traveler's bucket list.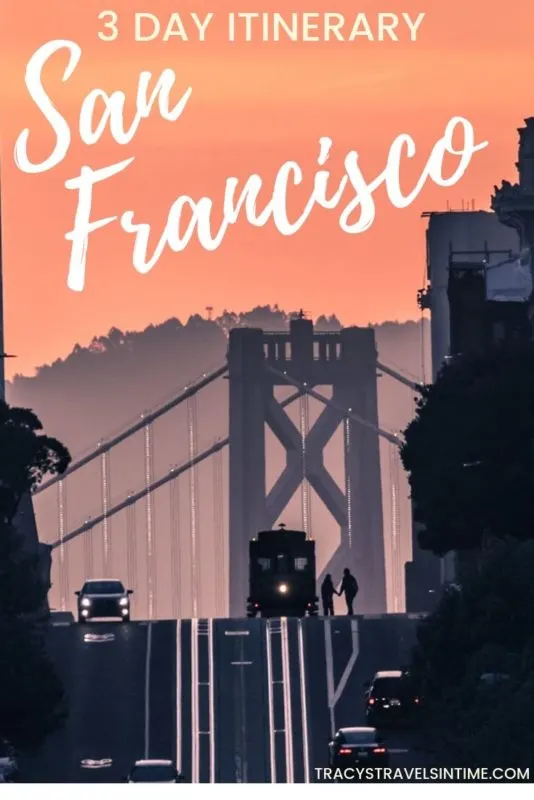 FAQs for planning your San Francisco itinerary
How many days should I plan to see the main sights, landmarks and attractions of San Francisco?
With its rich history, San Francisco is a perfect stop for any west coast adventure. The close proximity of the most desired landmarks of the city allows it to be explored thoroughly within the span of just a few days.
Visitors can spend just 3 days in San Francisco and still be able to experience the vast amount of sights and sounds that will enable them to create memories that will last a lifetime.
This article will provide you with an itinerary for 3 days in San Francisco which incorporates all the essential attractions of the city. If you plan to spend one day in San Francisco, two days in San Francisco, or even a week visiting San Francisco this itinerary will provide you will some great ideas for your visit.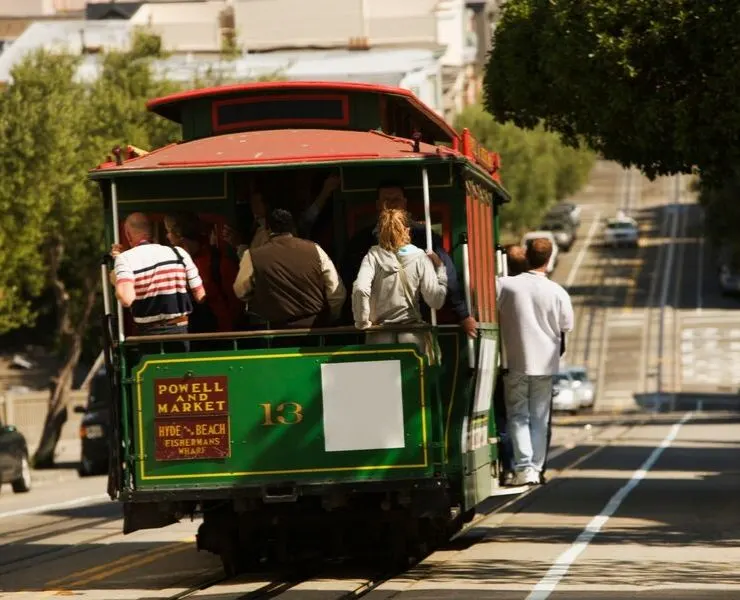 How can I get around San Francisco?
Many of the top spots (including San Francisco's famous streets) are easily accessed by a short walk or cable car ride from each other and are definitely worth seeing during your stay in the city.
3 DAYS IN SAN FRANCISCO ITINERARY
Below is a sample 3 day itinerary that explains the best features the city has to offer:
Day 1 in San Francisco
Today's itinerary includes visiting
Octagon House
Lombard Street
Ghirardelli Square
Fisherman's Wharf
Alcatraz
Pier 39
OCTAGON HOUSE
Start your San Francisco trip with a visit to the Octagon House. Located at 2645 Gough Street, this home was once an octagonal-shaped residence.
Now the home of the California Society, this building was one of five similar houses that were constructed shortly after the Gold Rush. The unique shape and exterior has remained virtually unchanged since it was built.
Visitors can tour the inside of the house to see historical documents and period furnishings, or have the option of touring the award winning gardens.
This historical landmark is open to the public only a couple times a month. However, just looking at the amazing architecture from the outside is free of cost and a fantastic beginning to your first day in San Francisco.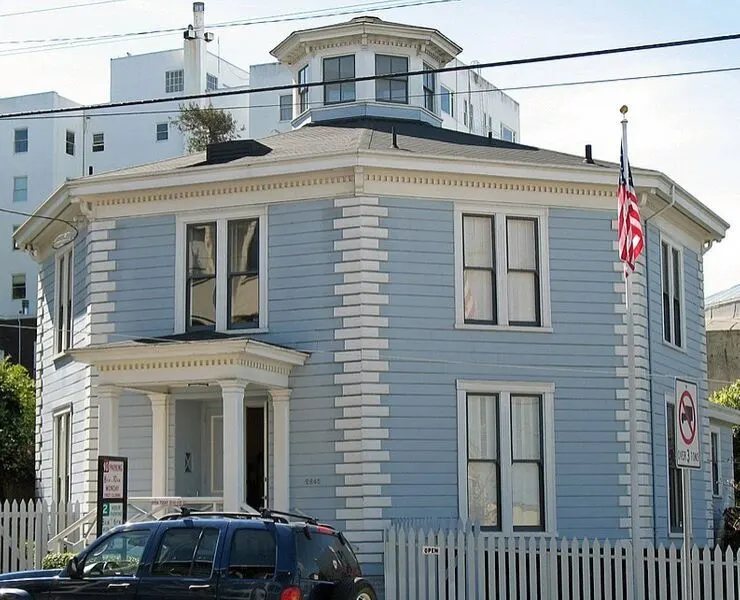 LOMBARD STREET
Next, take a quick fifteen-minute walk to experience Lombard Street. San Francisco is well-known for its steep and hilly roads. However, the most famous is Lombard Street; gaining recognition for having a large number of hairpin turns down a steep hill.
Nicknamed the Crookedest Street in the World, the most visited portion of the street is a one-block stretch that contains 8 hairpin bend turns located between Hyde and Leavenworth Streets in the Russian Hill neighbourhood.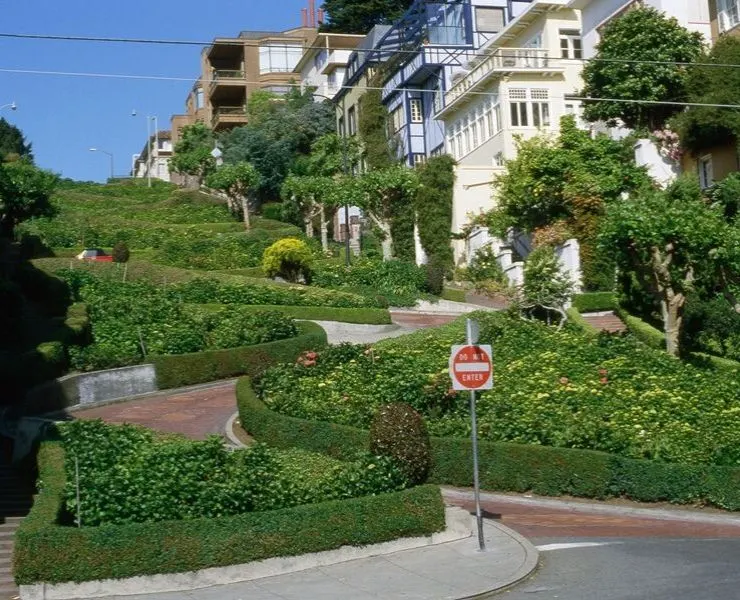 GHIRADELLI SQUARE
After you have been able to get some pictures Lombard Street, take another quick 11 minute walk to visit Ghirardelli Square. Located at 851 Beach Street, this square has spectacular waterfront views in the Fisherman's Wharf district.
Named after Domingo Ghirardelli who arrived in San Francisco in 1849 during the Gold Rush; he instead of gold made a name for himself in fine chocolates.
Ghirardelli Square was the headquarters of the Ghirardelli Chocolate Company and now hosts several sweet shops, find dining and wine tastings as well as fabulous boutique stores.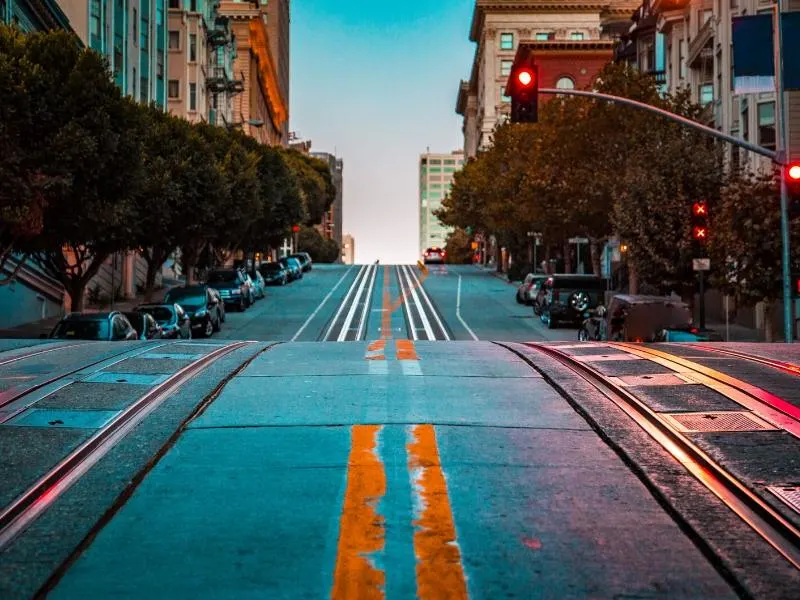 FISHERMAN'S WHARF
Next up is a 7 minute walk to 314 Jefferson Street, otherwise known as Fisherman's Wharf. The Wharf is the perfect spot to grab a fresh seafood lunch while seeing the vast amount of fishing boats docked there. Also located on the waterfront is the cable car turntable, where the cars are rotated to make their return journey through the streets of the city.
After lunch, take a stroll along the Port Walk at the water's edge and learn about historic events that have occurred along the waterfront.
You also will have a chance to be entertained for free by local street performers as well as organized performances that are featured throughout the day.
In addition, Fisherman's Wharf provides a myriad of night life activities that are sure to help you let your hair down after a long day of sight seeing.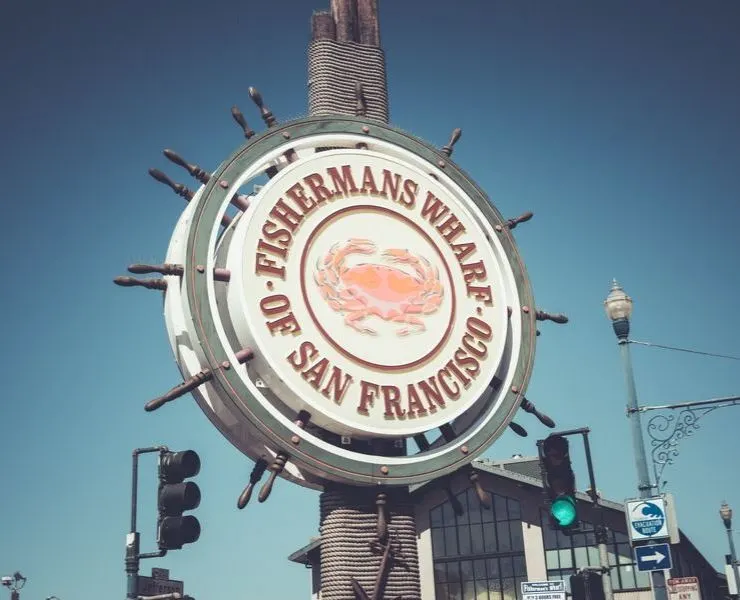 ALCATRAZ
The next step is to visit Alcatraz; the famous and formidable jail located on a rocky island off the coast of San Francisco. Now a National Landmark, the federal prison was once a military fort and prison for Civil War deserters and court-martialled soldiers.
The military prison was established in 1868 and turned over to the Federal Bureau of Prisons in 1934. The island can be accessed by a short ferry ride right from Fisherman's Wharf. If you enjoy the ferry ride booking a cruise of the bay is also an option worth adding into your itinerary.
No longer used as a prison, this is a must-see for most tourists. Tickets typically run between $34-$120 and tours can last anywhere from an hour to an hour and a half. Book well in advance as tickets to Alcatraz sell out quickly.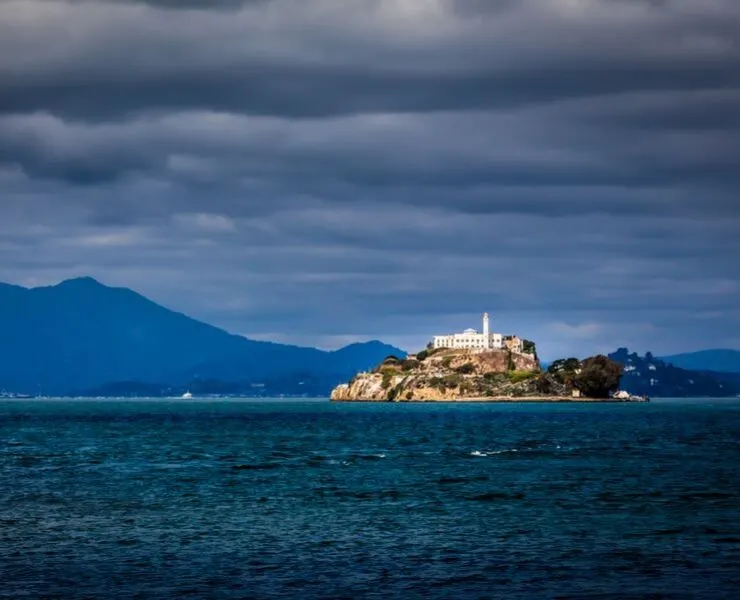 PIER 39
After your tour of the prison, a walk of about 25 minus from the Wharf will take you to Pier 39. This historic pier is a great place for dining, shopping, and other entertainment.
Pier 39 is open daily from 10 am to 10 pm, 7 days a week. The pier was constructed in 1910 and renovated to its current architecture in 1977. It offers a variety of things to do for all ages. Several of the attractions are free for public use.
While at Pier 39, you can visit the Aquarium of the Bay. The Aquarium ticket prices are $24.95 for adults and $14.95 for children. However, operating hours do vary every couple of weeks, so it is best to visit the aquarium website for specific hours of operations of the dates you will be visiting the city.
Another great activity to try at Pier 39 is a whale tour. Whale tour lengths and availability vary depending on season but cost between $40 and $60 per excursion.
More details regarding hours of operation, seasonal availability and pricing for more of these types of attractions can be found on the official Pier 39 website.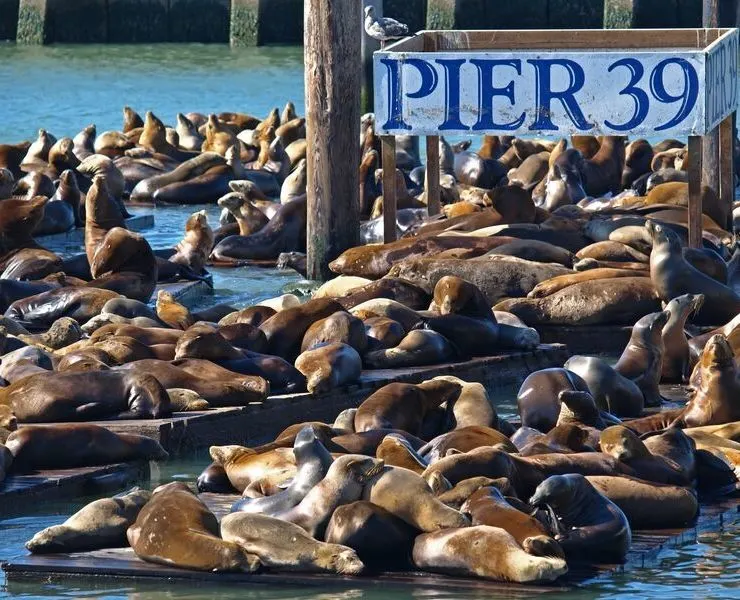 DAY TWO SAN FRANCISCO ITINERARY
Today's itinerary includes visiting
The Lillian Colt Memorial Tower
Transamerica Pyramid
San Francisco's Chinatown
Union Square
Asian Art Museum
City Hall
The Painted Ladies
LILLIAN COIT MEMORIAL TOWER
To start day two of your San Franciscan tour, take a visit to The Lillian Coit Memorial Tower. Lillian Coit was an eccentric resident of San Francisco and an avid supporter of the city's firefighters.
After her death in 1929, she bequeathed a large amount of her estate towards beautifying the city. The tower was constructed in 1933 to offer residents and visitors a welcome to the city.
The tower is located on Telegraph Hill, named for a telegraph station that once stood there to signal the arrival of ships in the bay.
Tours of the tower cost $8 for adults and $2 for children and run from 10 am to 6 pm daily.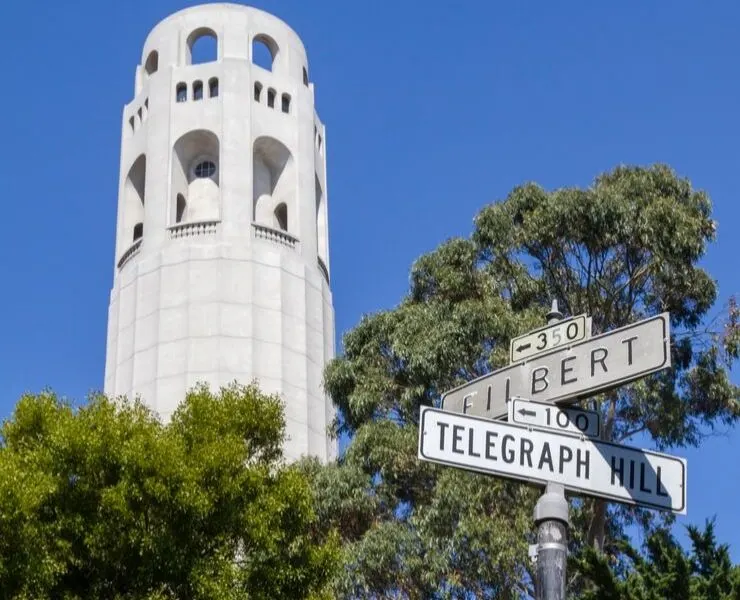 TRANSAMERICA PYRAMID
From the tower is just a 14 minute walk to the Transamerica Pyramid. Located at 600 Montgomery Street, the pyramid is the city's tallest building that tapers as it rises into the sky all the way to 260 meters. Built in 1972, the top of the structure is a glass pyramid for observation.
Visitors can tour the building Monday through Friday from 8 am to 5 pm. Tours typically last around 30 minutes and include elevators to the various observations decks within the tower and include holograms and virtual images of the city's fine landscapes and skylines.
CHINATOWN
Next on the agenda is a 6 minute walk to San Francisco's Chinatown. Centrally located between Grant Avenue and Stockton Street, Chinatown in San Francisco is the first of its kind within the United States.
Settled by the first Chinese immigrants around 1848, Chinatown consists of street signs in the native language and Chinese architecture throughout.
In addition, the area provides plenty of Chinese stores and restaurants to choose from, making it a perfect spot to take a break and soak up some of the ancient customs and traditions that continue to influence the city and its heritage.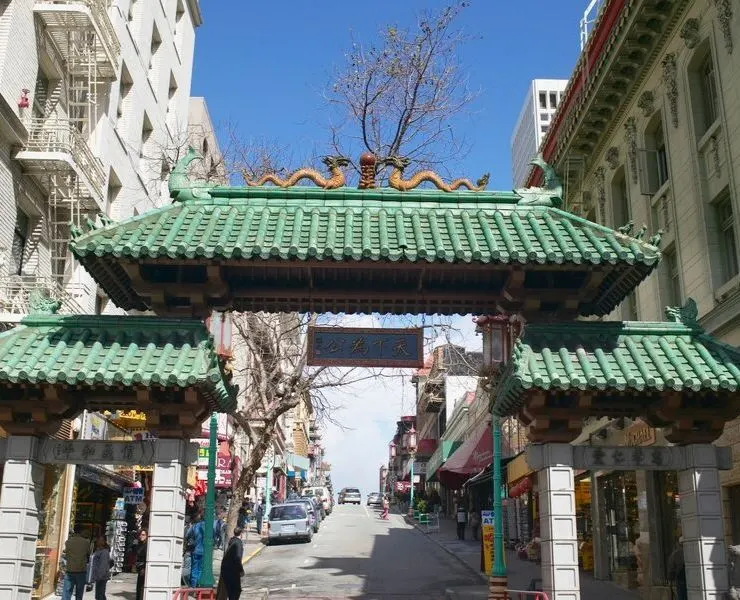 UNION SQUARE
Now it's time to visit Union Square. A short 11 minute walk will bring you to the public square that has become a landmark for the city. It is a two and a half acre plaza located between Geary, Powell, Post and Stockton Streets in downtown San Francisco.
The area is central but also includes the local shopping, hotels and theaters that surround the immediate area. The square gets its name from Thomas Starr King who would conduct rallies in that location to garnish support for the Union Army during the American Civil War.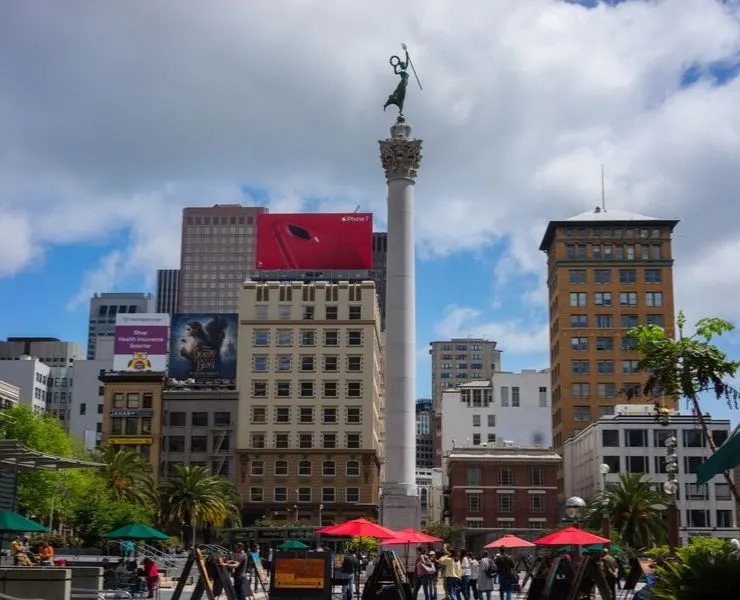 ASIAN ART MUSEUM
Moving on to the Asian Art Museum located at 200 Larkin Street. The museum is a twenty minute walk from Union Square and contains art pieces and artifacts from several Asian countries including Tibet, China, Cambodia, Japan and Korea.
Added highlights include a restaurant that serves traditional Asian food as well as an option to participate in a traditional Japanese tea ceremony. The museum is open Tuesday and Wednesday from 10 am to 5 pm, Thursday from 10 am to 9 pm, and Friday through Sunday from 10 am to 5 pm. Adult admission is $20 while children can be admitted for $15.
CITY HALL
Closing out day two of our San Francisco 3 day itinerary is just a six minute walk from the Asian Art Museum. We are headed to City Hall located on 1 Dr. Carlton B. Goodlett Place.
This gorgeous Beaux-Arts building was designed by Arthur Brown Jr. as a replica of the 1899 City Hall building that was destroyed in the earthquake of 1906. The building spans a total of two city blocks and dominates the skyline with a large central dome that was inspired by the Les Invalides in Paris.
Visitors will marvel at its architectural beauty from the outside, but also have the option to tour the inside if they would like. Tours run Monday through Friday from 8 am to 8 pm, except for public holidays.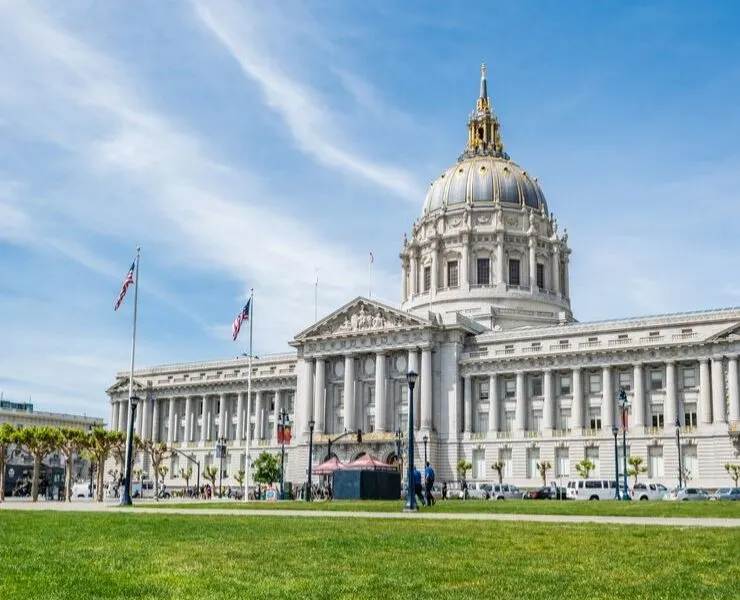 THE PAINTED LADIES
Walk fro 1 mile along Grove Street for our final landmark of the day – the famous Painted Ladies. Located at 710 – 720 Steiner Street these stunning Victorian houses have appeared in many TV series and films.
All of the houses are privately owned and cost millions of dollars to buy. Enjoy the wonderful architecture and pastel hues of the houses and don't forget your camera – these are truly Instagram famous!
If you enjoy hidden gems don't miss San Francisco's painted staircases which are just a short walk or bus ride away from the city's most popular attractions.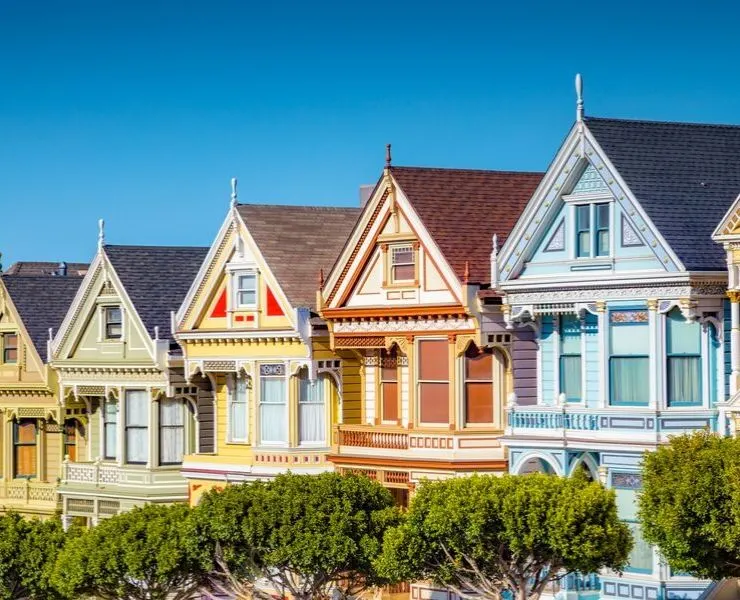 DAY THREE SAN FRANCISCO ITINERARY
Today's itinerary includes visiting
Golden Gate Bridge
Sausalito
De Young Museum
California Academy of Sciences
Japanese Tea Garden
Golden Gate Park
GOLDEN GATE BRIDGE AND SAUSALITO
The final day of our San Francisco 3 day itinerary starts off with the most recognized and notable historical landmark in the city, the Golden Gate Bridge.
A 1,300 meter long reddish-orange suspension bridge, this iconic land mark goes over the Golden Gate Strait to connect California's northern Marin counties to the city of San Francisco.
The bridge was constructed in 1937 and was the largest suspension bridge of the time. The Bridge Pavilion tells the history of the bridge and provides guided walking tours on Thursdays and Sundays only but are free to the public.
Pedestrians and cyclist are more that welcome to cross the bridge via special paths built with the bridge's structure. However, the use of electric bikes, roller blades, skateboards and pushchairs are not allowed across the bridge. Also, there are no animals allowed on the bridge.
In addition, if planning to cross the bridge in a car or truck, please note that there is a $6 toll when driving southbound.
I recommend either hiring a bicycle and cycling across the bridge or jumping on the hop-on hop-off bus to Sausalito which is the city on the other side of the bridge.
There are a number of options available including hiring a bicycle, cycling to Sausalito and catching the ferry back or alternatively catching the hop-on hop-off bus back to the city.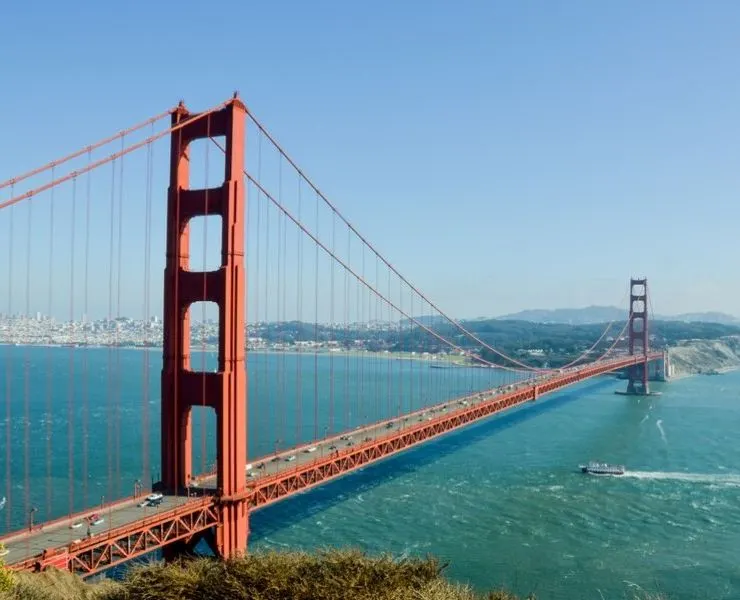 GOLDEN GATE PARK

– De YOUNG MUSEUM
After experiencing the Golden Gate Bridge, we suggest visiting the De Young Museum located at 50 Hagiwara Tea Garden Drive. The museum is open Tuesday through Sunday from 9:30 am to 5:15 pm and costs $15 per person.
Located in Golden Bridge Park at the end of Golden Gate Bridge, the building is made of copper intentionally so that when it oxidizes, it turns green to blend in with the surrounding foliage. The museum has a sculpture garden and focuses on American art work as well as international textile arts.
The De Young Museum also boasts more contemporary works of art by Dior, Balenciago and Chanel in addition to other 20th century exhibits. The versatility of the museum makes it one of the most visited museums in the United States.
CALIFORNIA ACADEMY OF SCIENCES
From the museum, look for the California Academy of Sciences located on 55 Music Concourse Drive. It is about a three minute walk and is one of the largest museums of natural history in the world.
The building houses a planetarium as well as an aquarium. Highlights include an observation deck that faces a living roof and 'The Rainforests of the World' exhibit; which allows visitors a view of the Amazonian forest contained within a 27 meter transparent dome.
Admission is $34.95 per Adult, and $24.90 per child. Academy hours are Monday through Saturday 9:30 am to 5 pm and Sundays from 11 am to 5 pm.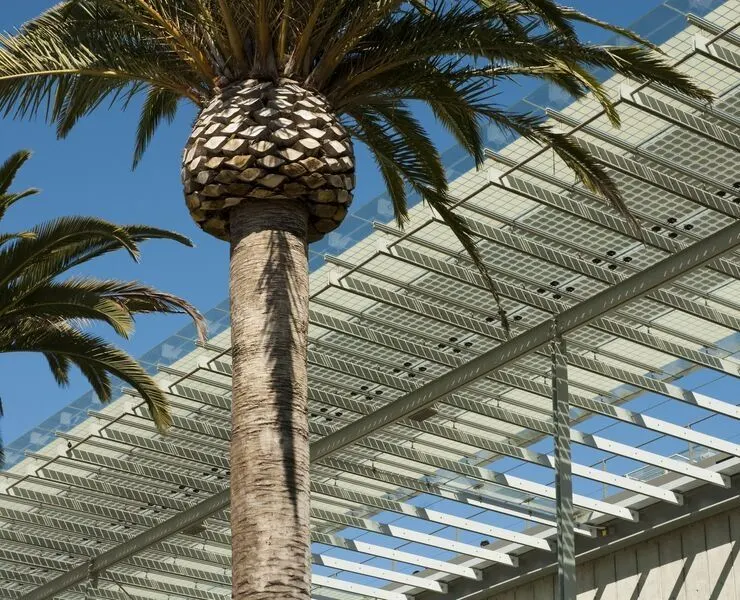 JAPANESE TEA GARDEN
After visiting the California Academy of Sciences, a 5 minute walk will take you to the Japanese Tea Garden positioned at 75 Hagiwara Tea Garden Drive in Golden Gate Park.
This garden, created in 1894, hosts a variety of exotic wonders that covers a total of 5 acres of land.
Carefully planned to represent a traditional Japanese garden, the various paths will lead you through a sea of water features, statues and gorgeous floral and plant life that are native to Japan.
A must-see in the garden is the pagoda. It consists of 5 tiers; each of which represents the natural elements; earth, fire, wind, water and sky.
Although there are free guided tours of the gardens you will need to pay admission to enter; adults pay $6 and children costs $2. Visitors should be aware that the Japanese Tea Garden has seasonal hours; from November to February the hours of operation are 9 am to 4:45 pm while from March to October the garden is open from 9 am to 6 pm.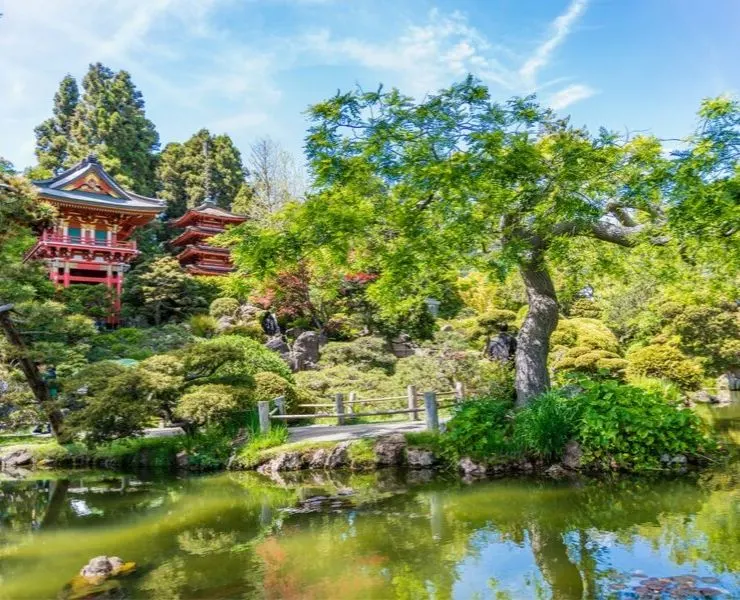 Ending our tour of San Francisco is a stop at Golden Gate Park. In addition to housing some of the attractions mentioned above, the park offers a fantastic waterfront view as well as a variety of facilities and outdoor activities for anyone to enjoy.
Places to fish, swim, play tennis and even shoot a bow and arrow are all included in the state park.
You can also find a community art studio amongst the natural landscapes to relax and enjoy in. Relaxing within the serenity of Golden Gate Park is the perfect way for you to wind down from your trip and reflect on the vast array of customs and history you have been able to experience.
So, there you have it. An itinerary of 3 days in San Francisco that hits all of the most beautiful attractions that the city has to offer.
Please bear in mind that this is only a suggested layout for your mini holiday. So, feel free to change them up to fit your specific desires that represent how you would personally like to spend your time touring the sights.
Below you will find a map of San Francisco showing the various places you will visit for each day of the itinerary.
MAP OF THIS 3 DAY SAN FRANCISCO ITINERARY
Practical tips for planning your trip to San Francisco
How to get around San Francisco
Cable Car
One experience on everyone's bucket list has got to be taking a cable around San Francisco. It absolutely has to be done and although it is a little pricy I highly recommend doing it.
San Francisco is not the easiest city to walk around as there are so many VERY steep hills to tackle.
I highly recommend catching a cable car at the beginning or end of a line so you can enjoy the full experience (and make the most of your ticket)
Hanging onto the pole if you get a spot on the running board is an exhilarating if slightly scary experience!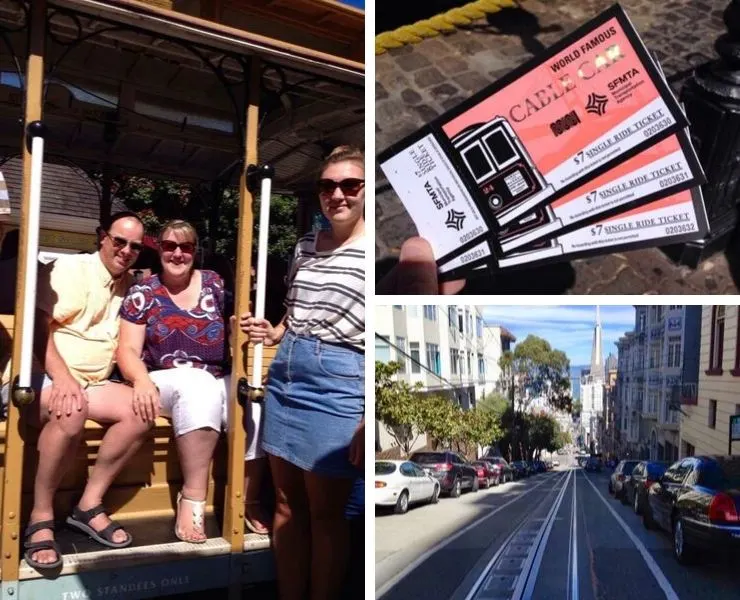 Tickets cost $8.00 for a one-way fare (once you hop off the cable car you need to purchase another ticket so make sure you stay on until the end to get full value)
Purchase a day pass for $23 (3-day $36 and 7 day $47) if you are planning to use the cable cars to travel around San Francisco.
Buy the tickets from the ticket booths at the cable car turnarounds at Powell/Market or Hyde/Beach or from the San Francisco Convention and Visitors Bureau at 900 Market Street.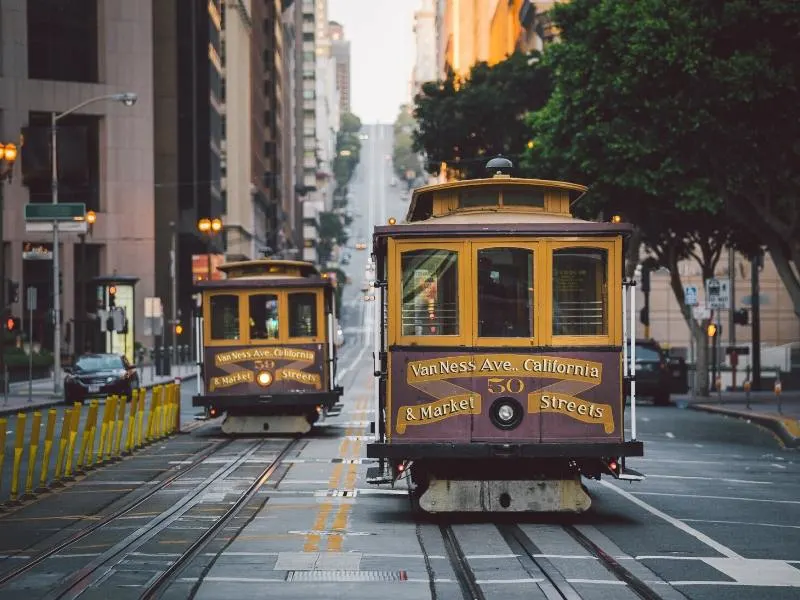 Hop on hop off bus
Another great way to get around San Francisco is the Hop-On Hop-Off bus. You can choose from Classic, Premium or Deluxe options which include the following
√ Classic ticket: 1 day of unlimited hop-on hop-off ticket and 1 hour Chinatown walking tour
√ Premium ticket: 1 day of unlimited hop-on hop-off ticket, Sausalito Tour, and 1 hour Chinatown walking tour
√ Deluxe ticket: 2 days on unlimited hop-on hop-off ticket, Panoramic Night Tour, Sausalito Tour, and 1 hour Chinatown walking tour.
The bus stops at 20 locations around San Francisco and includes all the famous landmarks. We took the bus and found it a great way to get around. San Francisco is incredibly hilly so catching a bus from locations can be the best way to get around.
CLICK HERE TO BOOK YOUR HOP-ON HOP-OFF BUS AROUND SAN FRANCISCO
Best tours of San Francisco
If you want to take a tour while you are in San Francisco there are lots of great ones to choose from. I have picked the following tours from Get Your Guide which is my tour provider of choice around the world.
With many tours to choose from, the ability to pay in your home currency and free cancellations on most tours up to 24 hours before (check when you book) they are my number 1 choice when booking tours.
San Francisco Grand City Tour with Alcatraz Ticket
If you only have one day to see all the sights of San Francisco this is the tour to take. This 8 hour tour includes all of the top landmarks including Alcatraz.
CLICK HERE TO BOOK YOUR GRAND CITY TOUR OF SAN FRANCISCO
San Francisco Vista Helicopter Tour (15-20 minute tour)
Why not treat yourselves to the trip of a lifetime on this helicopter tour over San Francisco? See Alcatraz, the Golden Gate Bridge and the city of San Francisco from the air in this 15-20 minute tour.
CLICK HERE TO BOOK YOUR HELICOPTER TOUR OF SAN FRANCISCO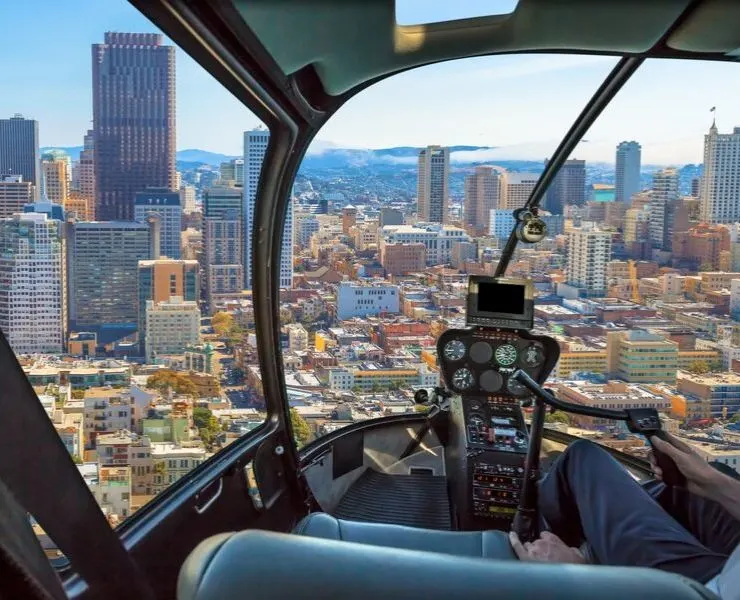 Best passes for San Francisco attractions
A great way to save money if you want to visit a number of the attractions and landmarks in this itinerary is to purchase an attraction pass. There are a few options to choose from including:
The San Francisco Mega Pass
With the San Francisco Mega Pass you can
Create your own San Francisco sightseeing package
Choose your 3,4, or 5 attractions or tours from a list of over 20 attractions
Explore the city at your own pace
CLICK HERE TO FIND OUT MORE ABOUT THE SAN FRANCISCO MEGA PASS
Go San Francisco Explorer Pass: 2, 3, 4 or 5 Attractions
Choose 2, 3, 4 or 5 must-do attractions and tours in San Francisco with an easy-to-use pass which is valid for 30 days (from first day of use). Thos pass saves you money on retail prices. Select what to do when you get there with your Explorer pass and free full-color pocket guidebook.
CLICK HERE TO FIND OUT MORE ABOUT THE SAN FRANCISCO EXPLORER PASS
Go San Francisco Card: Save Up to 60% on Top Attractions
Save up to 60% off retail prices on admission to 28 top attractions and tours including Hop-on Hop-off Big Bus San Francisco Tour. This includes free entrance to over 25 San Francisco top attractions and tours.
CLICK HERE TO FIND OUT MORE ABOUT THE SAN FRANCISCO GO CARD
Where to stay in San Francisco
I would recommend staying near Fisherman's Wharf or Union Square. Accommodation in San Francisco is NOT cheap as it is one of the most expensive cities in the world to stay in.
We chose to stay near Fisherman's Wharf and while this may be a more touristy area to stay in we found it was easy to get to most of the sights. Union Square has loads of great hotels to choose from and is great for shops and restaurants.
These are my top choices in both areas:
FISHERMAN'S WHARF
HOLIDAY INN FISHERMAN'S WHARF
This is where we stayed and we were happy with our choice. It is in an excellent location but was quiet. Free WiFi is available in all areas.
CLICK HERE TO BOOK YOUR STAY AT THE HOLIDAY INN FISHERMAN'S WHARF
SHERATON FISHERMAN'S WHARF
Another excellent hotel to choose – again located in the sought after Fisherman's Wharf area of San Francisco. Facilities include an outdoor pool, safety deposit box, and on site coffee house. WiFi is available for a charge.
CLICK HERE TO BOOK YOUR STAY AT SHERATON FISHERMAN'S WHARF
UNION SQUARE
GRAND HYATT SAN FRANCISCO UNION SQUARE
The Grand Hyatt is ideally located and with great facilities including free WiFi, safety deposit box, air conditioning and and on-site coffee house this hotel is highly recommended for couples and families.
CLICK TO BOOK YOUR STAY AT THE GRAND HYATT SAN FRANCISCO UNION SQUARE
HILTON SAN FRANCISCO UNION SQUARE
Stay right in the heart of Union Square with transport links close by. A great choice if you are flying into San Francisco as it is only 30 minutes to the airport.
CLICK TO BOOK YOUR STAY AT THE HILTON UNION SQUARE
Airbnb & additional hotel options in San Francisco
Airbnb is also an option if you prefer. Click on the map for more information and to book your stay.
What to pack for San Francisco
San Francisco is famous for its fog particularly in summer. Temperatures can plummet quickly so even on a warm summer's day I would recommend having a light jacket with you at all times.
The climate in San Francisco is cooler than that in the rest of California with summer highs of 20/69 and lows of 13/56. Winter temperatures range from 14/57 to a chilly 8/46. It can also be very windy in the Bay area.
I was pleased I was aware of this information when we packed for our trip to San Francisco as we did find our jackets essential on some days.
Books to read before you visit San Francisco
I love reading and I love reading about a destination even more. I have lots of articles which feature the best books to read before you visit numerous destinations around the globe. These are my selections for San Francisco: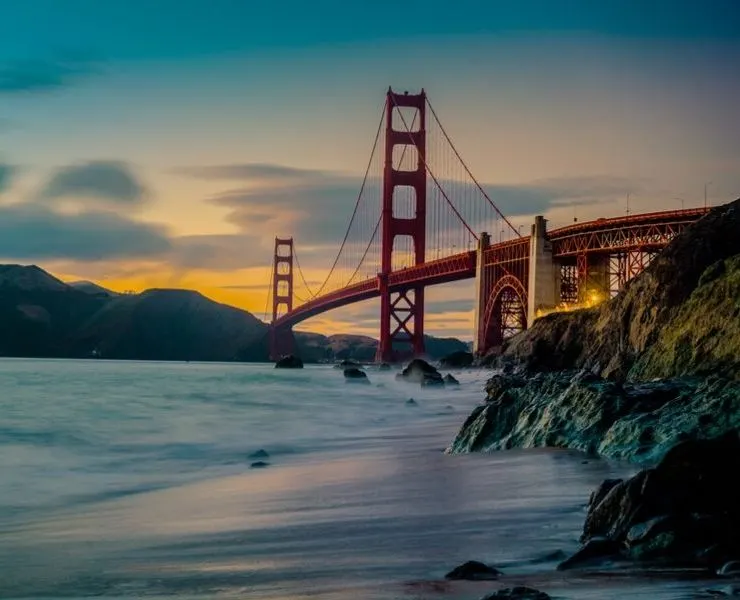 Enjoy your holiday to San Francisco
I hope that this article has provided you with lots of practical information as well as inspiration for your visit to San Francisco.
For the best gay hotels, bars, clubs and more check out this fabulous guide to gay San Francisco.
Why not consider taking a day trip from San Francisco? There are lots of great places within easy reach of the city.
Please share with friends or family who may be interested in visiting!