Visiting Vancouver for the first time and wondering how to make the most of your stay? If you only have 3 days in Vancouver and you want to fit everything in then this itinerary is for you!
Vancouver is located in British Colombia on the west coast of Canada consistently appears on lists naming the world's most liveable cities. Surrounded by mountains and water the city is gaining record numbers of visitors each year attracted to its wonderful parks, beaches, gardens, markets, food and cosmopolitan atmosphere.
Vancouver is a city offering a gateway to adventure whether by bicycle at Stanley Park, on skis in nearby Whistler, a drive from Vancouver to Calgary or jumping on one of the many whale-watching cruises available.
The city offers much to the visitor with a myriad of things to do and see in three days in Vancouver. With a little planning, it is possible to fit the top things to do in Vancouver into even a short stay. Relevant website links and tips can be found at the end of the article.
What will you find in this article?
What to see in Vancouver Canada in 3 days
What does a 3 day itinerary look like?
Where should I stay in Vancouver?
Your guide to the pubic transit system in Vancouver
Are there tours that I can take in Vancouver?
Essential links and websites for Vancouver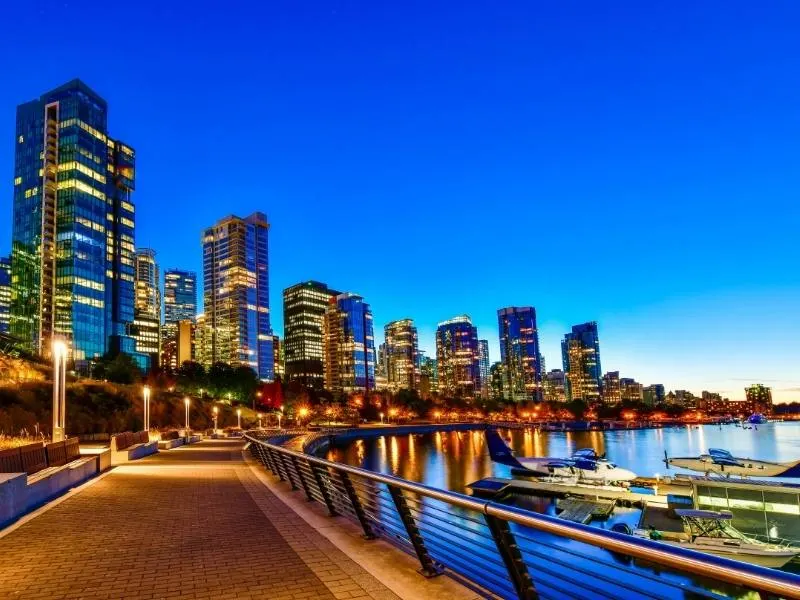 A 3 DAY VANCOUVER ITINERARY: LOGISTICS AND ITINERARY
WHAT CAN YOU DO AND SEE IN 3 DAYS IN VANCOUVER?
This is our itinerary for things to see in Vancouver in 3 days. This itinerary includes many of the main attractions for visitors to see and do in Vancouver including Gastown, Granville Island Market and Stanley Park.
DAY 1
DAY 2
VanDusen botanical garden
The Summer Night Market in Richmond
DAY 3
Stanley Park and the Seawall
VANCOUVER IN 3 DAYS : DAY 1 Itinerary
Morning and lunch – Granville Market
Afternoon and early evening – Gastown
GRANVILLE ISLAND – WHAT TO SEE AND DO ON GRANVILLE ISLAND
A showcase for Canadian produce the Granville Island Public Market sells some of the best fresh food available including fruit, vegetables, cheese, honey, seafood, olives and numerous artisan bread.
The Granville Farmer's Market is every Thursday, 10 am to 3 pm, from early June until late September.
The kids market is open every day from 10 am to 6 pm has over 25 shops featuring toys, clothing and every possible item you could need if you have children including an adventure zone to keep them occupied!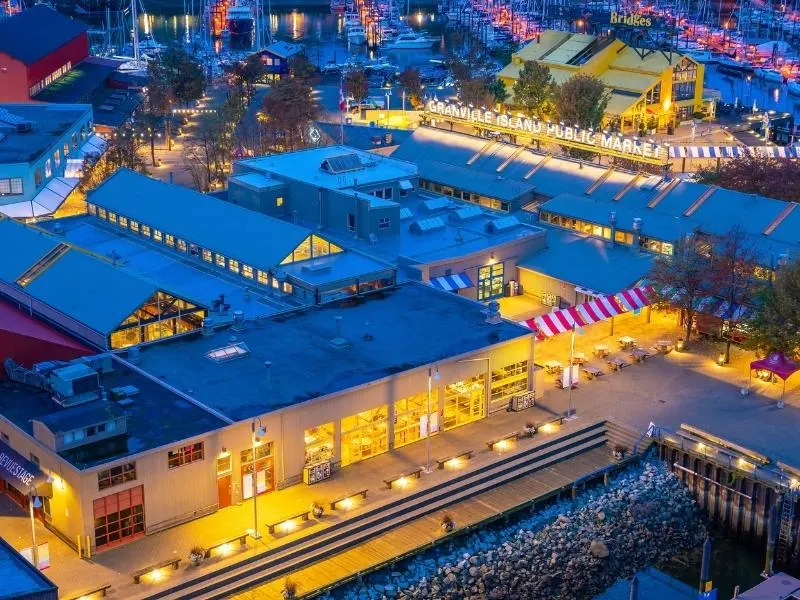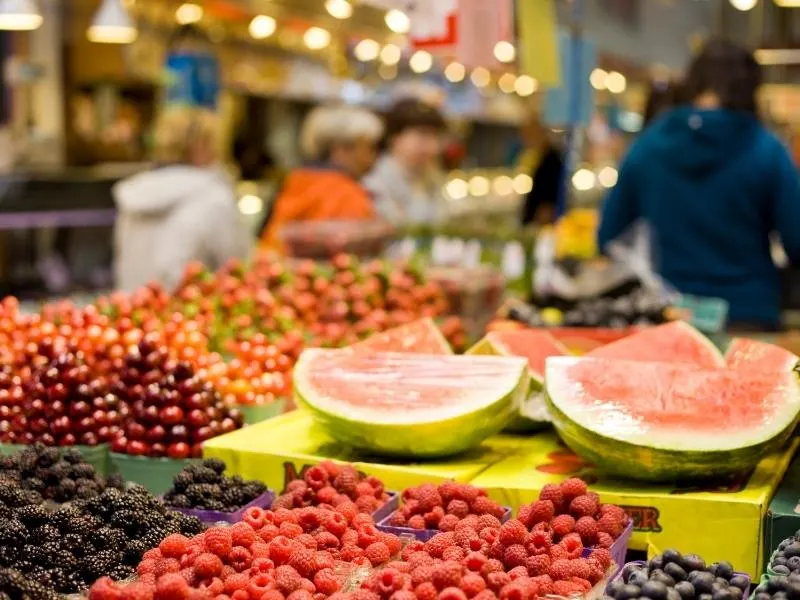 There are many boutiques and speciality shops on Granville Island selling items ranging from clothing to pottery to indigenous art. Take a few hours to wander the shops and perhaps indulge in a few purchases!
Granville Island is home to numerous galleries showcasing local artists work including pottery, glass and ceramics.
A number of theatre companies are based on the island.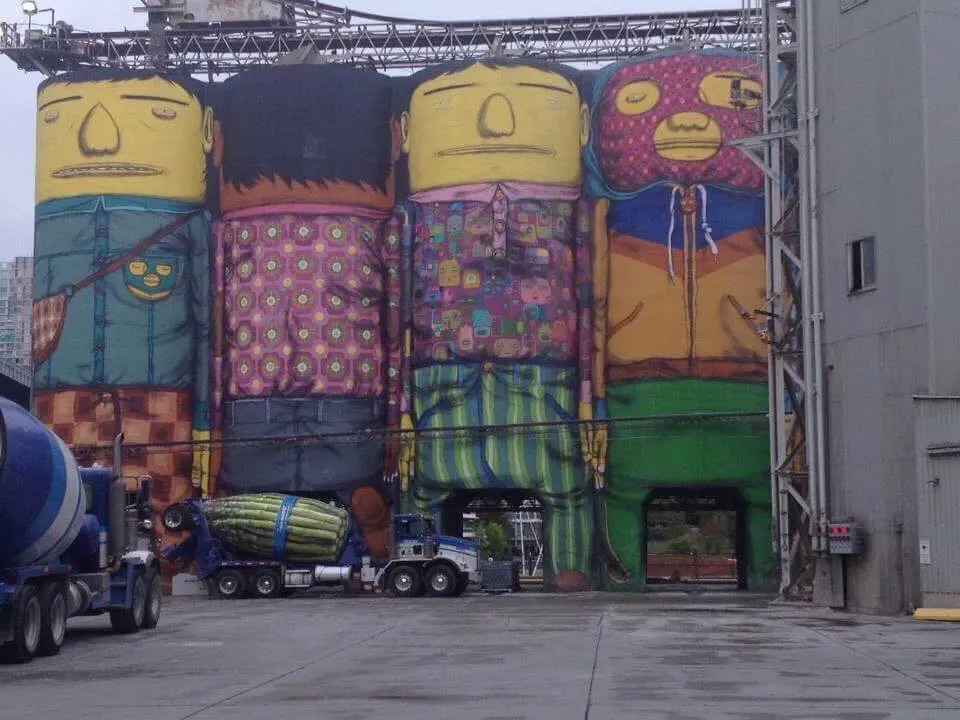 Spot the giants on the silos
Apparently the row of 6 silos on Granville Island and among the most photographed things in Vancouver. The silos were painted with giants by Brazilian graffiti artist twin brothers Gustavo and Otavio Pandolfo.
Although only designed to be a temporary installation I believe they are still there (the yearly upkeep is expensive but as they are now major tourist attraction it would seem short-sighted of Vancouver not to keep them!)
There are lots of great options whether you want a snack or something more substantial. Choose from the numerous delis, bistros, bars and restaurants the choice is yours!
See the floating village at Sea Village
If you have between $3-5000 dollars a month why not rent one of the amazing houses in the floating village. They certainly are quite a contrast to the high rises of downtown Vancouver!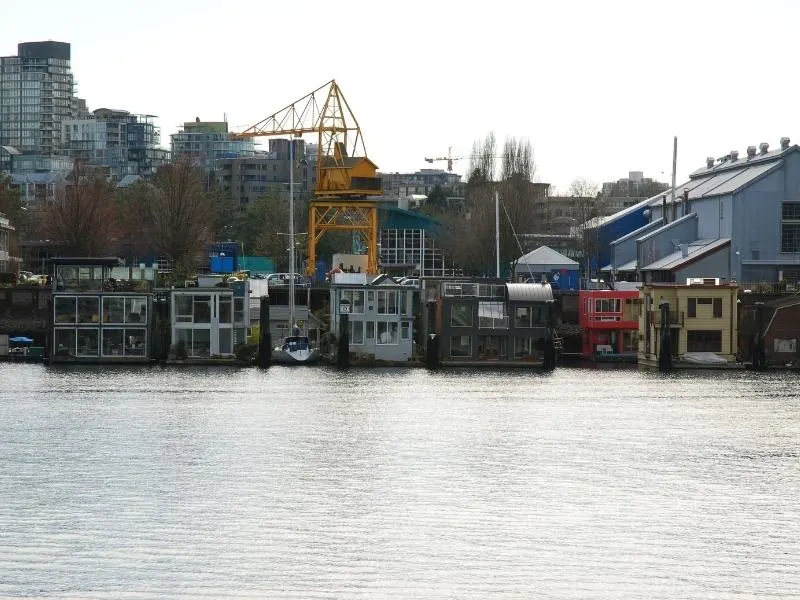 Visiting Granville Island – FAQs
Where is Granville Island?
Granville Island is actually not an island now but rather a peninsula located across False Creek from Downtown Vancouver.
The island was created in 1916 using material dredged from False Creek. What once was simply a mud flat became home to warehouses, mills, factories and shops that serviced local industries. In the 1950s the Granville Island back-channel was filed in and the island joined the mainland.
How can I get to Granville Island?
There are numerous options including on foot, by bus, by bike and by car but my absolute favourite way (and the most fun) is to cross the creek by boat.
Aquabus
I would recommend travelling to the Yaletown-Roundhouse Metro station as shown above and walking to the Hornby Street aquabus terminal.
Taking the aquabus is fun and a great way to arrive on the island! The aquabus leaves every 5 minutes from the Hornby Street dock from 6:45 am – 9:30 pm every day. Tickets cost $6 return and $3.75 one way.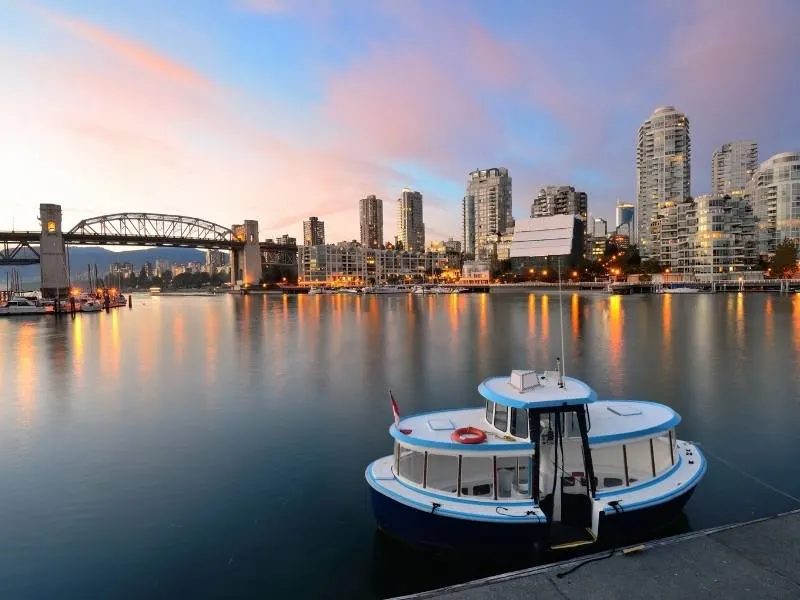 2. Ferry
Alternatively head to the False Creek Ferry which cost $3.50 for a single or $5.50 return. Pay with cash on the boats or your credit/debit card at the Granville Island dock. Boats run every 5 minutes from 7 am until 9 pm. The trip takes 3 minutes.
How much time do I need to visit Granville Island?
I would expect to spend a few hours on Granville Island to explore the markets and shops. Add in an extra hour for a meal too – there are plenty of great places to eat.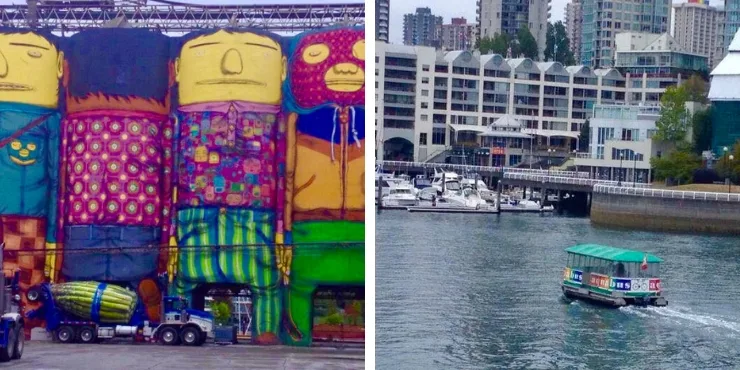 Can I stay on Granville Island?
Yes there is one hotel on the island called the Granville Island Hotel. This is a boutique hotel offering guests a perfect get-a-way spot for families, and couples looking for an alternative to downtown Vancouver and and a once in a lifetime experience.
The hotel is in a superb location with beautiful views of the marina and Vancouver skyline. This is the perfect hotel for exploring both Granville Island and downtown Vancouver.
GASTOWN
Gastown is named after Gassy Jack Deighton a riverboat captain who built Vancouver's first significant structure (a bar) in 1867. He was nicknamed gassy as apparently, he talked quite a lot.
Characterised by cobblestone-lined streets adorned with ornate street lamps this historic (and oldest) district of Vancouver is a must on any itinerary.
WHAT TO DO AND SEE IN GASTOWN
Have your camera at the ready for the steam clock on the corner of Water and Cambie streets. A perfect photo opportunity for every tourist in Vancouver including us! It gives a steamy rendition of the Westminister chimes every 15 minutes.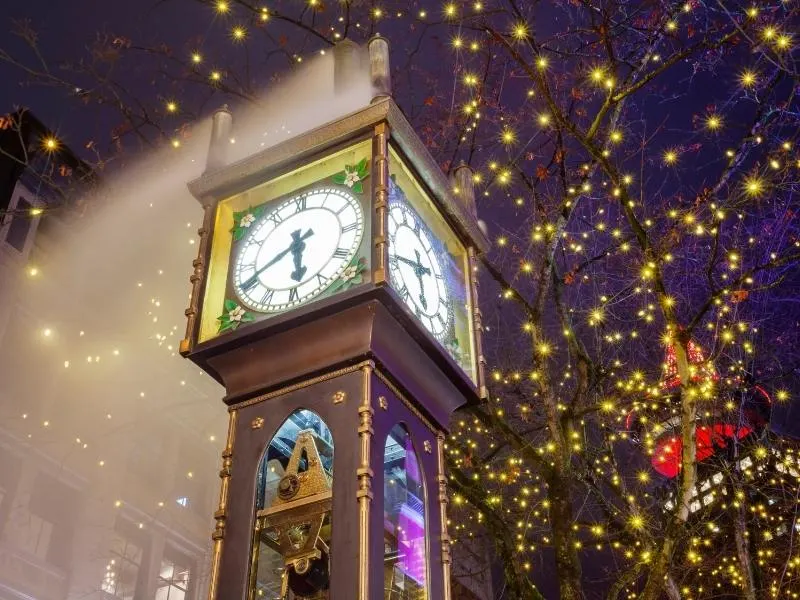 Take a photo of the man who started it all – Jack Deighton – at 1 Water Street. His statue stands in near the location of the Deighton House Hotel which was one of the earliest buildings in the area. Unfortunately the hotel burned down in 1886 11 years after the death of Jack at the age of only 44.
Why not take a Lost Souls Tour of Gastown Tour and venture into Vancouver's earliest and most gruesome history on a Gothic theatre adventure. Follow the lamplight of your guide as you discover the Great Fire, smallpox outbreaks, and the unsolved murder of John Bray.
HEAD TO THE VANCOUVER LOOKOUT FOR A 360 DEGREE PANORAMA OF THE CITY
Situated at 555 West Hastings Street the Vancouver Lookout is a 40-second ride in a glass elevator to an observation deck 168 metres above Vancouver. Tickets cost $18.25 for adults, $15.25 for seniors, $13.25 for youths aged 6-12 and $9.50 for children aged 6 -12. Children 5 and under are free with a fee paying adult.
The lookout is open from 9 am – 9 pm in winter and 8>30 am – 10.30 pm in summer. Click here for tickets and availability for the Vancouver Lookout
GRAB A DRINK/MEAL AND ENJOY THE ATMOSPHERE WHILE PEOPLE WATCHING
If you are visiting Vancouver during the warmer months enjoy a drink and a meal at one of the many restaurants/wine bars or pubs in the area.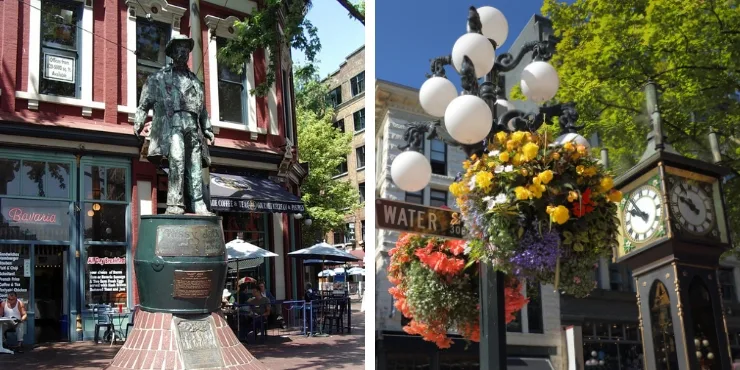 ALSO IN THE AREA – CHINATOWN
If you are in Gastown it is only a short stroll to Vancouver's Chinatown. This is the largest Chinatown in Canada and one of the largest in North America. Fill up on a great selection of Asian food or head to the Dr Sun Yat-Sen Classical Chinese Garden.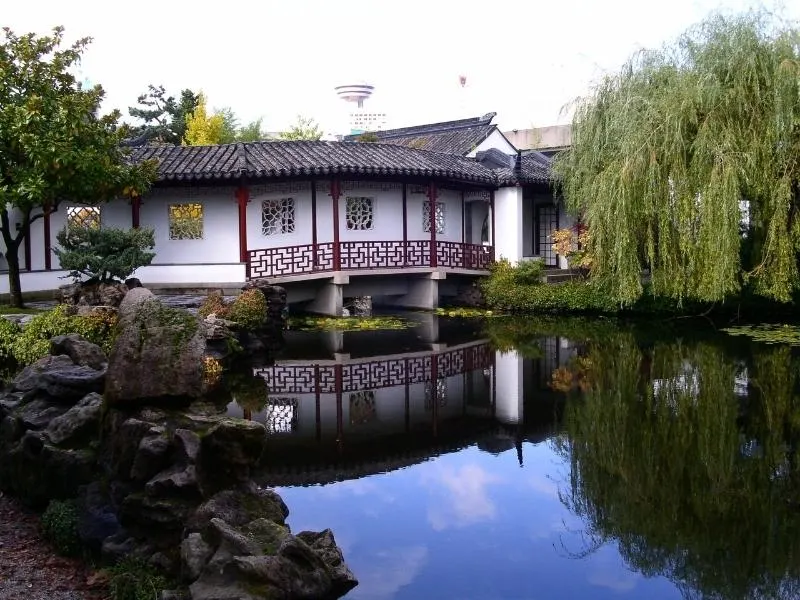 3 DAYS IN VANCOUVER: DAY 2
VANDUSEN BOTANICAL GARDEN
WHAT TO SEE AND DO AT VANDUSEN BOTANICAL GARDEN
VanDusen Botanical garden covers 55-acres in the heart of Vancouver. With 7,500 plants from all around the world, lakes, sculptures and a beautiful waterfall this is an ideal location to spot some of Canada's wildlife including hummingbirds, eagles, herons, turtles and ducks.
Regardless of the time of year, there is always something to see in the gardens. The bloom calendar available on the website indicates which flowers are blooming throughout the year.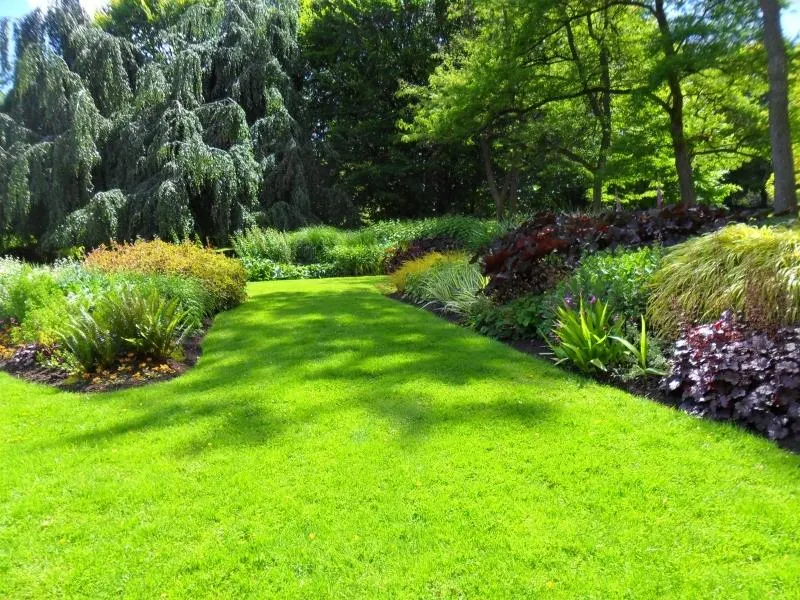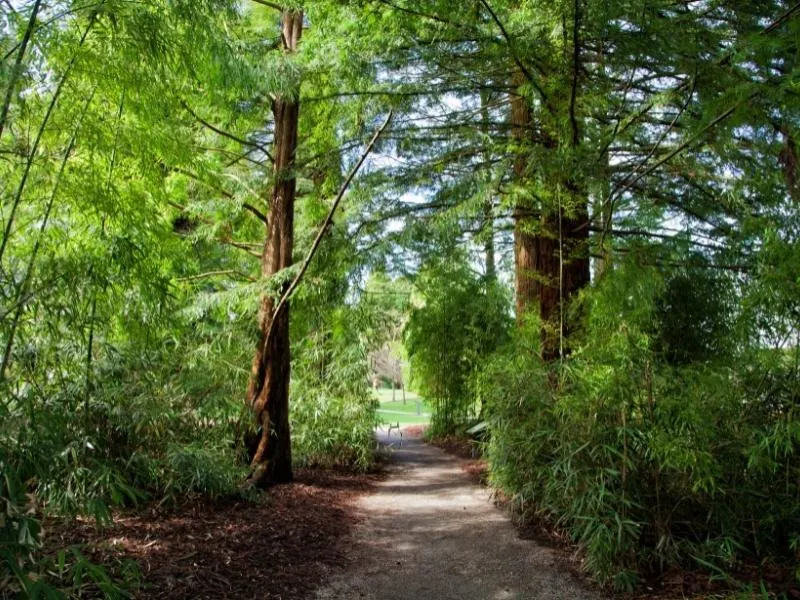 VanDusen Garden's Elizabethan Hedge Maze
One of only 6 Elizabethan hedge mazes in North America it is made up of over 3,000 pyramidal cedars. A must-visit when you are at the gardens!
Good to know – There are guided tours available from April 1 until October 31 at 1 pm or 10.30 on Wednesday mornings. During the winter months, there is one weekly guided tour which occurs on Sundays at 1 pm (weather permitting)
Admission fees vary depending on the time of year you visit the gardens. From April 1 – Sept 30 Adults $11.25, Senior 65+ $8.45, Youth 13-18 $8.45, Child 5-12 $5.50 and from Oct 1 – March 31 Adults $8.00 Senior $5.50, Youth $5.50, Child $4.25. Children 4 and under are free all year round.
Opening hours vary throughout the year – website details are below.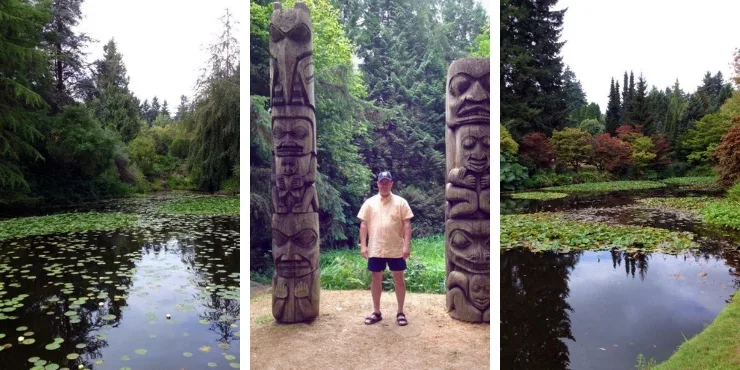 INTERNATIONAL SUMMER NIGHT MARKET IN RICHMOND
The International Summer Night Market in Richmond is a more unusual addition to an itinerary for Vancouver but I had seen it advertised and really thought it was worth a visit. We were also staying at a hotel very close by to the market so we made a point of going along to it.
The market is an annual event and experiences over 30,0000 visits every weekend. It was an enjoyable experience and very busy – there were loads of different foods to try and it was just lovely walking around on a warm summer's evening experiencing something like this!
The market will be open from May 8th – October 12th 2020. Website details are at the end of the post.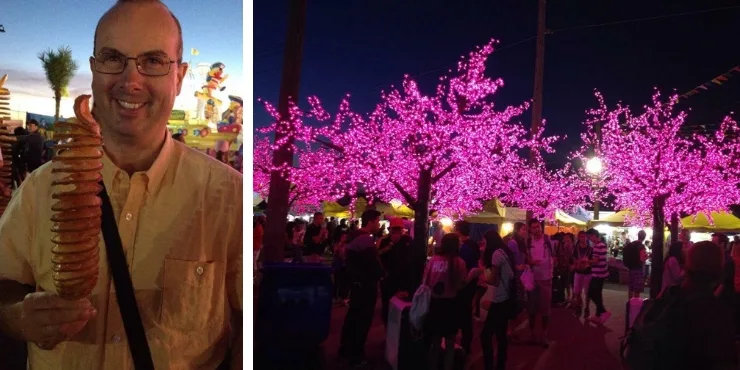 CLICK TO READ MORE – NON -FICTION BOOKS TO READ BEFORE YOU VISIT CANADA
3 DAYS IN VANCOUVER: DAY 3
STANLEY PARK AND SEAWALL
Stanley Park should absolutely be on any itinerary for Vancouver particularly if you are visiting the city in the summer. We had a thoroughly enjoyable day there and it is a very popular spot for visitors and locals alike.
WHAT TO DO AND SEE AT STANLEY PARK
If there is one thing you have to do in Vancouver it is cycling around Stanley Park's famous Seawall. The Seawall is a paved route that loops around the park. Completed in 1917 the wall was built to prevent erosion.
Today it is a popular path for cyclists, walkers, rollerbladers and joggers. Hire a bicycle, take a picnic and cycle the 8km around the seawall. It is an easy bike ride and there are lots to see as you cycle the park.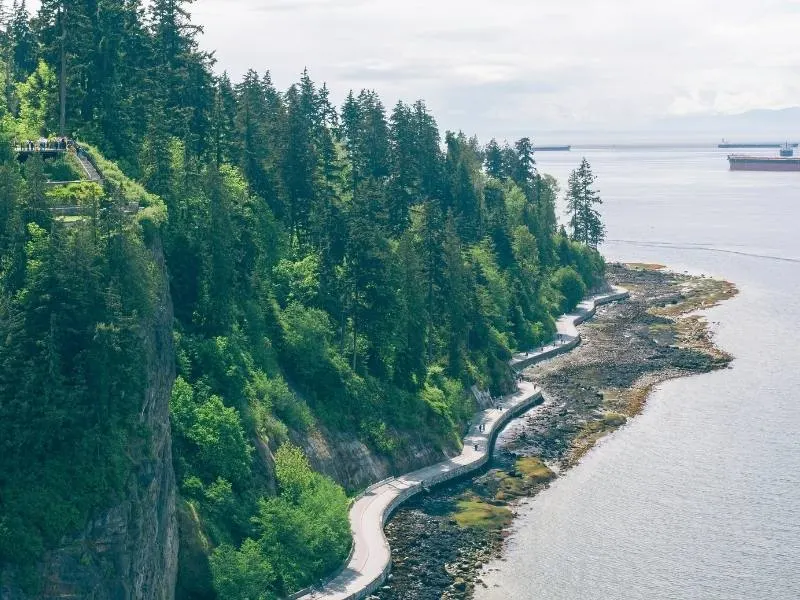 ADMIRE THE FIRST NATION ART AND TOTEM POLES
There are 9 totem poles to see at Brockton Point. Originally brought from Vancouver Island and the Queen Charlotte Islands in the 1920s and '30s these were placed in museums and replaced by the totem poles seen today.
The most recent totem pole was carved by Robert Yelton of the Squamish Nation and added to the collection in 2009.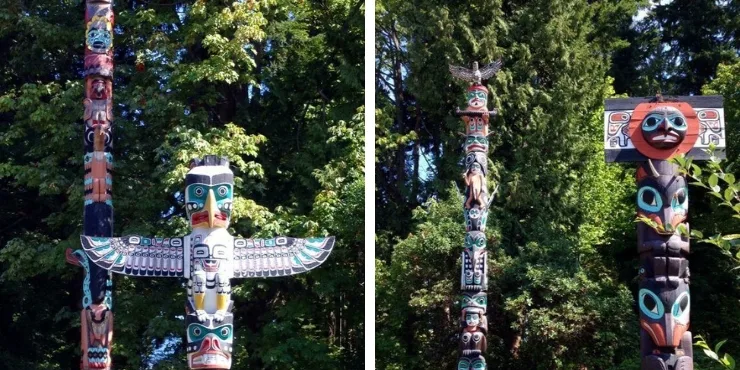 LOOK OUT FOR SOME OF THE WILDLIFE LIVING IN THE PARK
Wildlife found in the park includes bald eagles, beavers, bats, harbour seals, raccoons, squirrels and even coyotes.LOOK OUT FOR SIWASH ROCK
Look out for Siwash Rock a 32 million-year-old sea stack that is located just off the seawall between Third Beach and Lions Gate Bridge.
According to Squamish first nations legend, a man was transformed into the rock.
TAKE A PHOTO OF THE LIONSHEAD BRIDGE
Often seen in photographs as a symbol of Vancouver don't miss your chance to for a selfie with the famous bridge which connects the city of Vancouver with the district of North Vancouver.
Opened in 1938 the suspension bridge is nearly 2 miles long and carries 3 lanes of traffic in and out of the city.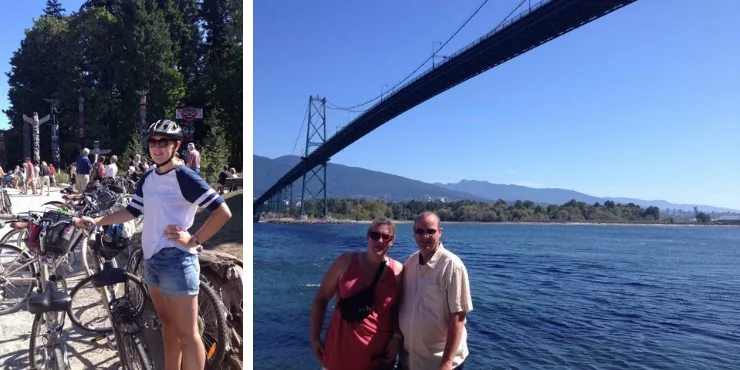 OTHER ACTIVITIES AVAILABLE AT STANLEY PARK INCLUDE
Taking a ride on the Stanley Park Train
Having a go at the Stanley Park Pitch and Putt
Play tennis on the Stanely Park Tennis courts.
Walk some of the 27km of trails in the park
Good to know – Hire your bikes from just outside the park. We rented from Spokes Bicycle Rentals which are right next to the park and has been hiring bicycles since 1938. Take a credit card with you as you will need this to secure the bicycle.
If you enjoy cycling you may also like to take a 5-hour cycling tour of Vancouver which includes Stanley Park, Gastown and Granville Market. This is a great way to familiarise yourself with the city too!
For those of you who enjoy hiking, there are also a number of hikes you could include in your itinerary all within 30 minutes of Vancouver. If this is something of interest read more in this Vancouver Hiking Guide which includes details of 21 of the best hikes.
⇒ CLICK HERE TO BOOK YOUR 5 HOUR CYCLING TOUR OF VANCOUVER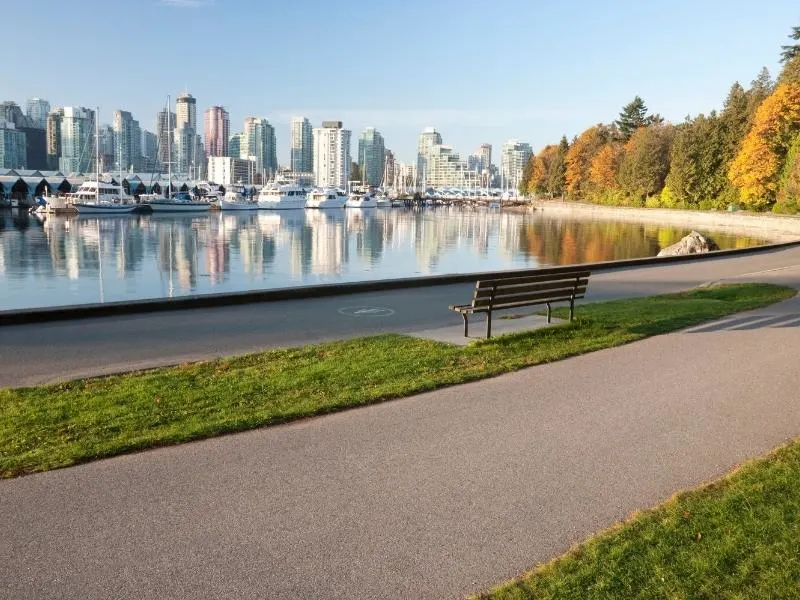 CLICK HERE TO READ MORE – TOP 10 THINGS TO DO IN VANCOUVER IN SUMMER
PLAN YOUR TRIP TO VANCOUVER
RECOMMENDED HOTELS IN VANCOUVER
For the first two nights, we stayed near the airport in Richmond. We flew in from Europe and had some serious jet lag to content with so wanted to have an easy base until we acclimatised. On the third day we moved into the city.
If you are flying in from Europe I would highly recommend staying near the airport for a night or two if you need time to adjust to the change in times.
ABERCORN INN
The first hotel we stayed at was the ABERCORN INN VANCOUVER AIRPORT. It was a great hotel as it was near to the airport for us to get to and just sleep on arrival but also really close to the Bridgeport Station for transport into the city.
It is also close to the Summer Night Market in Richmond so a great place to stay if you want to go there too!
CLICK HERE TO CHECK FOR AVAILABILITY AND PRICES AT THE ABERCORN INN VANCOUVER AIRPORT
DOUGLAS GUEST HOUSE
As I mentioned we moved closer to the city on the third day and to the DOUGLAS HOUSE BED AND BREAKFAST. This is a short walk from Broadway-City Hall subway station and suited us perfectly for a short stay.
The room was comfortable and we found the staff very welcoming. The location was good for the VanDusen Botanical Garden too!
CLICK HERE TO CHECK FOR AVAILABILITY AND PRICES AT THE DOUGLAS HOUSE BED AND BREAKFAST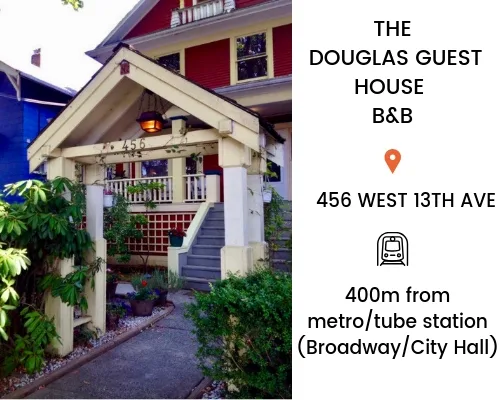 There are a huge array of hotels to suit every traveller and every budget in Vancouver. If my recommendations aren't quite what you are looking for please check out my link and book your hotel in Vancouver!
GETTING AROUND VANCOUVER – ESSENTIAL INFORMATION ABOUT VANCOUVER PUBLIC TRANSIT
We travelled around Vancouver by bus, bicycle, skytrain and aquabus. We found public transit to be an excellent way to move around the city.
SkyTrain is the oldest and one of the longest automated driverless light rapid transit systems in the world. The Expo and Millennium SkyTrain Lines connect downtown Vancouver with the cities of Burnaby, New Westminster and Surrey. The Canada Line connects downtown Vancouver to the Vancouver International Airport (YVR) and the city of Richmond.
Buses, trolleys and Community Shuttles link to various hubs, exchanges, SkyTrain stations and tourist destinations throughout Metro Vancouver.
The Aquabus provides frequent, daily passenger ferry service to all major destinations in False Creek.
The city of Vancouver has an excellent website all about public transit which you can access by clicking on this link!
TOP TIP – Buy day passes for the Skytrain which gives unlimited travel. I would highly recommend doing this as it is cost-effective and easier if you are travelling around the city.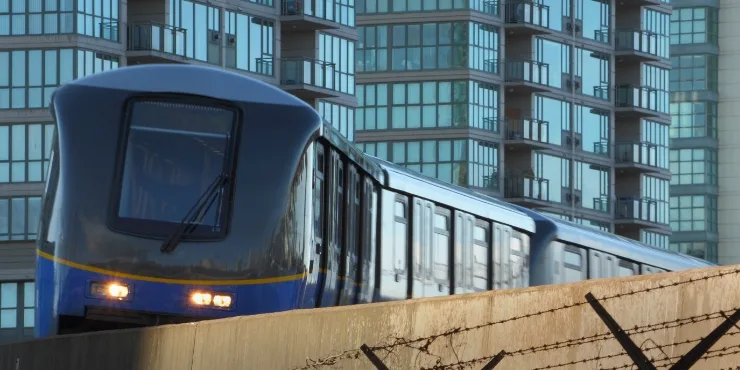 RECOMMENDED TOURS – BEST THINGS TO DO IN VANCOUVER
If you are pushed for time these are some of the best tours from my favourite tour company Get Your Guide that you can take during your time in Vancouver.
Discover Vancouver and adjacent North Shore on a fully-narrated 7-hour mini coach tour with an award-winning guide. Go to the incredible Capilano Suspension Bridge Park, discover the heart-stopping Cliffwalk, learn the life cycle of the salmon and more.
Sample Vancouver's best restaurants on this guided culinary walking tour. Discover historic Gastown and enjoy local craft beers, wines, and cocktails, all paired with a diverse range of dishes.
Discover Vancouver on this smartphone guided walking tour. Your amazing scavenger hunt adventure begins in the heart of the city at Hotel Vancouver and takes you on a journey through the rich history of this great northwest city.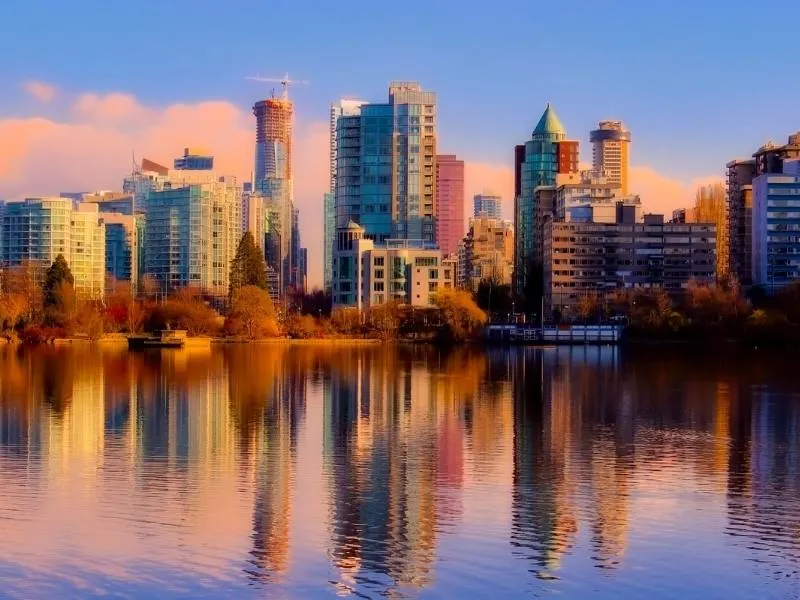 USEFUL BOOKS TO READ ABOUT VANCOUVER