Vancouver Island is located in the state of British Columbia off the south west coast of Canada. It is famed for its diverse geography and natural beauty. At 400 km long and 100 km wide, with a population approaching 800,000, it is the 43rd largest island in the world.
With abundant wildlife and a mild climate, Vancouver Island is an exciting destination for nature lovers and those who love outdoor activities and a perfect excursion from Vancouver.
This insider's guide to the best things to do on Vancouver Island was written by Elizabeth who has lived on the island for a number of years.
Best things to do on Vancouver Island
There are many fine activities and tourist attractions to engage in on Vancouver Island. The very best, cheapest and world-famous would be things that involve getting out in nature. BC is known as Supernatural British Columbia due to its many beautiful forests and mountains both of which Vancouver island has in abundance. In fact, the entire island is a paradise for those who love the outdoors, nature and wildlife,
With many hiking trails, national historic sites, superb scenery and wildlife Vancouver Island has much to offer visitors.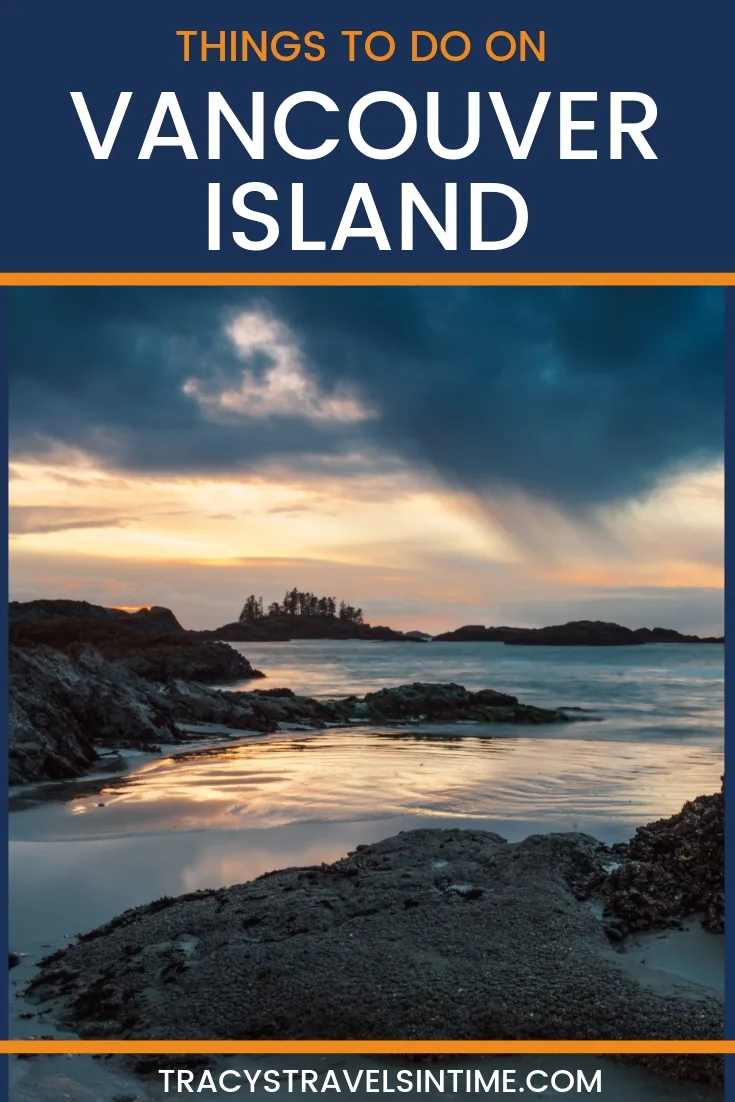 Carmanah Walbran Provincial Park
A day trip up the island from Vancouver Island's main city of Victoria will take you to an old-growth forest called the Carmanah Walbran Provincial Park.
The park is home to some of the world's largest spruce trees. Some of the trees are over 800 years old and are up to 95 metres high. The park is also home to ancient, gnarled cedars. They are estimated to be well over 1,000 years old. A diversity of flora and fauna can be found living in this ancient area.
This is the perfect place to visit for forest lovers and hikers.
NEED TO KNOW
Carmanah Walbran Provincial Park is a 3 1/2 hour (185 km) drive from Victoria.
To get into the park you have to travel for approximately 50 km down some active logging (and potholed) roads – for the latest information about traveling into the park please click here for the official website for the park.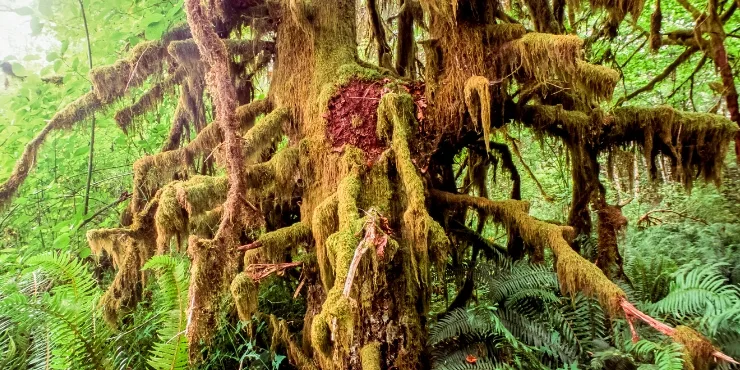 Mount Washington
Receiving some of the highest snowfalls in North America Mt. Washington is the place to head for Alpine adventures. The Alpine Resort offers skiing (both downhill and cross-country), snow tubing, snow shoeing and snowboarding in the winter months.
In the summer mountain-biking, hiking, golf and in 2019 a new 2.3 km ZipTour are just some of the activities on offer.
There are shopping and dining options in the resort and various types of accommodation.
NEED TO KNOW
In winter if driving to the resort cars are required to have good winter tyres with chains available if the chain-up light is on. Please check on the website before you leave for up-to-date weather and driving conditions.
Mt Washington is a 3 hours drive (244 kms) north of Victoria.
Please visit the official website for more information – Mount Wellington Alpine Resort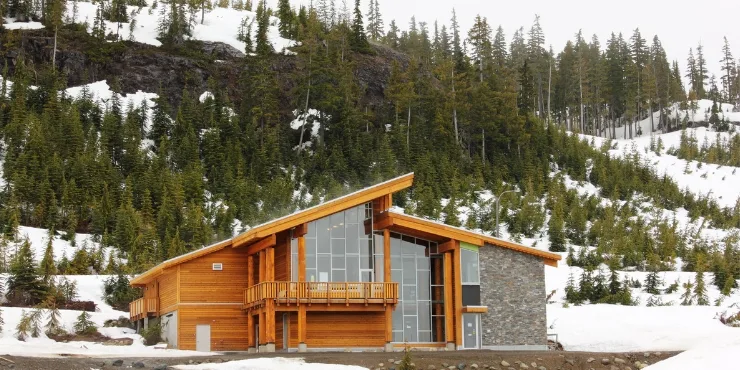 Goldstream National Park
Goldstream National Park with mountain and river hikes and walks to chose from is only 17 kms from Victoria. Between October and December you can see salmon-spawning as thousands of salmon return to the river.
During the months of December to February the area also has the highest concentration of Bald Eagles in Canada as they gather to feast on the salmon carcasses.
The area experienced a gold rush in the mid-19th century and there are old mining shafts and tunnels still remaining.
NEED TO KNOW
Parking is available at the main picnic area off the Island Highway at Finlayson Arm Road.
The Goldstream Park Visitor Centre is open daily from 9am – 4:30pm.
There is a gift shop and book shop at the visitor centre where you can also pick up a coffee and a cake.
Check out the official website – Goldstream National Park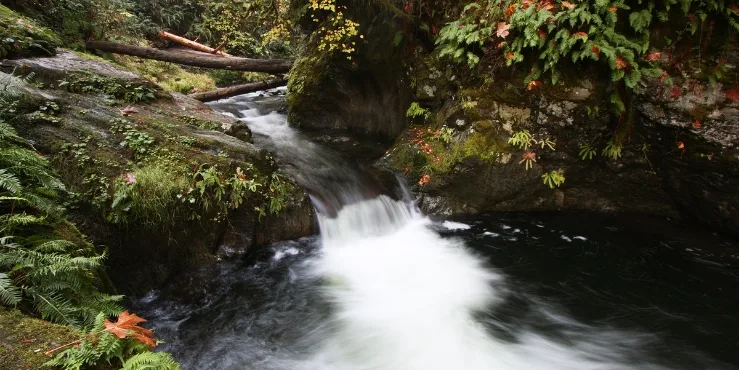 READ MORE – BOOKS TO READ BEFORE YOU VISIT CANADA
Tofino
Tofino is located on the remote west coast of the island. It is in the traditional territory of the Tla-o-qui-aht First Nations.
Offering fishing, kayaking and canoeing, food tours, beaches, bear watching and more Tofino, nestled in the heart of the Clayoquot Sound UNESCO Biosphere Reserve, is an ideal destination for outdoor lovers.
NEED TO KNOW
Tofino is a 4 hour (316 km) drive from Victoria.
For more information check out the official website – Tourism Tofino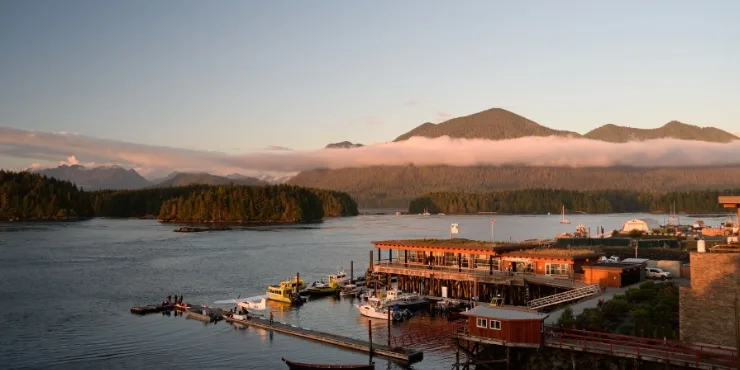 Pacific Rim National Park
Pacific Rim National Park Reserve is your gateway to the rugged west coast of Vancouver Island. If you enjoy hiking the 75-kilometre (47-mile) West Coast Trail starts at the entrance to Port Renfrew and is one of the most challenging and intimidating for even the most seasoned of walkers.
If it is something that interests you click on this link for more information about registering for the walk.
The Pacific Rim National Park is the home of the Nuu-chah-nulth people. Pop into the visitor centre – Kwisitis – to find out more about the First Nations of the west coast of Vancouver Island.
Other activities available in the park include surfing and canoeing/kayaking/paddle boarding and other water sports.
NEED TO KNOW
The park is comprised of three separate regions: Long Beach, the Broken Group Islands, and the West Coast Trail.
The park is located 180 kms (4 1/2 hour drive) from Victoria.
Find out more on the Parks Canada website.
Plan to spend some time exploring Port Renfrew which is the perfect Vancouver Island weekend getaway.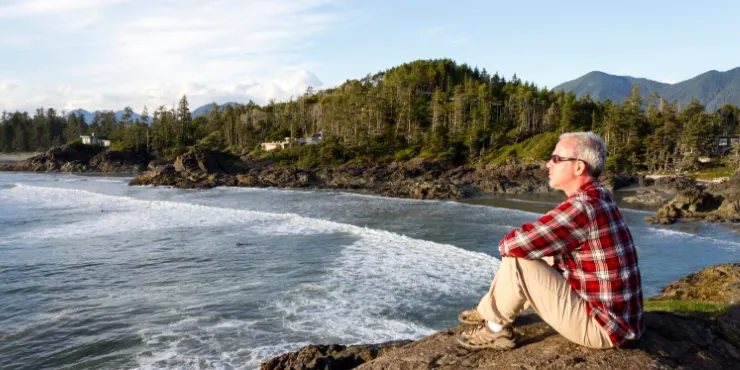 Butchart Gardens
Butchart Gardens are world-famous botanical gardens, a designated National Historic Site and a popular tourist destination. Beautiful to visit at any time of year they make an ideal day trip from nearby Victoria.
Butchart Gardens are an absolute must for every visitor to Vancouver Island.
READ MORE – Everything you need to know to plan your visit to Butchart Gardens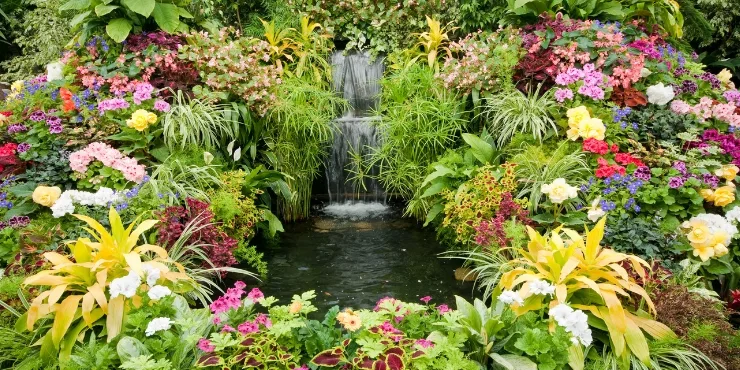 Victoria – the capital of British Colombia
A favourite activity for tourists ( and occasionally locals) is High Tea at the Empress, a local heritage hotel on the inner harbour. After tea there are many pleasant walks around the city/harbour.
There is the Royal BC Museum, Parliament buildings, shops, carriage rides, harbour ferries, pubs, Kabuki cabs, whale watching and many fine restaurants to visit in Victoria. Read more –Things to do in Victoria.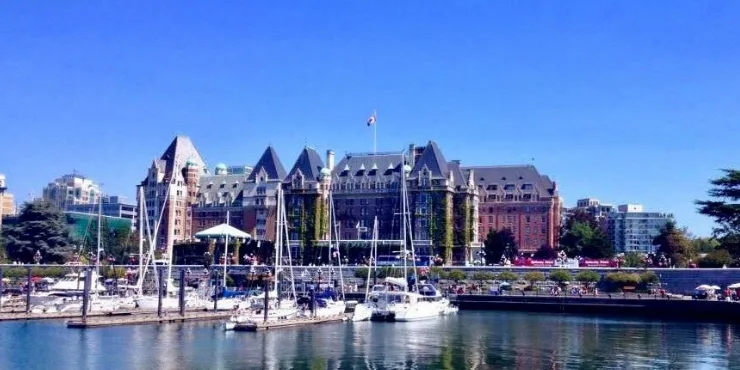 FAQS – Planning your visit to Vancouver Island
What are the best ways to travel around Vancouver Island?
Victoria no longer has a train although the residents are campaigning to bring it back.
Public transport is the bus service and taxis. There is a bus to the ferry at Swartz Bay which is the main route off the island to Vancouver. The ferry trip is a sight seeing tour in itself.
There is another option, float planes, super expensive but perhaps worth at least one trip because of the spectacular birds-eye view of the islands.
Renting a car and driving is probably a cost-effective option because the public transport system doesn't always link conveniently with all the best walks etc. the traffic is fairly light and slow on the island and we drive on the right-hand side of the road.
Bike rentals are available. Victoria is a cycle-friendly city and as it is small and contained an excellent way to get around.
When is the best time of year to visit Vancouver Island?
Victoria and Vancouver Island has something to offer at every time of the year.
Summer is mild with a few hot days for swimming in the many lakes and lying on the beaches. There is also lots to do in Vancouver in summer which makes both destinations perfect for a summer vacation.
Winter has a ski resort within a few hours drive and it doesn't get too cold for outdoor activities as long as you wrap up warmly.
What do I need to know before visiting Vancouver Island's parks?
Vancouver Island is home to all sorts of wild animals including black bears and cougars.
You will see all sorts of warning signs if there have been sightings and advice about talking precautions to keep yourself safe. If you are not familiar about how to keep yourself safe please ensure you read the signs and know what to do.
If you are intending to camp or hike please check for up-to date information on sightings before you set out. An excellent article that discusses potential wildlife encounters on Vancouver Island and offers advice about what to do can be found at Vancouver Island View.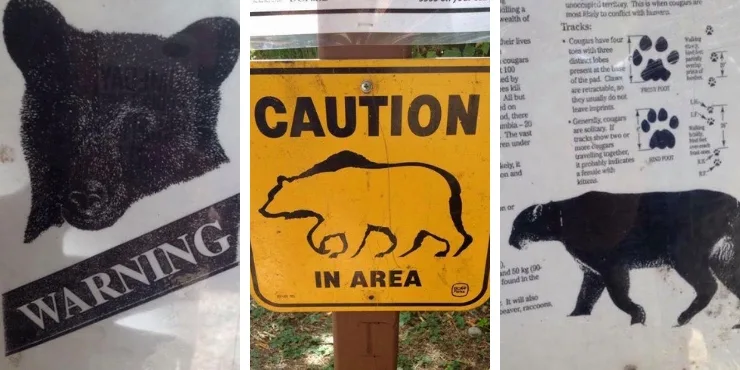 Are there any must-see events for visitors to Victoria and Vancouver Island?
In Victoria there are always live concerts at venues around town, there are two large theatres, a resident symphony, a ballet company, an opera company and a musical theatre company.
In summer there is a rodeo and Western Speedway (fast cars racing) Something for everyone.
There are music festivals in summer and a Fall Fair for those who have always wanted to see the islands biggest pumpkin. Click this link for up-to-date information about festivals and events on the island.
Are there any day trips from Vancouver Island that you would recommend?
I would recommend visiting Vancouver in Canada and a trip on the Clipper to Seattle over the border in the United States if you are visiting from Europe.
Saltspring Island accessed by ferry from Swartz bay is also an excellent day trip. If you are in Vancouver it is possible to take a day trip to the Gulf Islands on a tour –
Take a day trip by seaplane and kayak and discover the island world of the Canadian Pacific Coast. A fascinating world of animal life and a lovely picnic awaits you on deserted beaches.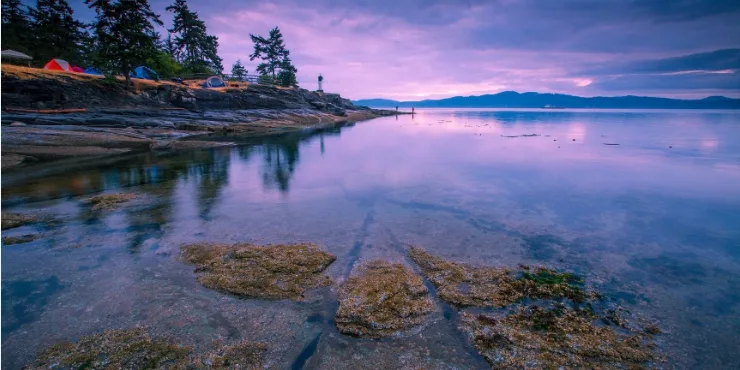 What tours can I take around Vancouver Island?
Explore picturesque downtown Victoria on a tour by pedicab that take you to places missed by motorized tour vehicles. Admire the architecture of the city's old town area. Stop at century-old shops and taste chocolate at the city's finest antique store.
Travel by seaplane from Victoria's Inner Harbour to The Butchart Gardens, where you will enjoy a three-course meal. After dinner, enjoy an evening stroll through the lit-up gardens. Your evening ends with a limousine ride back to downtown Victoria.
Join us aboard a covered vessel whale watching tour lead by marine naturalists whose knowledge and passion for Vancouver Island's marine wildlife is unequalled. You can look for humpback whales, resident and transient orcas (killer whales) and other magnificent marine wildlife.
Thanks, Elizabeth for this great post about things to do on Vancouver Island. If you are planning a visit to Vancouver Island don't forget to check out some of the great places recommended in this post.
Author's Bio
Where do you live? Victoria, Vancouver Island, Canada

How long have you lived there? I moved here in 1999

What do you do? I am an artist/art teacher.
What do you love most about where you live? I love the mild weather and the liberal politics. I love the medical system that provides for all citizens.