Things to do and see in 3 days in Vancouver
Beautiful Vancouver – Fact File!
Vancouver is located on the west coast of Canada in British Colombia (I can't believe how many people ask me this! It is an amazing city – we loved it. There are loads of things to do and see and we had fantastic weather when we were there last August (2015).
It takes approx. 9 1/2 hours flying time to get there from the UK (we flew via Amsterdam as they had the best deals on at the time).
Vancouver is 8 hours behind UK time so prepare for a little jet lag!
Rather than rewrite the wheel I have decided to use my blog from our visit which gives you an idea of what you can fit into a few days! (0r 72 hours to be exact)
We got around by bus, skytrain and aquabus
We went to –
Granville Island Market
Gastown (we ate there a lot and its a great place to have a drink and people watch)
VanDusen botanical garden
The Summer Night Market in Richmond
Stanley Park…on a bicycle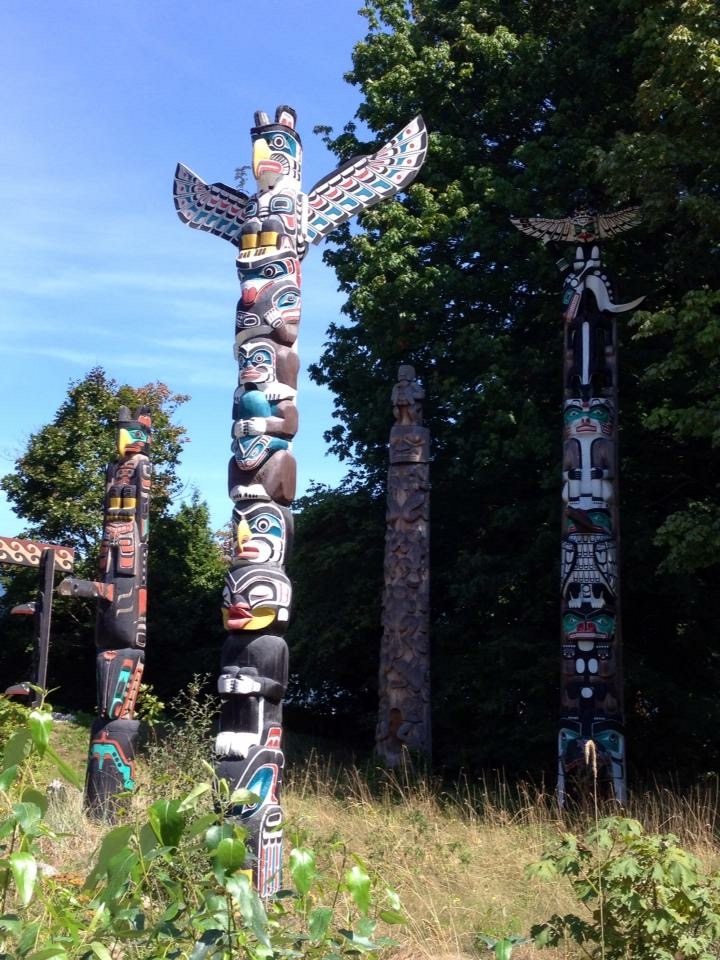 Day One
"Well we arrived into Vancouver Airport at 13.40 yesterday afternoon after a 9 1/2 hour flight from Birmingham. We had an early start as we caught the 6 am Birmingham-Amsterdam flight first (?)so we were a little tired (read knackered)
We caught the free shuttle bus to our hotel which was all easy and very straightforward. After a brief visit to Tim Hortons (fast food joint)to catch a bite to eat  – ☕️-we conked out! Jetlag ?????
At 2am we were awake…so a cup of coffee and a muffin later we attempted to get a little more sleep!
After a quick breakfast we decided to catch the Skytrain downtown and go to Granville Island market. As the hotel we are staying at is close to Bridgeport Skytrain station (which is on the Canada line)we had a 5 min walk only. Ideal and highly recommended!
We decided to buy day passes for the Skytrain which cost $9.50 each but give unlimited travel. I would highly recommend doing this as it is cost effective and reduces pfaff time!!
The train only took about 20 mins to Yaletown Roundhouse where we got off and walked down to catch an Aquabus to Granville Island.
Granville Island
We loved Granville Island with its fab market – just check out those cherries??????
We had a walk around the island and saw some very interesting things!!!!
These are amazing and part of an urban art project!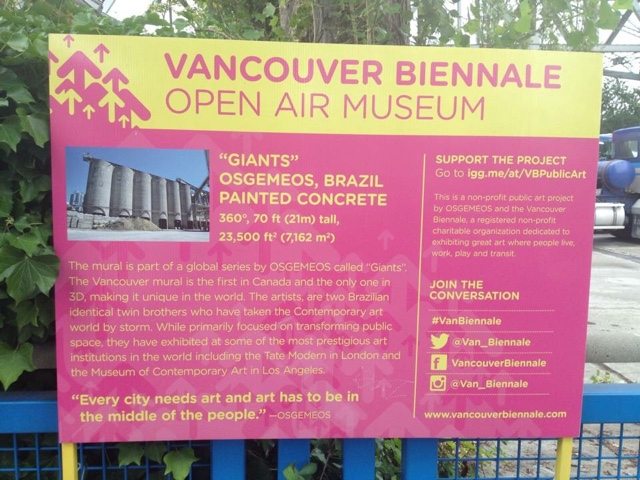 We also came across a floating village! These houses were amazing and such a contrast to the glass buildings behind. Apparently they cost between $3000 and $5000 a month each to rent. They are on a floating platform which list with the tide! I loved the contrast between the houses and the cityscape in the background too.
After our visit to Granville Island we caught the aquabus back to Yaletown. Mr C had spotted a train situated in a community centre! A Canadian Pacific Loco which is being preserved by volunteers.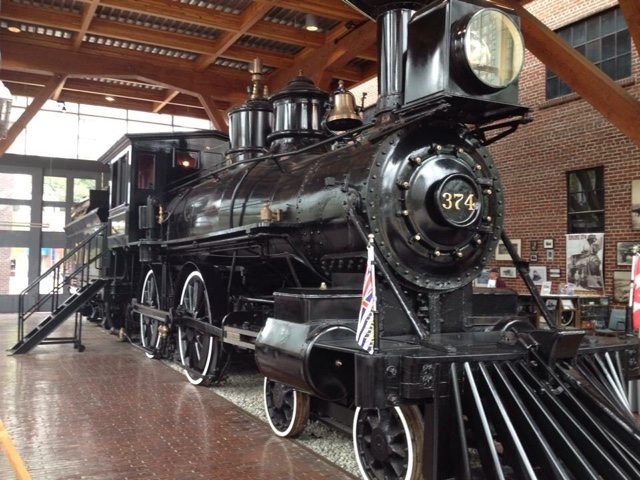 Gastown
We then decided to head downtown to waterfront and walk along to Gastown. Gastown is named after Gassy Jack Deighton a riverboat captain who built Vancouver's first significant structure (a bar !!!) in 1867. He was nicknamed gassy as he talked a lot….nothing wrong with that I say!!!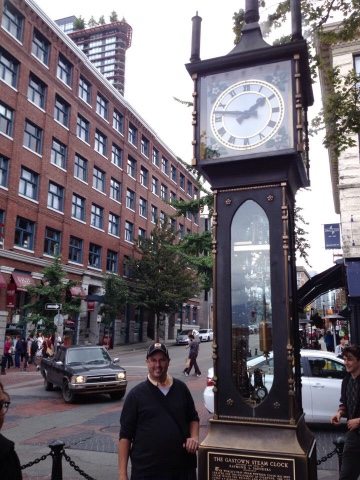 We passed the steam clock on the corner of Water and Cambie streets. A perfect photo opportunity for every tourist in Vancouver including us! It gives a steamy rendition of the Westminister chimes every 15 minutes!! Gastown is a great place to head for a drink and a meal whilst watching the world go by.
DAY 2
More things to do and see in 3 days in Vancouver! We were still feeling a little jet lagged which was not a nice feeling!
VanDusen Botanical Garden
So today we decided to visit a botanical garden – VanDusen botanical garden!  It was a bit of a trek to get to it as we had to take the skytrain then walk quite a few blocks. We had initially looked at the University of Columbia botanical garden as there is a Canopy Walk there but the receptionist at the hotel thought we meant VanDusen's so thats where we went!!
It was the 40th anniversary of its opening and instead of $11 only cost $2 each! We had an enjoyable stroll around – as there has been a severe drought here for 3 months we expected things to look a little dry but the gardens were beautiful. Most of the flowers were past their best but everything was lush and green.
International Summer Night Market in Richmond
After a stroll around Gastown we headed back to the hotel for a nap as we intended to go to the International Summer Night Market in Richmond – luckily only a 10 minute stroll away from our hotel…
The market is an annual event and experiences over 30,0000 visits every weekend (most of them last night when we went I think!!!) and this year runs from May 8 – Sept 27 every weekend.
It was an enjoyable experience and very busy – there were loads of different foods to try and it was just lovely walking around on a warm summer's evening experiencing something  like this!
DAY 3
Today we met up with my daughter Dominique who had been staying in Canada for 5 weeks already! Lucky girl!
First off we moved from our hotel in Richmond to a B&B in Vancouver itself. Pretty painless and the B&B is close to Broadway Skytrain station so easy for our trip to Victoria tomorrow. So what should we do today? A bit of cycling????
A visit to Stanley Park
We decided to go to Stanley Park and hire some bikes as Dominique said it HAD to be done! And boy was she right!!
We hired our bikes from a shop just outside the park – the bus driver pointed it out to us and a LOT of people were hiring bikes as they had to same idea as us!
It is a 8km bike ride around the sea wall and the views were fabulous. It is an easy ride (thank god as bike riding isn't my thing!!) But i did enjoy bombing around ringing my bell to let those on a leisurely ride know that speed queen was overtaking them on their left!
There are some gorgeous totem poles to see too as well as the Lionshead Bridge.
I hope you enjoyed "Things to do and see in 3 days in Vancouver."
(That was our 3 days – we headed over to Vancouver Island next but thats a whole new story!)
---
Pin for later – Things to do and see in 3 days in Vancouver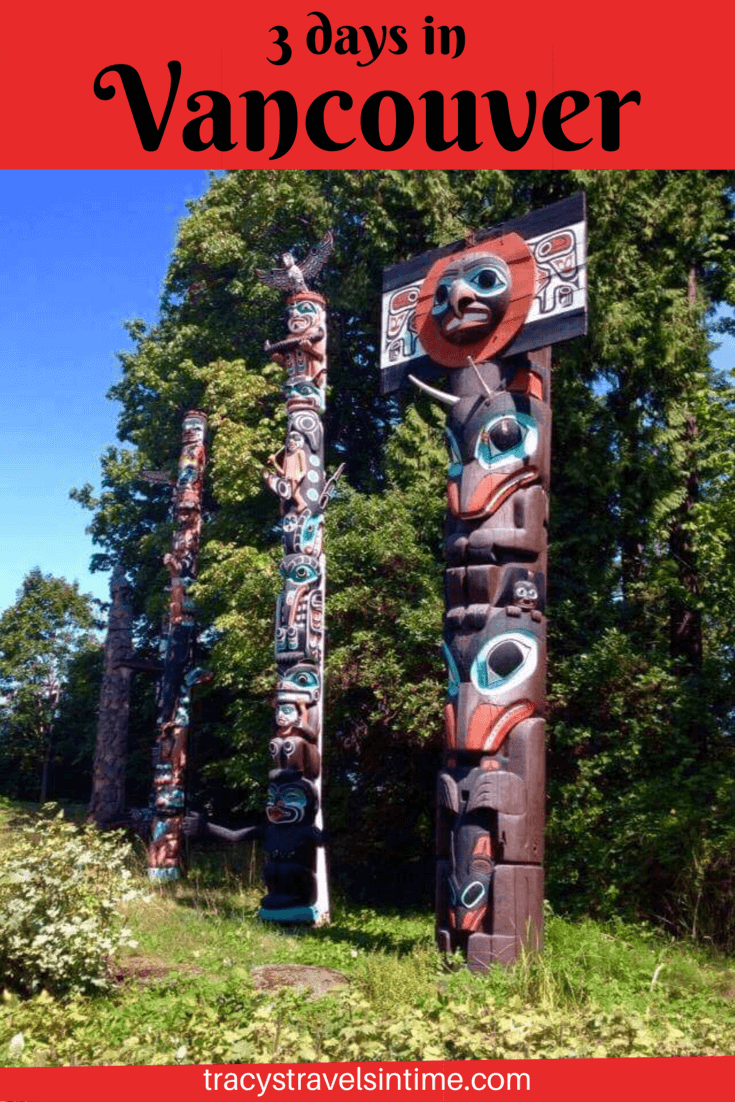 ♥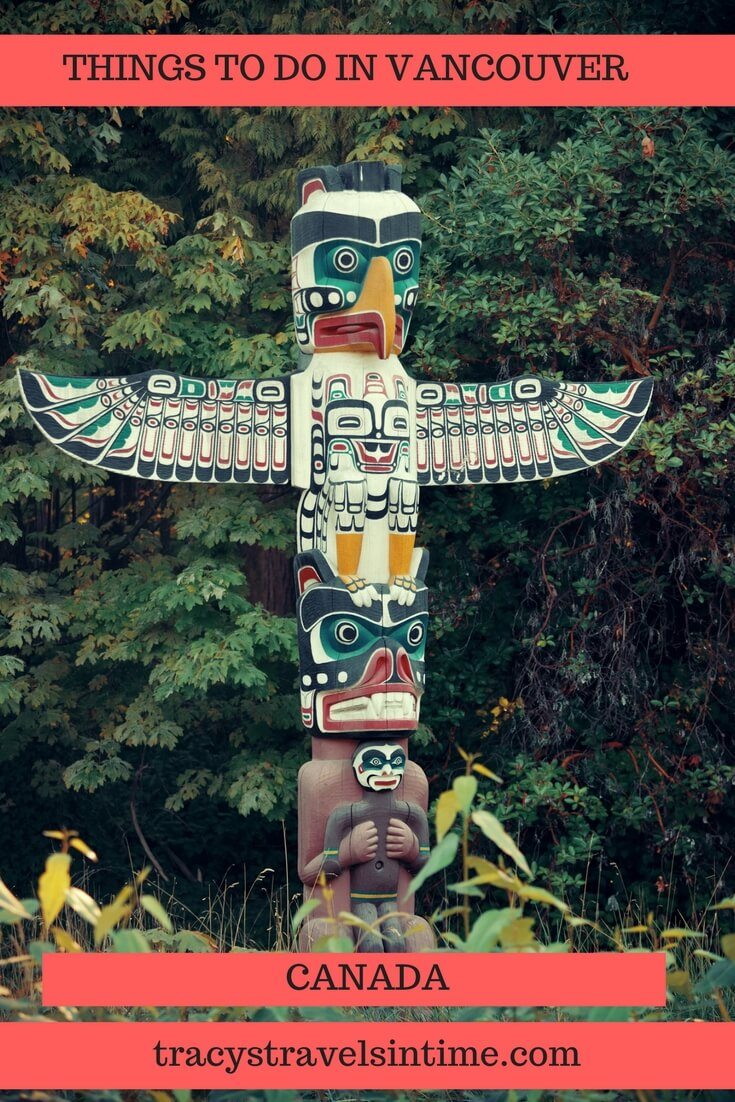 ---
Sign up for my free monthly newsletter and receive a complimentary copy of my guide
"Around Britain in 80 Do's"
~~~~~~~~GO on – its a LOT of fun? ~~~~~~~~~~

♥