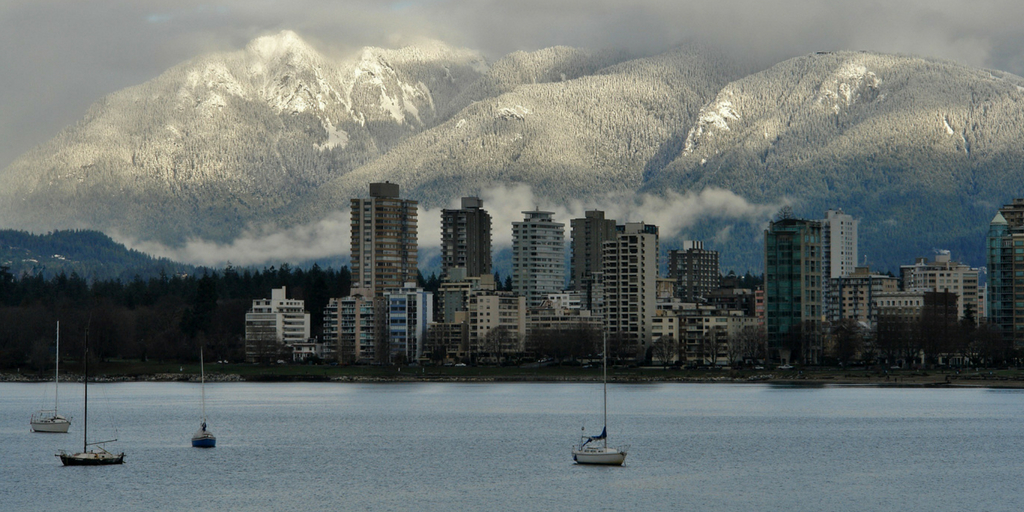 If you only have 3 days in Vancouver and you want to fit everything in then this itinerary is for you! There is a lot of things to do and see in 3 days in Vancouver but with a little planning it is possible to do quite a lot even in a short stay.
Your questions answered
How can I get around Vancouver?
What can I see in Vancouver in 3 days?
What does a 3 day itinerary look like?
Where should I  stay in Vancouver?
Are there tours that I can take in Vancouver?
---
3 DAYS IN VANCOUVER: LOGISTICS AND ITINERARY
---
Vancouver Public transit
We travelled around Vancouver by bus, bicycle, skytrain and aquabus. We found public transit to be an excellent way to move around the city.
SkyTrain is the oldest and one of the longest automated driverless light rapid transit systems in the world. The Expo and Millennium SkyTrain Lines connect downtown Vancouver with the cities of Burnaby, New Westminster and Surrey. The Canada Line connects downtown Vancouver to the Vancouver International Airport (YVR) and the city of Richmond.
TOP TIP – Buy day passes for the Skytrain which give unlimited travel. I would highly recommend doing this as it is cost effective and easier if you are travelling around the city.
Buses, trolleys and Community Shuttles link to various hubs, exchanges, SkyTrain stations and tourist destinations throughout Metro Vancouver.
The Aquabus provides frequent, daily passenger ferry service to all major destinations in False Creek.
City of Vancouver have an excellent website all about public transit which you can access by clicking on this link!
What can you do and see in 3 days in Vancouver?
---
3 DAYS IN VANCOUVER: DAY 1
---
GRANVILLE ISLAND
There are numerous ways to get to Granville Island. I would highly recommend catching the Aquabus or the False Creek Ferry which are an inexpensive but fun way to get to Granville Island. The ferries run continuously from 7am to 10:30pm in the summer (8:30pm winter).
Alternatively get there by car, bus or on foot – check out the Granville Island website for up-to-date options as well as opening times!
There are lots of things to do and see when you get to the Island including a fantastic public market. We loved strolling around a checking out the beautiful produce available.
As well as the wonderful market there are plenty of places to stop for a bite to eat. Choosing will be your biggest problem!
If arts and culture is your thing again there will be lots to keep you busy. There are numerous art galleries and theatres to visit and enjoy.
If you are visiting the island with children they will definitely want to pop into the Children's Market which has over 25 stores dedicated to them.
Keep a look out (you won't miss them) for the murals on the concrete silos too!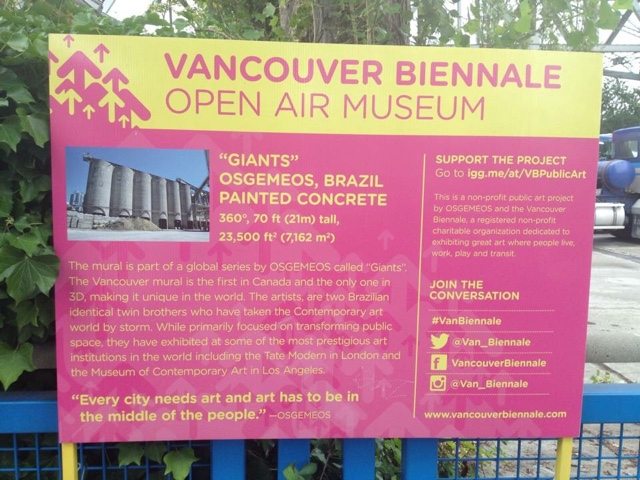 Be sure to check out the floating village! The houses are amazing and such a contrast to the glass buildings behind. Apparently they cost between $3000 and $5000 a month each to rent. They are on a floating platform which list with the tide! I loved the contrast between the houses and the cityscape in the background too.
GASTOWN
Gastown is named after Gassy Jack Deighton a riverboat captain who built Vancouver's first significant structure (a bar !!!) in 1867. He was nicknamed gassy as he talked a lot….nothing wrong with that I say!!! Check out the ornate street lamps and cobblestoned tree lined streets in this historic district of Vancouver.
Have your camera at the ready for the steam clock on the corner of Water and Cambie streets. A perfect photo opportunity for every tourist in Vancouver including us! It gives a steamy rendition of the Westminister chimes every 15 minutes.
Gastown is a great place to head for a drink and a meal whilst watching the world go by and has a great atmosphere.
3 DAYS IN VANCOUVER: DAY 2
VanDusen Botanical Garden
On day 2 why not visit VanDusen Botanical Garden?
We accidentally ended up at  VanDusen botanical garden.  We had initially planned to visit the University of Columbia botanical garden as there is a Canopy Walk there but the receptionist at the hotel thought we meant VanDusen's so thats where we ended up going! I really like botanical gardens (I know they are not everyone's thing) and have visited quite a few around the world including Edinburgh, Scotland and Cape Town, South Africa.
When we were there it was the 40th anniversary of its opening and instead of $11 entry cost it was only $2 each. We had an enjoyable stroll around – as there has been a severe drought here for 3 months we expected things to look a little dry but the gardens were beautiful. Most of the flowers were past their best but everything was lush and green.
International Summer Night Market in Richmond
The International Summer Night Market in Richmond is a more unusual addition to an itinerary for Vancouver but I had seen it advertised and really thought it was worth a visit. We were also staying at a hotel very close by to the market so we made a point of going along to it.
The market is an annual event and experiences over 30,0000 visits every weekend. It was an enjoyable experience and very busy – there were loads of different foods to try and it was just lovely walking around on a warm summer's evening experiencing something  like this!
3 DAYS IN VANCOUVER: DAY 3
STANLEY PARK
For our third day in Vancouver we decided to go to Stanley Park and hire some bikes as it was highly recommended.
We hired our bikes from a shop just outside the park – the bus driver pointed it out to us and a LOT of people were hiring bikes as they had to same idea as us!
It is a 8 km bike ride around the sea wall and the views were fabulous. It is an easy ride (thank god as bike riding isn't my thing!!) But I did enjoy bombing around ringing my bell to let those on a leisurely ride know that speed queen was overtaking them on their left!
---
WHERE WE STAYED FOR OUR 3 DAYS IN VANCOUVER
---
For the first two nights we stayed near the airport in Richmond. We flew in from Europe and had some serious jet lag to content with so wanted to have an easy base until we acclimatised. On the third day we moved into the city.
The first hotel we stayed at was the ABERCORN INN VANCOUVER AIRPORT. It was a great hotel as it was near to the airport for us to get to and just sleep on arrival but also really close to the Bridgeport Station for transport into the city. It is also close to the Summer Night Market in Richmond so a great place to stay if you want to go there too!
CLICK HERE TO BOOK THE ABERCORN INN VANCOUVER AIRPORT
As I mentioned we moved closer to the city on the third day and to the DOUGLAS HOUSE BED AND BREAKFAST. This was a short walk from Broadway-City Hall subway station and suited us perfectly for a short stay. The room was comfortable and we found the staff very welcoming. The location was good for the VanDusen Botanical Garden too!
CLICK HERE TO BOOK A STAY AT THE DOUGLAS HOUSE BED AND BREAKFAST
There are a huge array of hotels to suit every traveller and every budget in Vancouver. If my recommendations aren't quite what you are looking for please check out my link and book your hotel in Vancouver!
---
TOUR OPTIONS FOR VANCOUVER
---
Sometimes booking a tour is a great way to ensure you see the main highlights of a city especially of you are only there for a few days. Get Your Guide has some excellent tours!
---
You may also enjoy reading:
If you are planning to visit the Rockies you may be interested in these great hikes to do in Banff National Park.
---
PIN FOR LATER – Things to Do and See in 3 Days in Vancouver
---
Tracy is your expert expat!
She has lived and worked in 7 countries on 4 continents and travelled to over 50 more. A qualified school teacher with an interest in history, reading, photography, nature and wildlife she is always planning her next trip (preferably by train)
With a lifetime of travel experience, and a network of friends all over the world, she is also able to share genuine insider guides, recommended best book lists and train journey inspiration to help you travel authentically to some of the most beautiful places on earth.
Come and join me as I travel the world one country (and train journey) at a time!