Are you planning a day trip to Whitehaven Beach? Below you will find information and tips to help you choose the best tour plus make the most of this island paradise!
Paradise. One word that beautifully sums up a visit to Whitehaven Beach! We have visited Whitehaven Beach on day trips from both Airlie Beach and Daydream Island and have put together this guide to help you plan your perfect visit.
Whitehaven Beach is located in the Whitsunday Islands, a group of 74 tropical islands off the Queensland Coast in Australia and is consistently named as one of the most beautiful beaches in Australia and the world.
The beach with its pure white sand and stunning location is a bucket list destination for both Australians and visitors to the country and one of the most beautiful places to visit in Queensland.
There are various day trips available to Whitehaven Beach from Airlie, Hamilton Island and Daydream Island. In this article I will talk through our experiences of taking two different tours – one from Airlie Beach and the other from Daydream Island.
Where is Whitehaven Beach? And other questions about visiting the Whitsundays
Where is Whitehaven Beach?
Whitehaven Beach is located on Whitsunday Island the largest of the islands that comprise the 'Whitsundays" off the east coast of Australia. The nearest town is Airlie Beach.
What is the best way to get to Whitehaven Beach?
There are numerous tour companies offering day trips to the beach. Take your pick between boat/plane/helicopter!
When is the best time of year to visit Whitehaven Beach?
Marine stingers may be present in the waters of tropical Queensland all year round but may be more prevalent from October to May. We visited in early September and chose not to wear stinger suits but you do so at your own risk. Due to the hotter, wetter weather between those months I would recommend visiting between June and September.
Book your Whitehaven Beach Day Trip
Whitehaven Beach Day 1/2 day option from Airlie
After evaluating the various available Whitehaven beach tours from Airlie Beach we decided to book a half-day trip with Cruise Whitsundays.
If you are considering which day cruise to take out to the beach this guide will give you an idea of what to expect from the Cruise Whitsundays half-day tour as well as tips to ensure you make the most of your day.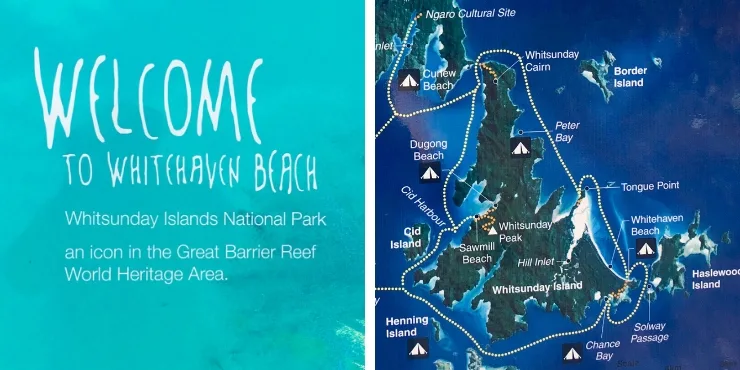 Check-in at 6.30 am
Check-in is at the Cruise Whitsundays Maritime Terminal. For the half-day morning cruise check-in is at 6.30 am (there is an afternoon Whitehaven beach tour available too). Parking is available at the terminal. It cost us $6 for 12 hours and there was plenty of spaces available at 6.30 am when we arrived.
If you don't have time to eat breakfast prior to check-in there is a cafe at the terminal.
We boarded the Cruise Whitsundays boat at 6.45 and were met by a very friendly and approachable crew.
We were kept informed of the itinerary during the day. The crew were also very knowledgeable and told us lots of interesting information about the islands as we sailed through.
The boat stops at Hamilton Island to pick up more passengers and then sails directly to Whitehaven Beach.
Due to the possibility of stingers, we were all offered a stinger suit if we wanted it before arriving at the beach.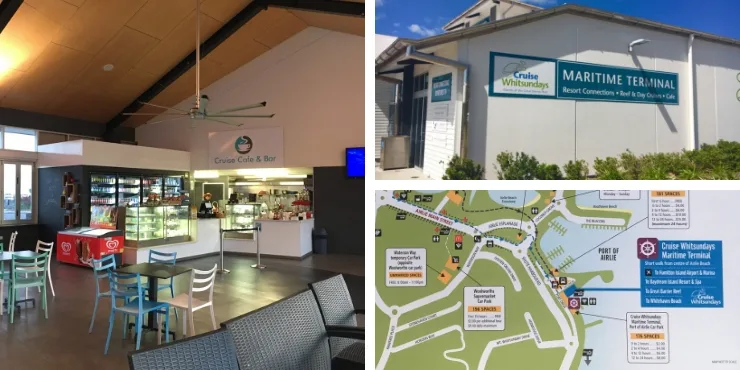 Arrive at Whitehaven Beach
After arriving at Whitehaven you transfer to the beach on a smaller boat.
First steps on the pure white sand of the beach are magical. The sand is 98% pure white silica and felts like no sand I have stood on before. It is so fine it is possible to clean jewellery with it. It also does a great job of exfoliating feet.
Make sure you keep phones and cameras away from the sand as it will scratch surfaces.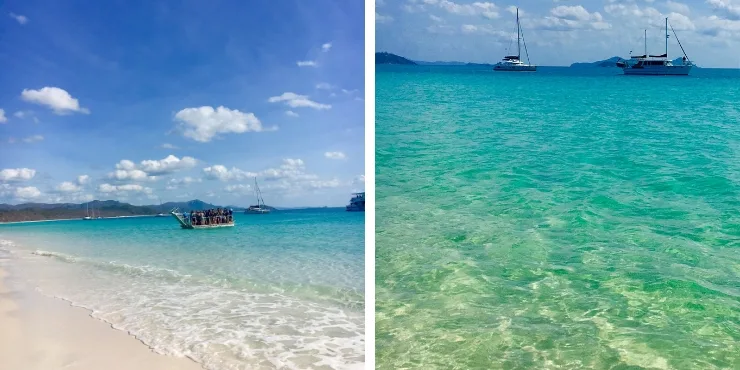 Once everyone is on the beach the Cruise Whitsundays crew will set up a covered area on the beach where you can get water when you need it. We had bought sandwiches and snacks on the boat to eat on the beach though the seagulls were a slight problem.
If you are on a half-day trip there are 2 1/2 hours to enjoy the beach before transferring back to the boat. We visited in early September and although it was hot it wasn't unbearable. I would be concerned about the lack of shade if visiting in the summer months.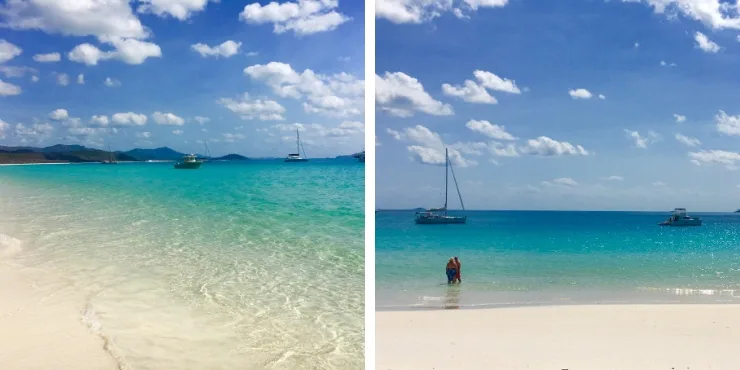 Things to do at Whitehaven Beach when you have 1/2 day
The white silica sands stretch for over 7 kms along Whitsunday Island. The sand is truly dazzling and combine that with the crystal clear water and you will feel like you are in paradise.
There is plenty of space to put down your towel and enjoy the views – relax, chill out and enjoy your time on the island.
With the half-day option you are limited to the beach area itself (you see more on the full day trip which includes Hill Inlet but more about that later)
Sunbathe!
Swim!
Take a stroll along the beach!
Keep an eye out for the seaplanes which land and take off just beside the beach!
Snorkel!
Check out the local wildlife!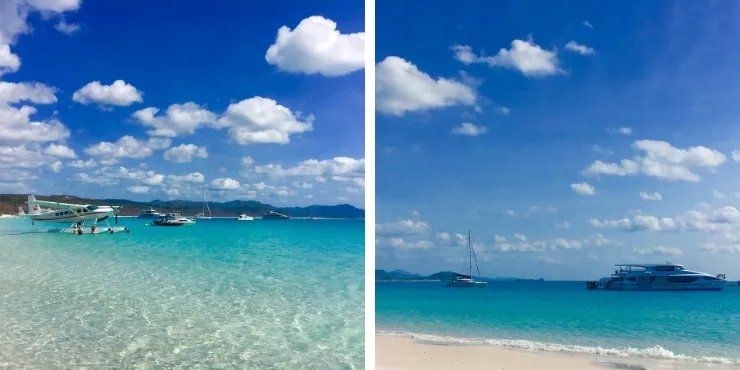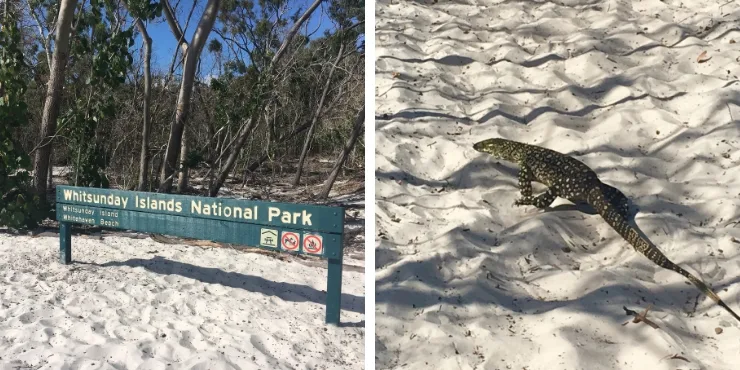 Returning to Airlie Beach
Once the 2 1/2 hours is up everyone transfers back to the main boat. Make sure to shake yourself, bags, shoes etc and leave the sand at the beach rather than take it with you. Your feet will be washed as you get back on the boat to remove any last grains.
During the return journey refreshments and cakes and biscuits were available.
The boat heads back to Hamilton Island where you change to another boat for the return trip to Airlie Port. Arrival time was approximately 1.45 pm.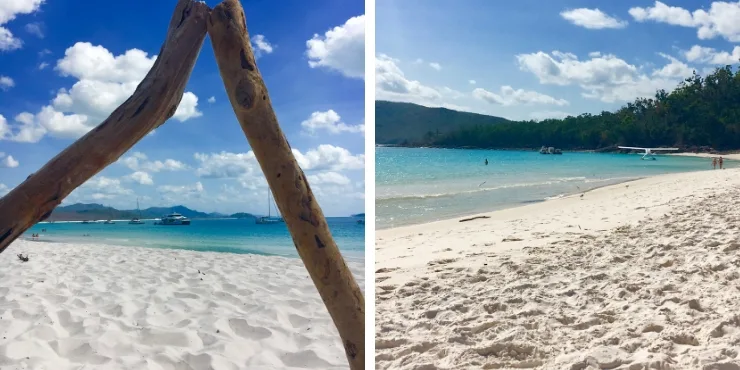 Tips to make the most of your 1/2 day visit to Whitehaven Beach from Airlie Beach
Complimentary coffee and tea is available on the boat throughout the cruise.
Sandwiches, crisps and snacks are available to buy during the cruise as well as soft drinks, beers and wine.
Whale watching! Keep an eye out for whales between June and November. Humpback whales migrate from Antarctica every year to give birth in the warm waters off tropical Queensland.
Remember to take your swimsuit, towels and suncream!
There are toilets accessible just behind the beach.
Check out this fabulous guide if you are planning to snorkel and want to know what gear you need – it tells you everything you need to know!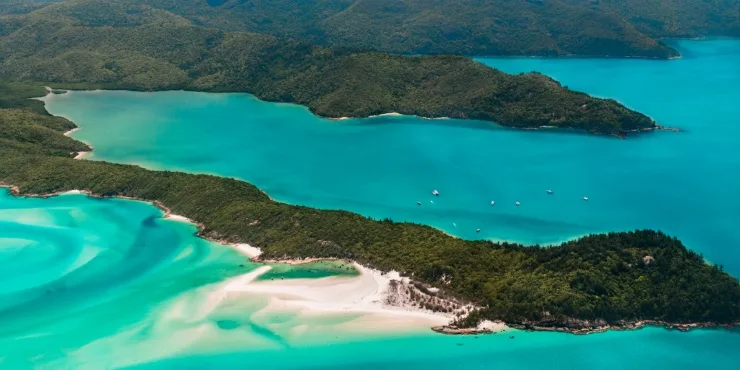 Airlie Beach Accommodation
We spent an evening in Airlie Beach before travelling to Whitehaven Beach and Daydream Island.
There are lots of great accommodation options available in Airlie including the following hotels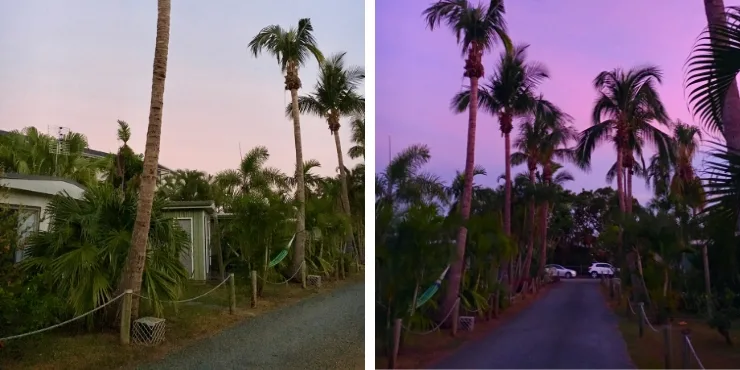 Tour options to the Whitsundays and Whitehaven Beach
From Airlie Beach: 1-Hour Whitsunday Islands Scenic Flight
Why not FLY over the Whitsundays? This one-hour scenic flight will give you the opportunity to admire the Great Barrier Reef from above. See the world-famous Heart Reef one of the most iconic sights in Australia.
» CLICK TO BOOK YOUR SCENIC FLIGHT OVER THE WHITSUNDAYS
Outer Great Barrier Reef Full-Day Tour from Port of Airlie
Want to see more of the reef? Why not join this 10 hour trip to a pontoon on the outer reef area. Enjoy a day swimming, snorkel or jump on the semi-submersible boat.
» CLICK TO BOOK YOUR FULL-DAY TOUR OF THE REEF FROM AIRLIE BEACH
Whitsunday Helicopter Tour: Flight + Whitehaven Landing
And the ultimate way to see the Reef, islands and enjoy a day at the beach? Take a helicopter ride of course!! I actually have a friend who did this and loved it so this is definitely on our itinerary next visit. Why not treat that special someone in your life to a day they will never forget?
» CLICK TO BOOK THE ULTIMATE EXPERIENCE – A HELICOPTER TRIP OVER THE REEF AND LANDING ON WHITEHAVEN BEACH!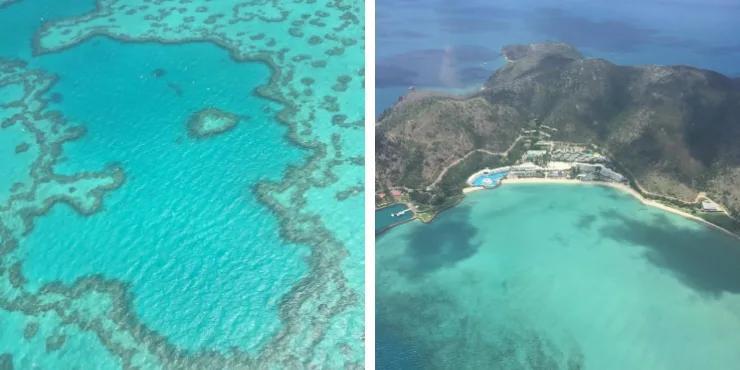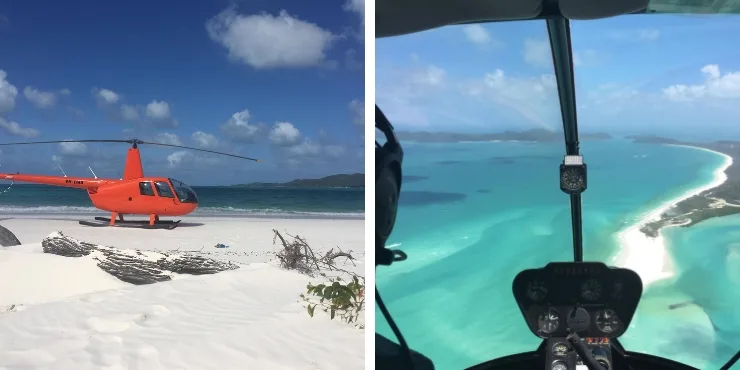 Planning your visit to Queensland
There are more articles on this blog offering both practical tips and inspiration for your travels around Queensland (and Australia generally) including: