As travelers who love train journeys we always explore the possibility of including them into our plans where possible. So when we started planning a trip along the entire length of the west coast from Seattle to Los Angeles our first choice was to book the Amtrak Coast Starlight passenger train.
This double deck Superliner train runs from Seattle, Washington to Los Angeles, California via Portland's Union Station, Sacramento, the San Francisco Bay area and Santa Barbara.
The Coast Starlight passes through areas of spectacular natural beauty with dramatic snow-covered peaks and long stretches of passing scenery to enjoy. Travelling down the west coast on the Coast Starlight provides a comfortable and luxurious alternative to flying. The Amtrak Coast Starlight runs daily and covers a distance of 1377 miles over 35 hours.
There are a total of 28 stops along the way down the west coast to Los Angeles.
If you are considering booking this service read on for a comprehensive guide to the Amtrak Coast Starlight! If you are considering other Amtrak rail journeys you may be interested in reading my post about 5 scenic Amtrak train journeys.
⭐️ Click here to book your Coast Starlight tickets
In this article, I will cover all of these questions about the Coast Starlight passenger train service
WHAT ARE THE ACCOMMODATION OPTIONS ON THE COAST STARLIGHT?
WHAT IS THE JOURNEY ON THE COAST STARLIGHT PASSENGER TRAIN ACTUALLY LIKE?
WHERE DOES THE COAST STARLIGHT STOP?
WHAT IS THE SCENERY LIKE ALONG THE WAY?
WHAT IS THE ROUTE MAP OF THE COAST STARLIGHT?
WHAT THINGS SHOULD I KNOW IF I AM TAKING THE COAST STARLIGHT?
WHAT IS MY RECOMMENDED READING FOR TRAIN TRAVELLERS TAKING THE AMTRAK COAST STARLIGHT?
WHAT WOULD I RECOMMEND PACKING FOR AN OVERNIGHT TRAIN TRIP ON THE COAST STARLIGHT?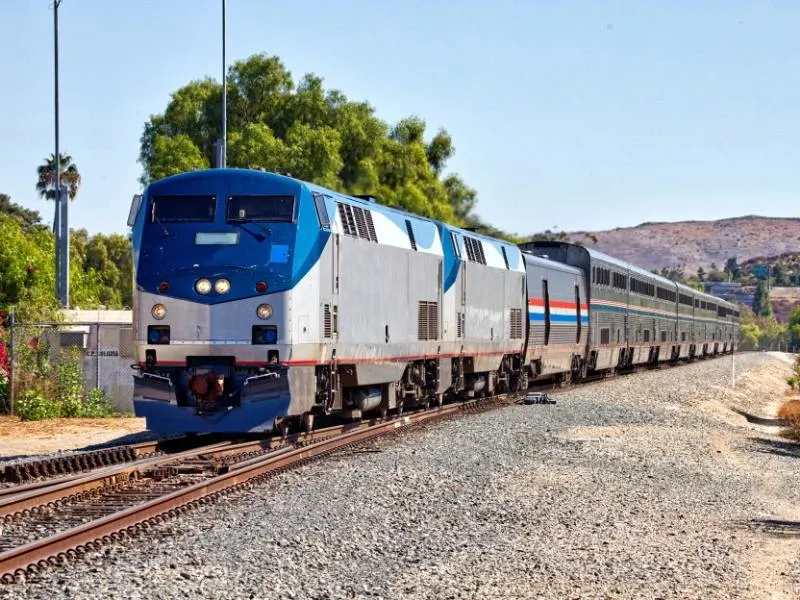 Guide to traveling on the Amtrak Coast Starlight
Accommodation options on the Amtrak Coast Starlight
When reserving your tickets on this Amtrak service there are a number of accommodation options to choose from to suit all budgets. These range from reserved coach class seats to sleeper services for those planning overnight train travel in the Superliner Roomettes and Bedrooms.
The Superliner sleeping cars consist of ten 2 berth roomettes and four larger 2 berth bedrooms on the upper level and 4 roomettes, 1 family bedroom, and 1 accessible bedroom on the lower level.
Superliner Roomettes
We chose to reserve two roomettes as we were travelling on the Coast Starlight overnight train with our adult daughter. The roomettes consist of 2 seats alongside the window. At night the seats are converted into a single berth with another single berth folding down from the ceiling.
The roomette is ideal for solo passengers or two passengers traveling together. The room measures 3'6″ by 6'6″ and there is only room for maximum one or two bags (I would check your bag in if this is an option at the station you are boarding the train at)
Features and amenities in the Coast Starlight Superliner Roomette sleeper car include
a large picture window to enjoy all the beautiful views
electrical outlet to keep everything charged
soap and shower amenities – there is no in-cabin toilet or showers but these are available in the same train car
personal service to turn-down and make the bed
fresh towels and bed linens
Along with all your meals you have access to the lounge car during the journey. Although Wi-Fi is not available in the roomette it is accessible in the lounge car.
There are other accommodation options to choose from on the Coast Starlight including:
Superliner Bedroom – this room can fit 2/3 passengers. It includes a large sofa and an easy chair. The Superliner bedrooms also have a sink and a private enclosed restroom with a toilet and shower.
Superliner Bedroom Suite – this is formed by combining two of the bedrooms and is ideal for 4/6 people traveling together.
Superliner Family Bedroom – this room is located on the lower level and is furnished with 2 adult-sized and 2 child-sized beds. The showers and restrooms are in the same car.
Reserved Coach Class Seat – For those passengers who are not traveling the entire route there is the option to reserve a seat.
Seats are available on both levels but I would recommend reserving a seat on the upper level for the best views.
There is plenty of legroom and the coach seats recline which makes the journey more comfortable.
⭐️ Click here to book your Coast Starlight tickets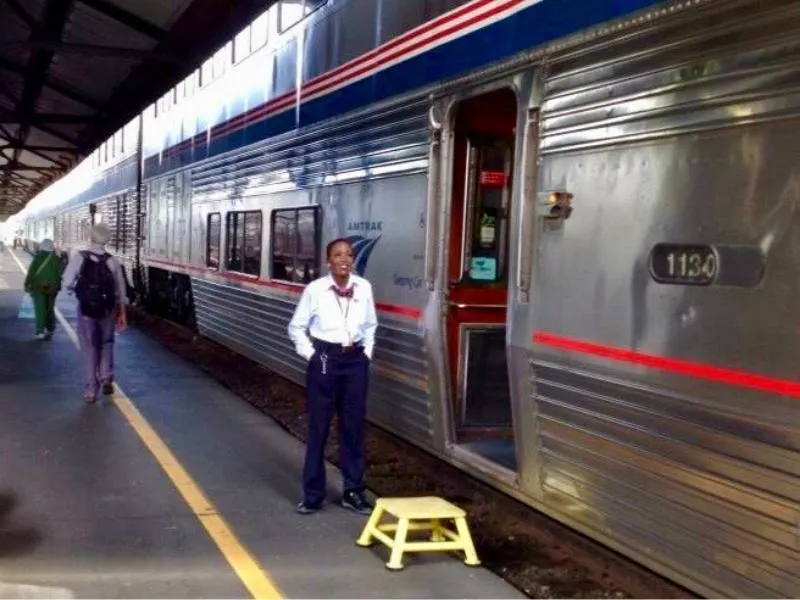 What is the journey like on the Amtrak Coast Starlight train?
We were starting our one-way journey in Seattle, Washington as we traveled southbound through Oregon and Northern California to Los Angeles (stopping off for a few days in San Francisco along the way).
If this is the route you are taking on the Coast Starlight you will first have to check in at Seattle's King's Station.
Checking-in at Seattle's King's Station – Key Information
Organisation at King's Station was good and the checking-in process was smooth.
The check-in desk is clearly signposted with plenty of seating available while you wait for the Coast Starlight to arrive.
As soon as the train arrives at the station you can board.
If you have luggage you will need to store it on the lower deck but I would recommend checking it in if this is available.
This has to be done at least 45 minutes prior to the scheduled train departure. Make sure that you have added a tag to your bag with your name and address.
I would suggest having a smaller travel bag or laptop backpack with all your journey essentials. If you have booked a roomette there is really not much room so a large suitcase/bag will simply not fit.
This is my suggested packing list
⭐️ Click here to book your Coast Starlight tickets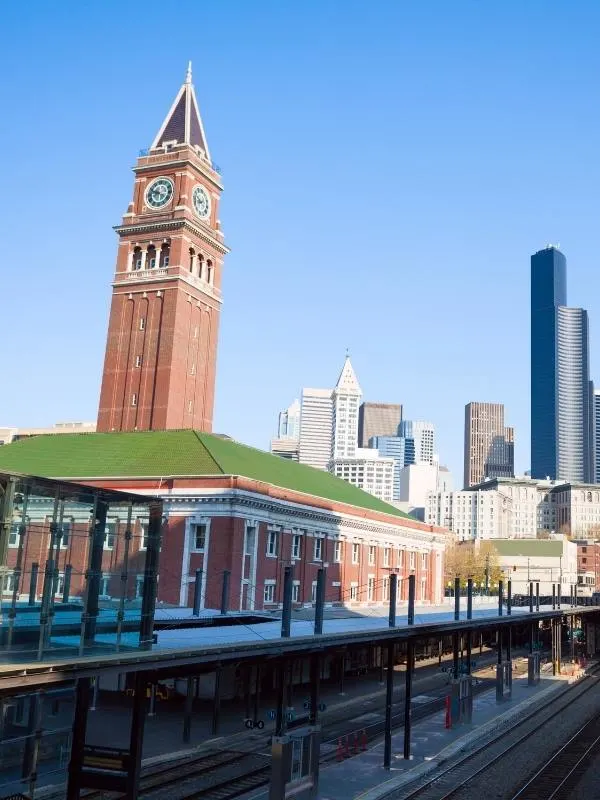 Amenities on the Coast Starlight
As I mentioned above we had reserved 2 roomettes for our journey. These tickets allowed us access to the Parlour Car and a cinema on the lower deck.
Please note – Unfortunately as a cost-cutting measure by Amtrak the Parlour Car was removed from service in 2018 which is a real shame.
All meals are also included in the price of the ticket if you book a roomette. The dining car hostess will come down and reserve your mealtime due to the limited seating in the Dining Car.
The Superliner Dining Car is located on the upper level and there are lunch and dinner sittings. If you are traveling alone or as a couple you will find that you will have to share a table for four.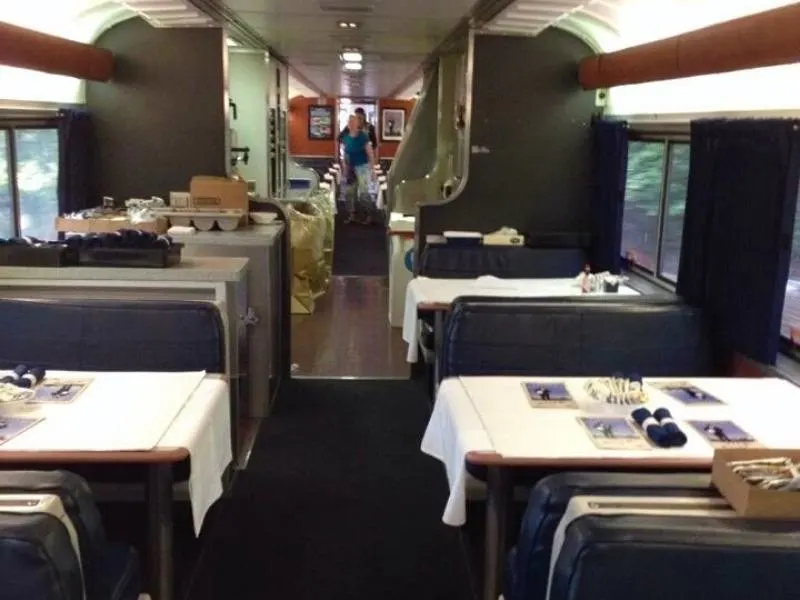 There are also optional extras which you can book and pay for once on the train – cheese and wine tasting for example.
We found the Parlour Car was the place to meet new people and we had some great conversations with other travellers along the way.
With the Parlour Car no longer in service head to the Superliner Sightseer Lounge Car with its floor to ceiling panoramic windows for some company and great views!
In the Superliner Sightseer Lounge Car, you will find comfortable armchairs and tables. I recommend that you get there early for sunset as it can be busy, especially at those times. Downstairs in this car, you will find a snack bar that sells drinks and snacks.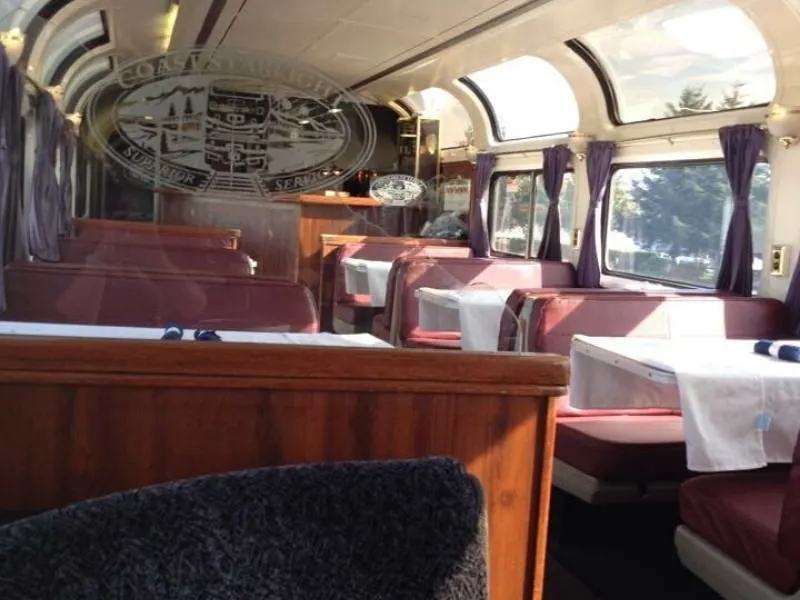 While we were at dinner the roomette beds were made up for us by the hostess. Be aware that there is not much room and you have to have some agility to be able to access the top bunk.
Although my husband doesn't suffer from claustrophobia he did find himself a little confined once on the bunk.
If you don't like small spaces or have mobility issues I would recommend reserving one of the larger bedrooms.
We found the food delicious and considering it is cooked in the confines of a moving train I think they do an excellent job.
→ Click here for essential tips to know before you travel by sleeper train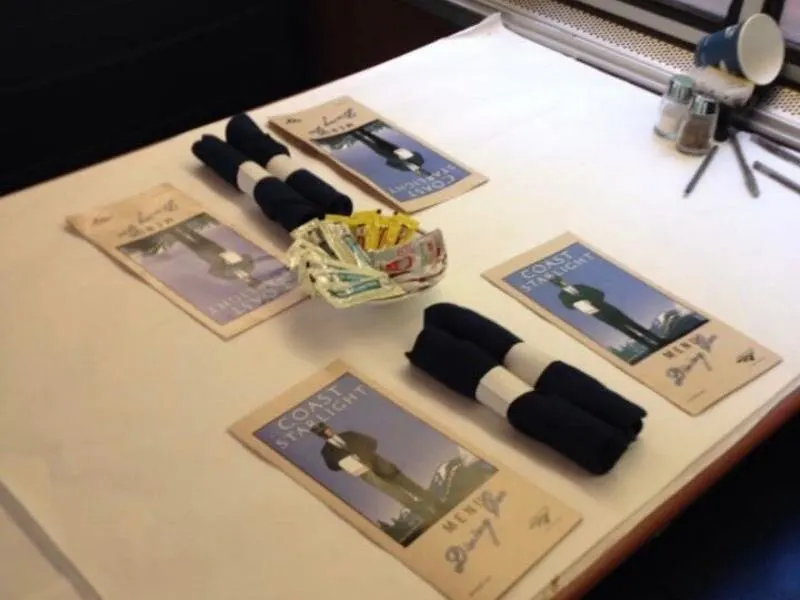 Where does the Amtrak Coast Starlight stop along its route?
There are a total of 28 stops at various train stations along the entire Coast Starlight route including Portland Oregon, Eugene in Northern California, Sacramento, Santa Barbara and Los Angeles.
The Amtrak's Coast Starlight travels through 3 US states – Washington, Oregon and California. During daylight hours there is plenty time to take photographs at the various stations.
You can even alight the train at some of the stops for a short stroll though don't go too far – the train will depart on time whether you are on board or not!
Why not stop off in Portland for a few days and explore the beautiful waterfalls in the area?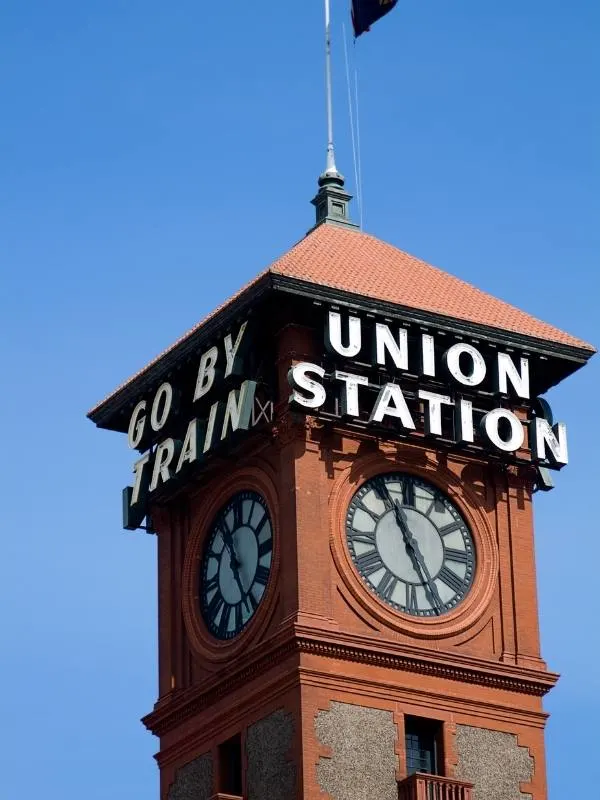 Or perhaps take a few days at Klamanth Falls which offers activities for sports lovers such as canoeing, fishing, and skiing. The area is also popular with bird lovers due to having the highest concentration of bald eagles along the Pacific Northwest.
Many of the hotels in the area offer transfers from the train station. Crater Lake National Park (which is the deepest lake in the United States) is a popular destination for travelers as it is closeby to Klamath Falls.
I the summer months it is possible to purchase a package with your ticket through Amtrak which includes a trip from Klamath Falls to Crater Lake.
Read more – Top 20 gifts for train lovers
What is the scenery like along the route of the Coast Starlight?
After journeying overnight you will arrive at Emeryville having travelled through the states of Washington State, Oregon and into California.
Enjoy the beautiful views along the Coast Starlight route of the coastline and changing scenery along the way which is regarded as unsurpassed.
As described on the Amtrak website, "the dramatic snow-covered peaks of the Cascade Range and Mount Shasta, lush forests, fertile valleys and long stretches of Pacific Ocean shoreline provide a stunning backdrop for your journey."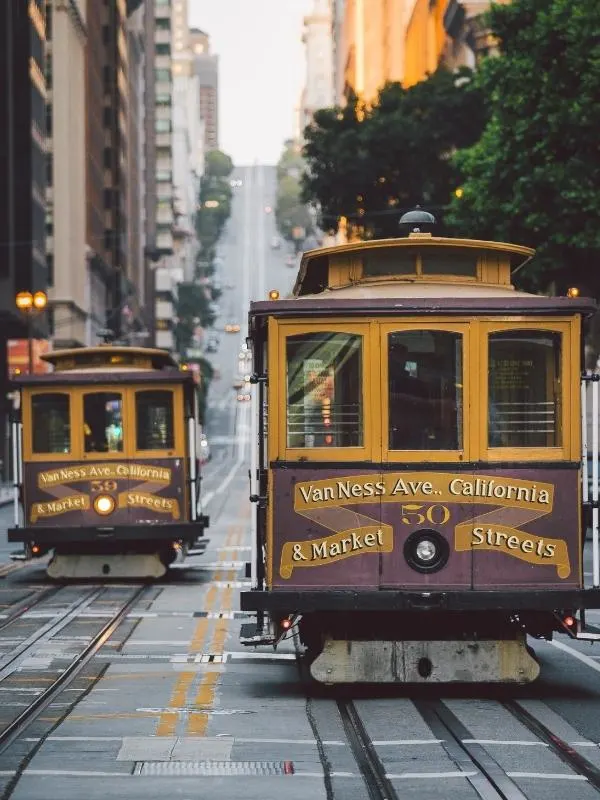 We alighted the train at Emeryville and caught the connecting Amtrak bus service into the San Francisco Bay area where we spent the next 3 days enjoying the sights of the city.
If you are planning to stop in San Francisco you may enjoy my 3 day itinerary for San Francisco which includes all the must-see landmarks as well as tips to make the most of your trip.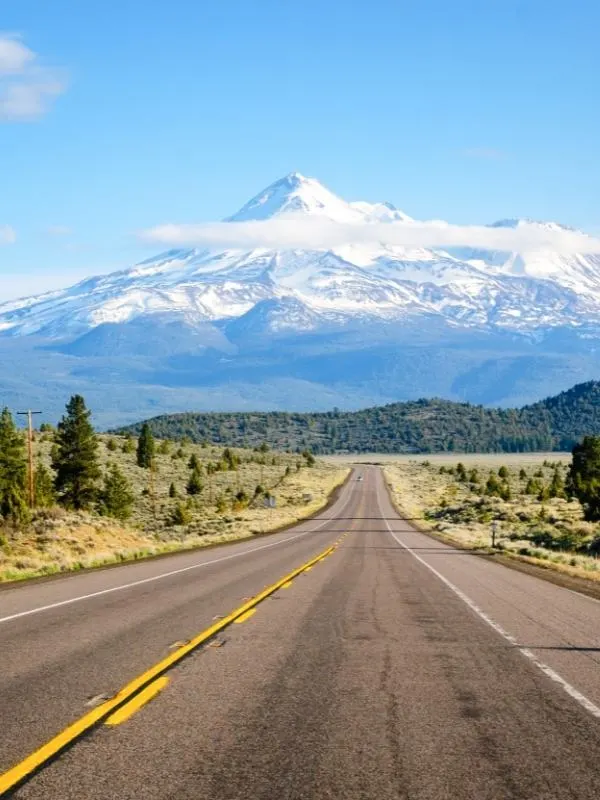 After a fantastic few days in the city of San Francisco, we once again caught the Coast Starlight. This time we picked up the service from Oakland Station to Los Angeles. The train also stops in various places including Santa Barbara along the route before terminating in Los Angeles. (We picked up the connecting Amtrak bus service from the Temporary Transbay Terminal in the city and that took us to Oakland Station)
Unfortunately, our experience of this journey on Amtrak's Coast Starlight was marred due to the train's very delayed arrival at Oakland Station. The knock-on effect was a late arrival into LA which was a bit unsettling on our first visit.
I have heard that delays are quite common on this service so I would recommend you have a plan so you know what you will do if you arrive late.
We were also in the seated coaches which unbelievably has no wi-fi.
The views as we travelled through California towards Los Angeles were pretty spectacular though there was a severe drought at the time which you can tell in the photographs.
→ CLICK HERE FOR MY ESSENTIAL 3 DAY ITINERARY FOR SAN FRANCISCO
Map of the Amtrak Coast Starlight Route
A route map of the route of the Coast Starlight and the various train stations along the journey.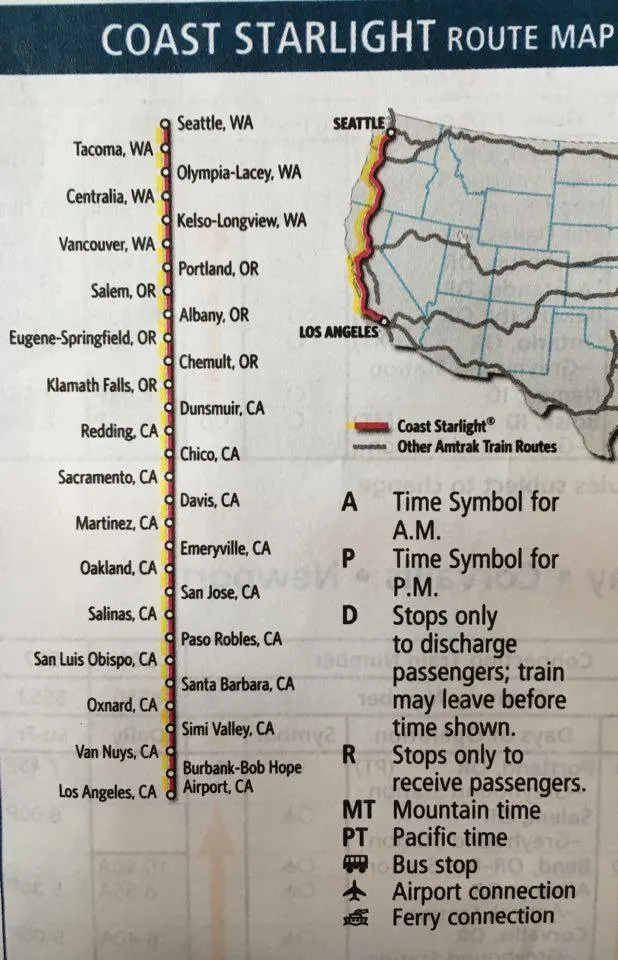 Tips for your journey
If you are staying in a roomette pack a small bag with your travel essentials and valuable belongings to take with you. Your large suitcase will stay below (there is no room for it in the roomette)
Pack an eye mask and earplugs. It can be quite light especially when you pull into a station. You can find suggested items in my travel shop.
If you are prone to claustrophobia or are not fit I would recommend reserving a bedroom as the roomette when converted for 2 adults is very small.

The top bunk has to be accessed via ladder and there is not a huge amount of space up there!
My husband found it a little uncomfortable as there was not much space between his face and the ceiling.
Enjoy the views from the panoramic windows in the observation car.
Chat to people – we met some very interesting travelers along the way from all over the US and abroad.
Do tip the Amtrak staff in particular your sleeping car attendant (we tipped $20) and the dining car staff.
If you are visiting San Francisco do read my 3 day itinerary to San Francisco which includes tips and loads of great information which will help you plan your visit.
→ READ MORE – 10 ADVANTAGES OF TRAIN TRAVEL AROUND THE WORLD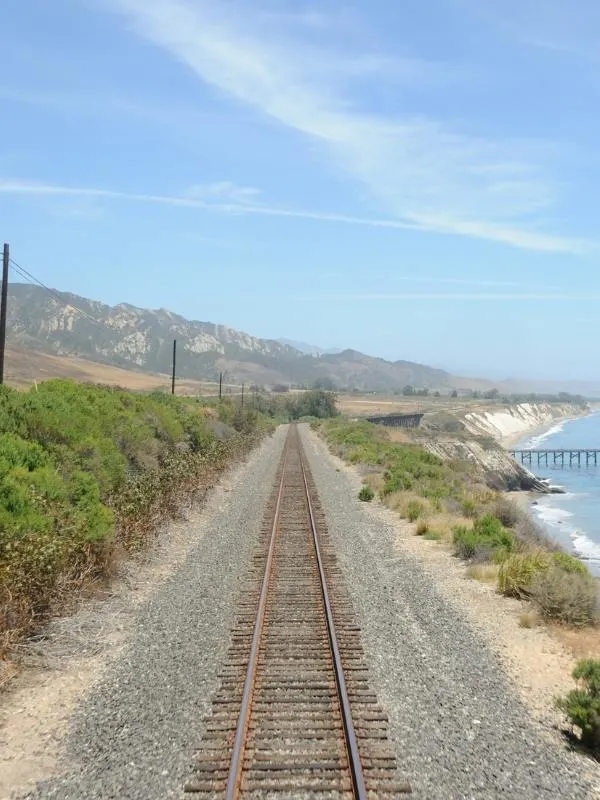 FAQ's – The Coast Starlight
How can I book a trip on the Coast Starlight?

Book Amtrack tickets through Omio – download their app which makes travel easy! Omio sells train tickets for destinations all over the world and travellers can rely on Omio for all their train travel requirements across the US.
Does the Amtrak Coast Starlight have wi-fi?

When we traveled there was wifi in the Parlour Car but not in the roomettes or in the coach class seats. As far as my recent research indicates (2019) there is officially NO WiFi on the Coast Starlight.
Does the Amtrak Coast Starlight have showers?

The roomettes have access to showers in the sleeper car. Some of the bedrooms have a private shower in the room.
How fast does the Amtrak Starlight go?

Not very fast! It's a slow train going at a max of 80 km an hour.
Is it possible to get on and off the Amtrak Coast Starlight at various places?

You can alight the train at some stations for a bit of fresh air and a stroll. Don't go far though as the train will leave without you!
Is all bedding provided on the Coast Starlight?

Yes if you are staying in a roomette or bedroom all bed linen, pillows etc are provided. The bed will be made up for you when you are at dinner.
Is there a transfer bus from Emeryville/Oakland included in my ticket?

If you are alighting at Emeryville there is an Amtrak bus that will transfer you to downtown San Francisco.
⭐️ Click here to book your Coast Starlight tickets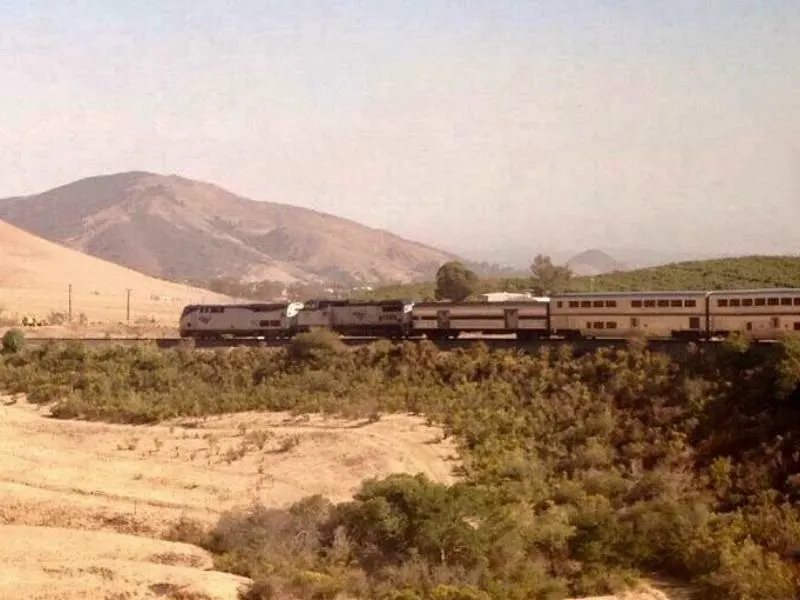 Recommended reading for train travel in USA
There are some fantastic books about trains and train travel available on the market about train travel in the USA! (If you enjoy reading take a look at my best travel books from around the world)
If you are planning to spend some time on the rails in North America I would highly recommend the following:
Recommended packing ideas for train travel in USA
These are some of the items that I would recommend including in your packing list for your trip on the Coast Starlight. Also, take some good books to read!
If you enjoy coloring take a look at my guide to the best travel-inspired coloring books which has some beautiful books to choose from.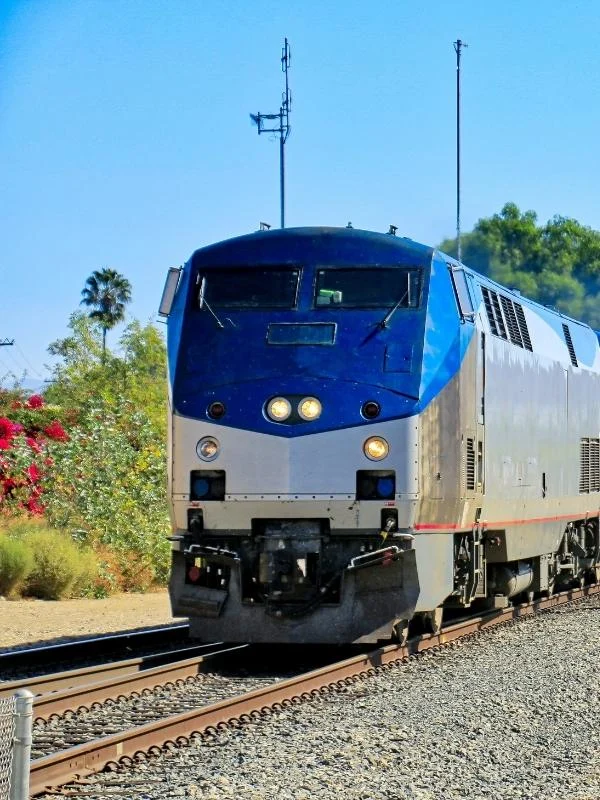 Enjoy your train travel experience on the Amtrak Coast Starlight
If you are looking to book the Coast Starlight you can do so through the official Amtrak website. Also take a look at my travel resources page for recommended services and providers.
Why not take a look at my post all about other great Amtrak train journeys you can take across the US? There are some fantastic train routes to choose from.
Have a great journey!
Related Reading
If you enjoy traveling by train this post will add to your bucket list as it covers 20 of the best rail journeys you can take across the globe
Read about 6 of the best routes to take across America with Amtrak.
With so many beautiful rail journeys to choose from in Switzerland, these are 8 of the best to include in your Swiss travel itinerary.
Suggestions for some of the best day trips to take by train London.