Discover 10 advantages of train travel and why travelling by train may be the perfect option for your next adventure.
Over the years we have travelled extensively through Europe and the UK by train and loved every minute of it. Both myself and my husband have an ever-increasing train journey bucket list and dream of travelling overland from Singapore to London one day.
So what are the benefits of using the railway and embarking on a train travel adventure? What advantages are there to travelling by train and why do we believe it is the best way to travel the world?
In this article discover 10 reasons to take the train for your next travel adventure.
10 advantages of train travel
It is eco-friendly
In many ways taking the train is a more sustainable and eco-friendly form of transport than either cars or airplanes. They use 30% less energy than cars and 20% less than planes per passenger miles. (1) Throughout the world train operators are constantly exploring ways of making travelling by train a highly sustainable form of transportation.
Trains produce less noise, use less energy and are much more sustainable in terms of CO2 emissions so the green option will always be to take the train!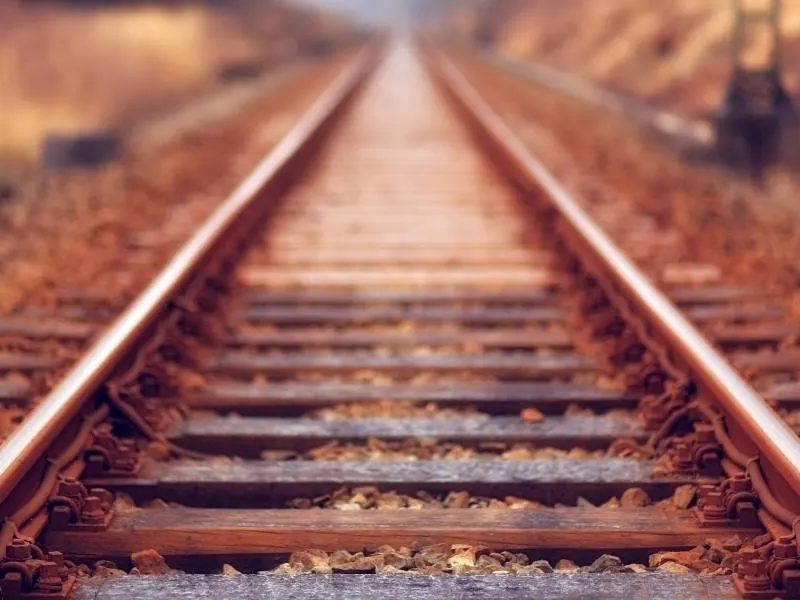 Your holiday starts the minute you board the train
No hanging around for 3 hours at the airport. Arrive at the train station and board your train! Even if you are on a sleeper service the check-in time is not as long or as unpleasant as the airport.
And whilst your vacation only starts when you step off the plane the train journey is part of the holiday! Sit back relax and enjoy the views. Instead of endless empty skies you can enjoy the passing countryside and beautiful views as you travel which is impossible when flying or driving and concentrating on the road.
READ MORE – 20 fabulous train journeys around the world for your bucket list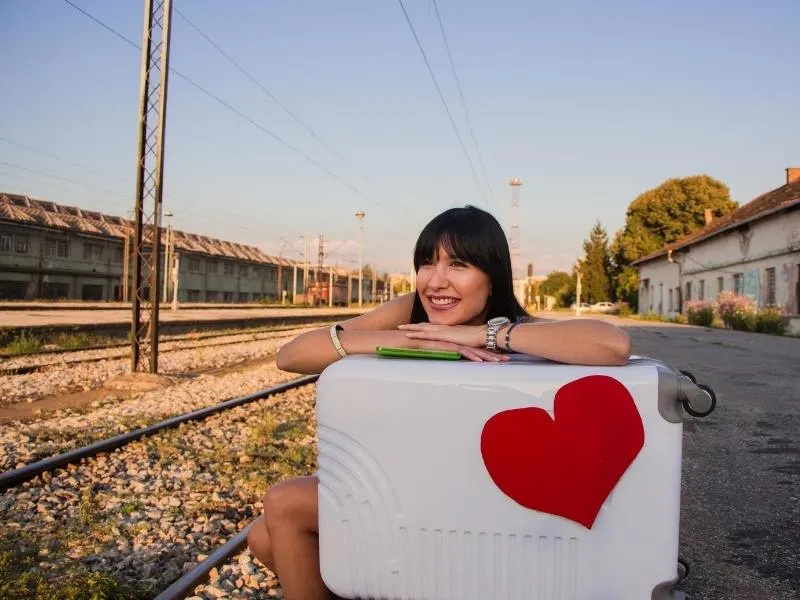 It is a comfortable way to travel
This is one of my main reasons I take the train – it is so much more comfortable and spacious than driving or flying. Crammed into a metal tube in the sky with a few hundred other people with recycled air and limited leg room is my idea of hell.
On a train there are no seat belts – you can get up, walk along the carriages and often alight at stations along the way for a stroll. In some more luxurious trains there are parlour cars, dining cars and even cinemas available during your journey.
First class travel is often a cheaper option than a first-class plane ticket (of course there are exceptions to this when it comes to some of the world's most luxurious rail journeys.)
Enjoy natural daylight through large windows made for viewing the passing sights. No small portholes with shutters and strip lighting on trains!
And if you travel with children the space and comfort of a train is always going to be more child-friendly than the cramped confines of a plane. Car journeys can be stressful too with bored kids constantly asking how far to go/how much longer.
Better food and drink options
On some train journeys (and definitely on the more luxurious options) food and drink can be fantastic. Dining rooms with china plates and silver cutlery greatly improve airline food. (Though I hear that those who can afford first-class air travel do experience this luxury!)
Even on regular train services restaurants or buffet cars will offer more variety than ever can be possible on a plane.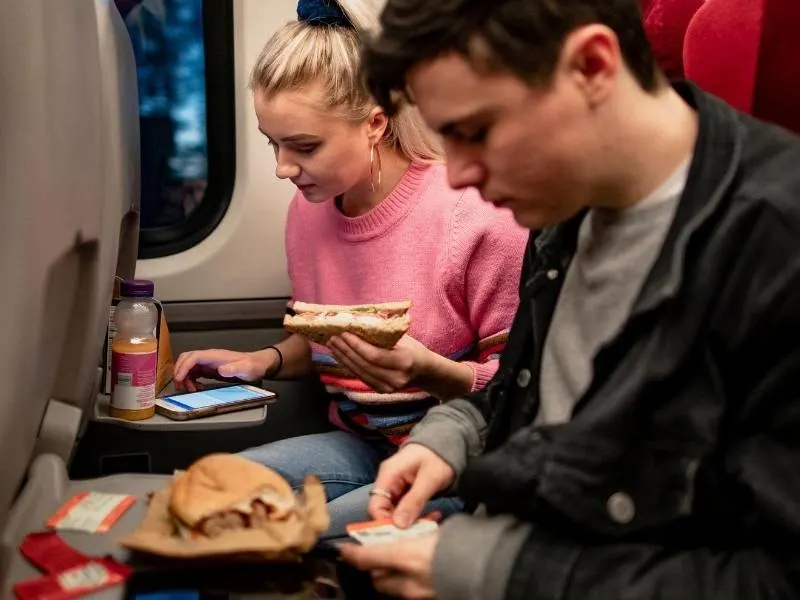 You arrive in the heart of the city
Most city train stations are situated in the centre of town. No transfers are necessary from airports which are often situated far out of town. Arrive in comfort and step off the train straight to your destination.
And with no car you are not contributing to the major traffic problems in most cities. Take an uber/taxi/tram with no worries about driving in the middle of an unfamiliar city or trying to park. Having seen the way they drive in Rome and Paris I would never consider it.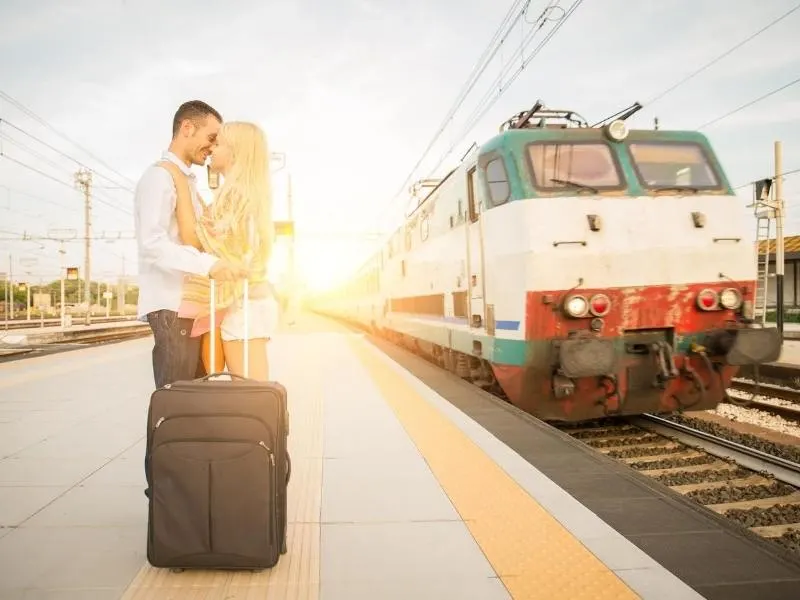 You can stay connected (wifi)
While some airlines are now introducing wifi options on some of their routes it is still not easy to stay connected when you are miles up in the sky.
The availability of wifi (or even the ability to use your own data) is not such an issue when you are on a train (though I know this will greatly depend on where in the world you are!)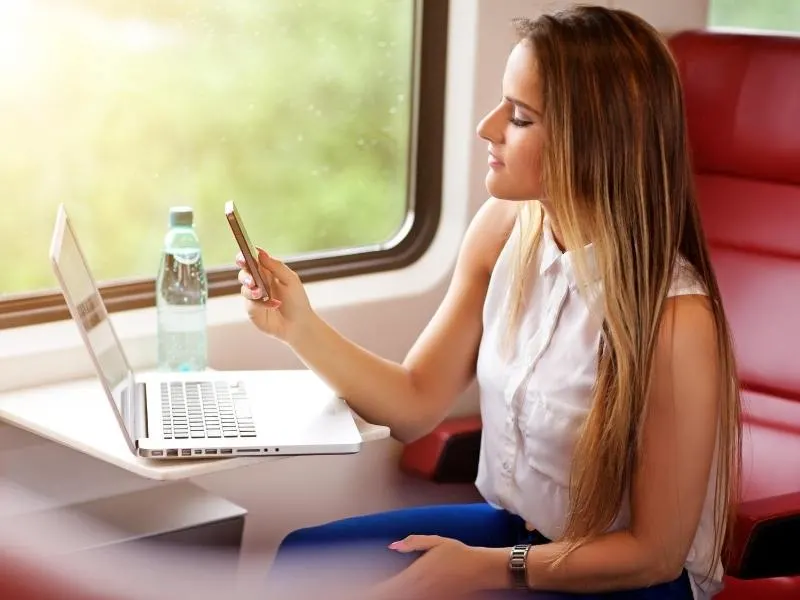 It is a more sociable environment
I have always found train travel a more social experience than travelling by air. There were so many times on our backpacking holidays around Europe when people would strike up a conversation/offer food particularly when travelling with my daughter.
I have met some amazingly interesting people on trains – from the Mennonites who boarded our sleeper train in Seattle to the transvestite with a pet poodle I shared a carriage with on a trip from Milan to Venice.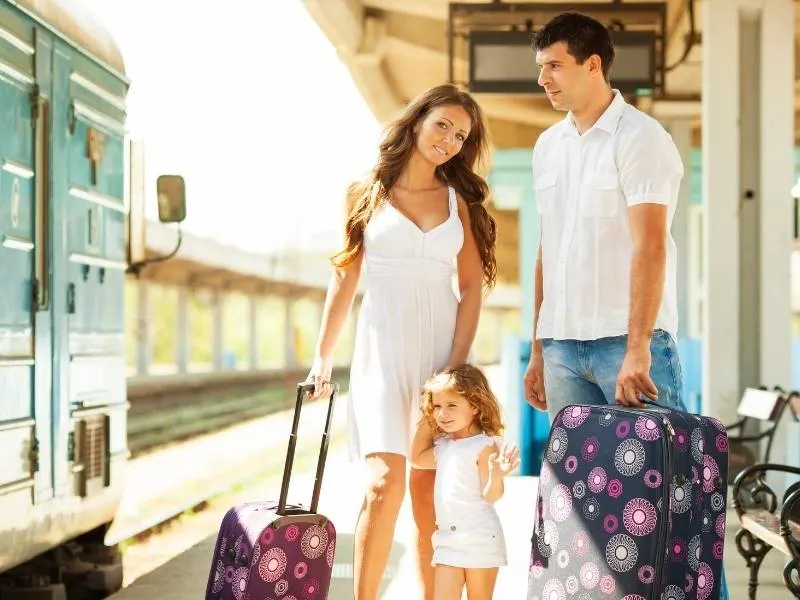 Great option for slow travel
If you don't need to rush your trip then catching a train and enjoying a slower speed of travel to your destination is fantastic. This is how I dream of travelling the world – one train journey at a time. In fact, if there was a way to travel around the world totally by train I would be working towards that!
I know in these times of limited holidays slow travel is a luxury but if you have the time I say TAKE THE TRAIN!
READ MORE – 8 wonderful train journeys across Switzerland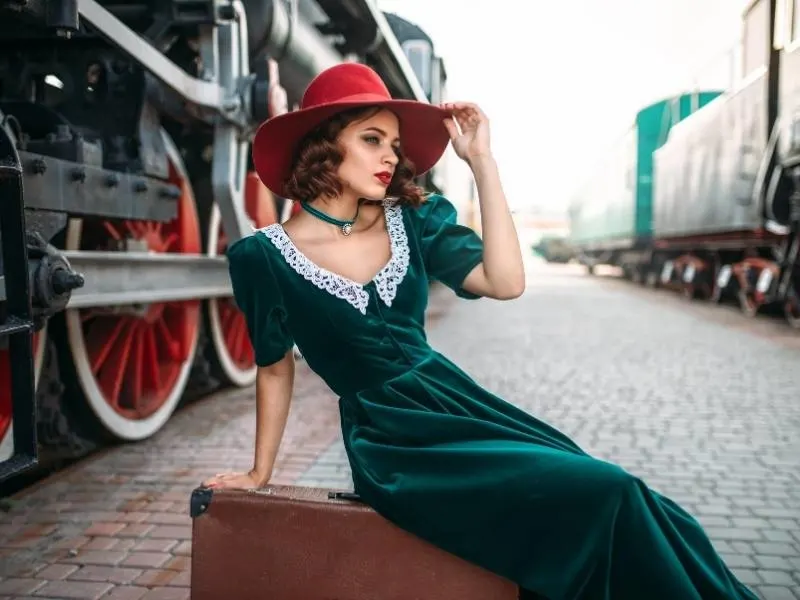 Take more luggage (or not!) and keep it with you
Do you struggle to fit everything you need into 20 kgs of luggage? Take the train and you can have as much luggage as you want! Though I do always advise that if you are planning to change trains think carefully about how you will manage if you have lots of cases!
TRAVEL TIP – If you are planning to visit Venice on your train journey try to book a hotel near the railway station – that way you won't have to struggle across bridges or on and off water taxis!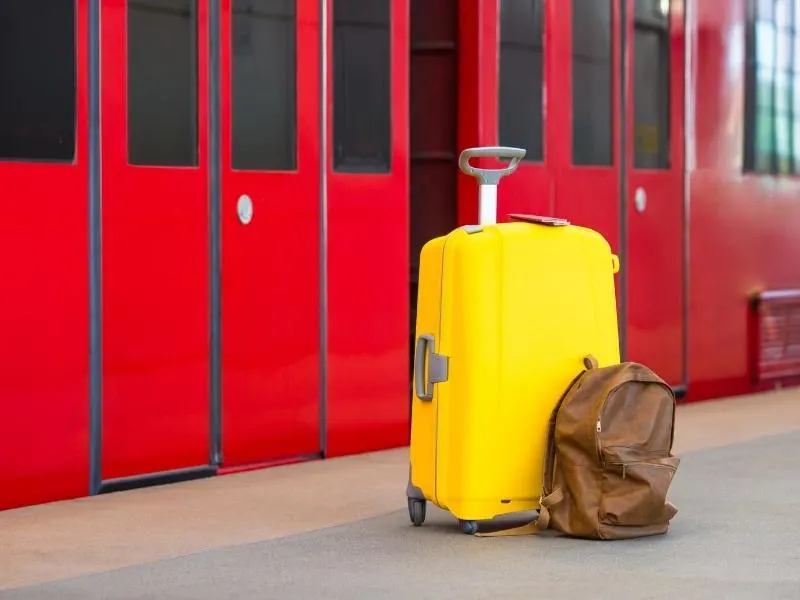 Sleeper trains are great!
I love night trains and have taken quite around the world including the Amtrak Coast Starlight. If sleeping on an airplane is an impossibility take the sleeper train and pay for a compartment. Wake up refreshed when you arrive at your destination rather than tired and dehydrated after an overnight plane journey.
Although I have been on some bouncy train journeys I would rather be woken by the creak of a train than by turbulence at 38 000 feet!
Conditions are generally more comfortable compared to a flight with some train compartments equipped with double beds, toilets and on some luxury train journeys a bath!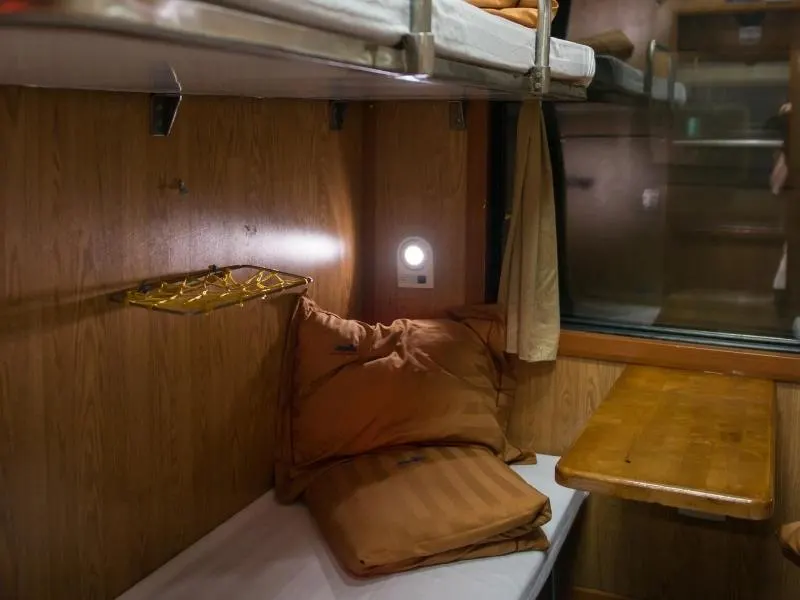 READ MORE – Essential tips for travelling by sleeper train
It is a safe(r) way to travel
Although statistically, rail travel is not as safe as air travel it is less anxiety-provoking! I know many people with a phobia of flying but have yet to meet anyone afraid of train travel!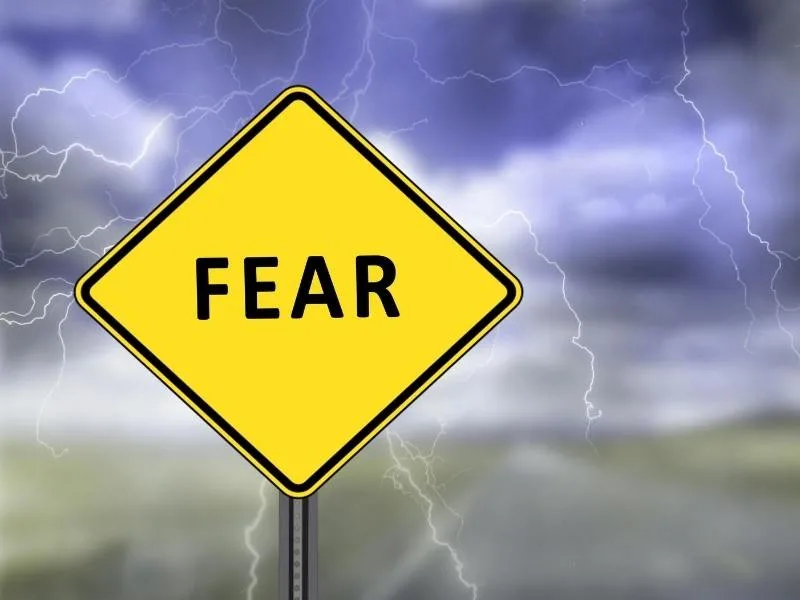 Plan your train journeys around the world
So now that I have convinced you of the benefits of train travel why not plan that trip and book your tickets. Below are links to check out prices and book tickets for travel in the UK and Europe.
Where to book your tickets
In Europe
In Europe, I recommend booking train tickets through the Omio. The website is easy to use and in English so no confusion dealing with a variety of languages.
I recommend downloading the app to store e-tickets on a phone. Use the app to enable the easy purchase of train tickets on the go.
If you are planning a lot of train travel around Europe you may find that the most economical way to do this is to purchase a Eurail or Interrail ticket.
The type of ticket you will require will depend on your normal country of residence – the Eurail Pass is for non-European citizens or residents while the Interrail Pass is for European citizens and residents.
A Eurail Pass is an all-in-one train ticket giving you flexible access to most trains across Europe. Unlike traditional train tickets, with Eurail you can go wherever you want, whenever you want. Some trains do ask you to make a reservation, but most trains can be boarded as easily as flashing your Pass.
Click here for more information about Eurail tickets (non-European citizens or residents)
What is an Interrail Pass?
The Interrail Pass is a paper train ticket that allows travel on almost all trains in Europe including 40 railway and ferry companies in 33 countries.
In South-East Asia
For train travel in Asia, I recommend 12goAsia
Book through 12goAsia for instant seat confirmation not only for trains but also for buses, ferries, and flights.
[1] Oak Ridge National Laboratory Data on Fuel Efficiency – Transportation Energy Data Book (Edition 30), Table 2.12 as seen on Vacations by Rail