In this guest post, Rohit shares his guide to 10 of the best train journeys in India. If you are planning a trip to India prepared to be inspired to include some of these rail journeys in your itinerary.
I'm a huge fan of train journeys. It is my favourite mode of travel. There are so many advantages to train travel including convenience, ease of travel, picturesque places, and the ability to sit back and enjoy the journey. Everything about a train journey is nostalgic. From the pleasant smell of tea and snacks in the platform to sitting by a window seat with eager eyes makes a trip exceptional and memorable.
Amongst some of the most beautiful train journeys in the world, there are some train routes in India which should be taken at least once in life. These places or trips will change your whole perspective of train journeys. When planning your trip take care to avoid these common mistakes in India.
Visit the most amazing destinations in India and enrich your travel memories.
Best train journeys in India
The Himalayan Queen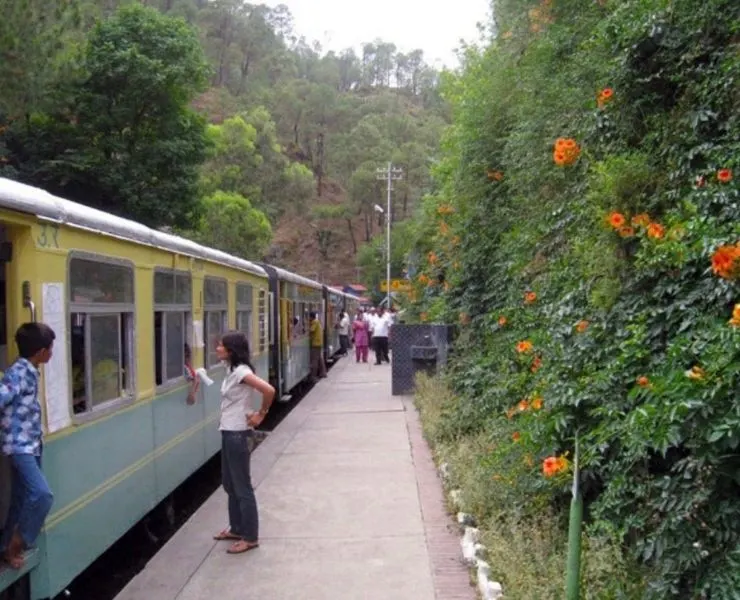 Photo by Mackenzie Kosut, CC BY-SA 2.0
The journey is from Kalka to Shimla. The places you see whilst taking this journey will leave you amazed. The journey takes five hours and it stops at nine stations. You may feel a bit weary in the beginning due to the slow going of the train. As it is passing through high terrains you can't expect it to speed up. But as soon as the beautiful view sets in you will forget all about the speed.
On this train journey, you will pass through nearly 120 tunnels. Have your camera ready as you will be passing beautiful scenery including serene valleys and pine forests. The Himalayan Queen runs on a narrow gauge which makes the trip even more interesting.
The Sea Bridge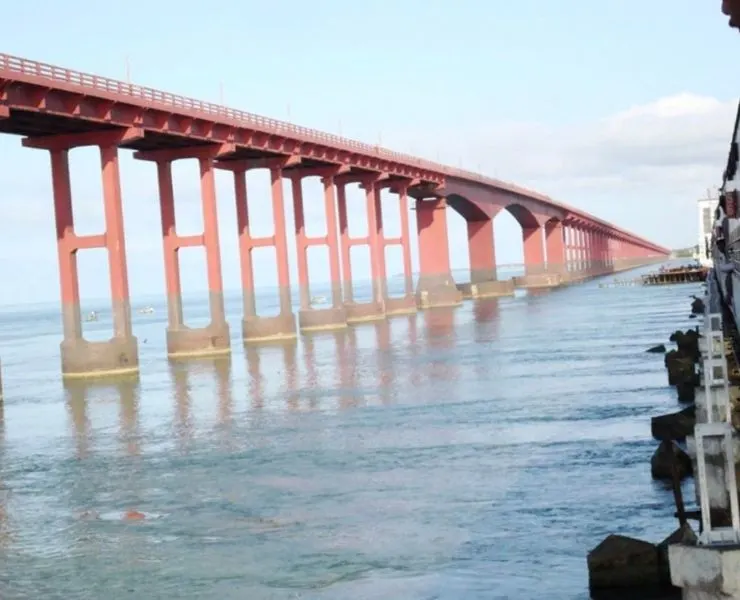 The sea bridge connecting Rameswaram and the mainland. It is really an awe-inspiring trip. It is the second-longest sea bridge in the country. You can see the blue sea sprawling beneath you.
Can you imagine a railway bridge or rail opening up? Well this one does. The bridge opens up for the ships as well. You can see all kinds of transportation while crossing the bridge. Just parallel to the sea bridge is another bridge built for road transportation. Visiting Rameswaram via this rail bridge will be a matchless experience for sure.
The Darjeeling Himalayan Railway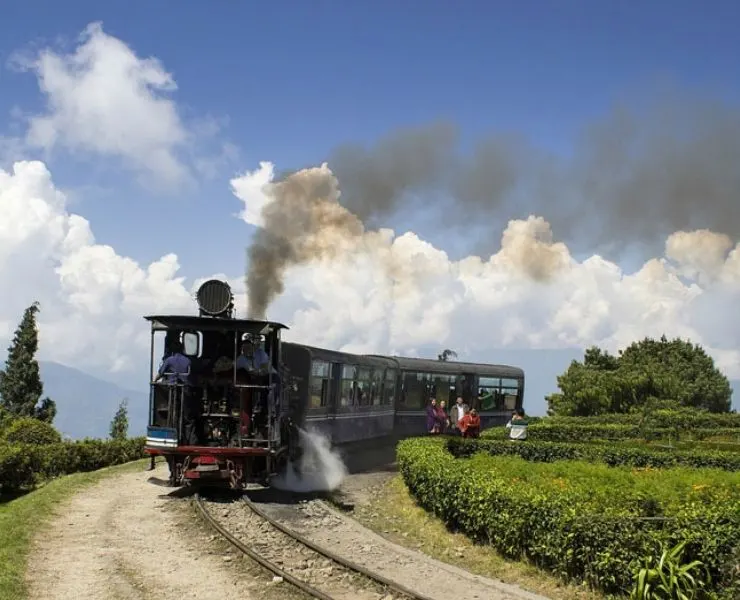 This is yet another train which runs on a narrow gauge. The train connects Darjeeling and Jalpaiguri. The views and sites whilst this journey are truly heavenly. It was declared as the World Heritage Site by UNESCO due to its rich scenery.
The train stops at 13 stations and this is only the second railway in the world to be declared as the World Heritage Site. You will come across valleys and lush greenery in your journey.
The Goan Feel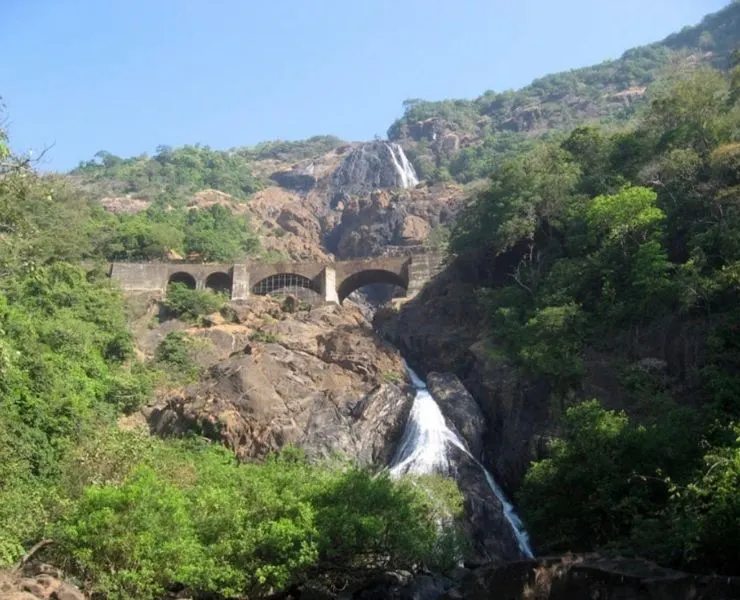 What if I say you can see a beautiful waterfall on your train journey? Board the Goa Express to Londa and you will see the spectacularl Dudhsagar Falls.
You can enjoy the waterfall with all its glory. Not just that but boarding the train will also let you have a clear insight of the life and pulse of Goa. This route is quite renowned for its remarkable exquisite beauty.
The Snow Sojourn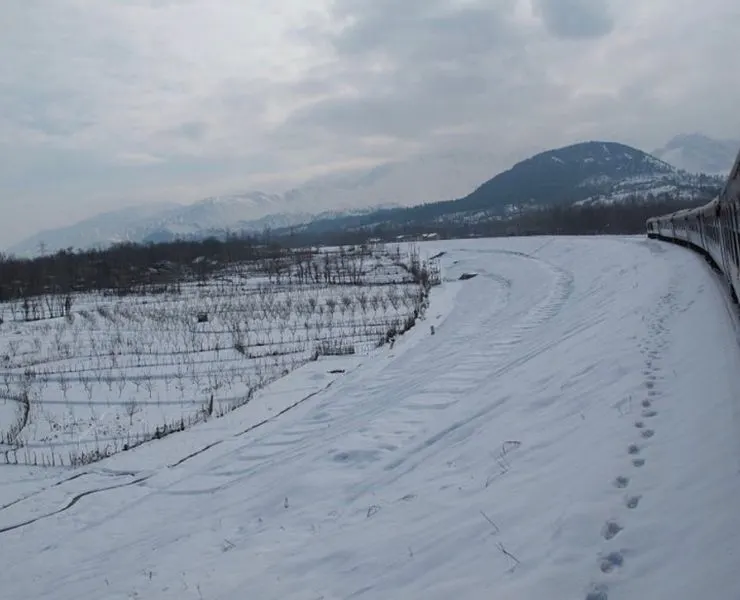 Photo by Amareshwara Sainadh, CC BY-SA 3.0
Feel the flakes of snow falling on your hands. Press it on your face and feel the chill. You can make this happen on your train journey to Baramulla from Qazigund.
You would be passing by the paradise on earth that is Kashmir. The valleys in Kashmir are synonyms of exquisite beauty. This is one of the most beautiful train routes in India and is best taken in winter to enjoy the snow-covered peaks.
The Chilka route
Have your cameras and binoculars ready because on this route you will be setting your eyes on thousands of birds. Chilka is the favourite destination of migratory birds who arrive there annually from Siberia and Central Asia.
The lush green vegetation and crystal-clear waters of the lagoon attract numerous species of birds. The train journey in India from Bhubaneshwar to Brahmapur is a must for nature lovers. Relax your mind and let the serenity calm you to the core.
The Desert Queen
Don't expect even a speck of greenery during this trip to Jaisalmer from Jodhpur. All you will see before you is a vast and endless sprawling desert with occasional camels and painted mud huts to spot in the distance.
During this unique train journey expect to feel the warmness and air of the desert. A truly memorable experience especially at sunset or sunrise when the views are spectacular.
Indian Maharaja Deccan Odyssey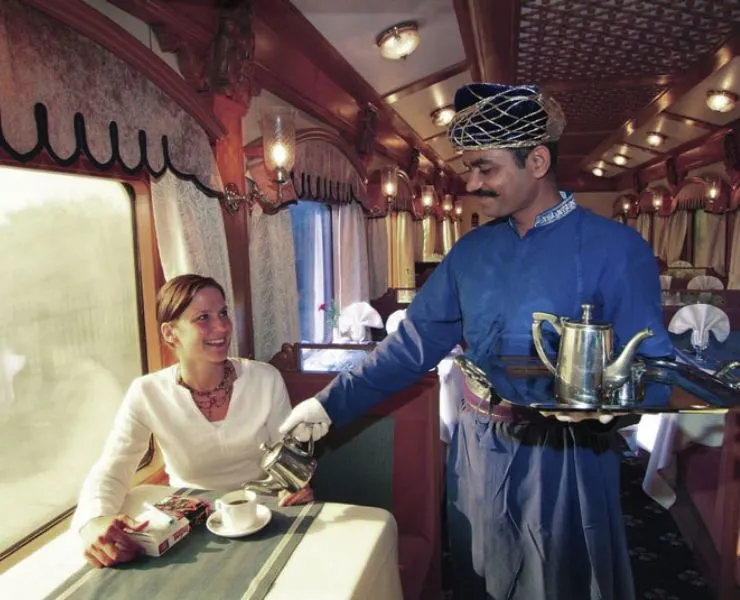 Photo by Simon Pielow, CC BY-SA 2.0
We know that it's possible to see a gym, an indoor sports room, a pool and more on a luxury ship. However, if you book a ticket on the Indian Maharaja Deccan Odyssey you will find all these facilities on a train as well!
Take the journey from Pune to Delhi and experience the hospitality and facilities on this beautiful train trip. You really will live like a king on this luxury Indian rail journey.
The Mandovi Railway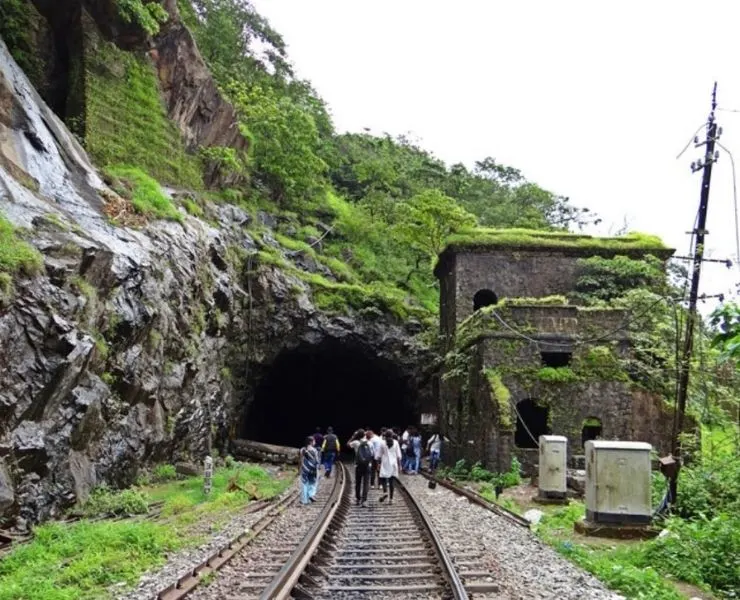 The rail journey from Mumbai to Goa will take you over 2000 bridges and through 92 tunnels. Enjoy the ride as you transition from rivers to ponds to fields and much more on this stunning train journey.
The Kangra Valley Odyssey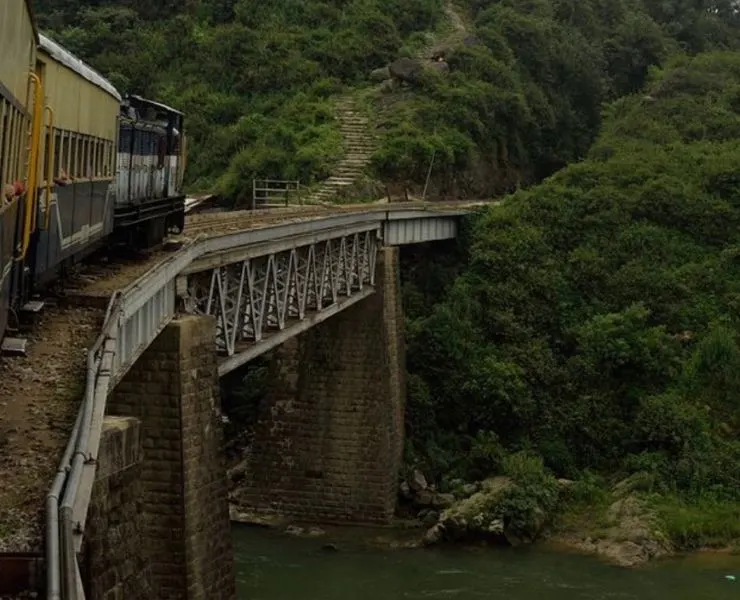 Photo by ChanduBandi, CC BY 4.0
The Kangra Valley Odyssey is a journey of 164 kms from Pathankot to Jogindernagar. Witness the overwhelming beauty of valleys and lush green vegetation on your way through the sub-Himalayan region. Although the journey takes almost 10 hours to complete the views more than compensate.
Author's Bio:
The author, Rohit Agarwal, is travel lover. He is also a curious explorer, voracious traveller and passionate blogger. He loves to travel to new places and is very curious about different lifestyles and cultures. He frequently writes on TransIndiaTravels.com about his experience.
Thanks to Rohit for this informative post about 10 of the best train journeys in India. I can't wait to travel to India and take some of these trains. My train journey bucket list just keeps growing!