Chances are, if you visit Croatia, you will inevitably visit one or more of the 10 UNESCO World Heritage Sites in the country. Whilst three of the sites are shared with other countries seven are contained within the country's borders.
At the end of the article, you will also find a map that details the locations of these sites in Croatia.
There are also links to more posts about Croatia including tips to ensure you make the most of your trip to this beautiful European country, a recommended best book list and more to help with your Croatia trip planning.
This post was a collaboration with a number of other travel bloggers who have contributed a section about each Croatian UNESCO World Heritage Site.
Croatia World Heritage Sites
Plitvice Unesco World Heritage Site (1979)
Plitvice Lakes is considered to be one of the most beautiful national parks in the world. Located 2 hours away from Zagreb by bus, it can be done on a day trip from the city or you can also stay for a couple of days in the neighbouring village of Korenica so you can explore more of Plitvice like I did.
The national park is known for its beautiful 16 terrace turquoise lakes and numerous falls, and it's a UNESCO heritage site that you must visit in Croatia.
The over 295 sq km nature reserve boasts lakes that are interconnected to each other and divided into 3 stations. Surrounding the area is a massive expanse of forested hills which creates a very scenic view and it's a good place to just rejuvenate, have a picnic with friends and family or simply to just enjoy nature.
The national park is massive so make sure to allocate more than 4 hours if you are planning to visit.
If you want to maximise your visit, I recommend starting at Station 3 where the famous shots of Plitvice Lakes are taken from above. It's where you can enjoy the best view of the national park. And then work your way to Station 2 where you can experience smaller falls and lakes up close.
By – Croatia Travel Guides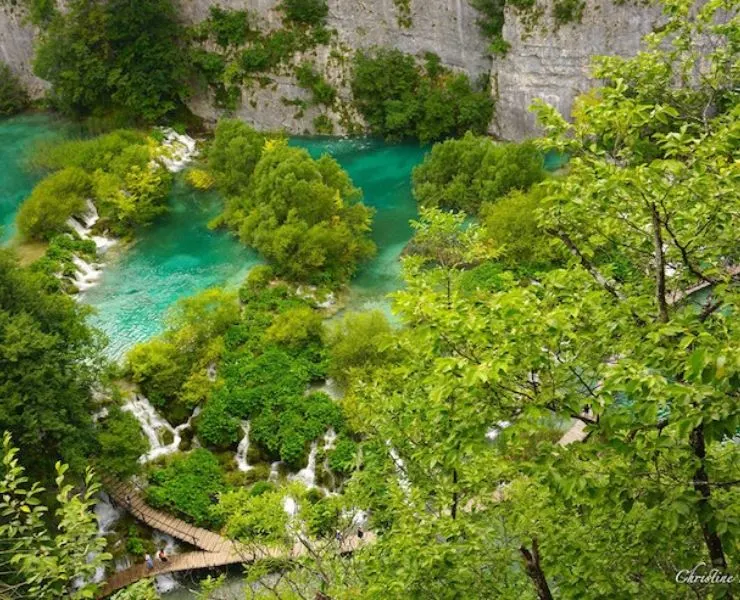 Best Day Trips to Plitvice
I recommend booking a tour to Plitvice. If you are travelling from Zagreb to Split (or vice versa) choose a transfer that also includes time at Plitvice. It is a great way to do the transfer (I don't recommend the train from Split to Zagreb) and you can see Plitvice on the way.
Dubrovnik – Pearl of the Adriatic
Dubrovnik, known as the "Pearl of the Adriatic", is often described as the finest walled medieval city in the world, and it's easy to see why. Inside the famous walls is a glorious, stunningly beautiful, almost perfect old town.
Unfortunately, it's very touristy these days, especially when the enormous cruise liners dump passengers by their hundreds into the city. So, try to go during the off-season if you can. But if you do find yourself here in summer, I recommend waking up before 7 am, so you can still have the old town virtually to yourself in the early morning while everyone else is sleeping.
The highlight, of course, is a walk on top of the city walls. Again, I recommend going early and entering at the eastern end rather than the western end. From the walls, you get an amazing panorama of the old city and the Adriatic Sea beyond.
It's especially interesting to see which buildings have had new orange tiles installed on their rooftops after the city was shelled in 1991, and which buildings were lucky enough not to have been hit.
After you've worked up an appetite walking on top of the walls, head to Nishta, a cosy little café in the Old Town. It's one of a small but growing number of vegan restaurants in Croatia and gets rave reviews from vegans and meat eaters alike.
By The Nomadic Vegan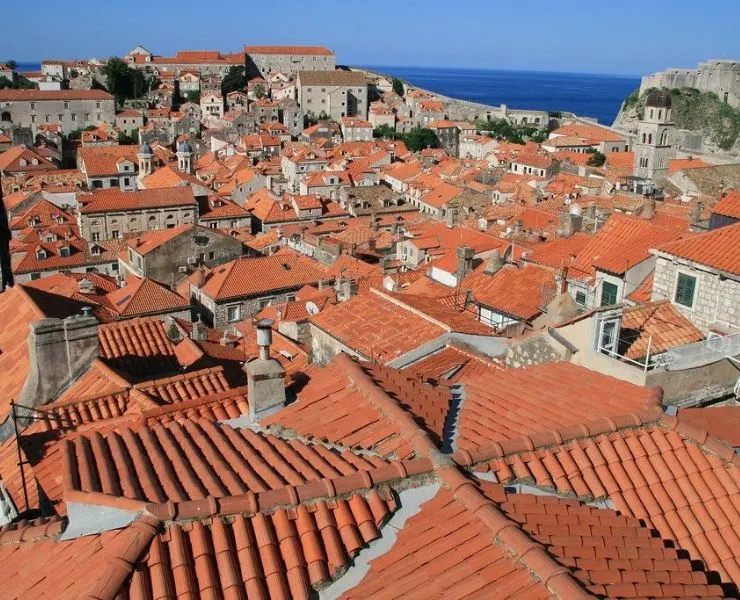 Zadar
When most people think of Croatia they think of Dubrovnik. While visiting Croatia make sure you visit Zadar. Zadar is located between Rijeka and Split along the Dalmatian coast. If you are limited on time, Zadar makes a great day trip from Split.
Zadar is a town rich in history that is surrounded by three kilometres of ancient walls that were built in the 16th century by the Venetians to protect against the Turks. There are still several Venetian gates in the city walls. Zadar was added to the UNESCO World Heritage List in July 2017.
Not only will your find Roman ruins, medieval churches and museums in Zadar but you will also find the famous Sea Organ and Sun Salutation.
The Sea Organ plays music generated by the motion of sea waves through a series of 35 organ pipes built under a set of large marble steps.
The Sun Salutation is a 22-metre diameter solar panel formed from 300 multi-layered glass panels. At sunset, the installation switches on and displays a series of bright colourful lights.
A walking tour is the best way to explore this beautiful city. Don't forget to visit the Church of Donatus, the Zadar cathedral, 5 Wells Square, St. Mary's Church and so much more.
By Dianas Healthy Living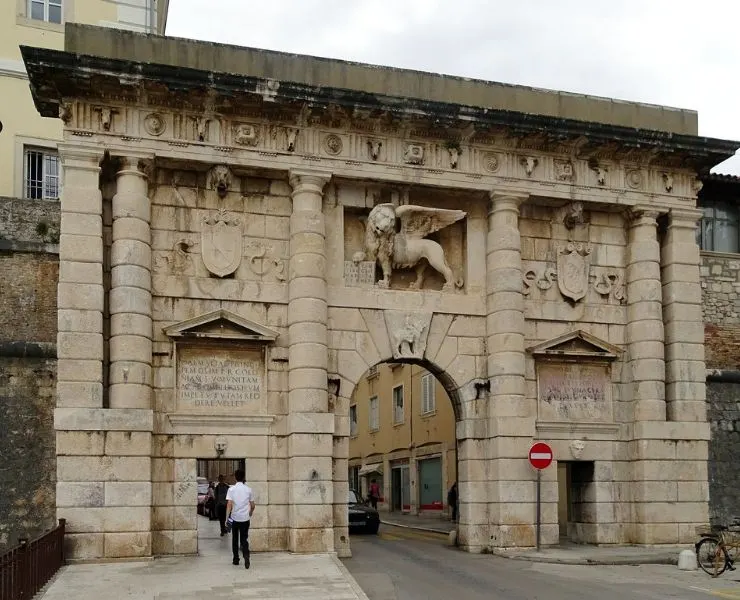 Trogir
Trogir is one of the historical towns in Croatia that has had a huge role when the Republic of Ragusa and later the Venetians ruled the Dalmatian lands. The town of Trogir is well-preserved and still has several buildings and small stone alleys from that period which you can admire when visiting.
It's a lovely little town, situated just a short drive from Split, and it's one of the most popular day trips from there. Trogir's old harbour played an important role in the trading during that time, and since 1997 it is listed as a UNESCO World Heritage Site, mostly for its Venetian architecture that is very well preserved.
The best way to get here is by car, but you can also go here by bus or boat from Split. Parking is available if you come with a rental car, and you should set off a few hours for visiting Trogir. It's not a large town, but you can easily spend a few hours here, and there are plenty of restaurants serving authentic Dalmatian food.
There are also many artisan shops where you can buy local products. I suggest going here earlier in the morning or later in the afternoon during the summer. It gets quite hot, and it tends to get crowded as well with all the guided tours.
By Detinavo.com/en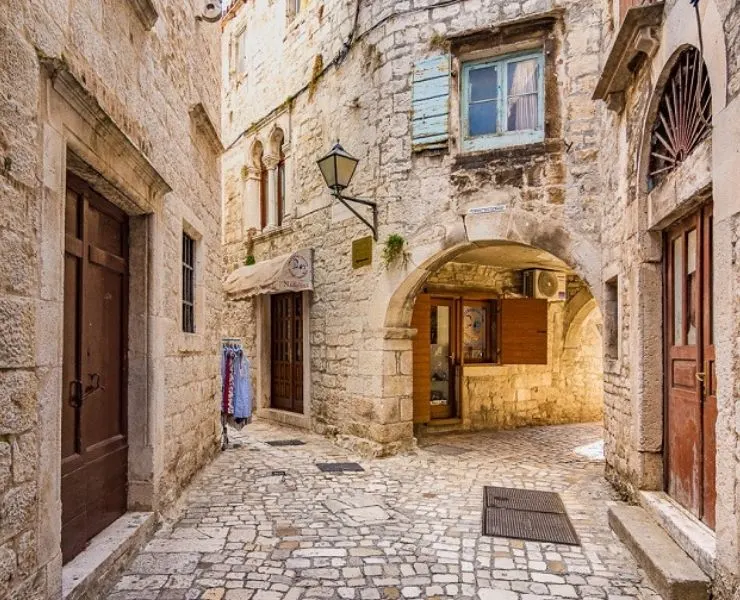 Hvar
The Croatian island of Hvar is off the Dalmatian coast in the Adriatic Sea. The island covers about 300 sq km and was an important naval base during Venetian Empire. Only a boat away, it is a popular day trip from Split and also from the city of Zadar.
The main town of Hvar is known for its medieval and Roman architecture but in the northern part of the island is the lesser-known place called Stari Grad.
One of the oldest towns in Europe, Stari Grad is known for its prime agricultural landscape called Stari Grad Plain that was built by Ancient Greeks in 384 BC which remains intact and still being used up to this day.
A UNESCO heritage site, Stari Grad Plain stretches for 6km from East to West. The soil was originally rough and stony but the Greek colonist patiently collected the stones and divided the land equally by putting rocks in between.
Making proper use of the stones while improving the quality of the soil. They also put up an effective stone ring water system that collects rainwater and trims which acts as a shelter for farmers.
Stari Grad Plain is also one of the main suppliers of olive, grapes, and lavender in the country for over 24 centuries.
By Guide to Day Trips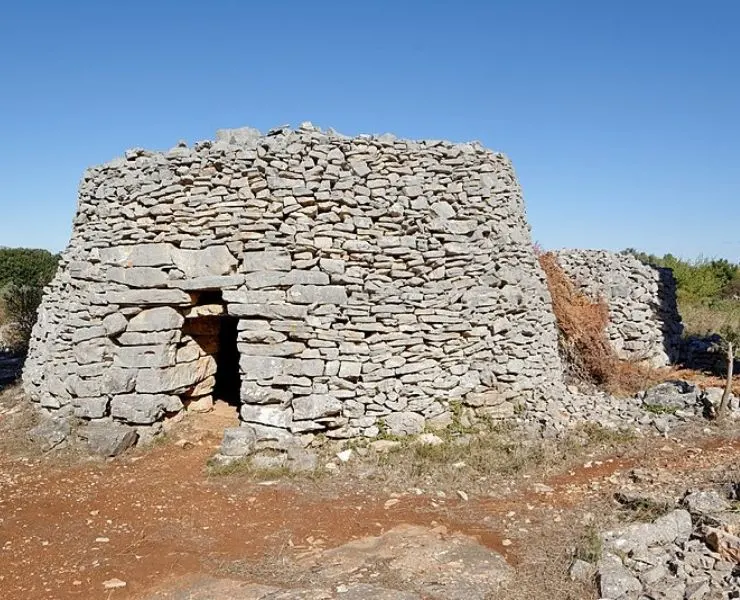 Split
The city of Split set within the Palace of Diocletian has to be one of the most interesting cities we visited while not only in Croatia but also in Europe.
It was like spending time living in history, the Palace built as a retirement villa for Diocletian covers a large area and wherever you go there are reminders of how it must have looked even in the local bank there are still the remains of Roman columns.
Half of the Place area was private quarters including the still-standing Mausoleum built while he was alive to ensure it was up to standard. This is now the Cathedral of St Domnius, where you can climb to the top and see stunning views across Split and the surrounding islands.
After Diocletian's death, the Palace became a rambling medieval city with narrow streets wide enough to allow two donkeys to pass, the architecture then changed to ornate curved windows and doorways.
Many of the buildings represent different eras through Split's history and there are many areas to explore on a visit, my favourites were learning about the Jewish history interwoven within much of the area and the tiny church built into the walls of the city.
It is fascinating how a modern city has evolved around something so old and still they have managed to retain all the history.
By Legging It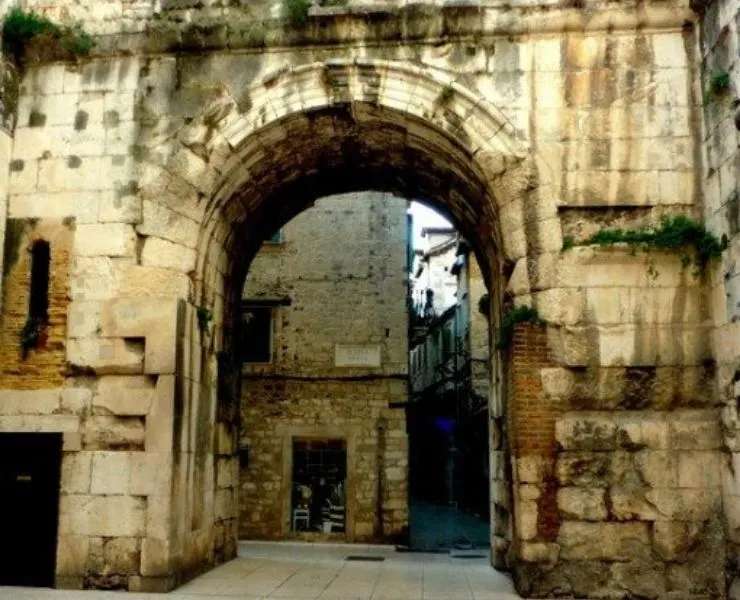 Porec
Poreč is best known as a coastal holiday town. Resorts along the edge of the water and a large number of restaurants in the centre of town are evidence of that. But nestled in the middle of the small historic centre is the Euphrasian Basilica of Poreč, an important piece of heritage amongst the ice cream shops.
This small religious complex was founded in the 4th century and the church that stands today is almost as old – from the 6th century. The basilica itself is one of Europe's finest intact examples of Byzantine art. The mosaic decorations above the altar are incredible and it's hard to believe it's so old.
Even though the site is very small, there's more than just the church. There's also a baptistery from the 5th century and, above it, the 35-metre-high bell tower with excellent views out over Poreč.
There's also a building known as the Bishop's Palace that once would have held ceremonial events and is now used as a small museum. Underneath it, in the lapidary, is a wonderful collection of original floor mosaics that are more than 1500 years old.
Most people probably don't come to Poreč just to see the Euphrasian Basilica but, if you are interested in World Heritage Sites, it won't disappoint. But combining it with some time by the beautiful Croatian coastline makes the visit even more worthwhile!
By Time Travel Turtle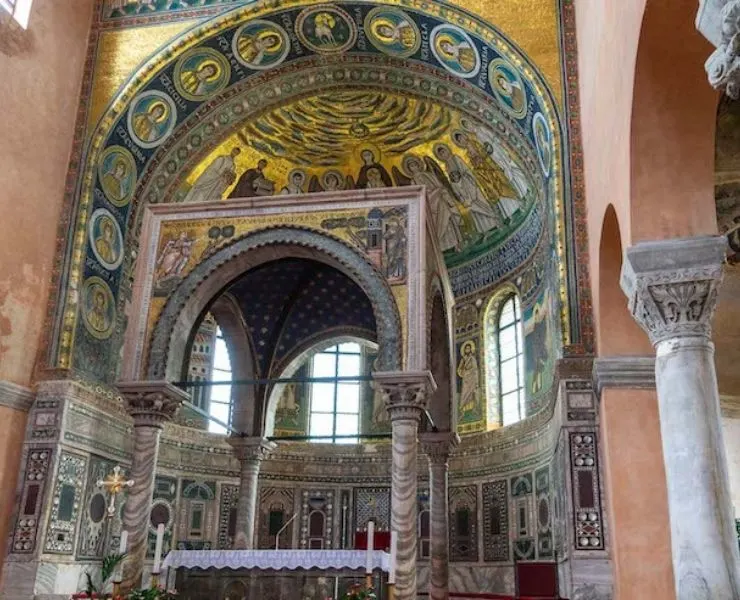 Sibenik
The St. James Cathedral in Šibenik, Croatia, is the town's no. 1 landmark and a real gem too. It was inscribed in the Unesco World Heritage Sites List in 2000.
Built by the genius Croatian architect George the Dalmatian, who learned from the best in Venice, the Cathedral possesses a number of amazing engineering features. When it was constructed in the 15th century, there was no cement used. Instead, the whole structure stood on interlocking limestone slabs. All walls were built using this system, including the large dome!
Unfortunately, the St. James Cathedral in Sibenik took quite a heavy hit during the 1991 bombings in the former Yugoslavia. Since the top of the dome was damaged rather badly and no one could recreate how to renovate the edifice using the same genius system, some cement had to be added.
Nowadays the beautifully white Cathedral of a Renaissance style with Gothic details sticks out against the dark blue backdrop of the Adriatic Sea wonderfully, especially when viewed from one of Sibenik's fortresses high on the hill.
The Cathedral is uniquely decorated too. Along the exterior runs a decorative element featuring faces of locals who lived in Sibenik at the time of the construction.
Similarly, the interior is breathtaking, especially thanks to the size of the main nave. An unusual Baptistery hides behind the altar – essentially a small room, this is where babies were baptized back then.
By Travel Geekery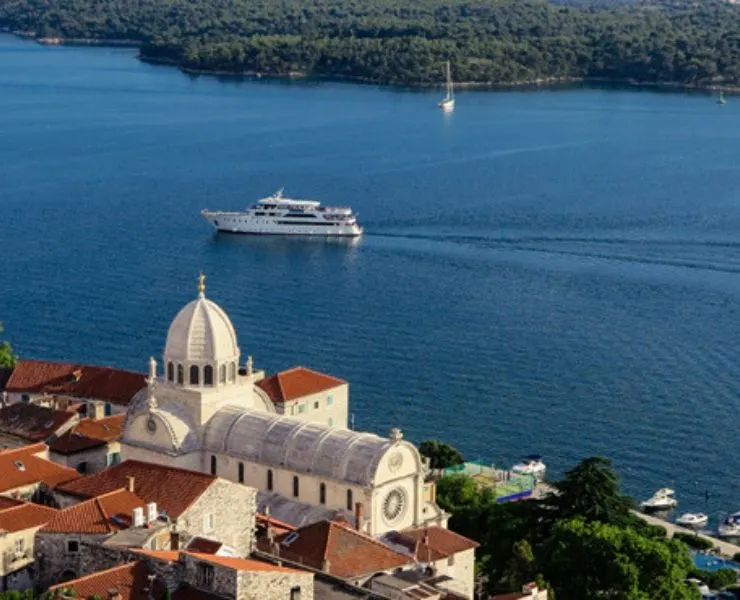 Hvar
It's hard not to fall in love with the stunning Croatian island of Hvar. Any visitor will be in awe of its natural beauty, charming old town and crystal clear waters.
Just an hour's ferry ride from the Croatian mainland, getting to Hvar is cheap and fun with regular ferries running throughout the day. Buy tickets from the port or simply online with Krilo or Jadrolinija.
Of course, a trip to Hvar wouldn't be complete without visiting the Stari Grad Plain, Croatia's 7th UNESCO World Heritage Site. The plains show the ruins of an agricultural colonisation that dates back to the 4th century BC.
Locals continue to make use of this fertile land and stone water collection system to grow grapes, olives and other vegetables. Maintaining its heritage vineyards, Hvar continues to produce quality wine that is exported all over the world.
Make sure you visit Wine Bar Pršuta 3 in Hvar Town for a huge selection of local wines to taste. Try the Pošip if you like white wine and the Plavac Mali if you like red.
Whilst in Hvar Town, don't forget to talk a walk up to Hvar Fortress (Španjola Fortress). Go at sunset for incredible views over Hvar Town and the nearby Pakleni Islands.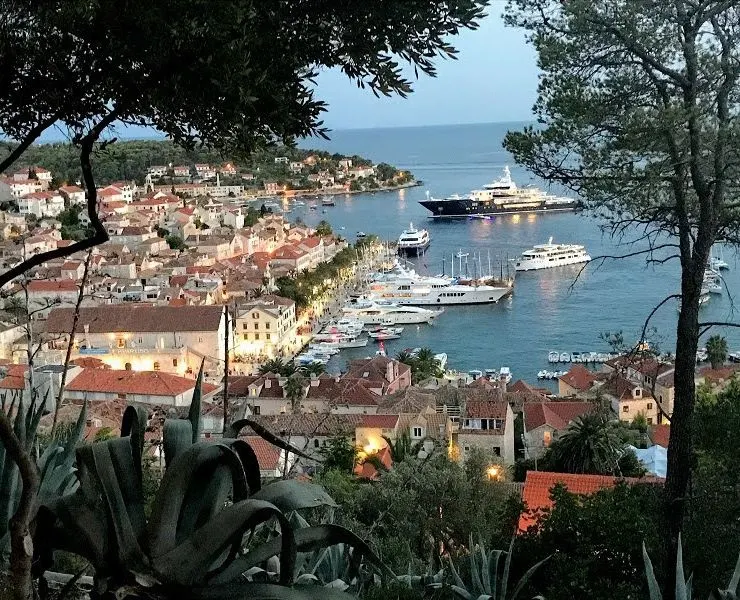 Map of Croatian World Heritage Sites
Planning a visit to Croatia?
If you are planning a trip my ultimate Croatia itinerary is a great place to start. It includes a 14-day itinerary travelling the country from Dubrovnik to Zagreb.
Croatia is a country that really deserves to be explored. With an excellent road network as well as the availability of buses and ferries it is easy to get around.
There are also lots of day trips available to many of these sites from the larger cities of Split and Dubrovnik too. Check out my top tips for exploring the country.
Prepare for your visit with this list of the best books about Croatia!