Aside from Croatia's (seemingly) endless coastline, incredible history, and great weather, another draw for visitors to Croatia is the price!
Croatia is certainly not a destination exclusively for the rich, and as the number and quality of available boat charters is increasing, it provides a great opportunity for anyone looking to explore the Northern reaches of the Mediterranean, in the Adriatic Sea.
With Croatia becoming more and more popular, it's best to go as soon as possible and see it in its most pure form. The seas here are still fairly unpopulated compared to other Mediterranean areas like Santorini or Mykonos, and islands are nicely spaced that you're never far from a beautiful harbour in an ancient walled town, yet there are plenty of opportunities to lose sight of everything.
Croatia has so much to offer, but make sure not to miss out on some of the absolute highlights.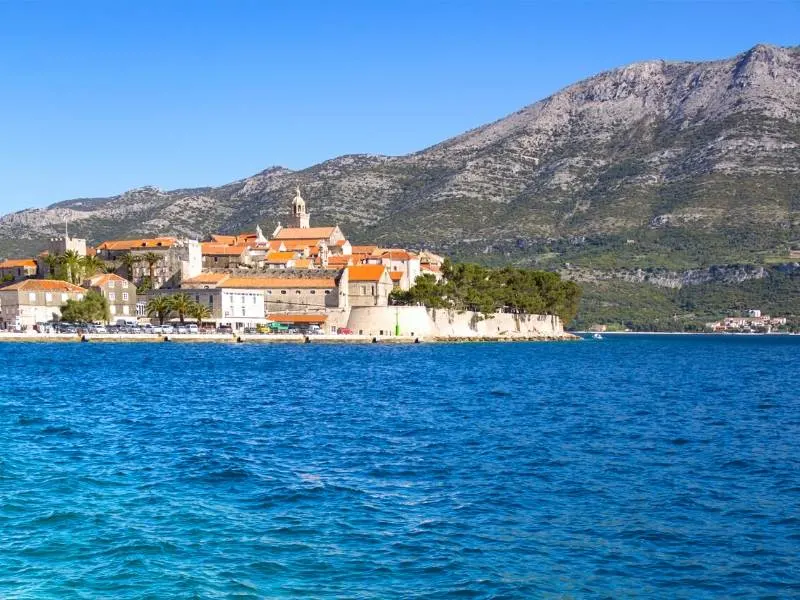 Pakleni Islands
Lying just ten nautical miles south of Split, halfway down the Adriatic, these mostly uninhabited islands draw people away from the bustling Hvar Town in the nearby Dalmatian Islands, lured by the many isolated lagoons, hidden beaches and most stunningly of all, the dense forests that cover the islands.
Seen from above these islands almost pulsate with colour, green leaves against the golden sand and the blue of the Adriatic. The Pakleni islands pine trees were once tapped for their resin to use as waterproofing for boats, so the islands are for sailors through and through.
The unique features of the closely packed islands produce a coastline of meandering beaches, coiling around its forests like sandy snakes against the bluest water imaginable.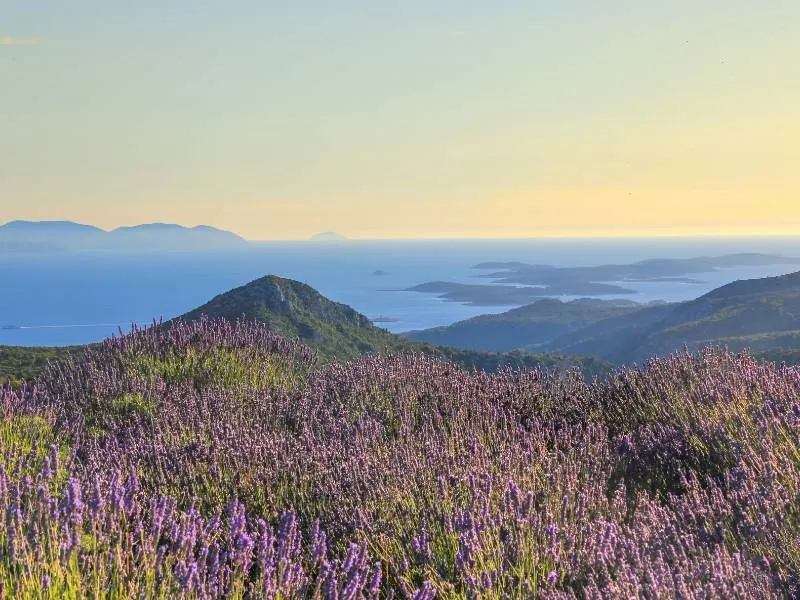 The largest island, Sveti Klement, is shaped like the line on a heartbeat monitor, peninsulas and inlets rising north and south as is stretches its way east to west.
The island does not have a mainland as much as it has a narrow strip connecting all the various spits, lagoons, peninsulas and smaller surrounding islands. This is the best place to secure some refreshments if you're looking for more off-the-boat experiences.
Although it only has three villages, Sveti Kelement is the closest you can get to a metropolis in the Pakleni Islands. One village, Palmižana, with its busy marina, is situated on a horseshoe-shaped bay and is a great place for people watching while drinking or dining in one of the village's seaside restaurants.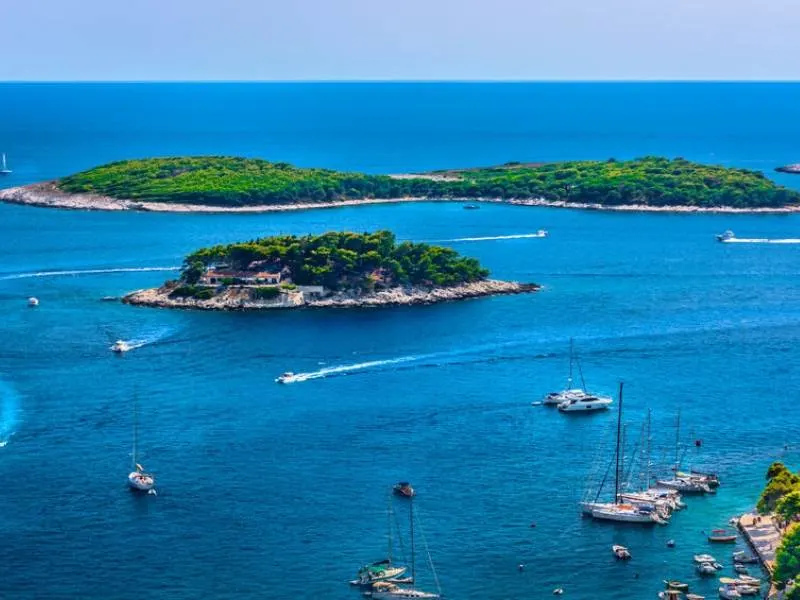 Luka Rogacic
This seems like an unusual place to be gaining popularity. When people think of the Adriatic and Mediterranean, paradises like the Pakleni Islands are what come to mind. But what else is there on offer? Cold War history? Check.
This is a bucket list destination for modern history buffs, where you can enjoy secluded natural harbours while strolling idly through the history of one of the most hostile global situations of all times.
Vis holds a Cold War era submarine pen, once used by the Yugoslav People's Army after WWII. The submarine pen can be explored by dinghy and the harbour is free to anchor in and is only twenty three nautical miles from Vis, or twenty eight from Split. Today, the military base is gone and the island makes its living mostly from tourism.
Although there are no facilities in the harbour itself, a short 2.5km walk brings you to Vis town over the area's rocky hillside. The west side of the bay is an ideal place to anchor and with depths of 5m is great for swimming and diving.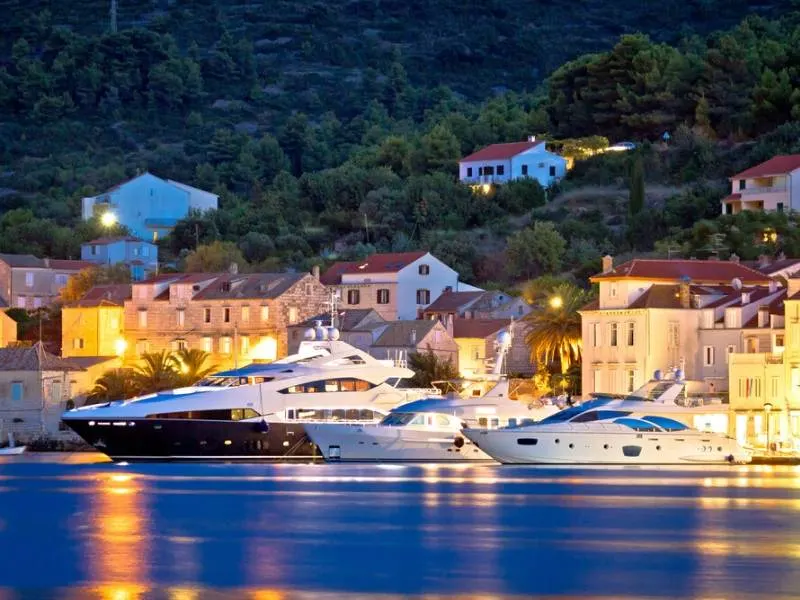 Krknjaši Blue Lagoon
Only thirteen nautical miles from Split lies a lagoon that is perfect for relaxing, paddle boarding, kayaking, swimming, you name it!
Even if you know nothing about Croatia, you're sure to have stumbled across pictures of the Krknjaši Blue Lagoon in travel brochures, advertising or, most likely, Instagram. In a country known for the clarity of its waters, to earn the name "blue lagoon" you know there's got to be something extra special about this place, and no writing will do it justice – you simply have to see it to experience it.
Most people access the Blue Lagoon as a day tour from Split, so it's definitely worth hanging around until the last of the boats leave and to experience this place in its untouched beauty, as it empties out leaving just you and the other sailors who've dropped anchor to enjoy the setting sun, lapping water and one of Croatia's most beautiful locations in almost unbothered isolation under the stars.
This is one place you'll love waking up to, having a coffee gazing through its waters to the seafloor below, then taking off as the crowds arrive. That's what the independence of chartering a yacht is all about.
A small restaurant is accessible by dinghy from the northside of the lagoon where you can enjoy a meal hidden amongst the pine trees. As with all Croatia, meals here are mostly local, freshly caught seafood, where the atmosphere of the area infuses the taste with something beyond mere seasonings, your eyes drink in the scenery, your skin feels the breeze and sunshine, the salty sea and smells of pine resin waft in the breeze as you savour the flavours of the world around you.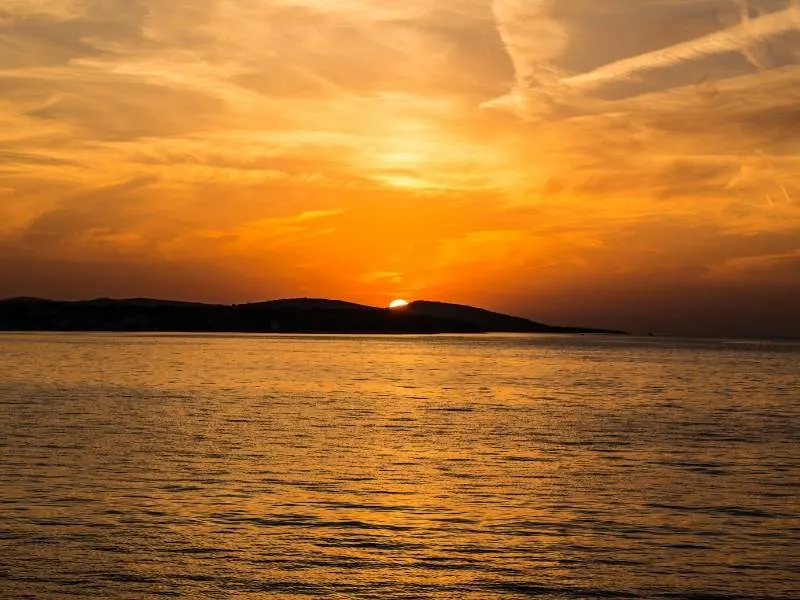 Korcula Town
One thing you might need to know about Korcula harbour is that it is popular, and for good reason. It's the Mediterranean gem you expect to see as a backdrop on some epic Game of Thrones adventure. Stunning waters, check, an islanded, walled city with red roofs, white stone and a church steeple hovering above….check!
Korcula is almost painfully beautiful. The marina and harbour are very popular and are great places to watch other yachts docking and imagine your next dream holiday, and appreciate the current moment. Best of all you can pop into the city for all the creature comforts that, no matter how nice a beach is, we all eventually crave.
Building outside the city walls was forbidden until the 18th century and the Cathedral of St Mark took over 500 years to complete. Walk through its antiquity and imagine the lives lived and the people whose footsteps you're walking in.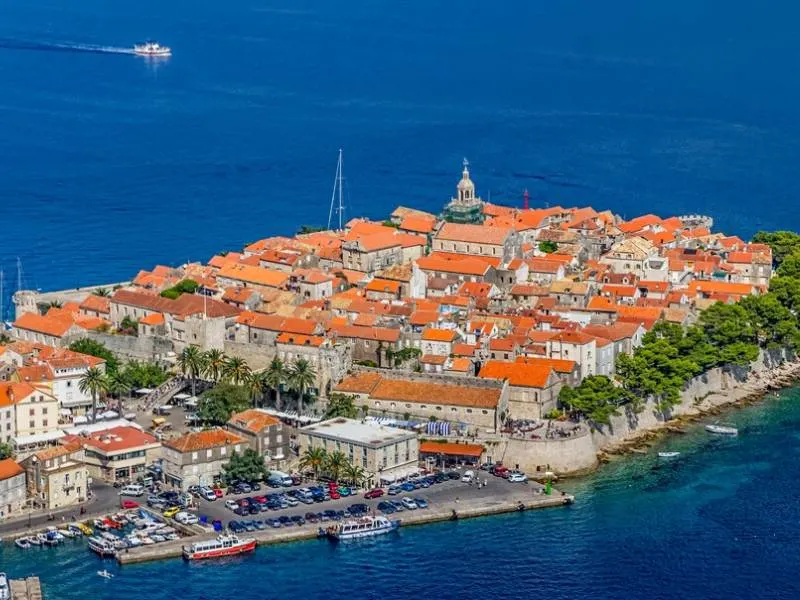 Happy yachting!
As you can tell you really are spoilt for choice if you choose to go yachting in Croatia!
There are lots of amazing places to visit in Croatia – from the beautiful islands mentioned in this article to the historic cities of Dubrovnik and Split, UNESCO World Heritage Sites, stunning waterfalls and more!
If you are planning your Croatia itinerary you will find lots of other useful tips, reading lists, informative articles and more on my Croatia travel planning page.