Last Updated on March 27, 2021
One of the most popular things to do in London for visitors (and Londoners too when celebrating a special occasion) is to have afternoon tea. With so many different experiences to choose from – from a themed afternoon tea in London (many based on famous books or films) to the more traditional afternoon tea at luxury hotels how do you choose the right one for you?
If afternoon tea is on your London bucket list you may be wondering where the best places actually are for afternoon tea in London. As it is impossible for me to try all of these fantastic London afternoon teas I have asked some fellow travel bloggers to share their favourite (It is a hard life but someone has to do it.)
If you feel hungry after reading about these afternoon teas and want to book one of these experiences for yourself I have included the details below for each.
I recommend booking as soon as you have your London itinerary and accommodation sorted to avoid disappointment as they are very popular (this is a tip when planning a visit to London – book your tours and tickets early to avoid disappointment!)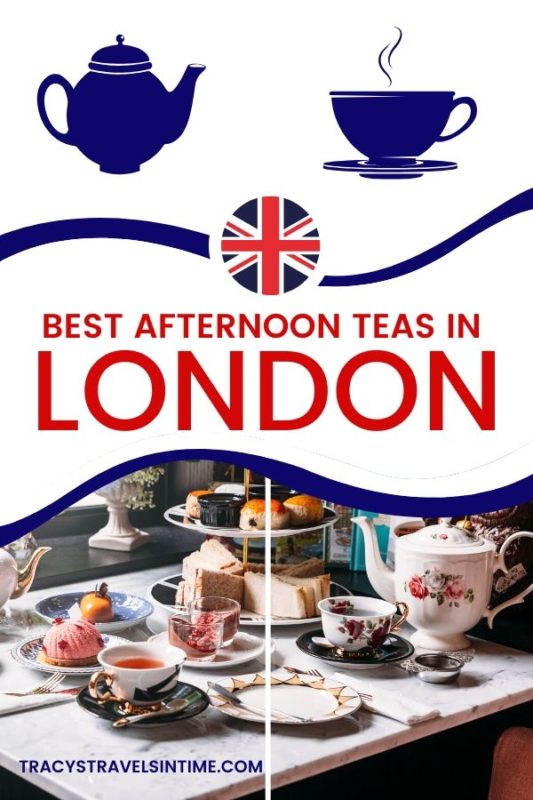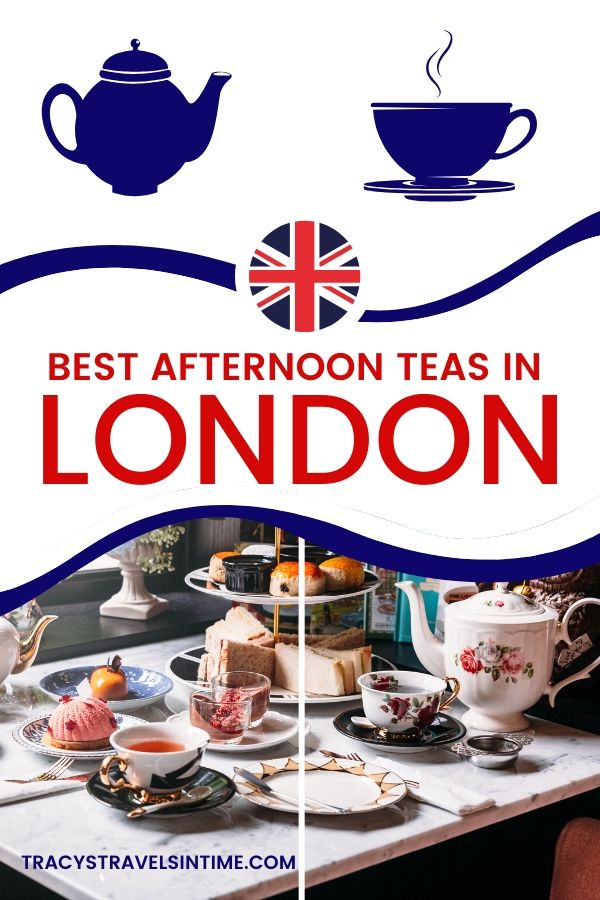 FORTNUM AND MASON
London is an amazing city for afternoon tea. But one of the best choices for afternoon tea in all of London is the posh department store Fortnum and Mason. If you've ever wanted to dine at a place with a Royal Warrant that was founded in the early 18th century, this is the place for you.
Because the tea is so sought after, booking a reservation in advance is obligatory. It's easy to do online. Fortnum and Mason does not enforce a dress code, but they recommend smart-casual on their website.
You may start your tea with a glass of champagne if you so choose. After that comes the main meal. Your tea will be served on a dish with three separate tiers. The bottom tier includes unlimited sandwiches including ham and mustard, cucumber with mint cream cheese, egg salad, smoked salmon, and coronation chicken salad.
On the middle tier are two scones: one plain and one fruit. You can spread your choice of clotted cream, strawberry preserves, and lemon curd on top. You'll be served an entire container of preserves and another one of curd so you won't run out.
At the end come the desserts. You'll be served a set of individual desserts on the top layer of your tea. These can range from a rose eclair to a chocolate hazelnut cream. If you're still hungry, you can serve yourself more cakes from the Cake Carriage. Your server will even be happy to wrap a cake up for you to go.
Afternoon Tea at Fortnum and Mason was eaten by Stella Jane from Around The World in 24 Hours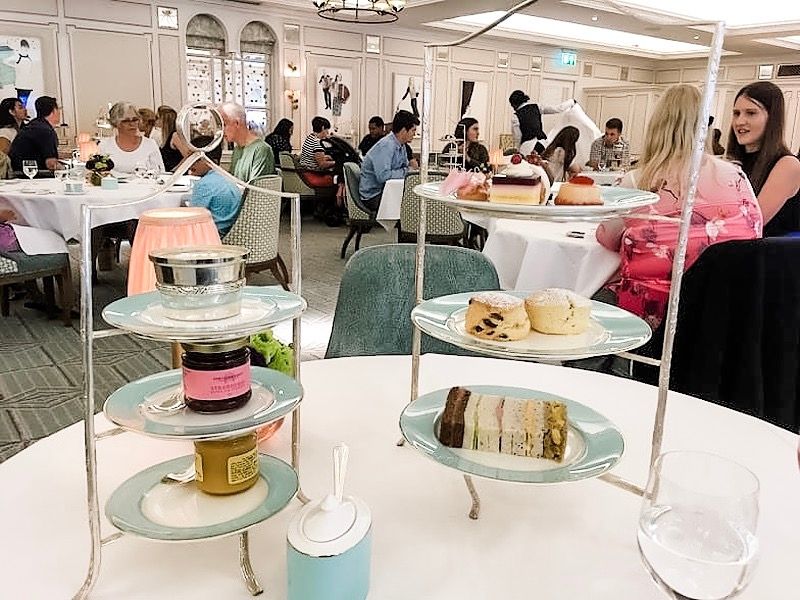 MAD HATTER'S AFTERNOON TEA AT THE SANDERSON HOTEL
Tumble down the rabbit hole with this charming, quirky, colourful and very tasty afternoon tea! The Mad Hatter's Afternoon Tea at the very cool Sanderson Hotel in Soho is all about the detail. The tea itself is held in the beautiful covered garden at the Sanderson Hotel (heaters in winter of course!).
Once seated, guests receive a range of cards which each feature a different tea potion such as the White Rabbit or Cheshire Cat. The crockery features imagery from Alice in Wonderland – from kooky clocks to kings and queens on teapots. Menus arrive hidden in vintage books.
The savoury selection includes a smoked salmon scotch quail egg, a ham and parmesan croque-monsieur and spinach sandwiches. But the real highlight is the sweet selection!
The sweet portion of the Mad Hatter's afternoon tea comes on a three-tiered plate arrangement and it is an explosion of colour. From fudge caterpillars to red velvet ladybirds to macaron pocket watches there are so many delicious and gorgeous treats! There is a drink me potion which can be paired with magic marshmallow mushrooms and of course delicious scones!
The dress code at the Sanderson is quite relaxed although I do feel this is an afternoon tea worth dressing up for! The Mad Hatters afternoon tea is served daily and can be prepared gluten-free. Discounts are generally available on weekdays and don't forget to add a glass of Veuve Clicquot Champagne for true decadence!
The Mad Hatter's Afternoon Tea was eaten by Amanda of The Boutique Adventurer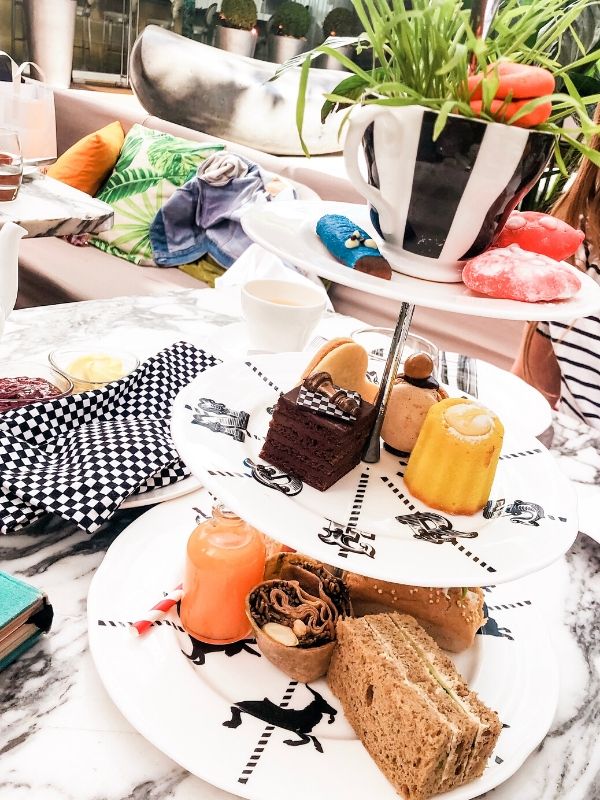 CHARLIE AND THE CHOCOLATE FACTORY AFTERNOON TEA – ONE ALDWYCH HOTEL
Everyone wants to go to Willy Wonka's chocolate factory, am I right? Whilst it may not be possible to get a golden ticket to the factory itself, the One Aldwych Hotel in London's West End, offers a Charlie and the Chocolate Factory afternoon tea that gives you a taste of the confectioner's magic.
The menu varies from time to time, but includes delicious savouries such as tartlets and sandwiches, a second course of scones, of course served with clotted cream and fruity jams as well as melt in the mouth financiers.
The highlight though is a show stopping collection of desserts. Wands of fluffy flavoured candyfloss, mini bottles of flavoured milk, cake pops on sticks and glass jars of mousses. Wash this magical feast of desserts down with a range of teas, currently including a lemon sherbet flavour, juices, cocktails or champagne.
The tea is served in the Lobby bar and is perfect for families looking for a sumptuous tea with a fun twist.
The delicious Charlie and the Chocolate Factory Afternoon Tea was eaten by Jo of Where Jo Goes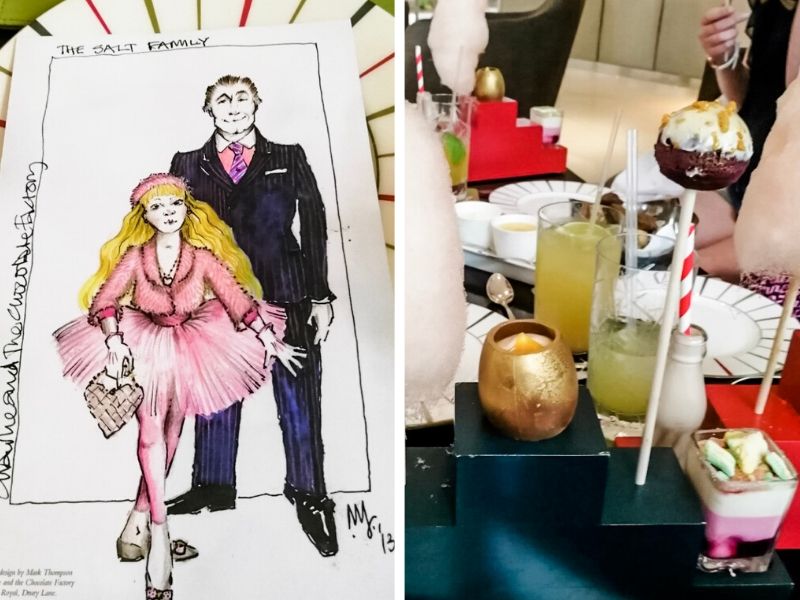 THE POTION ROOM AT CUTTER & SQUIDGE
The Potion Room is an absolute must for any Harry Potter fans visiting London. You might be a bit dubious when you first arrive at Cutter & Squidge, as it just looks like a cute café selling yummy cakes and coffee. But follow the stairs down into the basement, and suddenly you will feel like you've just stepped into the potions classroom at Hogwarts.
Due to copyright restrictions, there are no specific references to Harry Potter characters or locations. And yet, despite this, the folks and Cutter & Squidge do a fantastic job of recreating the wizarding world.
My potions class was taught by a woman who went by the name Professor Imperial, and she really stayed in character throughout the experience. At our desks, we found black witches' and wizards' cloaks and wands waiting for us, which also helped to create the proper atmosphere.
In keeping with the theme of a potions class, this afternoon tea is a bit more interactive and hands-on than the usual ones. You will be making some of the drinks, a.k.a. "potions", yourself! Using test tubes filled with brightly colored liquids, you will cast a spell to create a concoction called "galaxy juice".
Next comes the Hubble Bubble, which is a cauldron that really does bubble and crackle in your mouth as you eat it! The Potion Room caters for a wide variety of dietary requirements, offering vegetarian, vegan, wheat-free and dairy-free versions of the afternoon tea menu.
The Potion Room afternoon tea was eaten by Wendy Werneth of The Nomadic Vegan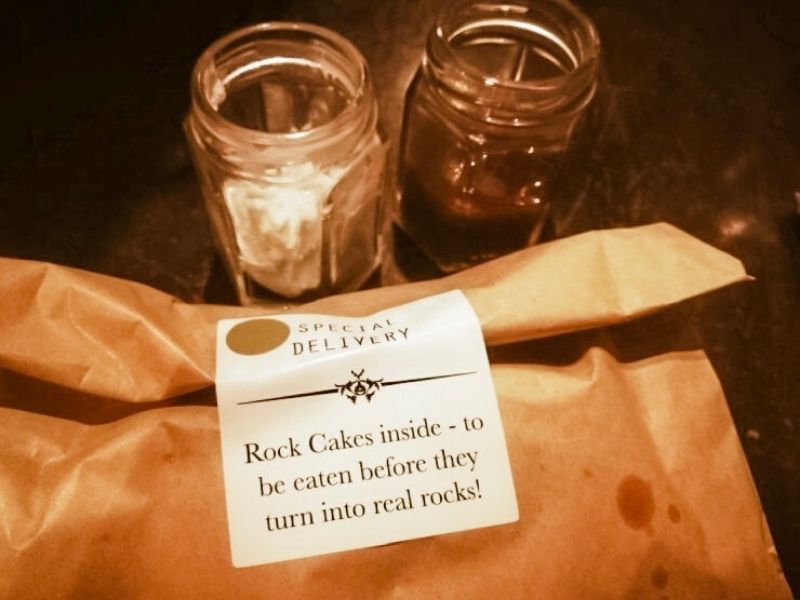 AFTERNOON TEA ON A DOUBLE DECKER LONDON BUS
Afternoon tea is a British staple and if you find yourself in London you most definitely have to try one. Since London is obviously one of the coolest cities in the world why would you settle for a regular afternoon tea when you could experience afternoon tea on a double-decker bus that drives you around London?
Pick up for the tours are done at Trafalgar Square or Victoria Coach station. The tour will take you to the highlights of London (without stopping). Landmarks that you can see on this tour include the London Eye, Big Ben, Notting Hill, Hyde Park, Downing Street and so many more!
The food on this afternoon tea bus tour of London is another one of the absolute highlights of this tea. We opted for the traditional afternoon tea (but you can have it vegan/vegetarian/halal or gluten free) that came with 5 different savory finger sandwiches, 4 sweet desserts plus fresh scones. The food is served on a beautiful two tier plate and you get your drink in a to go cup (to avoid spillage) that you then get to keep afterwards!
I'd recommend booking at least a week or so in advance if you're set on doing the tour since the spot you want may sell out otherwise! I'd also highly recommend using the bathroom before you board as the bus does not have any bathrooms.
There's no dress code as it's a casual experience but you're going to want many pictures so make sure you like what you're wearing!
→ CLICK HERE FOR MORE INFORMATION AND TO BOOK YOUR AFTERNOON TEA ON A DOUBLE DECKER BUS
CHURROS AFTERNOON TEA AT THE KNOT
If you're looking for another cool afternoon tea in London then you should check out the Churros Afternoon Tea at the Knot. It's a modern twist on the British Staple and a sugar high that you absolutely won't regret!
The Knot is located in posh Kensington (specifically at 13 Bute St, Kensington, London SW7 3EY, UK) so it easy to see why the place is one of the most instagrammable places in London. Their desserts frequently pop up on Instagram and their afternoon tea is no exception!
The afternoon tea is definitely a twist on the traditional afternoon tea which is reflected in the food that is served. The savory dish is a bagel (which was super yummy!) but is the only savory part of the tea. There is however plenty of sweet dishes to make up for it.
You're given 3 different-flavoured knotted churros (that's their signature item) and two dipping sauces in addition to a magnificent candy floss burrito which is pretty much soft serve ice cream wrapped in candy floss (cotton candy).
The burrito is the new addition to the afternoon tea – the candy floss used to be served on the side of the ice cream and you could eat them separately.
The Knot is very popular with instagrammers and so it gets busy. You're going to want to dress up a little for the pictures but there's no real dress code here. You have to book the afternoon tea in advance and the reservation includes a £20 deposit that is applied towards the total cost of your afternoon tea.
Both the London bus afternoon tea AND the churros afternoon tea at the Knot were eaten by Liliane of My Toronto My World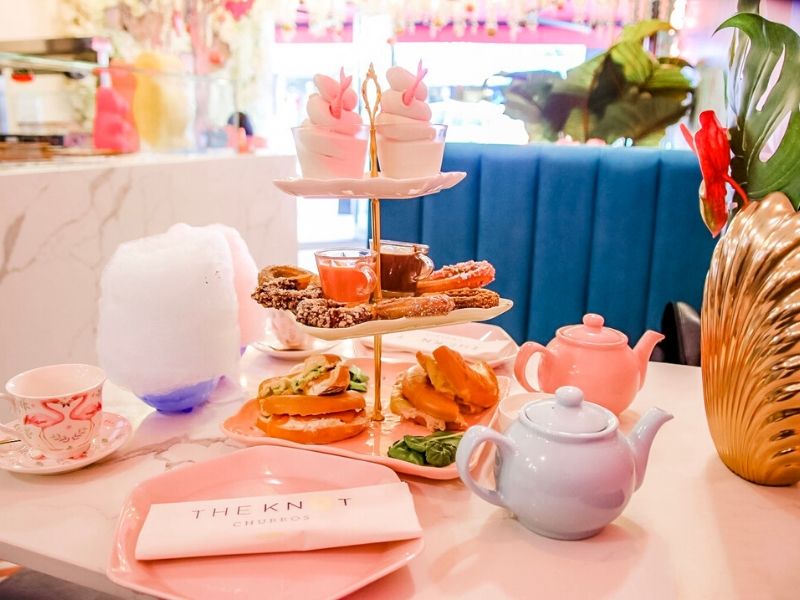 AFTERNOON TEA AT SKETCH
Afternoon tea at Sketch is, at least for budget travelers like me, a once in a lifetime experience. The price is not budget friendly, but if you plan it in advance it's totally worth the money.
For tea at Sketch they ask you to dress "smart casual," I'm honestly not sure what that means so I put on a colorful skirt and shirt and no one said anything. Just don't show up in jeans and sneakers and I'm sure you'll be fine.
The food was spectacular! We started off with tea and finger sandwiches. Then the caviar waiter, yes you read that right, came over and served us. I had never had caviar before and I can honestly say I thought it was amazing and need to get myself a caviar waiter. To round off tea time a multi level tray of sweets came out!
A few tips for having tea at Sketch: Make sure you check out the bathroom which is really instagrammable and go in the bar. Yes, there's a bar in the bathroom! And make a reservation, when I showed up with a friend they were turning people away who didn't make advanced reservations.
Eaten by Retha of RoamingNanny.com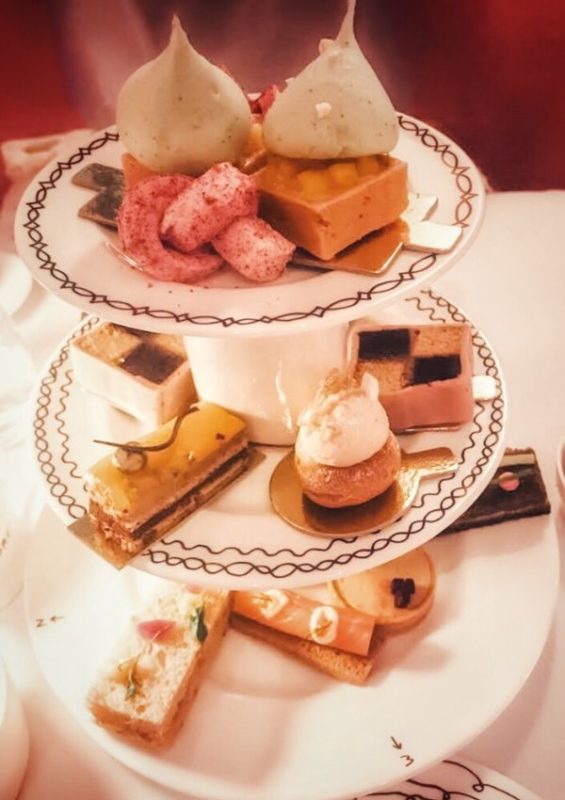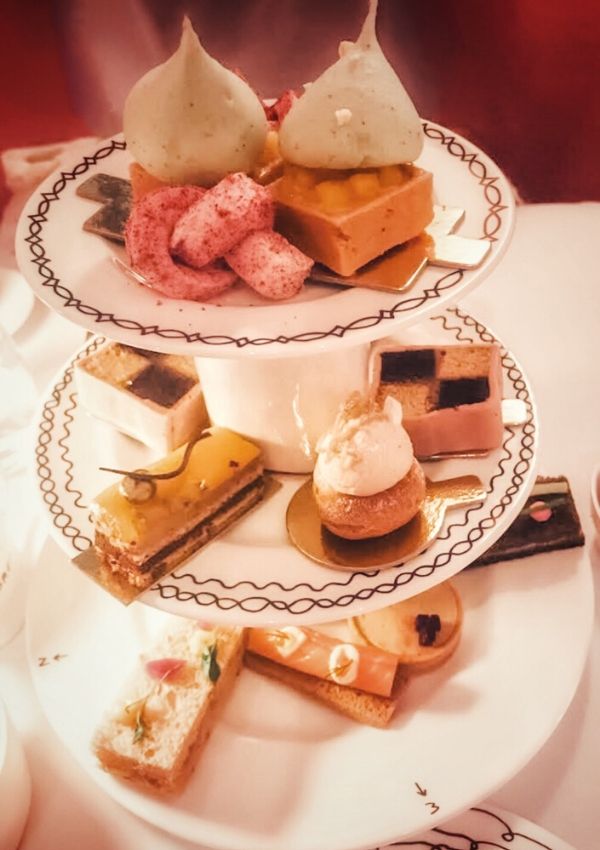 ITALIAN THEMED AFTERNOON TEA AT THEO'S SIMPLE ITALIAN
If you're looking for a unique afternoon tea experience in London then why not check out the Italian Themed Afternoon tea at Theo's Simple Italian.
Located in the Hotel Indigo-Kensington, this restaurant tucked away on a side street in Earl's Court is a great spot to enjoy afternoon tea. Further, the Italian twist to a London must do is a great way to try something different.
The service starts with a chilled glass of prosecco. This is followed by a spread of focaccia sandwiches, bruschetta and crostinis. And this is not it. Calamari and Arancini's round out all the savory offerings. The selection of tea is fabulous. Try the lemon ginger. It has a nice kick to it and goes great with all the Italian flavors.
Once you think you've had enough out comes all the sweets. Cannoli's, flourless chocolate cake and panna cotta just to name a few.
Make sure you come hungry. Because with all these goodies you want to make sure you enjoy it all. Reservations are encouraged. Especially on the weekend. Weekdays tend to be a bit quieter and make for a great time to visit.
This Italian afternoon tea was eaten by Taima of Poor in a Private Plane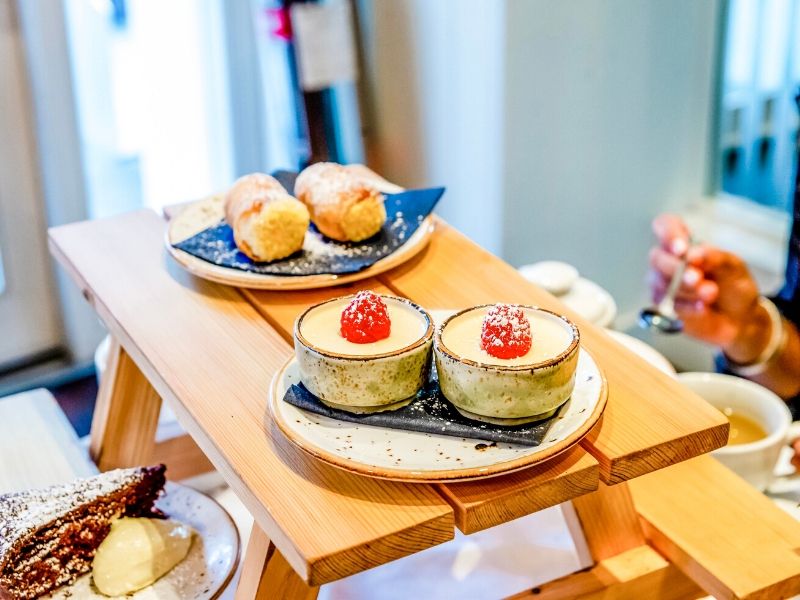 MORE AFTERNOON TEAS
There are lots of afternoon tea experiences to choose from in London. Here are my pick of traditional afternoon teas
Join the English elite for afternoon tea in the place it first became an iconic British tradition: Grosvenor House. A huge private house overlooking Hyde Park, Grosvenor House is one of London's stateliest buildings.
Experience afternoon tea at the Waldorf Hilton Hotel London, and feast on finger foods in elegant surroundings just steps from Covent Garden. Indulge in a glass of champagne with cakes, scones and a tea of your choice.
A truly indulgent experience – why not treat yourself or loved ones to afternoon tea at the Ritz. Served in the spectacular Palm Court decorated with glittering chandeliers and elegant mirrors this will be an afternoon tea to remember.
ENJOY YOUR TRADITIONAL OR THEMED AFTERNOON TEA IN LONDON!
An afternoon tea is a quintessentially British experience and I recommend adding it to your London bucket list when you visit! Experience tea served with savoury and sweet treats – I am sure you will enjoy it whether you choose a themed afternoon tea in London or a more classic experience.
If you are planning a visit to London or the UK in general have any questions about afternoon tea or indeed anything else why not join my free UK Travel Planning group on Facebook? You will find lots of practical advice, tips as well as inspiration for your trip amongst fellow travelers!
→ CLICK HERE TO JOIN THE FREE UK TRAVEL PLANNING GROUP ON FACEBOOK
Read more about the UK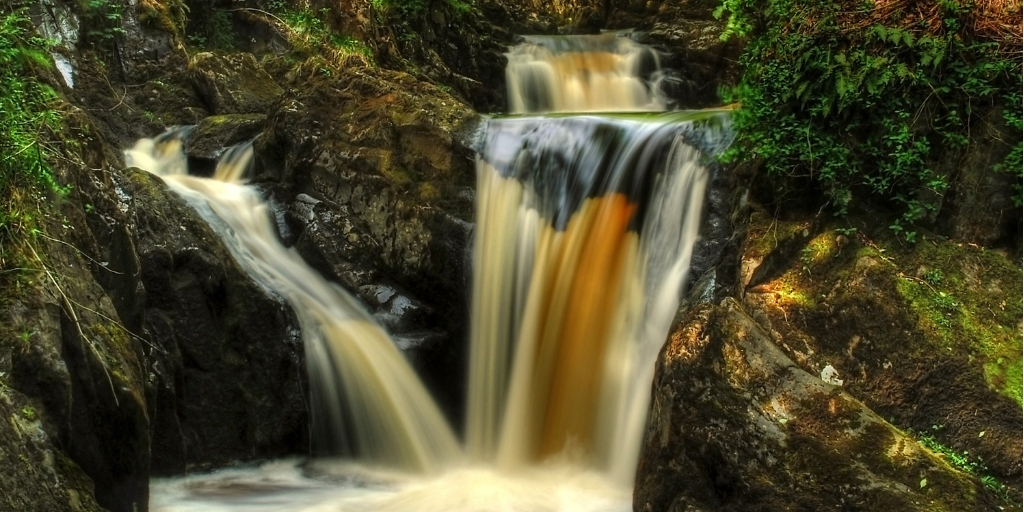 Last Updated on March 26, 2021 If walking the Ingleton Waterfalls Trail is something you are planning to do then…
This post may contain affiliate links, which means we may receive a commission, at no extra cost to you, if you make a purchase through a link. Please see our disclosure for further information. As an Amazon Associate, I earn from qualifying purchases.