If you are traveling to London during the winter months you may be wondering what there is to do and see. Winter in London has lots to offer visitors with the festive season in particular a popular time to enjoy the capital.
Although it can be extremely busy with tourists and locals alike flocking to London to experience the beauty of the streets and shops bedecked with festive decorations it is for me a magical time of year to go (and my favourite)
In this article I have asked fellow travel bloggers to share their favourite winter activities in London to provide you with inspiration and ideas to add into your itinerary if you are spending time in London during the winter months.
Popular activities to do in London in winter
Winter in London is the perfect time to visit a traditional Pub and warm up with a Sunday roast
London has no shortage of pubs, which are particularly cosy and enjoyable during the dark winter months. Nothing will warm you better than a hot plate full of roasted meats with Yorkshire pudding and all the trimmings. If you are visiting London, you must try a traditional Sunday roast lunch in a pub to experience living like a local!
Whilst most decent pubs in the city will serve up a Sunday roast, I recommend hopping on the tube up the northern line to Highgate or Hampstead.
Both stops are just a couple of miles from the West End but enjoy village locations with shops, cafes, and restaurants housed in historic buildings.
The two villages are separated by the sprawling Hampstead Heath, the perfect place for a post-lunch stroll boasting some of the best views in London from its high vantage point. It's also appeared in Hollywood movies such as Notting Hill.
For pubs with an extra cosy factor try The Flask in Highgate which dates back to 1663 and comes complete with a roaring fireplace during the winter months.
Also home to a fireplace for winter is The Spaniards Inn in Hampstead, located close to Hampstead Heath. The pub was originally built in 1585 and has appeared in the work of Charles Dickens and is said to be the place where John Keats wrote his poem 'Ode to a Nightingale.'
Read more – ryokougirl.com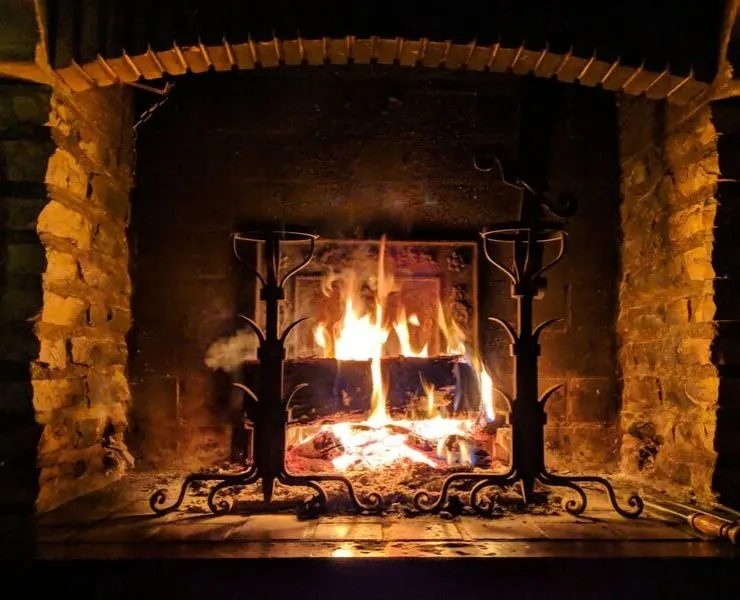 Visit Harrods for a festive experience – Santa's Grotto, beautiful decorations and afternoon tea
Although tickets to see Santa at Harrods go within hours once released if you're lucky enough to get your hands on some, then you're in for a magical treat. London at Christmas is truly a magical time, from the festive buzz to the twinkly Christmas lights and displays that adorn the streets. And one of London's most iconic stores Harrods, is no exception.
While the window displays are truly magnificent, head up to Santa's Grotto and immerse yourselves in a snowy winter wonderland. Children will be mesmerised not only by the beautiful toys on display, as well as the chirpy elves but of course, by the rotund, traditional Santa who is extremely friendly and exactly how you'd expect a real Santa to be!
After chatting to Santa for a good while, and making sure he was on the 'good' list, our son was delighted to receive a gift. His smile got even wider when we then headed to Harrod's tea room for afternoon treats. With kids in mind, the menu offers up traditional cakes and baked goodies, but children have the option for creamy milkshakes and other delights.
It was the perfect end to our Santa's visit. Our son adored our time at Harrods and it may be more on the expensive side, but it really is worth doing it once. And for those who can't find tickets, go and enjoy the displays and afternoon tea. It will still be just as wonderful.
Read more – My Travel Monkey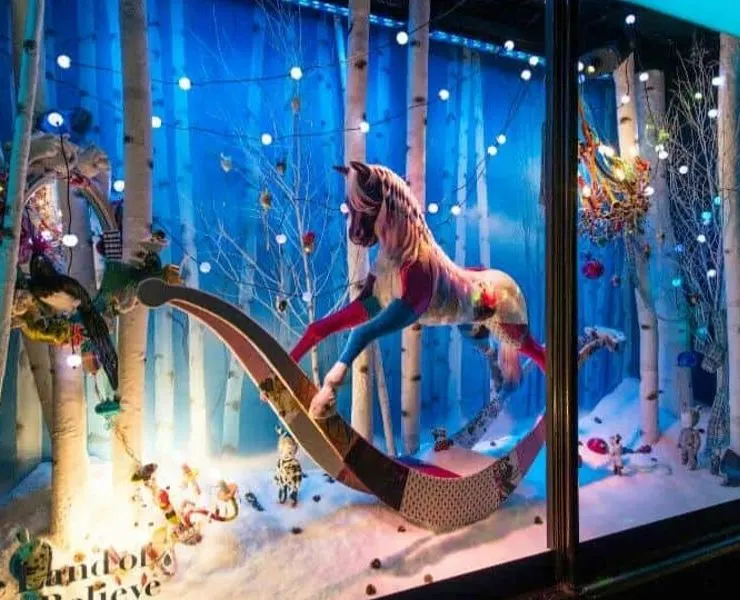 Enjoy Winter Wonderland – Christmas market and funfair
If you're looking for the best things to do in London in winter, you have to add Winter Wonderland to your bucket list. Winter Wonderland is possibly the ultimate Christmas in London activity. Located in Hyde Park, Winter Wonderland is basically a huge Christmas themed funfair, which starts around mid to end of November and ends at the start of January every year.
It's one of my favourite places to visit in London in winter because there is such a fun and Christmas vibe (as you can imagine). At Winter Wonderland you can expect to find all sorts of food and drink stalls, rides, funfair games where you can win prizes and of course, ice skating! My favourite foods stalls are the ones that sell poffertjes (small Dutch pancakes) and cinnamon buns, yes I have a bit of a sweet tooth.
However, since it's such a popular activity to do in London at Christmas it can get incredibly busy. I recommend visiting during the week and earlier in the winter season, around the end of November or early December if you can.
Winter Wonderland is open all day but it's a more unique experience once the sun goes down, since all the decorations light up and it really looks like a Christmas Wonderland. But since most people visit in the evenings I would go late in the afternoon to enjoy it without crowds, and then sticking around until it gets dark to see it with the lights on.
By Gretas Travels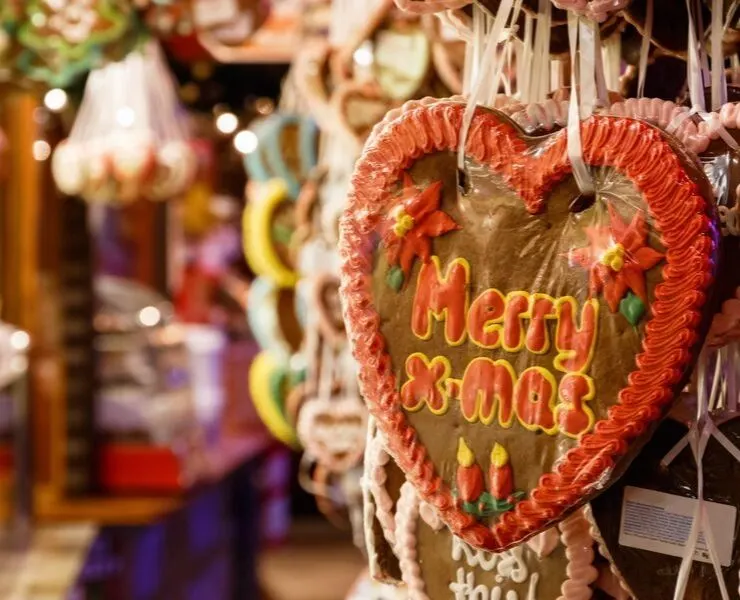 Visit the Tate Modern and English National Gallery
On grey winter afternoons in London, some of the world's finest museums beckon with blockbuster exhibitions, talks and performances. The permanent exhibitions of the Tate Modern and the National Museum stand out for me in terms of quality and depth.
In a building whose construction was ordered by an Act of Parliament, The National Museum sits in Trafalgar Square and houses one of the world's finest collections of art. Each time I visit I head straight to the Impressionist Gallery to get as much time as possible there before the crowds descend.
There was a terrible outcry when Impressionist paintings were added to a British gallery but after World War II it became impossible for the Gallery to afford to purchase more as the price rose astronomically. Van Gogh's Sunflowers is only one exquisite piece in this collection.
There are also works by Leonardo Da Vinci, Michelangelo, Titian, Van Eyck, Holbein and Botticelli to name but a few of the great masters of European painting. Admission is free. Open daily 10 am – 6 pm and until 9 pm on Friday, closed January 1 and 24-26 December.
There are four galleries that comprise the Tate, one of which is the Tate Modern. The gallery houses the UK's modern and international art collection in the former Bankside Power Station. The six-storey Turbine Hall and the renovations of the Power Station are reason enough for visiting.
The eight galleries are grouped in themes rather than artists, centuries or movements. Dali, Klee, Picasso, Braque and Delauney are just some of the mind-opening artists whose works form part of the permanent exhibits. Tate Modern is open Sunday to Thursday 10 am to 6 pm and until 10 pm Friday and Saturday. Admission is free.
Read more – Trip Anthropologist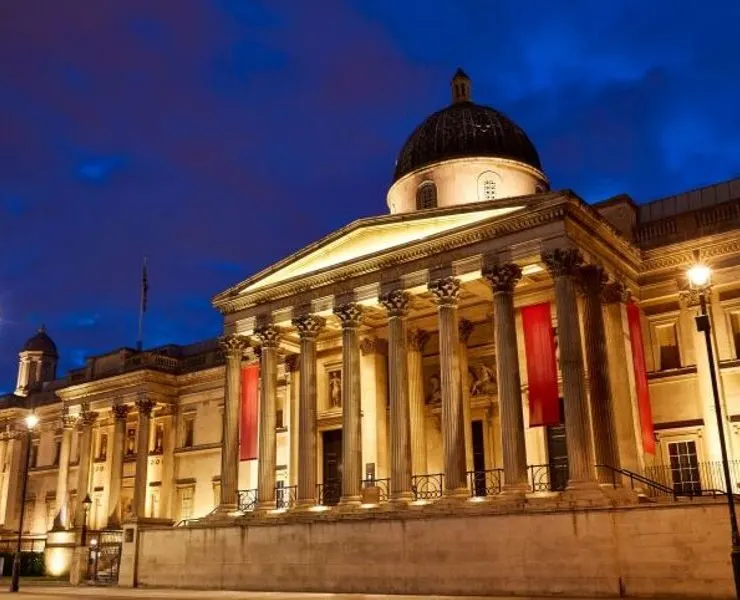 Explore the arcades in Piccadilly
Piccadilly's a central spot for sightseeing and shopping: Soho and Regent Street are just a stroll away. It's home to the Royal Academy and the Ritz hotel, as well as some of London's ritziest stores, says Nancy from Map and Family, who lives in London.
Even better many of Piccadilly's boutiques are tucked inside its historic indoor shopping arcades – perfect for a little retail therapy on a cold winter's day. These glamorous galleries were built in Victorian and Edwardian times to keep aristocratic ladies safe and dry whilst they shopped at leisure.
Burlington Arcade is the best-known and the longest, with around 40 bijou-sized stores. When it was first built in 1819 it had its own private police force and today it's still patrolled by beadles in frock coats and top hats – though they man a very 21st-century security system.
The arcades with their elegant little shopfronts house some of-the-moment luxury brands. The entrance to Burlington Arcade is flanked by Vilebrequin's bright swimwear and Laduree's equally colourful macarons. Inside you'll find cashmere and scent, fine jewellery, Chanel sunglasses, Blahnik shoes and much more.
Across the road lie the Piccadilly and Princes Arcades, whilst possibly the prettiest is the peach-toned Royal Arcade which links Bond Street and Albemarle Street. Browse for special treats or just to enjoy the history and the glamour, and make a note – the Arcades are especially worth a visit when they're decorated for Christmas.
By Map and Family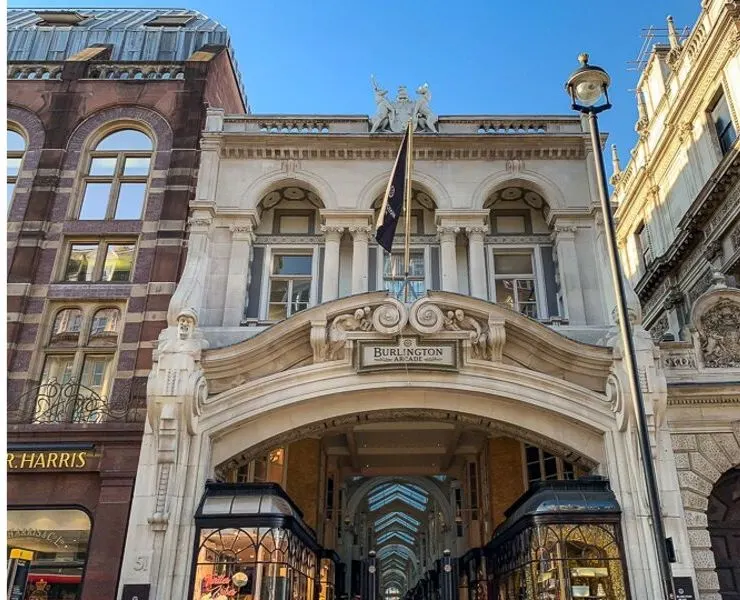 Eat in the Coppa Club Igloos
London is magical in the winter with beautiful Christmas decorations and Christmas markets, but nothing says winter in London quite like the Coppa Club igloos. The Coppa Club igloos line the Thames River in the winter with a perfect view of the Tower Bridge. Even in the frigid winter temperatures, you can dine inside of a cozy igloo and enjoy the view.
Dining in the igloos is a coveted London experience, so reservations fill up months in advance sometimes. If you can plan ahead, get your reservation as soon as possible. If not, it is still possible to eat in the Coppa Club igloos without booking in advance. T
he igloos have several different seating arrangements. If you are a smaller party of 2 – 4, you will likely share your igloo with other small parties. A larger group can reserve an entire igloo to enjoy. If you are trying to go without a reservation, a smaller party is better. Larger parties will likely not get in without a reservation.
While you might expect it to be overpriced, eating in the igloos costs the same as eating inside the restaurant. The prices for food are normal London prices, making the igloos an affordable dining option with menu items in all price ranges.
If you are in London sometime in the winter, make sure to check out the Coppa Club igloos for a special winter dining experience and a perfect view of London's iconic Tower Bridge.
By – Live Love Run Travel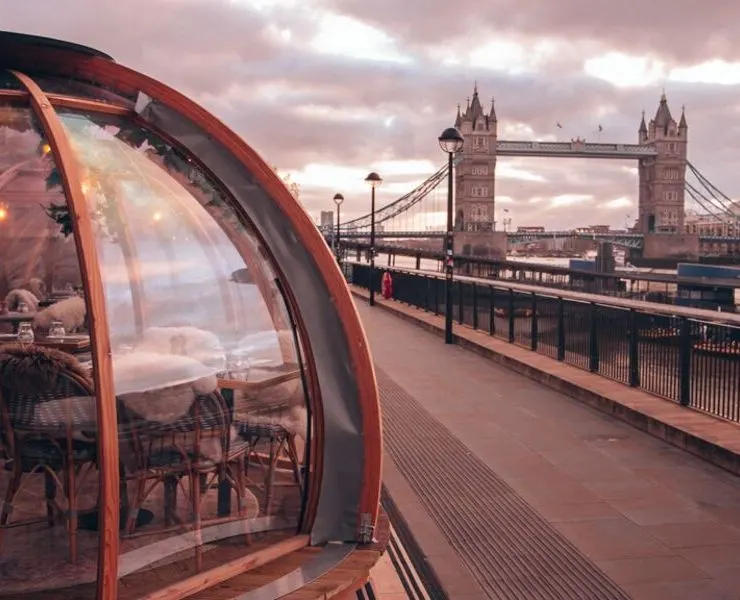 READ MORE – Essential travel tips for first-time visitors to London
Visit the British Museum
On a cold winter's day in London (of which there are many!!), there's nothing better than exploring one of the city's spectacular museums! The British Museum is home to a wealth of art and artefacts from centuries gone by, including works by the Egyptians, Ancient Greeks, Japanese, and of course, the British.
The collections are ever-changing, so even if you've visited before there are bound to be loads of new exhibits and expositions to discover! Many parts of the museum are open to the public for free with regular talks, trails and interactive workshops available. If you're interested in learning about a particular era or style of art, you can also book a private tour or hire an audio guide to give you extra information.
If you fancy exploring the museum of an evening (a great alternative date idea!) you can visit during Friday Lates when the museum stays open until 8.30 pm and puts on a programme of events, food and drink.
Even if you're not necessarily into ancient artefacts, the British Museum is a wonderful place to while away a few hours on a cold, drizzly day and you might learn some fascinating facts about the world's history and culture!
Read more – Historic European Castles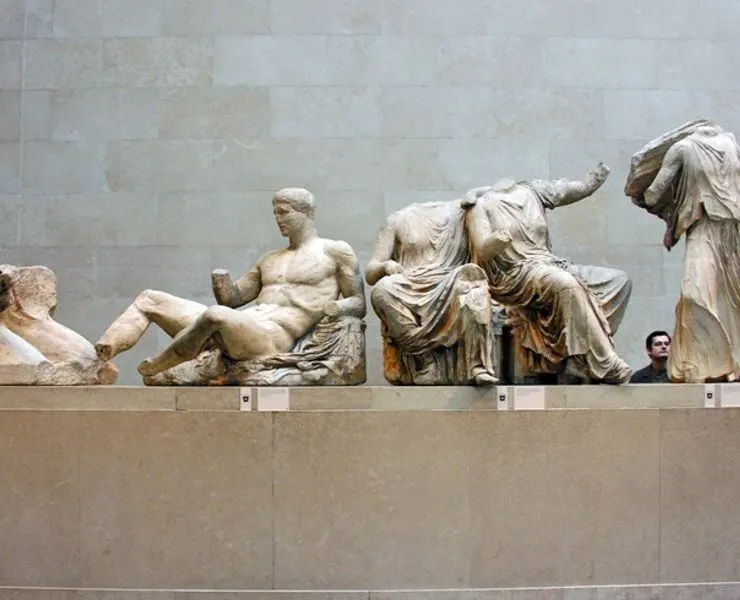 Enjoy the Christmas lights on Oxford Street and Regent Street
There are many Christmas lights across London, but our favourite (and oldest) are the lights in Oxford and Regent streets.
The Oxford Street Christmas lights are a beautiful and free way to enjoy the delights of winter in London. The lights' 'switch on', usually in early November each year, are an eagerly anticipated date on Londonites' calendars.
These lights have been switched on each year by a celebrity – from Cliff Richard to The Spice Girls, from the Coronation Street cast to Kylie Minogue! Celebrated for over 60 years, the event attracts crowds, who enjoy all things Christmas, from near and far – locals and tourists alike. The street is usually closed to traffic to allow spectators a safe and clear view of the 750,000 bulbs that are used annually.
The Regent Street Christmas lights have been part of the winter landscape since 1954. Like the Oxford Street Christmas lights, these lights also have a designated switch on date in November.
Both streets' lights have slight variations each year – from angels, to baubles to snowflakes and more. The street has in excess of 1, 500 decorations with many of the shops participating in the festive spirit.
Both sets of lights are usually turned off in the first week of January.
By – Get Out With Kids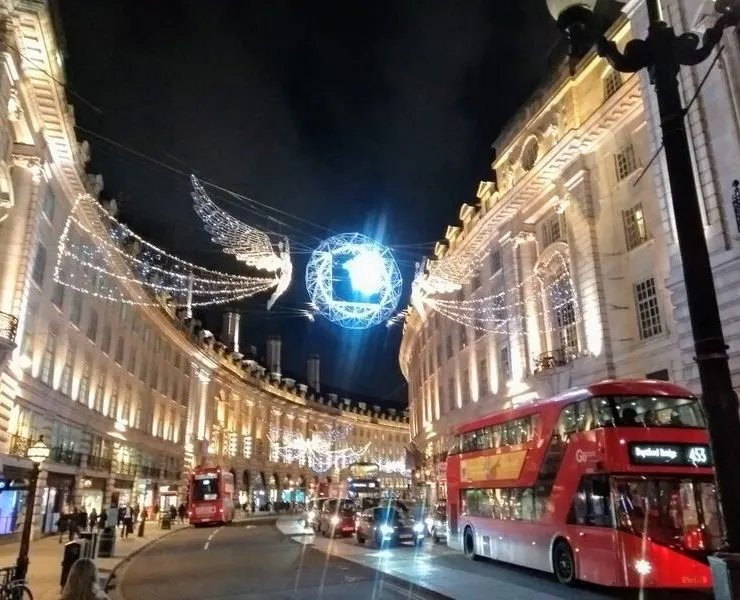 Go ice skating at the Natural History Museum
Get into the festive spirit in London and join the ice skaters in the rink outside the Natural History Museum. From late November to early January you can skate to your heart's content around the rink complete with a giant Christmas tree dripping with sparkling decorations. The iconic buildings of the Natural History Museum provide the perfect London backdrop.
You don't need to be an expert skater to join in the fun. Most people shuffle around the rink with rosy cheeks simply enjoying the festive atmosphere and Christmas carols.
Once your time slot has ended, head to the cosy cafe overlooking the rink for a decadent hot chocolate mulled wine and other festive treats. This is a very popular activity so make sure you book in early to avoid disappointment. And bring your woolly hat and warm gloves so you stay nice and warm.
Read more – Untold Morsels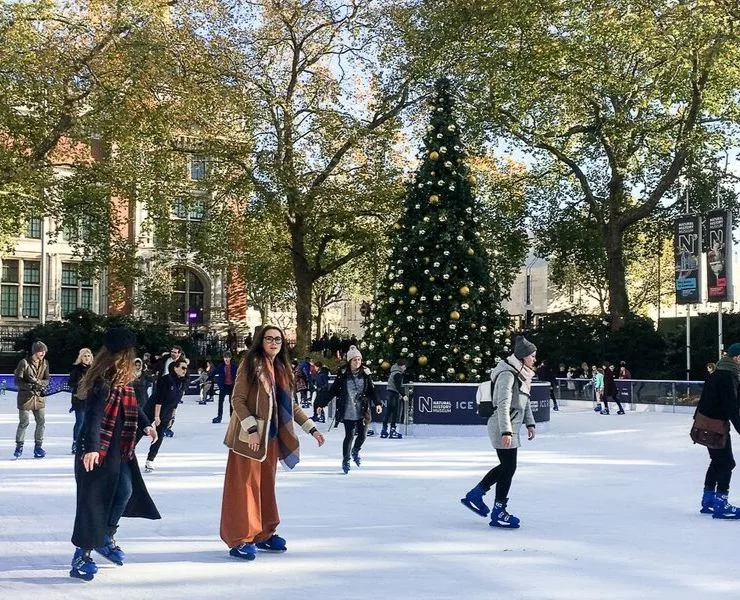 Visit the Walthamstow Wetlands
Walthamstow Wetlands is a beautiful nature reserve situated around ten of London's reservoirs. It's home to a wealth of wildlife and has walking routes laid out around the reserve which you can explore. On a cold crisp winter day, it's a perfect place to get fresh air and take in nature's wonders. Although the Wetlands is nestled within the busy city it feels like another world and is an oasis of calm.
Several bird species stopover at the Wetlands while on their winter migration; including Slavonian grebe and red-breasted merganser. Throughout winter you are also likely to see grey heron, cormorants, and other winter waterfowl.
We visited several times last winter and were able to see geese, tufted ducks and other bird species. The most impressive sight for us was the large group of graceful herons who can be seen nesting in the tall trees on small islands on the reservoirs. You might also see mammals like foxes and voles.
The Wetlands are great for children who can be free to run around, get close to nature and spot all kinds of wildlife. My son loved it. It's also great for anyone who enjoys peaceful calm walks, while still being in the city!
It is free to visit the Wetlands and it's a short walk from Blackhorse Road or Tottenham Hale stations. You can warm up with hot drinks and snacks at the Engine House Cafe. Also, look out for the many winter events including photography workshops and opportunities to take part in conservation activities.
Read more – Reading Inspiration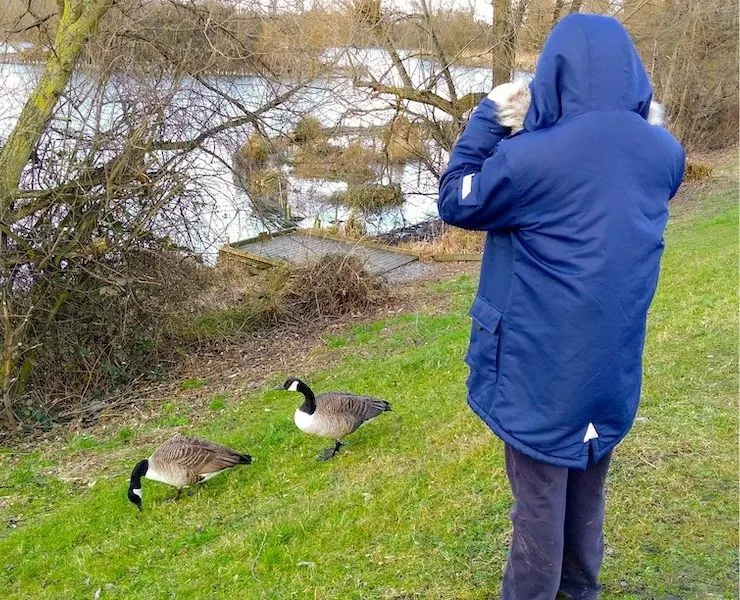 READ MORE: BEST TRAVEL AND GUIDE BOOKS ABOUT LONDON
Visit London Zoo
London Zoo is more than simply a place to spot animals, it's a landmark in its own right in London with a fascinating history of its own.The world's oldest scientific zoo, it was once home to the bear that inspired Winnie the Pooh and makes an appearance in the first Harry Potter movie.
Unsurprisingly, in summer, it can be packed out but in winter you'll often find the crowds fade away and you don't have to fight the queues to see the animals.Even better, last year the zoo introduced a wonderful mile-long illuminated trail in the run-up to Christmas to add a fantastic festive touch for visits after dark – there were combined tickets if you wanted to see the animals during daylight as well.
The details of winter events are still to be announced for 2019 but with mulled wine, hot chocolate and roast chestnuts on sale, as well as a vintage carousel for families, it was a perfect Christmassy touch.
If it gets too chilly, pop inside the heated Reptile house, or the covered sections of the tiger enclosure. From the new lion area (where you can also stay overnight) to watching the penguins frolicking happily in the water, it's always a fantastic day out.
Read more – Mummy Travels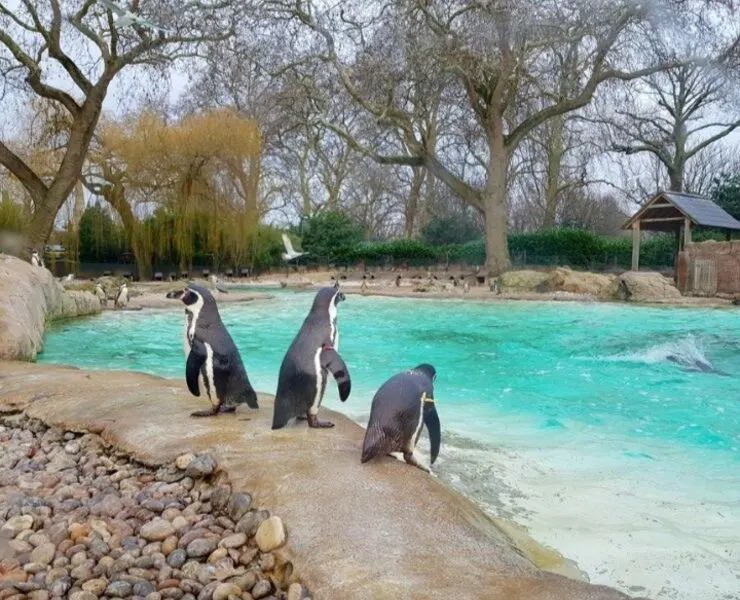 READ MORE: HOW TO TRAVEL FROM LONDON TO PARIS ON THE EUROSTAR TRAIN
Visit South Bank
The South Bank is one of the best places in London to visit in winter. It offers you a wonderful place to take a stroll and take in some of the best views in London and see some of the most iconic sights in the capital.
The area is particularly worth visiting in the run-up to Christmas when a fabulous Christmas market sees the South Bank filled with stalls, rides and street entertainers. There is all sorts on offer here including yummy Bavarian sausages, mulled wine and handcrafted goods from around the world.
It is a great place to enjoy a walk, get into the Christmas spirit and just see what you stumble across. There are bound to be musicians, magicians and other entertainers to make the night more special (you should come after dark for the best experience).
Walking along the riverfront is likely to involve an icy breeze, so be sure to embrace the winter and wrap up in your winter coat and scarf. If the markets and views across the Thames weren't reason enough to visit, you can always swing by the Tate Modern for a bit of culture or ride the London Eye for even better views of London.
To get to the South Bank, head to Waterloo station which is on the underground and overground train network.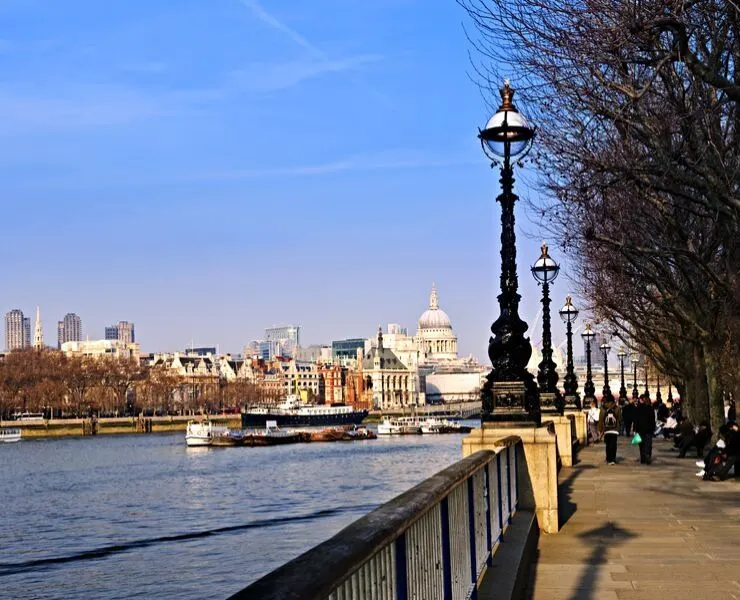 The Design Museum
The Design Museum is one of many free museums in London that you can easily spend a couple of hours exploring. Located in Kensington in a beautifully designed building close to Holland Park, this museum is dedicated to design of all kinds – graphic, industrial, fashion, architecture and much more.
The permanent collection on the top floor, called "Designer Maker User", is free to visit and covers all aspects of design in everyday life. You'll find yourself in a gallery of familiar objects, from phones and cameras to trains and cars.
A quote by Ernesto Rogers, an architect and designer, sums it up: "The role of the designer stretches from the spoon to the city". It's a fascinating way to learn about the development of modern design in Britain and worldwide through texts, images and the hundreds of objects on display.
There are excellent temporary exhibitions and occasional talks and activities taking place at the Design Museum, so make sure to check their website before you visit to see what's on. Don't skip the gift shop on your way out, it has some more design gems to discover.
Before or after the museum, don't miss out on a visit to Holland Park which is right next to it. It is one of London's lesser known parks that has some gorgeous gardens an is well worth a visit.
By – Bright Nomad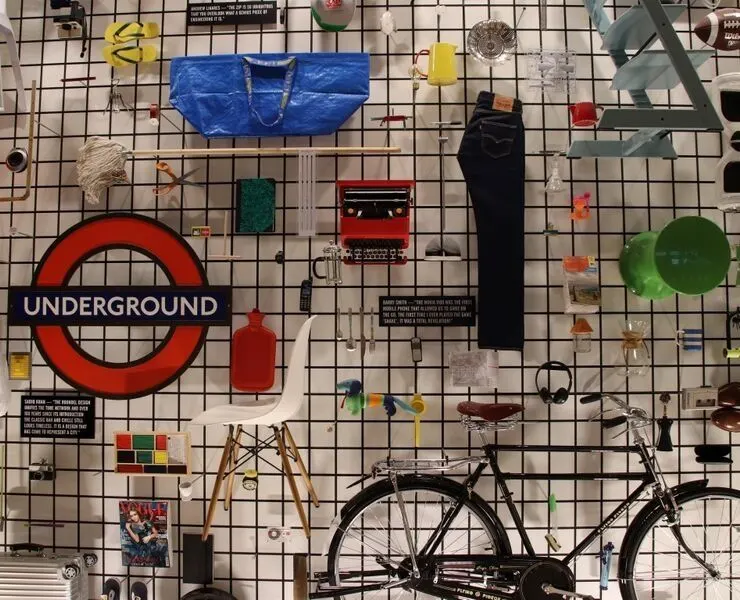 Afternoon tea at the Ritz
Looking for a traditional London experience with a difference? Afternoon Tea is the perfect way to spend a day in England and at Christmas, all sorts of wonderful, festival afternoon tea sessions are offered.
The Ritz is known for its magical festival tea, starting from the last weekend in November. The hotel has a festive makeover on the last Saturday of November, with a gigantic tree teaching the first floor in the lobby and decorations through the Palm Court Restaurant.
Choose the afternoon tea set; sandwiches, scores and teas with a topping of mince pies and festive cakes and pastries. You can also enjoy the choir singing your favourite Christmas songs whilst you eat up.
Ritz not for you? We loved our themed afternoon tea in London at the Taj 51 Buckingham Gate, with not just Christmas themed afternoon teas available, but also Alice and Wonderland as well as a Jasmine Indian tea or Candy-striped carousel tea.
Alternatively, check out the invention creations of the Biscuiteers tea set or head to the Royal Lancaster for a delicious but more affordable afternoon tea option.
By – Creative Travel Guide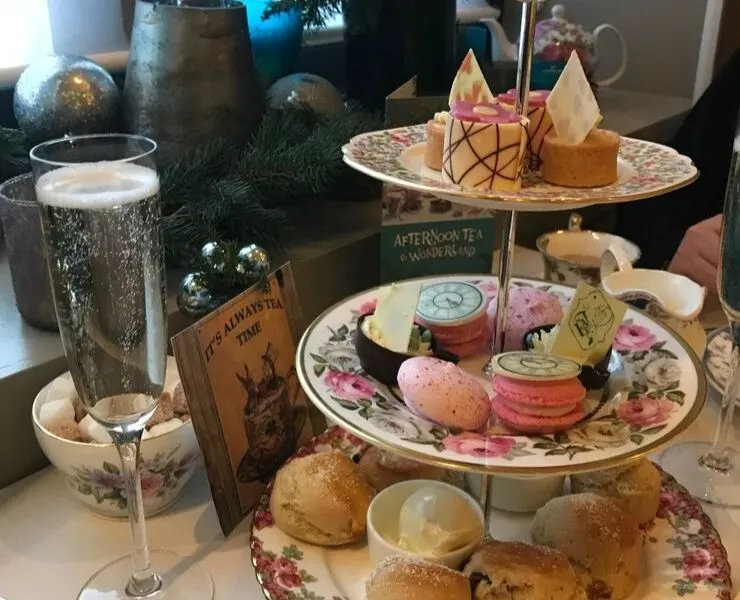 Visit the Sky Garden
When visiting London, the Sky Garden should be high on your list. From its terrace, you get an absolutely incredible panoramic view of the city of London. Despite the chilly temperatures it would be worth it to step out onto the terrace to enjoy the view.
The great thing about the Sky Garden is that you can enjoy a great view without even having to go outside. This is because the entire top floor of the Sky Garden is enclosed in glass which then allows a full 360-degree view.
Besides the beautiful view of London, you can enjoy the garden with its trees, plants and flowers, which by itself is worth the visit. There are also several restaurants on the floor as well so you can have dinner with a view.
While the visit to the Sky Garden is free, you are required to have a ticket to enter. They do accept walk ups but it is recommended that you make your reservation online ahead of time. This is especially true if you plan to visit during weekends or sunset hours.
INFO:
The Sky Garden is located in the famous Walkie Talkie Building also known as the 20 Fenchurch Building.
Address: 1 Sky Garden Walk, London, EC3M 8AF
The Sky Garden is open Monday through Friday from 10 am to 6 pm and at weekends and Bank Holidays 11 am through 9 pm. Times for the restaurant and bar vary.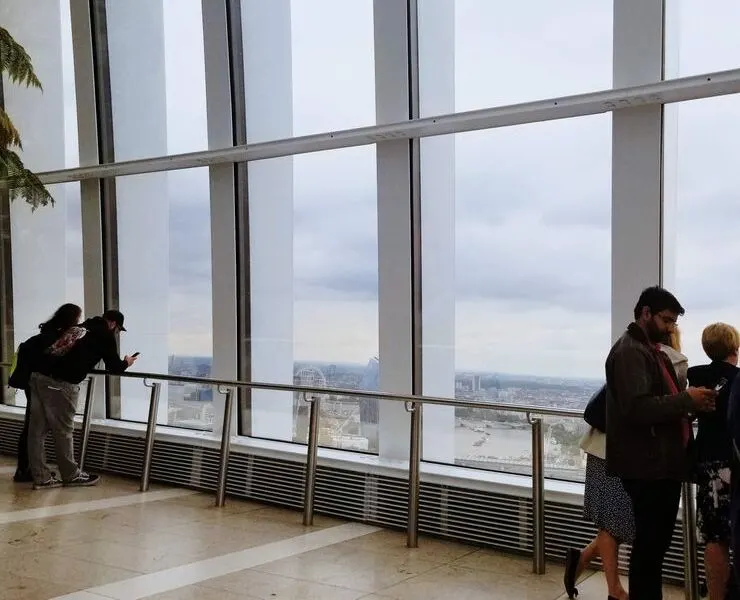 Enjoy a show in the West End
Head to one of the many theatres in London's West End to catch a show. If you enjoy musicals there are lots to choose from including Les Miserables, Mary Poppins, the Lion King.
Take a Winter tour of London
There are some wonderful tours including walking tours to take in London during December and I recommend the following from my chosen tour company Get Your Guide!
London: Christmas Walking Tour
A four-hour walking tour of London taking in all the spectacular Christmas lights including Carnaby Street, Oxford Street, and more. A great way to learn about English traditions and enjoy the festive atmosphere.
CLICK HERE FOR PRICES AND AVAILABILITY FOR THE CHRISTMAS WALKING TOUR OF LONDON
Westminster Abbey Afternoon Tea & Christmas Lights Tour
Enjoy a delicious Christmas-themed afternoon tea in a private area of the Cellarium Café & Terrace at Westminster Abbey, followed by a beautiful panoramic tour to see the amazing Christmas lights of London.
CLICK HERE FOR PRICES AND AVAILABILITY FOR THE WESTMINSTER ABBEY AFTERNOON TEA AND CHRISTMAS LIGHTS TOUR
London: Private Walking Tour to Best Christmas Sites
Discover the best Christmas sites of London on this private walking tour to the most festive sites. Explore the bustling Leicester Square, Covent Garden, and Borough Markets and finish the tour at the famous Winter Wonderland amusement park.
CLICK HERE FOR PRICES AND AVAILABILITY FOR THE CHRISTMAS WALKING TOUR OF LONDON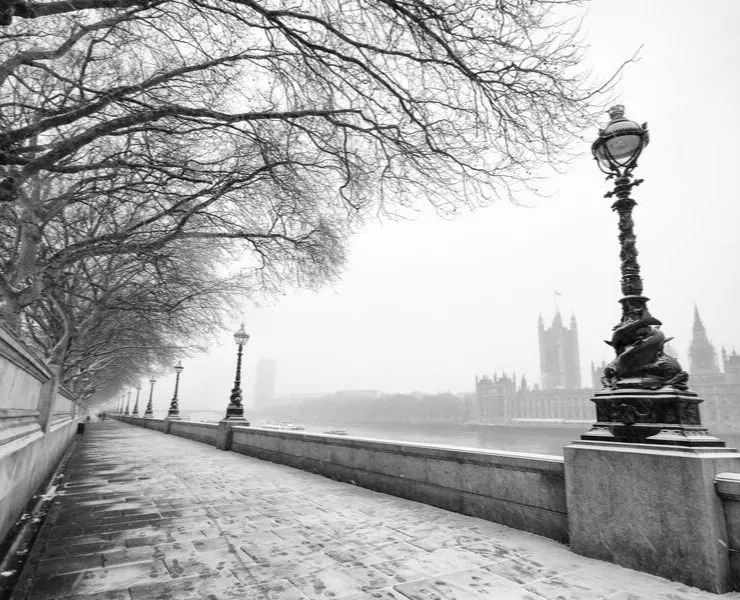 Enjoy your visit to London in winter
I hope this great collaborative article will provide you with some inspiration for your London winter travels. London is a wonderful city to visit whatever the time of year but is particularly magical in December.
If you are visiting the UK for the first time you may enjoy reading 15 things all first time visitors to the UK need to know or my ultimate UK travel planning guide.