This post may contain compensated links. Please read our disclosure for additional information. As an Amazon Associate, I earn from qualifying purchases.
Last Updated on October 1, 2020
Nothing sums up winter in Europe to me more than a Christmas market or two! Europe has its fair share of some of the most festive and beautiful Christmas markets in the world. Set in old town squares surrounded by buildings and cathedrals from centuries past Christmas markets are popular with locals and visitors alike.
The UK is also home to some excellent Christmas markets and in this article you will find a guide to 10 beautiful Christmas markets in the UK. This collection of the best Christmas markets was written by fellow travel bloggers who chose their favourite festive market to share with us.
I will be adding to this post and updating with more beautiful Christmas markets in the UK over the next few months so do pin this post for later.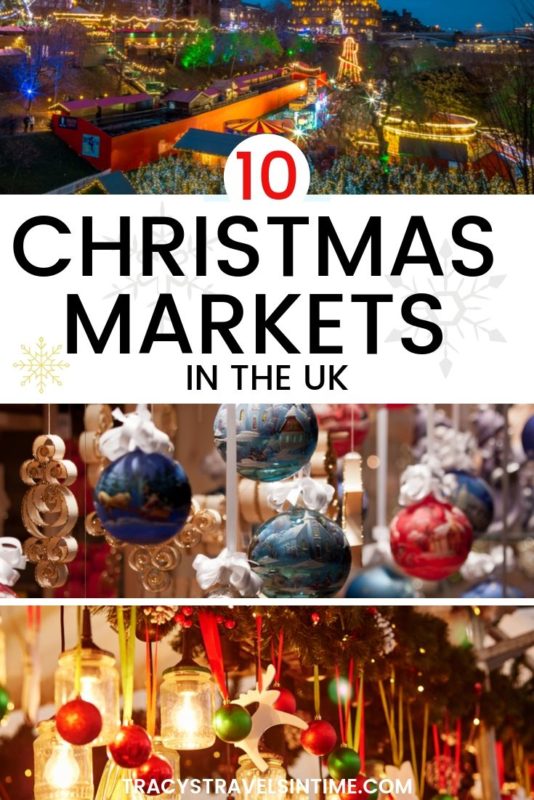 YORK CHRISTMAS MARKET
by Two Traveling Texans
York is known as one of the prettiest cities in England but come Christmas time the decorations and markets make it even more magical. There are several different holiday markets in the city centre that make up the York St. Nicholas Christmas Fair.
Start by visiting the Christmas markets along Church Street and Parliament Street. You will also find markets at Coppergate and the Judge's Lodging. Behind the Shambles, there is the York Shambles Christmas Market and the Made in Yorkshire Yuletide Village.
You will find a diverse selection of local food and drinks. York is known for its chocolate and its pastries. I also found a lot of delicious cheese. Most stalls were offering samples, so you get to try things before you buy them. It's also the perfect place to shop for those hard-to-buy-for people on your list because you will find some unique gift ideas.
If you start to get cold grab one of the warm drinks like mulled wine and hot chocolate. When you need a break during your shopping, head to Thor's Tipi. It's a pop up bar in the middle of the market in a huge tipi. They have a nice selection of warm and cold drinks with a fun atmosphere. I had a hot chocolate and had them add some Bailey's to it.
When you visit York it is best to use public transportation to get to the York City Centre. The York St. Nicholas Christmas Markets are a short walk from the York Train Station. If you are driving, the closest parking for the York Christmas market is the Piccadilly York car park.
LEARN MORE : GUIDE TO VISITING THE BEAUTIFUL CITY OF YORK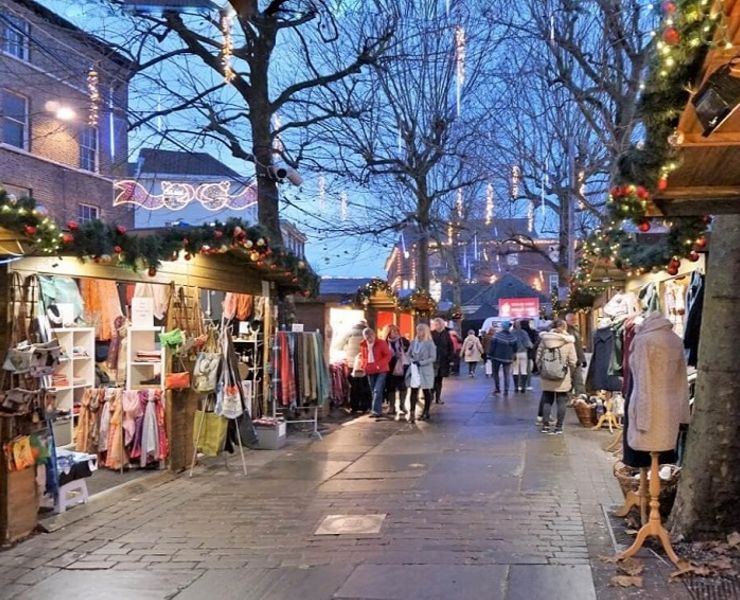 BURY ST EDMUNDS CHRISTMAS FAYRE
by Pack the PJs
I have attended the Bury St Edmunds Christmas Fayre every year for the last 5. Running from 4 days Thursday to Sunday at the end of November every year the whole centre and Cathedral grounds become a winter wonderland, with over 300 stalls located across several main areas of this Georgian town.
We recommend arriving early at the Park and Ride carpark and taking the bus in. The bus stop is closest to the Cathedral and Abbey Gardens; the Cathedral Courtyard has lots of visiting eateries and local produce stalls, while Abbey Gardens has rows of Christmas stalls among fairground rides. Outside Abbey Gardens you have over 100 stalls in Angel Hill.
The Athenaeum has lots of artisan stands – you follow a one-way system through here! Just up the road is the Ivy Joan Makers Market where you can find some really quirky gifts. The new Arc Shopping Centre also has its fair share of Christmas stalls on Charter Square.
Right in the middle of the town centre you'll find Harriets Tea Room; we recommend you queue for a table here at lunchtime as it's lovely. If you are looking for some quirky gifts, or if you just want to get into a festive spirit, this is the Christmas market for you. It's a great day out for everyone.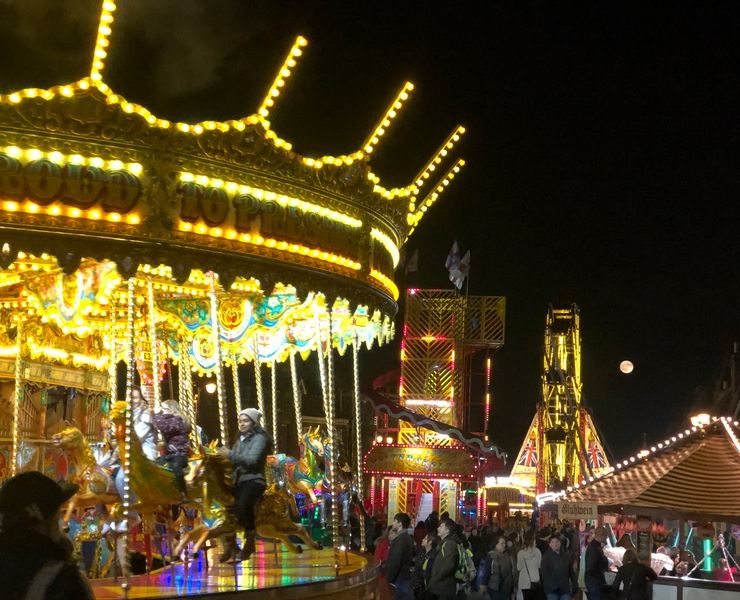 CAMBRIDGE CHRISTMAS MARKET
by Ario Flight
The Christmas markets in and around Cambridgeshire bring a festive atmosphere to the city just when the winter chill sets in over the Cam River. The city's squares and streets are lit up and there's no better way to get into the festive spirit than a visit to the market.
Here you will find over fifty closely packed, lively stalls. Even though a couple of the stalls sell the traditional London souvenirs and gifts, there are many offering local arts and crafts, handmade jewellery, books and vinyl records. I particularly enjoy the wide variety of delicious food and drink stalls, sampling cuisine from around the world.
The market is open everyday and the location adjacent to St. Mary's Church makes for a convenient stop as you are never too far from it no matter where in the city you find yourself.
The North Pole Cambridge festival also features a pop-up ice rink, fairground rides, and an alpine bar. Prepare to get into some serious festive cheer all while sipping on hot spiced wine or hot chocolate well into the night.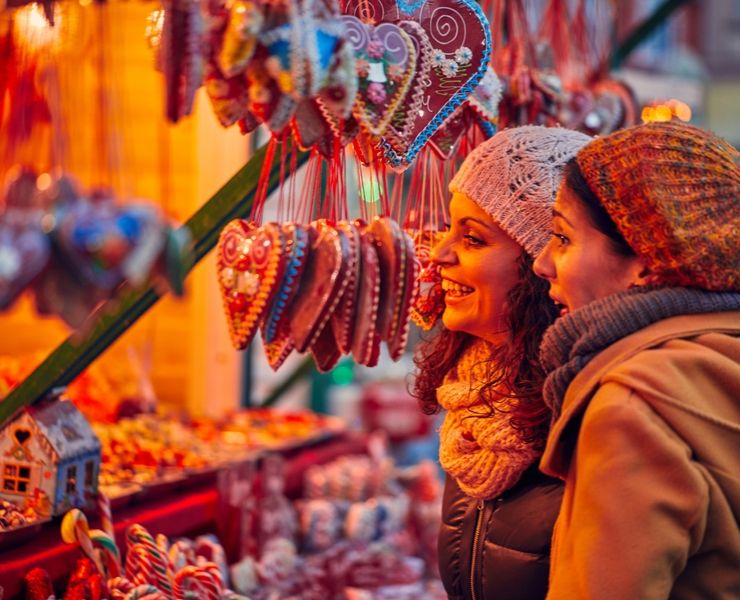 BELFAST CHRISTMAS MARKET
by Bangorni
Belfast may not be the obvious destination to celebrate a traditional Christkindlmarkt, or at least it doesn't quite share the same festive heritage as the more famous Christmas Markets of continental Europe.
However Belfast as a city has come on leaps and bounds since troubled tourism of the past, to become a trendy rejuvenated city with one centralised Christmas Market smack in the tourist centre at Belfast City Hall (Donegall Square).
A famous landmark that not only separates the shopping and business districts, but also makes the perfect backdrop and setting for the annual Belfast Christmas Market. The market itself opens daily from mid-November through to later December from morning to late-ish (10:00AM – 20:00PM) and is always much busier in the later hours when local students and Belfast workers congregate in the two rather huge heated beer tents.
But there is otherwise something from everyone at the market including slides, rides and entertainment for the kids, and a local favourite when it comes to the food stalls would be the "Meats of the World" serving all sorts of special burgers like ostrich, boar and kangaroo burgers. It is also worthwhile touring the connecting city hall (free tours) when it is all dressed up in festive baubles.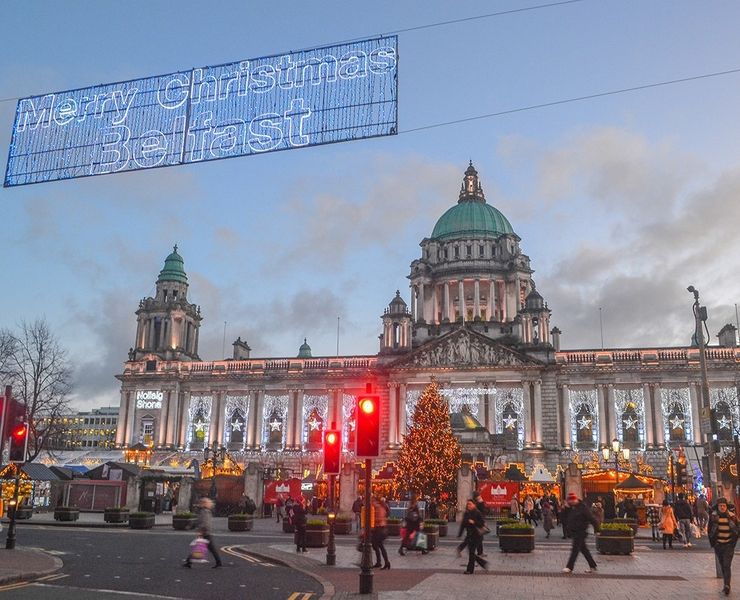 BIRMINGHAM CHRISTMAS MARKET
Birmingham's Frankfurt Christmas Market is the largest authentic German market outside of Germany and Austria. The German market in Birmingham has something for everyone with over 80 stalls, including traditional goods and gifts, tasty food such as bratwurst, currywurst, pretzels and roasted almonds all to be washed down with gluhwein, weissbeer (wheat beer), or tasty hot chocolate.
The German market runs along New Street from the Bullring shopping centre up to Victoria Square. Travelling by train into Birmingham New Street Station would be the easiest way to reach the market, with trains travelling from most UK cities into Birmingham.
If travelling by car, there are lots of central car parks around the market. I would personally recommend Millennium Point car park; it is around a 10/15 minute walk from the market but close to Birmingham's big wheel and ice skating rink outside Millennium Point. You can find other central car parks here.
In 2019, the market is open daily from the first week in November to around December 23rd from 10am til 9pm. It's definitely worth a visit to the magical Christmas market to soak up the festive atmosphere with a Bratwurst and Mulled Wine.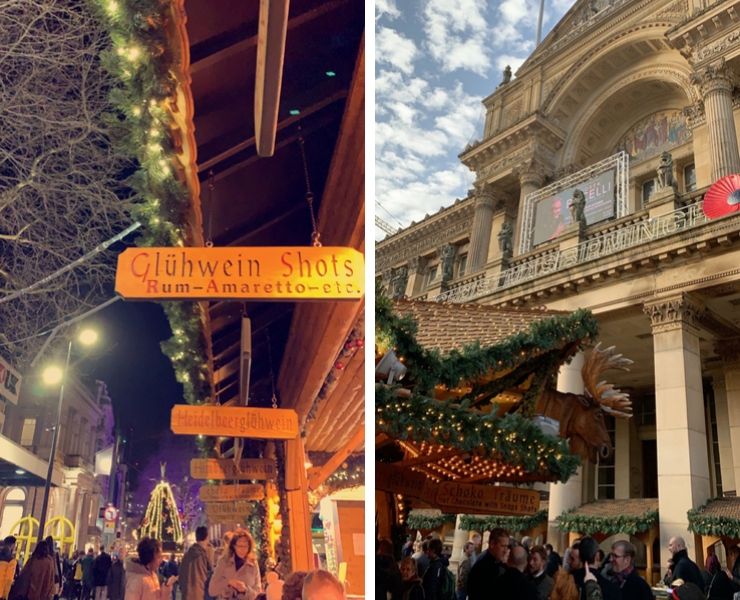 WINCHESTER CHRISTMAS MARKET
by Wandering Bird
If you're looking for beautiful and unique markets to visit in the UK, look no further than the Winchester Christmas Market. Set in the grounds of the famous (and spectacular) Winchester Cathedral, this market has everything you could wish for.
There are over 100 cute wooden stalls, with exhibitors coming from all over the world. There are many incredible British artisans, selling everything from personalised decorations, handmade signs, rugs, blankets, shawls, photos, jewellery, decorations, glassware and more! There is also a life-size nativity, countless food stalls selling everything from crepes, bratwurst, mince pies and everything is surrounded by the delicious smell of warm spiced wine.
My favourite part of the market, apart from the setting, is the fantastic open-air ice rink, which you need to book tickets for but is definitely worth the visit. The market is open daily from end of November until just before Christmas, from 10am until 6.30pm.
TOP TIP- try to get there early. This is an incredibly popular market and plenty of tours arrive during the day. If you get there before lunch you'll find it much less crowded. Also don't forget to pop into the Cathedral and see Jane Austen's grave and one of the oldest Bibles in the world!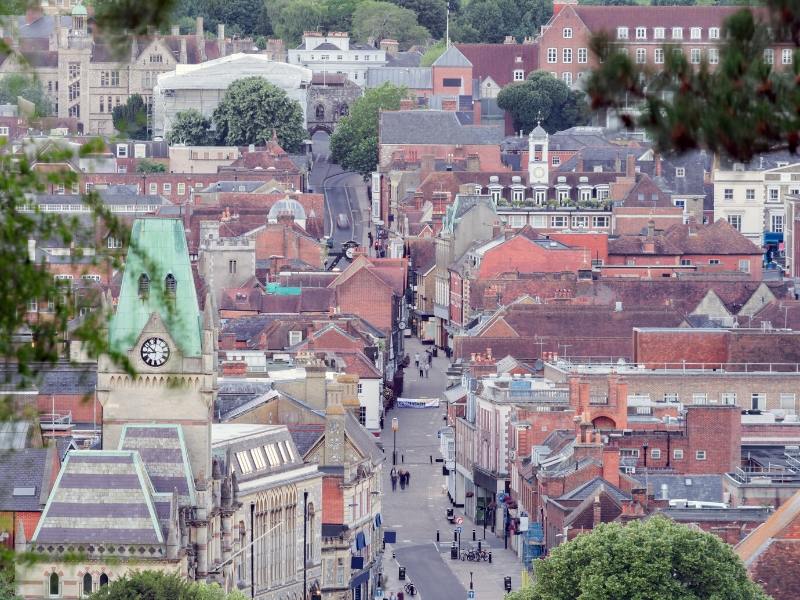 BOURNEMOUTH CHRISTMAS MARKET
by The Life of Spicers
Bournemouth Christmas market runs from mid-November until 1st January with daily opening times from 10am with the exception of Christmas Day.
You can find all the market stalls in the square next to the Lower gardens, selling items such as roasted chestnuts, local delicacies and so much more.The fun doesn't stop there. Wander through the gardens and you are in the middle of the stunning light displays that is Christmas Tree Wonderland.
There is something for the whole family including a visit to Santa in his grotto, live music, the popular Alpine lodge bar, and not forgetting the open air ice skating rink that is a great place for all the family to enjoy the festive season.
With so much happening, the town gets very busy, especially at weekends. It can be a good idea to take advantage of the late night shopping on a Thursday evening that also comes with the advantage of free parking in some of the town centre car parks.
I would suggest avoiding the car parks close to the Square and parking a little further away to avoid congestion. Bournemouth car parks operate on a cashless system so remember to take a card to pay with.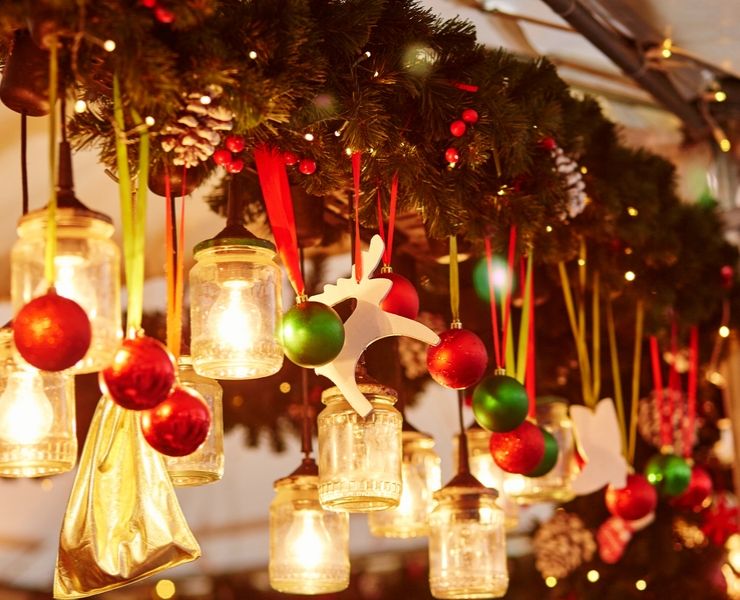 GLASGOW CHRISTMAS MARKET
by Highlands 2 Hammocks
Scotland's beating heart and centre when it comes to nightlife, the Glasgow culture scene is a must-visit place this christmas. Throughout the month of December, the streets of Glasgow come to life with bright lights, intoxicating aromas and the buzz of festive cheer.
The Glasgow christmas markets line encompass two key areas of Glasgow city centre and are the perfect place to stock up on christmas gifts. Food and craft markets from all over the world come to Glasgow, creating a small world feel of sounds, smells and sights all along Argyle Street and around George Square.
The two main markets in Glasgow can be found upon George Square and above Argyle Street subway station. Both of these markets have a similar feel to them, with stalls selling hot food and drinks, as well as cold, craft beers. Pop-up, wooden sheds are installed to shelter festive visitors from the harsh weather outside and offer the chance to heat up with a mulled wine or cider.
No matter what your taste in food and drink may be, these markets will have just the thing for you. You have the choice from Indian curries, German sausages, South American paella, stone-baked, Italian pizzas and much more!
Our top recommendations are either the vegetarian pizzas from the One10, or the range of meat burgers available (from venison to angus beef) from the Burgers of the World stall.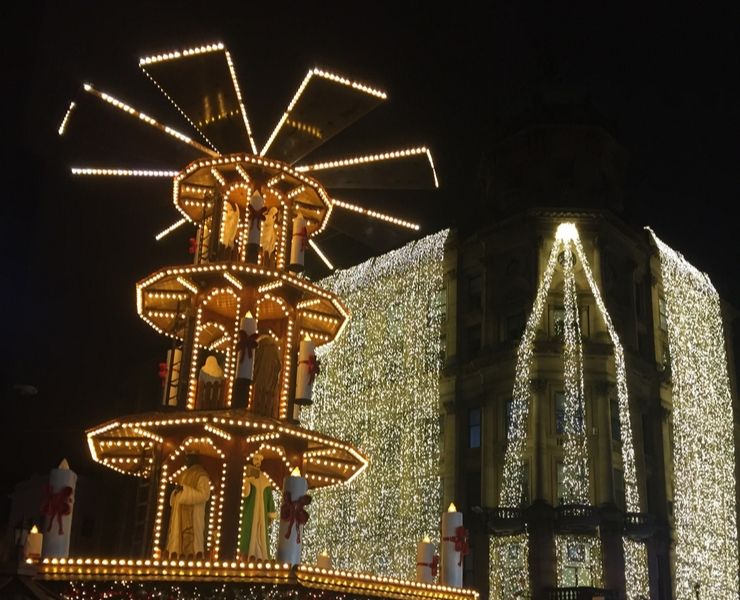 LEEDS CHRISTMAS MARKET
by Inside Our Suitcase
Leeds Christmas Market is held in Millennium Square, around a 10-minute walk from Leeds train station from the beginning of November through until the end of December. You will find around 50 huts selling a wide range of traditional German food, wonderful snacks, gifts and homeware.
The market is open from 10.30am through until 9.30pm (except on Sundays when it closes at 7.30pm). The market is very busy on evenings and weekends so if you really want to enjoy browsing the stalls and experiencing all the market has to offer without the hustle and bustle then I recommend visiting either mid-week or during the day.
As the market is in Millennium Square there's free WIFI and most of the stalls accept card payments. If you're looking for somewhere to sit down and grab a bite to eat and drink before or after visiting the market then you're in luck. There's plenty of variety in this area including; All Bar One, Almost Famous, Costa Coffee and The Corner Cafe.
Parking is available near the market, however, these spaces are limited and often have a time limit of 2 hours. To ensure the safety of your car, guarantee a parking space and allow you to visit Leeds Christmas Market for longer we suggest parking in one of the retail carparks inc; Trinity Leeds, Victoria Gate and The Light.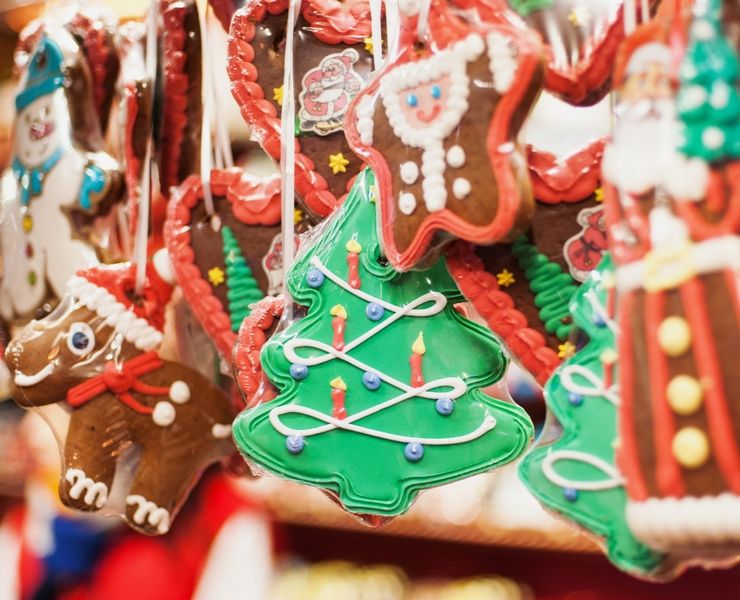 EXETER CHRISTMAS MARKET
by Verses by a Voyager
In the south-west of the UK the small city of Exeter hosts a wonderful Christmas market every year running for a month. Situated in the heart of the city, near the city centre, is the Exeter Cathedral, one of the most ancient and beautiful cathedrals in the UK and the Christmas market is set up around the cathedral.
Exeter is a beautiful, medieval city and the location of this market around a splendid piece of architecture adds to the charm of this market. Christmas market in Exeter starts in the last week of November and runs till Christmas time. Different kind of Christmas gifts and souvenirs are sold in this market as well as many restaurants and cafes are set around.
This market also features many musical events and various other kinds of performances to keep visitors occupied and entertained. Traditional wooden chalets are set up around the area which adds to the atmosphere. The main focus of this market is to sell locally produced goods thus empowering local farmers and producers and ensuring that they get the benefit out of the festival season.
A beautiful, tall Christmas tree is set up which adds to the charm of this market.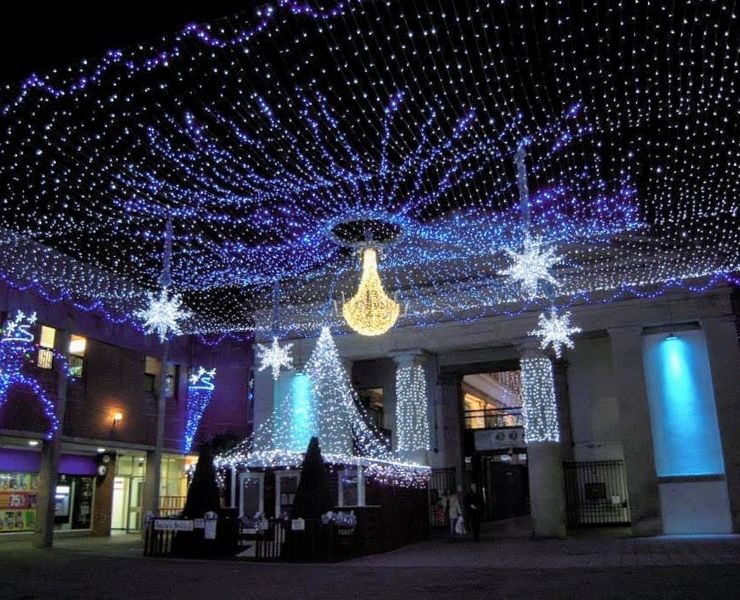 WHICH OF THESE 10 CHRISTMAS MARKETS IN THE UK WILL YOU VISIT?
I hope this post has got you in the festive spirit and you will plan to visit some of the UK Christmas markets that were covered in this round-up. I know I am definitely going to be at one or two of them this year! Thanks to all the great travel bloggers who took part too.
If you are heading to London over winter there are a number of Christmas markets in the capital including Winter Wonderland at Hyde Park, Leicester Square Christmas Market and Southbank Centre Christmas Marker.
Related reading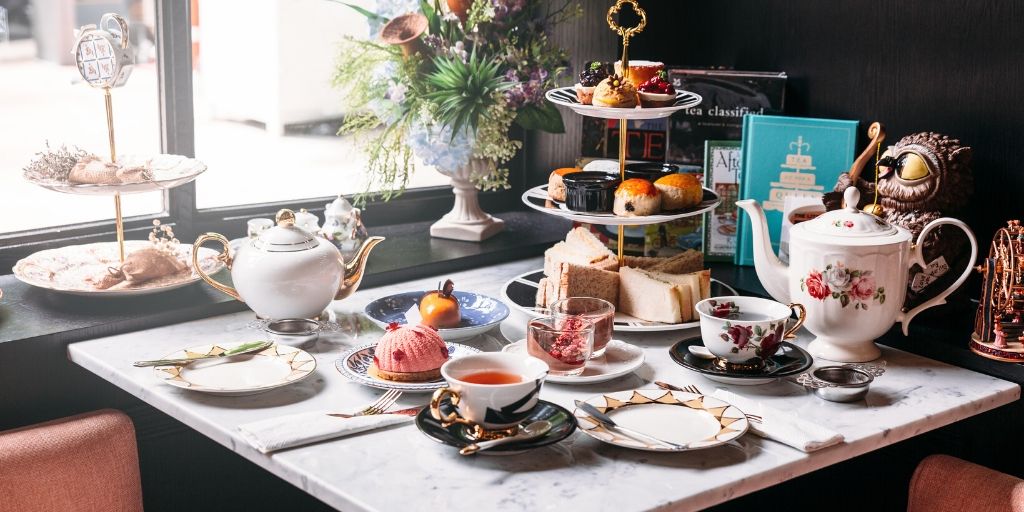 Dreaming of a traditional afternoon tea? Find out where to experience 8 of the best in London (for all budgets)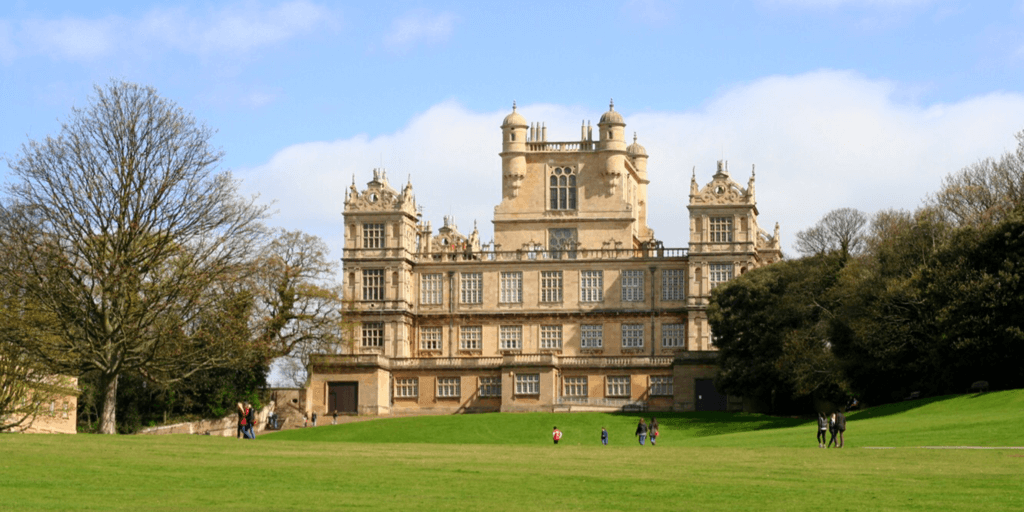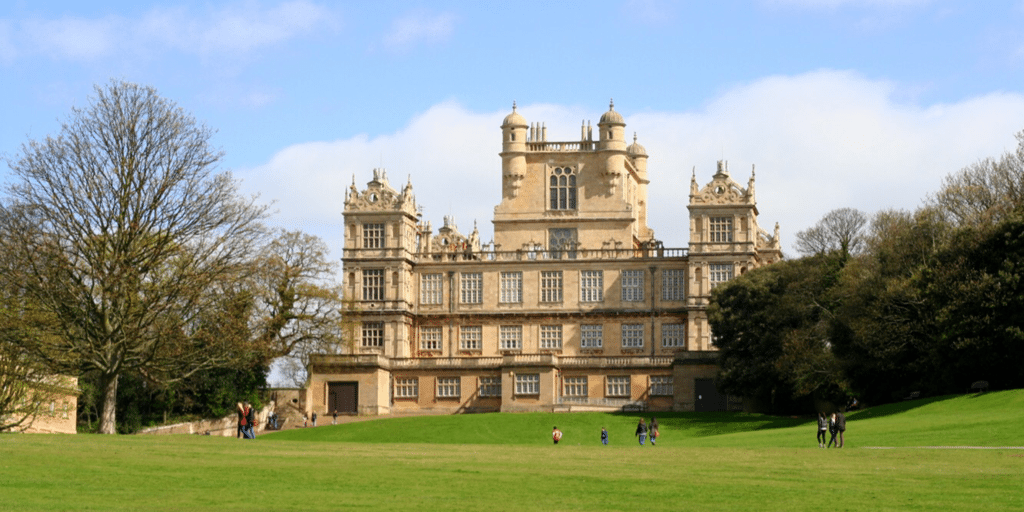 Everything you need to know to plan your visit to Nottingham including what to see, where to stay and more!
This post may contain compensated links. Please read our disclosure for additional information. As an Amazon Associate, I earn from qualifying purchases.