This post may contain compensated links. Please read our disclosure for additional information. As an Amazon Associate, I earn from qualifying purchases.
If you are planning a trip to the UK (or have even booked your flights) you may be wondering where to start or what things you need to consider to ensure your trip is everything you want it to be.
In this UK travel planning guide you will find all the practical advice and tips you will need to ensure you have the best vacation in the UK and help with your travel planning.
I have lived in the UK off and on for over 50 years and have experienced travel there both as a resident and as a visitor. I have compiled an essential UK travel tips and planning guide to provide you with everything to you need to plan the perfect trip.
There is also a printable checklist, a printable UK travel packing checklist and a currency convertor template to make your own handy exchange rate card. All of these can be found in my resource library and which you can access via the subscription box further down the page.
In this article I will answer common questions about how to plan a trip to the UK including
When is the best time of year to visit England and Scotland as well as Wales and Northern Ireland?

What do I need to pack for my UK vacation?

Where should I visit in the UK?

How can I get around the UK?

What is the best food to eat in the UK?

What UK travel tips do I need to know to make the most of my trip?

Do I need travel insurance for the UK?
UK Travel Planning Facebook Group
Also why no join my UK Travel Planning Facebook group. It is a great resource to help plan your UK trip – come and chat, ask questions and find out more about the UK.
WHEN IS THE BEST TIME TO VISIT THE UK?
The weather in the United Kingdom should be considered when planning your trip. There are 4 distinct seasons in the UK .
Spring (March, April, May)

Summer (June, July, August)

Autumn (September, October, November)

Winter (December, January, February)
There are advantages and disadvantages to visiting in each season but do remember whenever you visit there is always the possibility of rain. With over 156 days a year of rain an umbrella is always worth including in your UK packing list!
Some parts of the country are wetter than others with the north-west (Lake District in particular), western and central Wales and south-west England the wettest according to the UK Met Office.
Also remember temperatures are normally a few degrees cooler the further north you go so if you are traveling to Scotland, Wales, Northern Ireland or Northern England be prepared for the change in temperature.
Visiting the UK in the summer
Temperatures in the UK summer range from 14° C to above 21 ° C with the warmer temperatures found in the south-east of the UK (i.e London) and the cooler averages in Scotland.
Summer is the main tourist season in the UK both for visitors from abroad but also for UK holiday makers. Schools in England finish in July for 6 weeks and generally start back at school during the first week in September.
The main advantage of visiting in summer are that days are longer (more hours of daylight) and generally sunnier too. June is on average the sunniest month in the UK. You can plan to do and see more in the summer and also make the most of the wonderful beer gardens attached to some pubs.
Visiting the UK in autumn
Autumn is a beautiful season to visit the UK with average temperatures ranging between 8 and 15° C.
Gorgeous colourful autumn foliage, traditional English celebrations such as Guy Fawkes and the mild weather make this a popular time to plan that UK vacation. It is also quieter as schools are back.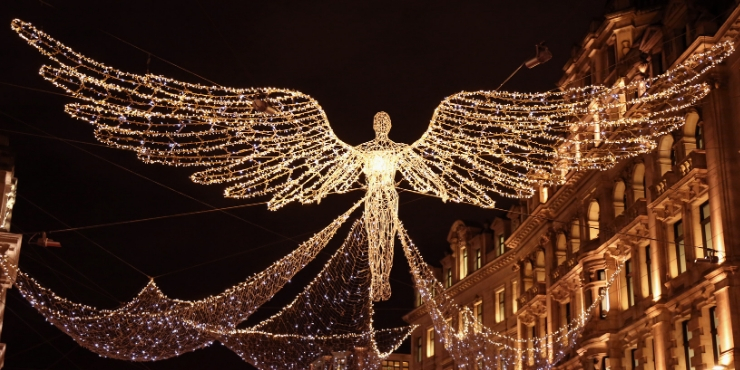 Visiting the UK in winter
Darker days and colder weather (between 1 and 8° C) typify winter in the UK. However if the wet weather holds off there is always the possibility of a cold crisp day with blue skies. These days are perfect for sightseeing in London (or York/Bath/Stonehenge etc)
Visiting the UK in spring
If you love daffodils, bluebells and the sight of lambs frolicking in a field then spring is the perfect time for you to visit the UK.
With milder weather (6 -13° C) and an increasing amount of daylight hours this is pre-peak season and a great time to visit.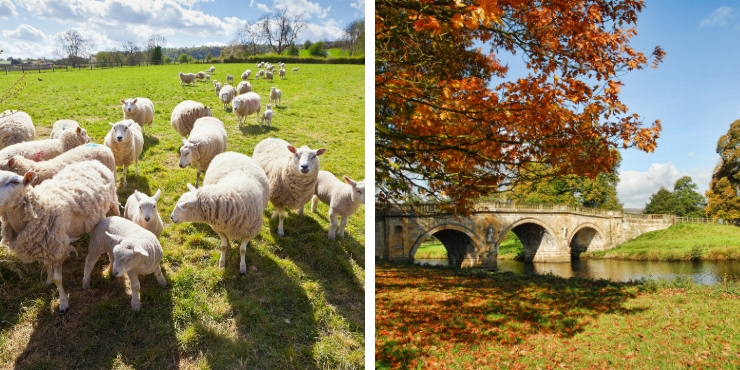 Do you need a visa for visiting the UK?
Depending on your nationality you may or may not require a visa when visiting the UK
US/Canadian/Australian Citizens
At present no visa is required for stays of up to 6 months but you must have a valid passport. Always check for up-to date information on the UK government website as it can change at any time.
EU, EEA and Swiss Citizens
Citizens from Switzerland, the EU and the EEA do not at present require a visa to enter the UK but must carry some form of photo identification. Although this may change after the disaster that is Brexit.
Citizens of other countries
Citizens of South Africa, China, Jamaica and India need visas to visit the UK.
For all other countries and to check up-to-date information regarding visas to the UK please check the official government website here.
How to travel to the UK
There are a few ways to travel to the UK depending on your starting point, budget and preferred method of transportation.
Flying to the UK
From North America there are numerous daily non-stop flights to major UK cities including London, Birmingham, Glasgow and Manchester. Visitors from Australia generally have to make one stop on the way unless flying from Perth to London Heathrow on the direct daily service.
From Europe there are many airlines flying into the UK including some of the low-cost budget airlines such as Easy Jet and Ryan Air.
Best flight booking websites
⇒ Find the top international flight deals with Skyscanner USA (for USA residents)
Train travel to the UK – the Eurostar
If you are traveling to the UK from mainland Europe hopping on the Eurostar is a great option and always my first choice. Trains depart from Paris, Amsterdam, Lille and Brussels daily for London St Pancreas.
Best train travel booking website for the UK?
I recommend the Trainline for your rail booking in the UK. They guarantee the best price, you can book securely via their app or website using PayPal, Visa, Amex and more.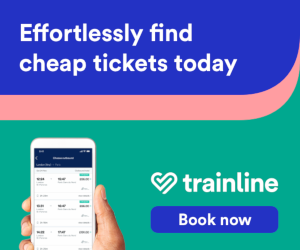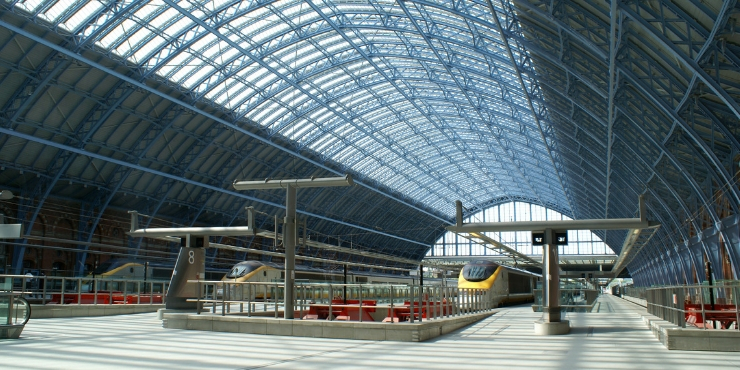 What is the difference between the United Kingdom (UK), Great Britain and England?
Just a quick explanation of the different terms I will use in this article. The United Kingdom of Great Britain and Northern Island refers to the political union between England, Scotland, Wales and Northern Island. The UK is a sovereign state but each of the nations that make up the UK are countries in their own right.
The Channel Islands and the Isle of Man are not part of the UK but are classed as Crown Dependencies.
Great Britain is the collective name for England, Scotland and Wales (it doesn't include Northern Ireland)
Within the UK/Great Britain you find the countries of England, Scotland and Wales. People from England are English. from Scotland are Scots and from Wales are Welsh. Unless you know with certainty where someone is from it is better to err on the side of caution and use the term British.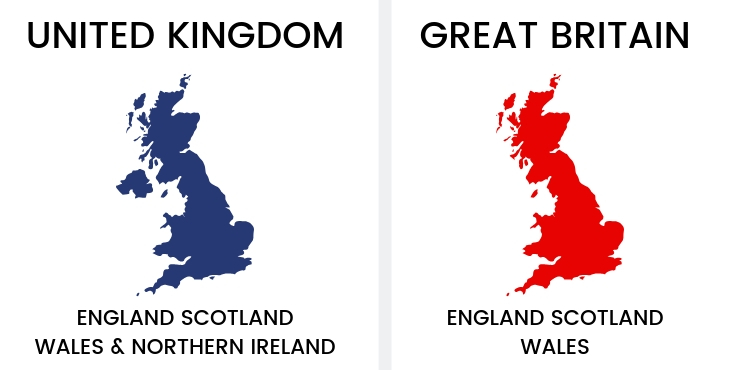 Where are the best places in the UK to visit?
Choosing where to spend your time on your UK trip may be your most difficult decision and will depend on the length of your trip as well as your particular interests and priorities.
There is lots of information about places to visit in the UK on this website including the ultimate UK bucket list -100 places to visit in England, Scotland, Wales and Northern Ireland which will help too. Choose your main destinations and plan your itinerary around those.
Click on the country specific categories for more ideas of destinations to visit in the UK. There are lots more posts planned soon but if you have a question around a particular destination why not join my UK travel planning group on Facebook.
Coming soon – best UK trip itinerary for 5/10/15 days.
ENGLAND
Most visitors to the UK arrive in London and travel from the capital to destinations across the country. I would suggest spending a few days in London and then travelling to other areas by train or hiring a car and planning a UK road trip.
Although the UK is relatively small don't try to squeeze too much into a short period of time. Tours are also another excellent option if there are places you really don't want to miss.
The nation's capital and number one destination for visitors to the UK. There is so much to do and see in London that it is easy to dedicate a week to it (if not more).
If you considering using London as a base it is possible to take some great day trips by train to places like Bath, Stonehenge, Brighton, Oxford and Cambridge.
Read my essential travel tips for first time visitors to London.
An area of outstanding natural beauty the Cotswolds stretches across 6 counties (Worcestershire, Gloucestershire, Wiltshire, Oxfordshire, Warwickshire, Bath and North East Somerset) and incorporates countless charming villages. This truly is an area that is quintessentially English.
There are so many interesting cities to visit in the UK including Bath, Oxford, York, Liverpool. If you are looking for some inspiration or tips to help you choose a particular city read my article about 12 cities to visit in England.
I have an itinerary for the Lake District to help with planning. This is an area I highly recommend adding into your UK travel itinerary if you have time.
There are also many beautiful villages and towns worth visiting in the UK including Whitby, Bakewell, St Ives etc
My favourite county in the UK (and where I was born) is Northumberland. You can find all the information about things to do in Northumberland you need to plan a visit on this website including planning a drive along the Northumberland Coast, visiting the Holy Island of Lindisfarne, a visit to Barter books, a guide to Northumberland castles, best books to read before you visit Northumberland and the top places to visit in Northumberland.
SCOTLAND, WALES AND NORTHERN IRELAND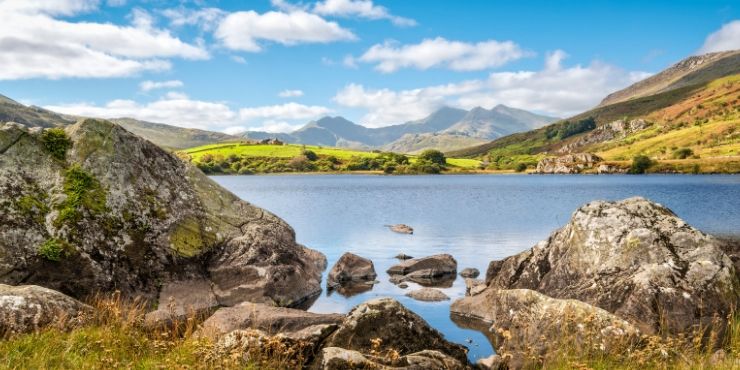 BEST THINGS TO DO, ATTRACTIONS AND TOURS
I recommend booking tickets for tours and attractions as soon as possible. I use Get Your Guide for my tours. I find that they have lots of options to choose from all over the world.
You can download your booking and tickets onto your phone. I find this helps organisations as it avoids the need to carry paper copies of tickets which just take up room in your luggage). You can also pay for your tickets in your local currency and most tours can be cancelled up to 24 hours before.
I also highly recommend paying that little extra for "skip the line" tickets especially during the peak summer months. I always do this because I just don't want to waste any of my holiday time standing in a line.
These are a few examples of the types of tours available. More information is available in relevant destination articles.
Read my guide to the best themed tours and sightseeing tours of London to help you decide which tours are right for you
The London Eye – book your fast track ticket on the London Eye from Get Your Guide.
Buckingham Palace – take a tour of the state room at the Queen's residence!
The Tower of London – take a look at the crown jewels and admire this famous building and UNESCO World Heritage Site
Harry Potter themed – London walking tour
Loch Ness, Glencoe & the Highlands Tour from Edinburgh – book your day tour of the Highlands with Get Your Guide
Isle of Skye Tour with Fairy Pools from Inverness – book your day trip to this beautiful island.
Doctor Who Walking Tour of Cardiff City – for all Dr Who fans out there book your walking tour of Cardiff.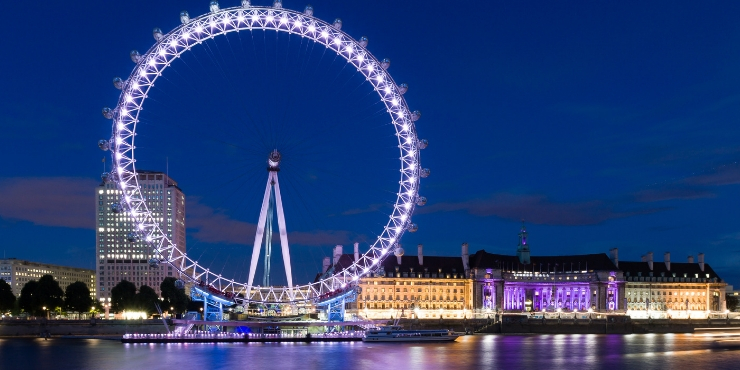 RECOMMENDED READING INCLUDING GUIDE BOOKS
I enjoy reading about a destination before I arrive. This includes fiction and non-fiction as well as consulting guide-books. There are some great books to read about the UK including the very funny (and accurate) portrayal of the British by Bill Bryson.
If you are looking for a guide books the following options are recommended and you can also find more great suggestions in my article about the best UK travel guide books on the market.
HOW TO GET AROUND THE UK (AND LONDON)
HOW TO TRAVEL AROUND LONDON
I would recommend that you avoid driving in London if you can. London is a busy, congested capital city that is best traveled by foot, cab and public transport.
Consider purchasing a Visitor Oyster Card which can be used to access public transport in the capital. You can also purchase the Visitor Oyster Card as part of your London Pass.
Or why not purchase a one day travel card from Get Your Guide? Click to purchase here!
HOW TO TRAVEL AROUND THE UK
If you are planning to travel around the UK there are a number of options available depending on your preference:
Planning a road trip around the UK – Driving in the UK
Hiring a car and taking some road trips around the UK is an option. If you do plan to hire a car don't forget that you will need your full licence and ID such as a passport (if your licence was not issued in English you will need an international driving permit)
If you decide to drive there are some important points to remember:
In the UK drive on the left side of the road.

Most cars are manual (automatics are more expensive to hire)

Everyone in the vehicle is required by law to wear a seat belt.

"Gas" stations are called petrol stations and the fuel for you car will either be petrol or diesel. It is important to know which fuel type your hire car requires. We have had friends fill up on the wrong fuel before when visiting the UK and this can be a costly mistake.

Roundabouts are common in the UK – give way to traffic on the roundabout which will be approaching from the right.

It is illegal to use a cell phone/mobile phone when driving in the UK.

Pay attention to speed limits. Speed cameras are common in the UK and you will be fined if found to be above the limit.

Children under 12 (or 135 m tall) must use a child car seat.
Car hire in the UK
If you are traveling to the UK and need to hire a car to get around I would recommend comparing prices before booking – compare prices from all major car hire companies with Rentalcars.com
Train travel in the UK
My own personal choice is always to travel by train in the UK when possible. There are some beautiful scenic rail journeys I highly recommend too if you enjoy train travel.
Read my complete guide to traveling the UK by train (written by my husband who worked in the UK rail industry for 25 years)
Fast speed services between London and some major cities:
London to Birmingham – 1 1/2 hours
London to Manchester – 2 hours
London to Edinburgh – 4 1/2 hours
London to Cardiff – 2 hours
I recommend The Trainline for tickets for trains, buses or flights in the UK. Click on the link below to start your search.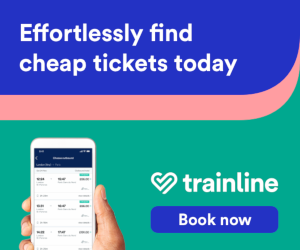 Internal flights
If you need to get from A to B in a hurry there is always the option of catching an internal flight. To be honest unless you are really pushed for time and you are planning to trip to Scotland from London I would always take the train.
You can even take an overnight sleeper service like The Caledonian Express from London to Scotland so no flying necessary!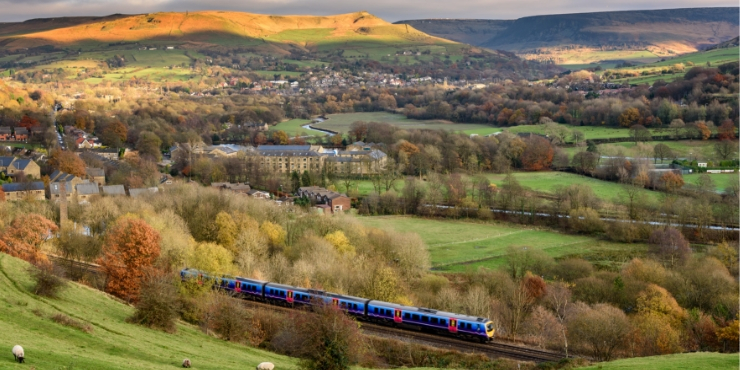 ESSENTIAL UK TRAVEL TIPS -WHAT TO PACK FOR UK TRAVEL
The main consideration when packing for the UK is the weather. I would recommend checking the forecast a week before your departure to also check on the situation due to changeable weather conditions.
What would I always recommend packing when traveling to the UK?
An umbrella

A pair of comfortable shoes/sneakers

A thin/thick jacket depending on the season

A raincoat
You can find out more information about what to pack (and not to pack) for your vacation in my essential UK packing list for every season.
If you are visiting during the cooler monthsI have a dedicated winter packing post to ensure you know what you need to bring to keep you warm and dry.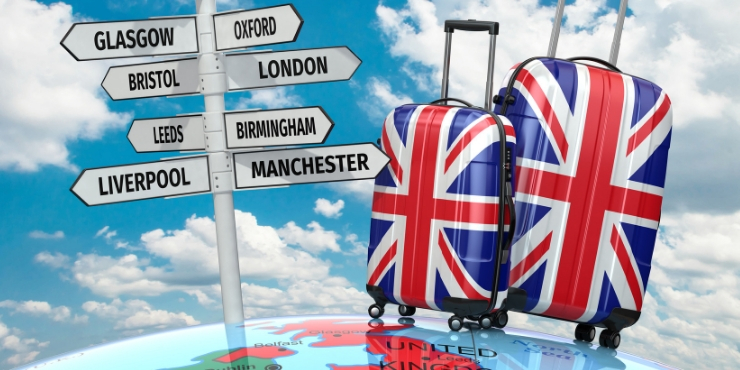 PLANNING TO EAT OUT IN THE UK
Whilst in the UK I would recommend trying some traditional British foods such as fish and chips. Although not famous for our culinary prowess there have been improvements in the last 20 to 30 years with some of the world's top chefs hailing from the UK.
Of course there are plenty of fast food options in the UK too including recognisable international chains such as McDonalds, Nando's, KFC, Subway and Burger King.
Other well known restaurants chains in the UK include Wagamama (Asian food based on Japanese cuisine) Zizzi (Italian) Prezzo (Italian) YO Sushi (Japanese) and Frankie and Benny's (American Italian)
For coffee the three top chains in the UK are Costa, Starbucks and Cafe Nero.
Tipping is not required or expected when ordering drinks at a bar or in a fast food restaurant/coffee shop.A 10% tip can be left for good service in a restaurant.
Tracy's Top Travel Tip: Tap water is safe to drink in the UK but avoid drinking from the hot tap as it often comes from a storage tank rather than directly from the mains. You will also notice that in many places there are separate taps for hot and cold water!
AIRPORT TRANSFERS
If you are flying into one of the main airports in the UK these are the best options for transfer from the airport into the city.
Heathrow into London
The Heathrow Express is the fastest way between Central London and Heathrow Airport. It takes just 15 minutes to reach Paddington Station. Avoid traffic jams and congestion and take the train!
CLICK HERE TO BOOK TICKETS ON THE HEATHROW EXPRESS
Heathrow Airport to London City Center: Shared Transfer
Save time and money with a safe, comfortable and convenient shared transfer from London Heathrow Airport to your hotel in the city center.
CLICK HERE TO BOOK YOUR SHARED TRANSFER FROM HEATHROW INTO THE CITY
Gatwick into London
Gatwick Express: 1-Way or Return London Train Ticket
With scheduled departure every 15 minutes, and a journey time of just 30 minutes, Gatwick Express is the most popular way to travel between London Gatwick Airport and central London.
CLICK HERE TO BOOK YOUR GATWICK EXPRESS TICKET/S
Executive Transfer Gatwick to or from Central London
Travel in luxury from Gatwick into London with your chauffeur driven executive car.
CLICK HERE TO BOOK YOUR EXECUTIVE TRANSFER FROM GATWICK INTO LONDON
INTERNET ACCESS
There is free Wi-Fi available in many places in the UK and if you book accommodation with internet access this will keep you on line for part of your day. If you have an unlocked phone consider purchasing a SIM card at the airport when you arrive.
Alternatively they can be purchased from most supermarkets. Vodafone is one provider with extensive coverage across the UK.
Another great option is to buy or hire a portable Wifi device such as one from Skyroam. Quote TRACYSTRAVELS at checkout for a 10% discount!
TRAVEL INSURANCE
I always recommend having travel insurance as you just never know what might happen when you are on holiday.
I recommend using World Nomads. You can click this link to find out more about the company and request a quick no obligation quote.
ENJOY YOUR UK ADVENTURE
If you are visiting the UK for the first time you may also like to read my guide to 15 essential things to know before you visit. If you have any more questions please ask in the comments or join my UK travel planning community on Facebook.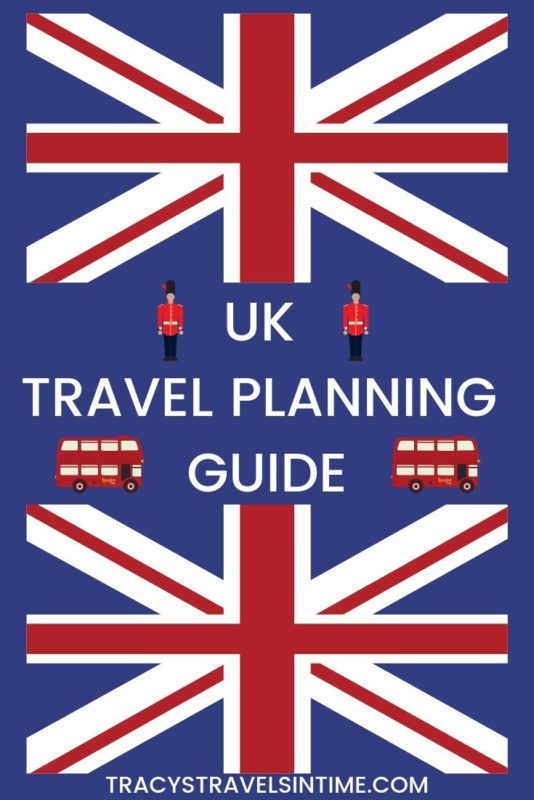 This post may contain compensated links. Please read our disclosure for additional information. As an Amazon Associate, I earn from qualifying purchases.
Over the last 50 years I have lived and worked in 7 countries on 4 continents and travelled to many more. I enjoy exploring and learning about new places and meeting people on my travels. History, reading, photography, nature and wildlife are my interests and I am ALWAYS researching and planning my next trip (preferably by train)
With a lifetime of travel experience, and a network of friends all over the world, I share genuine insider guides, recommended best book lists and train journey inspiration to help YOU travel authentically to some of the most beautiful places on earth.
Come and join me as I travel the world one country (and train journey) at a time!