A question asked by many travellers is how to travel from London to Paris by train. This article explores the various options available for travellers wishing to visit Paris from London with detailed information and Eurostar travel tips for those who wish to make the journey by train.
Whilst there are various options to complete the journey from London to Paris, including air travel, coach tours, driving or sea ferry across the English Channel (which for many years was the traditional way to cross the channel) Since the Chunnel opened for passenger trains in November 1994 the Eurostar train service has been a preferred travel option for millions of people every year.
If you are visiting the UK and would like to know about train travel in general you may like to read my guide to travelling the UK by train.
CLICK HERE FOR PRICES AND AVAILABILITY FOR LONDON TO PARIS EUROSTAR TICKETS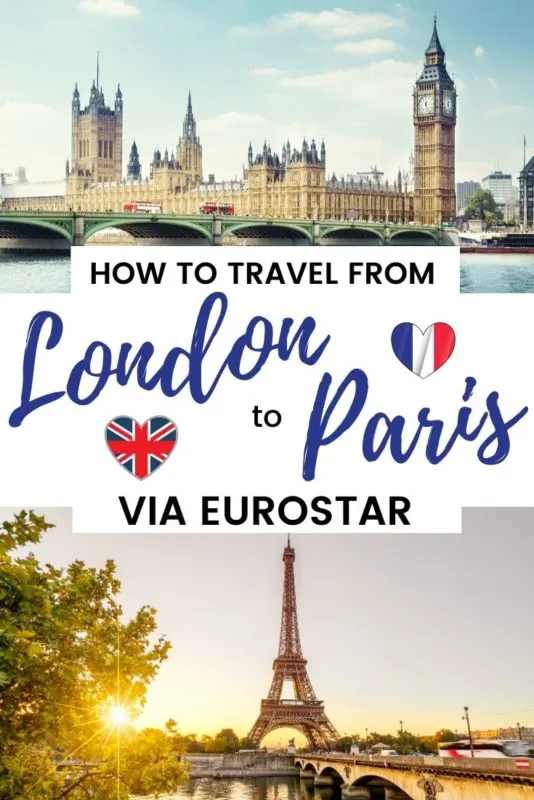 Eurostar from London to Paris – Essential information and Eurostar Travel Tips
London – Departure ⇒ Paris – Arrival
The service runs from London St Pancras International Train station (situated in North London) to Paris Gare Du Nord.
The Eurostar train travels underneath the English Channel through the Channel Tunnel, sometimes referred to as the 'Chunnel'.
There are three actual tunnels, two used for passenger trains and freight trains while the third tunnel is a service tunnel.
The Chunnel is 31 miles long (50.45km), 23.5 miles actually under the English Channel.
Time in the tunnel is around 20 mins.
There are up to 14 trains daily from London to Paris.
The first train leaves Monday to Friday at 06.01 hrs.
The first train on Saturday leaves at 06:31 hrs and on Sunday at 08:01 hrs
TIP: Please note there are timetable changes throughout the year around seasonal service demands.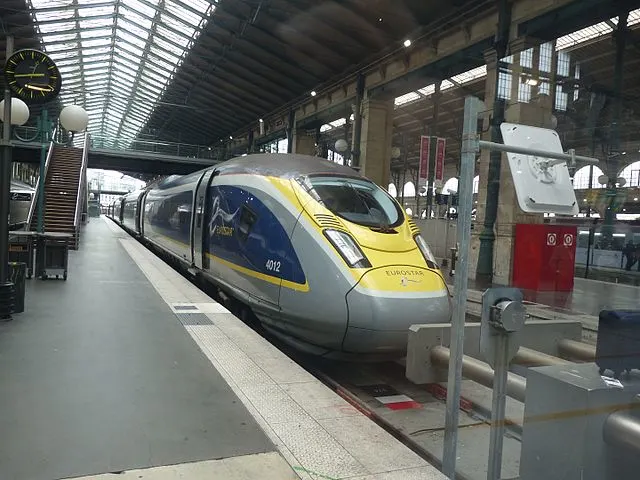 Duration of the train journey
The fastest journey takes 2 hours 16 minutes.
Average journey time is 2 hours 19 minutes.
Direct Train Services from London St. Pancras to the following stations
Paris Gare Du Nord >> 2 hours 16 mins
Paris Disneyland (from 7th June 2023 until the end of year there is no direct service – change at Paris or Lille)
Lille (France)>> 1 hour 22 mins
Calais – France >> 55 mins (not currently running – Feb 2023)
Brussels – Belgium >> 1 hour 52 mins
Amsterdam – Netherlands >> 4 hours 9 mins
Rotterdam – Netherlands >> 3 hours 28 mins (check the official website for timetable as subject to changes)
Connected Service* – Change trains in Paris, Lille or Brussels for service destinations for trains to
*Eurostar is now merged with THALYS with rail links to 17 cities across Europe
How much does a London to Paris ticket on the Eurostar cost?
The cost of Eurostar train tickets are variable throughout the year and the day/time of travel. At the time of research (Feb 2023) there are considerable fluctuations in the cost for Standard and Standard Premier seats. Business Premier seats had minimum cost variations.
The cheapest prices found were travelling 7 weeks in advance. (On the official site it states advance booking can be available up to 330 days in advance of travel)
An approximate ticket cost is:
Eurostar Standard Class – From £39 one-way (first train midweek)
Eurostar Standard Premier – From £84 one-way (first train midweek)
Business Premier – All journeys were £275 one way
Tip: I noticed when checking for the cheapest prices as above that 24 hours later the prices had increased substantially. If you see a price you are happy with – don't delay!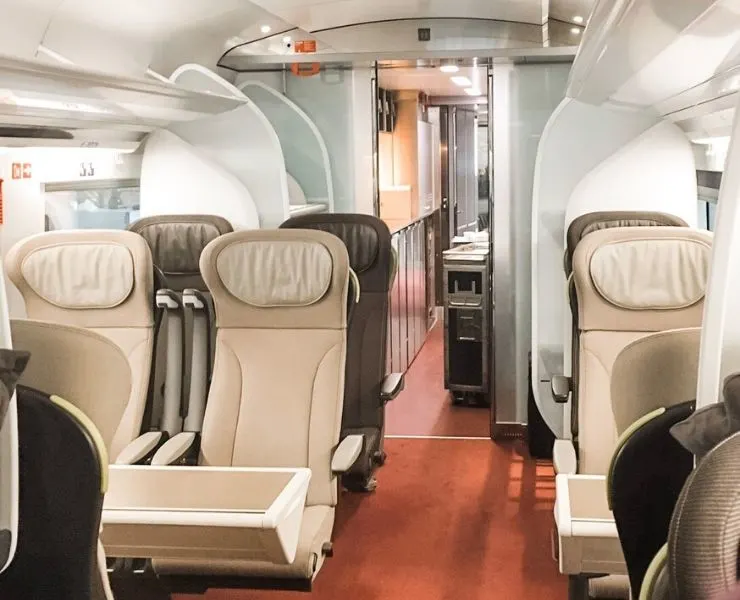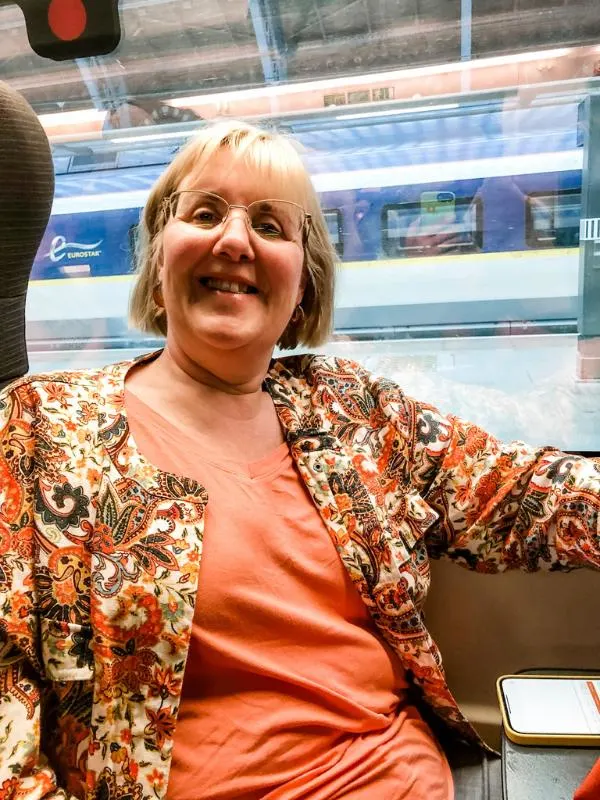 Information for your journey depending on your class of ticket
Arrive as early as possible – the times given are a guide only.
Download your train tickets for the most up-to-date recommended arrival time for your booking.
Standard Class Eurostar ticket holders
For departures from London St Pancras International to the Gare du Nord recommendation at present (Feb 2023) is to arrive at the station around 90 mins before the train's scheduled departure. (60/75 mins for passengers who require special assist)
Standard and Standard Premier gates close 30 mins before departure at St Pancras International.
Drinks and snacks are available from the Café Metropole on the train (or alternatively purchase snacks in the departure lounge cafes and shops before you board)
Services consist of old and new trains.
Free WiFi and power sockets are available.
Baby changing facilities are available on all services though not in all coaches.
Unlimited ticket exchanges up to 7 days prior to departure (you pay the fare difference – see t&c's)
Eurostar Carte Blanche, Classique and Avantage members check for membership variations.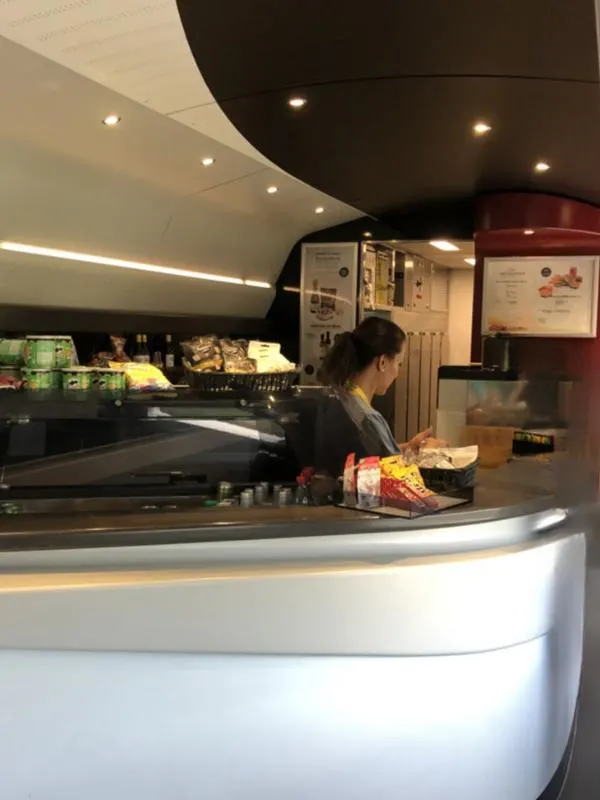 Standard Premier Eurostar ticket holders
Arrive at the station around 90 mins before the train's scheduled departure. Ticket gates close 30 mins before departure.
Extra space at the seats.
Free Wifi.
Power sockets at all seats.
Seat service of a light meal and drinks. Menu is appropriate to the day/time of travel.
Eurostar Carte Blanche, Classique and Avantage members check for membership variations.
Business Premier Eurostar ticket holders
Premier ticket holders should arrive at the station 45 to 60 minutes before the scheduled train departure time. The gate closes 15 minutes prior to departure.
No exchange fees and free cancellations (see ticket t's & c's)
Access to the Business Premier Lounges with

Free WiFi
Treats/drinks
Magazines/newspapers.
Dedicated fast track ticket gates

Seat service, on board, 3-course meal. The menu is appropriate to the day/time of travel.
Extra space at seats.
Eurostar Carte Blanche, Classique and Avantage members check for membership variations.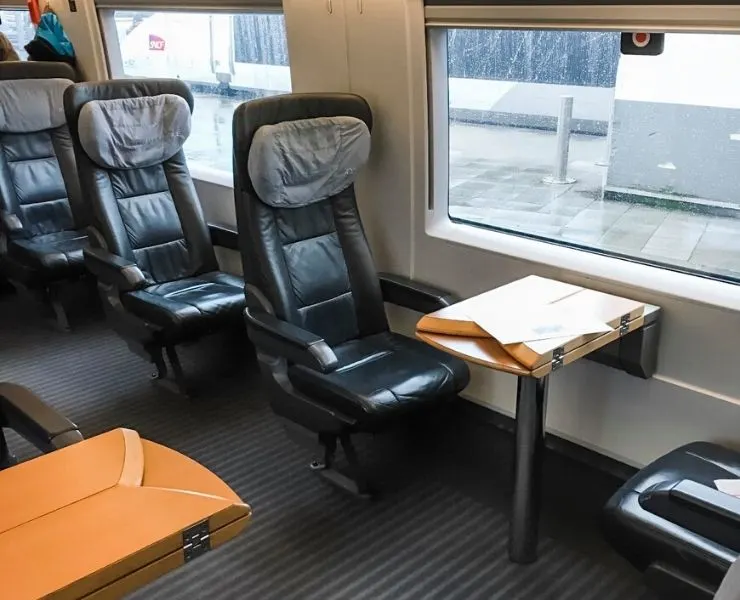 What luggage can I take on the Eurostar?
Luggage Size
All adults travelling can take two pieces of luggage (3 in Business Premier) that are:
Up to 85cm long.
And one small piece of hand luggage.
No weight limit but you must be able to carry and lift your own bag safely.
No fluid restrictions.
Children travelling on a child ticket can take 1 piece of luggage and 1 piece of hand luggage.
Where is the best place to stay if I am catching an early Eurostar train service?
If you are catching an early train (or arriving back in London on a late train from Paris) the best option (if you are not already in London) is to stay as close as possible to St Pancras Station.
We found ourselves in this situation a few years ago when we decided to pop over to Paris for my birthday and had booked the early train. After looking at lots of hotels we settled on the Hotel Megaro which is literally across the road from the station.
We had a lovely stay (and have subsequently stayed there again) and I was particularly impressed with the staff (and the glass of bubbly and cake they surprised me with once they knew it was my birthday!)
Click here to find prices and availability or take a look at my London neighbourhood guide and recommended accommodation options for all budgets.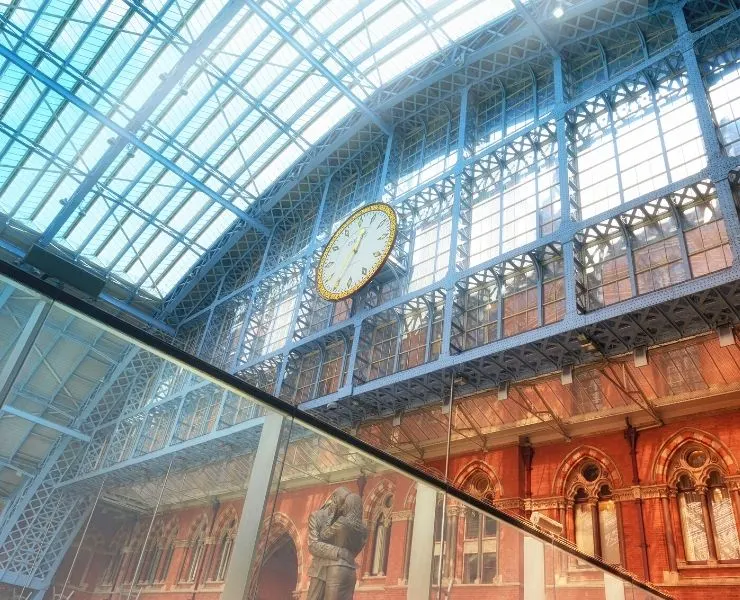 What is the procedure when I arrive at St Pancras to catch my Eurostar train?
On arriving at the ticket gate all passengers need to:
Before travelling to the station ensure you have all the documents (including your train tickets) that you need.
Download the ticket to your device or print out.
Scan the ticket bar code at the ticket gate bar code reader. Some paper tickets do not have a bar code, so you have to check in at one of the service desks.
Through to security, bag checks. As you would find at an airport. The speed of this can depend on the time of the day or how early/late you are arriving at security before your train departs.
Passport control – Speed as above. Planned to be implemented by the end of 2023 is a new exit-entry system for non-EU citizens.
Though to the departure lounge, and relax before your train leaves.
Tax free shops available.
Cash machines available for Pound and Euro currency.
Check departure boards for your train. This will show the following information
Train ID (usually 4 digits) and departure time, should match your train ticket.
Train boarding time and train departure platform.
Don't rush to board as soon as the train boarding opens, there is plenty of time.
Board the train and find your seat. There are usually coach attendants around near the train doors who will direct you to the correct seat in your coach.
TIP: There is always a Eurostar staff member or two at the gates ready to help passengers with any problems. Do not be afraid to ask.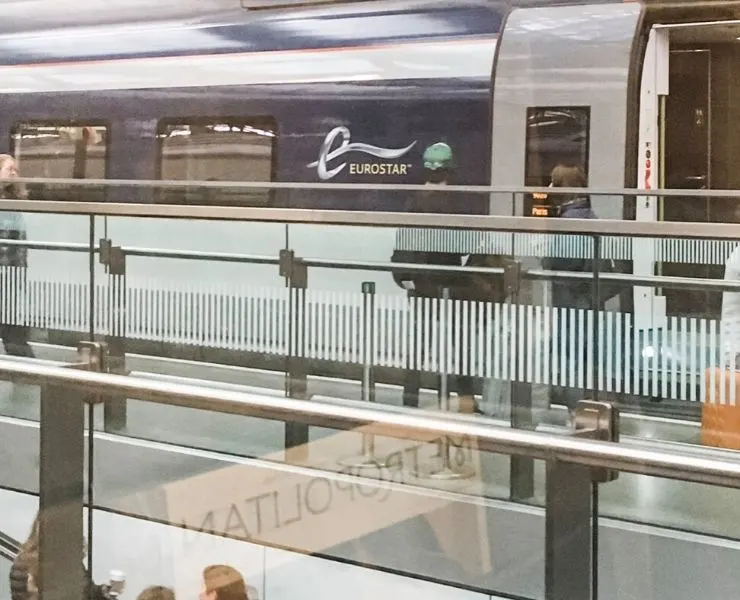 Coaches are clearly marked to check you have the correct one, seat ranges are also clear at the door to the coach. Check your seat number and board the coach from the right end. This reduces the need to carry your luggage down the entire coach.
Free magazines and daily newspapers are available for your use as you get on the train.
Only sit in your designated seat prior to departure. The train may have further stopping points where more passengers will board.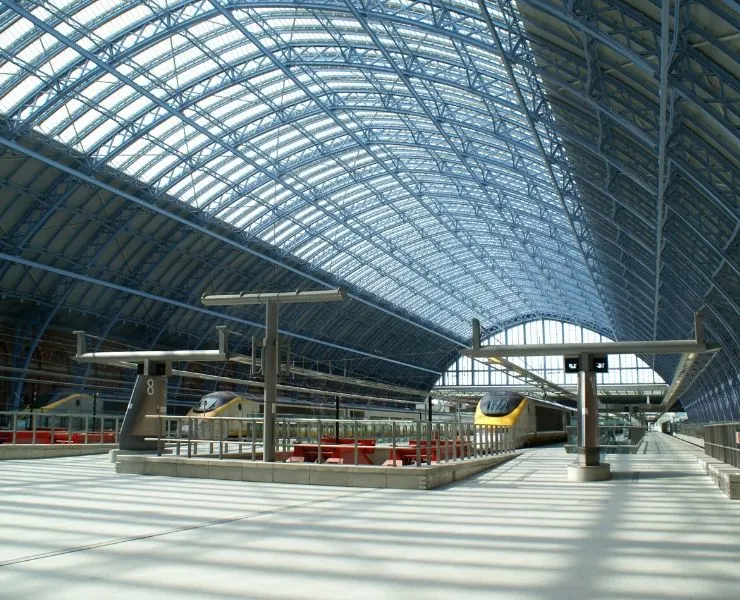 St Pancras International Station – Features
The train station is located on Pancras Road, London NW1.
Easy links to the UK rail network can be found at St Pancras and the adjacent London King's Cross mainline train station with ticket offices and ticket machines and tourist information services.
London Underground 'tube' has an underground station at St Pancras with easy access to Eurostar services.
An excellent selection of coffee shops/bars and restaurants can be found at St Pancras train station, also small express supermarket shops like Marks and Spencer.
British souvenir and beauty shops to be found in the station concourse.
Left luggage and lost property services available.
The famous Harry Potter shop can be found at King's Cross Station.
TIP: Do not rush through the ticket barriers into the station, if time allows, take your time to look around and enjoy the station architecture, statues and shops.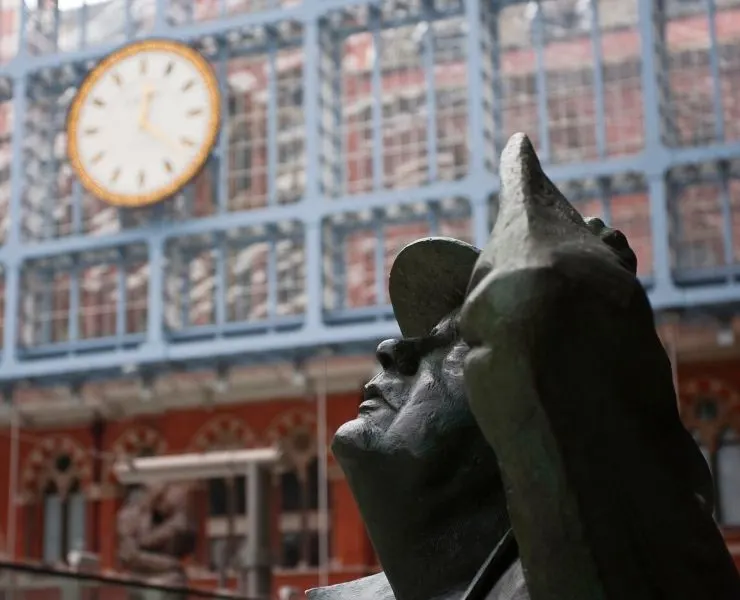 Paris Gare Du Nord – Features
Quick exit off the train after arriving at the station.
No further passport checks, exit straight off the train into the main station concourse.
The station is in the centre of Paris, instead of air travel where airports are around 1 hour or more outside the city.
Easy access to bus and RER services and Paris Metro underground system.
Ticket offices and machines for travel information and ticket purchases for Metro, RER and bus services.
GOOD TO KNOW: You can purchase a book of Paris Metro (RER and bus) tickets on board the Eurostar from the Café Metropole in books of 10 (called a carnet) prior to the Paris. This makes life a lot easier in Paris if you are pushed for time or if you are unsure of how to buy tickets) Note that this will end in 2025!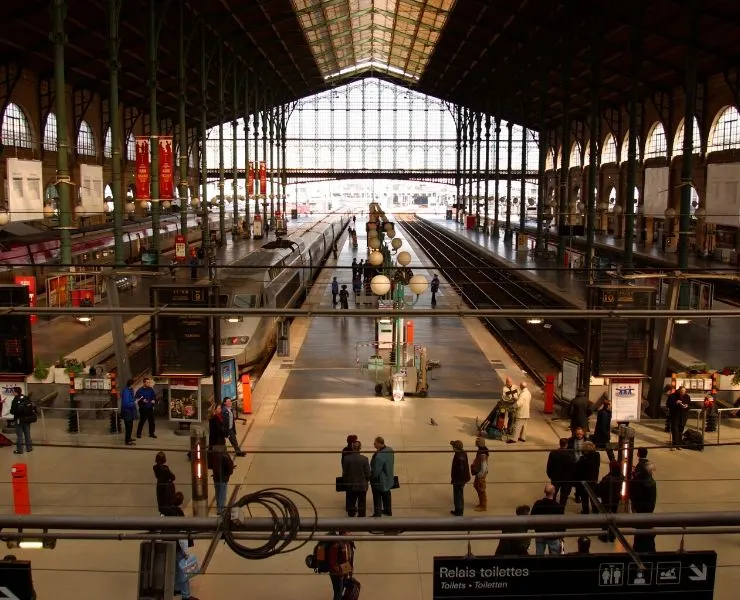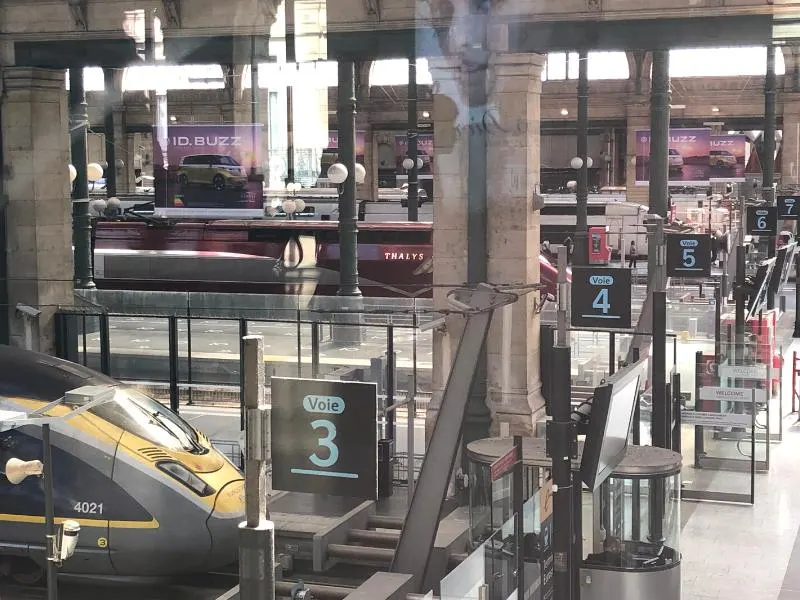 JOIN MY FREE LONDON AND UK TRAVEL PLANNING GROUP ON FACEBOOK
Are you planning a trip to London? Why not join my free London and UK travel planning group on Facebook? Join other travellers from the UK and abroad and find helpful hints, tips, inspiration and practical advice to help you plan your visit!
→ CLICK HERE TO JOIN THE FREE UK TRAVEL PLANNING GROUP ON FACEBOOK
Related posts for travellers to Paris