Visiting Trogir and Sibenik as part of your Croatia itinerary? Discover the best ways to get to both towns in our guide.
Are you looking for day trip ideas from Split? If you are holidaying in Croatia visiting Trogir and/or Sibenik are fantastic towns to include in your Croatia itinerary and easy to reach from Split.
If you are considering visiting Sibenik or Torgir and wondering is Trogir worth visiting or is Sibenik worth visiting hopefully you will be able to make an informed decision after reading this post.
Both Trogir and Šibenik are UNESCO World Heritage Sites (in Šibenik it is the cathedral that is listed) and in my opinion are both well worth visiting if you have the time in your Croatian itinerary.
In fact Trogir was named the best city-island in the world by National Geographic in 2015. Both towns are far less crowded than the major Croatian tourist destinations of Dubrovnik, Split, Plitvice Lakes, the Croatian Islands and Krka National Park.
Read on to find out what to do and see in these historic Croatian cities as well as information about how to get to each and tips to help you plan the perfect day trip.
Travelling from Split? Why not combine your trip with this Trogir and Blue Lagoon Half-Day Tour?
Plan your visit to Trogir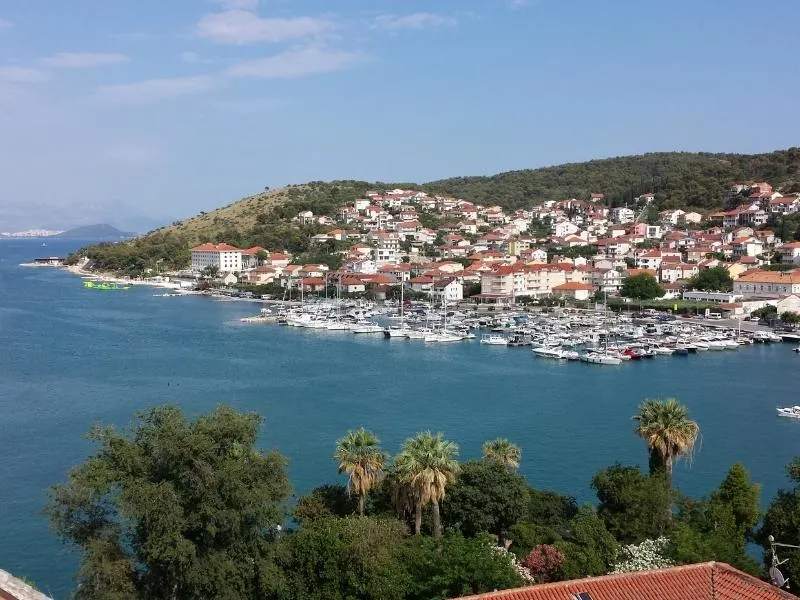 Where is Trogir located?
Trogir is located only 30 km from Split so it is easy to catch a bus from Split to Trogir. In fact, the majority of public buses travelling to Sibenik and Zadar pass through Trogir.
It is also possible to visit Trogir as part of a tour from Split. This is what we decided to do as we had limited time. The tour also included a walk around the historic old town in Split before we jumped onto a tour bus for the journey to Trogir.
We were briefly shown around before spending an hour exploring Trogir independently before returning to Split. We spent about 2 hours in Trogir but it was enough to get a sense of the place. and see the main sights.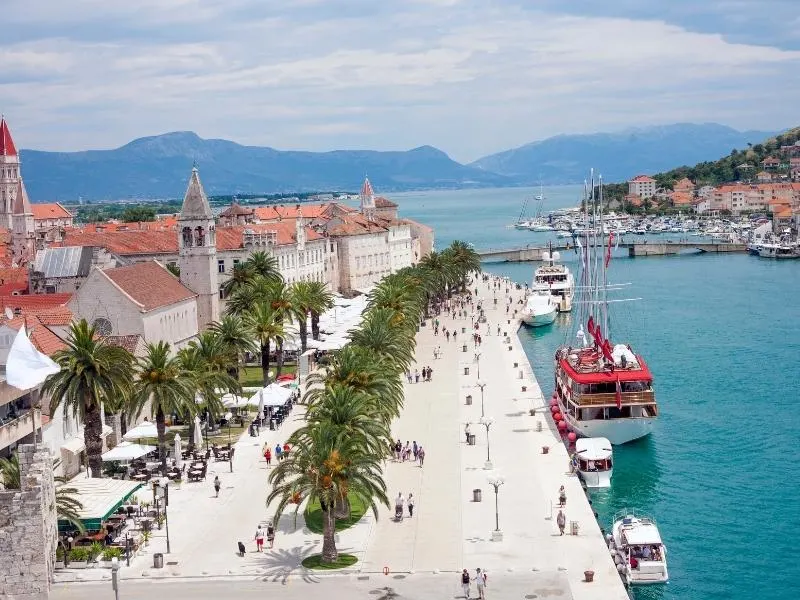 History of Trogir
Trogir is a historic town that has been added to and developed throughout many centuries. There are examples of buildings built in the Classic, Romanesque, Renaissance, and Baroque styles. These reflect the various rulers of Trogir during the Hellenistic, Roman and Venetian periods.
Trogir was inscribed on the UNESCO World Heritage List in 1997 and is (to quote UNESCO ) "a remarkable example of urban continuity" … or in layman's terms, it is one of the best-preserved medieval cities in Europe.
What is there to see in Trogir?
The first thing you will notice when you arrive is that Trogir is built on a small islet located between the Croatian mainland and the island of Ciovo. The islet is only 500m long and 250 m wide.
To access Trogir walk across the bridge which will lead you into the town through the north gate (built around 1656) Look up and you will see a statue of the patron saint of Trogir – bishop John.
It takes about 30 minutes to walk around Trogir. Stop and admire the beautiful buildings and architecture as you stroll around. Although Trogir is only small it is easy to get lost in the narrow alleyways – we did!
The architecture of all the buildings in Trogir is stunning with so many beautiful balconies, squares, palaces and alleyways.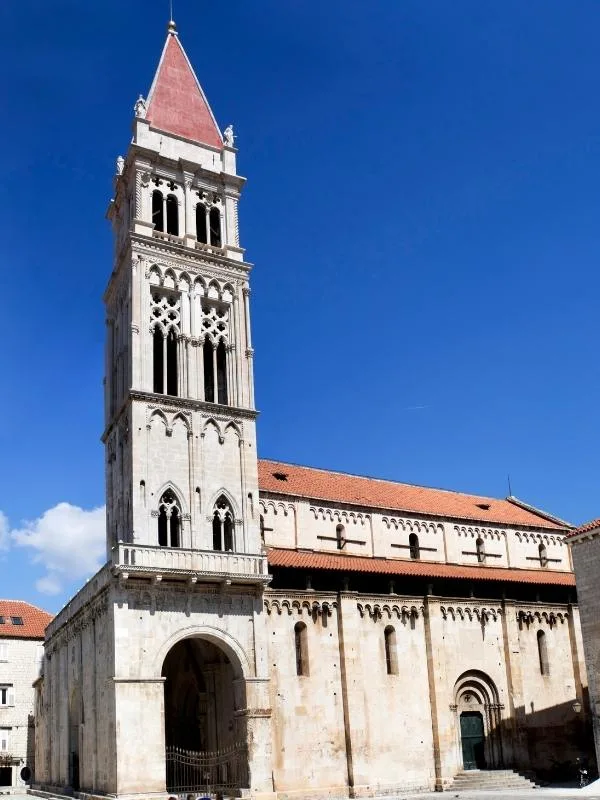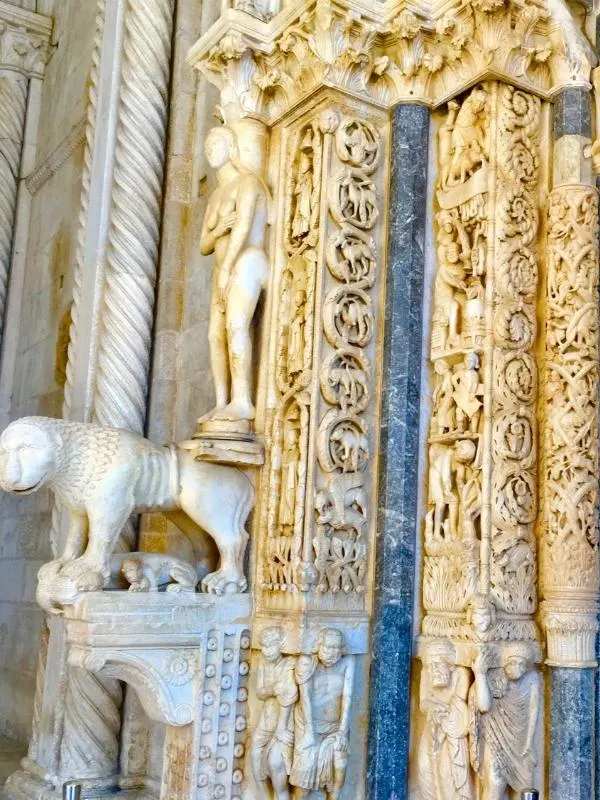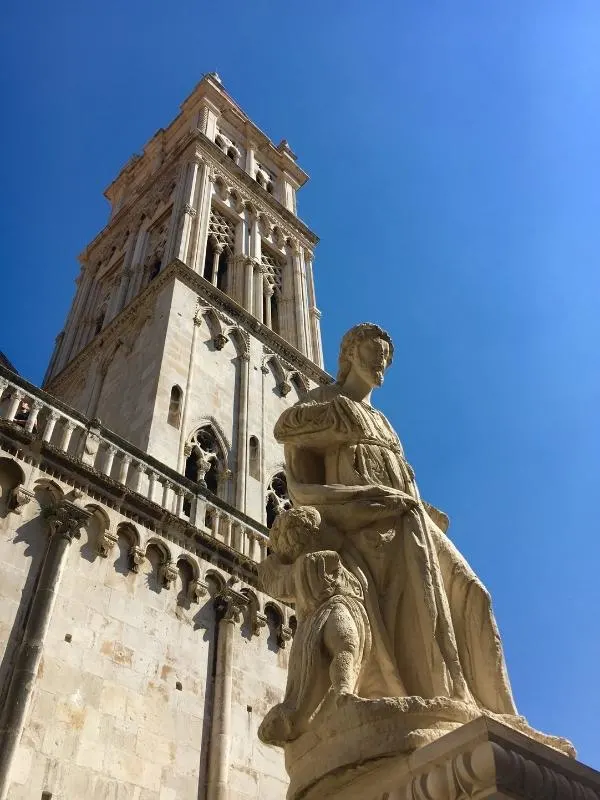 The main buildings to look for when you are strolling the town are – the 13th-century Cathedral of St Lawrence with its very impressive Portal of Radovan, the City Loggia, the Karmerlengo fortress and St Marko fort, the Cipiko Palace, and the Waterfront Promenade.
The Cathedral of St Lawrence took over 4 hundred years to build. Enter through the Radovan Portal which was completed in 1240. It depicts scenes from the bible and is flanked on either side by 2 lions representing power and strength.
TIP – When you visit the Cathedral of St Lawrence climb up to the belfry and enjoy beautiful views of the rooftops of Trogir.
When you exit the St Lawrence Cathedral walk over to the stunning Cipiko Palace with it beautiful balconies and gothic ornaments. Another main feature of the main square in Trogir is the city loggia or porch. Check out the emblems of the different noble families of Trogir on the walls of the loggia.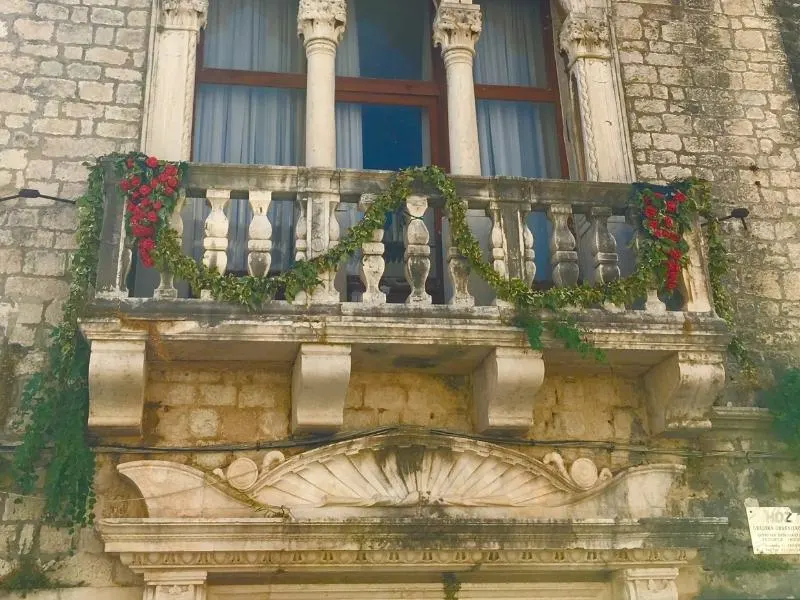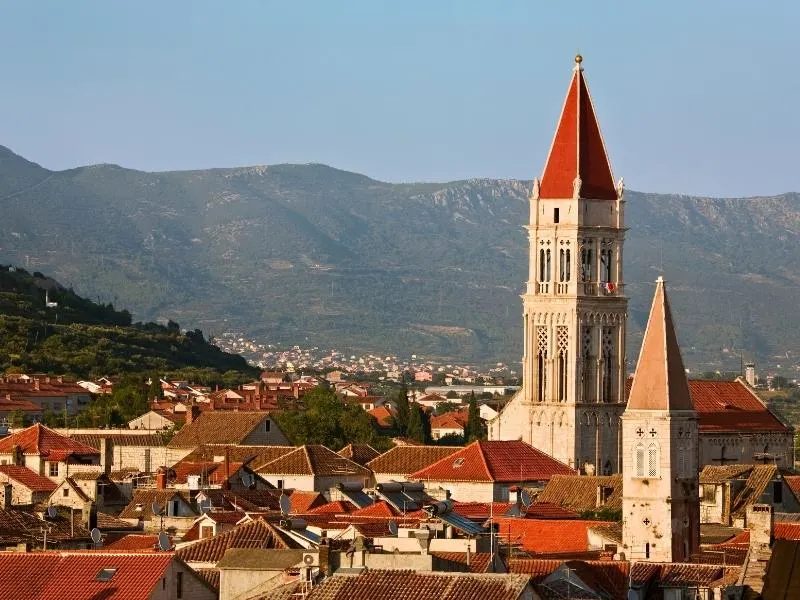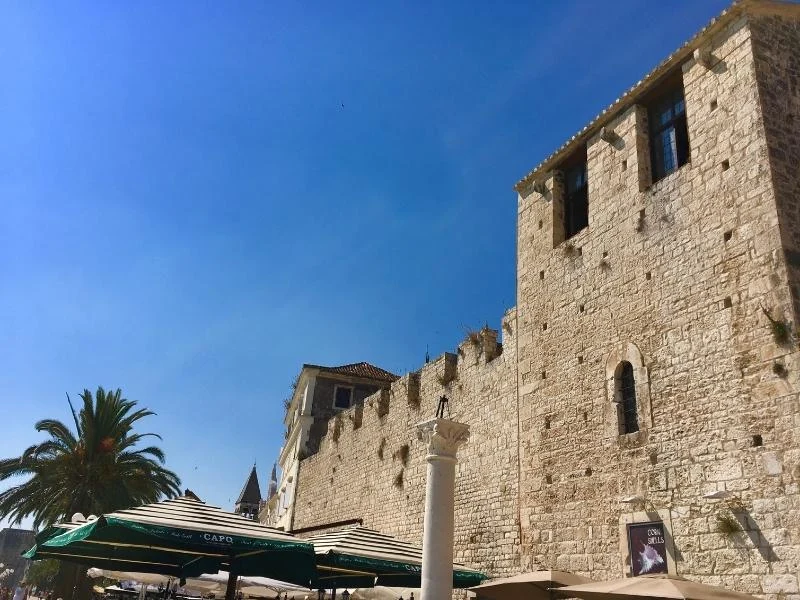 Part of the original walls remains on the coastal side of the town as well as 2 towers that were built by the Venetians in the 13th century – the Fortress Karmerlengo and St Marko fort – to protect the harbour.
To access the waterfront promenade exit the town through the doorway in the middle of the two towers. Enjoy some refreshments when you reach the port and promenade. We stopped for ice cream and sat admiring the boats moored in the harbour.
If you are staying in Trogir a private guided tour is a great way to learn about the city. Your tour guide will show you the sights in Trogir and tell you all about the history of the area and its buildings.
Read more → A complete 2-week itinerary for Croatia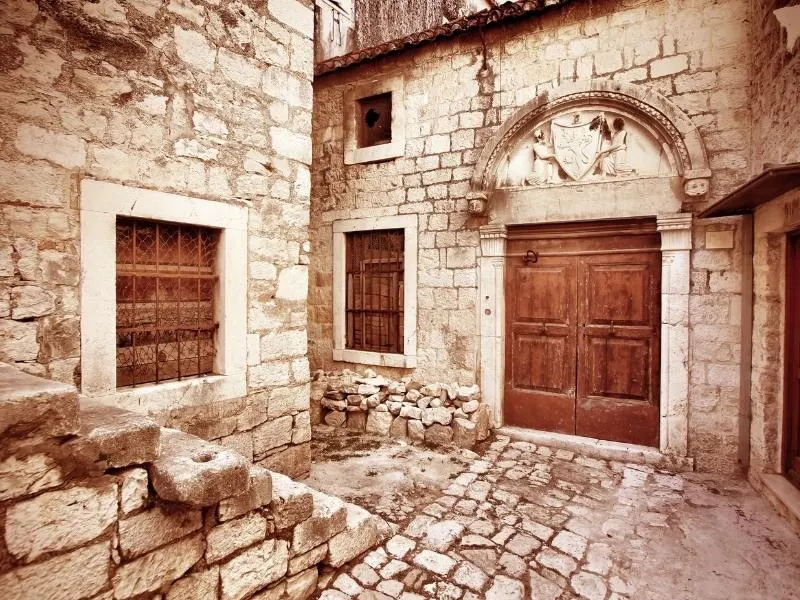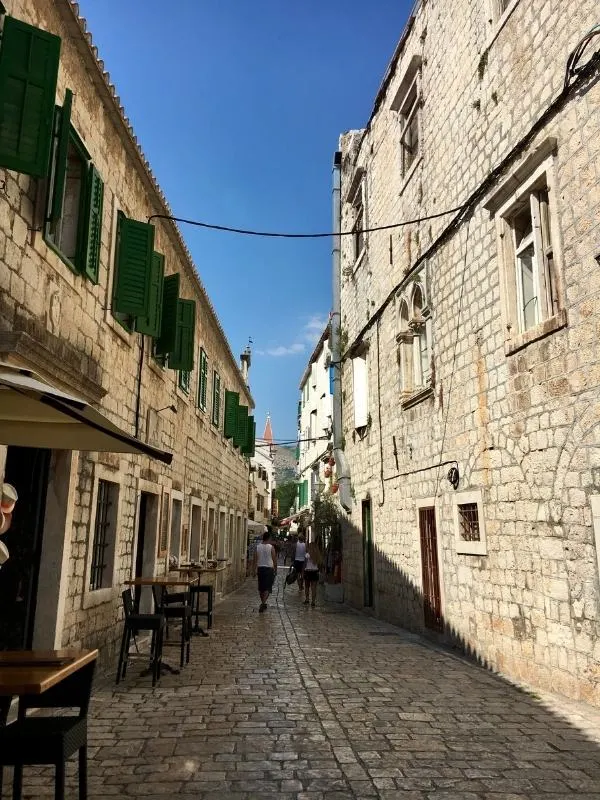 Plan your visit to Sibenik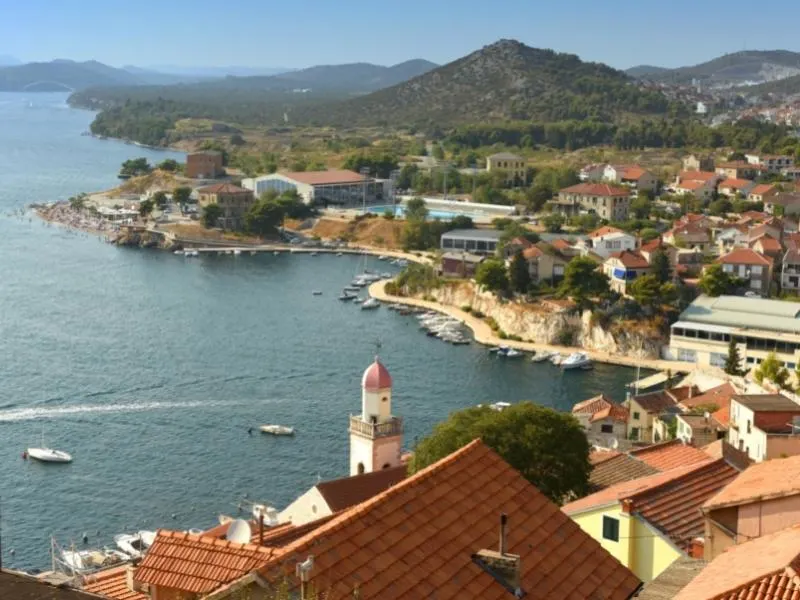 What is there to see and do in Sibenik?
Sibenik Cathedral is a UNESCO World Heritage Site. During the 105 years, it took to build 3 different architects were involved. The result is a building that is a blend of Gothic and Renaissance forms.
The Cathedral is built entirely of stone. No mortar at all. It is basically like a giant lego construction held together by well-cut blocks!
It also has a very impressive portal apparently built to compete with the Portal of Radovan in Trogir.
Check out the rather interesting frieze around the Cathedral. It consists of 71 faces of men, women and children who lived in Sibenik.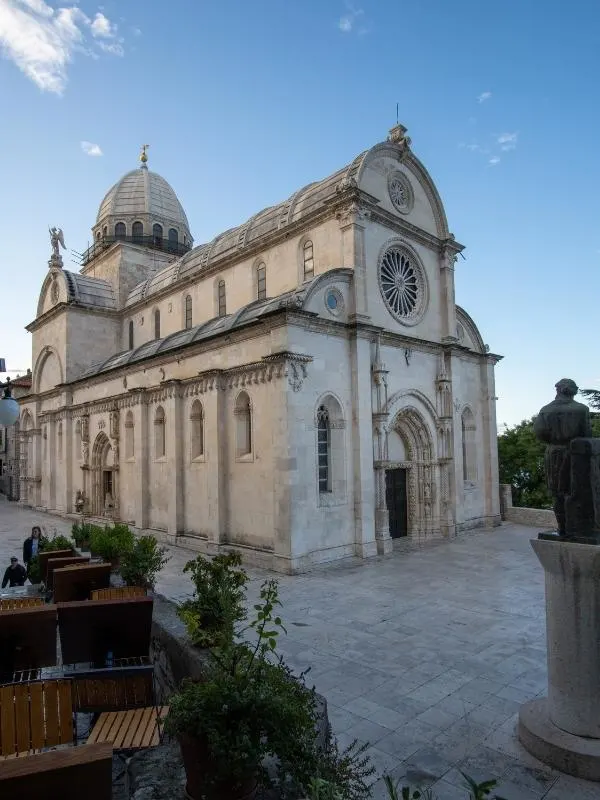 Learn more → 7 UNESCO World Heritage Sites to visit in Croatia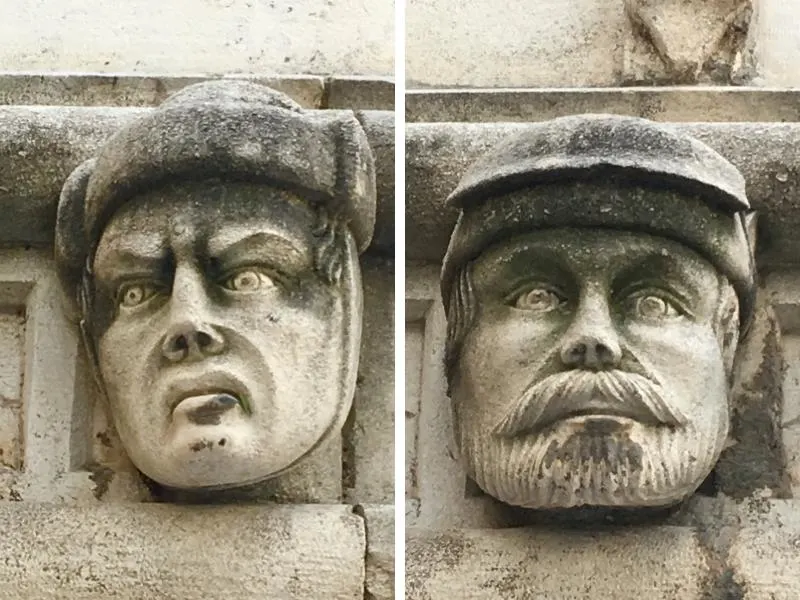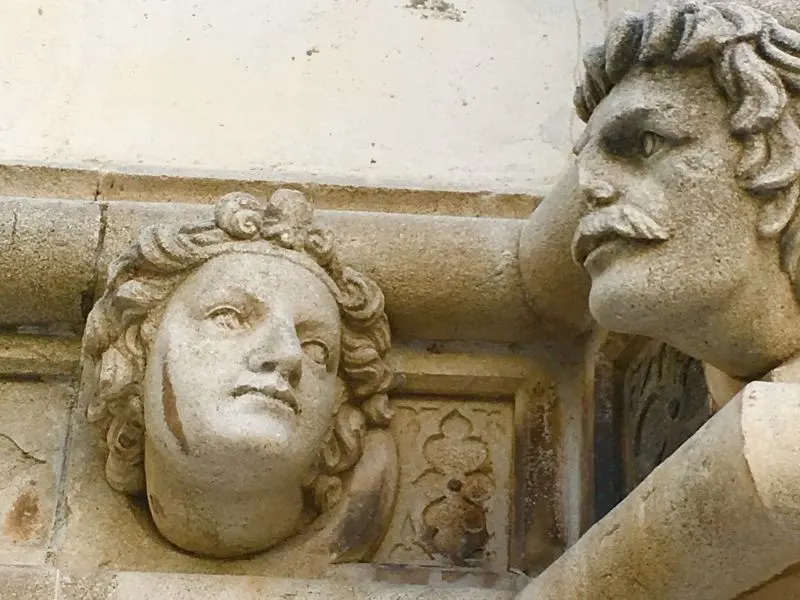 HOW TO TRAVEL TO TROGIR AND SIBENIK FROM SPLIT
By bus
It is possible to travel to Sibenik and Trogir from Split independently by bus.
The bus from Split to Sibenik takes approximately 1 1/2 hours to cover the 88 kms distance.
Split to Trogir takes 30 minutes by bus.
Click here for bus times and ticket prices from Split to Trogir and Sibenik.
Alternatively, there is a hop-on hop-off bus available from Split to Trogir.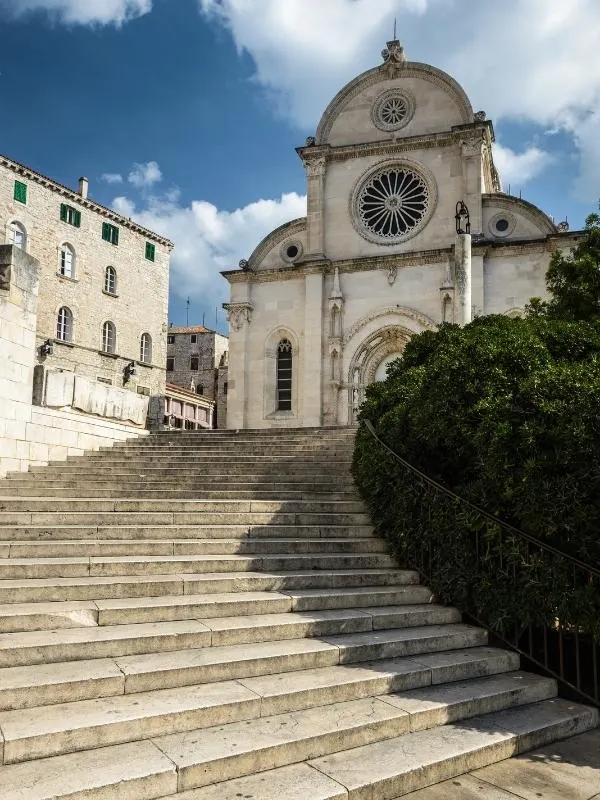 By tour
Taking a tour is a great way to experience both cities as you don't have to worry about transport to and from each destination.
The tours I recommend are through Get Your Guide. We choose tours from Get Your Guide for their ease of use and the flexibility to cancel most tours 24 hours in advance at no cost if plans change.
I have curated a selection of the best tours available to Trogir and Sibenik from Split below.
Best tours to Trogir from Split
Historical Tour of Salona, Klis and Trogir from Split
There is a wealth of medieval and Roman history to be found in the immediate surroundings of Split. On this guided small group day-tour you will visit the Roman City of Salona, Klis Fortress as well as Trogir.
Best tours to Sibenik from Split
Krka and Sibenik Day Trip From Split
This is the tour we took and it is a great way to see both Sibenik and Krka National Park with its beautiful waterfalls. It is a full day tour taking 10 hours and starts and ends in Split.
Enjoy visiting Trogir and Sibenik
So there you have it – a guide to visiting the beautiful towns of Trogir and Sibenik!
You will find lots of other articles to read about visiting Croatia to help you plan your visit.