Mention the city of Nottingham and for most people the name that springs to mind is that of Robin Hood the legendary re-distributor of wealth in times gone by.
If Nottingham is a city which you have yet to visit (or even considered adding to your UK itinerary) prepare to find why it is an English city with lots to offer visitors (not only lots to see but also a foodie culture to sample too)
To find out more about this Midlands city I have asked Alex, a travel blogger from My Lifelong Holiday to share her local knowledge of the place she calls home in this Guide to the top 5 things to do in Nottingham.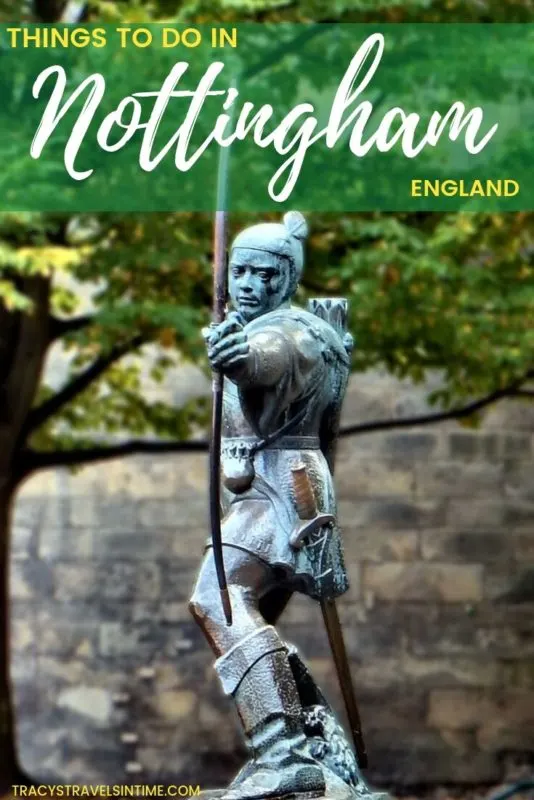 5 Best Things To Do In Nottingham
It's old, but not York-old. It's great for shopping, but not Manchester-great. And it's definitely a foodie-city but no one outside of the East Midlands seems to know this.
However, because Nottingham has so many strings to its bow in terms of identity, that means there is so much to see and do.
It's a great choice for a mini-break and I'd like to share with you our top 5 things to do in Nottingham.
1. Experience Nottingham History
Where to start? Well, first off you should take our free walking tour which lasts just over an hour but takes you to all the significant spots in Nottingham and really gives you a feel for the heritage and history of the city.
Or if you'd rather, just wander around the Lace Market area of the city and take in the grand ornate architecture of our famous architect Watson Fothergill. And don't forget Nottingham Castle!
Also, historically Nottingham is home to the oldest inn in England – Ye Olde Trip To Jerusalem pub – which has its own unique stories and is a must-see tourist spot and opportunity to grab a pint of local ale.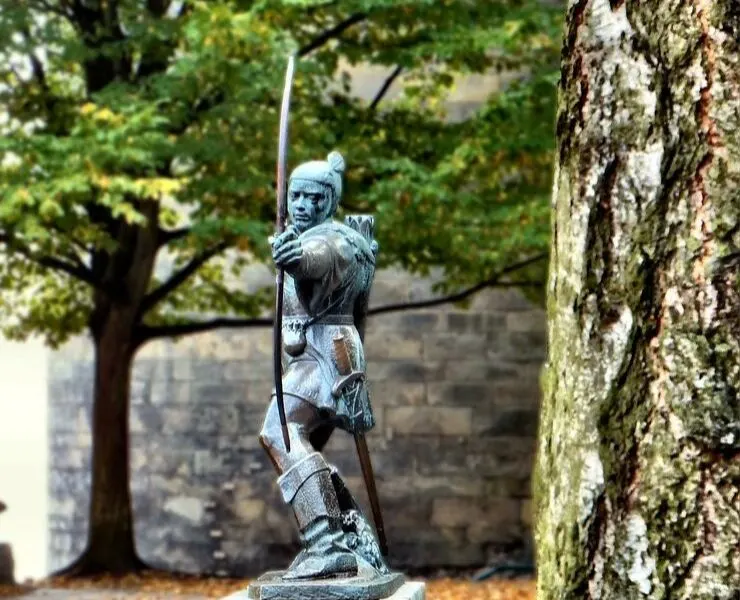 2. Visit Nottingham's Museums
Nottingham is host to some great museums on a variety of themes: The city is famous for its underground network of caves so the City Of Caves is a great place to start.
A short walk from the city centre is the quaint and slightly quirky Greens Windmill – a working mill and mini Science Museum that is free to the public and always a few hours well spent.
But most of all, Nottingham needs to be praised for its attention to the arts and locals are very proud of its pioneering spirit in this area. Therefore, no visit to Nottingham is complete without having a wander around the art galleries in the city.
Nottingham Castle (opening soon after renovations) hosts an excellent permanent collection of masterpieces but also a section for the Lace Industry which propelled Nottingham into the modern age.
But, the piece-de-resistance of Nottingham museums is the Nottingham Contemporary on the edge of Lace Market – a modern art museum with regularly changing exhibits and completely free.
It's one of the largest contemporary art galleries in the UK and I would have to agree with The Guardian who labelled it " the most inspiring gallery in the UK." Big words eh.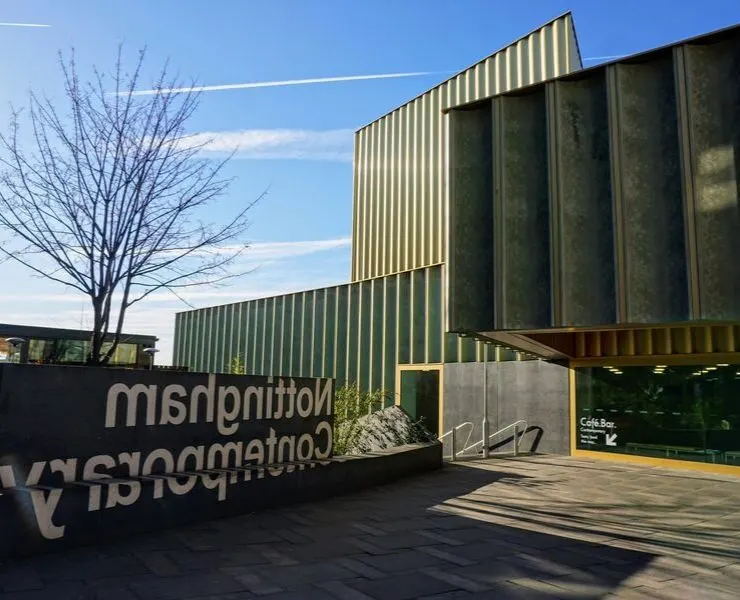 3. Nottingham For Shopping
It may not hold any flag-ship stores like Manchester or London but Nottingham is a great place for shopping. Many of my friends and family from outside the area regularly tell me how much they love the shops in Nottingham.
It has all the high street stores you would expect plus a fair amount of boutique and concept stores and a great vintage scene so whatever your style, there is something for everyone in Nottingham.
There are also several ethical and sustainable green shops in Nottingham too which you must visit if you are in town – hopefully, a peek at how things will go over the next few years as we strive to reduce our carbon footprints and help the planet.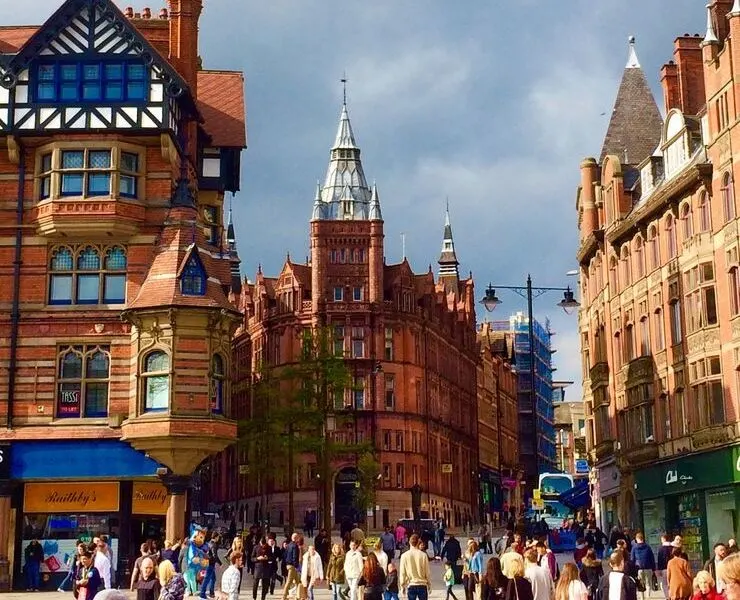 4. The Best Places To Eat In Nottingham
But first coffee : Nottingham has some great coffee shops and lovely cafe culture that locals are quite proud of – have a read of our Top 5 Coffee Shop recommendations here.
But I've got to tell you about the food scene! Nottingham has always had some very good places to eat – old favourites like the curry houses on Maid Marion Way (particularly Mem Saab and Calcutta Club ) and some excellent fine dining at Iberico, Harts Hotel, World Service and Bistro Pierre.
But in keeping with the times Nottingham also has a good handful of quirky eateries where the experience is as good as the food. And, more recently the weekend arrival of the street-food market upstairs in the Intu Victoria Centre is taking the city (and Instagram) by storm – the city is really showing the rest of the country how this eating business is done!
A short break in Nottingham and you would NOT run out of great places to eat.If you're interested in Nottingham nightlife too, we've got you covered – it's a great city for a weekend away with your mates or even a romantic break with your better half.
5. Wollaton Hall – Nottingham's Best Gem
Even Batman agrees. A guide to Nottingham would not be complete unless Wollaton Hall and Park was mentioned. A quick 20-minute bus ride to the leafy suburb of Wollaton drops you at my favourite place in the whole city.
Wollaton Hall is set in 500 acres of the most beautiful deer park, complete with play parks, a huge lake and hundreds of ancient gnarly trees. All of this would merit a visit alone but then you have Wollaton Hall too!
An Elizabethan mansion of grandiose proportions graces Wollaton Park and takes you back hundreds of years – it's so impressive it was even chosen to be Wayne Manor in the film Batman-The Dark Knight Rises. I
t's as worthy a visit as any English stately home and we are so lucky to have it on our doorstep for just a £3 parking ticket.
The hall is also a museum – Natural History and Tudor House Tours, and there's also an Industrial Museum in the grounds too. It deserves a day of your time for definite.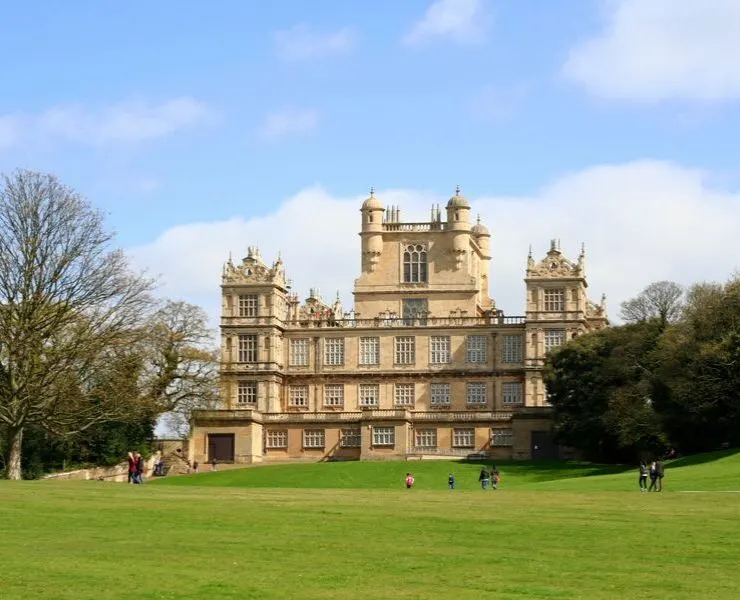 Enjoy your visit to Nottingham
Nottingham is definitely worthy of a mini-break and I hope I have whetted your appetite to discover more of my home town.
Maybe you're in town for a sporting event or even just using it as a base for exploring some nearby tourist attractions like Chatsworth House near Bakewell or hiking in the Peak District I am sure you will enjoy your visit.
Thanks to Alex from My Lifelong Holiday for this great article about Nottingham. You can read more about Alex in the author box at the end of this article.
Are you planning a trip to the UK? Or do you live in the UK and want to find out some new places to visit? Why not join my UK Travel Planning Group on Facebook? Have a chat with fellow travellers and get some ideas, tips and just general information about visiting the UK!
ⓘ CLICK HERE TO JOIN THE UK TRAVEL PLANNING GROUP ON FACEBOOK!