This post may contain compensated links. Please read our disclosure for additional information. As an Amazon Associate, I earn from qualifying purchases.
Last Updated on March 3, 2020
(This post about visiting Prague in winter was updated in September 2019)
Prague is one of the most beautiful cities in Europe and whilst it is lovely to visit in summer it becomes a fairytale destination during the winter months.
If you are wondering what to do in Prague in winter (or even whether to visit Prague in winter) this post will give you lots of ideas. It will cover places to visit in Prague in 3 days as well as things to do in Prague during the colder winter months. So if you are wondering what are the best things to do in Prague in October, what to do in Prague in February or even thinking of spending the festive season in Prague you will find everything you need to know in this article.
If you are planning to visit Prague during winter you should expect chilly weather (and if you are lucky some snow) Make sure you are prepared (check out my article about what to pack for traveling Europe in winter) and plan your itinerary to make the most of your trip.
In this article you will find information about the best things to do in Prague in winter to include in your itinerary. There is also a map of Prague at the end of the post with all the places mentioned labelled to help you get a sense of the city's layout.
You will also find answers to these commonly asked questions about visiting Prague:
How can I get around Prague on public transport?
What things are there to do in Prague in winter/ What are the main things to do in Prague?
Are there any recommended places to eat in Prague?
What accommodation options are there in Prague?
What are my top tips for staying in Prague in winter
What are the most popular tours to take in Prague?
What books should I read before visiting Prague?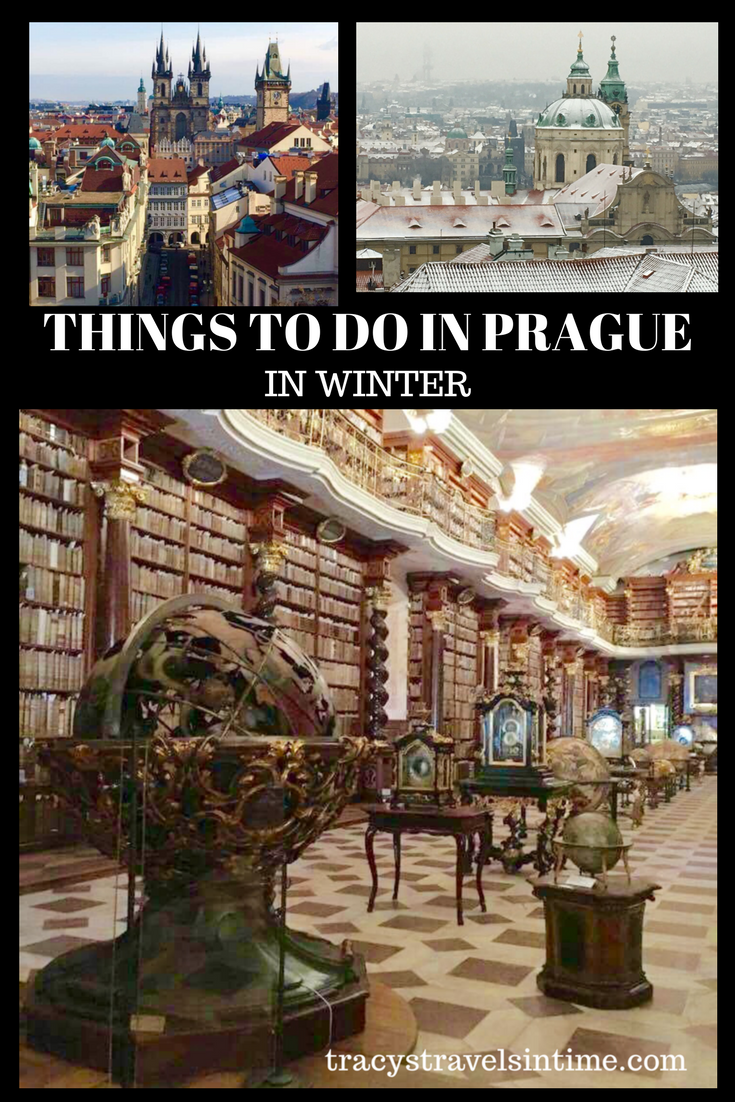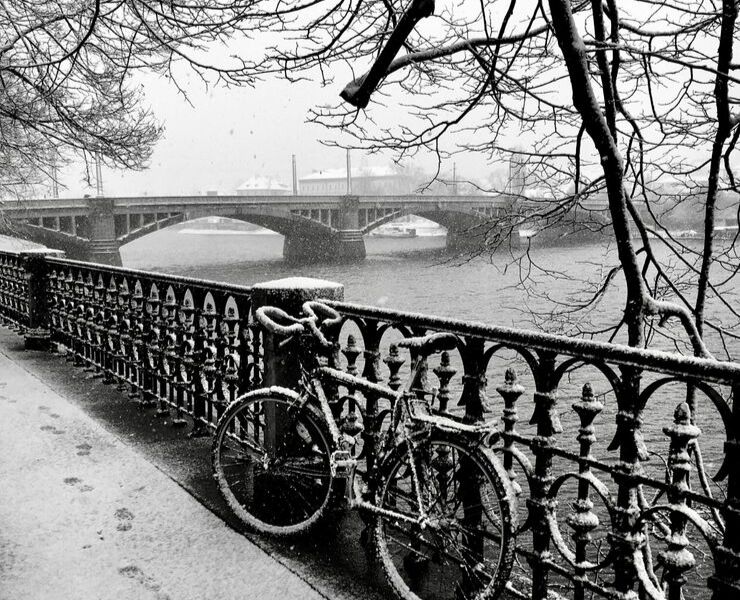 WHAT ARE THE PUBLIC TRANSPORT OPTIONS IN PRAGUE?
Prague has an excellent public transport system with trams, metro and buses available to get you around the city.
Short term tourist passes are available for either 24 hours or 3 days. We purchased a 3 day pass which gave us unlimited access to all Prague public transport for the duration. It cost 310 CZK each and I would highly recommend purchasing one! We used trams, buses and the metro to get around the city.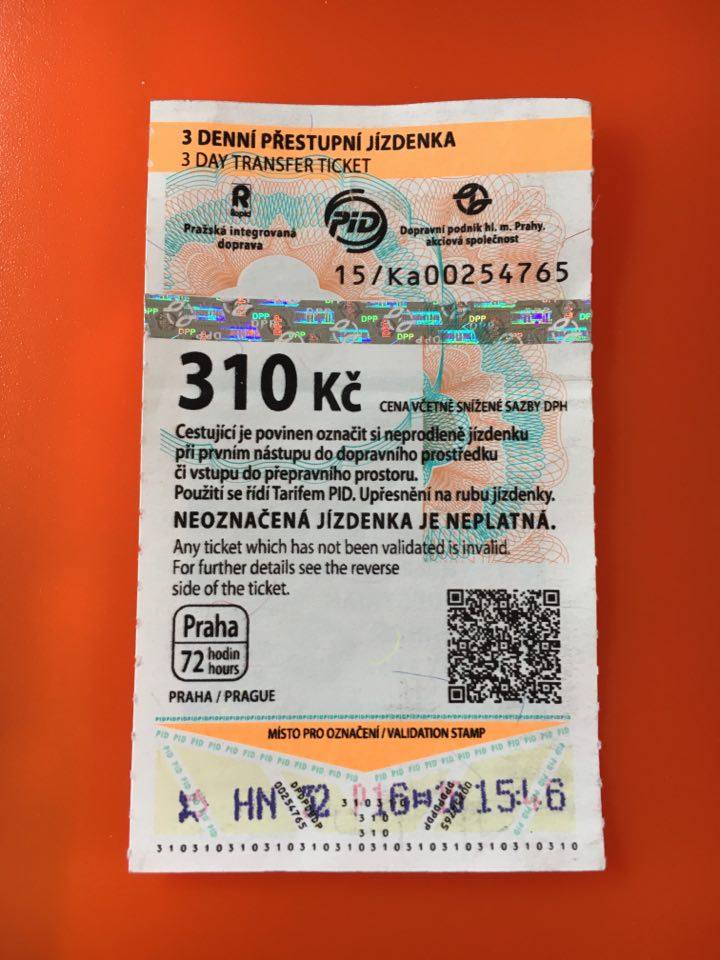 Metro – There are 3 lines (green A, yellow B and red C) which cover the city. Lines A and B run east to west and line C from north to south. There are 3 stations in the city centre where 2 subway lines intersect:
Můstek (lower end of Wenceslas Square) – lines A and B intersect
Muzeum (upper end of Wenceslas Square) – lines A and C intersect
Florenc (main bus station) – lines B and C intersect
It takes about 2/3 minutes to transfer lines and transfers are well signposted.
Buses – the buses cover area where the tram and metro do not run. We used the bus to get us from our hotel to the old town and we rarely waited more than 2/3 mins for one – they run that often!
Trams – My personal favourite!! I had read that Tram 22 is the most scenic route so we had to take this one – which we did to the end of the line (during a blizzard!) It passes by Prague castle and I would highly recommend taking this tram as it is a lovely route.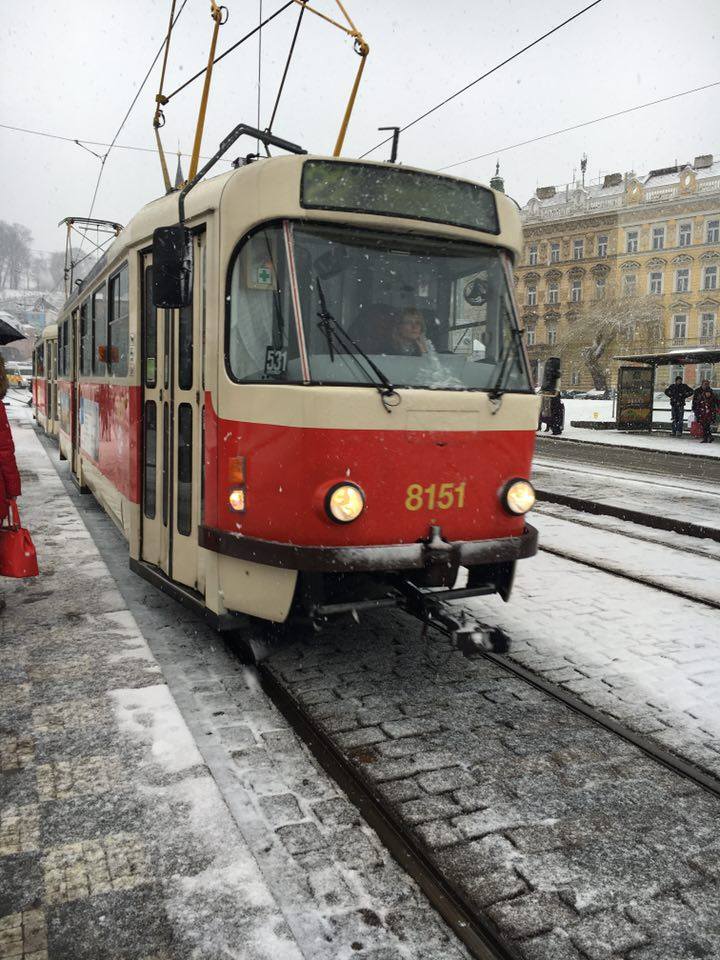 TIP – make sure you validate your ticket before you start using it. We had our tickets checked and if you haven't validated you WILL get a fine.
ULTIMATE GUIDE TO THINGS TO DO IN PRAGUE IN WINTER
There are so many things to do in Prague (and places to see in Prague) in winter. We were visiting Prague in February and had an absolute full itinerary for the 3 days we were there. We managed to include all of these must-see sights into our 3 day stay in the city.
If you are planning your itinerary for Prague it is possible to create a 2 day itinerary for Prague, a 3 day itinerary for Prague or of course an even longer itinerary for Prague from the suggestions below. All of the sights are easy to get to on wither public transport or on foot.
THE OLD TOWN – Staré Město
The Staré Město has the old town square at its heart (dating back to 12th century). This is one of two main squares in Prague (the other is Wenceslas)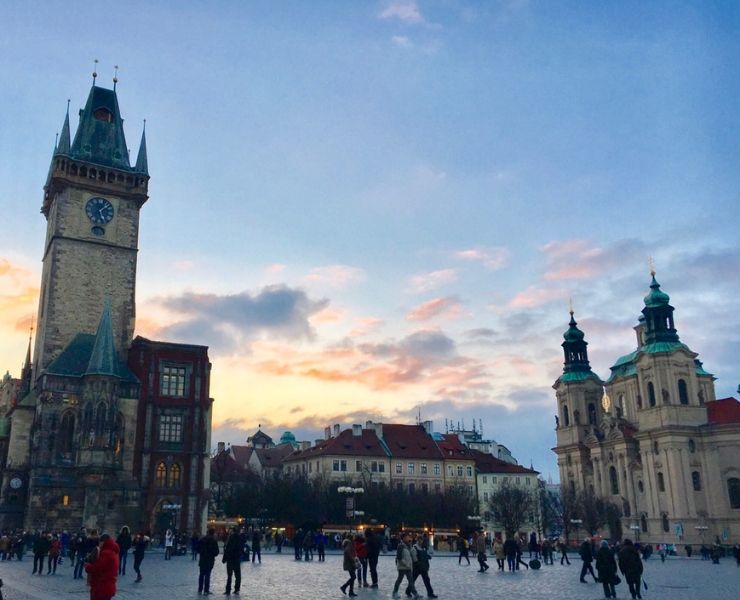 Here you will find the famous astronomical clock as well as St Nicholas Church and the Tyn Church.
In the centre is a massive statue of Jan Hus. Stroll round the square, watch the clock on the hour and sit and have a drink whilst soaking in the atmosphere.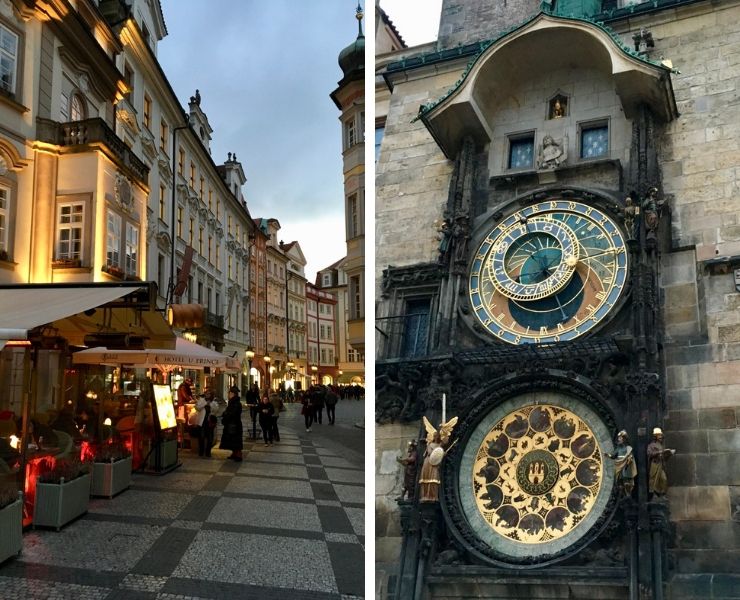 Walk the CHARLES BRIDGE – Karlův Most
This is a stone bridge built in the 14th century and connects the old town – Staré Město – with the Lesser town – Malá Strana (personally my favourite bit of town). The Vltava River flows beneath your feet as you walk this beautiful bridge.
There are 75 statues on the bridge with the most famous is of Saint John of Nepomuk – legend has it if you touch it you will have good luck and also return to Prague. It was very shiny where the thousands (millions) of hands have touched it. I touched it so the good news for me is that I will be returning to Prague.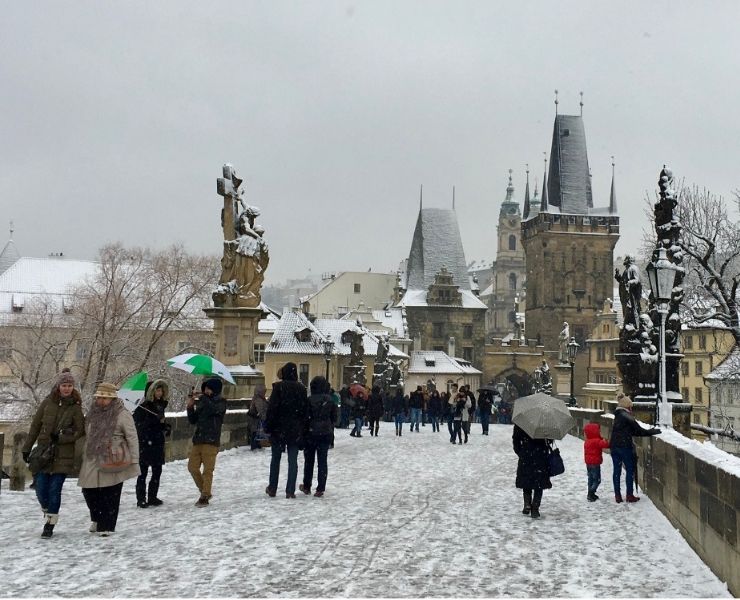 Explore the LESSER QUARTER – Malá Strana
Explore the LESSER QUARTER or Malá Strana. This quarter is full of quaint little streets and a steep climb to Prague Castle! There are some lovely pubs and restaurants in this area and we had to stop off for a hot chocolate to warm us through after a snowy walk over the Charles Bridge.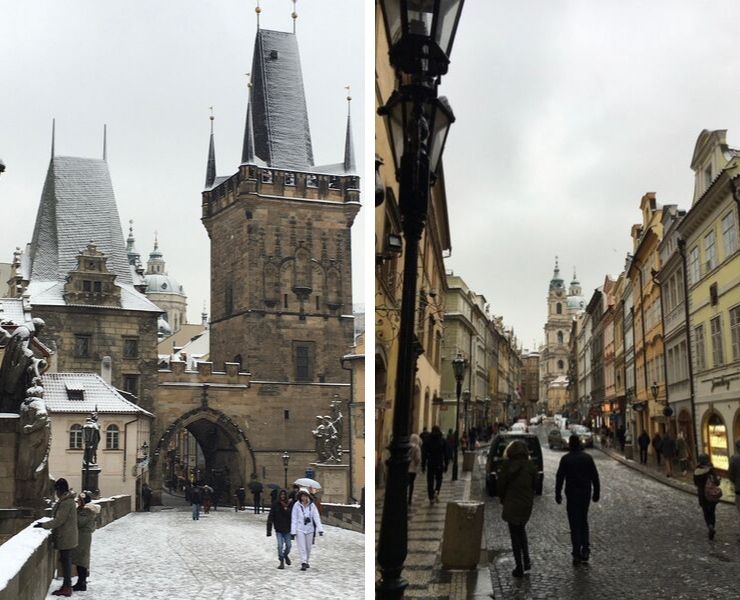 THE MEMORIAL TO THE VICTIMS OF COMMUNISM
In the Malá Strana you will also find the Memorial to the victims of Communism. This is a series of 7 statues which commemorate the victims of the Communism 1948- 1989 a sad but poignant reminder of communist rule over what was then Czechoslovakia.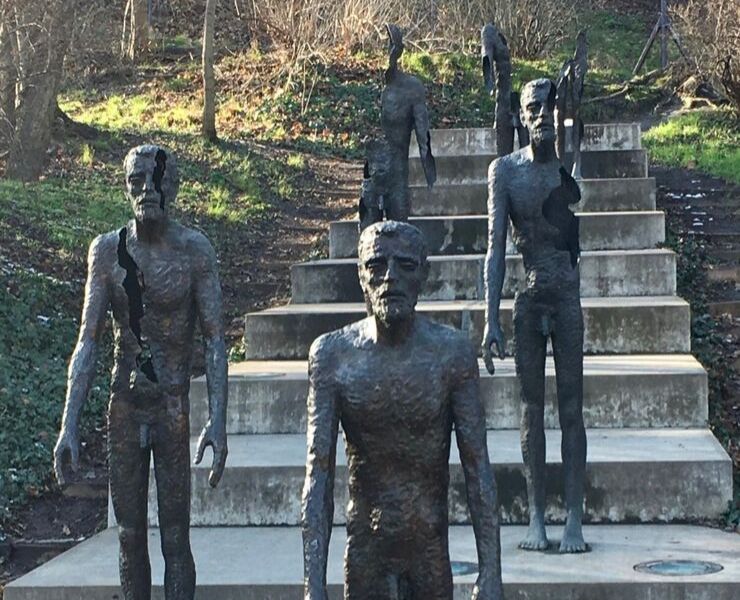 THE GINGERBREAD MUSEUM
On your way up to the castle keep an eye out for the gingerbread museum. They have a wonderful selection of beautifully decorated ginger bread in every shape and size including a gingerbread castle.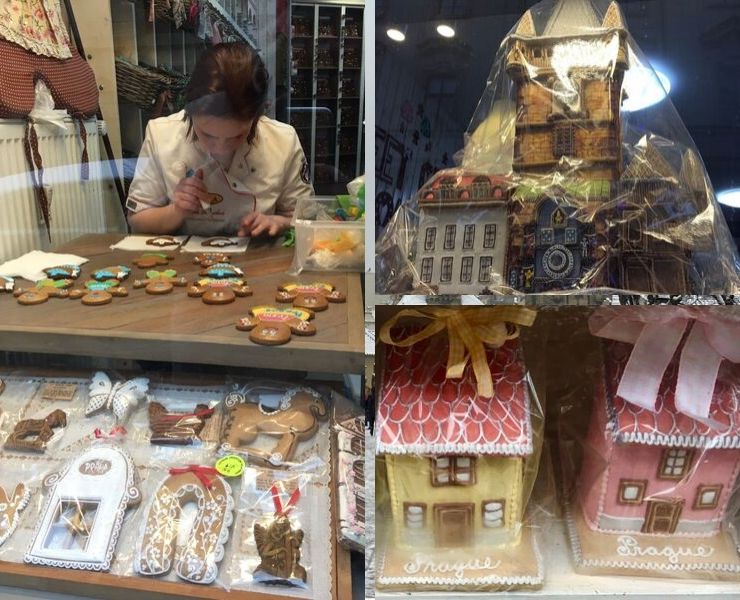 VISIT PRAGUE CASTLE – Pražský Hrad
PRAGUE CASTLE (Pražský Hrad) is the largest Medieval castle in Europe. It is situated in the Hradčany or Castle District and is a walk up from the lesser town.
Don't miss the changing of the guard at the castle held at 12 noon daily. The sentries at the gates of the castle change every hour from 7:00 am too.
I would then recommend exploring the grounds of the castle. There are some spectacular views over the city and you will also find the Cathedral of St Vitnus within the Prague Castle Complex.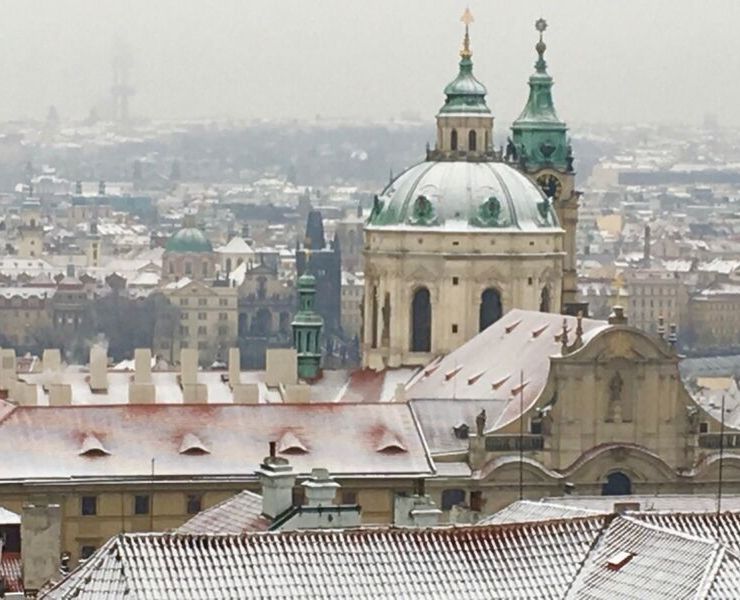 WENCESLAS SQUARE – Václavské náměstí
WENCESLAS SQUARE (Václavské náměstí) is located a 5 minute walk away from Old Town Square and has lots of shops, bars, restaurants and hotels as well as rather impressive statue at one end of St Wenceslas himself.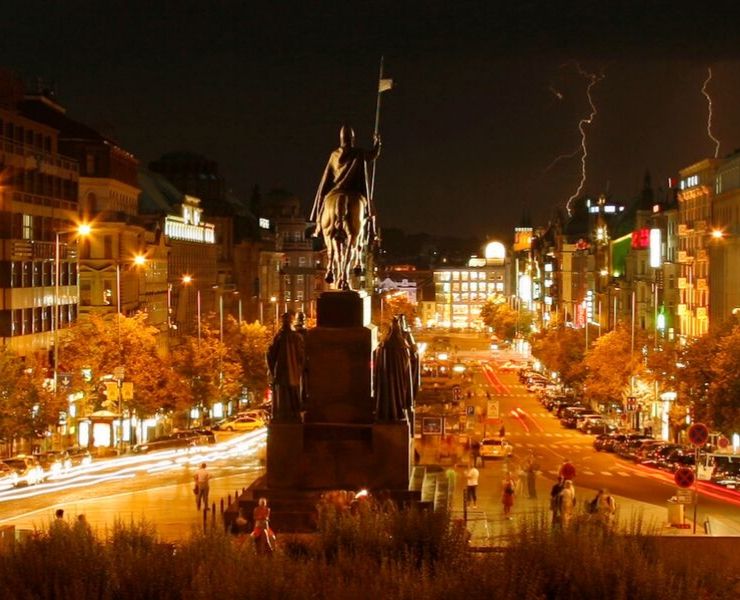 THE JEWISH QUARTER – Josevof
In the JEWISH QUARTER– Josevof – you can find the Old-New Synagogue which is the oldest active Synagogue in Europe. The Old Jewish Cemetery is home to 12,000 tombstones but an estimated 100,000 burials took place there between 1450 and the late 18th century.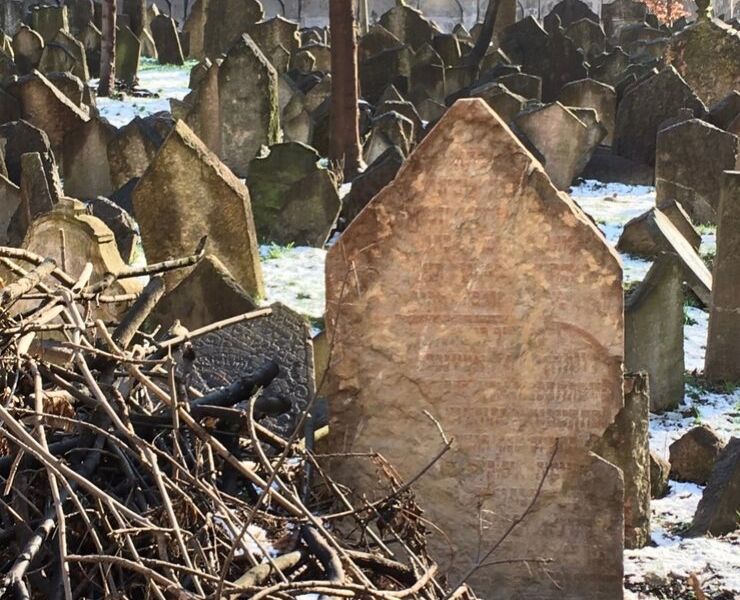 THE DANCING HOUSE
If you like architecture I recommend a visit to the Dancing House (or Fred and Ginger as it is nicknamed) The building was completed in 1996 and was quite controversial at the time due to its complete contrast to the other styles of buildings in Prague (Gothic/Baroque/Renaissance etc)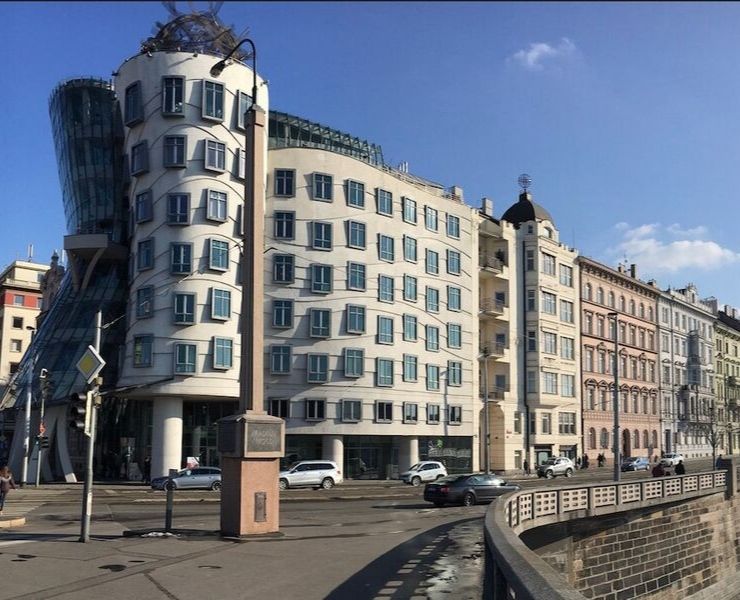 THE KLEMENTINUM AND BAROQUE LIBRARY
I have saved the one thing I loved best of all in Prague for last – the Klementinum and Baroque Library. I had read mixed reviews about this on Tripadvisor but the day we went we found it was amazing. We had a lovely guide who obviously loved the place and she took delight in my stunned reaction to the beauty that is that library!
The Baroque library hall was completed in 1722 and its appearance and arrangement remain untouched. The books are foreign language theological books so not something I would consider for bedside reading.
The overwhelming beauty of the room as well as the geographical and astronomical globes on display left me speechless (this does not happen often!) Read all about the experience of the Klementinum in my post – A Time Traveller's Tale
The Baroque Library is one of the most beautiful places in Prague to visit so do include it in your itinerary.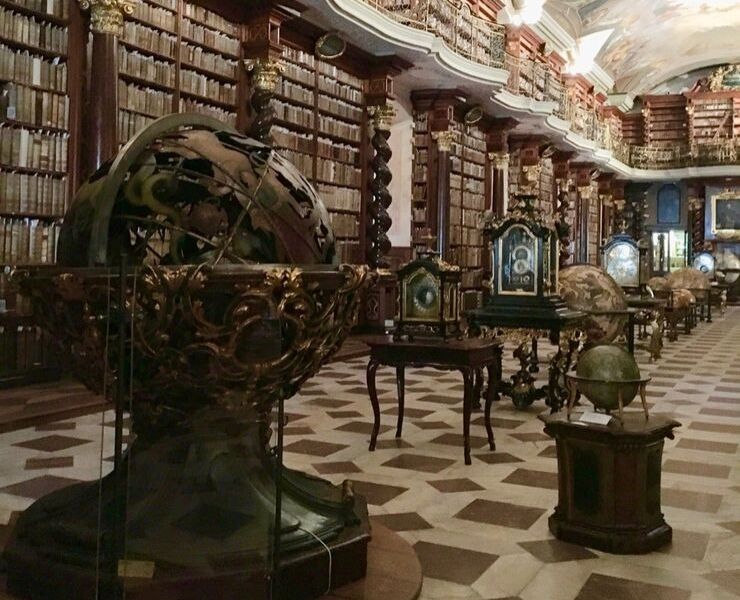 After the beauty of the library there is a three floor climb up the astronomical tower where you get fabulous views of Prague. On the way up though you pass a room (meridian hall) that is used for determining noon – a ray of light comes through a small hole in the wall and hits string stretched on the floor.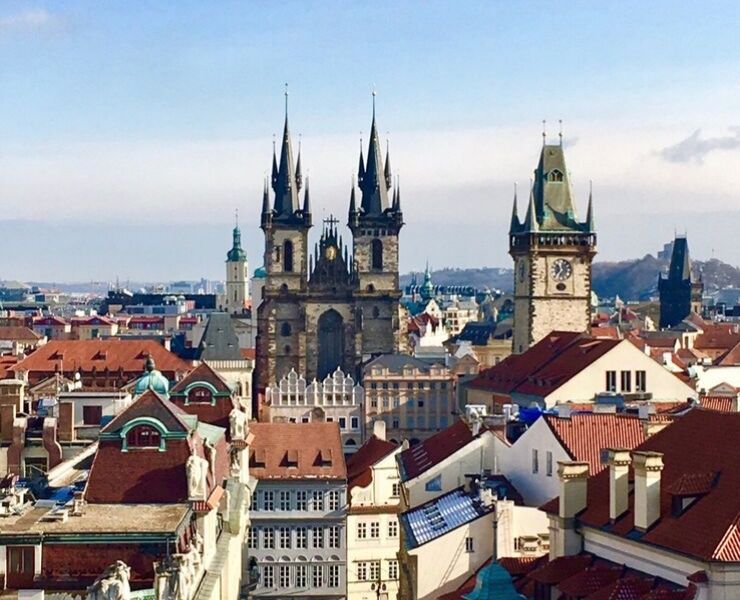 Although technically not part of the tour we took our guide showed us the MIRROR CHAPEL. This was built in 1725 and is now used for classical concerts. There are lots of reviews on other websites not really rating a visit to the Klementinum as a must-do when you are visiting Prague. For me it was THE highlight of our trip.
I would recommend that you book a tour and go and see the Baroque Library for yourself – if you want a little flavour of the experience I have written all about it in my post "A Time Travellers Tale"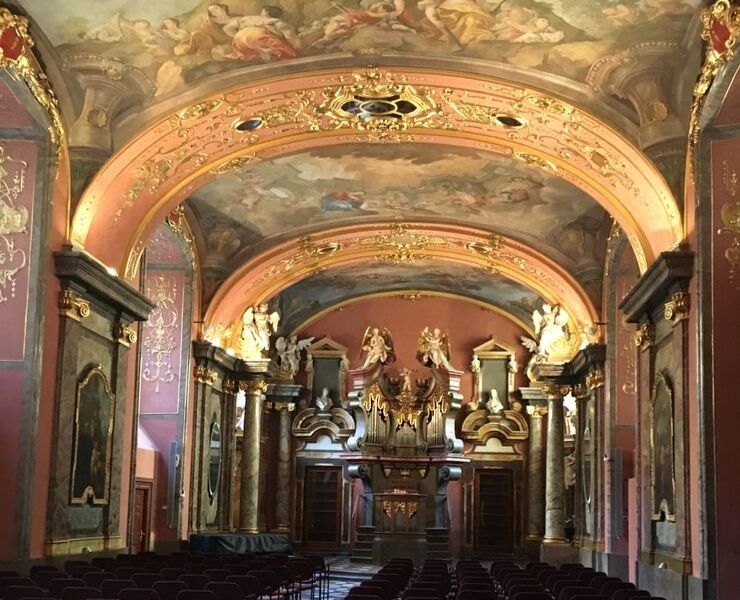 If you are visiting to Czech Republic you could explore further afield and visit cities such as in Ostrava which is located about 280 kms from Prague. Find out the number one thing to do if you visit Ostrava!
Alternatively why not head to the UNESCO World Heritage Site of Český Krumlov only 3 hours from Prague
RECOMMENDED PLACES TO EAT WHEN YOU ARE STAYING IN PRAGUE
We had a fantastic hotel which provided us with a big breakfast every day so we only really ate one other meal. I tried potatoes, cabbage and ham from a stall on Old Town Square but I have had better to be honest.
We found a lovely little sandwich shop on the ground floor of the Quadrio Shopping Centre (at Národní třída metro stop) called Apetit where prices were good and the food tasty.
We also ate twice at the shopping centre called Palladium. There is a good selection of reasonably priced restaurants on the top floor which I recommend. We had a hearty meal at Makakiko before our overnight sleep train to Cologne.
We also had one evening meal at an American diner called James Dean just off Old Town Square – we had milk shakes (blackberry – first time ever!) and steaks. A lovely meal in a nice restaurant. Highly recommended though you may need to book.
ACCOMODATION OPTIONS IN PRAGUE
You will find that hotel prices are very reasonable in Prague.
THE GRANDIOR HOTEL
We stayed at the 5* Grandior Hotel and booked a suite for less than £100 a night. It is in a great location for public transport and easy to walk around the city too. Breakfast was good and we were pleased with our choice of hotel.
Read more about the Grandior Hotel in my review.
CHECK AVAILABILITY AND PRICES AT THE GRANDIOR HOTEL IN PRAGUE
THE ART NOUVEAU PALACE HOTEL
This centrally located hotel offers free WiFi, marble bathrooms and a mini bar. The building was constructed in 1909 in the Viennese Art Nouveau style. Guests can also enjoy free access to a nearby spa and fitness centre.
RECOMMENDED TOURS IN PRAGUE
TIPS FOR VISITING PRAGUE IN WINTER – HOW TO MAKE THE MOST OF YOUR STAY
As you can see from my photographs the weather can be changeable in Prague in winter. We had sun and snow on the same day so temperatures did fluctuate by a few degrees.
Plan for the weather and pack layers to keep you warm and dry. You can read more in my recommended packing list for traveling in Europe in winter.
You may be interested in reading more about visiting Prague throughout the year including in summer!
SUGGESTED READING ABOUT PRAGUE
MAP OF PRAGUE
Enjoy your visit to Prague (whether you are visiting Prague in winter or in summer) it is a beautiful city to visit with lots to see and do. Hopefully this post will give you ideas of how best to plan your Prague itinerary for your stay.
RELATED POSTS
We traveled to Prague by train from London. This post details our trip and offers tips to help you to plan your own rail journey from London to Prague.
A guide to 15 of the best UNESCO World Heritage Sites to visit in Europe
If you are planning to visit Berlin in Germany this guide to the city will provide you with lots of helpful tips and information to help you make the best of your stay.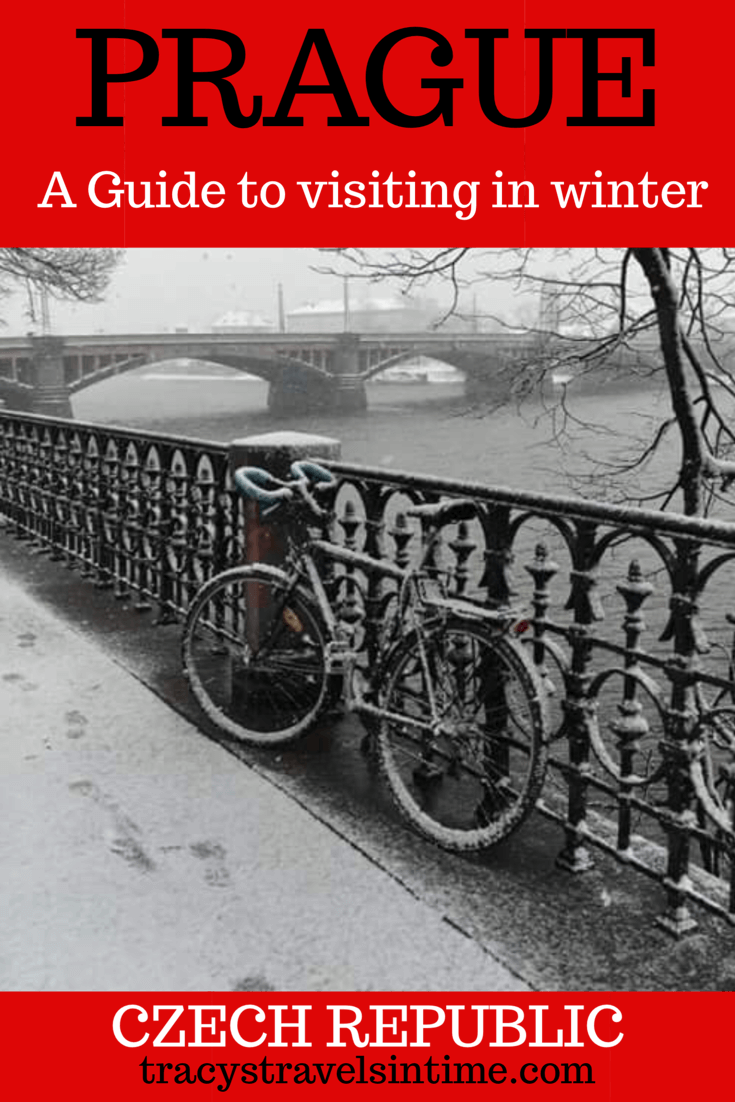 This post may contain compensated links. Please read our disclosure for additional information. As an Amazon Associate, I earn from qualifying purchases.