Are you are thinking about planning a trip to the Elafiti Islands as part of your Croatia itinerary? The islands are an easy day trip from Dubrovnik and worth adding to your itinerary if you can. In this article, you will find information about the islands and how to visit them from Dubrovnik.
The Elafiti (or Elaphiti Islands depending on your spelling of choice) are an archipelago of 13 large and small islands 4- 8 nautical miles to the west of Dubrovnik. Only 3 of the islands are inhabited – Kolocep, Lopud and Sipan.
They are renowned for their beauty and offer visitors a more relaxing alternative to the busy and bustling city of Dubrovnik.
There are many ways of getting to the islands – many companies offer Elaphiti Island tours and day trips and there is also a regular boat service offered from Dubrovnik several times a day.
As a very special treat for my husband (and a surprise) I decided to take the luxury option and hire a boat and skipper just for us for the day!
Boat trips and tours to the Elafiti Islands
What was the itinerary for the day sailing the Elafiti Islands?
Itinerary
As we had hired the boat we could decide our own itinerary and time scales (we hired the boat for a full day – 8 hours). We met Loren at the waterfront near where we were staying as we weren't staying at a waterfront hotel for him to pick us up directly from there.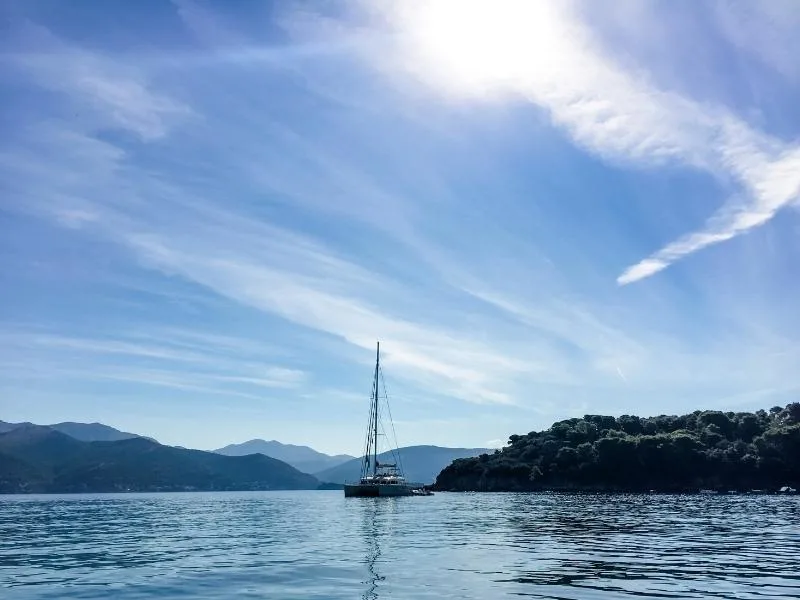 First stop – Visiting the island of Kolocep
Our first sighting on one of the Elafiti Islands was the island of Kolocep. This is the closest and the smallest of the three islands. It is a favourite resort for the people of Dubrovnik and there are lots of lovely villas on the hillsides.
Although there are some lovely walks to do on this island we decided to sail past this quiet, peaceful island and head to Sipan the furthest island instead.
Second stop – Visiting the Elaphiti Island of Sipan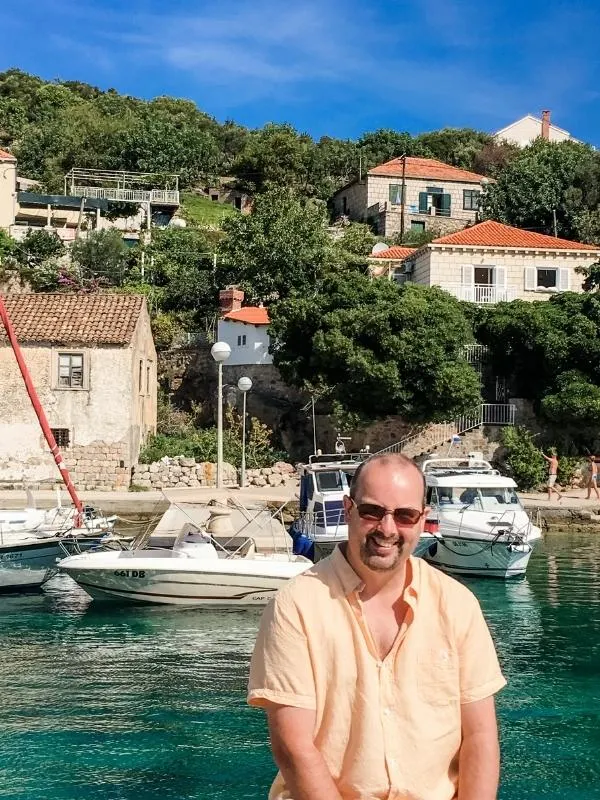 Sipan is the largest of the Elafiti Islands and is according to the local guide also the richest island. There are several villages on the island connected by a road through the island.
Olive trees and vineyards can be found amongst cultivated fields on an island with numerous churches, ruined palaces and forts.
The village of Sudurad was our stop for half an hour. A short stroll revealed a quiet, pretty village. Apart from the occasional visitors anchoring their boats in the small harbour, it must feel quite remote from the madness of 21st-century living.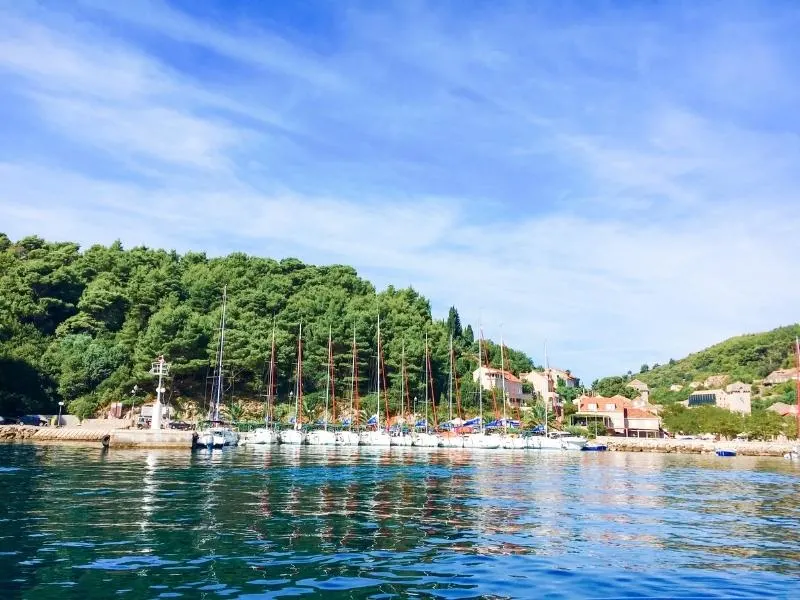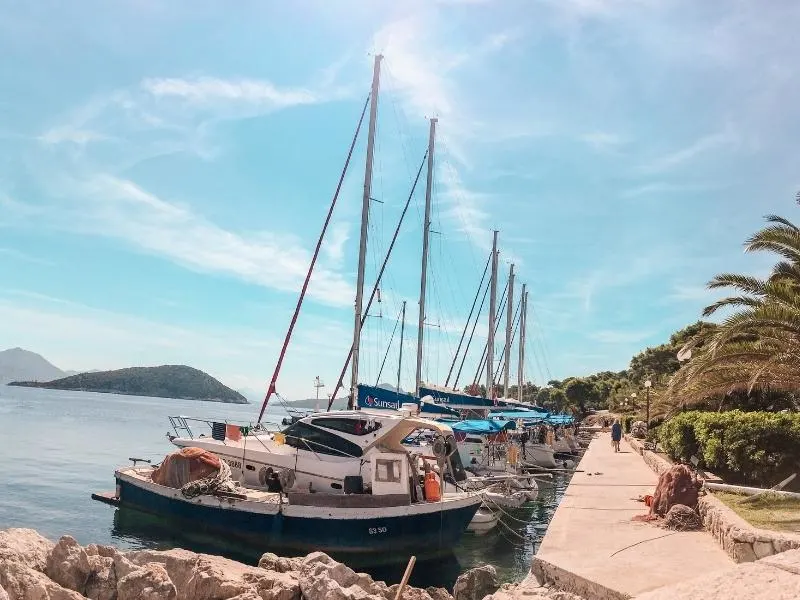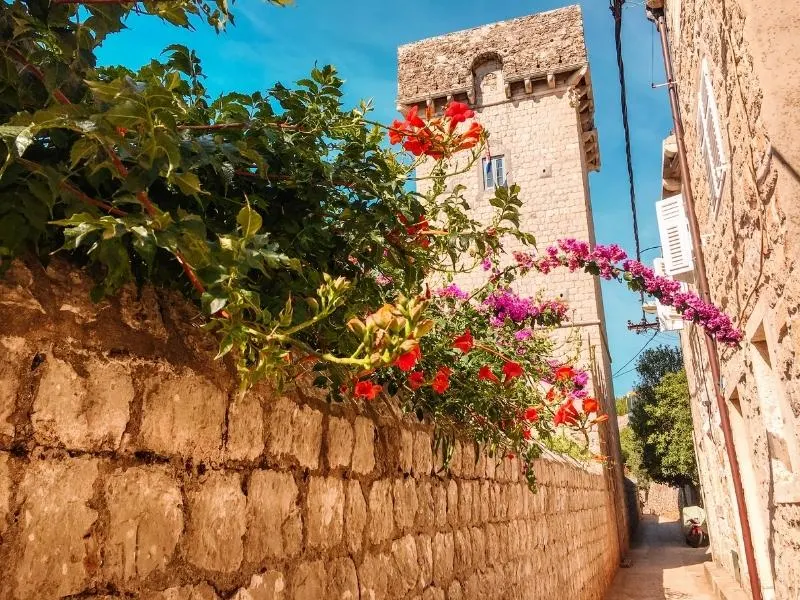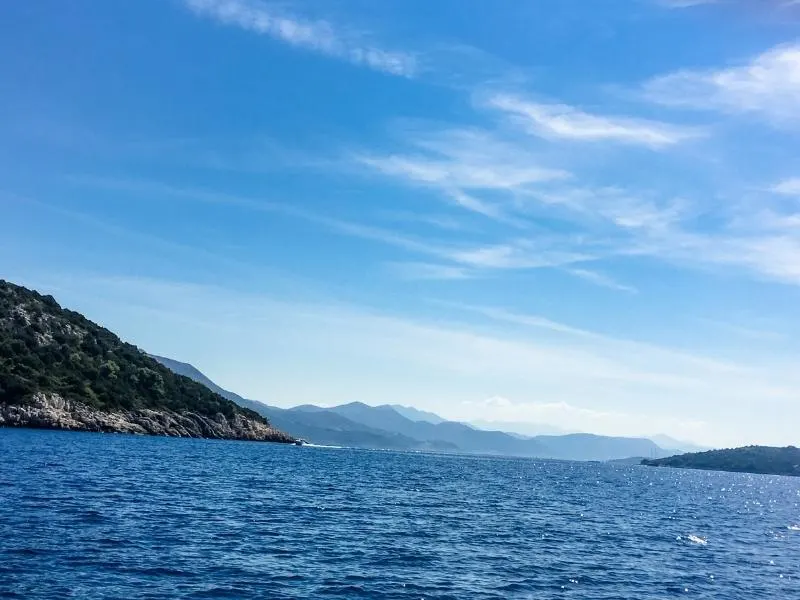 Third stop – the island of Lopud
Our last stop was the island of Lopud. This is the middle island – located between Kolocep and Sipan and is the most populated and 'touristy' of the Elafiti islands.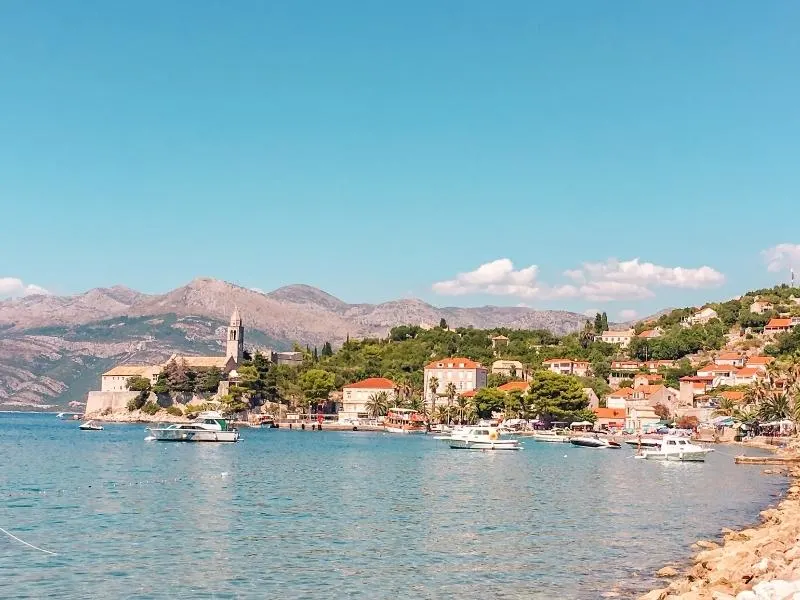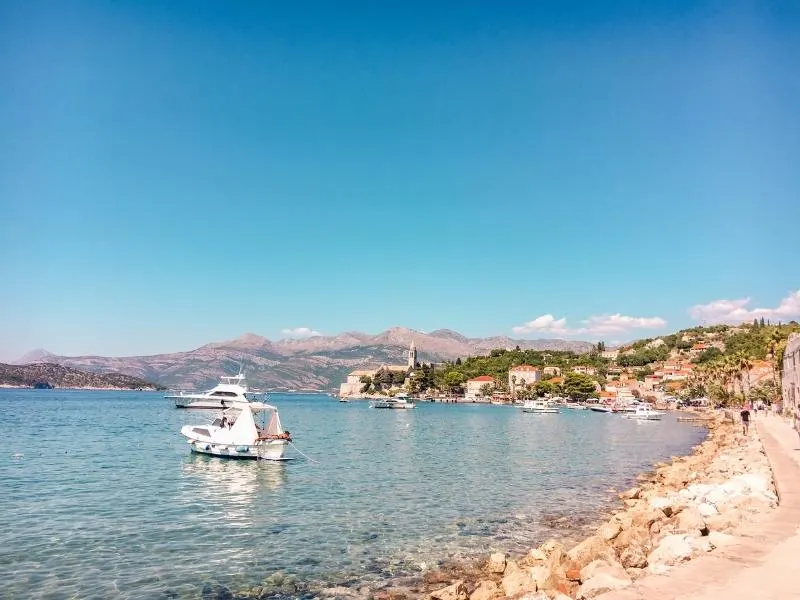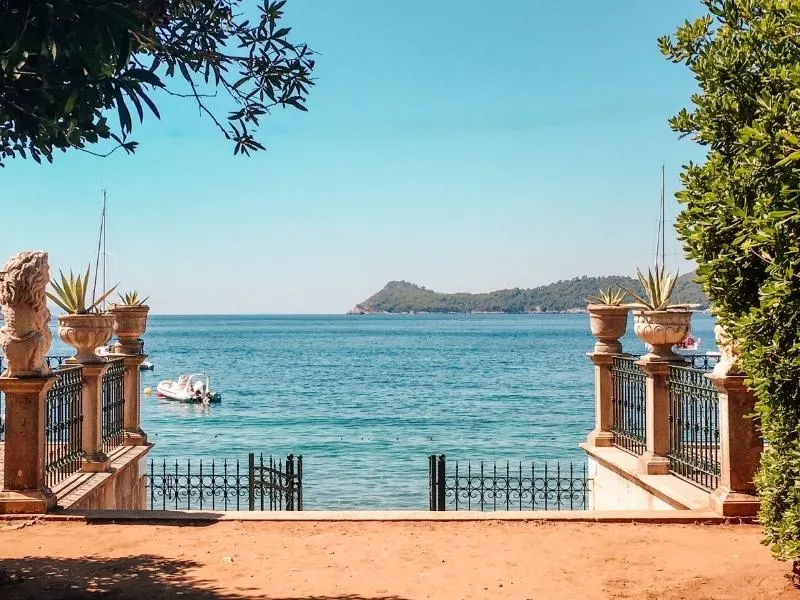 We stopped off at this island for a few hours and headed for Sunj Bay on the opposite side of the island to the harbour. There are no cars on Lopud and the only way to get to the bay (a mile away across a very steep hilly terrain) is to either walk or as we did catch a golf buggy!
Yes you read that correctly!! Catch a golf buggy!
They are waiting to carry you to the beach at a fee of 2 Euros each! I would recommend you do this as the walk in summer heat up some very steep hills is not to be underestimated! Just remember to HANG ON! They drive fast!!!
We spent a lovely few hours relaxing at the beach after hiring a sun lounger and lamenting the fact we hadn't brought a book to read! The bay is lovely as you can walk out for about 100 meters with the sea remaining at knee height.
Our last excursion of the day was a trip to see Dubrovnik from the sea. Loren offered to take us as we still had some of our time left.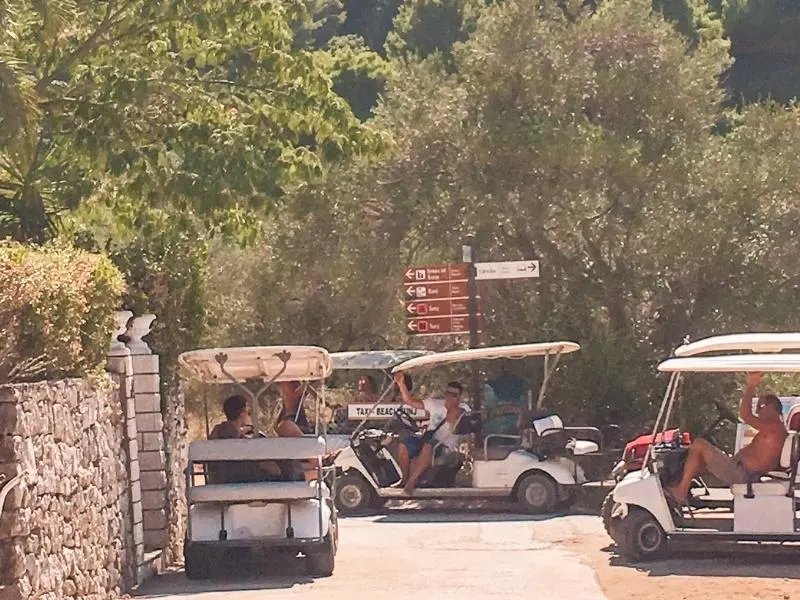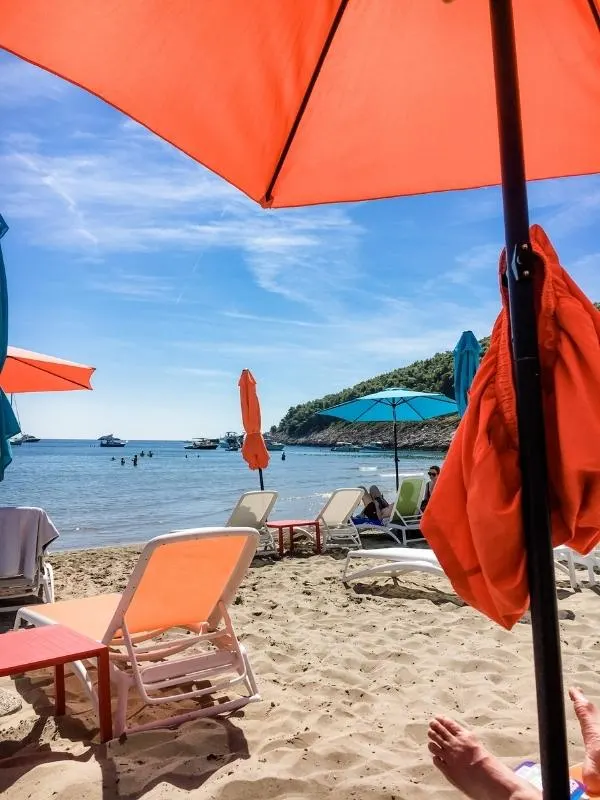 Logistics – How to plan your visit to the Elafiti Islands
As I mentioned above there are many options to get to the islands. I chose to hire a boat and we had a wonderful day. Loren communicated prior to our day out to organise pick-ups etc.
He made sure we were happy and had the best experience possible. We were provided with refreshments (cool drinks and beers) throughout the day. He made recommendations based on our preferences.
Take your swimming costume, towels, camera, something to read (we forgot our books). We bought sandwiches and fruit on Lopud and there are restaurants on this island if you want a sit-down lunch. We ate our lunch on the beach and had an ice cream later when we got back into the village.
I will also mention that you can swim from the boat. He provides a Go-Pro for use in the water and will take you to the best locations. We didn't do this only because I am not a fan of swimming in deep water/snorkelling and prefer the shallows! I know I know but that's me!! If you are adventurous why not take a kayaking trip around the islands?
Please note views are all my own and we received nothing in exchange for mentioning this company – we just liked them!
Visiting Croatia
The following articles about Croatia are useful reading when planning your trip: