Whether it's a return trip or a first-time visit, Venice is a destination that belongs on every discerning traveller's bucket list. Where else on earth can you travel by gondola, walk through a car-free city centre or photograph such unique sights? And – where are the best places to stay in Venice?
There are no roads running through the heart of Venice. Only canals. The mighty Grand Canal is the biggest of them all. Visitors also flock to St. Mark's Square to marvel at the magnificent basilica with its campanile bell tower and Byzantine mosaics. Or to drink coffee or sip a bellini at one of the Veneto capital's most iconic cafes or bars.
Wander the streets of Venice and you couldn't be anywhere else on earth. More than 100 small islands make up the city built on water, and it's a UNESCO World Heritage site. The artistic and architectural achievement of Venice is undeniable – and breathtakingly beautiful.
If you want to discover Venice, then you're going to need to spend at least a few days in this unique location. This guide is here to help you find the right place to stay in Venice, according to your preferences and pocket.
Beginning with a guide to the six main areas of Venice, we'll then move onto the best places to stay in the northern Italian city. Let's begin by outlining the top Venice neighbourhoods you have to choose from.
Best places to stay in Venice – Quick Picks
The best area to stay in Venice – 6 districts
Venice is made up of six districts – or sestieri. Each of these is packed with attractions and charms of its own. Here's a brief outline of each so you can decide the best area to stay in Venice.
Dorsoduro
Dorsoduro is perfect for lovers of academia, art and after-dark bar crawls. The university is here in addition to the Gallerie dell'Accademia which is home to numerous masterpieces by Carpaccio, Titian and Tintoretto.
Leonardo da Vinci's famous Vitruvian man drawing is also here. There's also a beautiful 17th century church, the Basilica di Santa Maria della Salute.
Pros:
Great nightlife
Near art gallery
Authentic Venetian feel
Cons: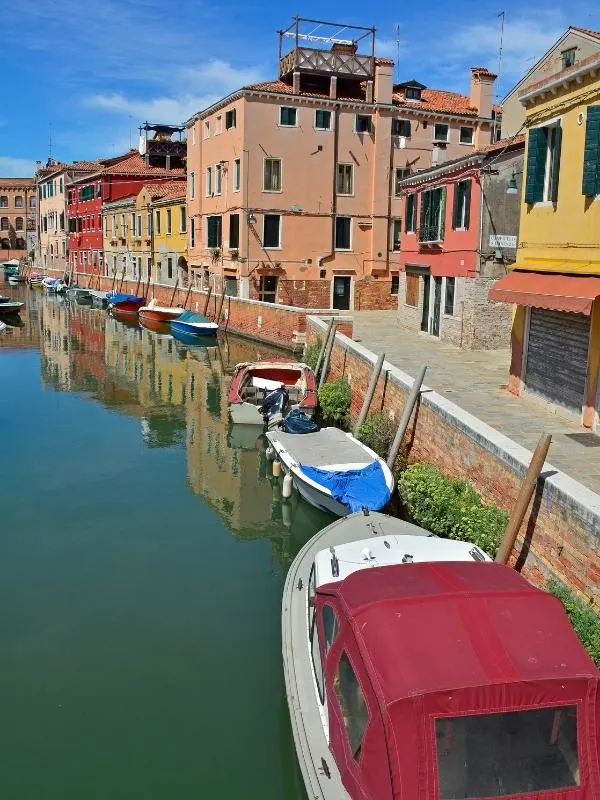 San Marco
St Mark's Square is known all over the world and that's why this area is tourist central. As well as the famous basilica and campanile, the Bridge of Sighs is also in this Venetian neighbourhood.
It's also a shopper's paradise, as the Mercerie is a network of tiny lanes packed with lovely little stores.
Pros:
The touristic heart of Venice
Packed with key sights
Iconic cafes and bars
Cons:
Full of tourists
Expensive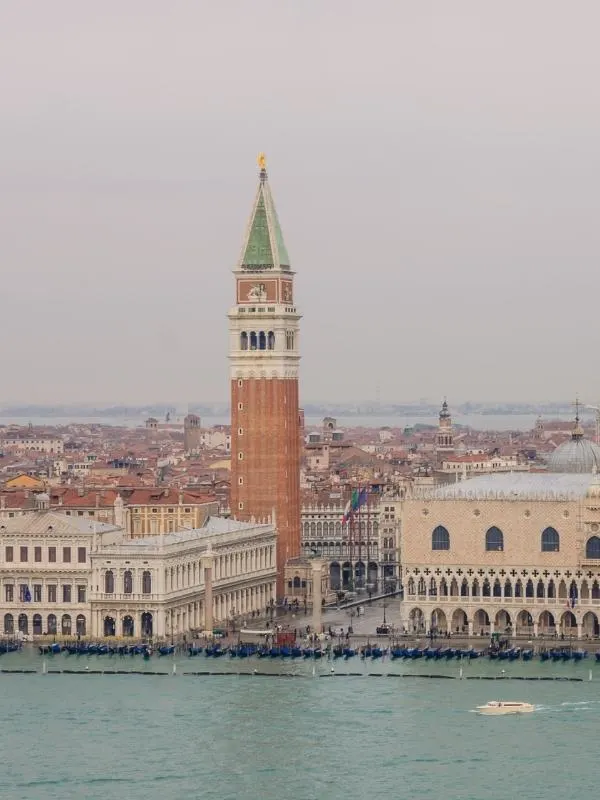 Cannaregio
The main train station – Stazione di Venezia Santa Lucia – can be found in this district. Cannaregio has the largest population of any Venice sestiere. The centuries-old Jewish Ghetto is also located here.
Pros:
Neighbourhood feel
Cheaper accommodation
Convenient for the train station
Cons:
Furthest area from the tourist sites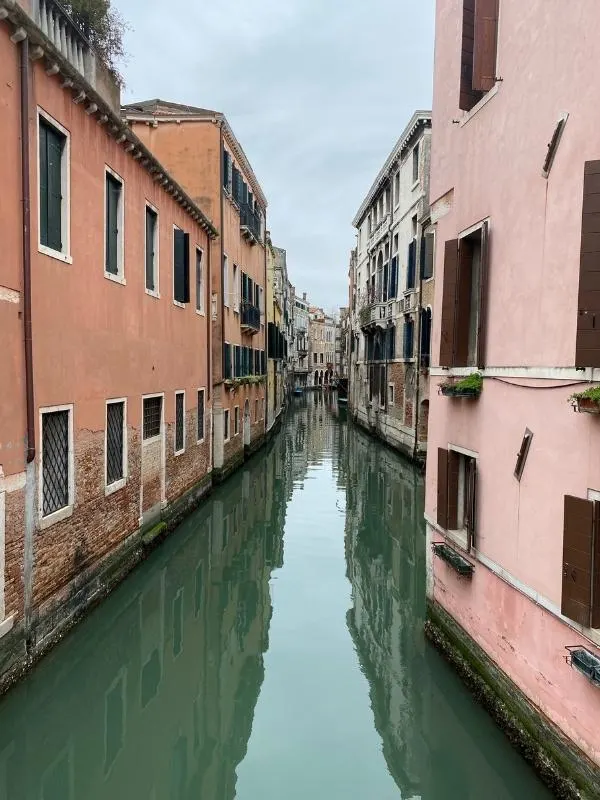 Castello
This atmospheric part of Venice can seem a little spooky after dark, so it's ideal for a carnival or Halloween visit. Maybe not one to wander around in on your own, though, if you're easily scared!
We have to admit we've been lost in this area, but then that's part and parcel of visiting Venice. The city hospital is here, and the Arsenale – a sizable Venetian boat-building site.
Pros:
Local vibe
Affordable hotels
Close to the Arsenale
Cons:
Not as picture perfect as some areas
San Polo
San Polo and San Marco are linked by the Rialto Bridge, so it's on the other side of the Grand Canal. Campo San Marco – the second largest square in Venice – is also here.
The canalside Rialto markets here are great for shopping – as well as Grand Canal views.
Pros:
Good for families
Near the Grand Canal
Lots of cafes and restaurants
Cons:
Some attractions are a long walk away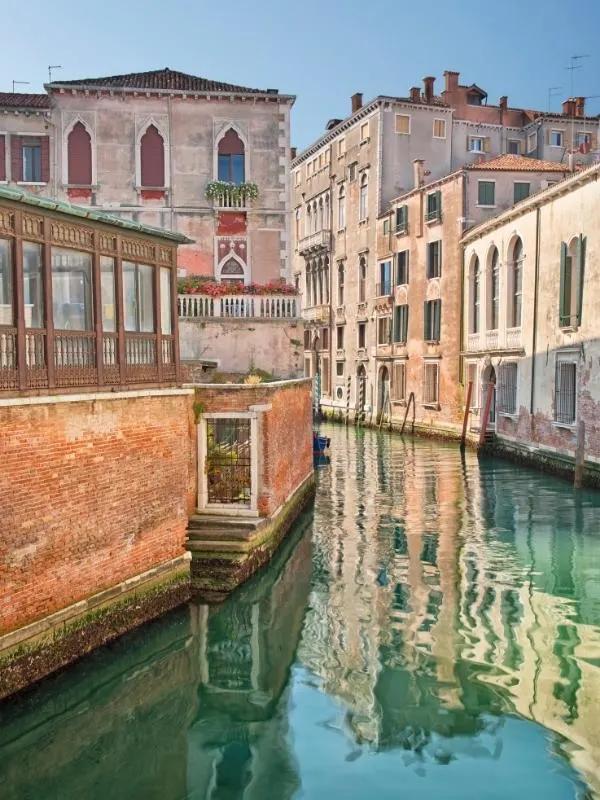 Santa Croce
If you're arriving by water then Santa Croce could be a good choice, as it's where you'll find the Stazione Maritime. This area is slightly further from the action though.
Pros:
By transport hub
Far less crowded
Cheaper to stay in
Cons:
Insider tip – Where not to stay in Venice
Don't even bother booking into the best hotels in Mestre, Venice. This is well away from the sights you'll want to visit and a world away from the setting you'd expect in this city!
16 of the best places to stay in Venice
So now you know a little about the neighbourhoods and can pick the best location to stay in Venice, here's a list of the best Venice hotels to choose from.
3 hotels in Dorsoduro
Price: Mid range
Best for: Affordable luxury
Location: Dorsoduro
Pensione Accademia is a top pick when you want to stay in Dorsoduro. It's one of the nicest hotels in Venice for the price. All accommodation have garden or canal views and single, double, triple and quad rooms are available.
Price: Luxury
Best for: 19th century style
Location: Dorsoduro
In the heart of Dorsoduro is this fabulous property. For many this is the best neighbourhood to stay in Venice and this hotel is top-notch. Expect 19th century Venetian looks and large rooms. Some have spa baths or outdoor terraces.
Price: Top end
Best for: Grand Canal views
Location: Dorsoduro
For a truly memorable stay, snap up a room at Sina Centurion Palace. Canal views, five star luxury and a vaparetto stop right outside can be yours. This place has style, outstanding service and an unparalleled spot in arguably the best part of Venice to stay.
3 hotels in San Marco
Price: Mid range
Best for: Gondola views
Location: Campo Sangallo
For many, the area around St Mark's square is the best area in Venice to stay. This historic 16th century building offers a range of air-conditioned accommodation for up to five guests with free WiFi, flat-screen TVs, coffee machines – and canal views.
Price: Mid range
Best for: Walking everywhere
Location: San Marco
Palazzo Pianca is a solid mid-range pick in an excellent location. This area is up there as the best area to stay in Venice for a first time visitor, and the property offers a range of clean, comfortable, luxurious and spacious rooms and suites.
Price: Top end
Best for: Bucket list stay
Location: Riva degli Schiavoni
If you don't mind pushing the boat out – or should we say gondola – then Hotel Danieli is a must. The three buildings here are connected by covered walkways and offer incredible facilities, views and service. This isn't just one of the best hotels in Venice Italy – it's one of the most famous hotels in Europe.
3 hotels in Cannaregio
Price: Luxury
Best for: Outdoor garden
Location: Venezia Cannaregio
Cannaregio is also one of the best neighbourhoods in Venice, Italy and here you'll find Madama Garden Retreat. Rarely for this city, and especially a four star place, it has a lovely garden. In fact every room here has its very own patio!
Price: Luxury
Best for: Rialto Bridge views
Location: Cannaregio
This is one of the best romantic hotels in Venice when you're on a four star budget. Accommodation is authentically Venetian in style, and the property has a bar complete with an outdoor terrace. The setting by the canal and bridge is as stunning as the interior.
Price: Top end
Best for: Palace stay
Location: Fondamenta Cannaregio
Surely this is one of the most romantic hotels in Venice? It's housed in a former palace, and looks just the part once you step through the doors. There's a lovely garden here and the hotel boasts a bar, restaurant and gym.
3 hotels in Castello
Price: Top end
Best for: Spa on site
Location: Riva de la Ca' di Dio
This small luxury hotel is perfect for those who want a more intimate atmosphere – as well as a spa and bar. It's one of the top places to stay in Venice when you want a property with a modern look too.
Price: Mid range
Best for: Modern style
Location: Calle Casselleria
If you want a boutique look at a reasonable price, then go for this one. Contemporary style makes this one of the most cool places to stay in Venice – and it's close to Piazza San Marco. The building has been fully restored and the area has a neighbourhood feel.
Price: Mid range
Best for: Self catering
Location: Campo della Fava
Self-catering suits some better than a hotel, and this is among those Venice best places to stay for those who want kitchen and laundry facilities. There's air conditioning and a dishwasher in each one or two bedroom apartment.
2 hotels in San Polo
Price: Luxury
Best for: Cocktail bar and terrace
Location: Riva del Vin
This is another of those Venice, Italy places to stay with a bar and terrace. Some of the rooms and suites have views over the Rialto Bridge, and the modern accommodation comes with a lounge area, luxury toiletries and a coffee machine.
Price: Budget
Best for: Affordable stay
Location: Campo Sant'Agostin
If you want a cheap stay in Venice, pick this one. It has great ratings and is not too far from the major sights you'll want to see. Single, triple, double and quad rooms are available and there are friendly staff and a small bar.
2 hotels in Santa Croce
Price: Luxury
Best for: Close to transport locations
Location: Campo Nazario Sauro
This is a contender as the best hotel to stay in Venice if you don't mind a ten minute walk to the train station and Rialto Bridge. Doubles and suites are available, and the helpful staff can give you tips about where to go in the local area.
Price: Mid range
Best for: Dining in
Location: Santa Croce
This is one of the best hotels in Venice, Italy when it comes to dining at the restaurant on site. The decor has a local feel too, with antiques, chandeliers, tapestries and Murano glass. There's also a terrace with canal views at the Garden cafe here.
Where will you stay in Venice?
We hope this rundown of best places to stay in Venice, Italy has given you some inspiration.
Any good hotel in one of these six areas will make a great base, so you can spend more time seeing the sights, walking the car-free streets and of course sampling all that delicious Italian food!
More to read about Italy