This post may contain compensated links. Please read our disclosure for additional information. As an Amazon Associate, I earn from qualifying purchases.
(This one day itinerary for Milan was updated in July 2019)
If you only have one day in Milan you may be wondering exactly what you can see in this short period of time.
Although I had been to Italy on many occasions we had only changed trains in Milan and continued on our journey without seeing anything of the city. On a recent train tour of Italy we found that we had one full day in the beautiful city of Milan after arriving from Venice and prior to continuing onto Switzerland via the Bernina Express.
It gave us some time to explore the city and even though it was a pretty full day I was quite happy with what we were able to see and do.
If your Milan itinerary only allows one day in Milan these are the top sights I would suggest adding into your plans.
The Duomo
Galleria Vittorio Emanuele 11
La Scala Opera House
Santa Maria delle Grazie and The Last Supper (with tips about how to see the Last Supper if you in Milan for one day)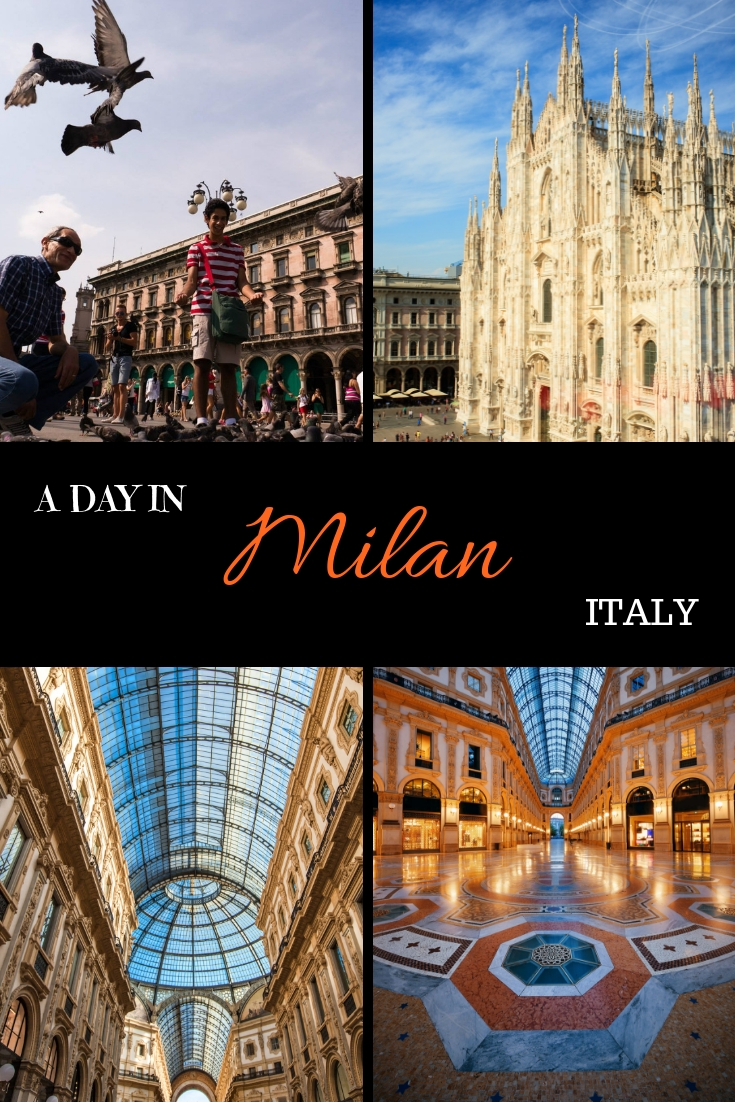 THE DUOMO
Start your day at the Piazza del Duomo!
The Duomo in Milan is one of the world's largest cathedrals. Construction was started in 1386. The cathedral was consecrated in 1418 building works continued for another 200 years.
There are 52 pillars inside the cathedral to mark each week of the year and a sundial on the floor to help keep track of time. The marble floor is the original and very beautiful. Spot the signs of the zodiac as you walk along.
There are also 3,400 statues that adorn the cathedral including the famous Statue of St Bartholomew flayed.
TIPS WHEN VISITING THE DUOMO
You will be searched when entering – no liquids are allowed into the cathedral.
The queues will be very long in summer so I would highly recommend that you purchase a ticket to skip the line!
RECOMMENDED TOUR
Enjoy a 1.5-hour tour of the Milan Cathedral complex, including the terraces and the archaeological area beneath the cathedral. Discover the history of this famous monument with your expert guide. You'll also have access to the Duomo Museum and San Gottardo Church.
Skip the lines and enter the cathedral. Admire this stunning example of Gothic architecture, and the artworks that decorate its interior. Continue to the rooftop terraces by elevator, for breathtaking views over the city. Then explore the archaeological area beneath the Duomo, where the ruins of the Baptistery of San Giovanni alle Fonti were found.
After your guided tour, you can visit the Duomo Museum and San Gottardo Church on your own.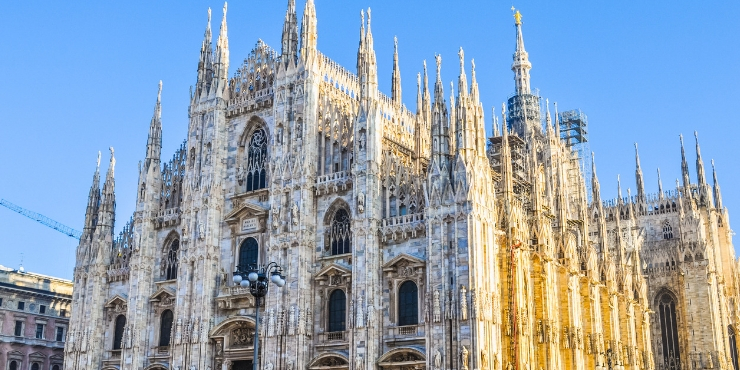 GALLERIA VITTORIO EMANUELE 11
A short 3 minutes walk from the Duomo you will find the Galleria Vittorio Emanuele 11. What can I say? It is a shopping mall but like no other I have ever seen. and is truly stunning.
The centre opened in 1877 and really is worth a visit though I wasn't sure if anyone actually does any shopping in it or if it is just full of tourists taking photographs all the time!
It is really lovely and the forerunner of all our present day shopping malls and 'gallerias'.
TIPS WHEN VISITING GALLERIA VITTORIO EMANUELE 11
I f you want to take a photo of the famous (and very beautiful) tiled floor you need to get up early in the morning before the tours arrive.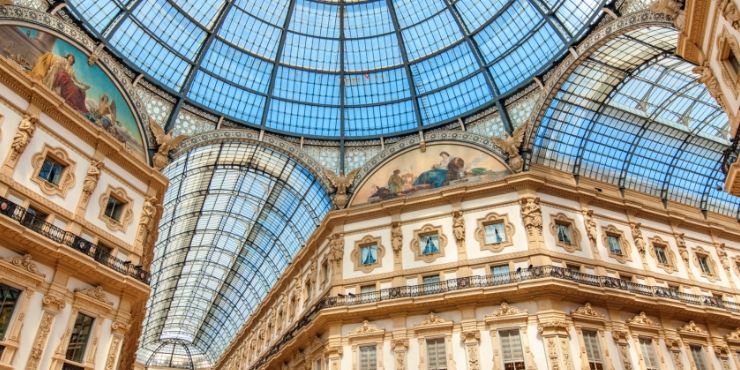 TEATRO ALLA SCALA – LA SCALA OPERA HOUSE
La Scala Opera House in Milan is one of those iconic buildings with which we are all familiar (opera fans or not) and it is worth visiting as it is only a few minutes walk from the Galleria. The building may not be too impressive from the outside but once you are inside you will find it is very beautiful.
La Scala is situated in the Piazza della Scala a few minutes walk from the Galleria. Make sure you don't miss the statue of Leonardo Da Vinci which stands in the centre of this square.
The theatre opened in 1778 and has been renovated a number of times since it opened. During WW2 it suffered significant damage.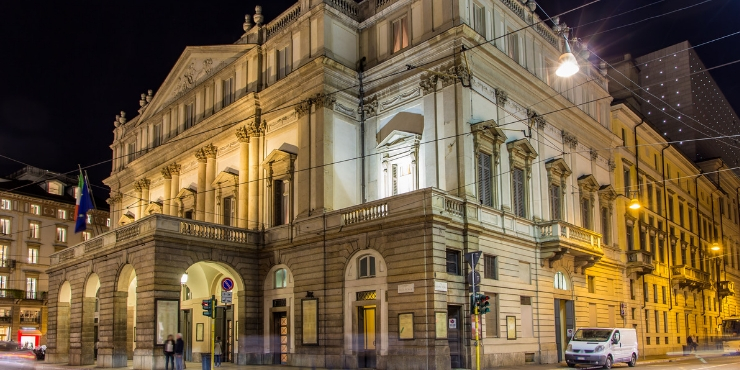 SANTA MARIA DELLE GRAZIE AND THE LAST SUPPER
Da Vinci's mural "The Last Supper" is painted on one wall of the refractory attached to the church of Santa Maria delle Grazie. The mural was painted by Da Vinci between 1495–1498. The mural has been restored numerous times over the years and narrowly escaped destruction when it was bombed during the second World War.
If you want to see what is arguably one of the greatest pieces of art in the world I would recommend that you book ahead of your arrival in the city. Tickets can be purchased up to 3 months in advance on the official website but they can sell out quickly particularly during the busy summer months.
If you are unable to book tickets through the official website I would suggest booking a third-party tour. This is what we did and we found it a great way to ensure we could see the painting on the date we were in Milan.
Visitor numbers to view the painting are limited to only 25 people at a time. There is one entrance in and another out and you pass through a humidity controlled chamber before entering. Once in the room you have 15 minutes to enjoy the painting.
TIPS WHEN VISITING THE LAST SUPPER
There are many websites posing as the official site for the Last Supper – this is a link to the official website.
If you aren't able to book tickets for the day you want I would suggest booking a tour.
RECOMMENDED TOUR WITH GET YOUR GUIDE
Your guide will take you inside the old Refectory of an ancient Monastery where you can admire the Last Supper painting. Spend 15 minutes in front of the painting and learn all about the incredible history behind it.
CLICK HERE TO BOOK YOUR TOUR FOR GUARANTEED ACCESS TO THE LAST SUPPER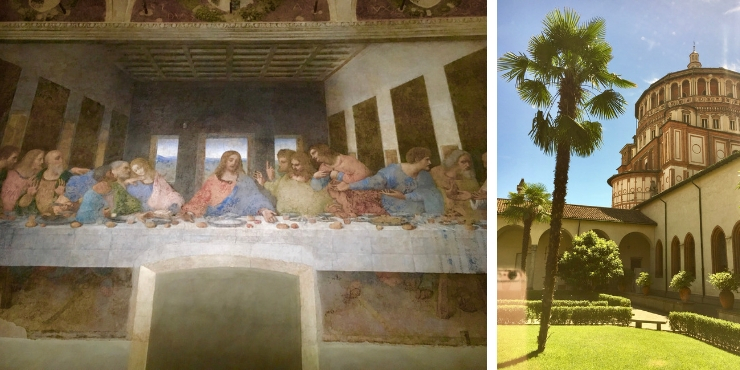 ---
ONE DAY IN MILAN – SUGGESTED ITINERARY AND MAP
---
Morning
DUOMO, GALLERIA VITTORIO EMANUELE 11 AND LA SCALA
LUNCH
Afternoon
---
HOW TO GET AROUND MILAN
---
Most of the sights are within walking distance of each other. If you haven't booked a tour to The Last Supper and have to travel to Santa Maria Delle Grazie independently I would recommend taking the Metro or calling an Uber.
---
TIPS WHEN VISITING MILAN
---
We visited Milan in August which is the busiest time of year. If you are visiting during the height of the tourist season book tours, hotels and tickets in advance or you may find it difficult once in Milan.
Wear comfortable shoes as you will be walking a lot!
Stay near to a metro station as this is the the easiest way to get around the city.
Beware of pickpockets and scams when you are on trains or in busy areas. I recommend using an anti-pickpocket bag to protect your belongings. I never travel in Europe without one as pickpockets are unfortunately all too common.
PIN FOR LATER! ONE DAY IN MILAN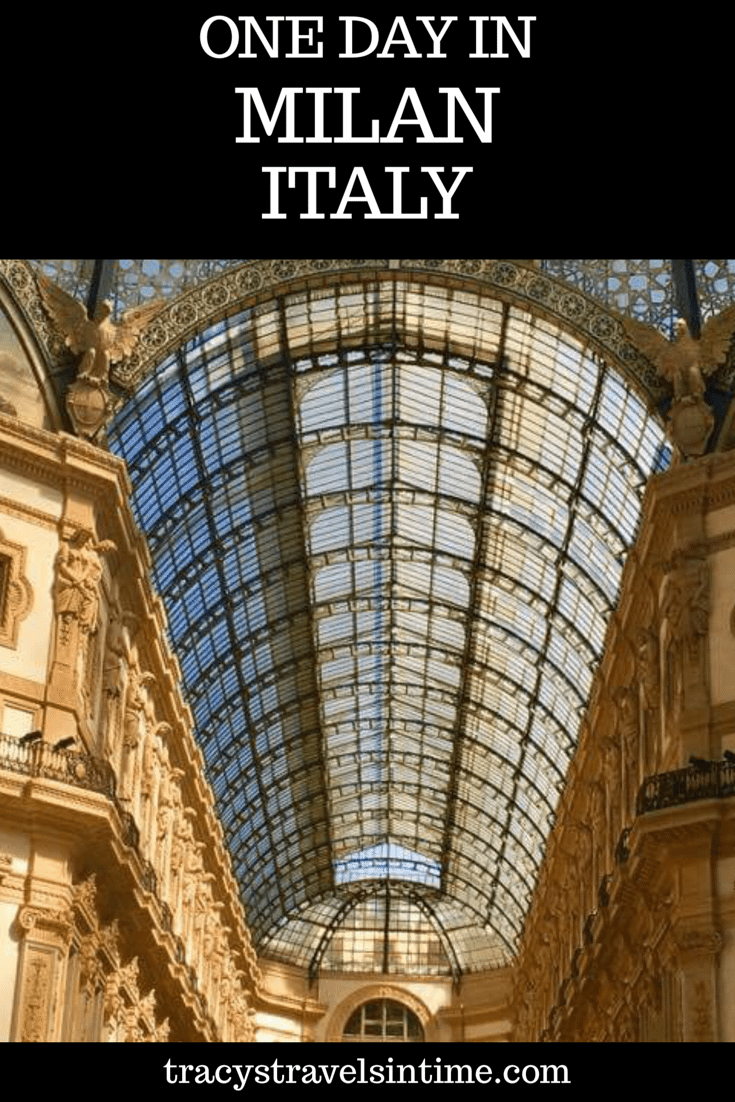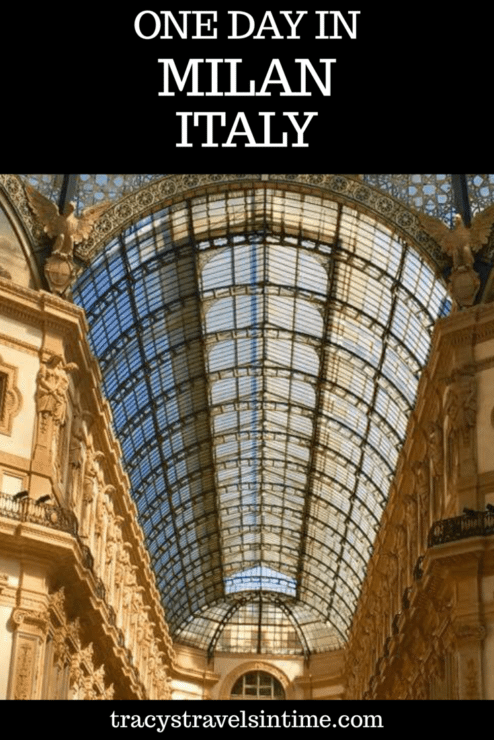 YOU MAY ENJOY THESE POSTS TOO!
This post may contain compensated links. Please read our disclosure for additional information. As an Amazon Associate, I earn from qualifying purchases.
Over the last 50 years I have lived and worked in 7 countries on 4 continents and travelled to many more. I enjoy exploring and learning about new places and meeting people on my travels. History, reading, photography, nature and wildlife are my interests and I am ALWAYS researching and planning my next trip (preferably by train)
With a lifetime of travel experience, and a network of friends all over the world, I share genuine insider guides, recommended best book lists and train journey inspiration to help YOU travel authentically to some of the most beautiful places on earth.
Come and join me as I travel the world one country (and train journey) at a time!