Discover the best places to stay in Bergen for all budgets and travel styles in our area and accommodation guide to Norway's second largest city and gateway to the fjords.
If you're planning a trip to Norway's second biggest city, then you'll need to know where to stay in Bergen! Surrounded by dramatic mountain peaks and glittering fjords, Bergen is a must on many a Norway itinerary.
The city itself is also home to colourful waterfront buildings, fascinating little alleyways, pretty parks, fabulous old buildings and a university. So where is the best place to stay in Bergen when you want to see them all?
This guide will walk you through all the places to stay in Bergen. First, the guide to the districts will help you work out which of the places to stay in Bergen will suit you best. Next up is a range of accommodation in Bergen, Norway so you can get all booked up in just a few clicks!
Let's get started by taking a look at which could be the best area to stay in Bergen for you.
Where to stay in Bergen
Quick picks for your stay in Bergen
A 5 area guide to where to stay in Bergen
The best places to stay in Bergen are Sentrum, Bryggen, Nygårdshøyden, Nordnes and Årstad. Here's a little about each Bergen, Norway area you could stay in.
Bryggen
In a nutshell – The iconic, UNESCO listed Bergen waterfront is found in Bryggen.
Bryggen is home to Bergen's picture postcard waterfront. The UNESCO world heritage site is famous for its colourful buildings, and staying here means you're close to all of the city's key sights. As well as the Fløibanen funicular railway for mountain access.
You don't have to pay five star prices to stay here – there are some really good four star properties in Bryggen. The waterfront apart, exploring the narrow lanes in this district can be great fun.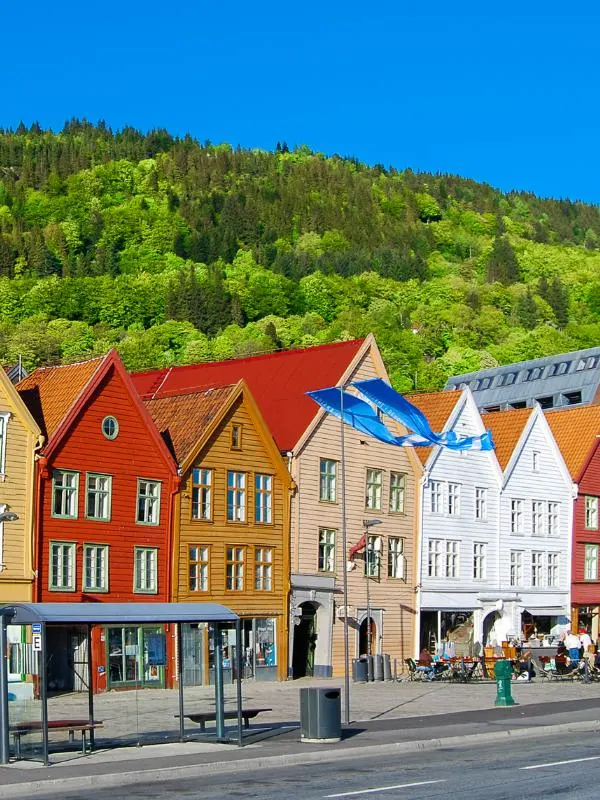 Sentrum
In a nutshell – Sentrum is the city centre of Bergen, and has some top-class hotels.
Sentrum literally translates as the centre. So stay in Sentrum and you'll be very well placed for exploring all that Bergen has to offer. This is one of the best areas to stay in Bergen in terms of choice, too – there's accommodation for all tastes and budgets to be found here.
An eclectic mix of modern and old buildings characterises this part of Bergen. Bustling Torgallmenningen Square is the beating heart of this central neighbourhood.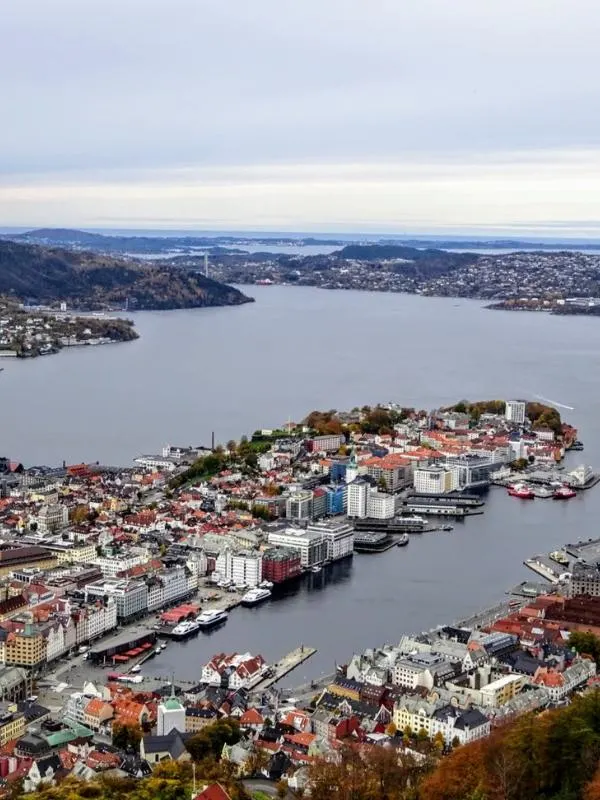 Nordnes
In a nutshell – Nordnes is located very near the water, and has more of a local feel.
This part of Bergen is close to the water and more peaceful than the busier districts. There's a lovely park and swimming pool here, and this locale has more of a family and neighbourhood vibe than other parts of town.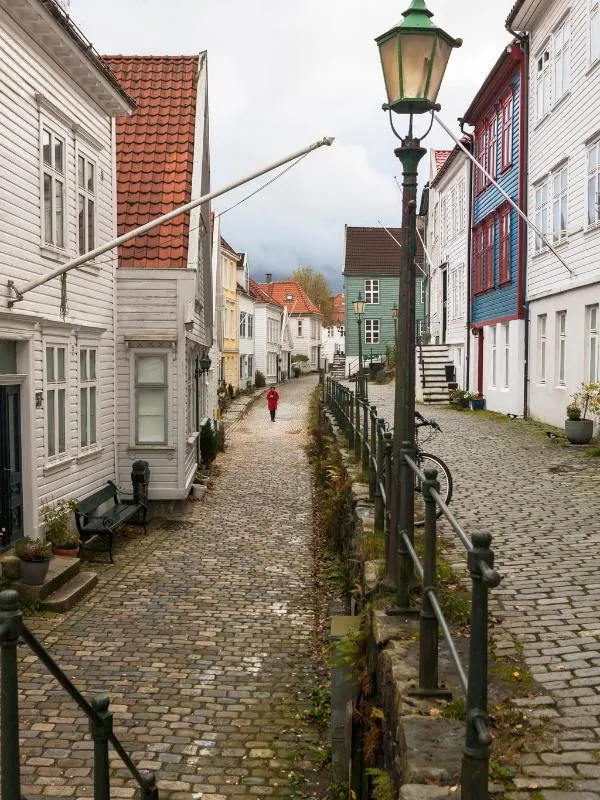 Nygårdshøyden
In a nutshell – The university and Nygårdsparken are based in the Nygårdshøyden area.
Nygårdshøyden is home to Bergen University, so there's a student population here. Pleasant Nygårdsparken can also be found here, which has a small lake. You can walk to both Fløibanen cable car and Bryggen in around a quarter-of-an-hour from here.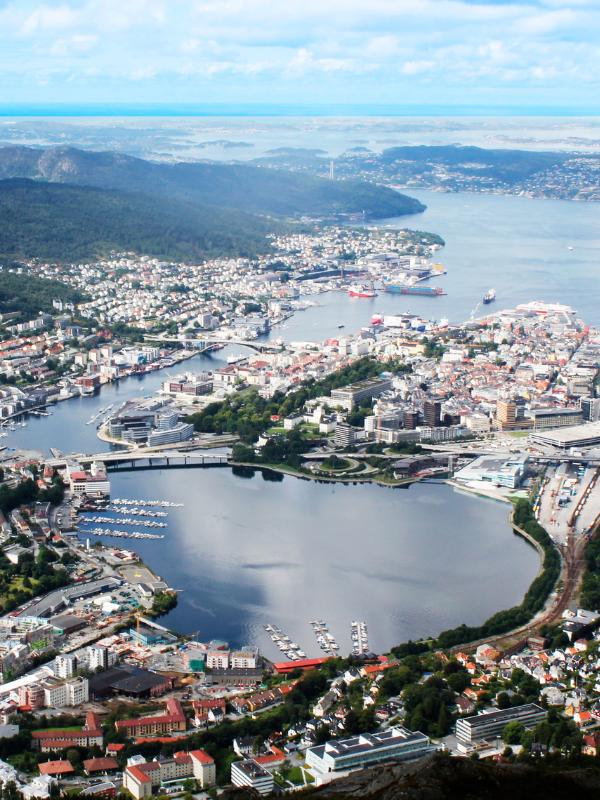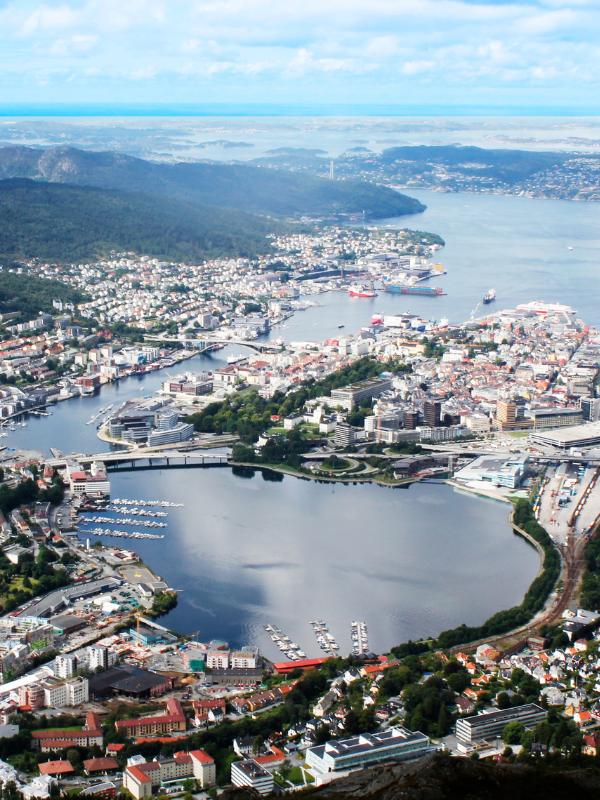 Årstad
In a nutshell – High quality budget accommodation abounds here, but it's further from town.
The Årstad area is south of central Bergen, so you'll be a little further from town if you decide to stay here. You can get great value accommodation here, however. Another advantage is this residential area has more of a local feel than other, more central districts.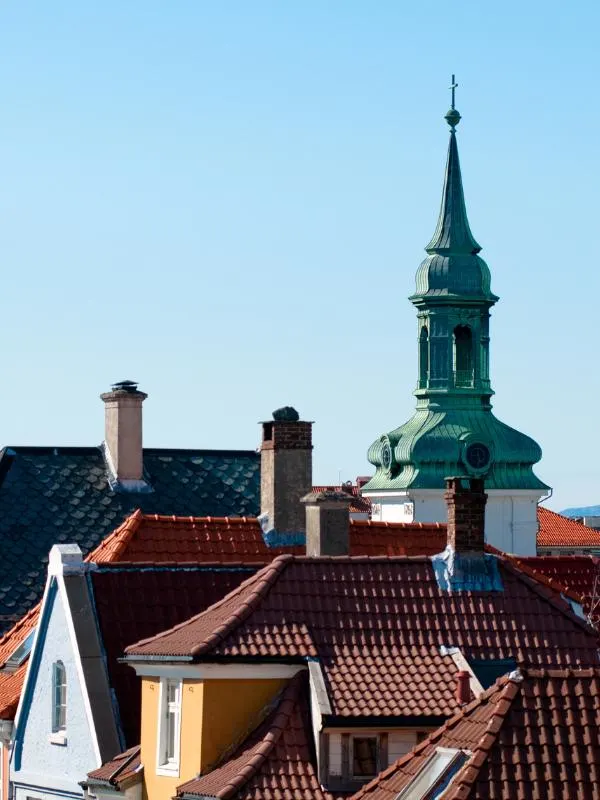 11 of the best places to stay in Bergen
TOP PICK OVERALL
Location: Sentrum
Star rating: ⭐️⭐️⭐️⭐️⭐️
Five Star Opus VXI – or Opus 16 – is one of the top hotels in Bergen, Norway. The building dates from 1876, and this palatial property offers a range of plush, individually decorated rooms and suites. Saturday Afternoon Tea in the restaurant here is not to be missed if you're staying during the weekend.
Deluxe amenities to expect include bathrooms with underfloor heating and rainfall shower, lounge areas, minibars, flatscreen TVs and in-room tablets. A Norwegian buffet breakfast is served daily and the hotel also has a bar and gym.
Pluses:
Five star luxury
Individually designed rooms and suites
All attractions within a few minutes' walk
Minuses:
Location: Sentrum
Star rating: ⭐️⭐️⭐️⭐️⭐️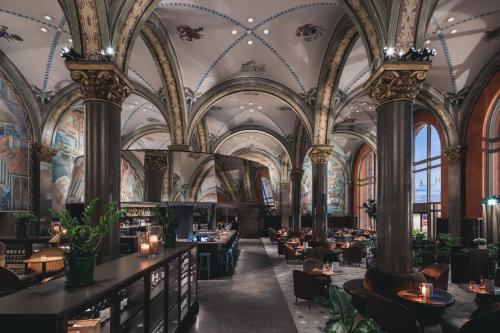 The building housing the Bergen Børs Hotel was formerly a stock exchange, and now offers five star luxury for visitors to Norway's second city. If you're wondering where to stay in Bergen, Norway and you're fond of cocktail hour, then you'll love the bar here!
There's also a Scandi-style restaurant on site so you can sample local cuisine. Other amenities include a 24-hour front desk, a gym and rooms with coffee machine and minibar. There's a good range of room types too, including harbour view, loft and city view corner suite accommodation.
Pluses:
Cocktail bar
Former stock exchange
Scandinavian restaurant
Minuses:
Not as close to Bryggen as some
Location: Sentrum
Star rating: ⭐️⭐️⭐️⭐️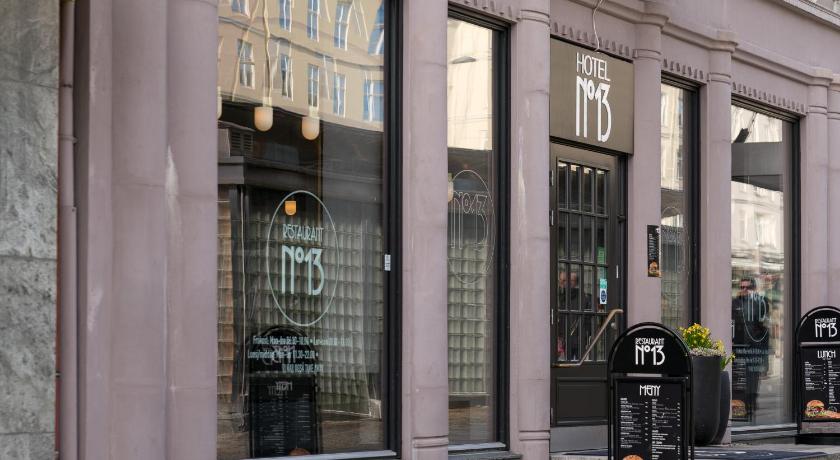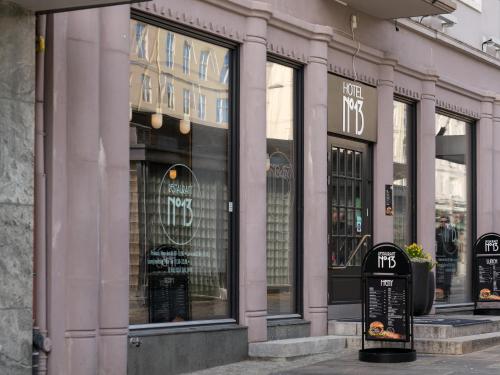 This four star property offers deluxe Bergen, Norway lodging in the heart of the city. It's located on Torgallmenningen Square, with Bryggen within easy walking distance. This property is slick and stylish, with a smart bar and restaurant on site.
It's incredibly easy to ebay out when staying here too, as there are plenty of local eateries within a few minutes' walk. The standard, superior and deluxe doubles are perfect for couples, and all rooms feature modern decor throughout.
Pluses:
Bar and restaurant
Right by local eateries
Torgallmenningen Square location
Minuses:
Location: Sentrum
Star rating: ⭐️⭐️⭐️⭐️
Torgallmenningen Square in Bergen is also home to Thon Hotel Bristol. This property offers four star Bergen lodging, and the rooms here feature a bright colour palette rather than being bland. Breakfast is served daily in the city view restaurant on the top floor.
From here it's under ten minutes' walk to the funicular and the waterfront, and you're also close to lots of city centre bars, restaurants and shops. Guests staying here can also enjoy free coffee and tea in the lobby during their visit.
Pluses:
Lots of local amenities
Top floor city view eatery
In Torgallmenningen Square
Minuses:
Location: Bryggen
Star rating: ⭐️⭐️⭐️⭐️
With the world famous, UNESCO listed Bryggen Wharf only 100 metres away, Thon Hotel Rosenkrantz is the best hotel in Bergen for four star style and location. Accommodation here is boutique-style, and the property is also just a few minutes on foot from the Fløibanen funicular.
The guest lounge here is a lovely place to relax with a complimentary hot drink from the Nespresso machine, and the hotel also offers a guest gym and a bar. Accommodation comes with Bose stereos and Smart TVs, and there are single, double, twin and family rooms and suites.
Pluses:
Close to historic waterfront
Boutique-style accommodation
Smart TVs and Bose sound systems
Minuses:
Location: Bryggen
Star rating: ⭐️⭐️⭐️⭐️
This big name four star hotel is right by the historic waterfront, which many see as the best place to stay in Bergen for first-time visitors. Another bonus is 26 North Restaurant and Social Club, which serves food and drinks and even offers dancing until late.
The hotel has a sauna, fitness room and steam bath, and all accommodation is air-conditioned. As well as twins and doubles, you can also book family rooms with an additional sofa bed or single bed here.
Pluses:
Right by iconic waterfront
Gym, steam bath and sauna
Bar, restaurant and late-night entertainment
Minuses:
Location: Bryggen
Star rating: ⭐️⭐️⭐️⭐️
Hotel Havnekontoret is another four star option in the Bryggen area. The Neoclassical structure dates from the 1920s, and there is a rooftop terrace and garden at the property. Room rates here also include an evening meal. Complimentary waffles, pancakes and hot drinks are also available daily.
Accommodation at Hotel Havnekontoret comes with city, garden or Vågen Bay views. The hotel offers a fitness centre, a sauna, a bar, a lounge and 24-hour reception. If you're wondering about Bergen and where to stay and eat, this property can tick both of those boxes.
Pluses:
Garden and rooftop terrace
Some rooms have Vågen Bay views
Evening meal included in room rates
Minuses:
You might not want to dine in every evening
Location: Nygårdshøyden
Star rating: ⭐️⭐️⭐️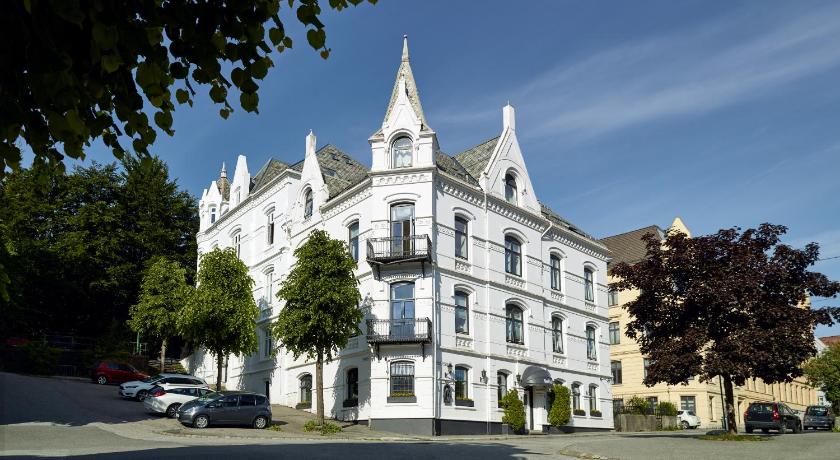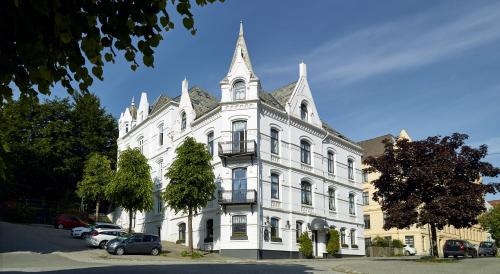 Hotel Park Bergen is located in the university district of Nygårdshøyden, near to Nygårdsparken. So it's ideal for families, or those who enjoy staying in areas with a youthful vibe. As a listed Historic Hotel of Europe, this is also among the best hotels in Bergen, Norway for fans of history.
The hotel is family-run, housed in a character building dating from the 19th century and boasts wooden floors and original antiques throughout. This is a great choice on a three star budget, and offers single and double rooms or suites.
Pluses:
Character property
Near park and university
15 minutes' walk to Bryggen
Minuses:
Cold breakfast available only
Location: Nordnes
Star rating: ⭐️⭐️⭐️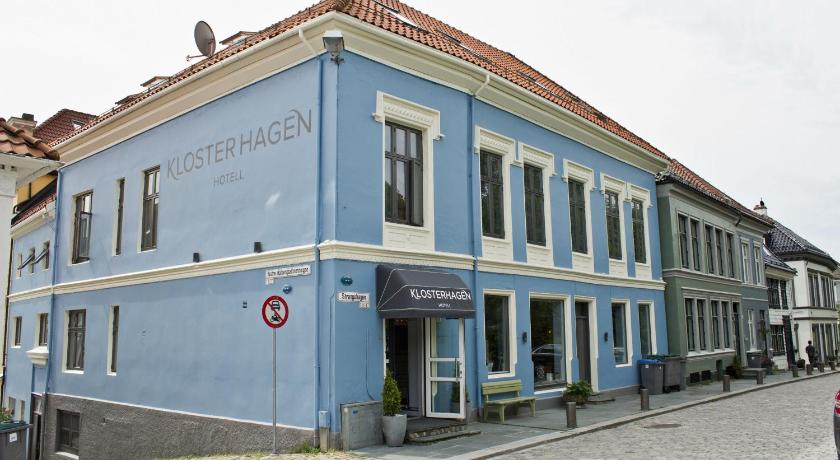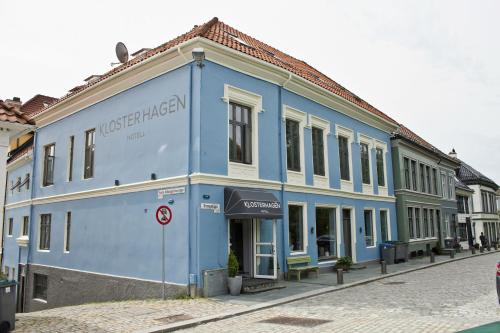 Another Bergen area to stay in is Nordnes, and this part is ideal for those seeking peace – and for families. Klosterhagen Hotel is actually set within the grounds of a local monastery, so it's among the best places to stay in Bergen when you like places with history and character.
Chromecast streaming and flatscreen TVs are found in accommodation here and there are single, twin, double, triple and family rooms. The breakfast is particularly highly rated here, and the accommodation is very clean and comfortable.
Pluses:
Great breakfast
In monastery grounds
Peaceful residential location
Minuses:
Location: Årstad
Star rating: ⭐️⭐️⭐️
Årstad is a little further south of the city than some areas, but is prized for its neighbourhood vibe. Plus there are some great Bergen places to stay here, offering perhaps better value for money than city boltholes.
In fact Moxy offers seriously stylish, contemporary accommodation, and Møhlenpris Badeplass Beach is just over half a mile away. The university is around 20 minutes' walk too. There's a gym and bar on site, and some rooms have sea views.
Pluses:
Bar and gym on site
Smart, modern hotel
Some sea view rooms
Minuses:
Further from central Bergen
Location: Årstad
Star rating: ⭐️⭐️⭐️
This hotel is a budget property, but you wouldn't think so. It has a really cool, contemporary look and offers facilities like a 24-hour front desk, a bar and a restaurant. The Årstad area also has a lovely local feel, so if you want great value hotels in Bergen, Norway, it's worth staying here.
All rooms here are soundproofed, and have en-suite bathrooms with hairdryer. You can book a single, twin or double at this hotel, and there's also a family room with bunk beds or a junior suite with extra space.
Pluses:
Design hotel
Good range of room sizes
Restaurant serving global street food
Minuses:
Not in central Bergen as such
Where will you stay in Bergen?
Whether you were looking for budget or luxury lodging in Bergen, we hope this guide has helped to point you in the right direction. With its stunning setting among the mountains and fjords and its UNESCO world heritage waterfront, Norway's second-largest city is definitely not one to be missed.
Stay in Bryggen or Sentrum if you want to be at the heart of it all, or opt for a quieter area with more of a local feel – and some great value places to stay. Whichever Bergen accommodation in Norway you go for, this historic, waterside city backed by mountains makes for an unforgettable destination.
Read (and watch) more about visiting Norway and Scandinavia