Welcome to Singapore!
Famous for its towering skyscrapers, bustling city streets, and delicious food this small island nation located in Southeast Asia is a melting pot of cultures. Its diverse population is made up of Chinese, Malay, Indian, and European influences.
If you are planning a first-time visit to the beautiful city-state of Singapore you may be excited about what it has to offer and after visiting 5 times in the past 5 years I have learnt a few practical tips to help you make the most of your trip.
Read on and prepare for your visit to Singapore!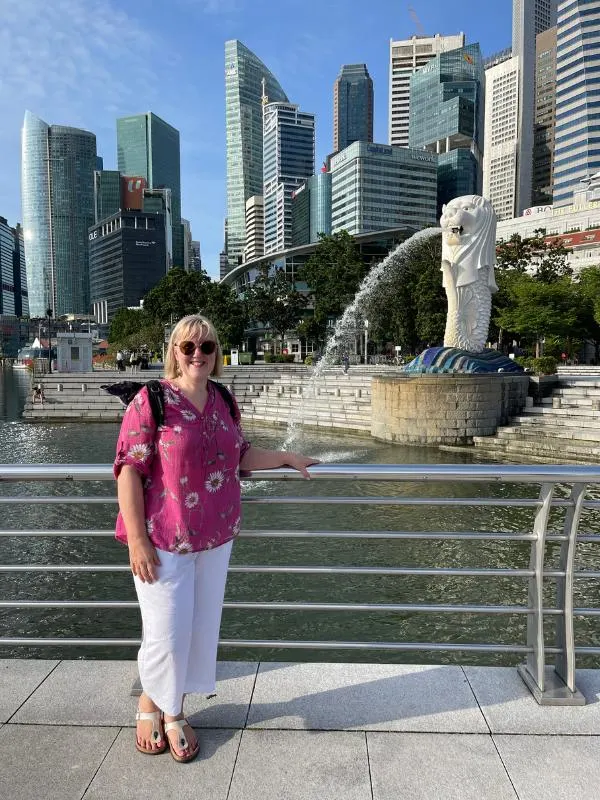 An introduction to Singapore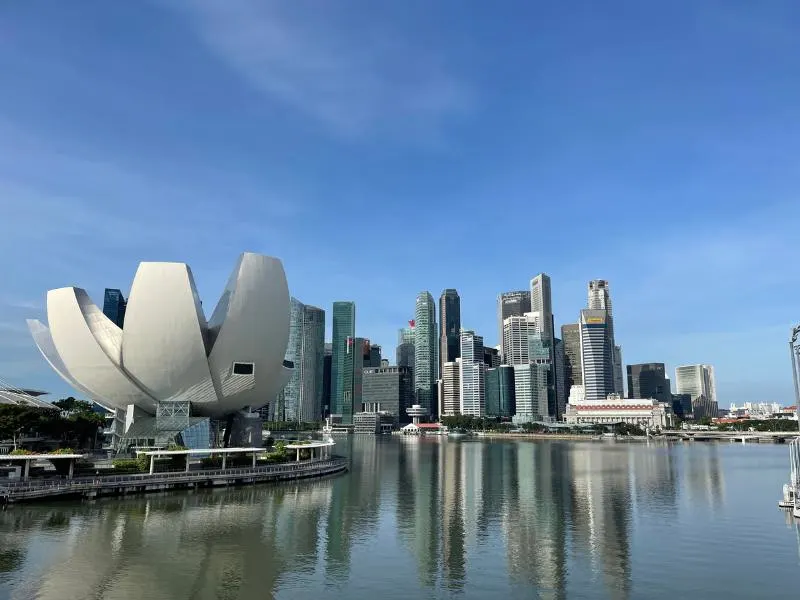 There are plenty of things to do and see in Singapore, depending on your interests.
If you're interested in history and culture the Chinatown Heritage Center offers a glimpse into the lives of early Chinese immigrants in Singapore while the National Museum of Singapore traces the country's history from its earliest beginnings to the present day.
If you prefer outdoor activities take a walk or bike ride through the Singapore Botanic Gardens. The gardens are a UNESCO World Heritage Site and home to over 10,000 species of plants including the world-famous orchid garden.
You could also visit the Singapore Zoo, which has over 2,800 animals from around the world or take a trip around Singapore's night zoo which is a particular favourite of mine.
For a taste of local culture try some of Singapore's famous street food which can be found at hawker centres and food courts all over the city (but more about that later!)
Enjoy shopping? It's a popular activity in Singapore where you will find a range of options from high-end malls to bustling street markets.
Overall, Singapore is a vibrant and exciting city with something for everyone. Whether you're interested in history, culture, food, or just want to soak up the city's unique atmosphere, you'll find plenty to keep you busy during your visit.
If you are planning to visit a number of sights in Singapore it may be cost effective to consider purchasing an Explorer Pass. With the pass you can choose 2 to 7 activities from a list of 40+ attractions and tours. You can visit them at your own pace as the pass has up to 60 days of validity. Click here for more information about the Singapore Explorer Pass.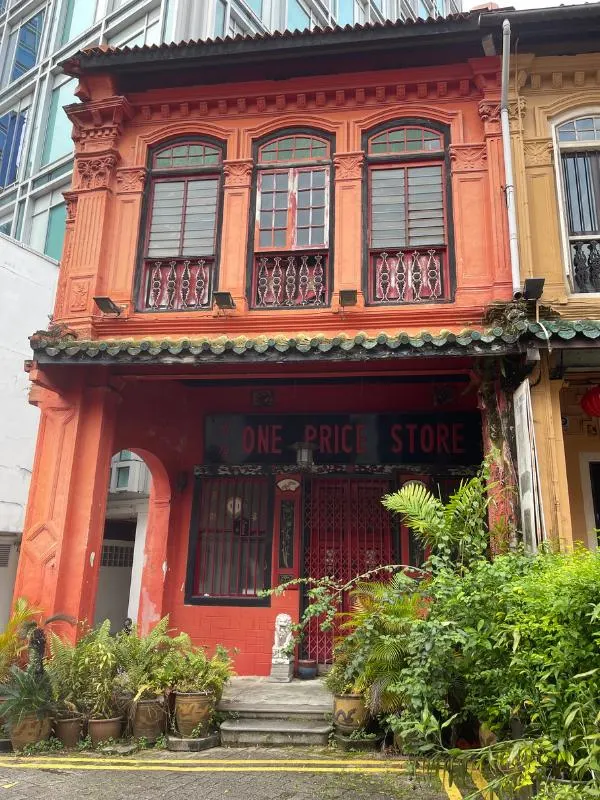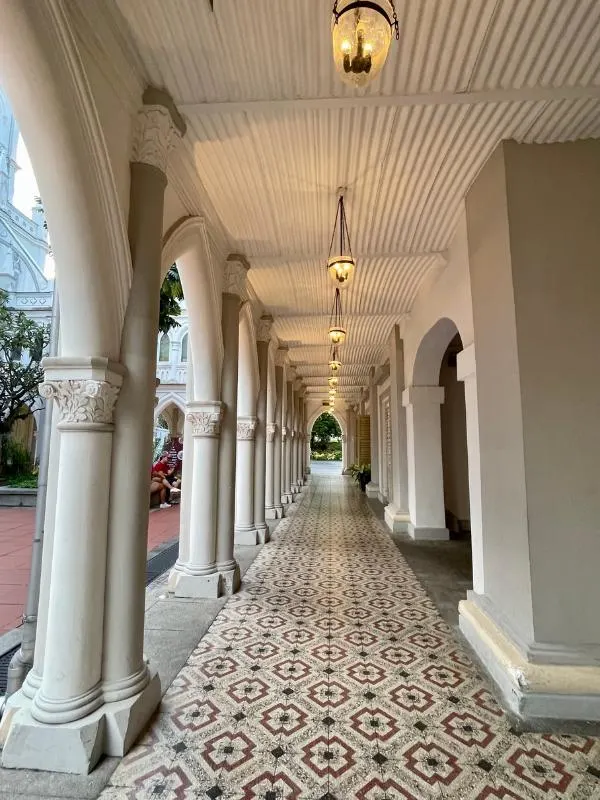 12 Singapore travel tips
1. Be prepared for Singapore's tropical climate
Singapore has a tropical climate which means high temperatures and humidity throughout the year. The average temperature is around 31 degrees Celsius (87 degrees Fahrenheit) and there is little variation between the hottest and coolest months.
The wet season is broadly from September to February with the rest of the year (March to August) generally dry.
This means basically if you are walking around expect to get hot and sweaty. I find heading into a shopping centre is the best way to cool down when the heat starts to be too much. The contrast is a bit startling though so expect your glasses and tech to steam up with the change from hot and humid to the often freezing temperatures of an air-conditioned shop or restaurant.
Suncream is essential. On our first visit to Singapore, my daughter forgot to put suncream on her shoulders and was pretty badly burnt and sore for a few days.
Wear a hat to protect yourself from the sun
Carry a water bottle and drink plenty to stay hydrated.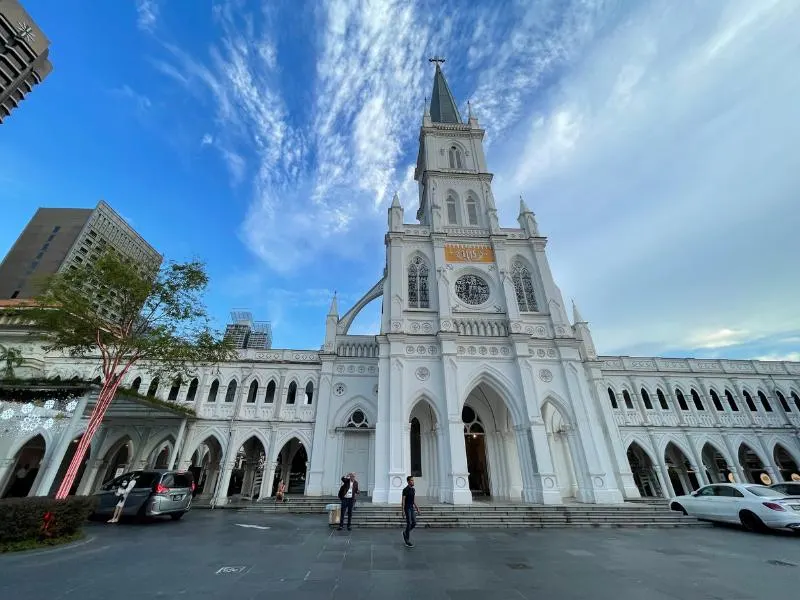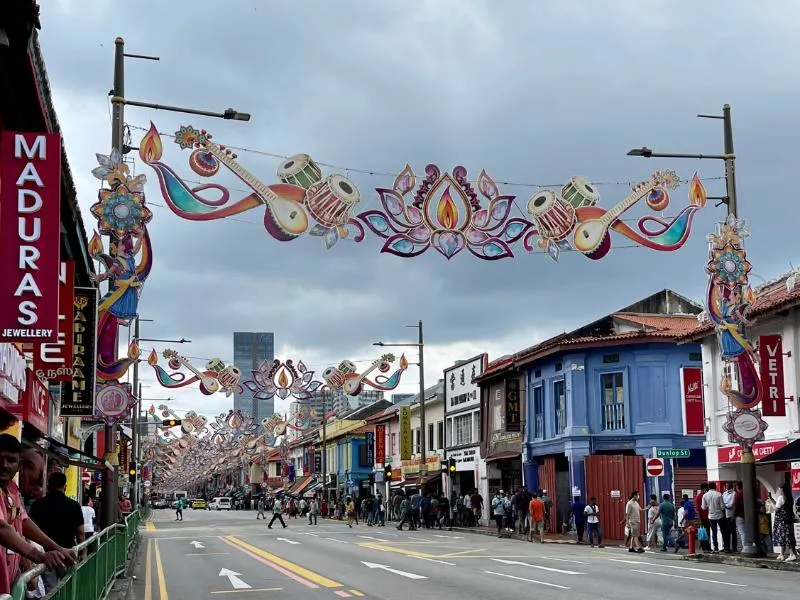 2. Prepare for your phone to overheat
I learnt this the hard way on my last visit when I was wandering around taking photos on a rather hot Sunday morning around 9 am and suddenly my iPhone screen went black with a warning notice that the phone was too hot and needed to cool down.
As I was using my iPhone to navigate around the city I was slightly perturbed!
Apparently, most smartphones have a sensor which alerts you when the internal temperature exceeds 95 degrees. Which in the heat of Singapore is probably pretty common!
On that occasion, I was pretty close to the Marina Bay Sands Hotel so I took the opportunity to enjoy the air-conditioned interior to cool both myself and the phone down.
I also popped into a 7/11 shop and purchased a couple of bottles of cold water which I placed in a compartment in my bag before storing my phone in an alternate compartment (to avoid condensation from the cold bottles wetting the phone)
I found this worked pretty well and I managed to avoid my phone overheating after doing this.
So if you are heading out with your iPhone I would recommend taking a bag in which to store it away from direct sunlight and the heat and putting it away when you aren't using it. Keep a couple of bottles of cool water with you and if all else falls head to an air-conditioned shopping centre, hotel or restaurant.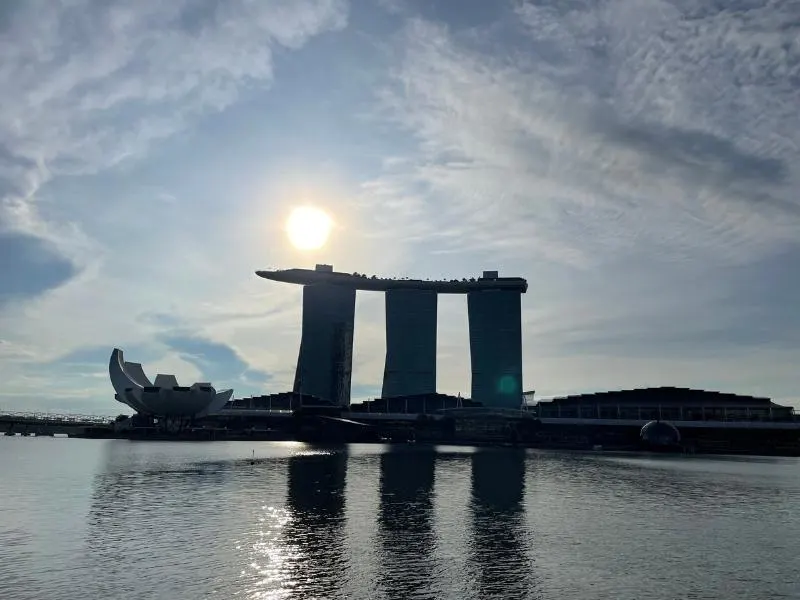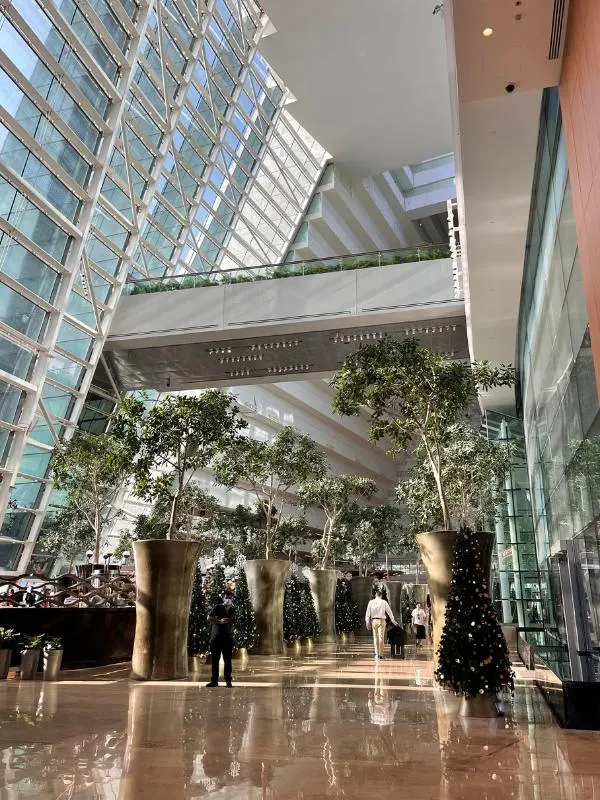 3. Wear comfortable clothes and shoes
As I previously mentioned Singapore has a tropical climate with high humidity and temperatures that are consistently warm throughout the year so it's best to wear lightweight, breathable clothing made of natural fibres such as cotton or linen. Avoid heavy fabrics and dark colours, which can make you feel hotter.
Singapore is a modern city with a mix of cultures, so you'll see a range of styles and dress codes but overall it's important to dress comfortably and appropriately for the weather and occasion.
When it comes to footwear choose comfortable shoes, trainers or sandals as you will probably be doing a fair amount of walking!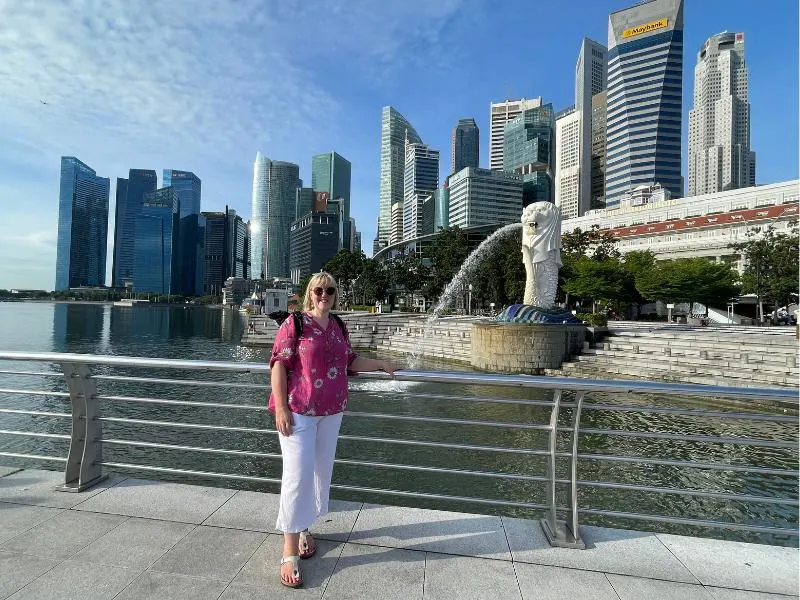 4. Use public transportation to get around
Make use of the fantastic public transport system to get around. The MRT (Mass Rapid Transit) train system consists of a network of lines that cover most of the island with stations located at regular intervals.
The MRT is used by millions of people every day to get around the city and is clean, efficient and inexpensive.
The price of your journney on the MRT varies between SGD $1.50 and SGD $2.50 depending on the distance travelled.
There are a number of options to pay for your journey on the MRT including using contactless credit or debit cards. Another option is to purchase an EZ-Link card. This is a stored-value card that can be used to pay for fares on the MRT, buses, and other modes of public transportation in Singapore.
To use the EZ-Link card, you simply tap it on the card reader at the beginning and end of your journey. The fare will be automatically deducted from the card balance. You can top up the balance on your EZ-Link card at MRT stations, bus interchanges, and other locations throughout the city.
The public bus system in Singapore is also easy to use and I find a combination of the MRT, buses and of course walking is the best way to get around.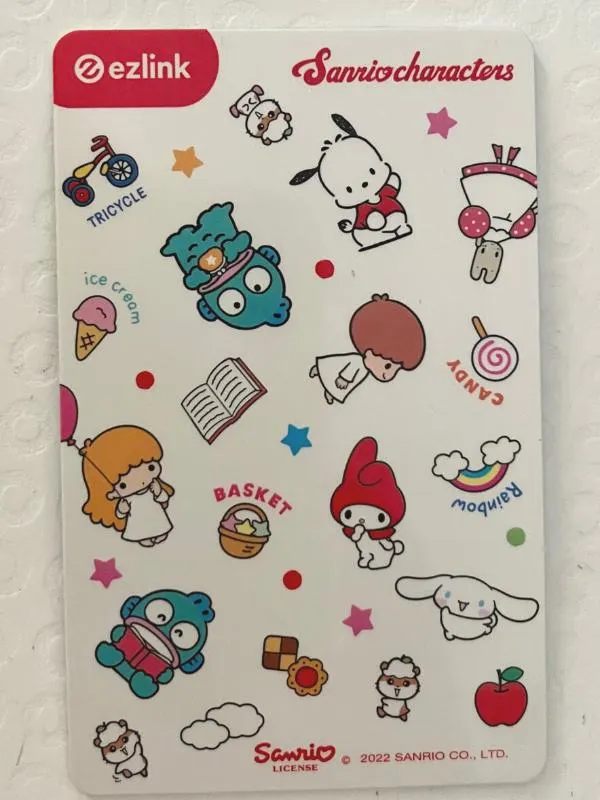 5. Arrive early for a seat for the Garden Rhapsody Show at Supertree Grove at Gardens by the Bay
There are lots of fabulous things to see at Gardens by the Bay (the Flower Dome, Cloud Forest and Floral Fantasy) but one of my favourite free things to do is head to the Garden Rhapsody Show. The show is held twice each evening at 7.45 pm and 8.45 pm at Supertree Grove. An additional show is held at 9.35 pm over the Christmas period.
You can't miss the supertrees and of the 18 supertrees in the Gardens by the Bay 12 are located in Supertree Grove.
Facts about Singapore's Supertrees
The trees are actually vertical gardens full of ferns, orchids, tropical climbers and more.
The trees are between 25 and 50 metres tall with the tallest tree apparently about the height of a 16 story building!
There are over 162,900 plants representing 200 species.
The lights and music show takes place in, on and around the trees and is a superb event which really should be in your Singapore itinerary!
I recommend heading to the trees as early as possible (at least 30 minutes prior to the show) as it can be very busy. Take a seat (or lie down) and enjoy the show which lasts for around 15 minutes.
Throughout the year the music and light shows change. Some of the themes covered in 2022 include Garden Waltz, Songs of Singapore, Opera in the Gardens, The Enchanted Woods and of course The Christmas Special over the festive season.
How to get to Supertree Grove by MRT
The nearest MRT station is Bayfront.
Bayfront is on two lines – the Circle Line and Downton Line so either of these lines will get you to Bayfront
Once at Bayfront take exit B for the fastest walking route to Supertree Grove
Cross the Dragonfly Bridge (enjoy the views!)
Continue walking and you will see the trees ahead of you. Take the steps or lift down to Supertree Grove
It takes less than 10 minutes from alighting the MRT to get to the trees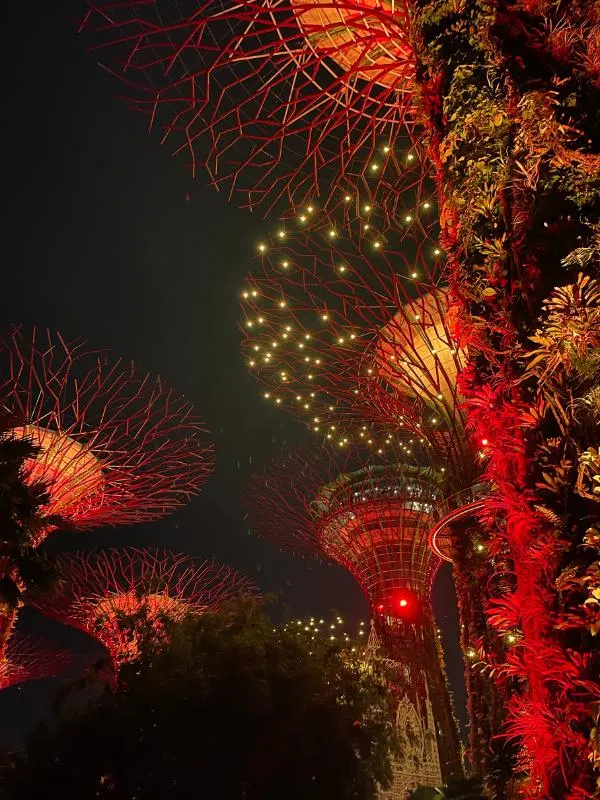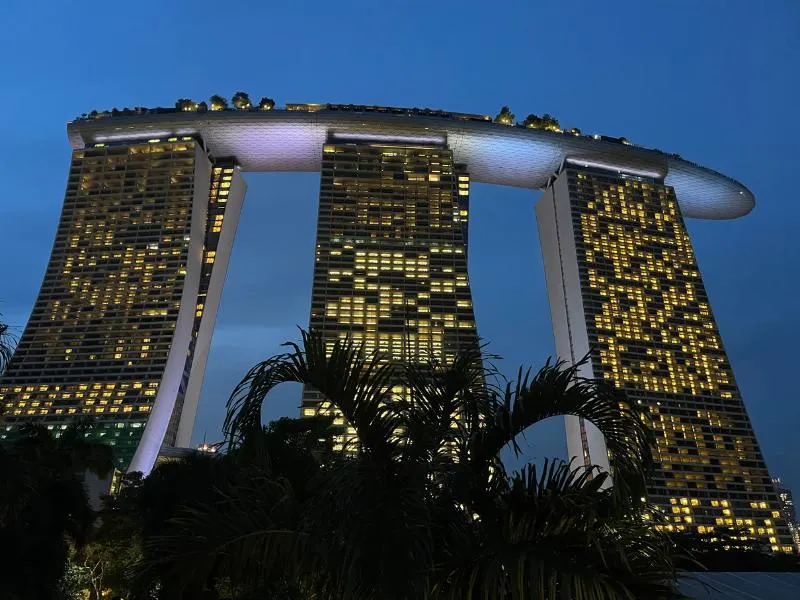 6. Explore the vibrant nightlife in Clarke Quay
Our favourite neighbourhood when we stay in Singapore is Clarke Quay. The area developed around the historic riverside quay and is full of restaurants, boutiques, shops, bars and nightclubs.
Clarke Quay is also conveniently located for transportation including the MRT, bus and river cruises. It is the perfect area for first-time visitors and one we have returned to again and again.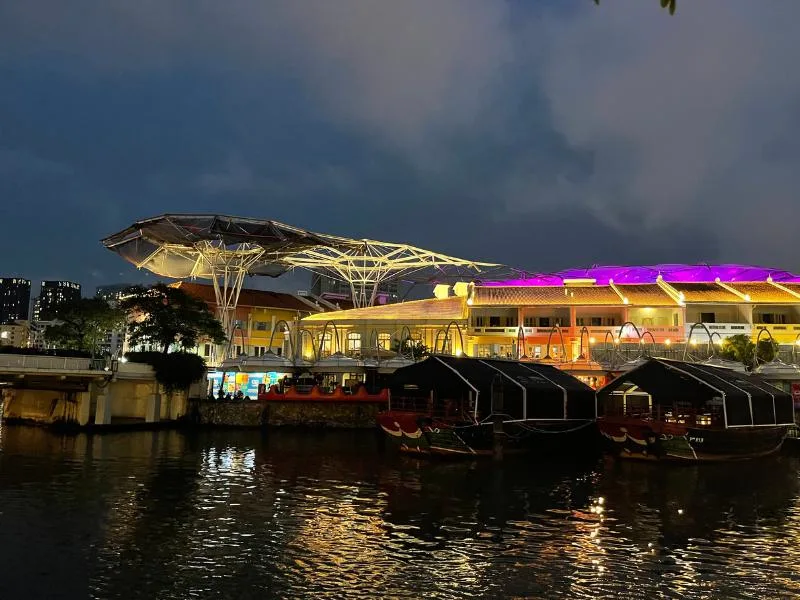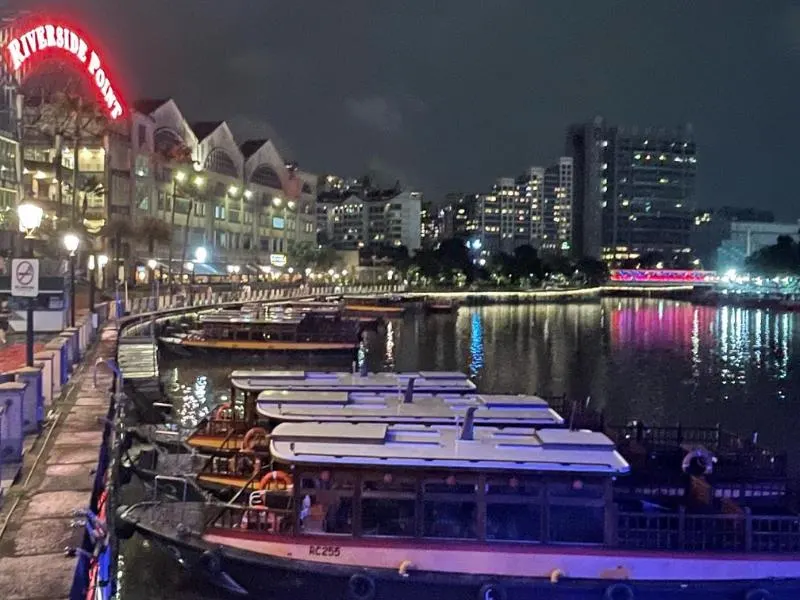 7. Eat in a Hawker Centre
You really have to eat at a hawker centre while in Singapore. Not least because they are a budget friendly option in an otherwise pretty expensive place to visit but also because the food choices are fantastic with so many dishes to try. Popular local dishes include chicken rice, laksa, and chilli crab but honestly, I have never eaten anything I didn't thoroughly enjoy.
Half the fun is wandering around and checking out what is on offer before ordering from a variety of vendors (until you are so full you can hardly move!) You will notice that some stalls have pretty long queues which is a good recommendation to try.
If you are travelling solo a hawker centre is a great place to go to eat – on my last trip I was joined at my table by a Mum with her son and we had a lovely chat.
There are numerous hawker centres to choose from including Lau Pa Sat (located near Marina Bay and Chinatown), Satay by the Bay (located in Gardens by the Bay park) and Newton Food Centre (as seen in Crazy Rich Asians)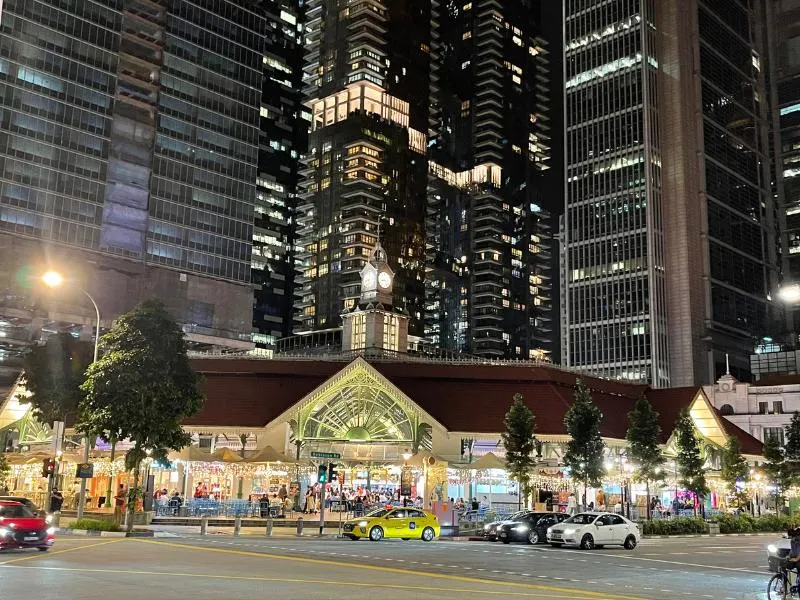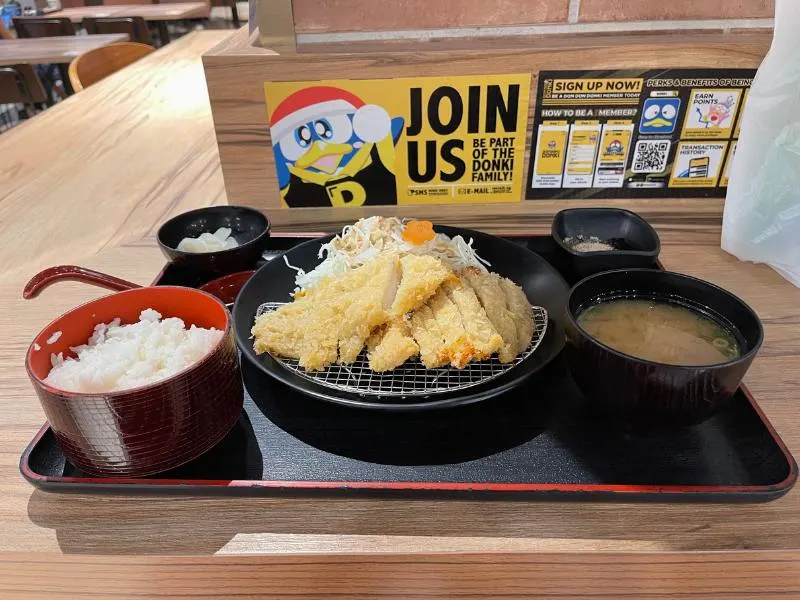 8. Enjoy some kaya and kopi
My next tip is something I learnt very recently from my friend Paula who lives in Singapore (read more about life in Singapore on her website Truly Expat)
When Paula asked me if I had tried kaya toast and kopi my answer was a definite no! So off I went to Toast Box to sample this popular breakfast dish.
So what is kaya toast and kopi you may ask? Kaya toast consists of two slices of toast with butter and kaya (coconut jam) commonly served with soft boiled eggs and a hot cup of kopi (coffee)
The kopi is rather different too – watch how it is poured!
If you are on a budget this is a delicious (and cheap) way to start your day. Search for a Toast Box on google and away you go (there are 79 Toast Box outlets in Singapore so you shouldn't have any difficulties locating one near you)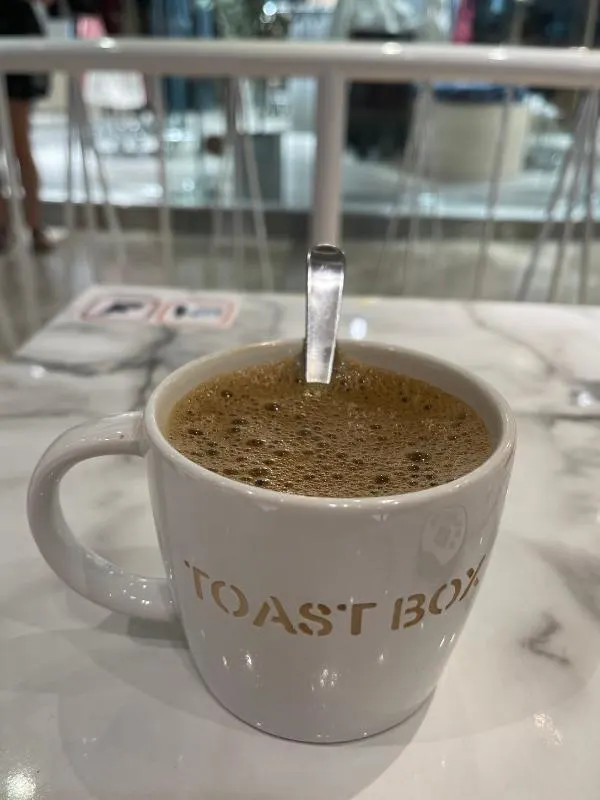 9. Shop till you drop at Orchard Road – Singapore's must-visit shopping street!
If shopping is your thing then there is one place you have to visit in Singapore and that is Orchard Street. Orchard Road is the main shopping district, with a mix of luxury brands and local boutiques and I must admit that during my most recent trip I spend far too long perusing the food department of Marks & Spencers!
Don't miss Emerald Hill which is located just off Orchard Road. The historic buildings you can see include rows of colourful two-storey terrace shophouses which were built around 1902 in the Straits Chinese style. Quite a contrast to the modern Singapore architecture which surrounds them.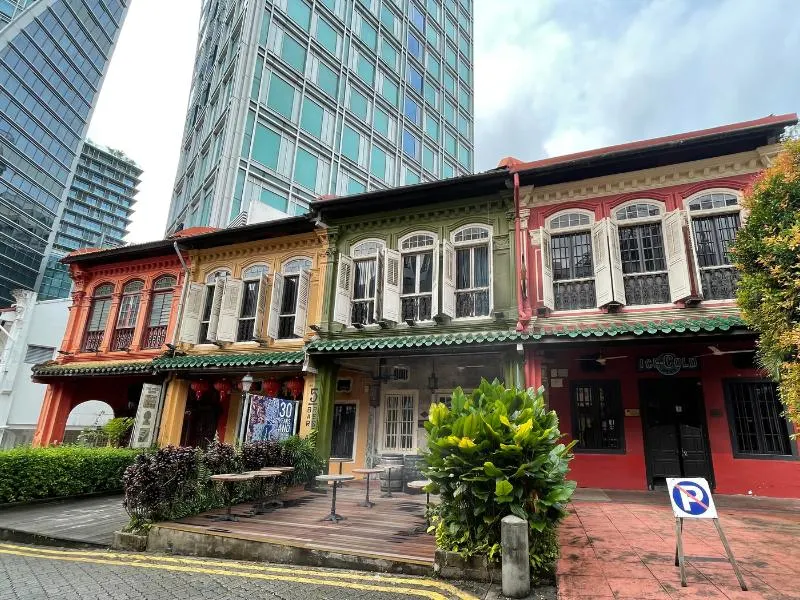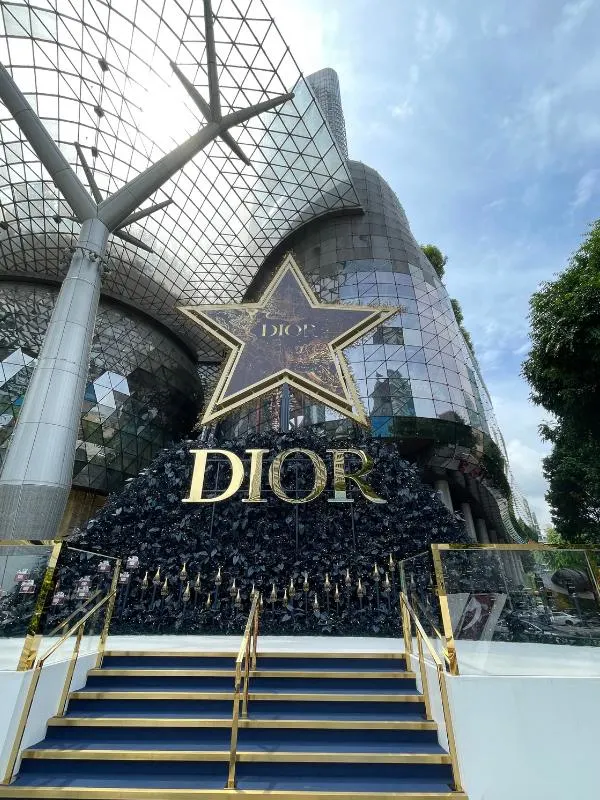 10. Don't forget an adaptor (unless you are from the UK) & other Singapore packing essentials
When putting together your packing list for Singapore don't forget some practicalities such as the need for an adaptor for any electricals (unless you are arriving from the UK as you will find that the sockets and plugs are exactly the same as back home!)
Other travel essentials include
Sun cream
Water bottle
Hat
Hand sanitiser and wet wipes
Hand-held fan
Check out our packing list for Southeast Asia for more essentials
11. Don't chew gum – it's illegal
This law is pretty well known but don't bring chewing gum into Singapore. It has been banned since 1992.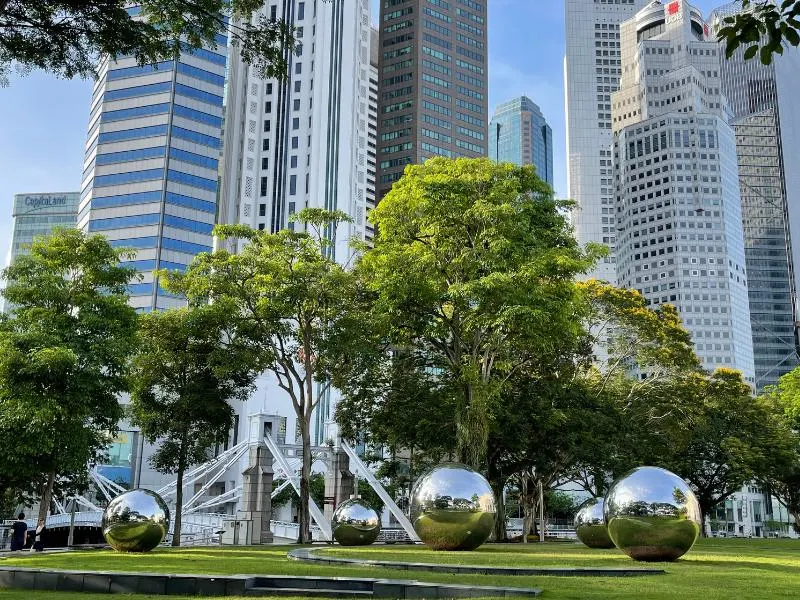 12. Don't miss a visit to the new Avatar experience in its temporary home at the Cloud Forest in Gardens by the Bay
There are many things to enjoy at Gardens in the Bay including Supertree Grove which I have already mentioned. But my favourite is the Cloud Forest.
The Cloud Forest is home to indoor waterfalls and a walkway from which to enjoy the views of the lush greenery around you. (Just be wary if you have a fear of heights)
It is also where you will find the new Avatar Experience which was launched in October 2022. It is an immersive walk-through event with 5 interactive zones. Having recently experienced Avatar: The Experience I can is really fun and definitely worth visiting.
Purchase tickets for the Cloud Forest including Avatar: The Experience
Other must-visit places in Gardens by the Bay include
Floral Fantasy – Enjoy the beautiful flower displays including suspended bouquets and garden landscapes.
The Flower Dome – The flower dome houses native plants from a range of habitats around the world.
Supertree Observatory – Enjoy the fabulous view of Gardens by the Bay from the tallest of the supertrees.
OCBC Skyway – Stroll between two supertrees on this suspended 128-metre walkway.
Purchase a day ticket which includes entry to a choice of attractions at Gardens in the Bay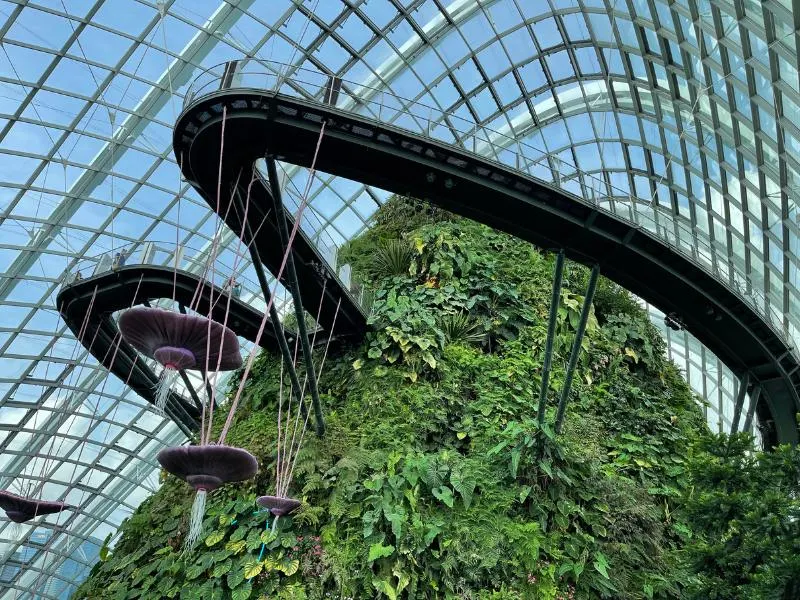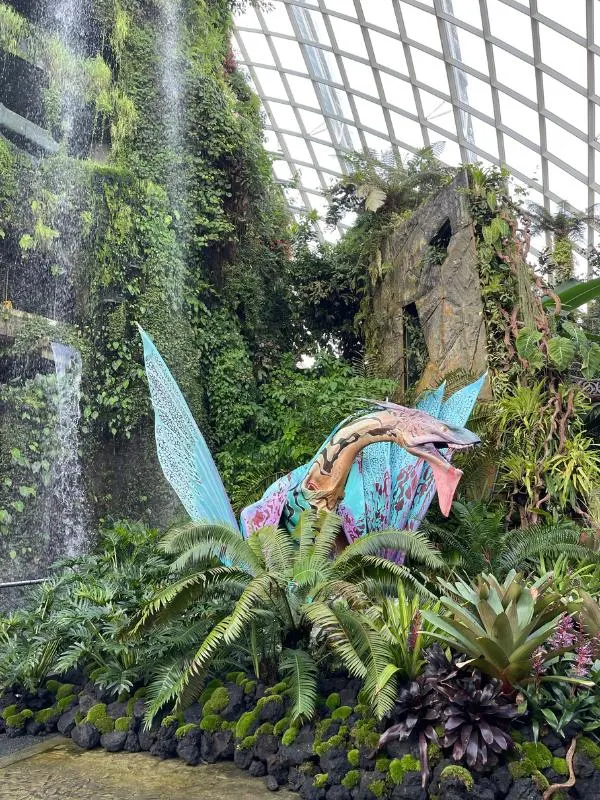 Where to stay in Singapore
There are so many wonderful places to stay in Singapore including many world famous 5* hotels such as the Marina Bay Sands and Raffles.
Much as I would love to stay at both of those (one day) we have stayed at a great hotel on every visit and that is the Paradox Singapore Merchant Court Hotel (formally the Suisse hotel)
⭐️ Click here for prices and availability at the Paradox Singapore Merchant Court Hotel at Clarke Quay
Its location in Clarke Quay is perfect with convenient access to transport including the MRT and buses. It is also the departure point for river cruises which are a great way to enjoy the spectacular mix of heritage and modern architecture as you sail past historic monuments, quays and bridges.
Read more – Where to stay in Singapore – area and accommodation guide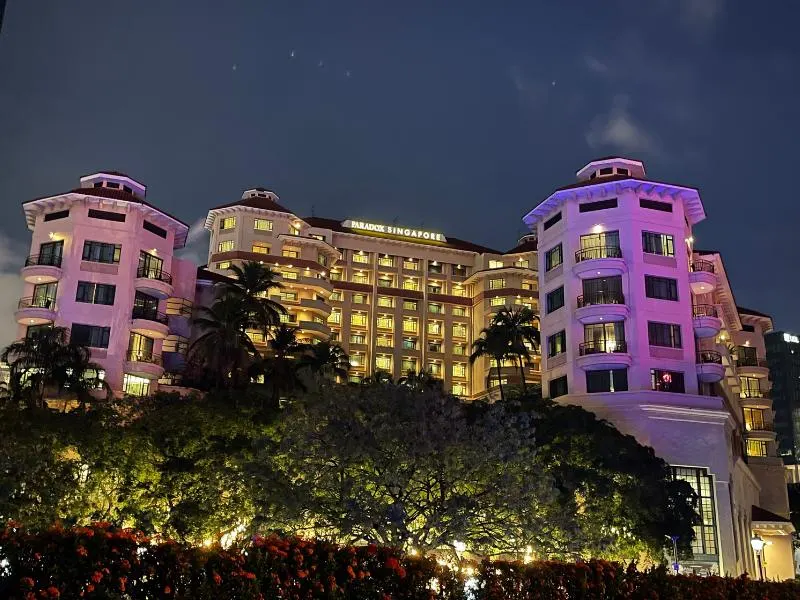 Enjoy your visit to Singapore
I am sure you will have found our tips helpful and you will have a fantastic visit to wonderful Singapore.
Read more about visiting in our Singapore Travel Guide
Read more about visiting Asia