If you are planning to visit Norway and spend some time exploring this beautiful country there are so you will soon discover that there are many wonderful places to add to your Norwegian itinerary.
With some of the most spectacular scenery in the world including fjords, snow peaked mountains, stunning villages and towns, as well as iconic train journeys, the northern lights and more to fill your time putting together a perfect itinerary for Norway is not easy!
In this article discover the beautiful town of Laerdal and why visiting Laerdal deserves to be included in your Norway travel plans.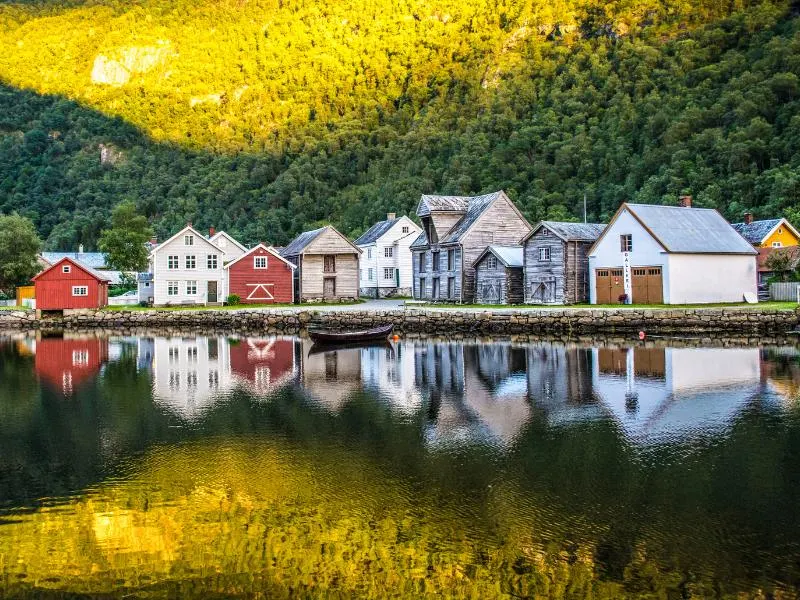 FAQ's about visiting Laerdal in Norway
Why visit Laerdal?
While there are many beautiful places to visit in Norway that are well known and popular with tourists (such as Bergen or Flam) one of the advantages of Laerdal is that this slightly off-the-beaten-track destination will not be heaving with cruise ship tourists during the summer. The village is small and offers a more authentic Norwegian experience.
There are a couple of supermarkets in town and some excellent accommodation options as well as things to do and see when you are there.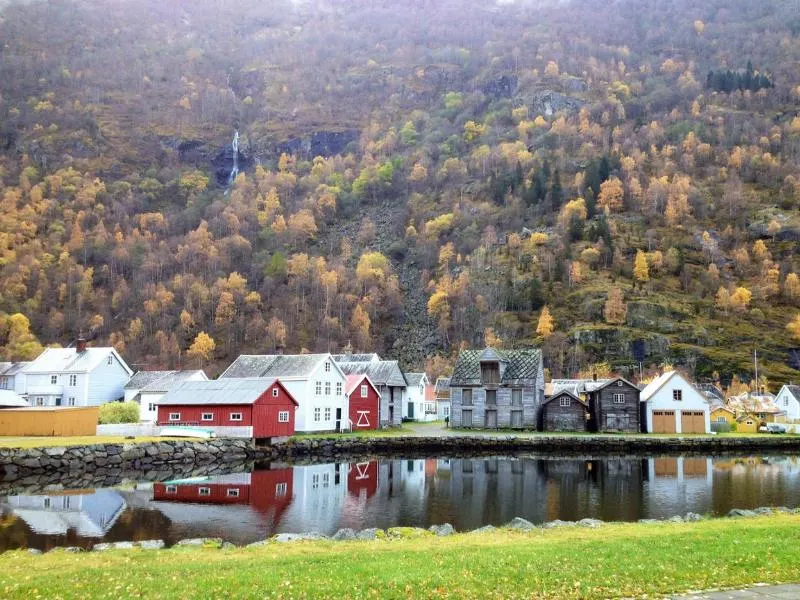 Where is Laerdal?
Laerdal itself is situated at the end of the UNESCO World Heritage-listed Sognefjorden. It is about 206 km from Bergen.
How can I travel to Laerdal from Bergen?
There are a number of ways to travel from Bergen to Laerdal including taking a coach for the entire route or by train to Voss then transferring onto a coach.
The trip will take 4 hours if you are commencing in Bergen. Laerdal is close to Gudvangen and the famous Nærøyfjord as well as the iconic Flam railway so is the perfect extension to any Bergen to Oslo itinerary.
If you are travelling on the Bergen to Oslo train line it is easy to alight at Myrdal and catch the Flam railway down the valley, hop on the ferry to Gudvangen and then catch a coach to Laerdal!
Read more – Guide to Flam and Gudvangen
What is the Laerdal tunnel and do I need to go through it to reach Laerdal?
The Laerdal tunnel is 24.5 km long (the longest road tunnel in Europe) and connects Laerdal and Aurland. It really is an experience to drive through a tunnel that long. Scary in some ways too. There are three large caves at 6 km intervals in the tunnel for drivers to have a break or to help alleviate feelings of claustrophobia.
The tunnel itself is lit with white lights but the caves have blue lights with yellow lights at the fringes. This is to give the impression of sunrise.
There are no emergency exits in this tunnel but there are safety precautions in place. I will admit that I did not love going through the tunnel even though I did it 4 times.
If you want to get to Laerdal I think this is the only route that doesn't involve a boat or an aircraft! (or a rather mountainous climb!) but it does make you appreciate how cut off some of these villages must have been before the roads and tunnels were built.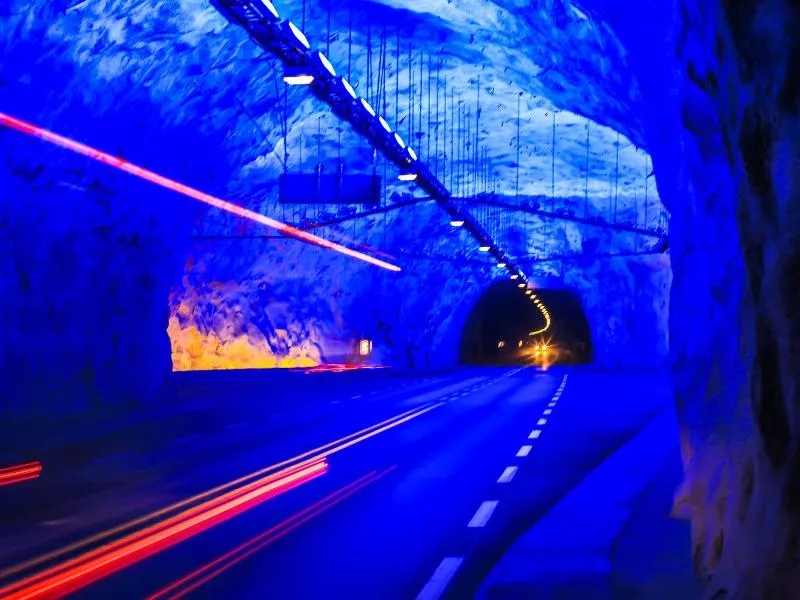 Things to do in Laerdal
Visit the Borgund Stave Church
The Borgund Stave Church which is the best preserved stave church in Norway was built between 1180 and 1250 AD. There are only 28 stave churches left in Norway and if you have the opportunity I would certainly recommend taking a look around one.
The stave church in Borgund is no longer used as a place of worship but is preserved and protected due to its importance to Norwegian culture and history.
The church is easy to visit from Laerdal by bus which takes approximately 30 minutes to cover the 20 kms between Laerdal and Borgund. Alternatively if you are feeling energetic why not rent a bicycle in Laerdal and cycle to Borgund.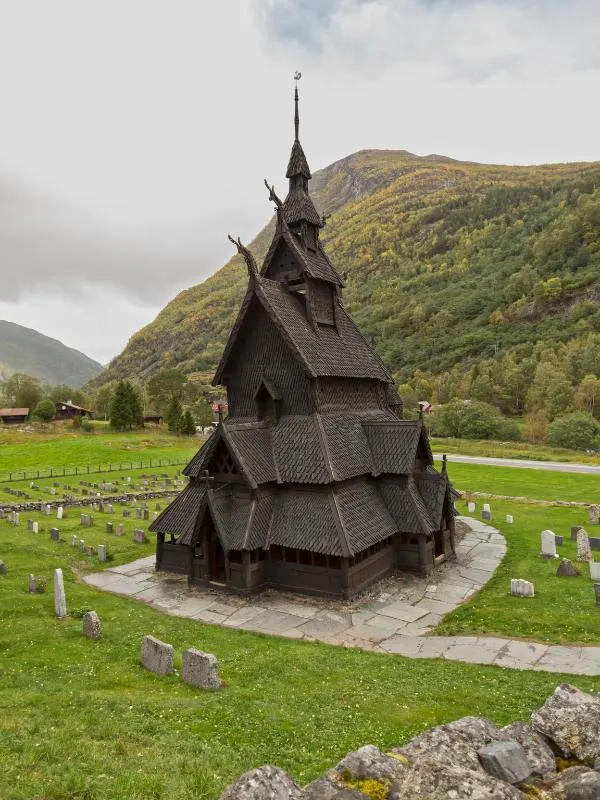 Visit the Gamle Laerdalsoyri
The Gamle Laerdalsoyri village in Laerdal has more than 150 wooden houses dating back to the 18th and 19th century. It is unique to western Norway and is definitely worth visiting for the beautiful houses and the atmosphere of the place.
Sadly a fire broke out in January 2014 after I took these photographs and 30 buildings were destroyed. Over 90 people received hospital treatment but fortunately, no one died.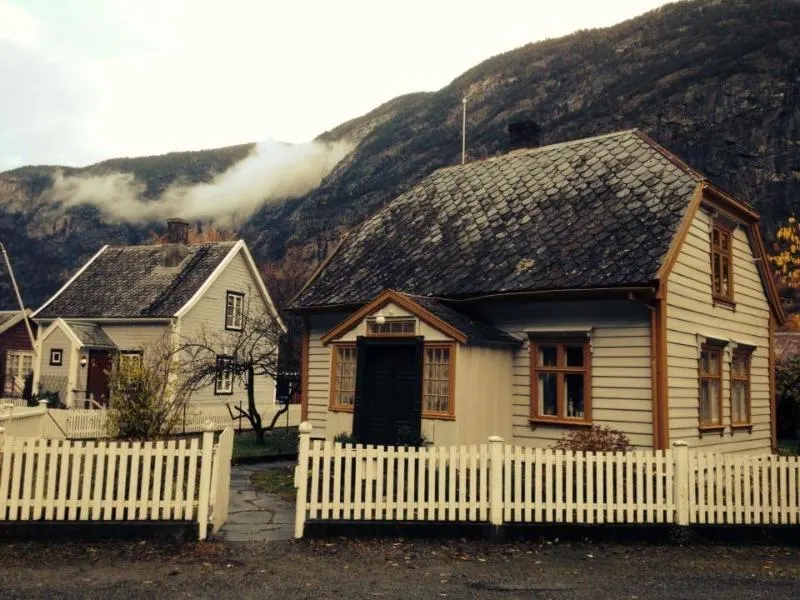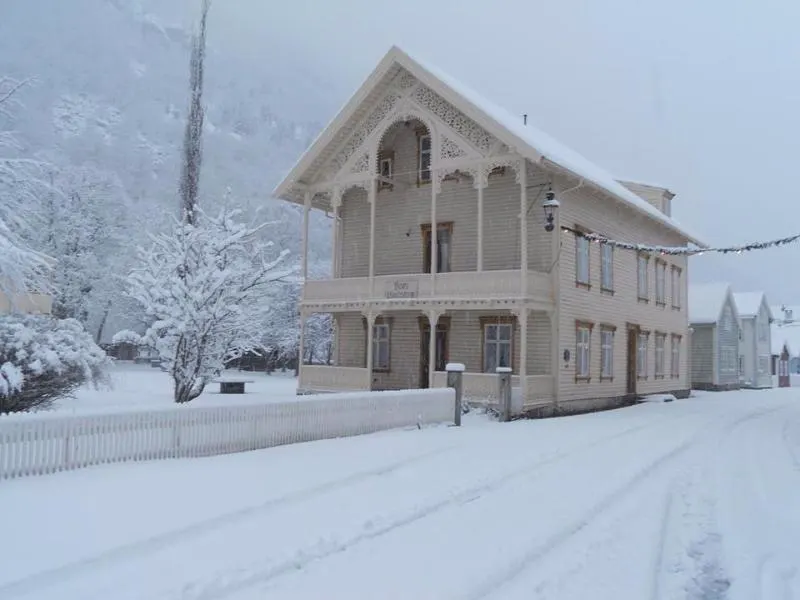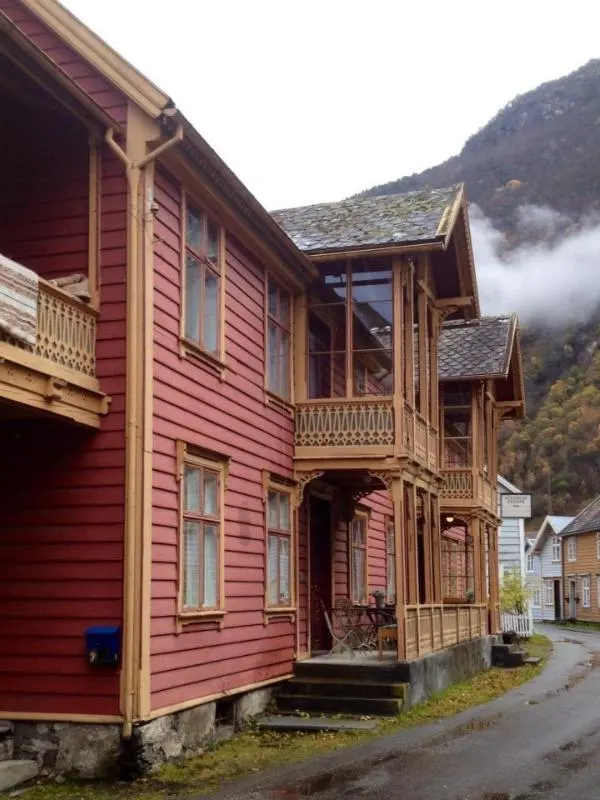 Visit nearby Flam, Gudvangen the Norwegian Fjords
Laerdal is situated on the south side of the Sognerfjord which is the deepest and longest of the Norwegian fjords. It is also very near to the UNESCO World Heritage Nærøyfjord.
I would suggest visiting nearby Flam and Gudvangen to take a cruise along the beautiful Nærøyfjord.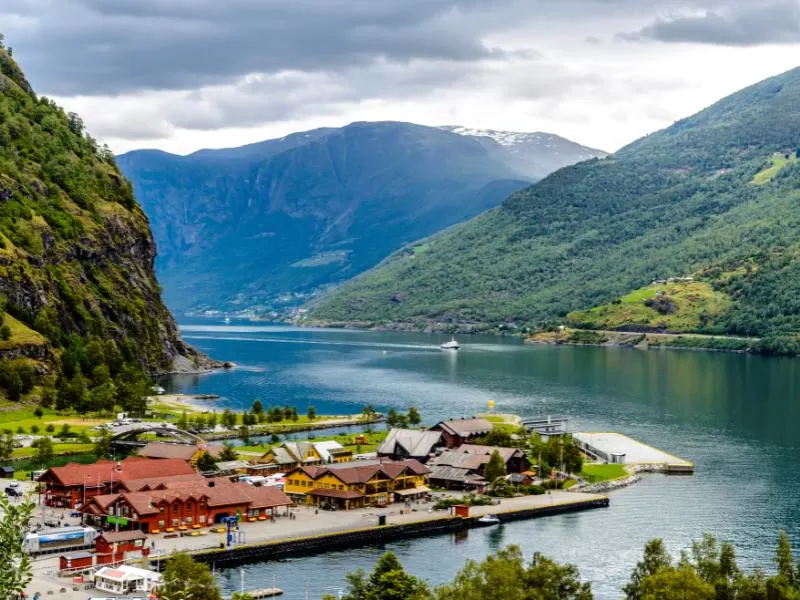 Where to stay in Laerdal
Lærdal Ferie-og Fritidspark
In Laerdal I highly recommend booking a stay at Lærdal Ferie- og Fritidspark. This is where my husband lived when he was working in Laerdal and the cabins are well furnished and equipped. Stroll from your cabin to the nearby fjord and keep a look out for the northern lights on dark winter evenings!
Staying in Laerdal will also give you time to explore all this beautiful village has to offer and is slightly off the beaten path for those who seek more authentic travel experiences.
This option is perfect for families and couples with larger cabins also available.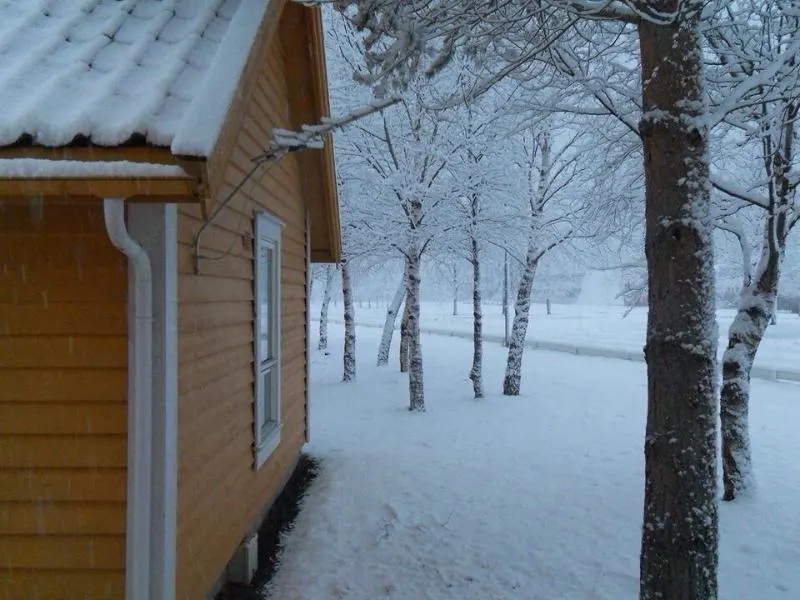 Den Gule Krambua – Gamle Lærdalsøyri – main street old town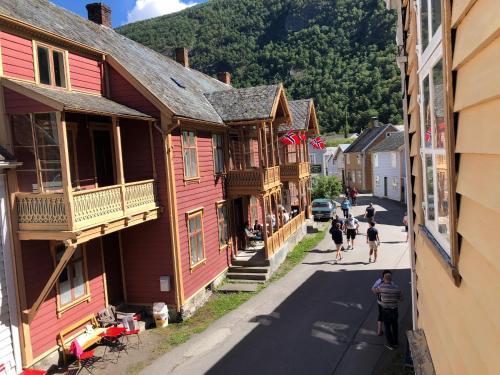 Situated in Lærdalsøyri Den Gule Krambua – Gamle Lærdalsøyri located in main street old town offers free WiFi and air conditioning.
Housed in a building dating from the 19th century, the apartment is in an area where guests can engage in activities such as hiking, skiing and cycling.
The apartment features 2 bedrooms, a kitchen with a dishwasher and fridge, and 1 bathroom with a shower, a hairdryer and a washing machine. Towels and bed linen are available.
Essential tips when planning your visit to Norway
If you are visiting in winter pack layers so you can wrap up warm when outside and strip down when inside the very warm houses!
While downhill skiing is very popular (and there are resorts such as Voss which cater for this sport) cross country skiing is also very popular in Norway.
Norway is not a cheap destination. Food and drink are particularly expensive so prepare to budget for the extra costs. There are a couple of supermarkets in Laerdal.
Don't expect to see the Northern Lights everywhere in Norway. My husband spent 3 months in Laerdal over winter and didn't see them once!
Don't expect the roads to be gritted and de-iced if there is snow. Cars use chains on their tyres to get around during the winter months.
Watch out for the wildlife. My husband had a large stag leap across in front of him whilst cycling to work.
If you suffer from claustrophobia and plan to travel through the Laerdal tunnel be prepared. It is a long tunnel and has only 2 lanes. I listened to music and shut my eyes a lot.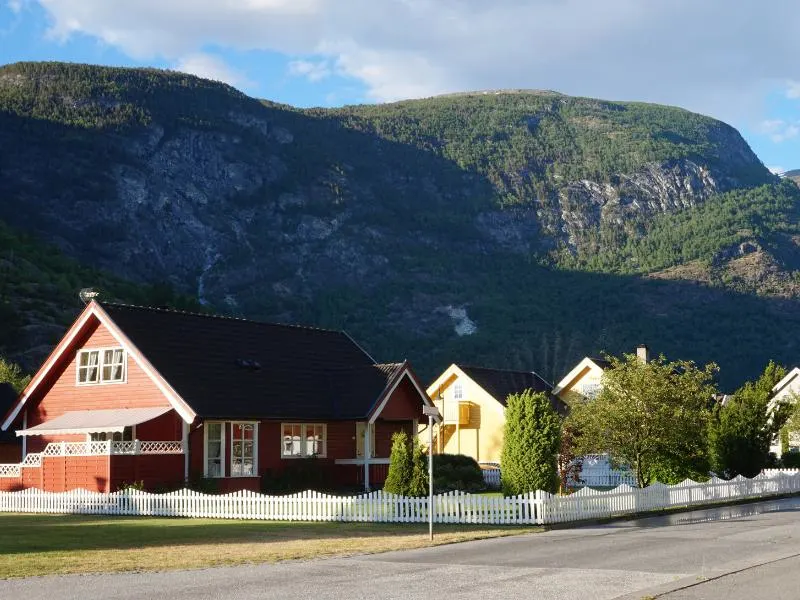 Read more about Norway and Scandinavia