Last Updated on December 7, 2020
Looking for the perfect gift for a train enthusiast? I have you covered in this guide which includes train themed gifts for train lovers of all ages.
If you are looking for some train themed gifts or train gift ideas you will find some of the best gifts for train lovers in this article. My selection of train themed gifts includes great train gifts for both adults and children who love to travel by rail or simply enjoy trains!
If you love train travel check out some of my great articles at the end of this post all about some of the most beautiful journeys in the world you can take by rail.
Travelling by train is my favourite way to get around the world – why take a plane when you can see so much more from the comfort of a railway carriage!
Train themed books for adults
Amazing Train Journeys
Great Train Journeys of the World
This lively guide takes an in-depth look at 40 of the world's best train journeys, from short to long, luxurious to decidedly less so, nostalgic steam lines to the latest high-tech locomotives. Covering a variety of reader interests, the book is divided into inspiring sections such as Crossing Continents, State of the Art, Cultural Experiences, Nostalgia, and Scenic Spectaculars.
All Aboard – the complete North American train travel guide
Everything you could want to know about traveling North America by train. Including insightful travel tips this will make your train trips smoother and more enjoyable.
Advice on booking trips, finding the lowest fares, packing for an overnight trip,what to do on board, who to tip and how to avoid pitfalls.
If you are serious about traveling the USA by train then THIS is the book for you!
Great railway journeys of the world
This is my go-to book when I am planning train journeys. It covers some of the most iconic train journeys in the world including the Orient Express and the Trans-Siberian. But also includes some of the less well known but still equally amazing trips you can take by train. An absolute must for every train lover!
Guide to North American Railroads
The perfect guide to American railroads for the perfect guide for modelers, rail fans, and history buffs! This book contains great photos, new maps, and the history of 150+ railroads in North America.
Amtrak's best kept secret
This book Is absolutely bursting with useful advice for any traveler planning to travel the United States Railway system including planning an itinerary, what to eat and what to take.
Eleven minutes late : A Train Journey to the Soul of Britain
If traveling the UK by train is on your bucket list (and why not!) this book will give you a real flavour of the eccentricities you may encounter along the way!
Pushed from a train
An hilarious account of the author's 17 years of travel through China, Ethiopia, Mexico, Brazil and other countries around the world. A great way to learn from another person's mistakes!
Train
Tom Zoellner travels the globe to tell the story of the economic and sociological impact of the railways and how they have transformed the world.
Adventures of a railway nomad
One August morning the author I walked out of her Seville home taking nothing but a small, roll-aboard bag, a EuRail pass, and her husband.
They traveled with no fixed time limit, no reservations, and only a loose idea of their itinerary. Their goal? To see if they could still have the kind of spontaneous adventures they had enjoyed in their youth.
They spent three months on trains, mostly in Eastern Europe, and the results – often hilarious, occasionally harrowing, definitely life-changing – form the basis of this book!
Train – A definitive visual history
Featuring amazing images of trains, virtual tours of engines, and profiles of key innovators, designers, and engineers, Train: The Definitive Visual History traces the history of the railroad and the role of trains, from the first steam engines to today's high speed bullet trains.
Beautiful photographs and detailed maps explore some of the world's most impressive rail routes from South Africa to Siberia, including the Darjeeling Himalayan Railway, the trans-Siberian Railway, and the high-speed Japanese Tokaido Shinkansen line.
Gift guide – MORE BOOKS ABOUT TRAINS FOR ADULTS AND KIDS
Train Themed Gifts for Kids
A selection of great train themed gifts for children including train books for kids, best train books for toddlers and more!
More great train gifts for children can be found here
The Goodnight train
All aboard for Dreamland!
With soothing, lyrical words and beautiful illustrations The Goodnight Train will make even the most resistant sleeper snuggle up tight!
The big book of trains
This is the perfect book for children who love trains. Packed full of pictures and informative text this is an essential book for kids who want to know everything about trains!
Train – A journey through the pages books
This is an absolute must buy for children who love trains – this is a book like you have never seen before!
It's the story of a train moving across the American landscape—but with an actual three-dimensional miniature train that loops up and down and across each spread, traveling along an interior track from front to back without ever leaving the pages.
Thomas and friends
A collection of all four of the enormously popular Thomas board books including Go, Train, Go!; Stop, Train, Stop!; A Crack in the Track!; and Blue Train, Green Train.
All four books are boxed together in a nifty little "lunchbox," these four books are a feast for Thomas' smallest fans.
Where do steam trains sleep at night?
Have you ever wondered what little trains do when it's time for bed?
The same things you do! Freight trains, passenger trains, subways, trolleys—and more—wash up, have a snack, load their teddies for story time, and get rocked to sleep by mommy and daddy trains beneath a blanket of stars.
Little train lovers will gain a new affinity for their bedtime routine when they find they share it with their favorite trains.
Train
Discover the story of train from the first steam trains to the high speed trains of today.
More travel gift ideas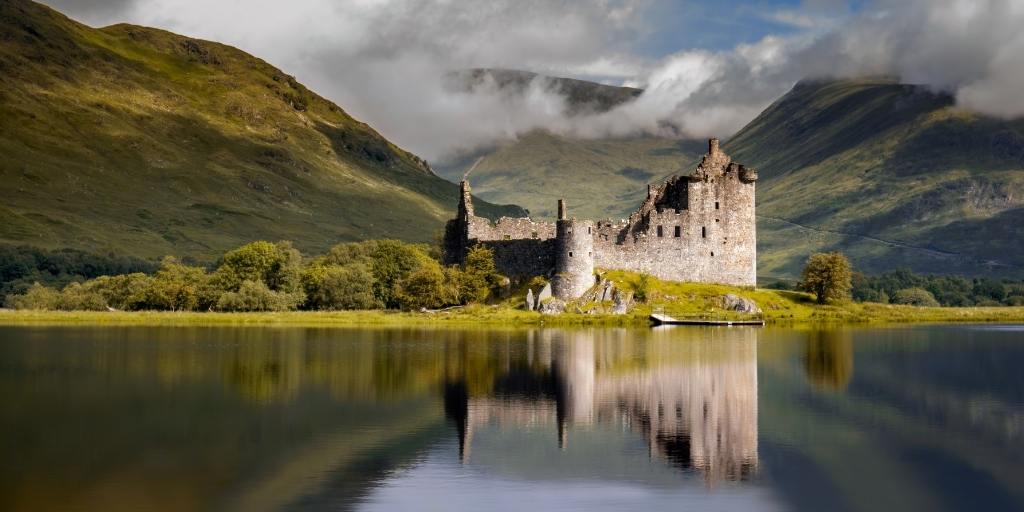 This Scottish gift guide includes lots of ideas for anyone who loves (or has their roots in) Scotland including gift…
This post may contain compensated links. Please read our disclosure for additional information. As an Amazon Associate, I earn from qualifying purchases.