Last Updated on October 26, 2019
This post may contain compensated links. Please read our disclosure for additional information. As an Amazon Associate, I earn from qualifying purchases.
Shopping in Australia – all you need to know!
(Disclaimer this is the Queensland version but I think its pretty much the same across the country!)
Before we moved to Australia I desperately wanted to know about the prices of things – groceries, clothes, cars, electrical items and more! Basically I was trying to work out a budget to ensure that we could afford a good lifestyle once we arrived. I also wanted to know if it was worth shipping our stuff or better to buy once we arrived.
Luckily I had a friend who answered all my questions which made it considerably easier. Now I have been here over a year and have some experience of balancing the books I thought I would share all I have learnt about shopping in Australia.
This guide to Australia shopping includes answers to these commonly asked questions and more!
What are the best Australia shops? Is there online shopping in Australia? Where to shop in Australia? What are the best shopping sites in Australia?
GROCERY SHOPS
The main grocery shops in Queensland are Woolworths, Coles, IGA's and i(f you are in SE Queensland) Aldi. If you are planning to move to north Brisbane there is also a Costco at North Lakes.
There are obviously also smaller butchers, fruit and veg shops and bakeries etc too (I tend to prefer the meat from a butcher in North Lakes) but Woolworths and Coles are basically the Tesco/Sainsbury/Morrisons/Asda equivalents.
So a little in info on each!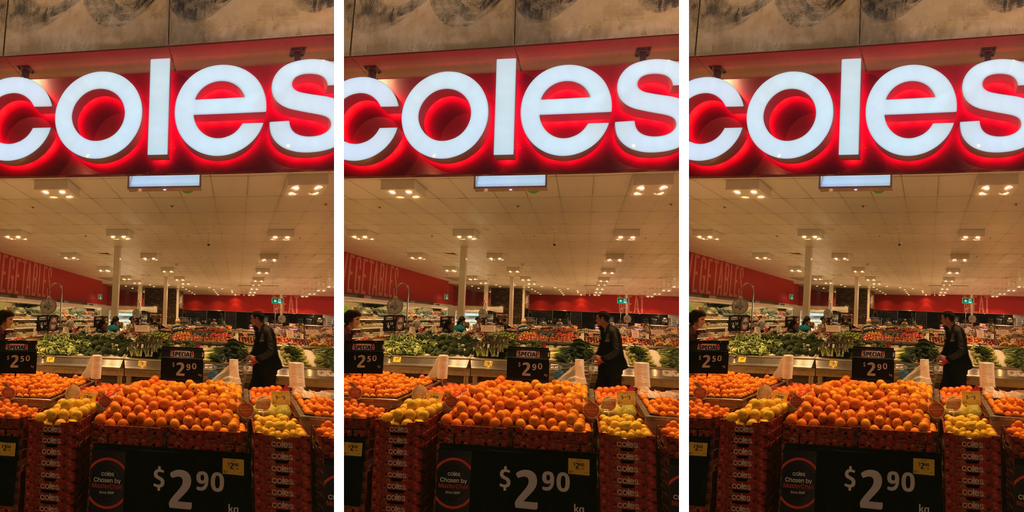 THE BIG 2 – WOOLWORTHS AND COLES
Woolworths and Coles as I mentioned are the main two grocery stores that you will find in Australia. Apparently they account for 80% of the Aussie market. Even so they aren't physically the size of the UK supermarkets. (At least I haven't found a superstore yet…)
If you want to do a virtual shop you will need an Aussie postcode – mine is 4020 in Queensland and if you are moving to Melbourne 3088 is a postcode there – this will at least give you an idea of the cost of a weekly shop.
Both shops do home deliveries though I have not used this service so can't really comment on it.
Both also have a small international food section where you will find a selection of UK/Irish/New Zealand/South African foods. I stock up on Branston Pickle, Bisto Gravy and Coleman's Mayonnaise!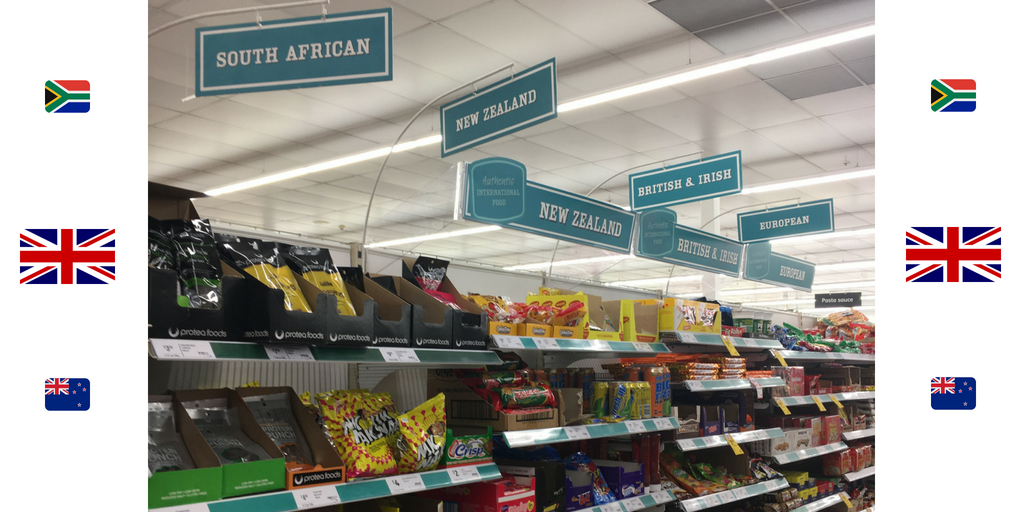 Both of them have loyalty programmes and I would recommend joining. At Coles you earn FlyBuys (these can also be earned in Kmart, Target and other shops in Australia)
In Australia you can't buy any alcohol in the supermarket. You can buy booze in drive-throughs though!!! (And liquor stores)
USEFUL LINKS
THE SMALLER SUPERMARKETS
Aldi stores can be found in Queensland, Western Australia, Victoria, New South Wales and Australian Capital Territory. Apparently Lidl will be opening stores soon too.
IGA (Independent Grocers for Australia) stores are independently owned. There are about 1400 IGA's across Australia.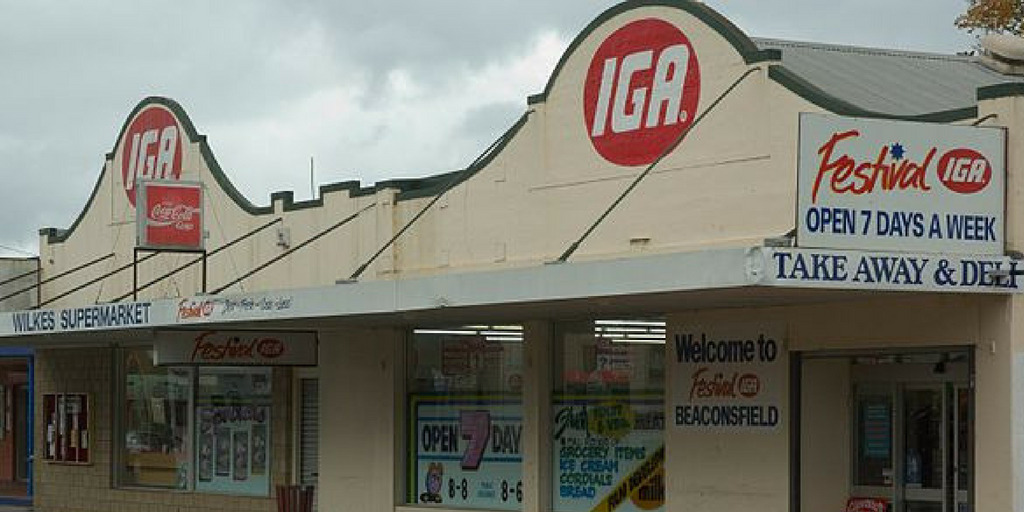 KMART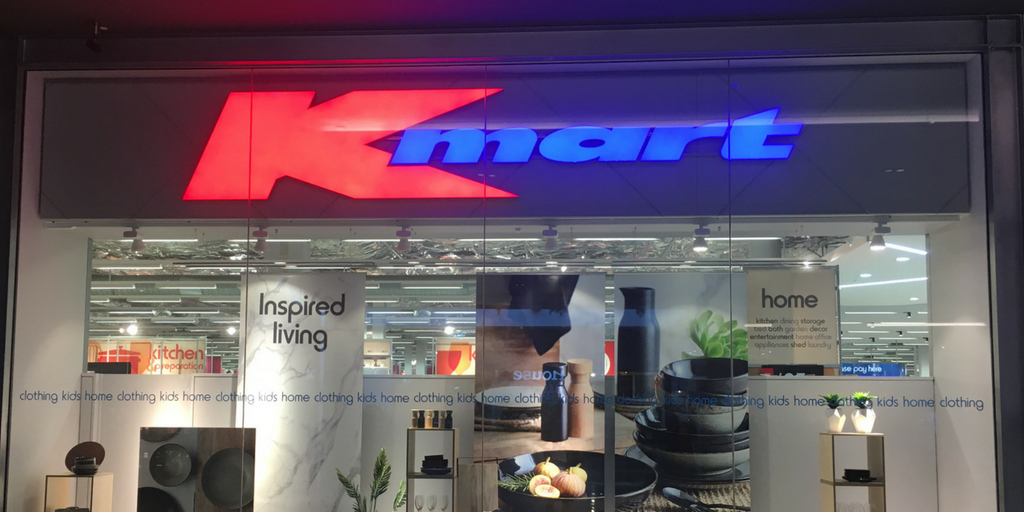 Kmart is addictive. It sells loads of really cheap stuff! Their homeware section is really good. They also sell clothes, sports equipment, outdoor stuff, toys, books, games etc etc
For an example of costs we bought a kettle for $15, a toaster for $15, rice cooker $14, steamer $39, sandwich maker $15. Their kitchen section is excellent and cheap!
I am glad we didn't ship much in the way of kitchenware as it is so cheap in Kmart it really wasn't cost effective. We also bought some towels and bedding from Kmart. (TIP – a doona is duvet)
ELECTRICAL GOODS
JB Hi-Fi specialises in home entertainment. You can also find home appliances for sale there too.
The Good Guys are all over Australia and sell every type of electrical appliance you can think of. You can also shop on-line with The Good Guys.
Harvey Norman sells electrical goods as well as furniture but are generally acknowledged as being more expensive.
TIP – ALWAYS ask if it is the best price they can do. Us Brits are not good at this generally but they seriously do expect you to haggle! Especially if you are buying a lot of stuff!
FURNITURE
For furniture I would look at Amart. They sell packages so you can get all you need for one room in one go.
Harvey Norman also sells furniture.
Ikea stores can be found in 10 locations across Australia though they do have many more collection points for goods ordered on-line all across the continent.
TIP – When they talk about a lounge in Australia they aren't talking about the room but rather sofa/settees.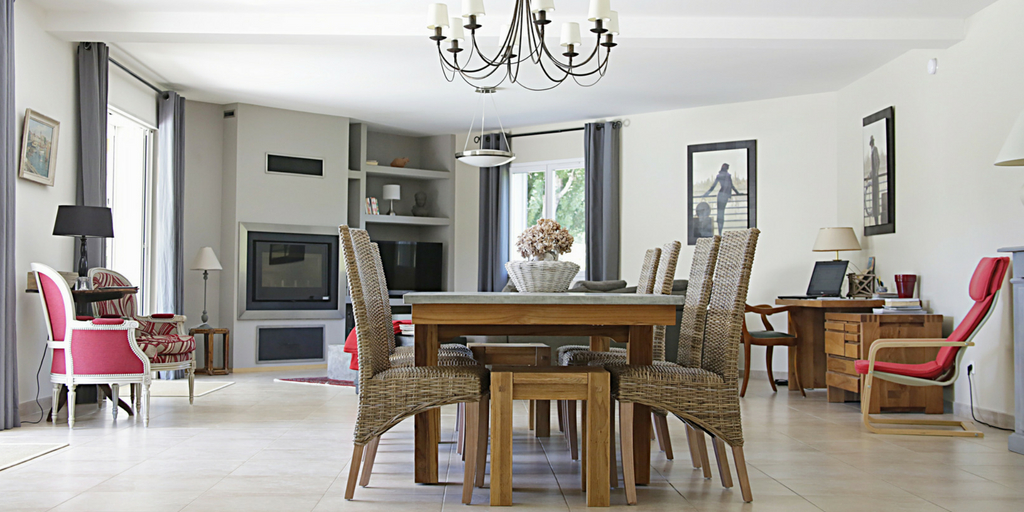 DIY STORES
Bunnings is your B&Q equivalent in Australia. With snags. Having a sausage sizzle at Bunnings is a bit of an Aussie tradition and has to be done! Snags are sausages and if you see the white marquee outside the entrance stop off to buy a sausage sizzle in 2 slices of bread with some onions/ketchup etc.
The sausage sizzle is provided by Bunnings and funds are used to benefit the local community for example for your local scouts group etc. So buy a sausage sizzle!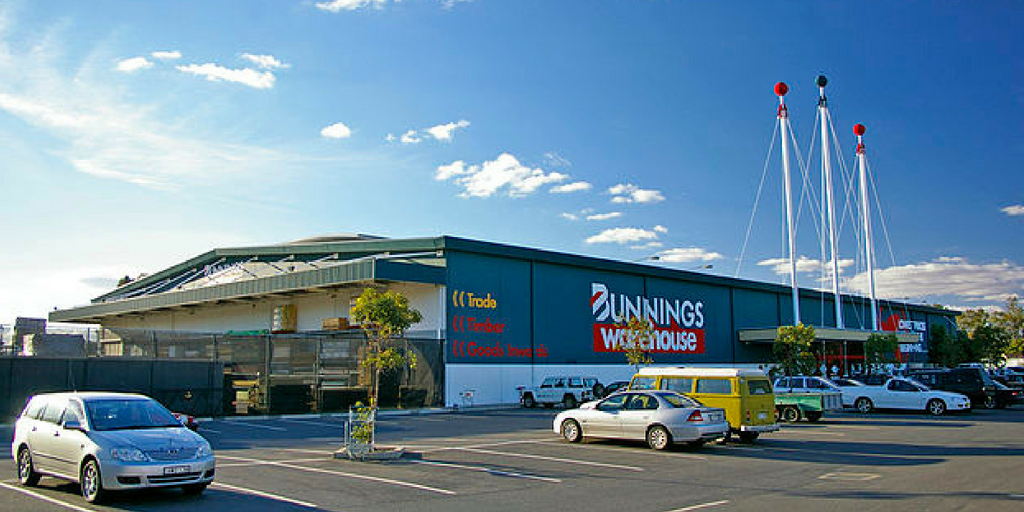 (By Bidgee – Own work, CC BY 3.0, Link)
DEPARTMENT STORES
There are a number of department store chains across Australia including –
Myer is a quite upmarket Australian department store chain. It sells a broad range of products including women's, men's and children's clothing, footwear and accessories, cosmetics and fragrance, homewares, furniture and bedding, electrical, toys, books and stationery, food and confectionery and travel goods.
Big W is a division of Woolworths in Australia. There are 182 stores across the country. It is a discount department store. I buy large bottles of washing powder, shower gel and body lotion from there.
Target. According to their website "Target is an iconic Australian retailer dedicated to making fashion, style and quality affordable for the whole family." I do quite like Target for clothes and find the prices very reasonable.
CHEMISTS
Chemist Warehouse is a discount chemist which prides itself as Australia's cheapest.
UK SHOPS WITH ONLINE SHOPS IN AUSTRALIA
So how can I go shopping in Australia ands buy some of my favourite UK brands?
Well there are some UK retailers who sell their goods in Australia. This includes Next and Marks and Spencer. Prices seem reasonably comparable to the UK prices and the on-line catalogues reflect the correct season.
Not sure the links will work outside Australia but here they are – Next and Marks & Spencer.
BUYING SECOND HAND
Why buy new when you can find great deals on second hand? Shopping in Australia for used items? If you check out Gumtree and your local Marketplace on Facebook you will find some really great deals on used furniture/white goods etc. There are also local Facebook groups worth joining too.
---
FURTHER INFORMATION FOR VISITING AUSTRALIA
---
I have lots of information on my blog about travel in Australia so do check out some of these posts. There is sure to be something to help you plan your trip or move to Australia.
PIN FOR LATER!SHOPPING IN AUSTRALIA
YOU MAY ENJOY THESE POSTS TOO!
This post may contain compensated links. Please read our disclosure for additional information. As an Amazon Associate, I earn from qualifying purchases.