If you are looking for the perfect romantic getaway, family outing or solo trip, Mackinac Island, Michigan is the perfect destination. Located at the northern most tip of Michigan, the island is the gateway to Michigan's stunning upper peninsula.
Accessible only by boat, this island is a safe vacation spot during the spring, summer and fall seasons.
If you love breathtaking scenery, epic adventures, outside activities and learning about history you will love Mackinac Island. It is also a popular draw for photographers, bird watchers and hikers as the diversity of the island offers something for everyone.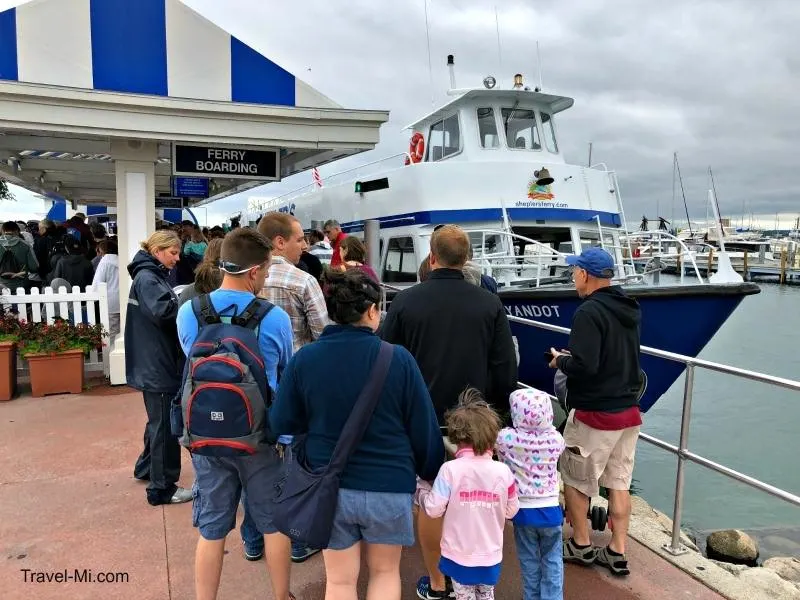 Free Things to do on Mackinac Island
Wander Down Main Street
When you first leave the ferry, I recommend wandering down Main Street on Mackinac Island. There are lockers located by Shepler's Ferry, so if you want to drop off a bag or backpack, do so as you disembark the ferry.
If you love hustle and bustle, you will enjoy wandering into all the shops on Main Street. The shops offer a wide variety of Michigan made souvenirs, delicious taffy and home decor. We love sitting on one of the many benches along the street to watch the horse drawn carriages pass as they give tours or are filled with luggage destinated for one of the many hotels.
Take a peek inside the spooky Haunted Theater and taste a sample of Mackinac Island Fudge along the way.
Our favorite fudge shop is Murdick's as often you can watch fudge artisans mix and smooth the gooey goodness on huge slabs of granite. It is impossible to resist a free taste (your mouth will definitely be watering!) as you watch them slice their handiwork into delicious chunks right before your eyes.
Further to the east on Main Street is the beautiful Mission Church. This church is Michigan's oldest surviving church building and also the earliest surviving example of a New England Style church in the Midwest. This striking church is the location for numerous weddings during the warm summer months.
My favorite church on the island is St. Anne's Catholic Church as the steeple and stained-glass windows are just breathtaking. This church was built in 1827 and is stunning to visit and photograph.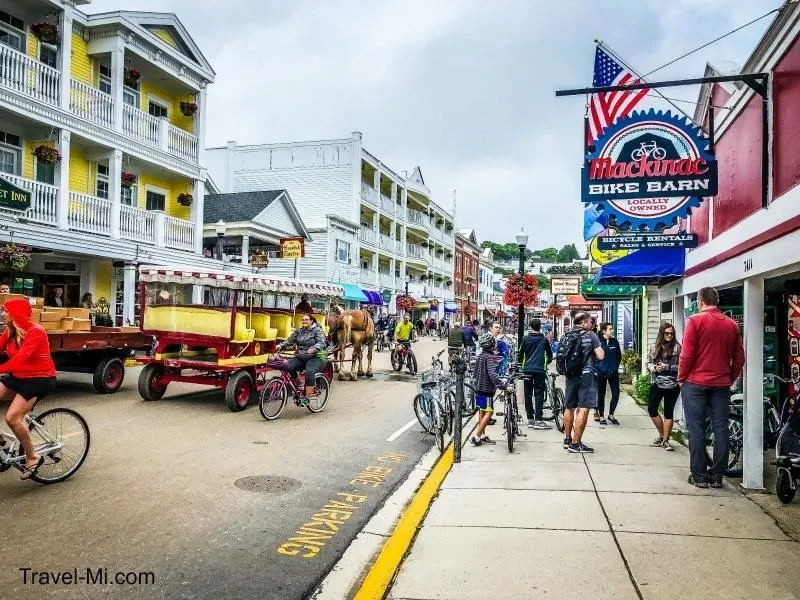 Discover the Hidden Places on Mackinac Island
We have spent several summers exploring Mackinac Island and during many of our adventures we discovered several secret hidden places on Mackinac Island.
The Somewhere in Time Gazebo is one of the hidden places that we just discovered after searching for it several times. This striking gazebo was featured in the 1980 movie, "Somewhere in Time" starring Christopher Reeve and Jane Seymour.
Fun Fact: This movie was almost entirely shot on Mackinac Island! Scenes were shot all over the island, including the historic downtown, Mission Point Resort (located on the east side of the island) and the famous Grand Hotel.
This gazebo was used in a memorable scene when Richard Collier, played by Reeve, and Elise McKenna, played by Seymour, share a romantic moment together on screen. It's very exciting to find this spot as it is like experiencing a moment of movie history!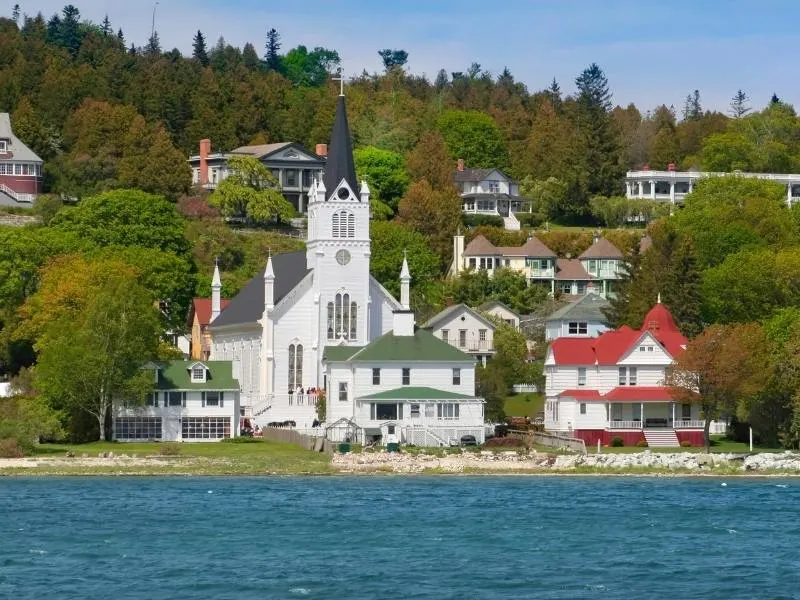 Experience History on Market Street
Market Street is a very scenic, hilly street that is filled with history and photographic opportunities. Be sure to find The Biddle House to learn more about life and the fur trade on Mackinac Island in the 1800's.
Next door to the Biddle House is the Benjamin Blacksmith Shop. This is a neat stop as you can see and learn about early blacksmithing tools and techniques.
Biking Mackinac Island
Biking the 8.3 scenic perimeter of Mackinac Island is a definite must-do as the views are incredible. The paved bike and hike trail offer water views and chances to swim or wade into the clear blue waves. Take some time to look for shells or beautiful rocks as a reminder of your trip. The perimeter trail is flat and easy to bike.
A few popular sites along the perimeter trail include Sunset Rock, McGulpin's Point, the Mackinaw Bridge and my favorite, Arch Rock. This natural wonder is a popular spot for selfies and is breathtaking to discover. This geologic formation is a natural limestone arch that stands on the Lake Huron shoreline 146 feet above the water.
There are about 200 stairs leading to Arch Rock but the views are definitely worth the effort. Upon reaching the summit, you will be rewarded with spectacular views of Lake Michigan and the Mackinaw Bridge.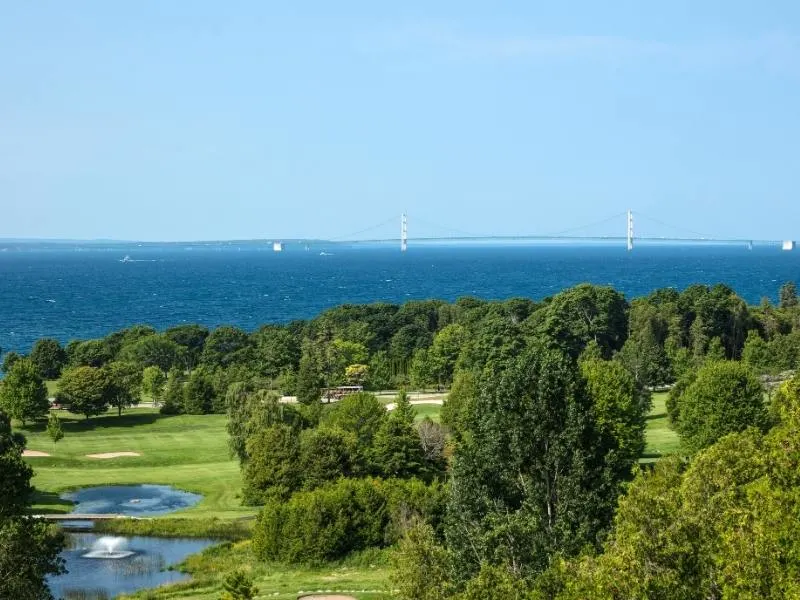 Just a few steps away is the Nicolet Watch Tower, a monument to John Nicolet who in 1634 passed through the Straits of Mackinac in a birch-bark canoe. This spot also offers scenic views of Lake Michigan.
If you are looking for more of a challenge with lots of hills, you will enjoy exploring the interior of the island. Keep in mind the interior involves strenuous biking so be honest with your endurance capabilities before embarking on this adventure.
Skull Cave, Cave in the Woods and the Crack in the Island are popular scenic destinations. Part of the fun is trying to find these natural wonders so take a map and enjoy the adventure.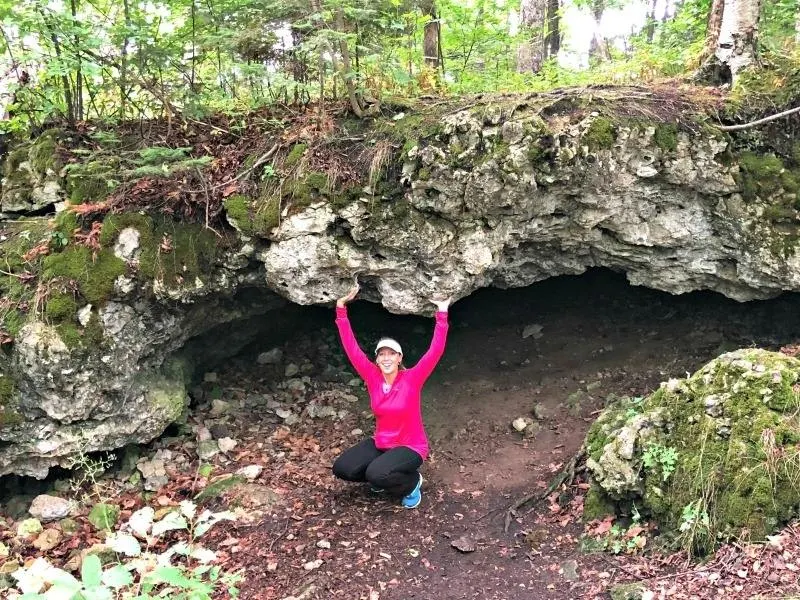 Bike to Fort Mackinac
We love biking to Fort Mackinac as it is the highest point of Mackinac Island. As such, the views are absolutely incredible. It is a great spot to photograph Main Street and the horse drawn carriages from a high vantage point.
There is a fee to enter the Fort as there are demonstrations, historic buildings to explore and docents in period clothing explaining various sites throughout the fort.
One of my favorite buildings is the soldier dormitories as their hard beds and minimal comforts make me appreciate my own comfortable bed!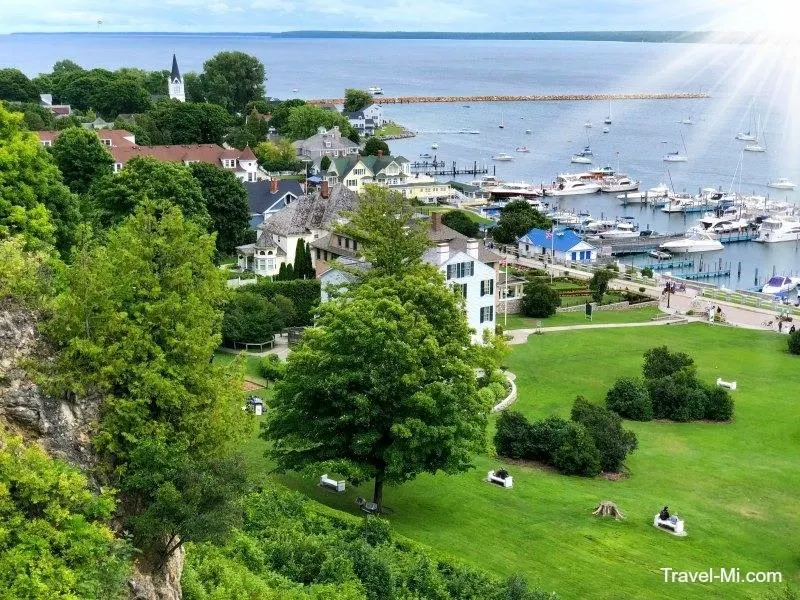 Visit the Grand Hotel
A trip to Mackinac Island isn't complete without a trip to the famous Grand Hotel. This hotel was built in 1887 to welcome visitors to its lavish accommodations. Mark Twain even gave a lecture there in 1895.
For a small fee, you can wander the hotel, have a drink in one of their nostalgic lounges and relax on their spectacular veranda, heralded as the world's largest porch.
The Grand Hotel's porch is one of my favorite spots to take lots of colorful photos. Be sure to relax for a while in one of their comfortable rocking chairs as several colorful horse drawn carriages will pass by as they deliver guests to the hotel.
Even though this experience is not free, it is worth mentioning because the experience is worth the small cost. Five presidents have stayed at the Grand Hotel and it was the backdrop to the 1980 film, "Somewhere in Time" staring Christopher Reeve and Jane Seymour.
We love exploring the Grand Hotel gardens which contains edible flowers and herbs used by the Executive Chef and his staff to prepare meals for the hotel's guests.
The hotel has been recently undergoing several updates and renovations in present years to be sure to visit this lovely hotel.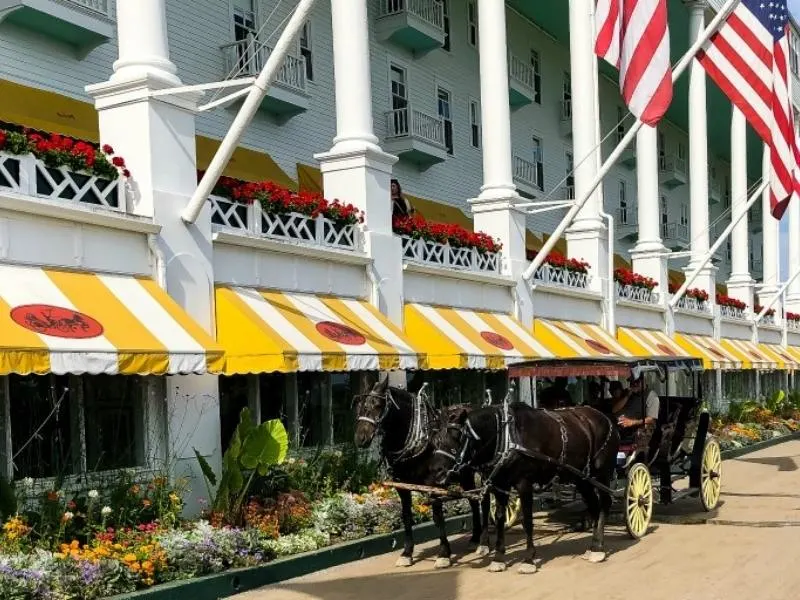 Other Free Things to Do on Mackinac Island
Sample fudge
Wander along Main Street to watch the horse drawn carriages
Take a swim in the very clear waves of Lake Michigan
Visit the Fort Mackinac Post Cemetery in the interior of the island. The area is very beautiful and peaceful.
Hike to the airport in the interior of the island and watch planes land and take off!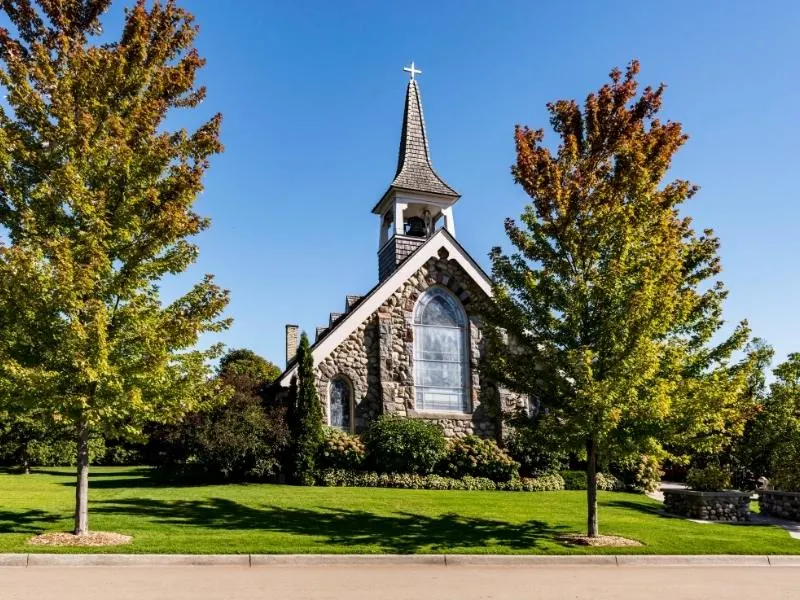 Plan your visit to Mackinac Island
Tips and further information
It only takes about 20 minutes by ferry to arrive on the island from Mackinaw City so you can easily make the island a day trip.
There are two ferry lines, Shepler's and Starline with similar routes.
The ferries leave from both Mackinaw City and St. Ignace.
We recommend spending the night in Mackinaw City prior to departing on the ferries so you can enjoy all that the city has to offer. There are ziplines, several restaurants, fudge shops, boat tours and fabulous views of the bridge.
The ferry ride is very affordable (approximately $30 for an adult round-trip ticket).
There are restrooms on the ferry. There is an upper open deck and a lower enclosed deck. You can get wet during the ride so if this concerns you or you have camera equipment, we recommend riding below deck.
Ferry parking is free and there is a shuttle that will take you from your vehicle to the loading docks.
Vehicles are not allowed on the island so it is very safe to bike and walk with children.
Bring or rent a bike so you can explore the entire island (or the perimeter). You will see so much more on by bike than by foot. Remember to bring a bike lock.
Dogs are welcome on the island.
We usually pack our own snacks, water and lunches in a bike bag that attaches to the handlebars of our bikes so we can stay hydrated and energized during our biking adventures.
AUTHOR BIO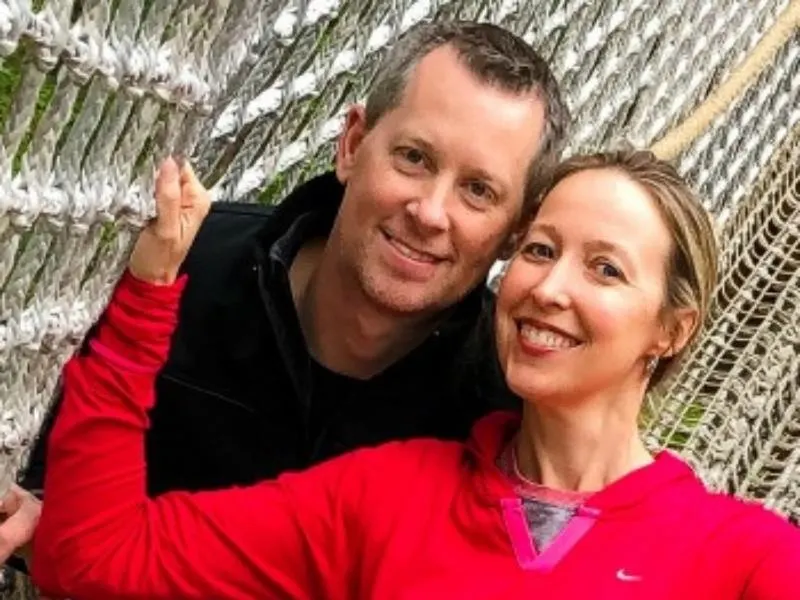 Sherry Trautman, founder of Traveling Michigan, loves to explore every inch of the Mitten State by hiking, biking, kayaking and getting lost!
Connect with Traveling Michigan on Instagram.