If you are planning to visit the Lake District you may be considering enjoying many of the scenic walks and hikes available. Even if you are only visiting the Lake District for one day you may find it possible to include a hike or walk into your Lake District Itinerary.
The Lake District has some of the prettiest villages in England and stunning scenery. Declared a UNESCO World Heritage Site in 2017 it is one of the most popular destinations in the UK for walkers and hikers.
In this article you will find information about 11 of the best Lake District walks and hikes contributed by fellow travel writers and bloggers.
Included for each walk/hike you will find practical information including the distance, level of difficulty, estimated time to complete the hike, a map and any highlights to watch out for along the way.
Join my UK and London travel planning group on Facebook for more tips, inspiration and help from other travelers planning travel to – and around – the UK.
Best books about walking in the Lake District
BLENCATHRA VIA SHARP EDGE AND HALL'S FELL RIDGE
Distance: 5 miles (8 kms)
Duration: 5 hours
Fitness level:
Moderate (technical level – difficult)
Highlights:
Tip-toeing along Sharp Edge
Panoramic views from Blencathra
Scrambling down Hall's Fell Ridge.
There are many great ridge walks in England and Wales, and Sharp Edge is one of the best on offer. This fairly short but action-packed hike provides an excellent mountain day in the Lake District..
After parking near the White Horse Inn at Scales, pick up the footpath that starts behind the pub. The walk begins with a gradual climb as you contour around Scales Fell. Once onto the north side of Scales Fell, the trail heads in a westerly direction along a beautiful valley, parallel with River Glendermackin. After a short climb to leave the valley behind, you get your first glimpse of Scales Tarn with Sharp Edge behind.
Next up is the main challenge of the day – traversing Sharp Edge. As the name suggests this is a very steep-sided ridge, with large drop offs on each side. It's not recommended for hikers with a fear of heights/exposure.
After crossing Sharp Edge there is an equally challenging scramble up Foule Crag, before enjoying a more leisurely stroll on towards Blencathra summit. If you're lucky with the weather at the summit, you can enjoy far-reaching vistas in all directions.
The descent along Hall's Fell is another excellent ridge scramble but not nearly as exposed as Sharp Edge. Sure footedness is still required though and this long ridge is quite challenging on tired knees.
Once at the bottom of Hall's Fell there is a path that skirts the edges of the mountain, crossing Doddick Gill and Scaley Beck. Then it's a short walk back to Scales for a well-earned pint in the pub.
Hiked by Louise France of Wandering Welsh Girl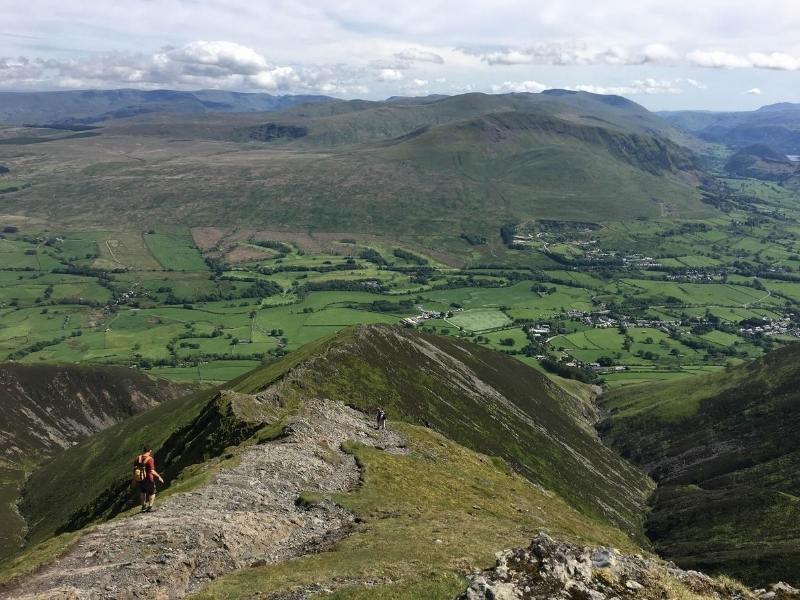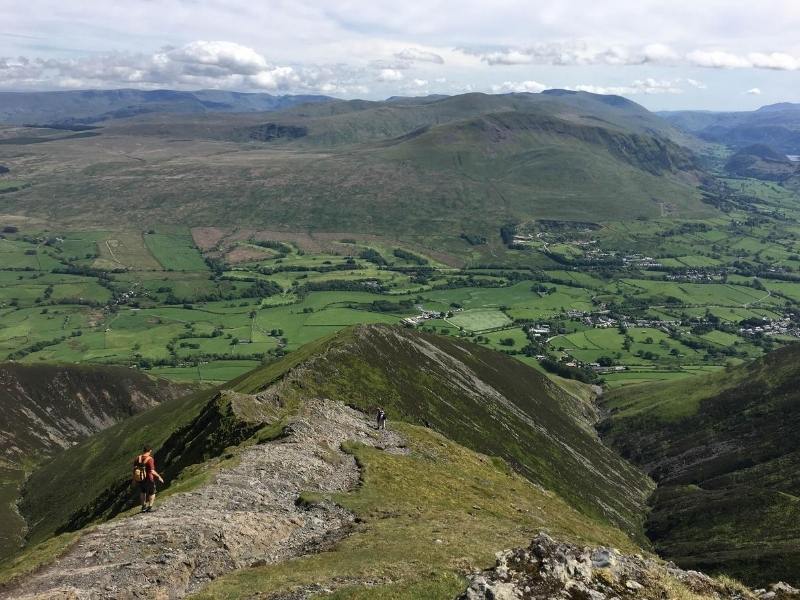 GUMMERS HOW
Distance: Half a mile to summit (800 meters)
Duration: 90 Minutes round trip
Fitness level:
Reasonable fitness, but still suitable for all ages.
Start:
Gummers How Car Park
Highlights:
Picture Perfect View
Great for Picnics
For those of you who adore the great heights, and outstanding views of the Lake District, having a toddler or a baby in a backpack, makes this much more of a challenge, but Gummers How on the Eastern shore of Lake Windermere offers the opportunity to take a short stroll through the wood, with a quick, but challenging climb rewarding both the experienced fell walker and the young adventurer with surprisingly stunning views across the lakes.
The ascent of Gummers How is made easier by a car park high up in the woods on Feel Foot Brow, off the A592 on the South Eastern end of Lake Windemere. With the elevation already gained, little legs, with a little encouragement and support can make the final half mile walk to the summit, which rise about 400 meters from the car park.
The easier route to the summit is to circle round the eastern side and up the northern footpath, but the slightly more adventurous may choose the rockier south eastern side.
Gummers How is not big at 1053ft, but its big enough, the views are picture perfect and on a nice day the summit is perfect for a mountain top picnic.
It can be a bit slippy at the top in wet weather. It is also a bit exposed if its very windy so check the weather forecast before you set out.
If you need a short, stunning, and perfect introduction to fell walking, Gummer's How is a great choice.
Hiked by Mandi and family from Great Yarmouth Family Fun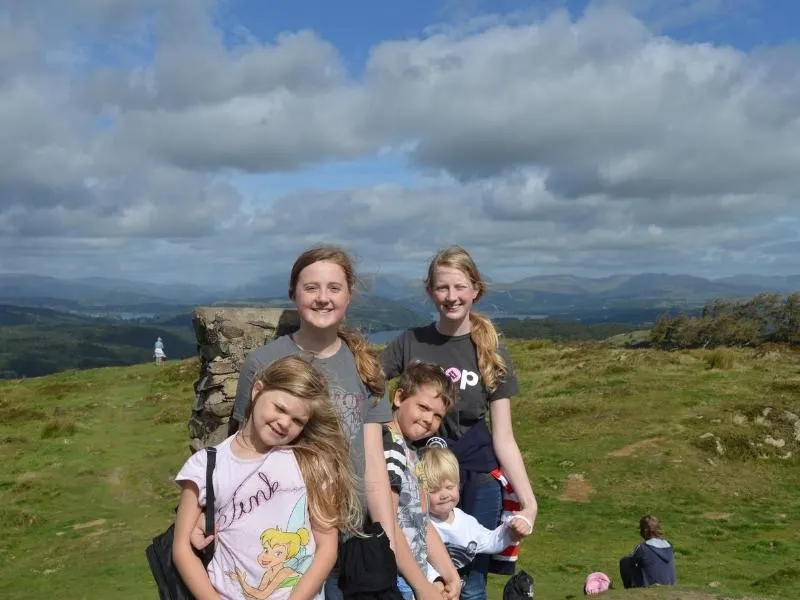 THE OLD MAN OF CONISTON
Distance: 6 miles (9.5 kms)
Duration: 3.5 hours
Fitness level:
Medium
Highlights:
Views from the high elevation
An iconic Lake District hike with fantastic views is the Old Man of Coniston, located near the charming village of Coniston as well as Coniston Water, one of the best-known lakes in the Lake District.
If you have a weekend in the Lake District or longer, you can dedicate a half-day to hiking the Old Man of Coniston, a 6-mile circular walk taking around 3.5 hours from start to finish.
Start on at the parking area on Walkna Scar Road and begin the hike. You will go up and down across Brown Hike, Buck Pike and Dow Crag. If you don't know your Lake District lingo, a crag is a rocky cliff and a pike is a mountain's peak.
As you might guess, this isn't the easiest walk in the Lake District but it's doable for anyone with a moderate level of fitness. From the craggy top, you will have fantastic views down over the lakes and rolling hills. Find the tall pile of stones at the top to indicate you've finished the hike.
There are no shops or refreshment stations on the hike so you'll need to bring enough water and a packed lunch with you. However, after you've finished the hike, you can descent to Coniston village and eat scones with rum cream at the Bluebird Cafe.
Hiked by Rose of Where Goes Rose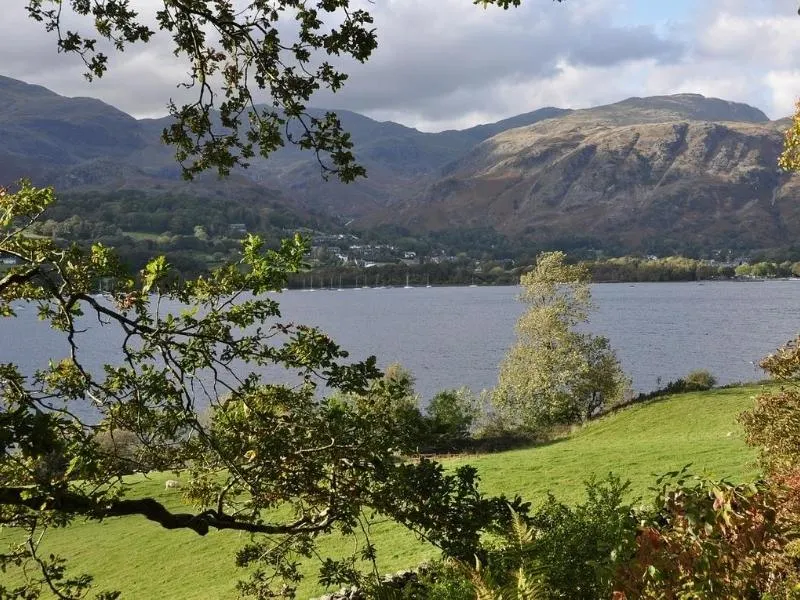 LEARN MORE – Complete Lake District Itinerary (including recommended accommodation and places to eat)
PIKE OF BLISCO AND CRINKLE CRAGS
Distance: 8 miles (13 kms) / 985 metres ascent
Duration: 6 hours
Fitness level:
Good
Highlights:
Views of Scafell from Pike of Blisco
Views of Oxendale as you head down
The walk to Pike of Blisco and Crinkle Crags starts from Old Dungeon Ghyll at Langdale along a country lane towards Blea Tarn before a path to the right follows Redacre Gill.
This first section to Pike of Blisco is a complete slog. It is steep on a rough track and there are a couple of false summits before you reach the peak. However it is worth is as the views out towards Scafell Pike and the Pike of Stickle are stunning on a clear day.
After the first summit the path heads gently downhill before heading up towards Crinkle Crags. This is a series of summits with rough scrambles. The first is South Top which has a bit of a climb on one side. This can be avoided by following the path around to the left before heading up to the top of the second crinkle called Long Top.
From Long Top it is downhill all the way. The path passes Three Tarns where it there is the option to walk to the summit of Bowfell before descending. A track from Three Tarns known as The Band follows the ridge all the way back to Langdale. The landscape changes constantly with lovely views of Oxendale as you walk back to Old Dungeon Ghyll and the small pub.
Hiked by Suzanne of Meandering Wild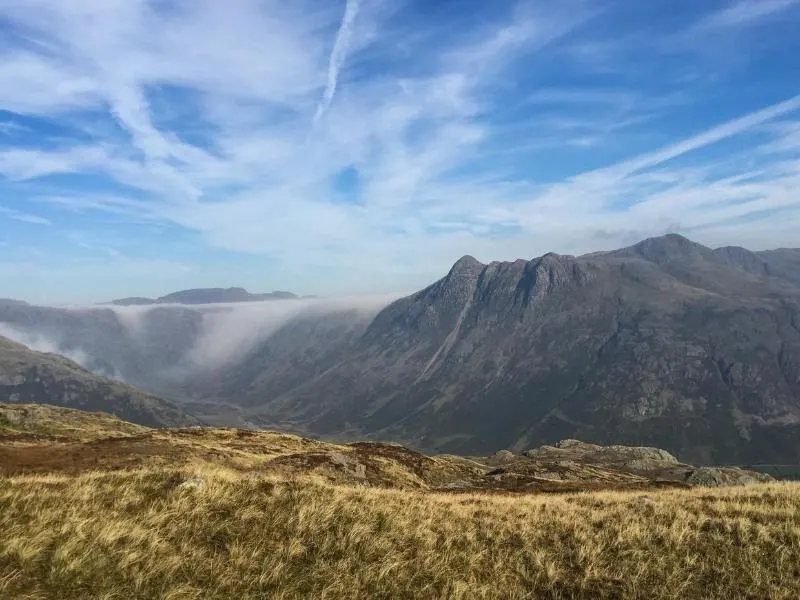 LEARN MORE – 24 pretty towns and villages to visit in the Lake District
THE COFFIN ROUTE
Distance: 4 miles (approx 6.5 kms)
Duration: 2 hours
Fitness level:
Easy (one slight incline)
Highlights:
Rydal Hall
Dove Cottage
St Oswalds Church
The Lake District in Cumbria is a hikers paradise, with treks to suit all abilities. A personal favourite of mine is the coffin route as it's an easy trail that takes you from Ambleside to Grasmere. You can easily take a whole day to explore the coffin route as there's lots to see on the way.
You'll pass Dove Cottage, and Rydal House, both of which were homes of William Wordsworth. There are also plenty of things to do in Grasmere, and the town of Ambleside has plenty of water activities to enjoy. The route, in medieval times was the road that people carried the dead in coffins to St Oswald's Church. On the way, you'll pass several pubs, and cafe's should you need a little rest bite.
From Ambleside, the walk begins along the A591 to Scandale Bridge. There are plenty of signposts to follow along the way, so it's a great walk for beginners.
You turn off and follow a track through Rydal Park to Rydal Hall. The views are spectacular across Rydal Water, and if you are visiting in spring, the daffodils are stunning. Rydal Hall is worth a visit, it has an excellent tea shop and a spectacular waterfall to view.
As you continue, you'll pass the lower part of Nab Scar and soon come to Dove Cottage. If you want to learn more about William Wordsworth, take a visit to the museum next door where you'll find exhibitions about his work and life.
The final section of the walk takes you past Grasmere lake and through the village to St Oswald's Church. Here you'll find the family graves of Wordsworth and a delightful memorial garden. You can either return to Ambleside bus or take an alternative walking trail.
Hiked by of Fiona of Passport and Piano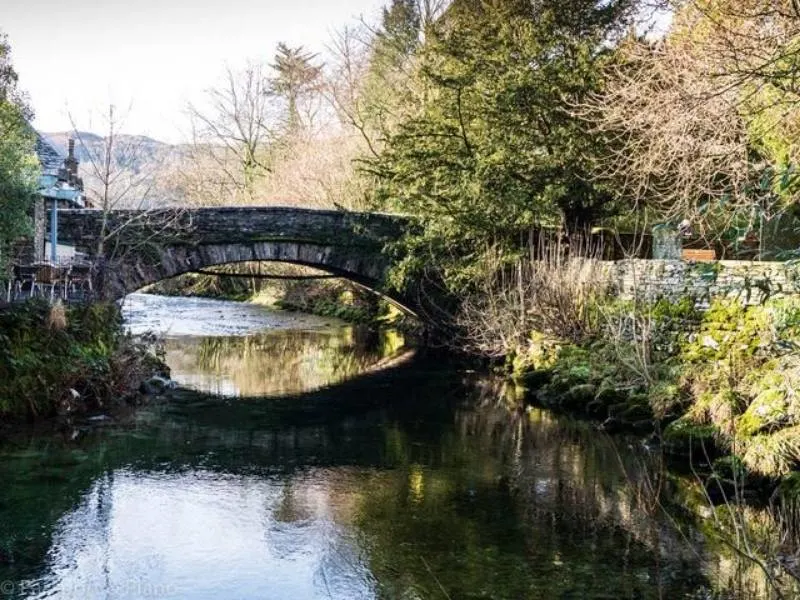 WHINLATTER FOREST WALKS
Distance: Various trails available
Duration: Various
Fitness level:
Easy to Moderate
Highlights:
Tip-toeing along Sharp Edge
Panoramic views from Blencathra
Scrambling down Hall's Fell Ridge.
When looking for the best walks and hikes in the Lake District remember to check out the trails on offer at Whinlatter Forest Park in Braithwaite. With a myriad of tracks and walking paths, you have options as there are currently 9 walking trails and 2 running trails to be explored.
On most of my trips to the Lake district, I usually start by looking for new things to do in Keswick and the surrounding village areas because I find it easy to navigate the rest of the tourist site from there. I spent two hours walking the Seat How Summit trail which covers 3.5 miles (5.75 km) and is very hilly in places, so if doing this trail, ensure your fitness level is up to decent standard.
There are other easier trails that you can do such as the Revelin Moss trail covering 1 mile (1.6 km) which offers an easy walk with a beautiful viewpoint along the way.
To access the trails you start by walking up a rising fort road which gradually transforms itself into an enchanted forest environment and at that point, you can choose which path you'll take. With upland fells such as Darling How, Broom Fell, and Lords Seat there is plenty to see and do here as far as hiking goes.
Driving just 10 minutes from the center of Keswick you'll arrive at the Whinlatter Forest car park, which is equipped with a Visitor Centre and a café so you can even treat yourself to coffee and cake once you've complete the hike.
All in all the beautiful scenery in Whinlatter Forest gives you the opportunity to get away from it all and spend a morning or afternoon getting acquainted with some of the breathtaking walks on offer.
Hiked by Daniel of Urban Abroad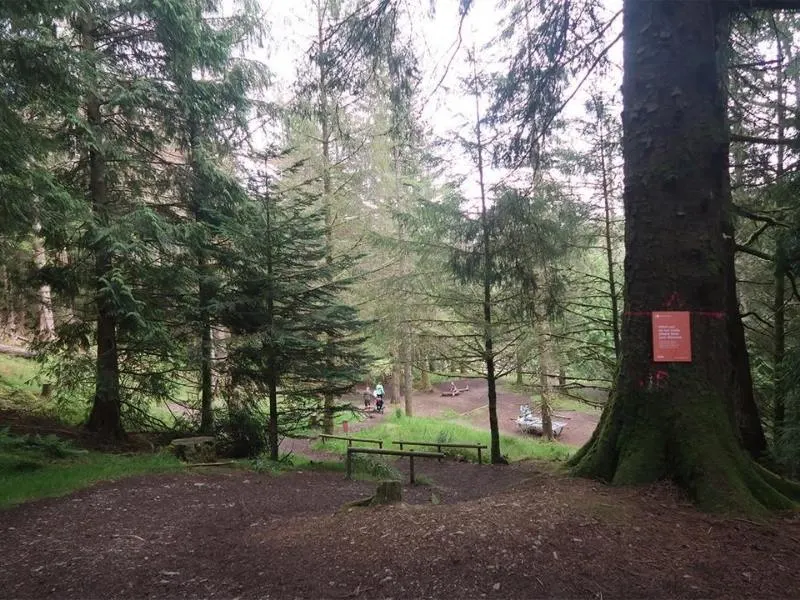 HELVELLYN VIA STRIDING EDGE
Distance: 5 miles (8 kms)
Duration: summer 5/6 hours winter 7/8 hours
Fitness level:
Seasoned hiker. Good head for heights.
Highlights:
Amazing views along the way, and mildly exposed scrambling while traversing the edges.
There are many routes leading to the summit of Helvellyn, each vary in distance and level of difficulty. However, the most exciting route leads to the top of Helvellyn via Striding Edge and is one of our all-time favourite hikes in Lake District!
If you are not afraid of traversing mildly exposed ridges and enjoy scrambling, this trail is for you. It is a combination of hiking through stunning locations and Grade 1 scrambling experience over Striding Edge.
The path starts in Glenridding village, and takes you towards the hills. You will leave the cottages and village buildings behind in no time, and face grassy and heathery slopes. To make the ascent easier, there is a built up stone staircase that takes you up the first hill.
Do not forget to regularly look back as stunning views open towards the village and Ullswater lake. Once you get to the top of the first ridge and pass a small hilltop the views open and you'll see a broad rising ridge before you. Striding Edge is on its other end. Below, to the right is a small lake, and over the lake- the return way via Swirral Edge.
Top of Helvellyn is a broad plateau, the very summit is marked with 4-way wind shelter. View from Helvellyn is stunning, the two Edges in full glory as well as the neighbouring hill Catstyecam!
To descent from Helvellyn we recommend scrambling down Swirral Edge, which forks from the main peak just a bit further.
Hiked by Ela & Beata from Stunning Outdoors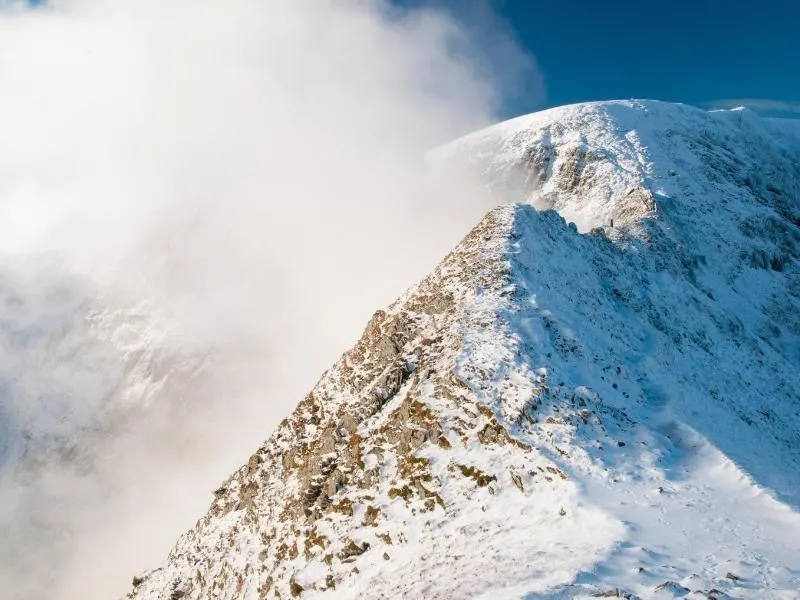 LEARN MORE – Things to do at Windermere (complete guide plus tips)
WANSFELL PIKE
Distance: 3 miles (5 kms)
Duration: 2 – 2.5 hours
Fitness level:
Moderate (steep sections)
Highlights:
Sweeping panoramic views from Ambleside, Windermere and beyond.
Many people choose to stay in Ambleside when visiting the Lakes, and there are many great hikes that start in the town.
One of the most scenic is the hike to the summit of Wansfell Pike from Ambleside. Starting in the town centre, the route takes you past Stock Ghyll waterfall, and follows the river up.
The route itself does become quite steep, and can be challenging for those not used to hiking. As you ascend and look down, you get views of Ambleside, Kirkstone Pass, and the Langdale Pikes opposite.
Once you reach the summit, you have 360 degree views of the Lake District. On a clear day, you can see all the way down Windermere, to the coast beyond. If you are lucky, you may be rewarded with views of jets flying up the lake as they often do on clear days.
You can then descend the way you came up back to the town, or even continue on over the summit toward Troutbeck and make a full day of it. It is advised to bring water and snacks with you, as there are no shops along the way.
Even on hot days, the summit of Wansfell can be cold and windy so bring warm clothing. Lake District weather is infamous for changing quickly, so a raincoat would be sensible too! You may like to bring hiking poles for the steep descent.
Hiked by Demi from Around the World With Her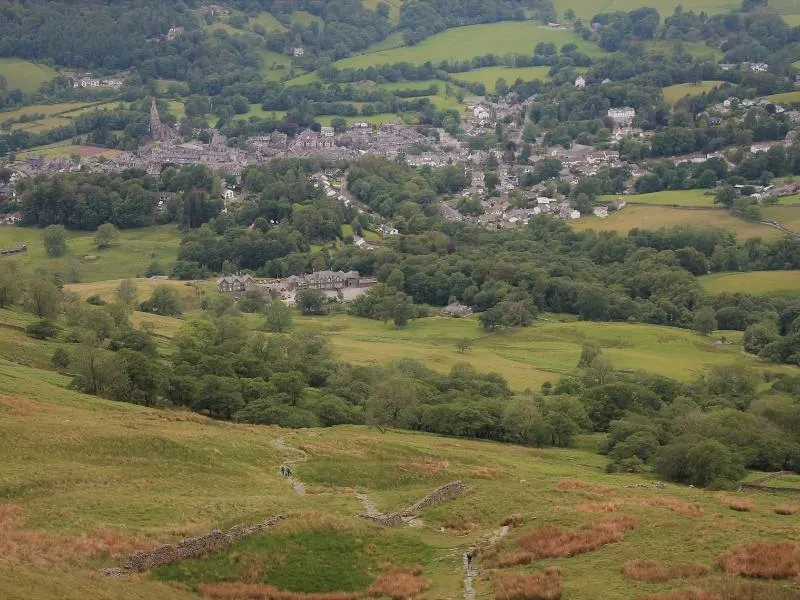 SEATHWAITE VALLEY – BORROWDALE
Distance: approx 6 miles (9.5 kms)
Duration: 3.5 hours
Fitness level:
Medium
Highlights:
Styhead Tarn
Sprinking Tarn
This circular walk takes in some of the best scenery the national park has to offer, with valleys, mountain peaks and tarns to admire along the way.
The trail begins in the hamlet of Seathwaite, where there is plenty of roadside parking. It then slowly winds its way up the valley, taking a right fork to follow Styhead Ghyll up to the tarn of the same name.
Continuing up you'll enjoy the dramatic rock faces of Great End and Great Gable, as well as far reaching views out across the park, before arriving at the delightful Sprinkling Tarn.
This is a popular location for wild camping in the Lake District, as well as a perfect picnic spot. The return route heads downhill alongside Grains Gill, which has several plunge pools if you need to cool off after your hike.
This walk can be done in either direction, but as Sprinkling Tarn is the more impressive of the two mountain lakes, it's recommended to see Styhead first.
A decent level of fitness is advisable as there are some steep, steady climbs and descents at the valley heads, although there's nothing technical to negotiate so anyone in reasonable health can give it a go.
If you want to stay overnight, there's a campsite in Seathwaite, or Keswick is just 20 minutes down the road beside Derwentwater.
Hiked by Heather from the Conversant Traveller
CATBELLS
Distance: 3.5 miles (5.5 km)
Duration: 2 hours
Fitness level:
Average
Highlights:
Stunning views in every direction
Derwentwater
One of the easiest fells to summit in the Lake District, it's no surprise then that the Catbells is a very popular walk. Taking only a couple of hours to ascend then descend, it's easily done in the morning or even on a pleasant evening.
It's best to start the hike from Hawes End. There's a small car park, or else take the launch across from Keswick. A bus is also available. From there, it's a steady climb up to the summit, ascending around 400m.
There are two sections of scrambling, although they don't last too long. Small children will likely fearlessly tackle them, but if you suffer from vertigo you should reconsider this walk. We completed the hike with our small dog, a very eager mini dachshund.
During the ascent and from the summit there are beautiful views stretching in every direction, east over Derwentwater and Keswick and west to the Western Fells.
The descent is towards Derwentwater, with the route easing up. At Hawes Gate, turn left towards the road, with roughly formed steps along the steeper sections. Then continue on the path back just above the road. An alternative longer path is to descend to the lake and loop back via Brandelhow.
Hiked by Shandos of Travelnuity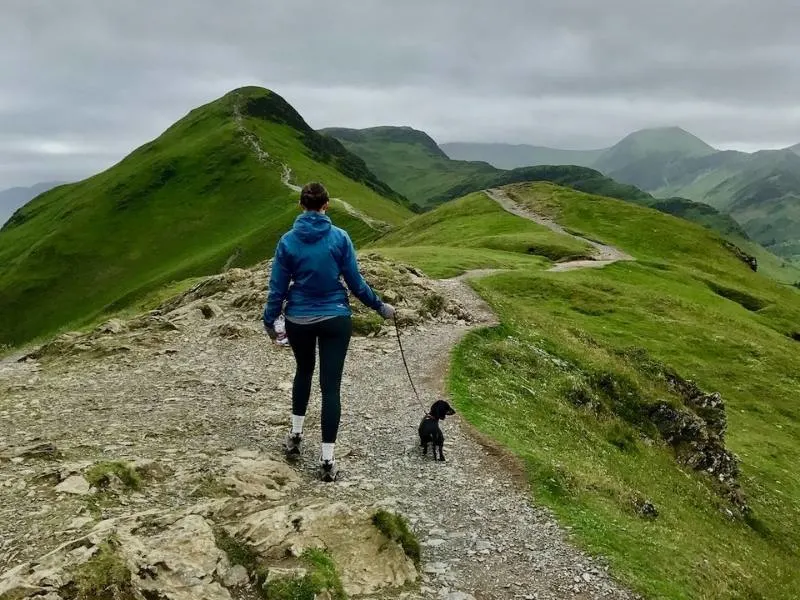 SILVER HOW HIKE – GRASMERE
Distance: 3 miles (5 kms)
Duration: 3 hours
Fitness level:
Moderate
Highlights:
Allan Bank (former home of Wordworth)
Breathtaking views of Grasmere, Rydal Water and Windermere at the summit
When it comes to hikes, Lake District is a paradise with plethora of paths to climb a mountain or walk around the lake. Each one is charming in its own.
One of my favourite hikes is from Grasmere, a beautiful town in the Lake District, and former home of the poet William Wordsworth.
Silver How is a beautiful fell which dominates the skyline of Grasmere. This leisurely hike is approximately 3 mile long circular route.
The ascent is not very difficult, the path is relatively well maintained and easy to climb, making it a great choice for all kinds of climbers. The summit is clean and grassy, making a nice picnic opportunity up the mountain.
Silver How is sandwiched between Langdale and Easedale in Grasmere offering grand panoramic views of both from the top. There are different ways to reach Silver How summit, but we recommend beginning this hike from Allan Bank, a National Trust property and former home to William Wordsworth, and follow the signpost towards Easedale and then follow Silver How (signposted).
Once you reach the top of the summit, you can enjoy the views of Rydal Water, Grasmere, Windermere and the surrounding fells. Descend down the ridge walk and into Grasmere village.
End your hike with refreshments from Baldry's Tea Room.
Hiked by Anuradha from Country Hopping Couple