This post may contain compensated links. Please read our disclosure for additional information. As an Amazon Associate, I earn from qualifying purchases.
This post may contain affiliate links, which means we may receive a commission, at no extra cost to you, if you make a purchase through a link. Please see our full disclosure for further information. As an Amazon Associate, I earn from qualifying purchases.
A few years ago I took part in a challenge to visit as many of the designated UNESCO World Heritage Sites in the UK as possible.
I managed to visit quite a few (19) but not all of the 30 were that easy to get to.
4 of the sites are not in the UK so I I knew it would be impossible to visit them.
Henderson Island (in the eastern South Pacific)
Gough and the Inaccessible Islands
Gorham's Cave Complex (Gibraltar)
Historic town of St George and Related Fortifications, Bermuda
So I thought I would ask some fellow travel bloggers to tell us about their favourite of the other 26 UNESCO World Heritage sites in the UK. (Update – there are now 31 sites in the UK as the Lake District was added in 2017)
In this post we have covered 15 of the remaining sites!
(* Stonehenge and Avebury Henge are classed as one site)
Only 20 miles away from the world-famous Stonehenge, it's lesser-known sister site is a UNESCO hidden gem.
Avebury Henge is the largest Neolithic stone circle in the world and, close by, Silbury Hill stands largest prehistoric mound in Europe. With a full circumference of 1.5km, it's the perfect way to combine a walk around the classic British countryside with some valuable historical lessons!
The village of Avebury itself has risen up within the circle. Now, roads, shops, and houses lie in and around the stones. Unlike Stonehenge, this means it's possible to get up-close and personal with this ancient monument, and easy to imagine what life would be like for settlers around that time.
If you want to know more about the history of the area, then the onsite museum provides visitors with all they need!
There are also plenty of tearooms in Avebury that offer a selection of delicious treats. You can dine on cake and tea in authentic English style after your walk – plus, they also provide a perfect place to warm up if the weather isn't great!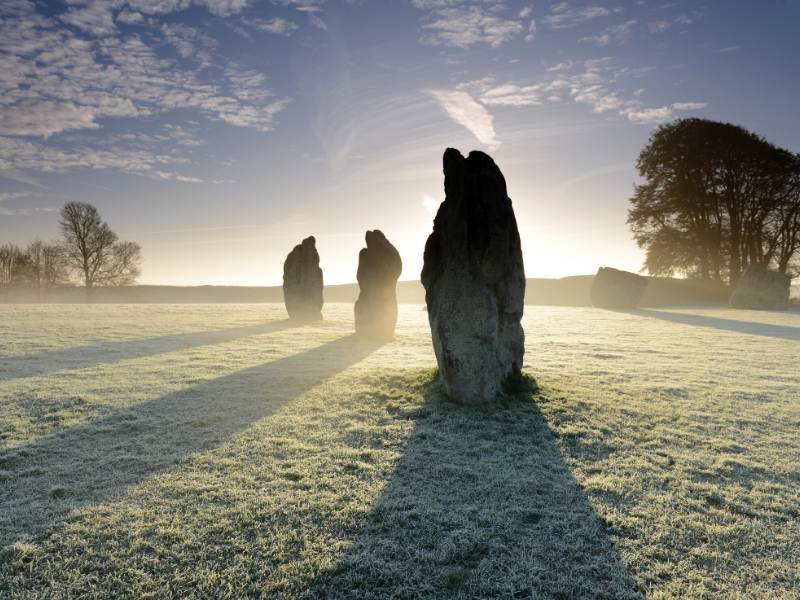 Founded in the 1st Century AD by the Ancient Romans who used the natural hot springs as a thermal spa, it's no wonder that the city of Bath achieved its World Heritage status in 1987.
Within Bath, you have the opportunity to see the Roman Baths in all their ancient and historic glory; you will spot ancient temples throughout your visit to this marvellous city and important Ancient Roman artefacts can also be found within the museums here.
The hot springs were at the centre of Roman life within their very aptly named Aquae Sulis town and they are now a thriving museum to teach you all about how the Romans lived and bathed here.
Plus, you also have the opportunity to use the thermae spa yourself whilst overlooking the city of Bath; allowing you to feel just that little bit more Roman during your visit.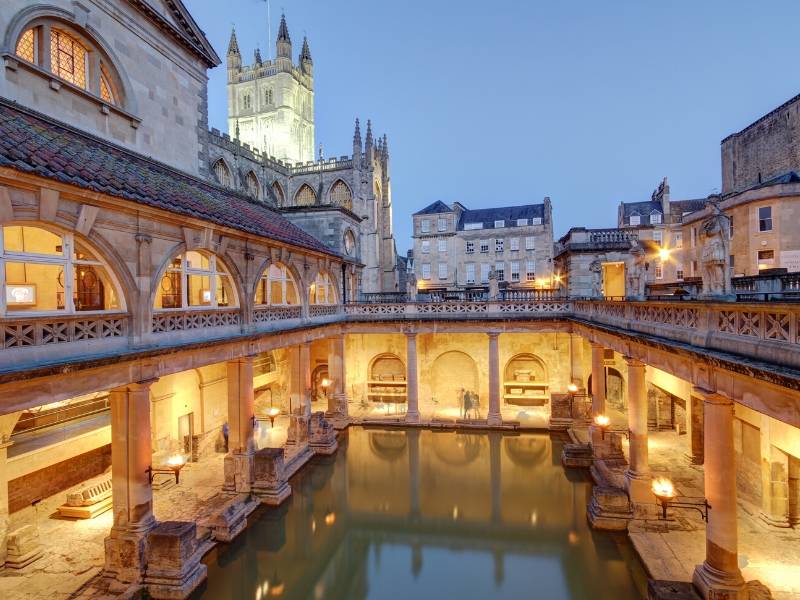 Visiting Hadrian's Wall can be a day trip or you can turn it into a multi-day adventure. I chose the latter and started my adventure a few miles out of Newcastle. The 5 day hike over the 86 miles, takes you on the public National Trail path.
The start of the walk takes you along the River Tyne in Newcastle which is amazing seeing the bridges as you leave the city. Then there is beautiful scenery as you walk through the Yorkshire Dales National Park.
Hadrian's Wall was built by the order of the Emperor Hadrian in AD 122. It was a continuous wall with a milecastle every Roman mile (1.48km). Some of these milecastles are still standing so you can explore as you make your way along the path.
The entire wall isn't standing throughout the walk but during days 2-4 you can see huge parts of it. Some even higher than me!
Along the journey you will bump into many a walker and also the odd sheep, cow and horse so always people to talk to! Although watch out for the fields with 'Beware of the Bull'!
And at the end of the walk you are greeted with 'Welcome – The End of Hadrian's Wall Path'. At that point I celebrated in the nearest pub!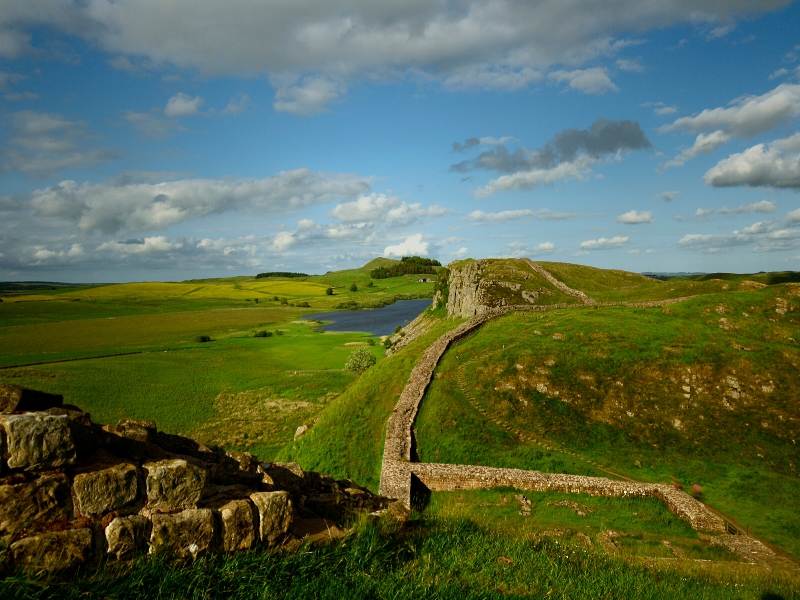 There are two stories about how the Giant's Causeway in Northern Ireland was created. One version is that it's a natural wonder comprised of 40,000 interlocking basalt stones was caused by a volcanic eruption 60 million years ago.
The other version tells the story of Irish giant Finn MacCool who built the causeway as a way to bridge the North Sea for a fight with the Scots. I chose to believe the latter and you should too.
MacCool's architectural prowess has earned the Giant's Causeway a spot on the UNESCO world heritage list. Because of this, the causeway is quite popular. Most people visit as a day trip from Belfast or Dublin.
But I recommend the slow road. I took an Antrim Coast road trip which included the causeway other natural and man-made wonders of Northern Ireland. And it was well worth the extra time spent exploring the area.
Go at dawn or dusk. Take your time. Have a seat. And think about what you would build if you were gearing up for a fight with the Scots.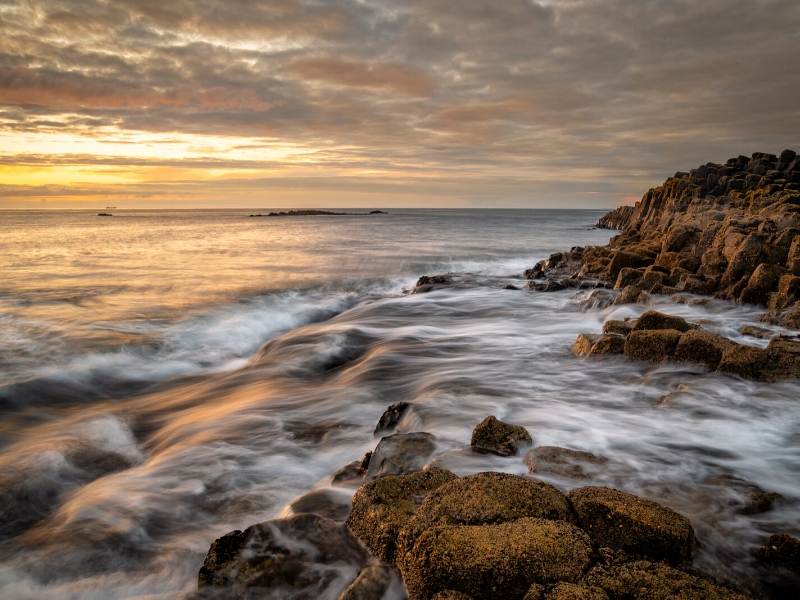 The Tower of London, one of England's famous UNESCO World Heritage sites, was built in 1066 by William the Conqueror as a symbol of power and wealth. And oh, what a symbol it is! History and intrigue, jewels and beheadings… You can't get more of a feel for drama and flair than here.
If you're planning to visit London, we highly recommend putting the Tower of London on your list. The list of things you can do are endless. Seriously!
See the crown jewels on display. Learn about life in medieval England. Count how many 'Beefeaters' (a fun name for a section of the royal guard) you can find in the courtyards.
Study King Henry the VIII's carefully-preserved armour—it's okay if you ponder how he managed to wear it, we totally did— and visit the place where three of his wives, including Anne Boleyn, spent their final moments. And so much more…
To visit the Tower of London, you'll need to buy your tickets in advance (it's cheaper). It may be a little expensive if you're on a budget, but trust us. Getting to experience this historical site for yourself is priceless.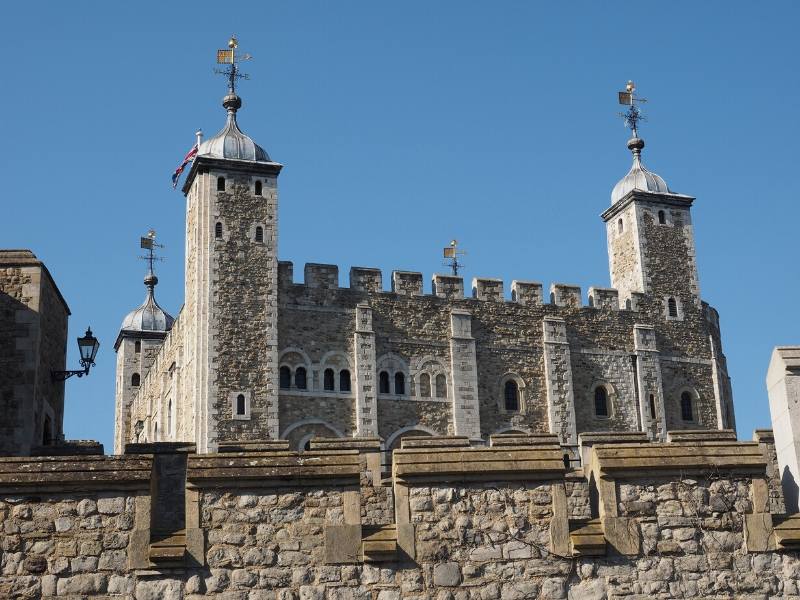 Located about 140km from London city, Stonehenge is United Kingdom's most famous prehistoric monument. The iconic stone circle was erected in the late Neolithic period about 2500 BC, while the 1st monument at the site, an early henge monument, was built more than 5,000 years ago.
Many of us recognises Stonehenge's unique stone circle, which is comprised of roughly 80 massive upright stones placed in a circular and lintels layout. Up until now, the facts surrounding the architects and construction of Stonehenge remain shadowy at best, and the purpose of this magnificent monument is still shrouded with mystery.
Today, Stonehenge along with Avebury, forms the heart of a World Heritage Site listed since 1986. Therefore, Stonehenge attracts almost a million visitors every year.
Open daily (except for Christmas Eve and Christmas Day) from 9.30am-5pm, visitors are expected to pay walk up ticket prices for Adult £17.50, Child £10.50 or Family £45.50.
Advance booking is recommended for discounted prices. This World Heritage Site is definitely worth a day trip out from London and for some good prehistoric educational experiences.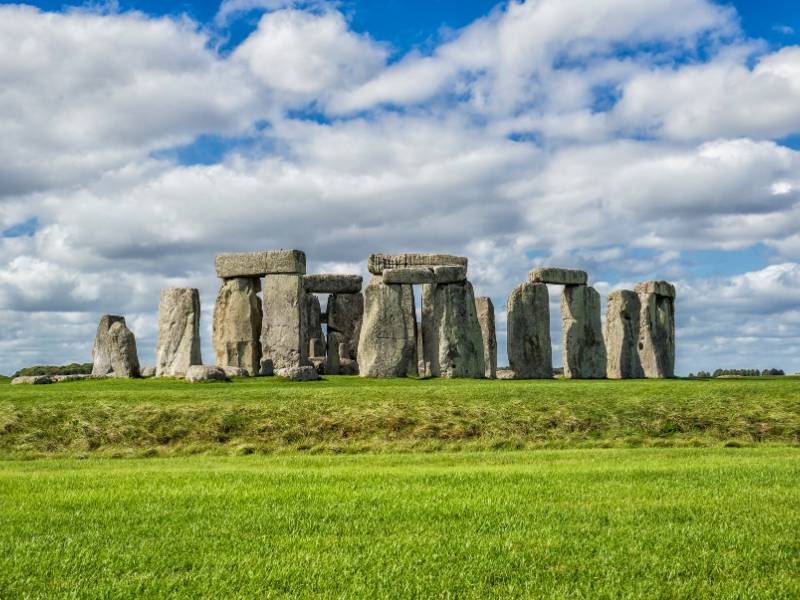 The Jurassic Coast is on the south coast of England and stretches for 95 miles between Exmouth in Devon and Studland Bay near Swanage in Dorset.
It's been a UNESCO World Heritage Site since 2001 and was added to the list for its amazing rock formations, which include the arch at Durdle Door, the almost-circular Lulworth Cove, Chesil Beach and the cliffs at West Bay. It's also famous for fossils – collectors have visited Lyme Regis and Charmouth for hundreds of years hoping to find traces of prehistoric life.
In the 1800s a Lyme Regis woman, Mary Anning, hugely advanced the study of palaeontology with her finds from the town beach and cliffs.
If you're a walker you'll be in heaven – the whole length of the Jurassic Coast can be experienced from the Jurassic Coast path. If not then most of the key attractions are accessible by car with a short walk.
The whole area is well geared up for visitors and away from the coast there are lots of interesting places to visit, including Corfe Castle, the abandoned village of Tyneham and Brownsea Island. There's also lots of accommodation available.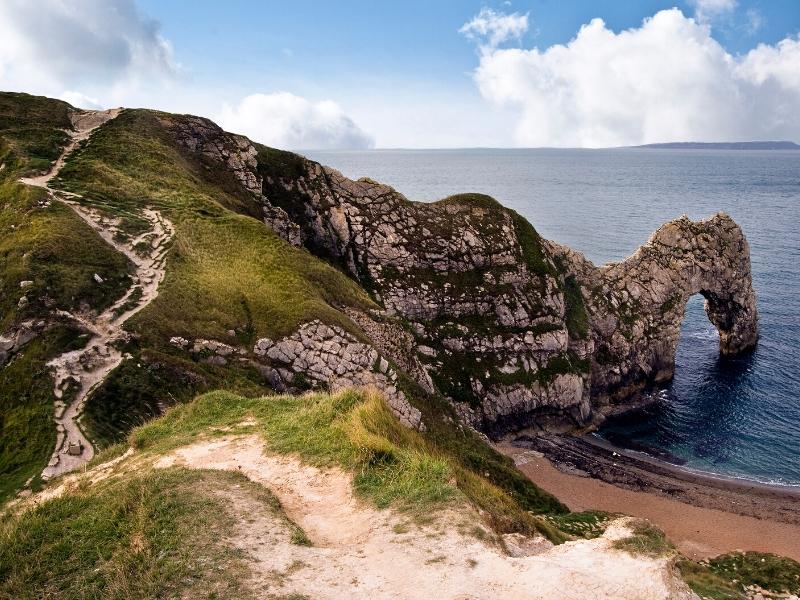 Kew Gardens is a lovely place for a walk. It's charming and different in every season. Christmas at Kew Gardens is always very special. The place gets a seasonal makeover and turns into a winter wonderland as lights glow along the path leading to a nicely decorated Christmas tree. The garden is really big and offers something for everyone. The lily pond looks like its straight out of a fairy tale.
The Palm House recreates a rainforest and has lots of unique plants. The hop on hop off train runs round the site and makes it easy for the elderly and little ones to get around the park without too much effort.
My favorite was the Treetop Walkway, as it offers a nice view to the whole garden and to London as well. If you come to Kew Gardens you are guaranteed to have a nice day strolling through the park, watching the flowers and identifying birds.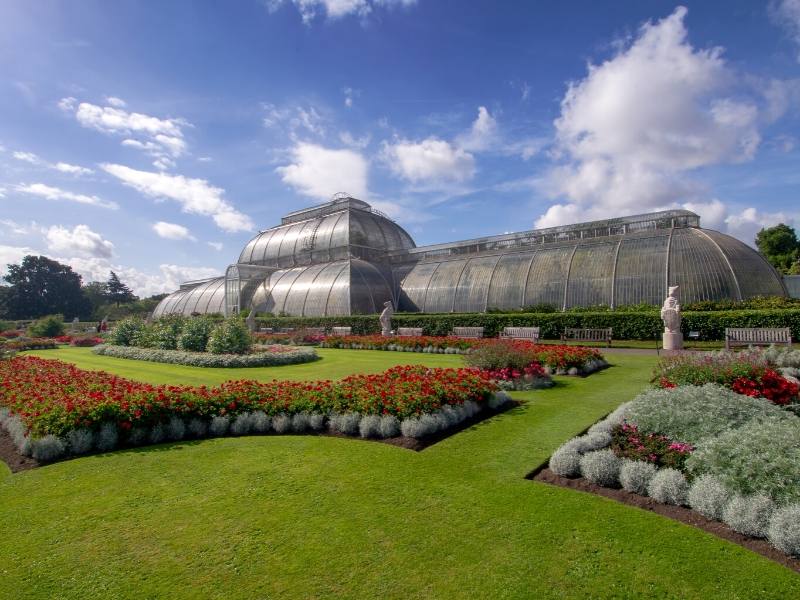 Winding 15 miles down the River Derwent from Matlock Bath to Derby the UNESCO site contains a number of mills dating back to the 18th and 19th century, including some of the worlds first 'modern' factories.
With a secret design in hand for spinning large quantities of cotton stolen from the Italians, the Lombes brothers constructed Derby Silk Mill in 1721.
However, it was not until Richard Arkwright constructed a water-powered spinning mill at Cromford in 1771 did the process become truly established and later known as the 'Arkwright System' which was used all over the world.
The production of silk in the Derwent Mills not only provided work for the local people of Derbyshire it also provided housing, churches and health care.
Whilst the work in the mills was hard going, it was incomparable to the work endured by the millions of people forced in to slave labour in South America to pick the cotton used by mills all over Great Britain including Derwent Mills.
Tips for visiting the area:
Enjoy lunch at the Michelin recommended restaurant Darleys (attached to Darley Abbey Mill)
Hire a rowing boat on the river next to Strutts North Mill.
Grab some bargain John Smedley knitwear from the factory shop in Lea Mill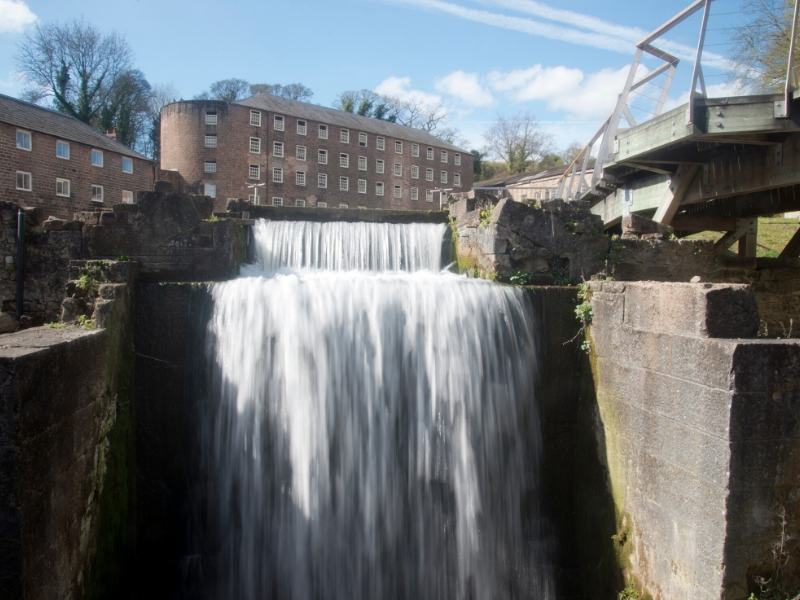 Known as one of the world's greatest churches, Westminster Abbey is on many tourists 'to do' lists when visiting London and for good reason. Adorned with gothic architecture, Westminster is by far one of our favourite places to visit in London.
The Abbey is the final resting place of many notable names including Charles Dickens, King Edward III, Queen Elizabeth I, Charles Darwin, Isaac Newton and Mary, Queen of Scots.
You can head to the Abbey for free if you're a worshipper – visiting at 5pm weekdays will get you free entrance and you will be greeted by a beautiful Choral Evensong. Or you can opt for a full entrance ticket that allows you to explore the whole abbey.
The history and architecture make Westminster Abbey an ideal place to stop by when in the centre of London.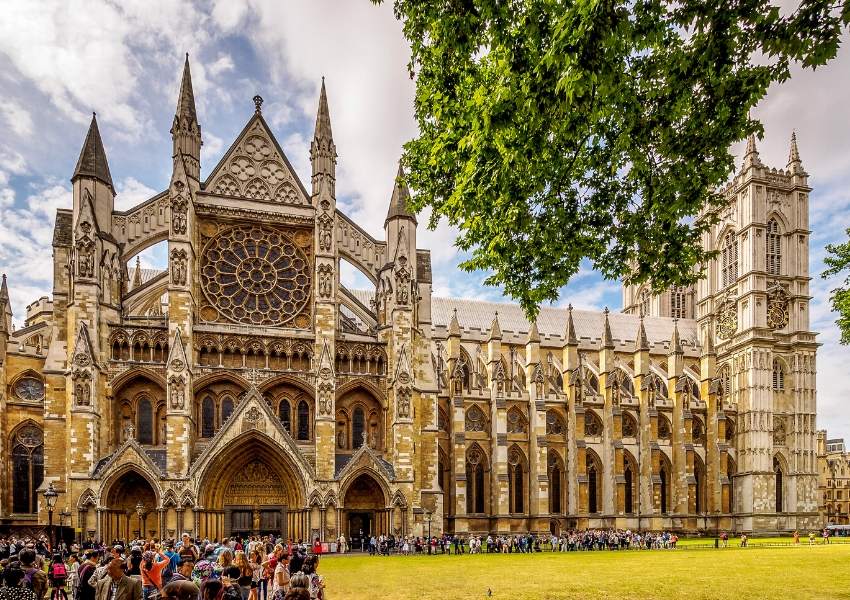 A site of rituals and ceremonies, The Ring of Brodgar in the Orkney Islands is somewhere I have always been fascinated by. How these magical stone circles have appeared throughout the UK is spell bounding and surrounded by mystery.
Built in a true circle of 104 metres wide, the Ring of Brodgar is the third largest stone circle in the British Isles; originally having 60 standing stones, yet now, only 27 stones remain.
The age of this UNESCO World Heritage Site is uncertain due to the interior of the stone circle never being fully excavated. However it is thought to have been erected between 2500 – 2000 BC.
This prehistoric stone circle is one of the most visited attractions on the island. Its magic really shines at sunset where the orange glow creates sinister shadows; perhaps memories of what once was?
Each Thursday at 1pm you can enjoy a free guided walk of the Ring of Brodgar with Orkney's Ranger Service; the meeting point being at the Ring of Brodgar car-park.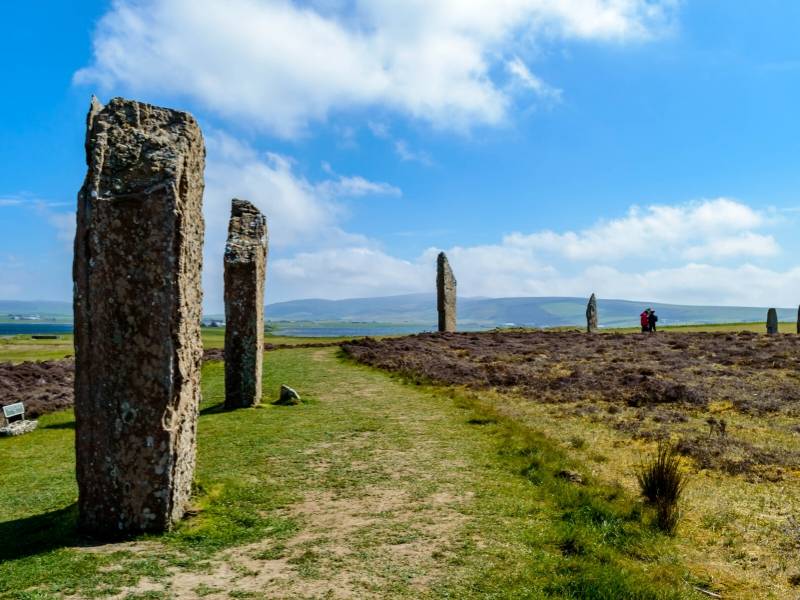 The town of Saltaire is a perfect example of a Victorian 'model village'. Built in 1851 by wealthy entrepreneur and philanthropist Sir Titus Salt to house the workers of his alpaca mill, which made fine cloth and fabrics.
He wanted to escape nearby Bradford, where pollution was a problem, his answer was to relocate his entire business on a grand scale and build the perfect Victorian village.
Sir Salt built grand buildings inspired by the Italian Renaissance including a church, hospital, school, a library and parks, everything to keep his workers content and healthy.
The workers terraced housing was high quality and homes had water, gas, an outdoor toilet, living room, kitchen and several bedrooms, much more than they were typically used to.
Built close together on a grid pattern, this was to make best use of the land, they weren't built too tall either to maximise daylight. Larger semi detached homes were built for Sir Salt's company executives and community teachers, they had views of the sweeping countryside.
The Salts Mill was built next to a canal to distribute goods, it was hugely impressive and became known as 'The Palace of Industry'
All of the streets were named after his children, the Queen and his architects. In 2001 Saltaire was added to the list of UNESCO world heritage sites, recognised for it's international influence on town planning and as an exceptionally preserved 'model village' in the world.
Today the Salts Mill houses the world's largest collection of art by locally born artist David Hockney.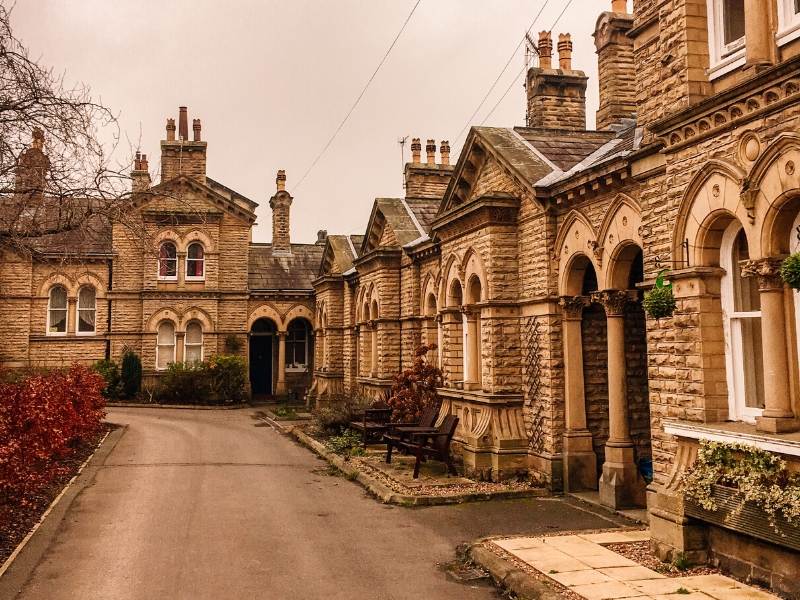 STUDLEY ROYAL AND FOUNTAINS ABBEY
I have chosen to write about my favourite of the UK's UNESCO listed sites I have visited. I was stunned by the beauty of Studley Royal Water Park and Fountains Abbey.
The Cistercian Abbey ruins are all that is left of a magnificent Abbey after the dissolution of the monasteries by Henry VIII. There is also the simply breathtaking Studley Royal Water Park created in 18th century and a medieval deer park to enjoy.
Plan on spending a day visiting this beautiful site – if you are a National Trust member then you will be pleased to know it is one they own and so entry is free.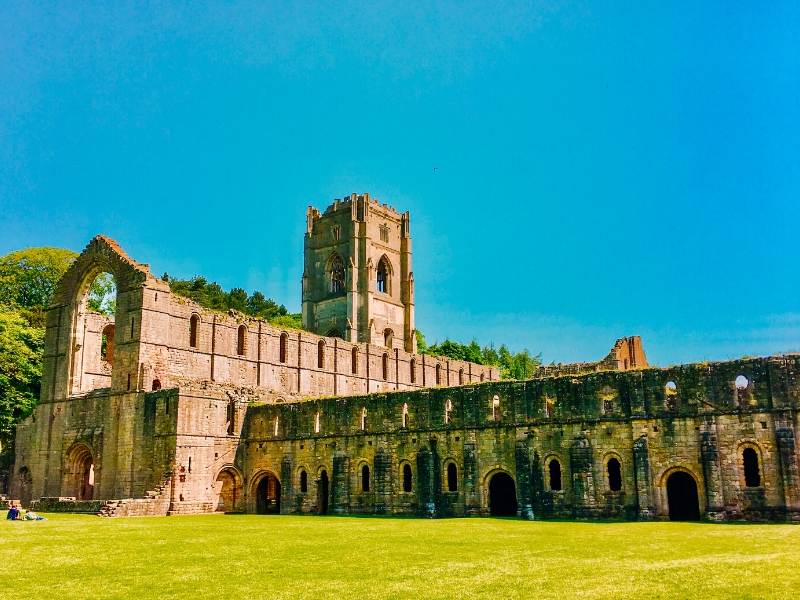 Good looking bridges have me rubbing my thighs in excitement and the Forth Bridge is of no exception. This great big red cantilevered piece of iron was voted Scotland's greatest man-made wonder (I'm not sure how the deep-fried mars bars slipped through however) and it's no surprise UNESCO deemed it worthy of their honour.
In its day it was extremely innovative and forthright and whoever made the decision to paint it red was a genius in my books – on those rare days of sunshine in Scotland, the bridge gleams brilliantly like an industrial strawberry off the Firth of Forth.
Back when it was built it had the worlds longest span, and even today it remains still one of the longest at 541 metres. Three of these spans, plus the two arms, combine to make a 2.5km train journey of pure delight.
Views from the train take in the group of islands below which in themselves have a fascinating history. And, the two towns which sandwich it, North and South Queensferry have a fair few stories to share too.
It's an architectural structure of monstrous proportions that is rarely repeated in style and widely admired.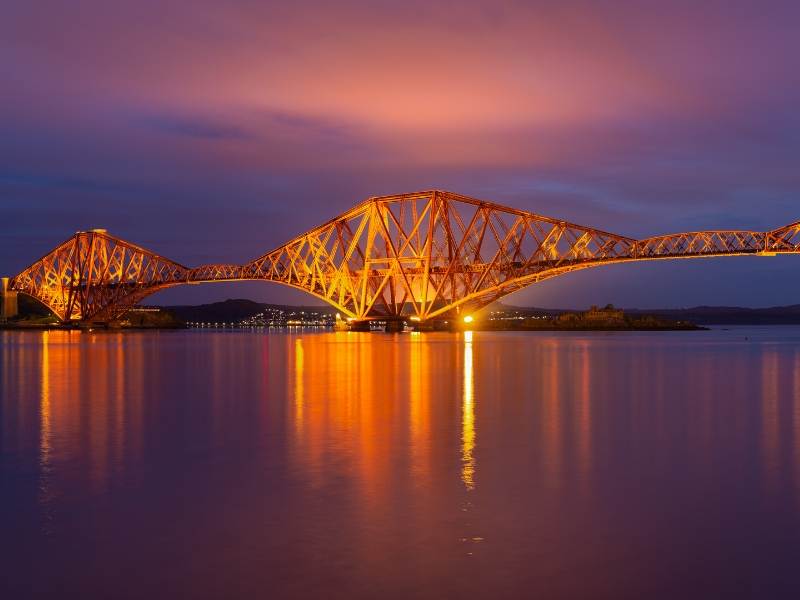 In 1997 the Royal Borough of Greenwich was appointed a UNESCO World Heritage Site. The site was declared of great importance due to its royal origins and its rule under the Tudor and Stuart dynasties.
The development of Greenwich as a centre of navigation, astronomical research and Naval welfare and education is of great historical importance.
Greenwich is a fascinating place to visit with lots to do and see. Check out the Cutty Sark the worlds only surviving tea clipper. When you are done wander over to the restored Queen's House, that contains over 450 works of art from Rubens to Hogarth and Turner and it's free.
If you are bored by history walk over to the O2 for a show or exhibition. Alternatively take a cable car over the river.
There are street markets to shop at, architectural tours to gape over, wander on the banks of the Thames and inhale history. Need a laugh? Head to the Greenwich Comedy Festival in July at the Maritime Museum.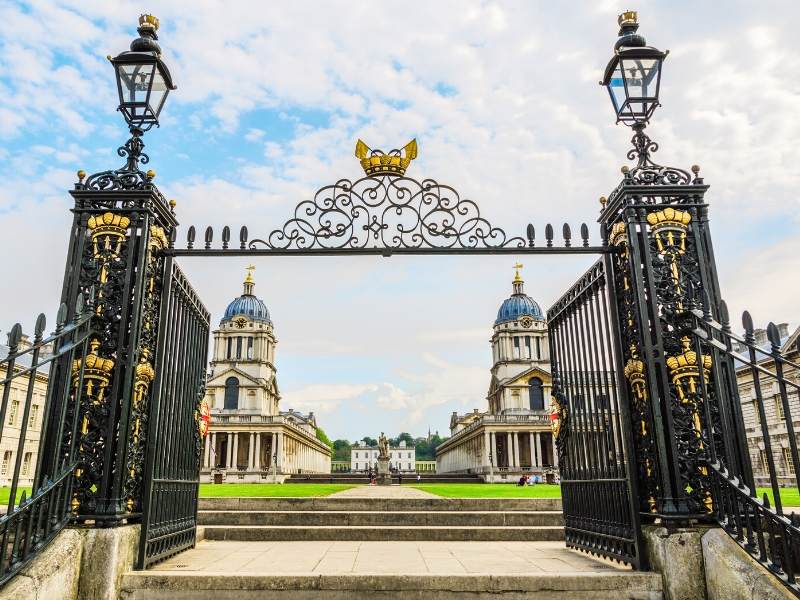 DURHAM CATHEDRAL AND CASTLE by eagerjourneys
f you're looking for UNESCO World Heritage Sites that will enchant you with their magical flair, take the train to Durham in north-eastern England.
Not only is Durham Cathedral among the most popular cathedrals in the country, but it was also used as the filming set for two Harry Potter films and a number of British documentaries. So you may catch yourself with a bout of deja vu as you walk the corridors.
This 12th century cathedral is widely considered to be one of the finest examples of Norman Romanesque architecture in England and possibly in Europe too. It has become a popular pilgrimage destination as it's the burial site of St. Cuthbert.
While the adjoining Durham Castle, also a UNESCO World Heritage Site, is one of the top universities in the UK, and has transformed Durham into quite the university town with a number of pubs and restaurants just a few steps away.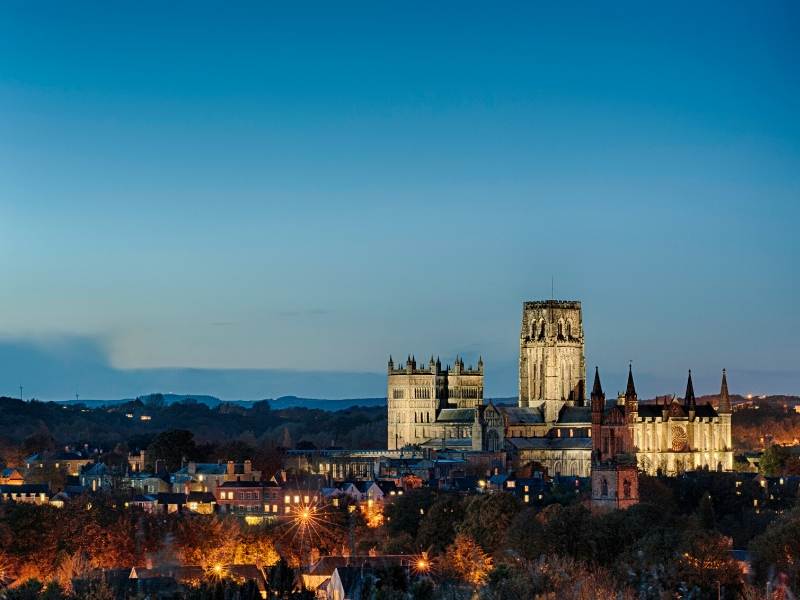 How many of these UNESCO World Heritage Sites in the UK feature on your bucket list?
I am sure you will have lots of travel inspiration from this post – why not take my UK UNESCO Sites Quiz? How many can you recognise?
There are lots of wonderful places to visit in the UK and finding out a little about the history is always useful I think before you visit. There are even more UNESCO sites to see including beautiful Blenheim Palace!
There are also more UNESCO World Heritage themed articles to read including a general focus on European sites and dedicated posts about Croatia and Australia.
Are you planning to explore the UK?
Don't miss these articles!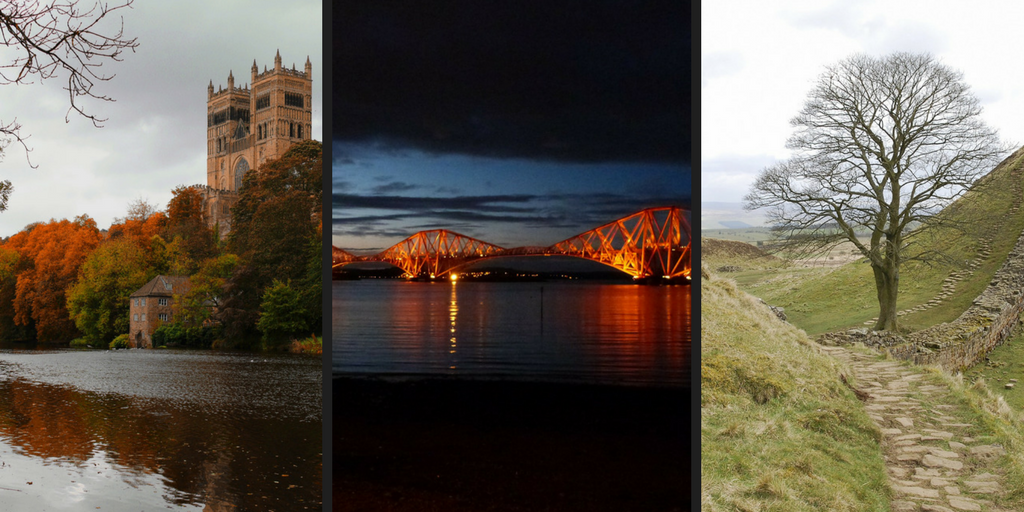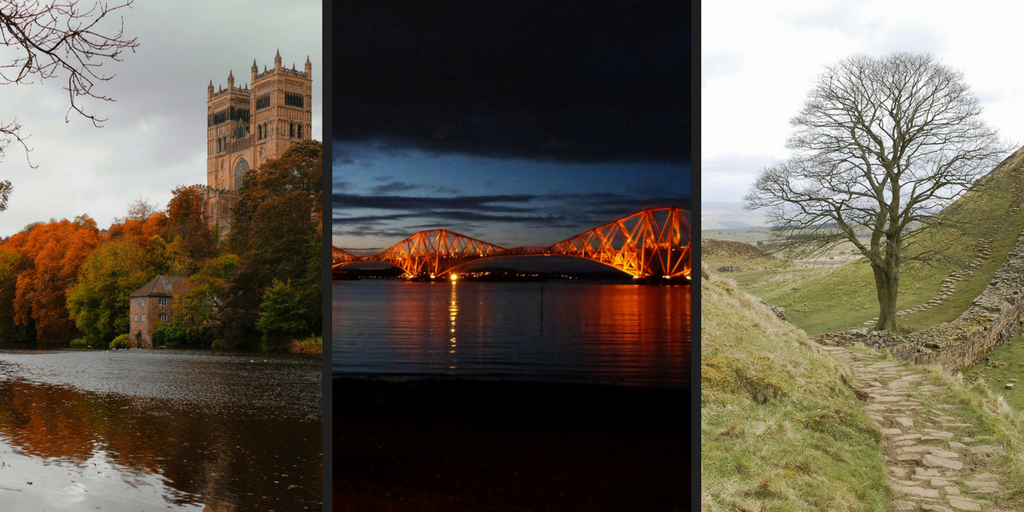 This post may contain compensated links. Please read our disclosure for additional information. As an Amazon Associate, I earn from…
This post may contain compensated links. Please read our disclosure for additional information. As an Amazon Associate, I earn from…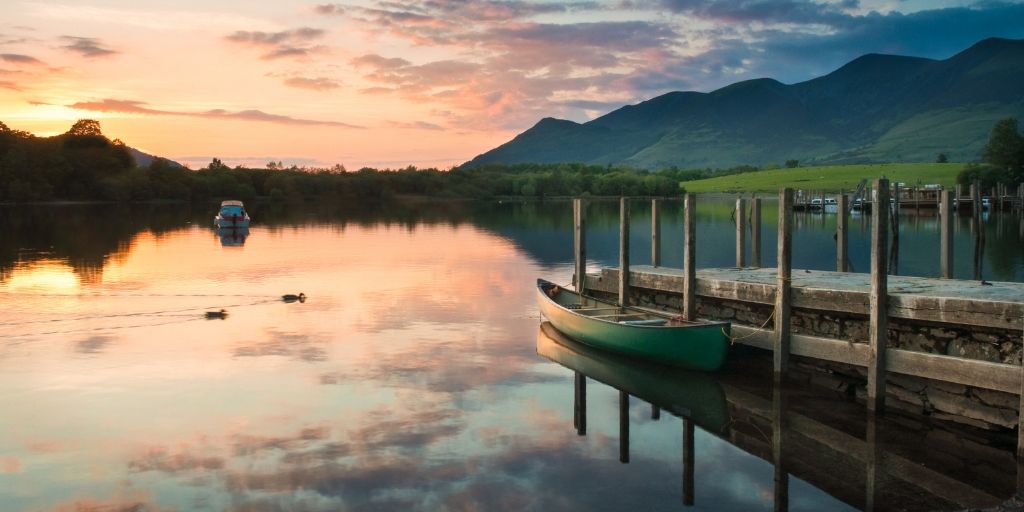 The Lake District is one of the United Kingdom's most popular destinations attracting over 24 million annual day visitors.
This post may contain compensated links. Please read our disclosure for additional information. As an Amazon Associate, I earn from qualifying purchases.
Over the last 50 years I have lived and worked in 7 countries on 4 continents and travelled to many more. I enjoy exploring and learning about new places and meeting people on my travels. History, reading, photography, nature and wildlife are my interests and I am ALWAYS researching and planning my next trip (preferably by train)
With a lifetime of travel experience, and a network of friends all over the world, I share genuine insider guides, recommended best book lists and train journey inspiration to help YOU travel authentically to some of the most beautiful places on earth.
Come and join me as I travel the world one country (and train journey) at a time!