Discover the best things to do in Aarhus in our comprehensive guide to this lovely Danish city.
Aarhus in Jutland Denmark was named the European Capital of Culture for 2017. It was also named by Lonely Planet in 2016 as one of 10 European cities you should visit.
While Denmark is often cited as the happiest country on earth Aarhus is apparently THE happiest place in Denmark so why not go and see what it is that makes these lucky people so …well….happy!!!!
What exactly is there to do and see if you decide to visit Aarhus? It is perhaps a lesser-known Danish city for tourists but actually the second largest in the country with a population of 315000 (and the largest population of students in any Danish city)
There are lots of to do and see in Aarhus (which is also incidentally easy to visit from Copenhagen via train so do consider adding it to your Danish itinerary!)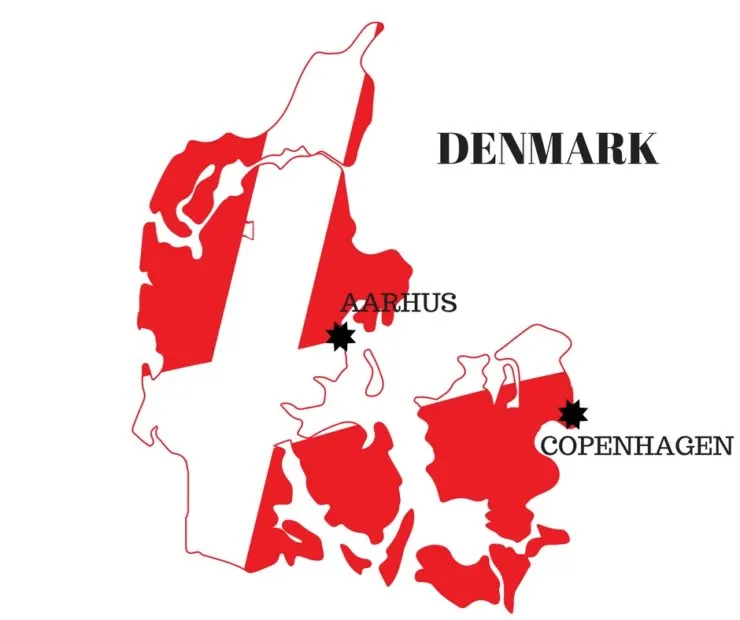 Things to do in Aarhus
Den Gamle By – The Old Town Museum
This has to be my number one recommendation for anyone exploring Aarhus. It is a fabulous museum experience – it covers 3 periods of Danish history in one town.
Wander the open-air museum and wander through the 1600s onwards – there are houses that were dismantled and rebuilt in the museum from different time periods (1600 – 1900, 1900 – 1927 and 1927-1974 are explored in the museum)
You can see Danish life depicted through living history displays – pre-1900's, the 1920's and my favourite the 1970s! It was like going back to my childhood – my friend's children had great fun playing with the dial-up telephone and typewriter!!!!
This museum is great in that it focuses on the daily lives of normal Danish people throughout history. It is definitely one of my top recommendations of things to do in Aarhus. It was great to learn all about the Danish way of life over the centuries.
To find out more about visiting times and prices please check the official website "Den Gamle By"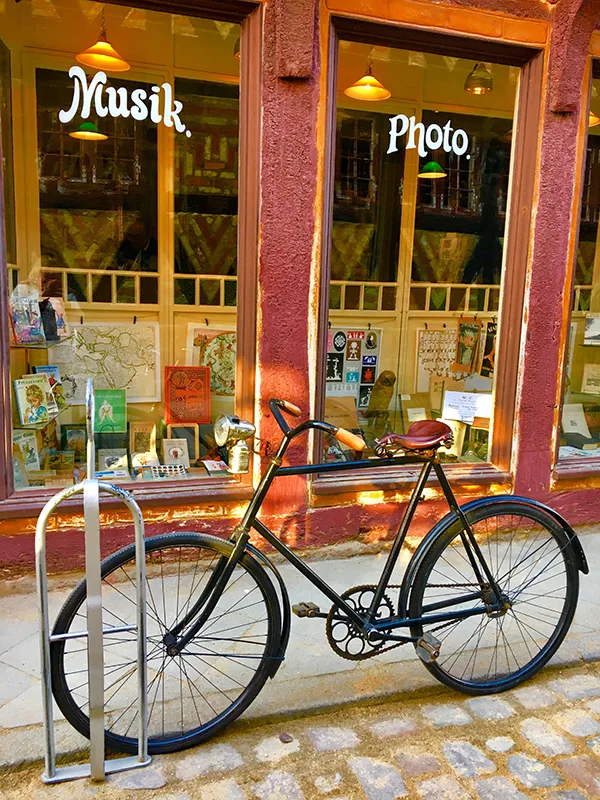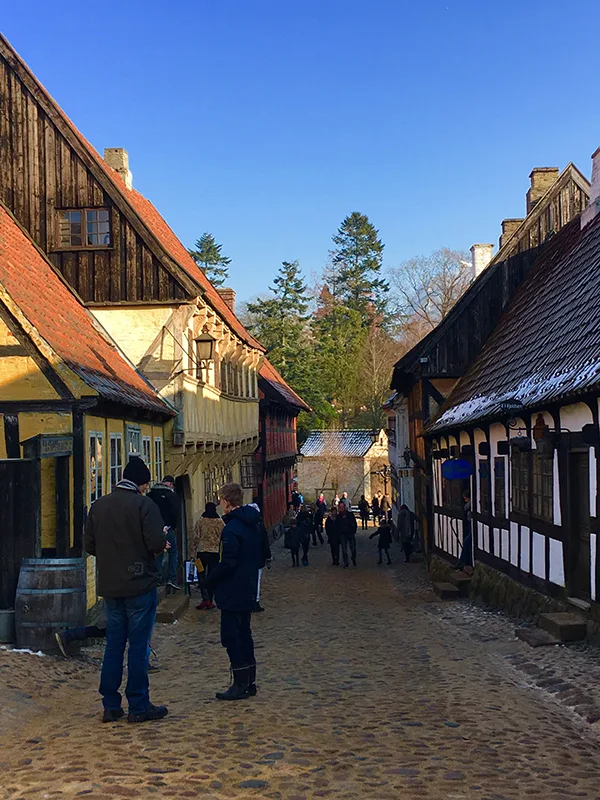 ARoS
ARoS is the main art museum in Aarhus. I took this photograph of the Your rainbow panorama on the roof of the building. This is a circular glass walkway that gives fantastic views of the city. It is an artwork made by Olafur Eliasson a Danish/Icelandic artist.
For more information about ARosS and the Your rainbow panorama check out the Visit Aarhus website.
Fun Fact – Aarhus was first settled by Vikings, who called it "Aros" which means "river mouth."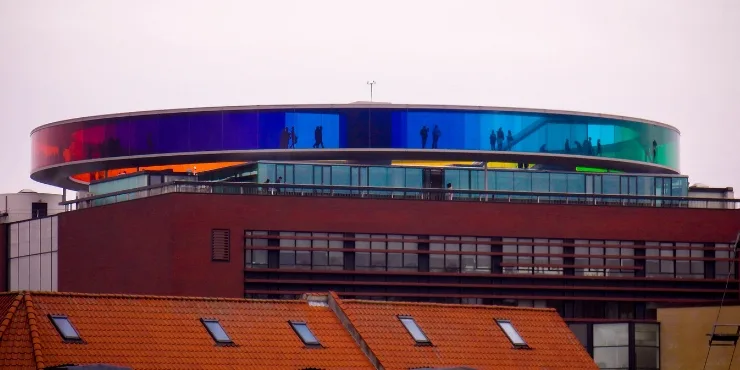 Marselisborg Palace
Marselisborg Palace is the Queen of Denmark's summer and Christmas residence. I have been once but not when she was at home! When she isn't in residence her rose garden and the Palace grounds are open to the public.
When the Royal family are in residence you can enjoy the changing of the guard every day at 12 noon.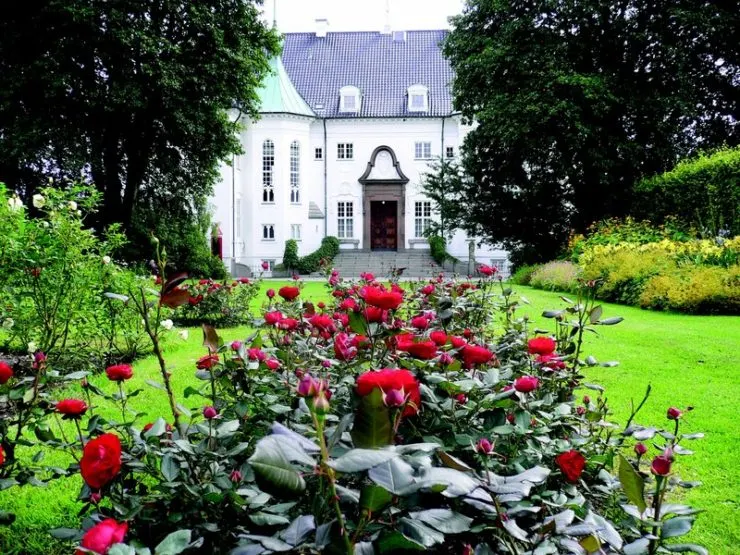 Moesgaard Museum
The Moesgaard is a museum dedicated to telling the story of human evolution and culture. The building in which the museum is housed is architecturally stunning and seems to grow out of the surrounding hills.
See the museum's official website for opening times and prices. Guided tours are available but must be booked in advance.
Tivoli Friheden
Aarhus has its own theme park called Tivoli Friheden within walking distance of the city centre. For more information about the theme park check out the information on the Visit Aarhus website.
Things to do in Aarhus – tours and tickets
Visiting Aarhus – Essential FAQs
How to get around Aarhus
The most popular way of getting around Aarhus is by bicycle. Aarhus is one of the best cities in the world to travel around by bicycle.
In fact you will see many people young and old on bicycles in Denmark and hiring one for your holiday will not be difficult.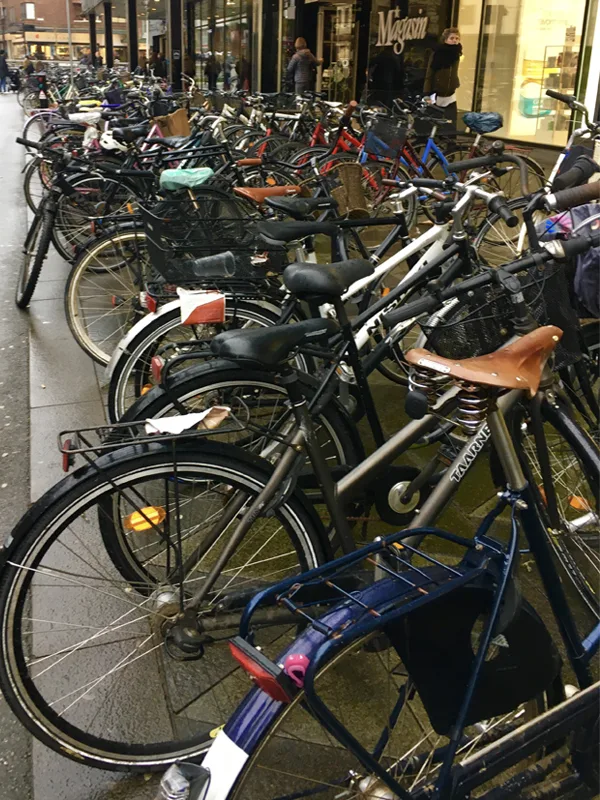 Accommodation options – Where to stay in Aarhus
Best restaurants and eateries in Aarhus
Aarhus is home to a number of Michelin-starred restaurants but it is also home to Aarhus Street Food which is where we headed for dinner.
And if you are really lucky and know some Danish people you can try some of their national dishes including mørbradbøffer and other delicious food I can't even begin to pronounce. We had a really lovely meal at my friend's Mum's house!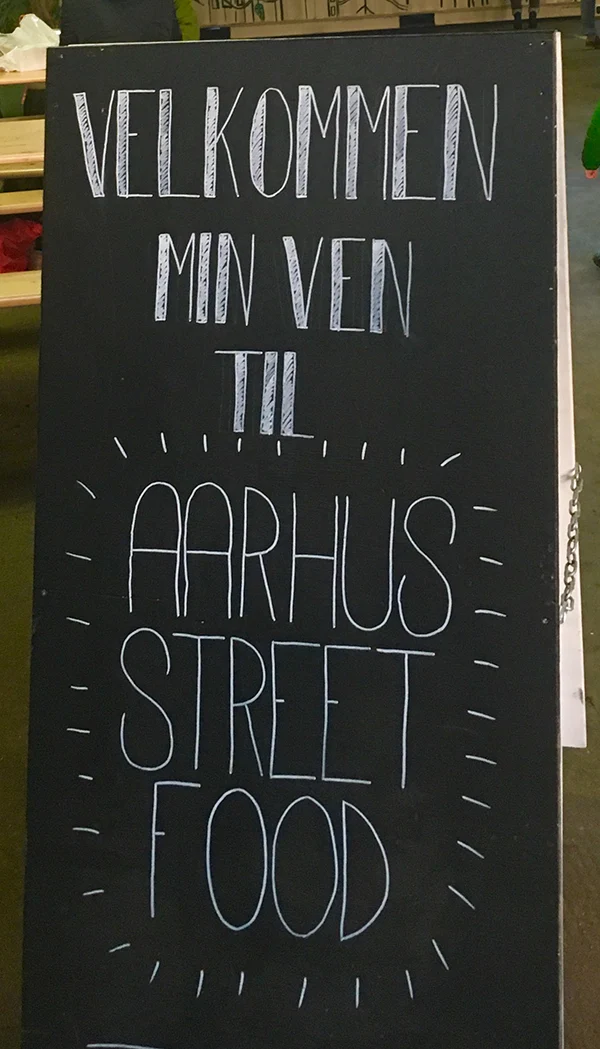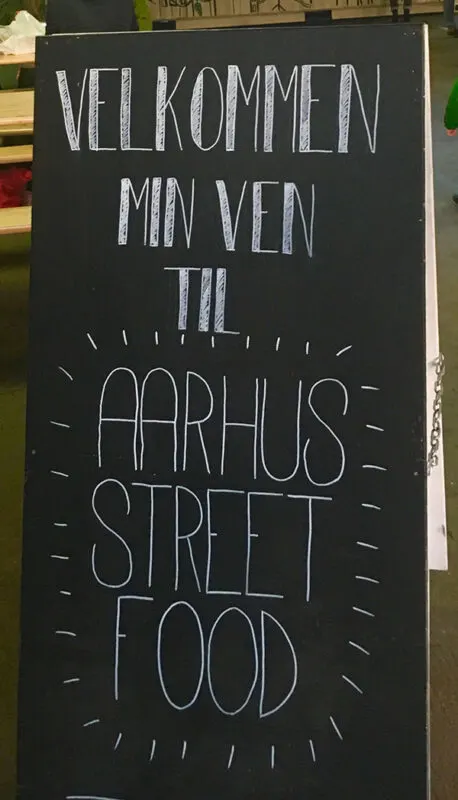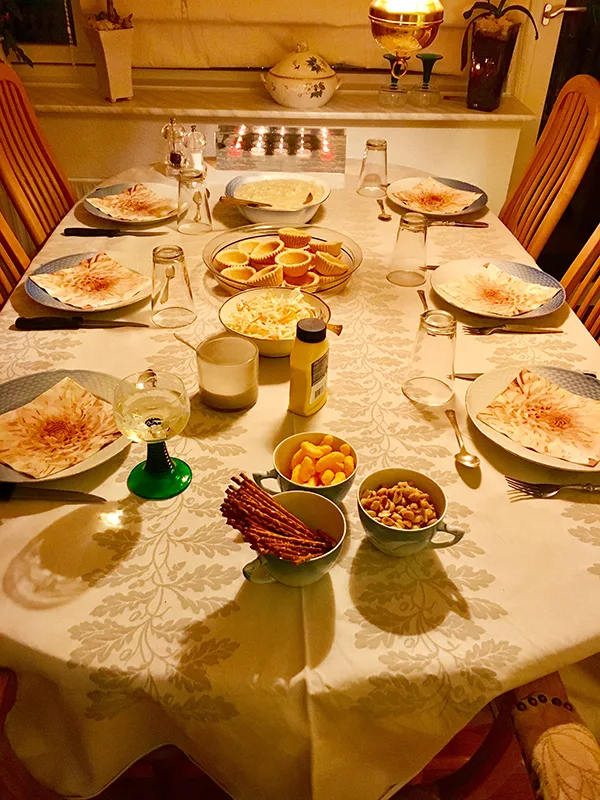 There are lots more things to do and see in Aarhus – we will be back! If you want to know more the official website of VISIT AARHUS will have the information.
There you can find out about all the top attractions in Aarhus as well as some of those Michelin-starred restaurants in town!
There is also an AarhusCARD available which is worth looking into if you are planning to visit! This can be purchased here and gives you free admission to more than 25 museums, attractions and activities as well as free transportation on all Midttrafik buses and on Letbanen light rail as well as shopping discounts across the city.
How to travel to Aarhus from Copenhagen
We travelled by train to Aarhus from Copenhagen. It took 3 hours and was a very pleasant trip. If you want to book train travel in Denmark you can research and book tickets with Omio.com